I don't know whether to jump for joy or collapse in relief! It's reveal day! These six weeks of the One Room Challenge hosted by Linda flew by in a blink of an eye. I have to admit that when we finished the gallery wall (the last task on our list) I wept. Not sad tears, but such happy tears because we poured so much into this space. It was a ton of work but we couldn't have enjoyed the process more. It's definitely worth seeing where the room began. It's now time for photo overload. I am giddy with excitement to show you. I present you with our son's "Trustic" bedroom reveal.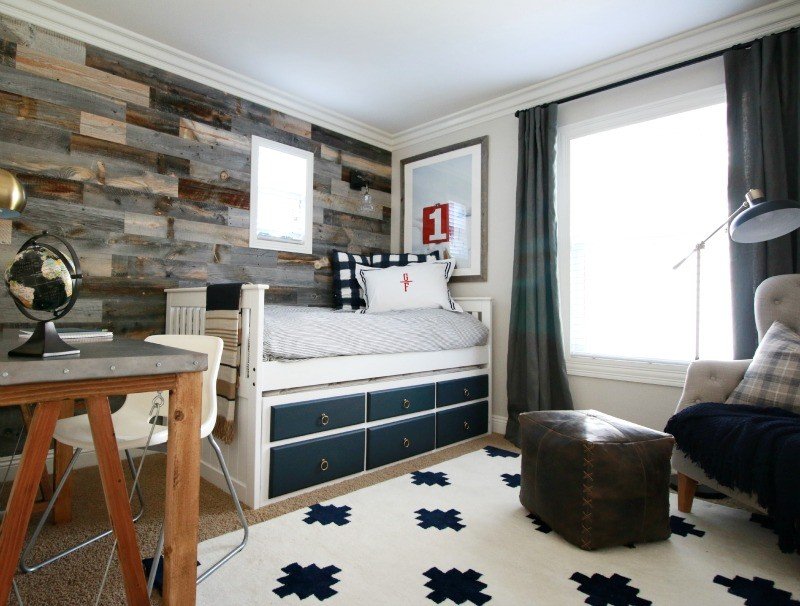 We mixed traditional with rustic and are thrilled with the result. More importantly, our son is crazy happy with his new room. Before having photos taken, I asked him to leave the chair (where he was reading) and he was so mad. The boy loves his new room and that is what this was all about.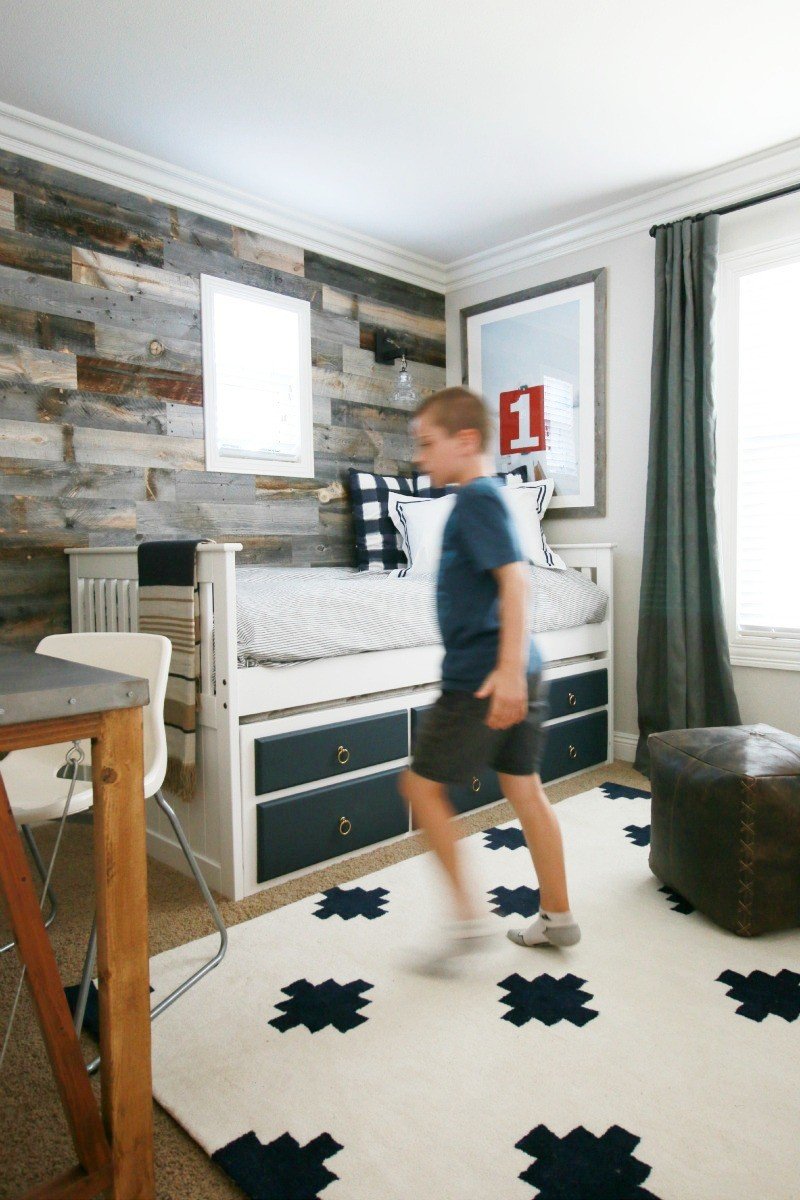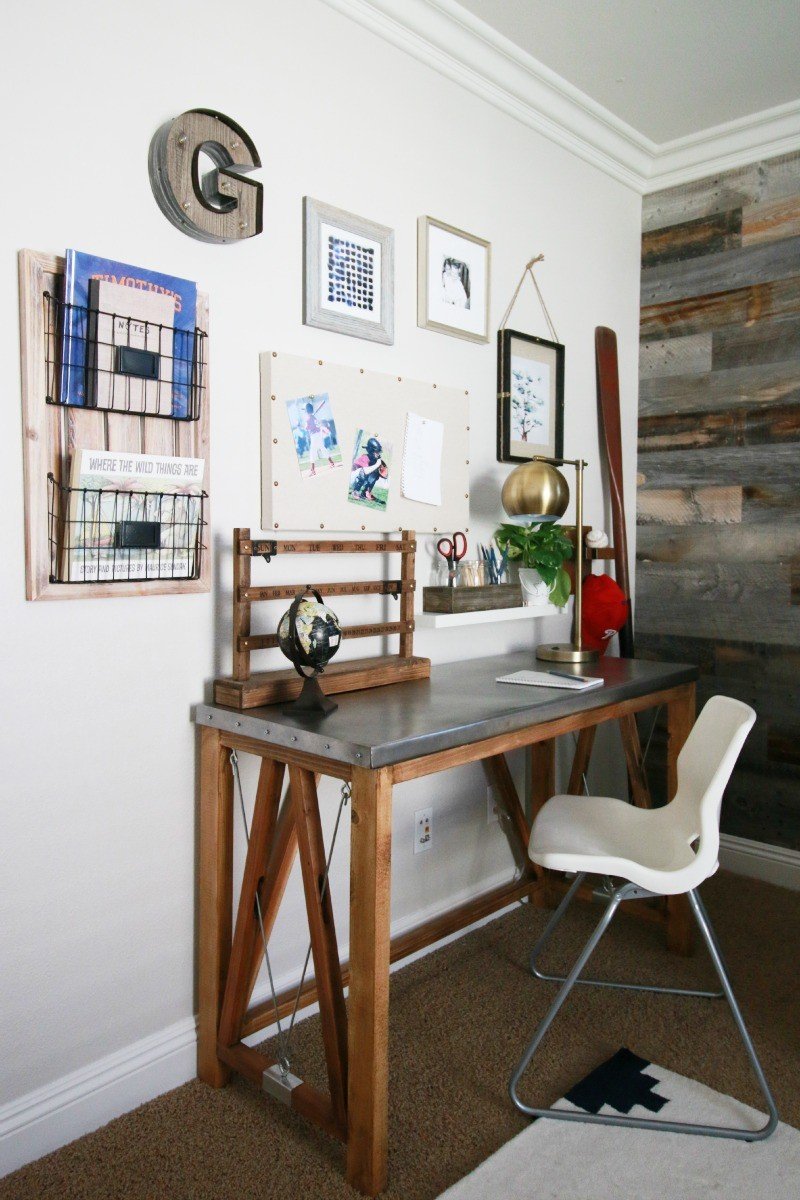 My husband built that beautiful desk (thanks to supplies from Lowe's) and I am seriously in awe. It is just so gorgeous in person I wish you could see it. So sadly, the stool that I had chosen arrived just as we were done with photos. The incorrect one was sent at first which is why we were behind. I grabbed this chair from our playroom but will do an update soon with the industrial stool we chose.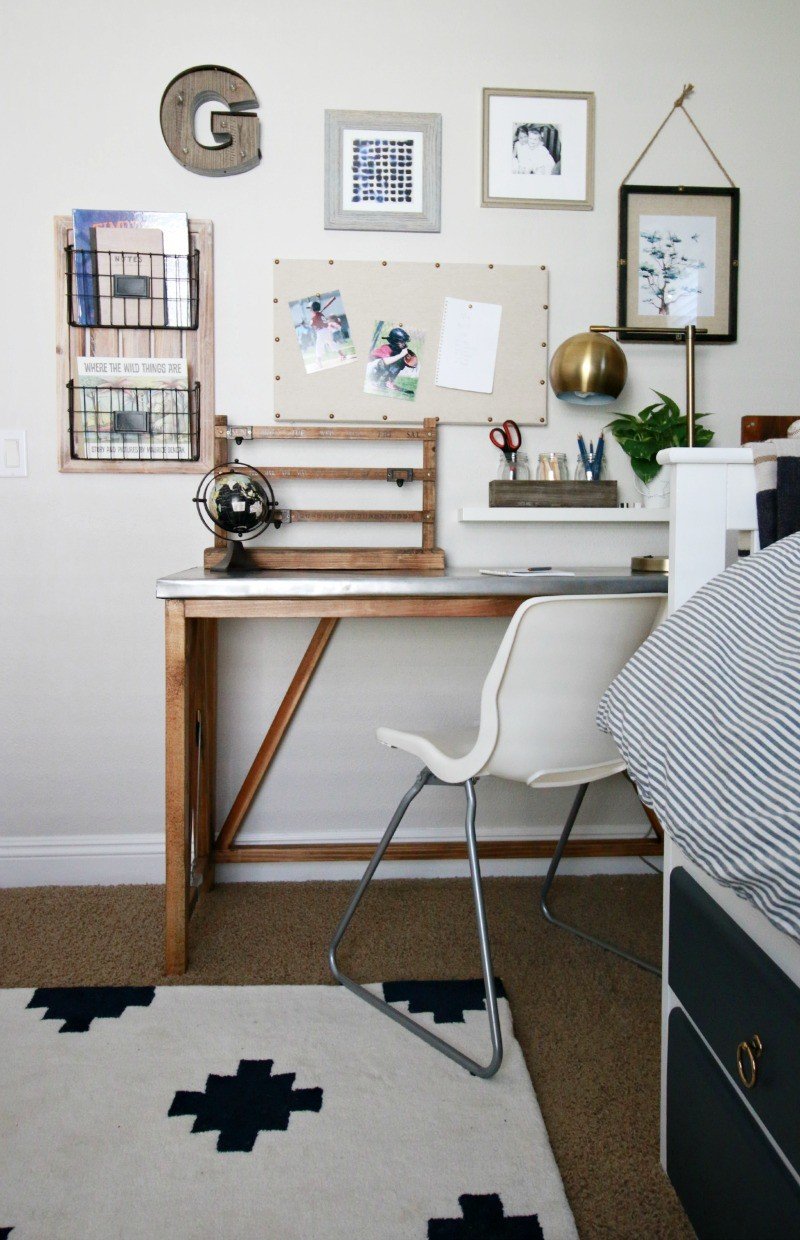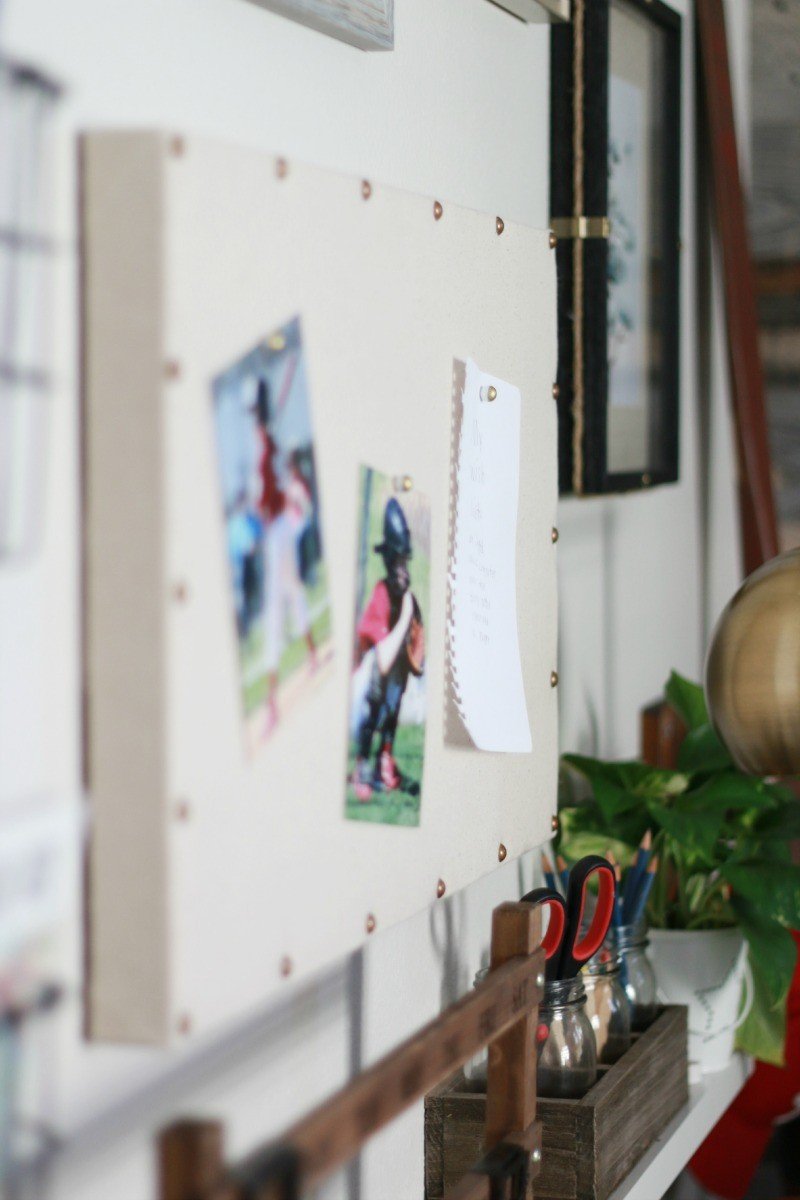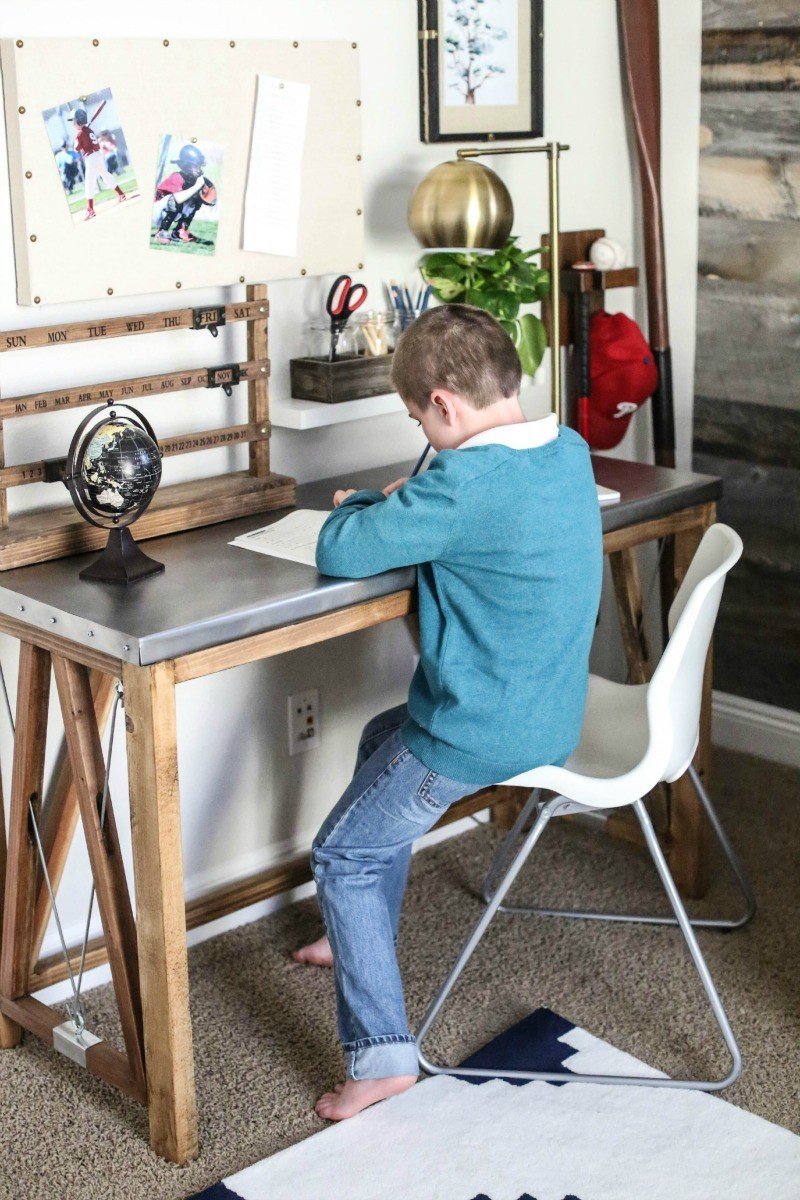 He truly LOVES his desk. We have a scholar on our hands and he is overjoyed to have this spot in his room. That makes it worth it. And he is obsessed with the wooden calendar on his desk, too. I found it at a consignment shop but found one here as well.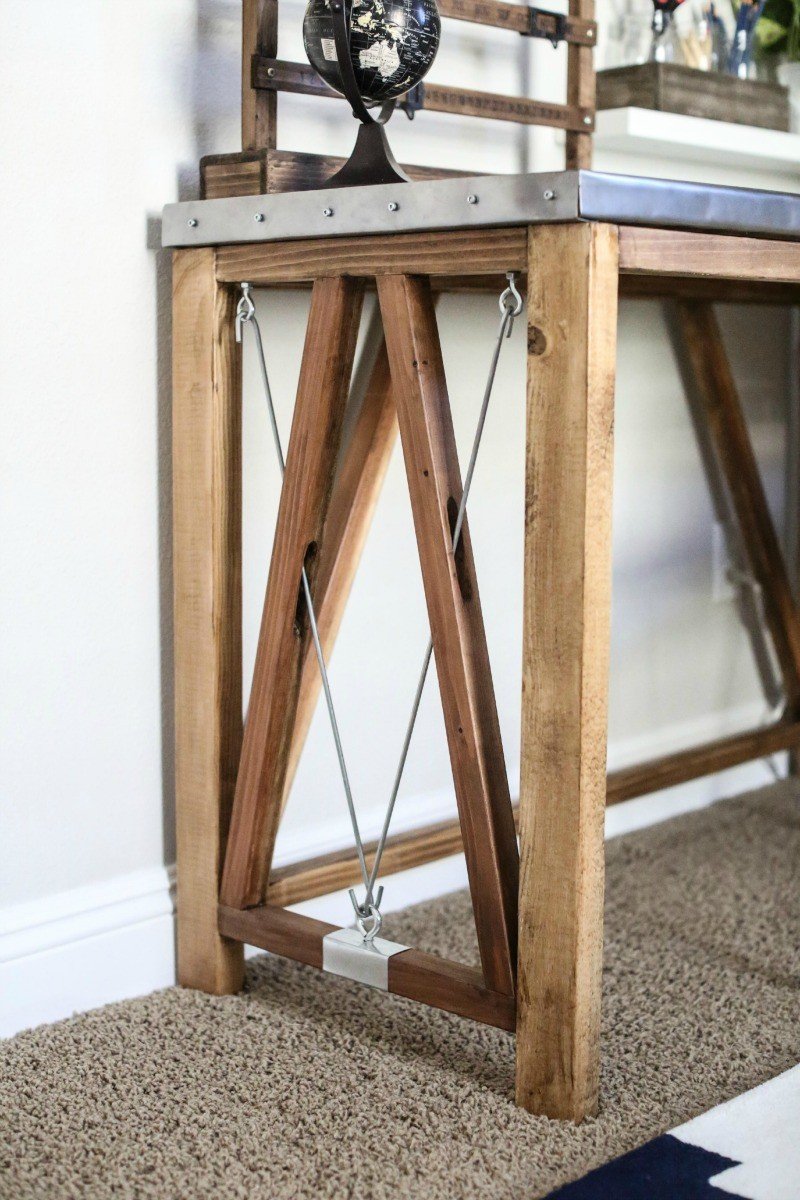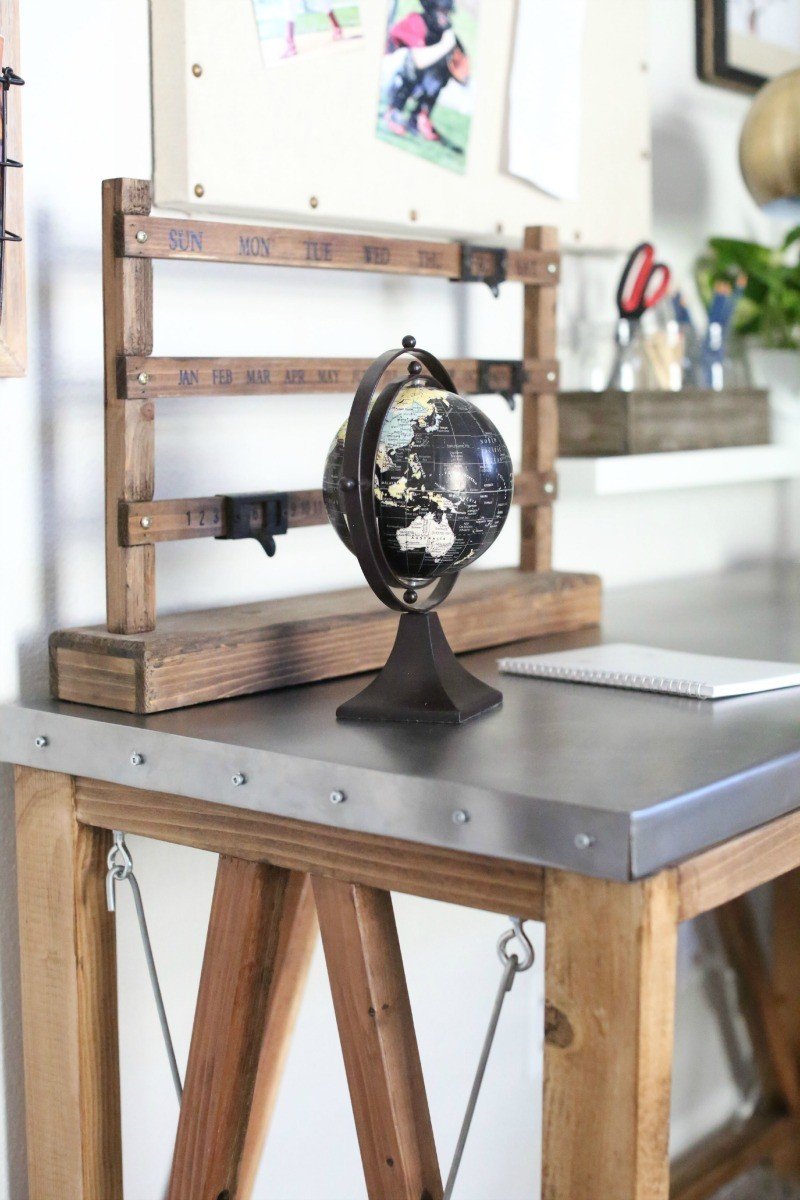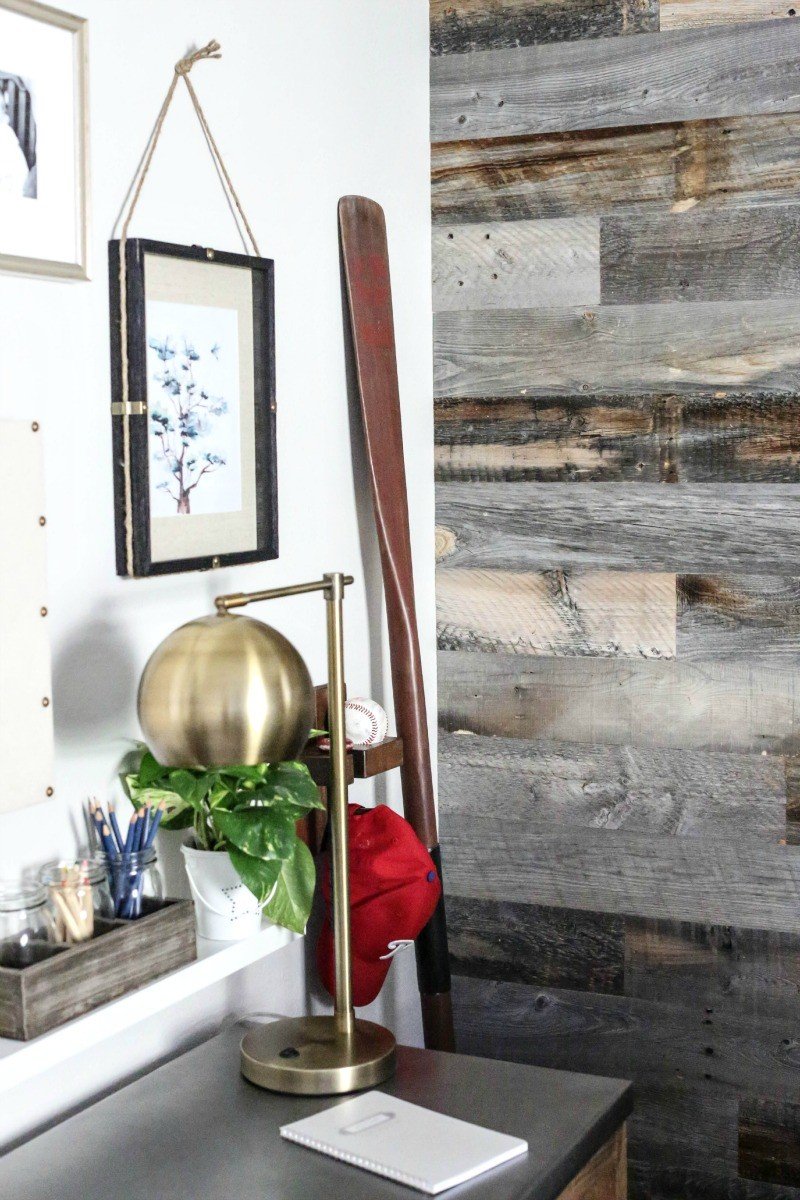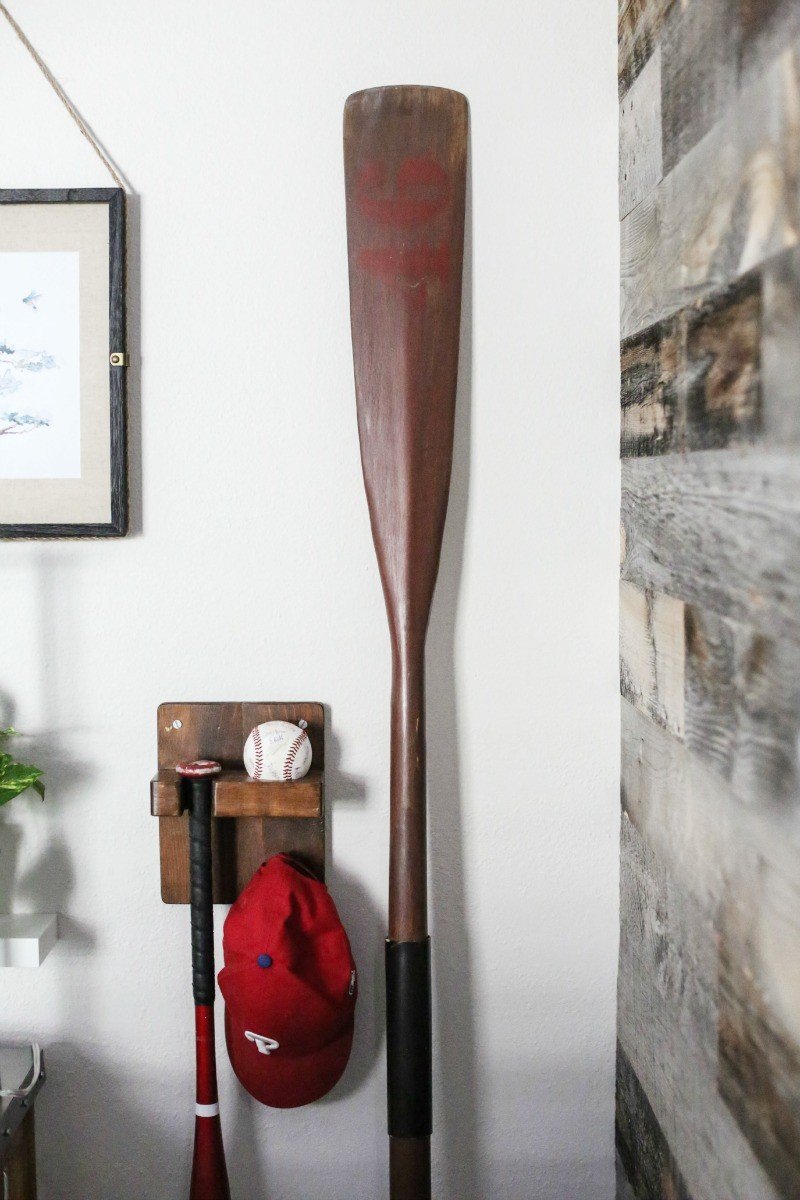 This oar belonged to my brother and the bat and ball rack was made for my husband by his Grandfather when he was young. I love that Grady is playing baseball and can use this in his room.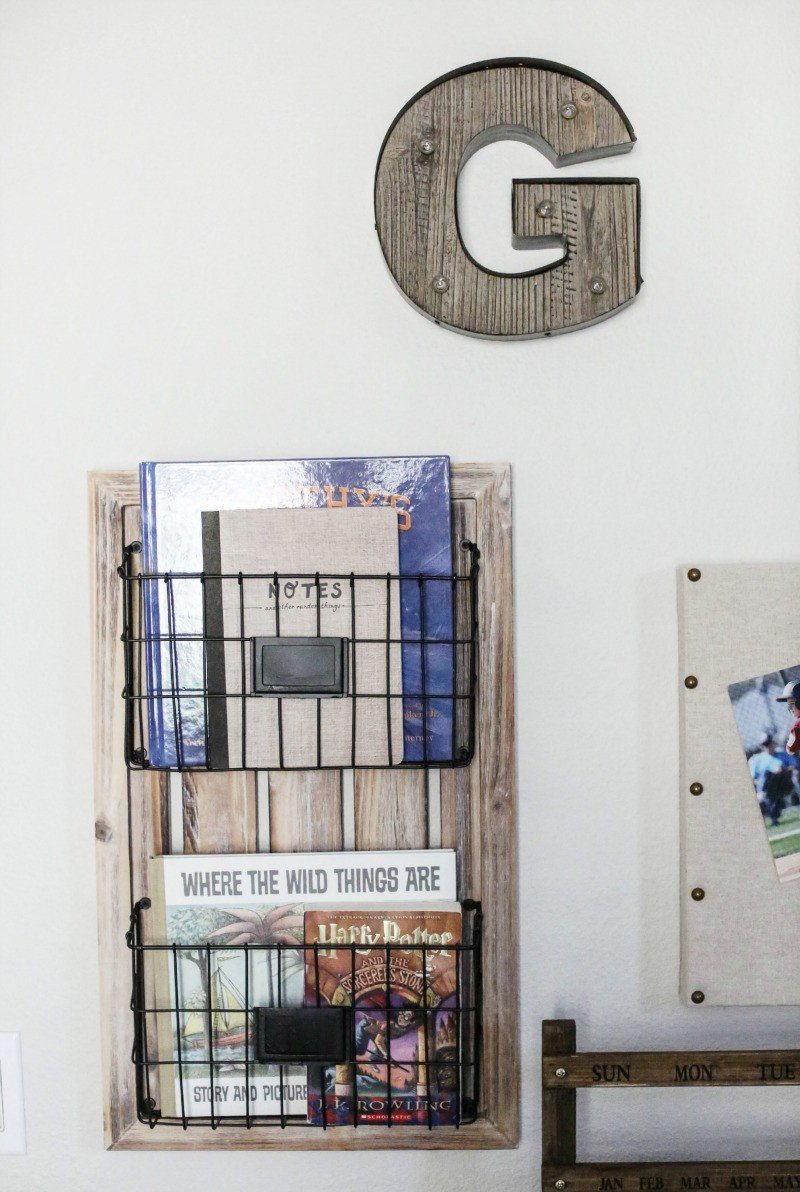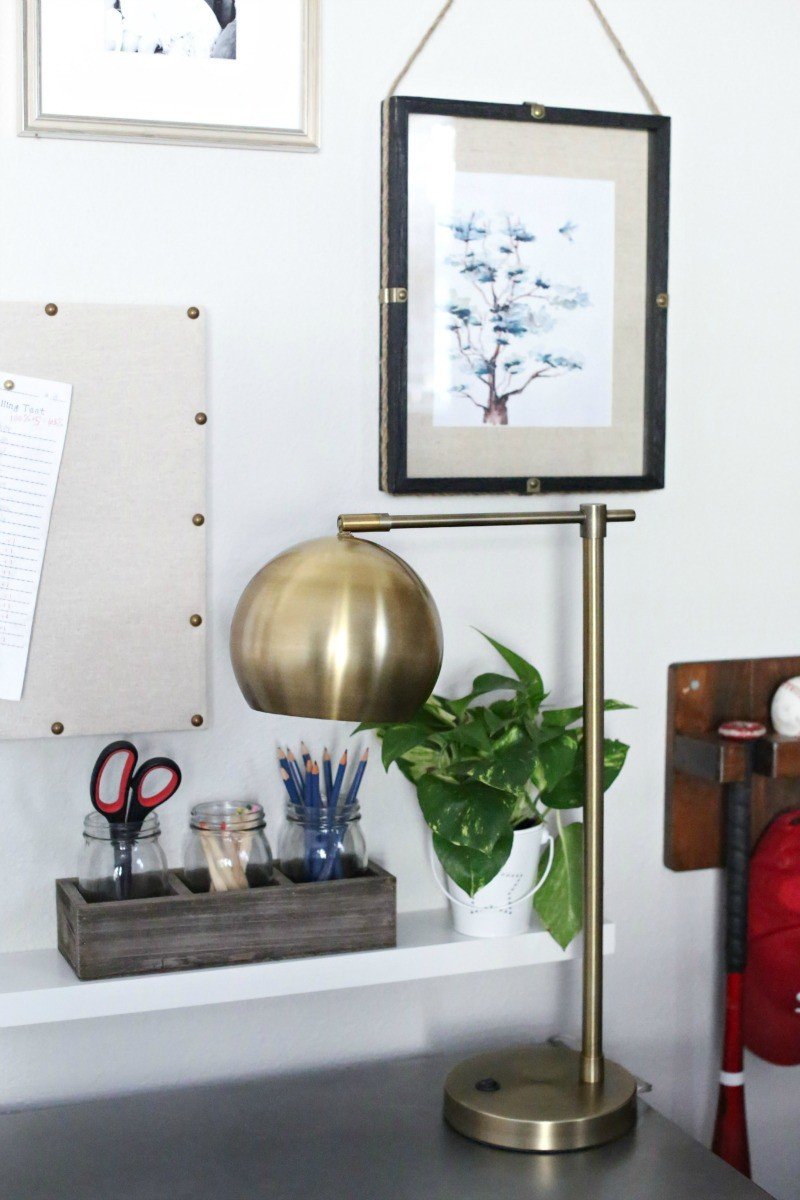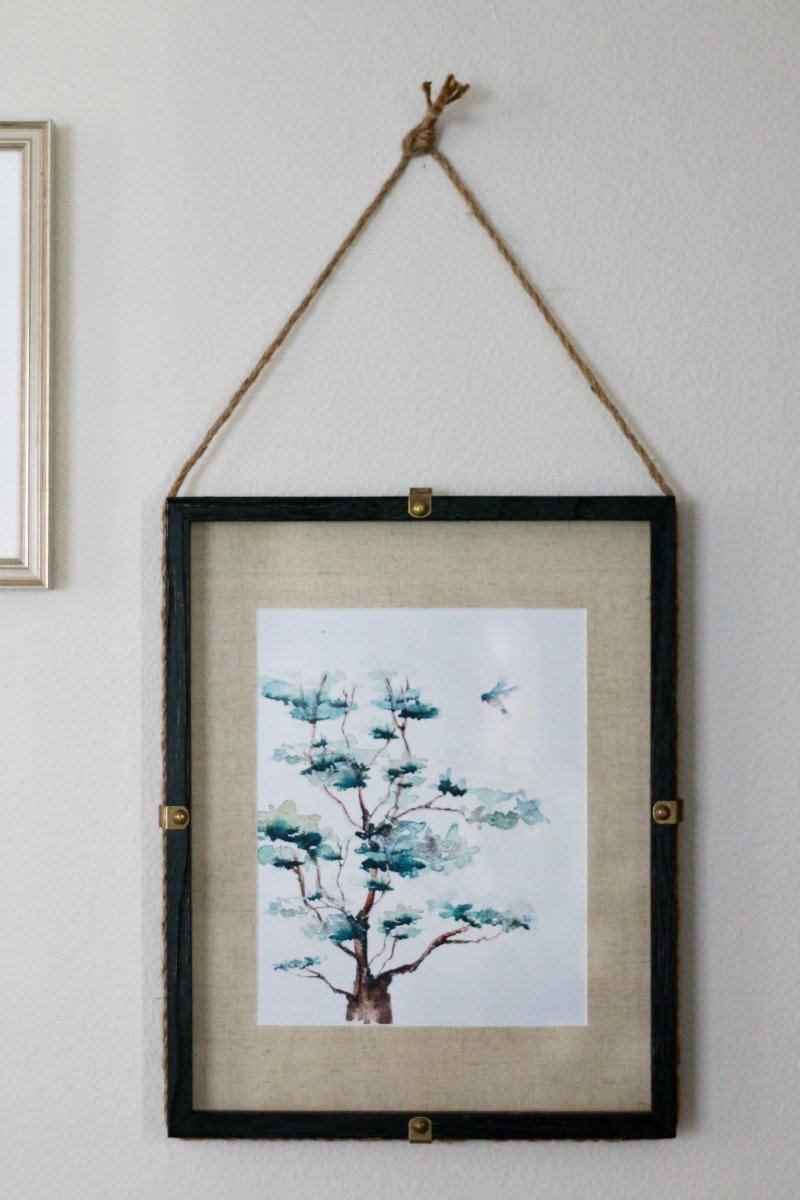 In case you missed it, I wrote about the significance of this beautiful painting created by my friend, Lucy. She painted it just for this room so that my son would always have his guardian bird looking over him.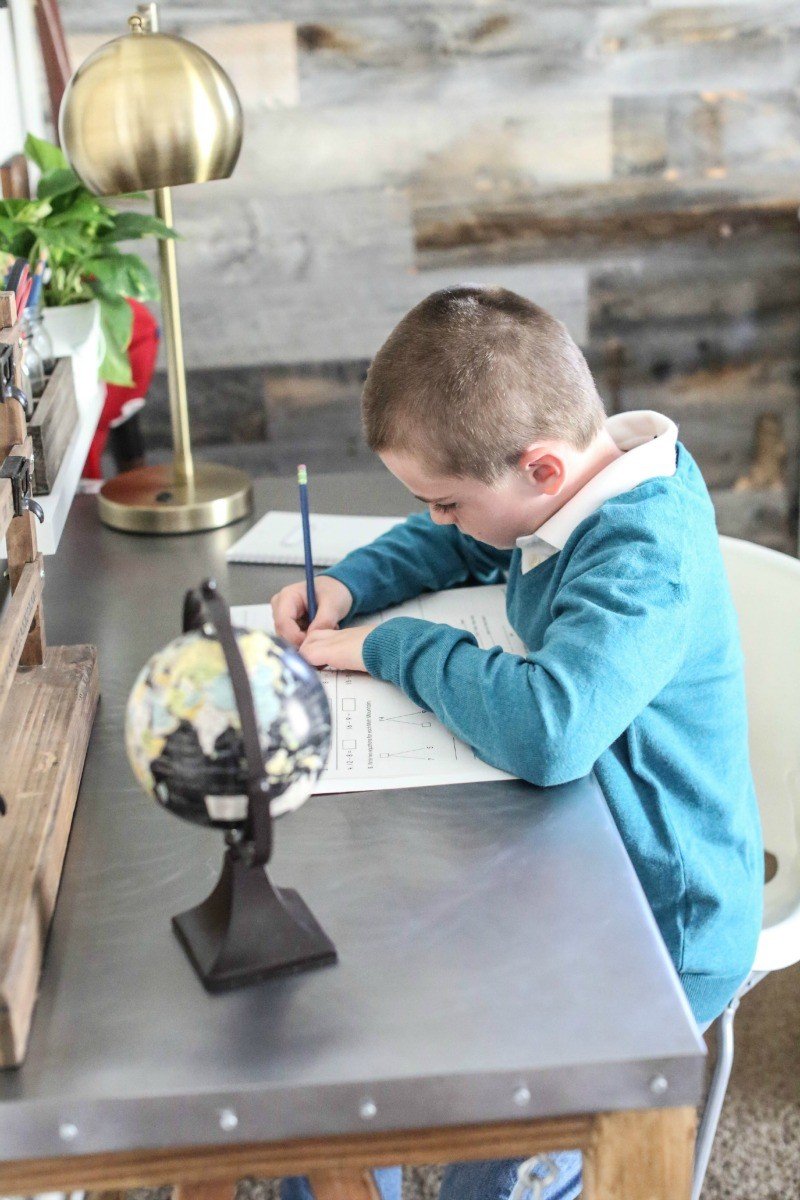 The brass desk lamp is from Target as well as the standing lamp in the room. We already had the globe.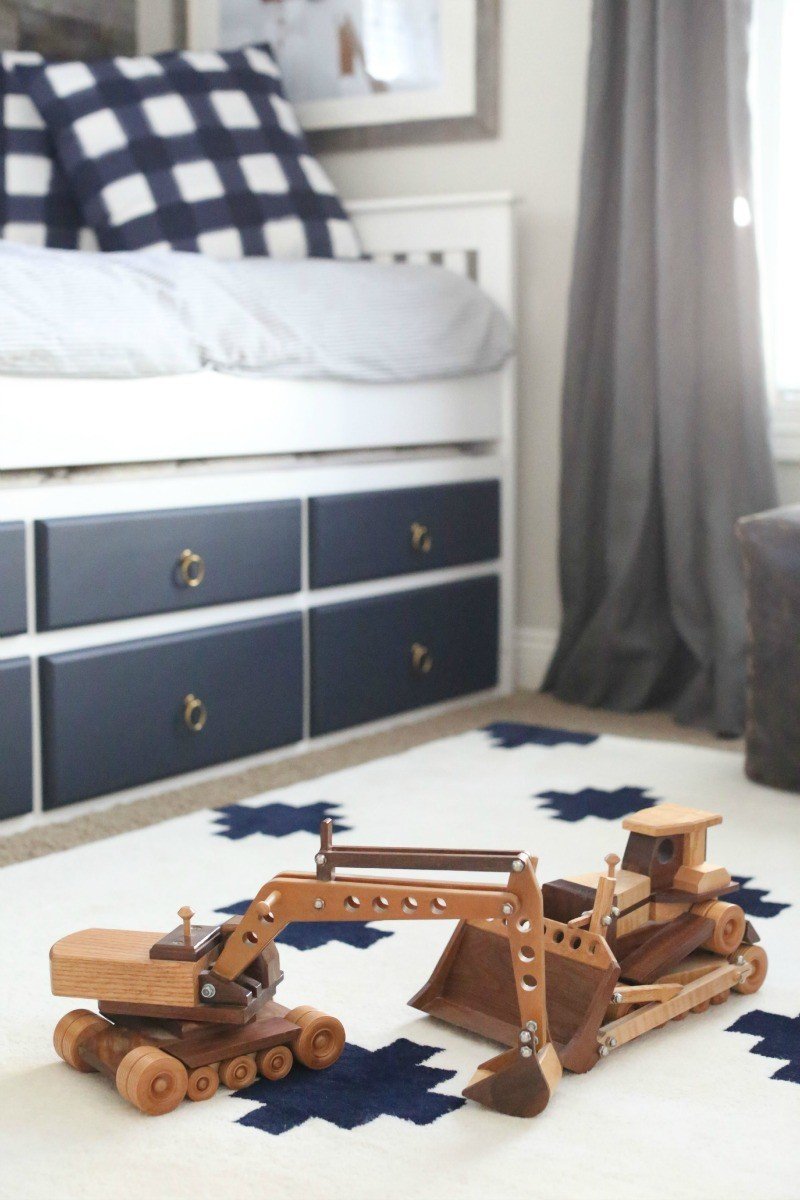 These were made by Grady's great-grandfather and are cherished toys. They now have a nice place in the closet so that they do not get dusty. I will do a closet update post soon.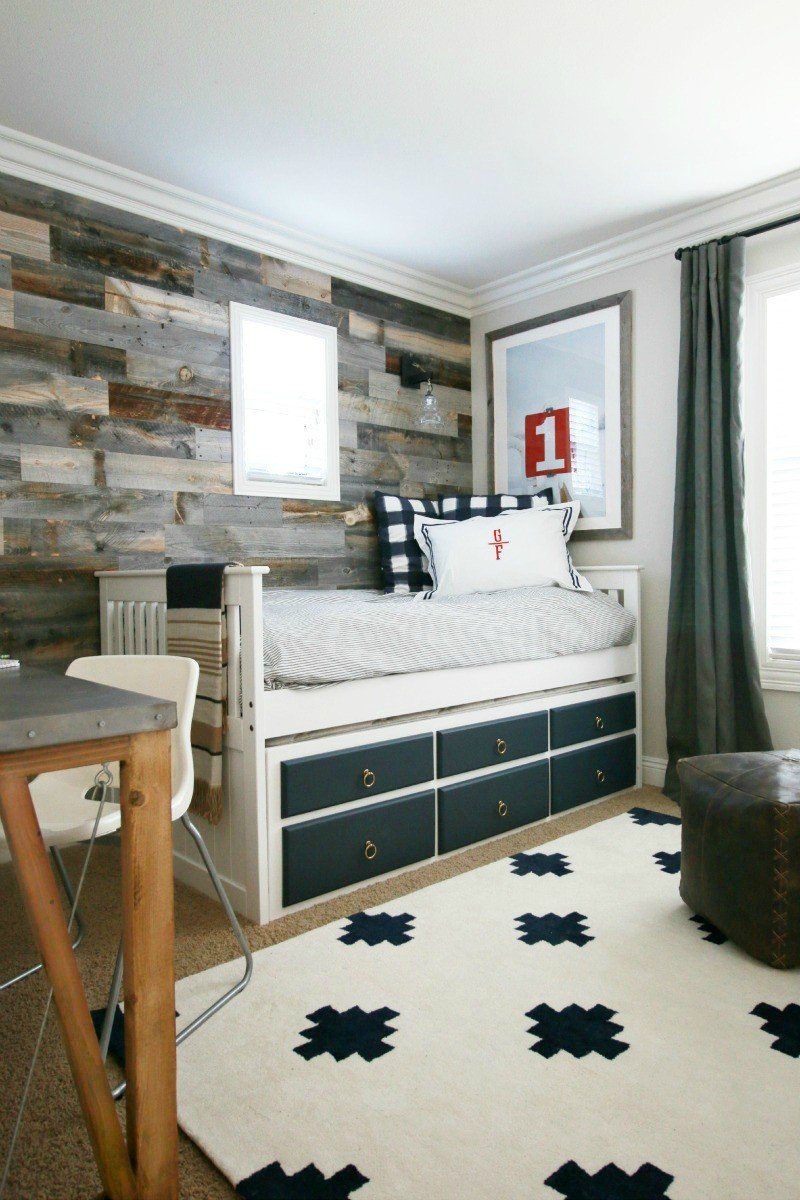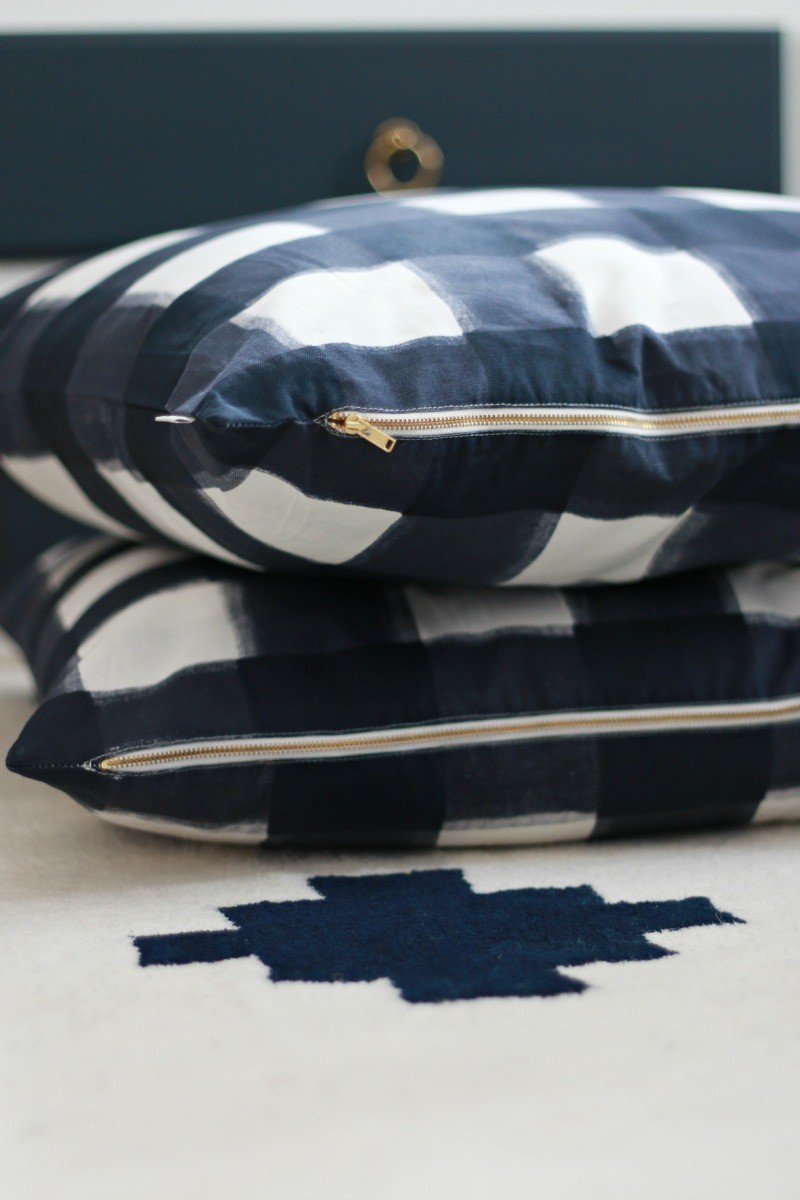 I just love the textiles in this room from Caitlin Wilson. The rug and the pillows add so much to the space.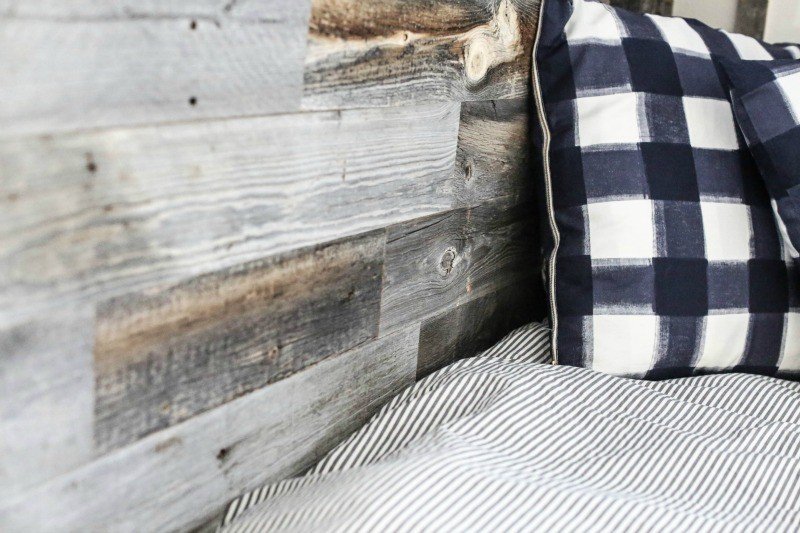 The real star of this room is the wood wall. This is a nice look at the texture of the reclaimed wood wall from Stikwood.  It's just so dramatic and pretty in real life. Can't say enough about how easy it is to install and how pretty it looks.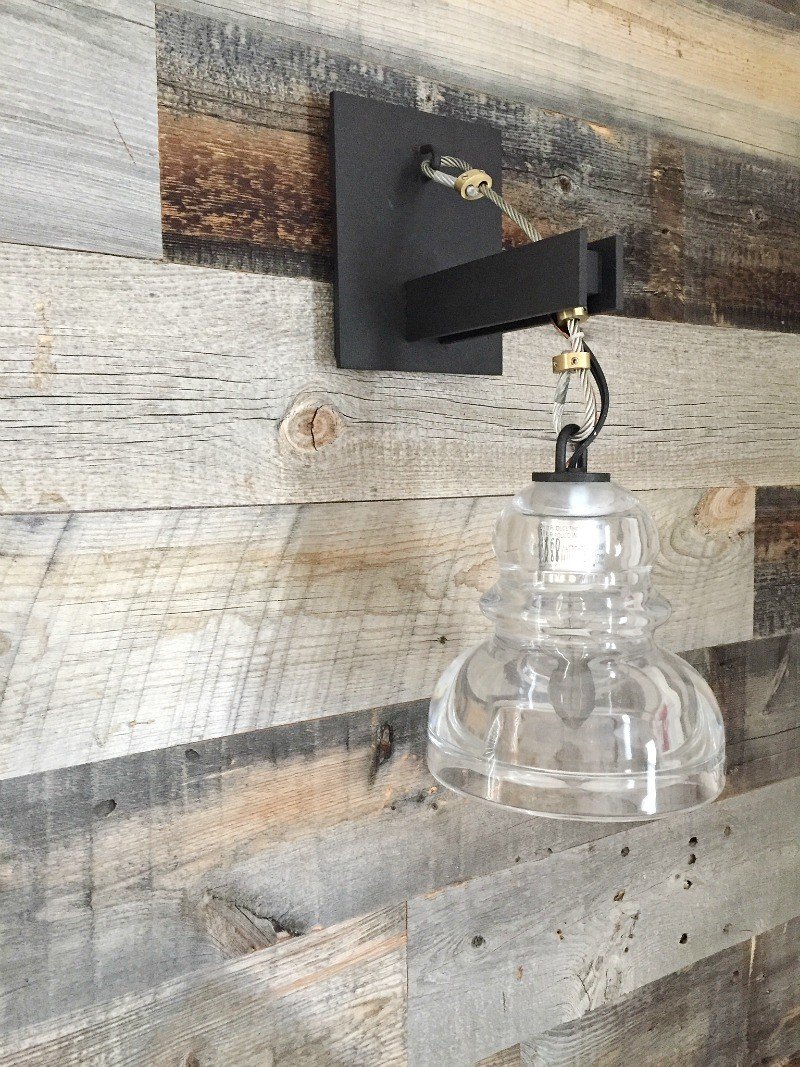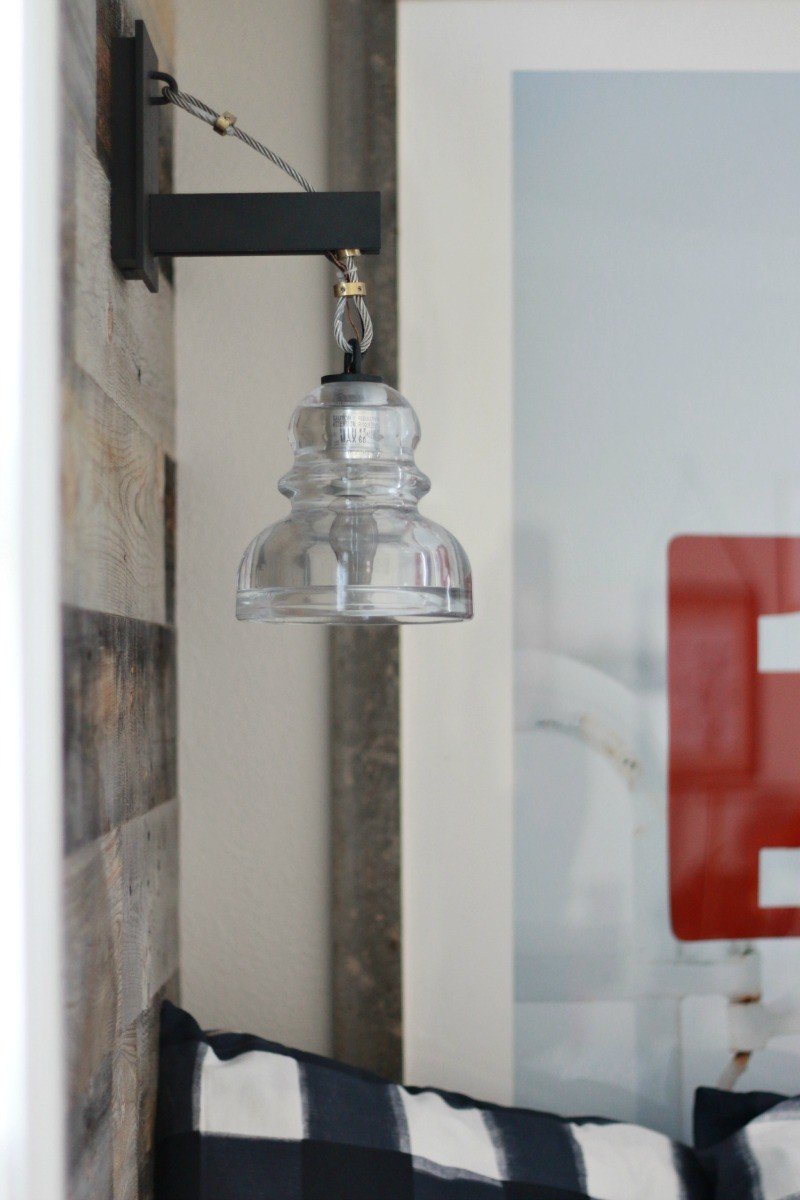 Is it weird to be obsessed with a sconce? Because I am. Just look at those lines. Thank you, Bellacor. This light adds so much to the space and it looks even better in person. Especially with the soft glow of the light at night.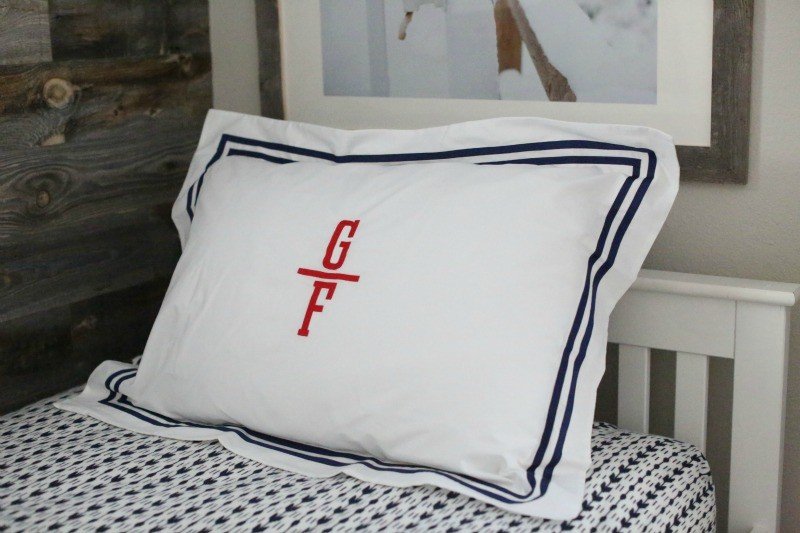 The cute sheets are from Target (I bought the plaid ones, too!)  and that great monogrammed sham is courtesy of Mark and Graham. I love the preppy vibe it gives the space.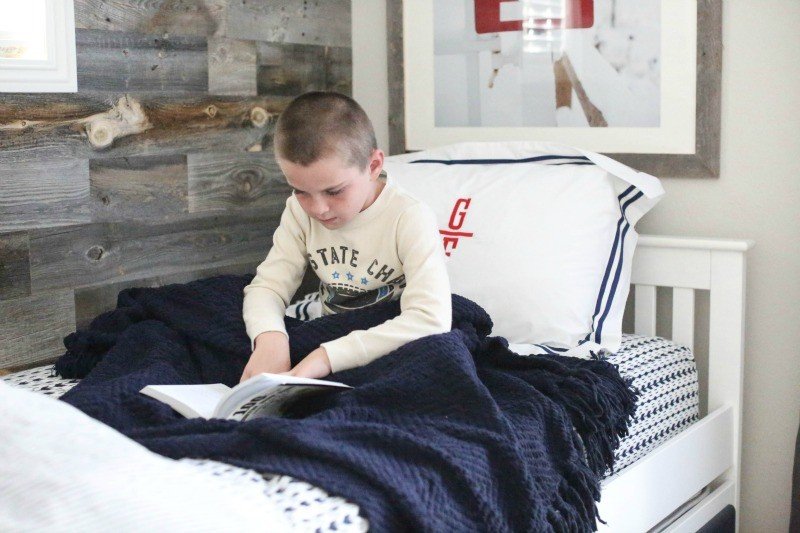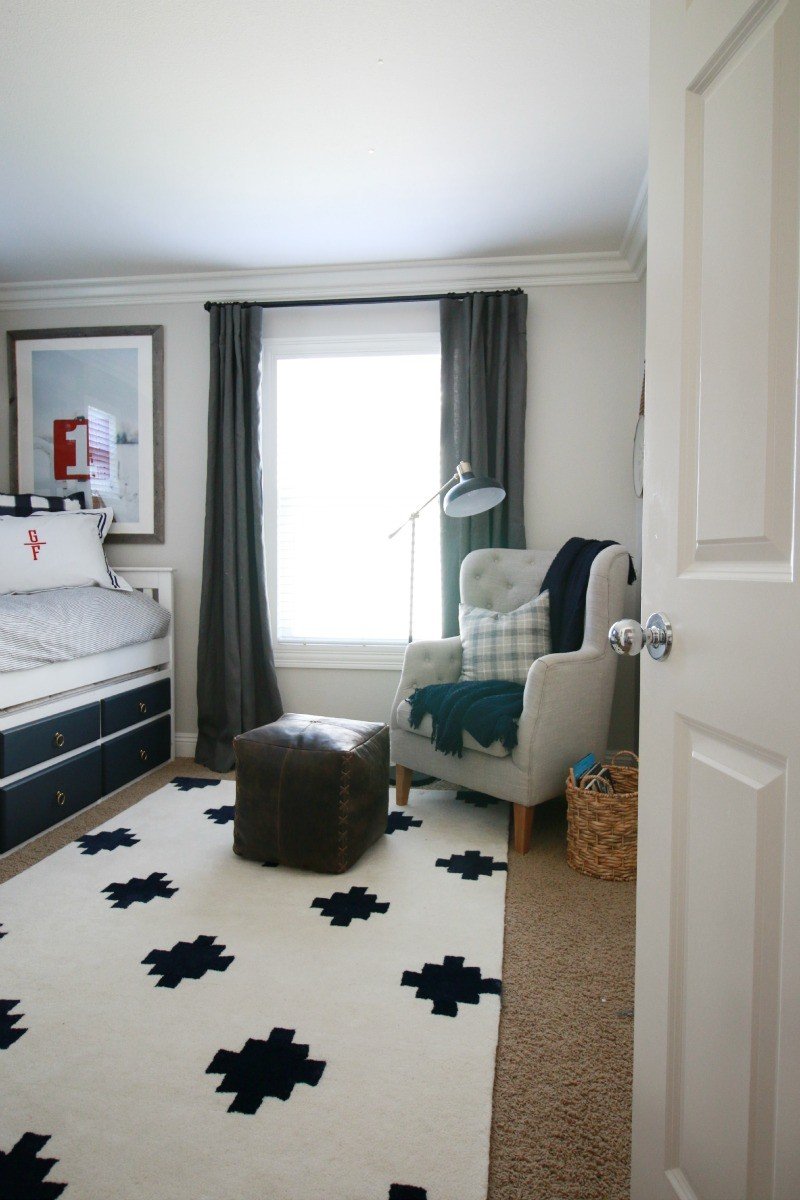 Do you all recognize this chair? If you are a reader of mine, you may have seen it in our master bedroom and all decked out for the holidays. Do you know I bought three separate chairs for this room and my poor hubby had to carry them up and down the stairs and back to the store until I realized we owned the perfect chair. This really is just right for this room. Nothing like shopping the house! And I stained the legs to warm them up a bit. You'll notice in this post they were much lighter. And I am now on the search for a replacement for my room.
The texture of this leather ottoman is just what I was looking for. It is aged and a great addition to the space. It's a HomeGoods find.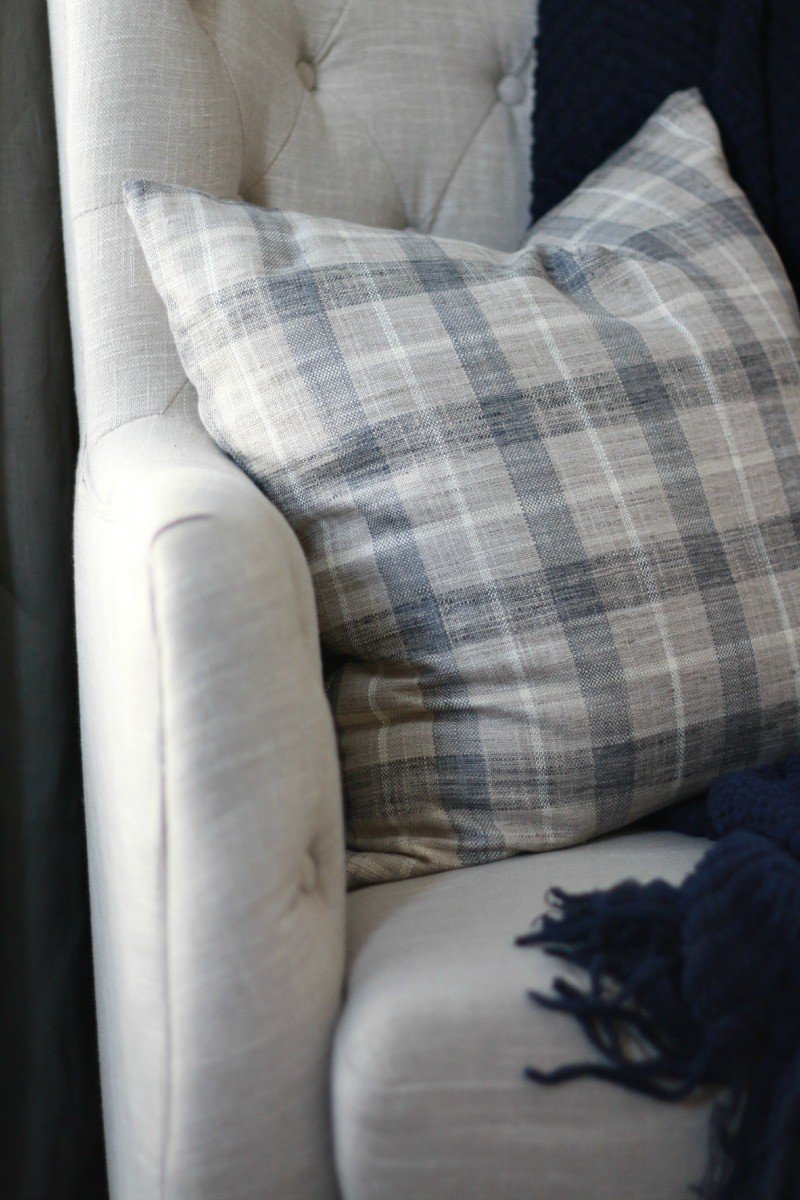 I can't say enough about Tonic Living. I absolutely love them. They were so gracious to create such beautiful drapes and this pillow for Grady's room. The quality is impeccable.
I have a sweet story about this clock. We found it at HomeGoods and appreciated how the leather and rope tied in nicely with the rest of the "trustic" space. But right when my husband went to hang it, my son said, "Dad. Can you teach me to tell time first?" So dear. So my husband sat there and spent the next twenty minutes or so teaching Grady how to tell time. He loves his clock and tells me what time it is every time I say good-night.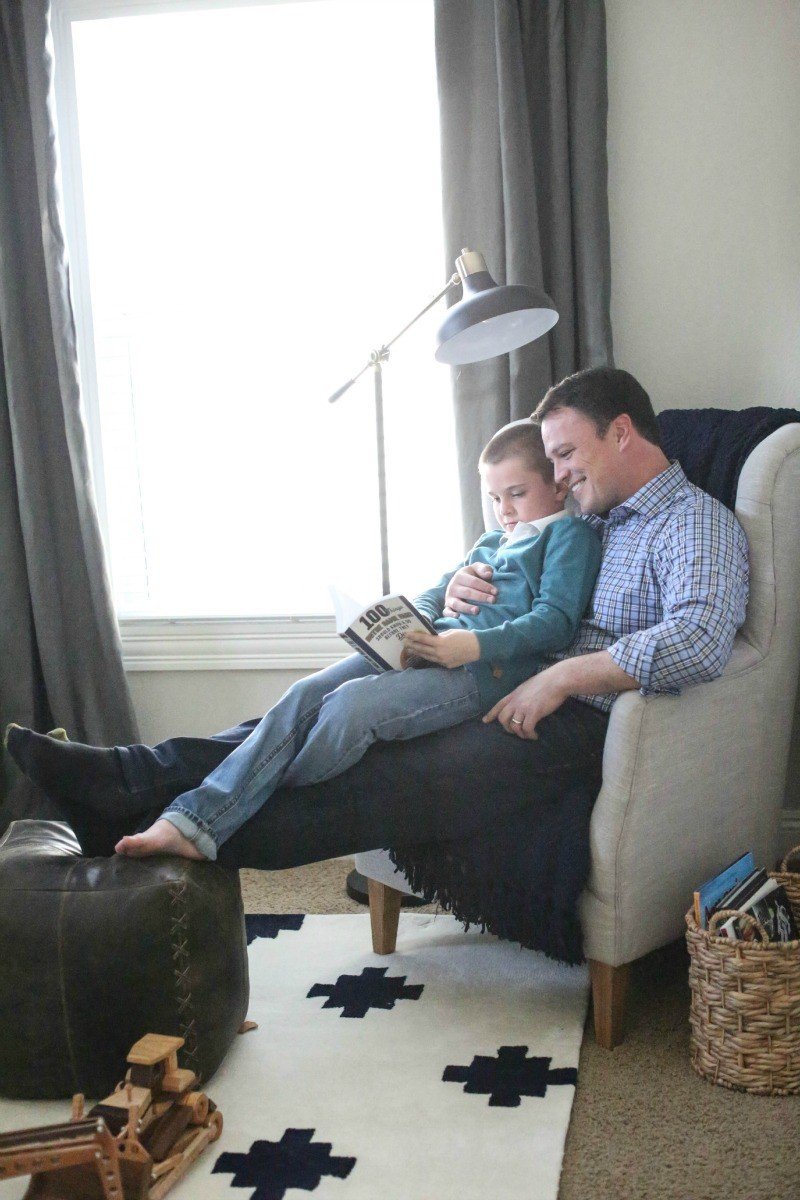 I love the warmth these drapes add to the room. Tonic Living helped with choosing the fabric, the lining, and the correct length. The drapes have the perfect amount of texture, too. And this is a common sight in this room. This wasn't just for pictures. These two love to snuggle and read in this room. My heart.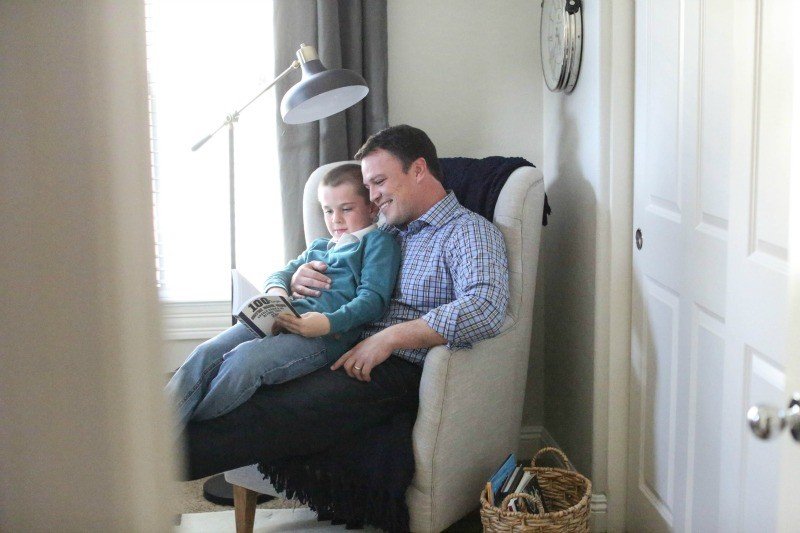 And here is a quick reminder of where the room began. It was a sweet room for a little room but now he has a space to grow up in.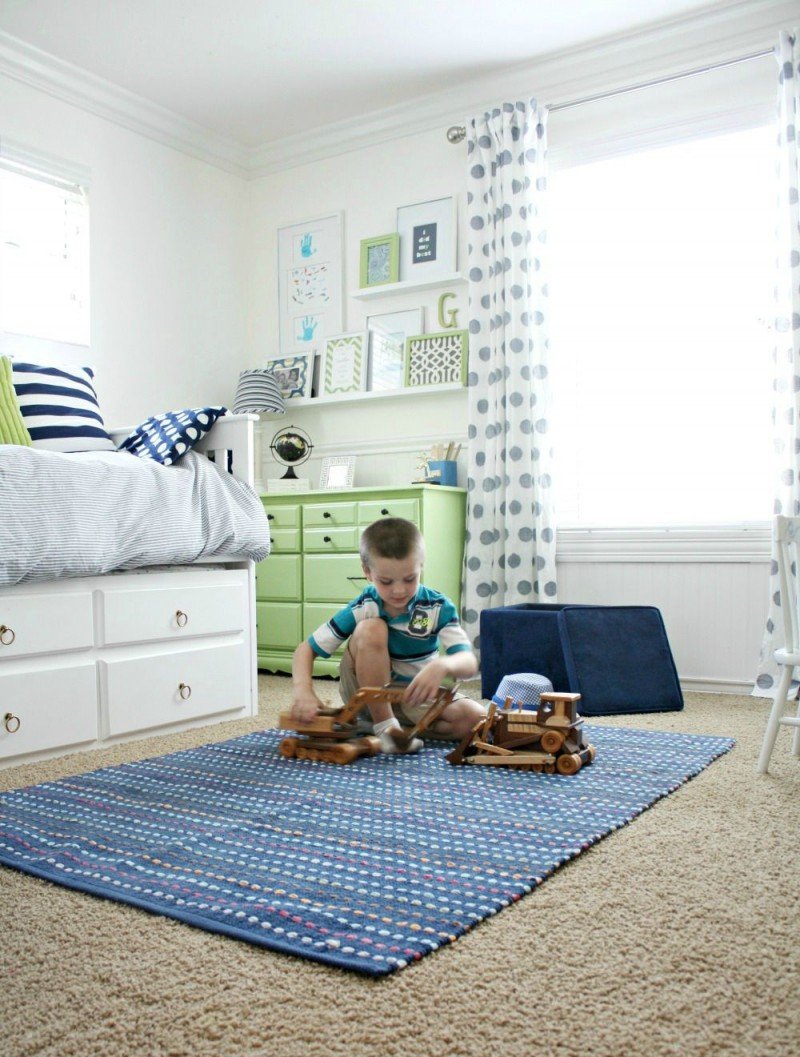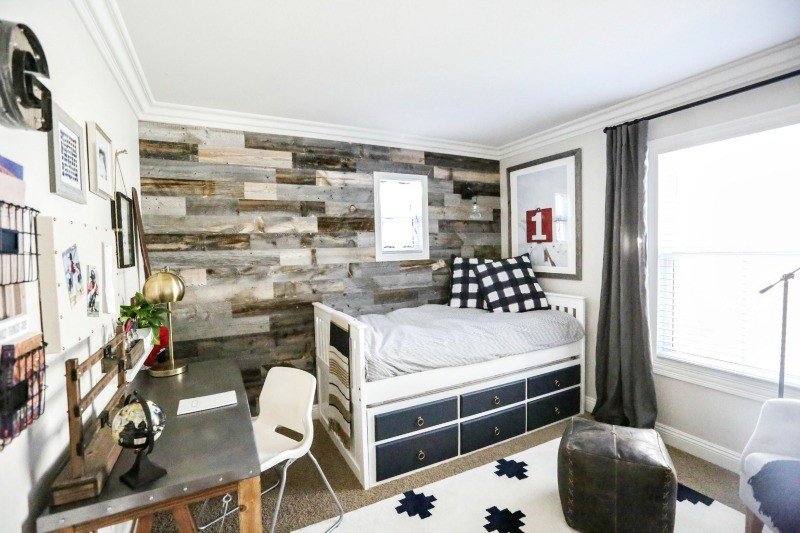 A huge thank you to the talented and generous sponsors who helped make this room possible:
ONE ROOM CHALLENGE – WEEKLY POSTS
WEEK TWO – THE PLAN & PROGRESS
WEEK THREE – RECLAIMED WOOD WALL 
WEEK FOUR – LIGHTING & A DIY INDUSTRIAL DESK
WEEK FIVE – CUSTOM ARTWORK AND TEXTILES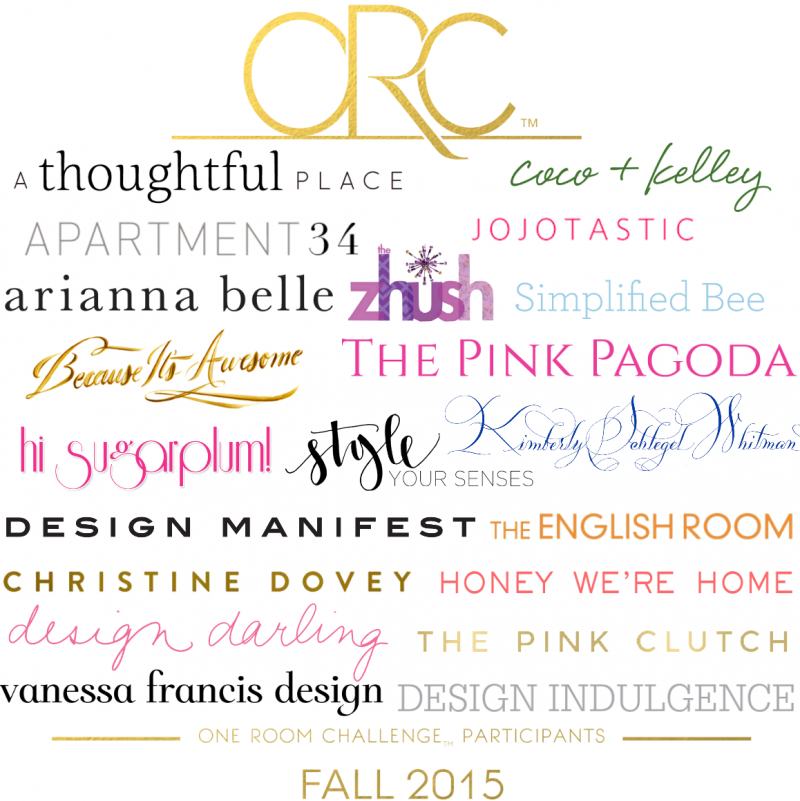 And now you are in for a real treat because these ladies created GORGEOUS spaces! You will love taking the tour. SO much goodness.
Room Reveals from These Talented Ladies