Our bathroom refresh is coming along and we are so excited about the impact of the changes. We are doing just enough to have the room better reflect our style and the style of our home. Today I am sharing the plan for the glass block wall. We are getting creative with how to not only cover it, but create a feature wall that will add to the overall look of the space.
OUR BATHROOM UPDATE
If you have been following along, you know we are slowly but surely infusing more of our style into our bathroom. We opted not to replace anything (not where we want to spend our money) and just give it a refresh. You can see more of the reasoning behind that choice here, but this is where we currently are. The room feels so much brighter and much more traditional. Next on the agenda is swapping out the glass doors for fluted detail and disguising the block wall.
The chandelier we chose has added so much warmth to the space. We went with the polished nickel and really like it.
OUR GLASS BLOCK WALL
Here she is in all of her glory. As I look at this photo, I am realizing I should swap out the floor grate. But back to the glass block wall. We love the light that comes in, but during warmer months it allows in too much heat. Covering the window will not only help with that, but also hide the dated glass blocks. At first I thought I would just do a linen shade, but I started to envision more fabric and more drama.
GETTING CREATIVE WITH DRAPERY PANELS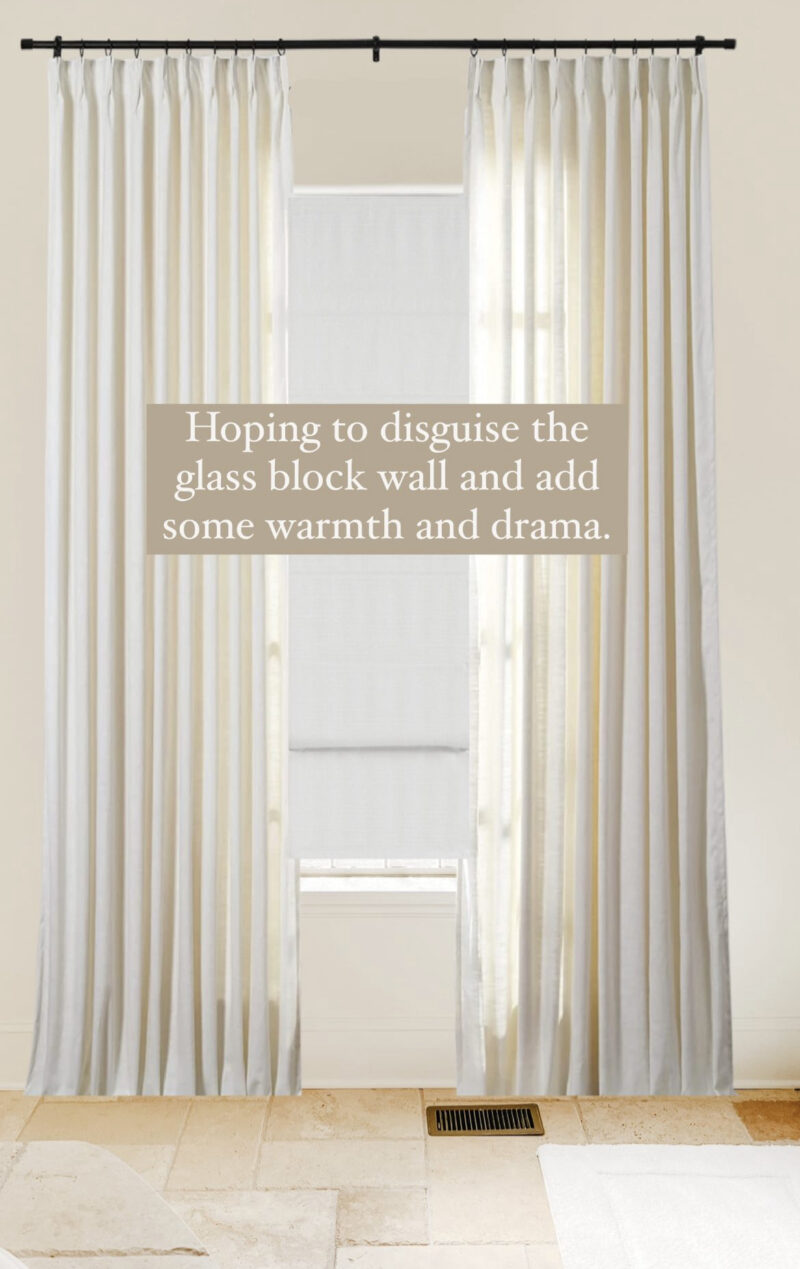 Here is the plan. I am opting to make my own linen panel to cover the blocks. I will use a spring rod to hang it. I think custom pinch pleat drapes will dress this wall up and give it the drama I am looking for. Not only that, it will work wit the traditional and timeless look I am hoping to create.
GORGEOUS INSPIRATION
When I was searching for well priced custom drapes, I stumbled upon these. Wow. This was a photo shared in the reviews and I knew these were the way to go. This room is so beautiful and the drapes add so much. There are so many colors and sizes to choose from.
THE DRAPERY PANELS ARRIVED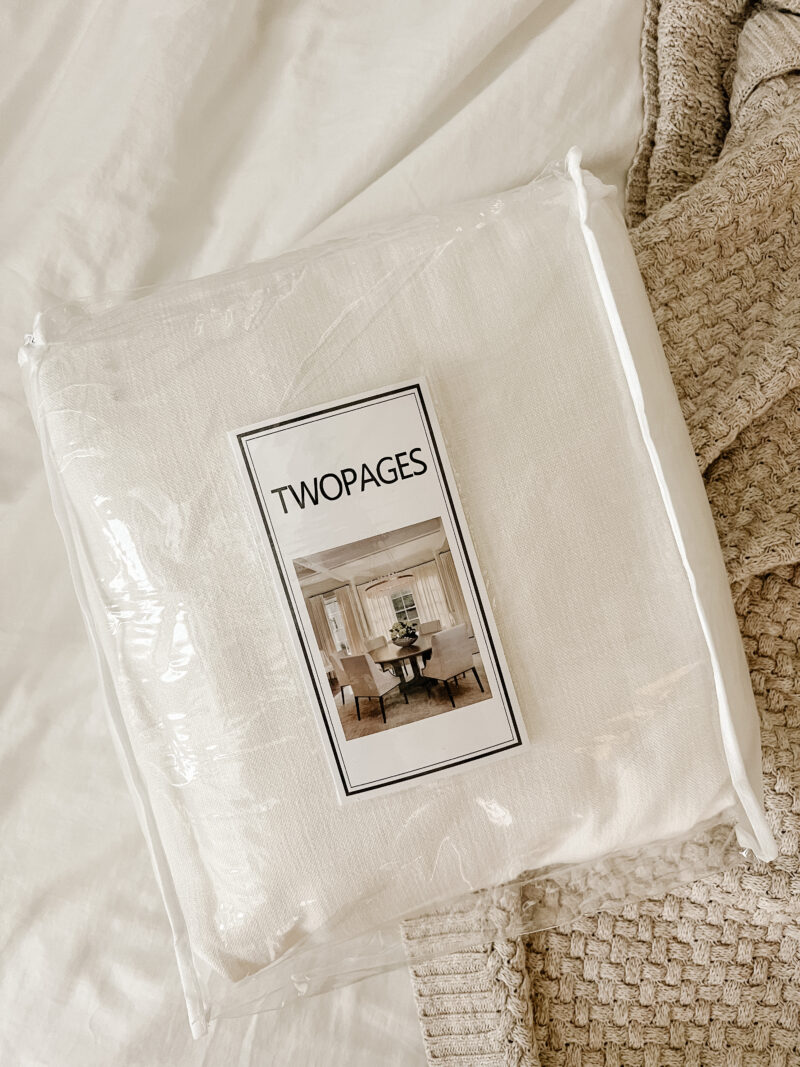 These panels were expected to take a few weeks, but arrived so much faster. I LOVE them. I have yet to take them out of the package because I don't have the rod yet. The color is spot on for our space. Our walls are Alabaster by Sherwin Williams (a creamy white) and these are almost a perfect match. Exactly what I was envisioning.
I first ordered "creamy white" and I was so impressed when I received a message letting me know that they are a bit more yellow than people expect. After seeing more photos, I chose to go with "beige white" and they are ideal. They are not white, but indeed a creamy off-white in person.
PRETTY TEXTURE AND WEIGHT
Here is a close up of the pretty texture. They are very heavy (a great sign for how well they will hang) so I need to make sure the rod can support them. Stay tuned for this wall transformation.
I am also waiting on the trim work to arrive. I chose this fluted detail to install in the cabinet doors. It will be amazing to hide all of my beauty products and have a cleaner look.