Thank goodness it's Friday. We are ready for the weekend, that's for sure. Our temperatures are shooting back up so Fall isn't exactly here to stay but I'm rounding up some great finds from Amazon that will serve your wardrobe well. They are quality basics that are easy on the budget.
LEOPARD LOVE
First up is this leopard t-shirt. It's gotten rave reviews from so many bloggers and I see why. It's a fun dose of leopard and a nice weight. I also like that it came out of the package looking pretty good. I immediately hung it up and the next day the wrinkles had pretty much fallen out.
The scoop: I went with a size small. Impressed with the way the wrinkles fell out on their own. A cute shirt for under $20.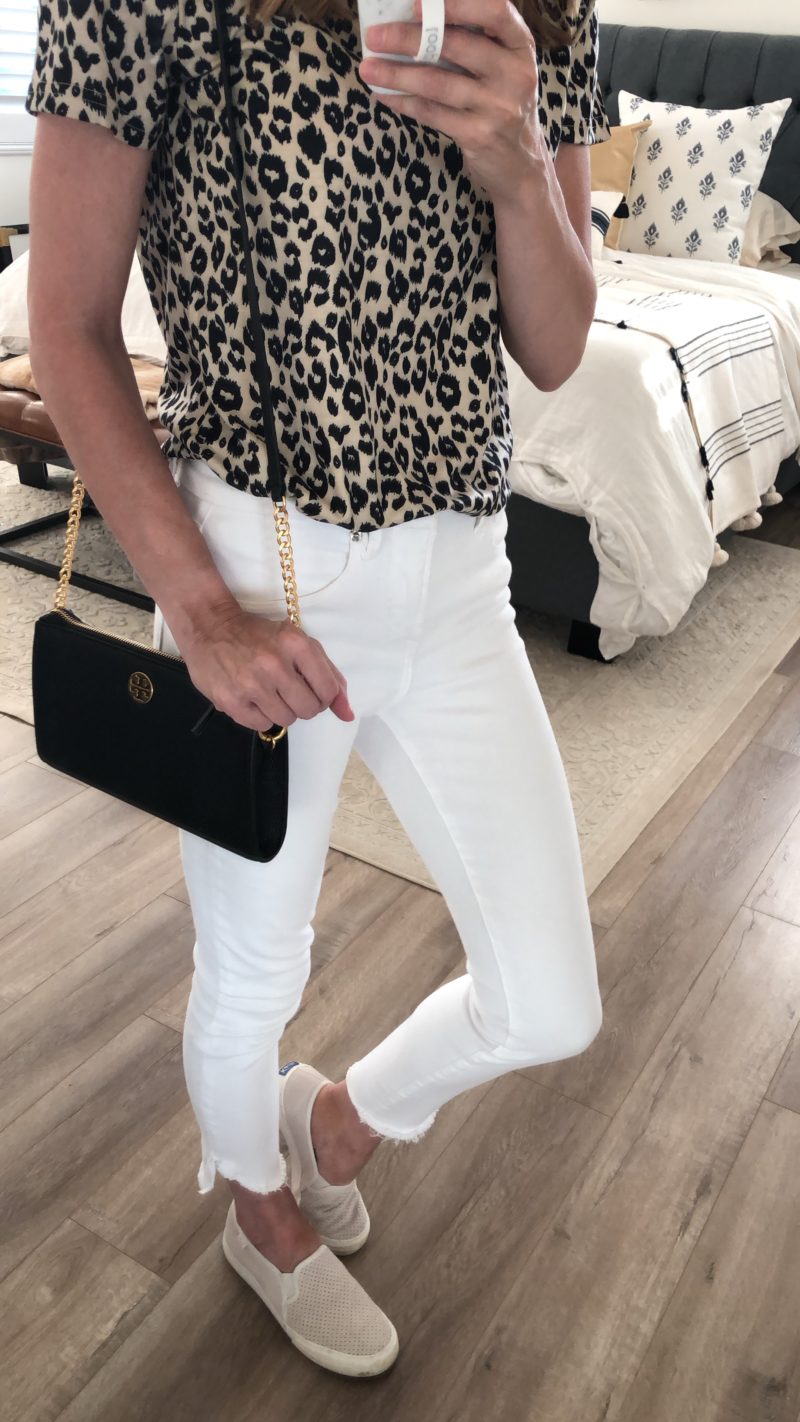 leopard t-shrit | white jeans | shoes | handbag | necklace
These Keds remain one of my very favorite pairs of shoes. They feel like clouds when you step into them. Plus the neutral color goes with everything. A great pair of sneakers for running around.
By the way. My white jeans are 40% off and I LOVE them. Wear them all the time.
Another close up look at the shirt. I like the tan trim at the neckline. It comes in a few different colors, too.
BEST BASIC T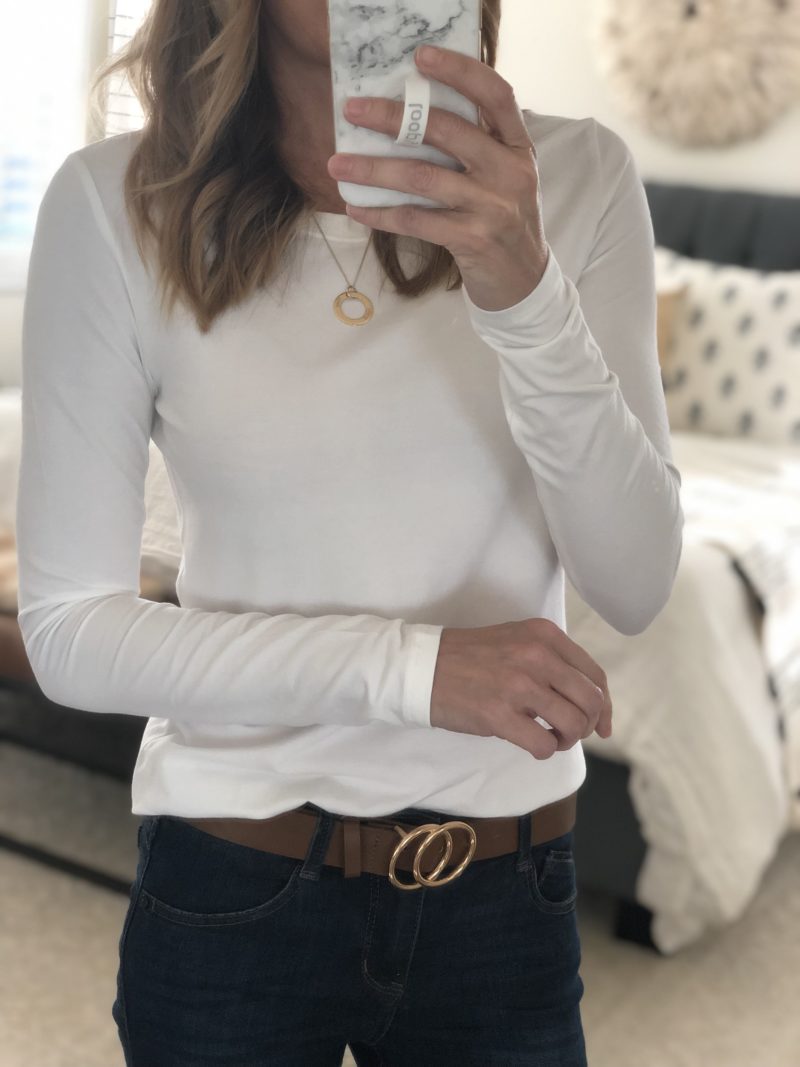 Girls, you need this long sleeve essential t-shirt. It's incredibly soft and feels so good when you are wearing it. Plus I can't tell you how much I appreciate the the sleeves are long!!! I can't stand when sleeves are too short on tops. This is a fantastic wardrobe staple. It reminds me of the ones I used to pick up from Target but this is far softer.
The scoop: Wearing a small. If you are in between sizes definitely go up. This is a tad snug under my arms. Too good to pass up for $12.
MUST-HAVE SCARF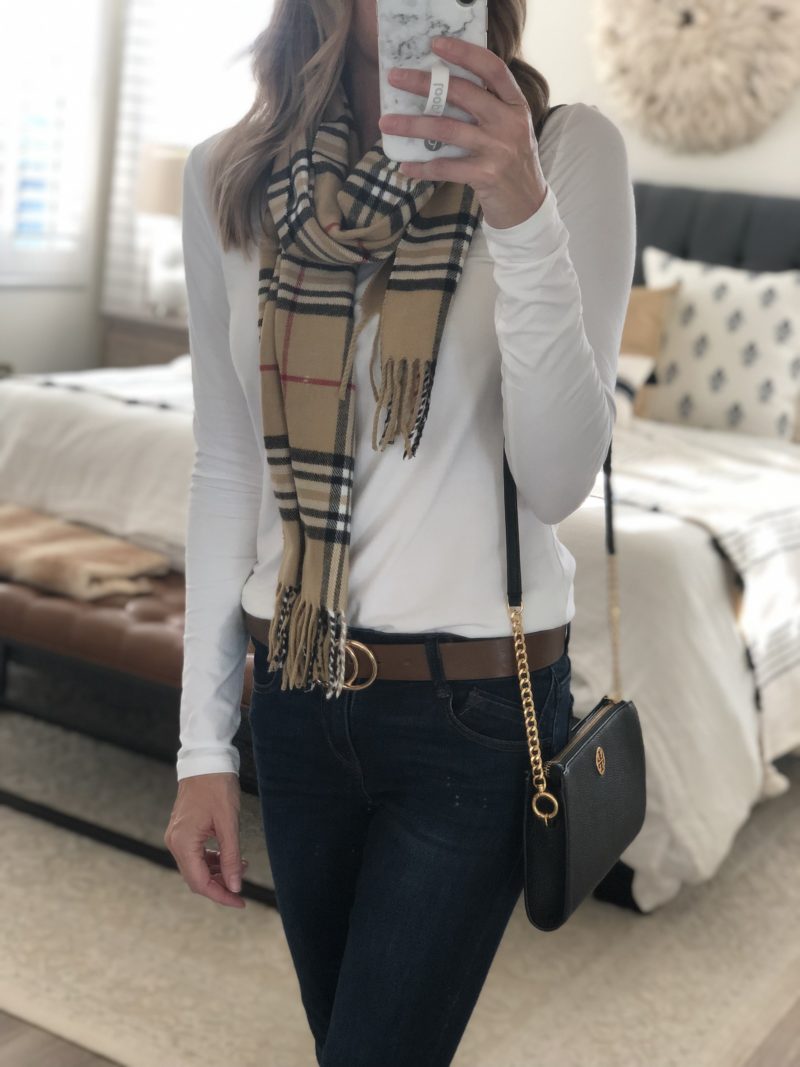 jeans | t-shirt | scarf | belt | handbag
Next up for a must-have is this plaid scarf. Ladies!!! It's so good. It looks just like the designer version but it's only $10! What? Plus it's beyond soft. The type of soft where you want to snuggle up to it. It feels incredible. My husband was totally fooled when I showed him the scarf. He was pretty stinking happy about the $10 price tag.
PLAID GOODNESS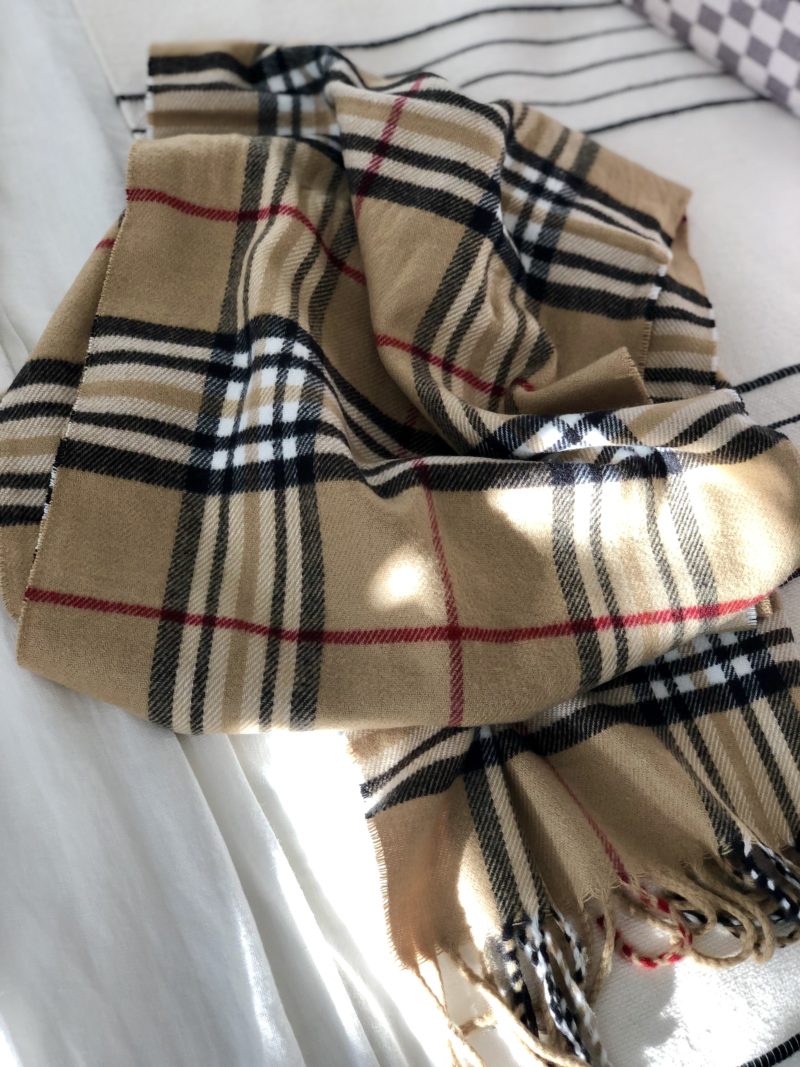 The scoop: The scarf comes in a ton of different colors. I like how it's not too bulky and beyond soft. Highly recommend. Awesome gift idea as the holidays approach, too.
CLASSIC CARDIGAN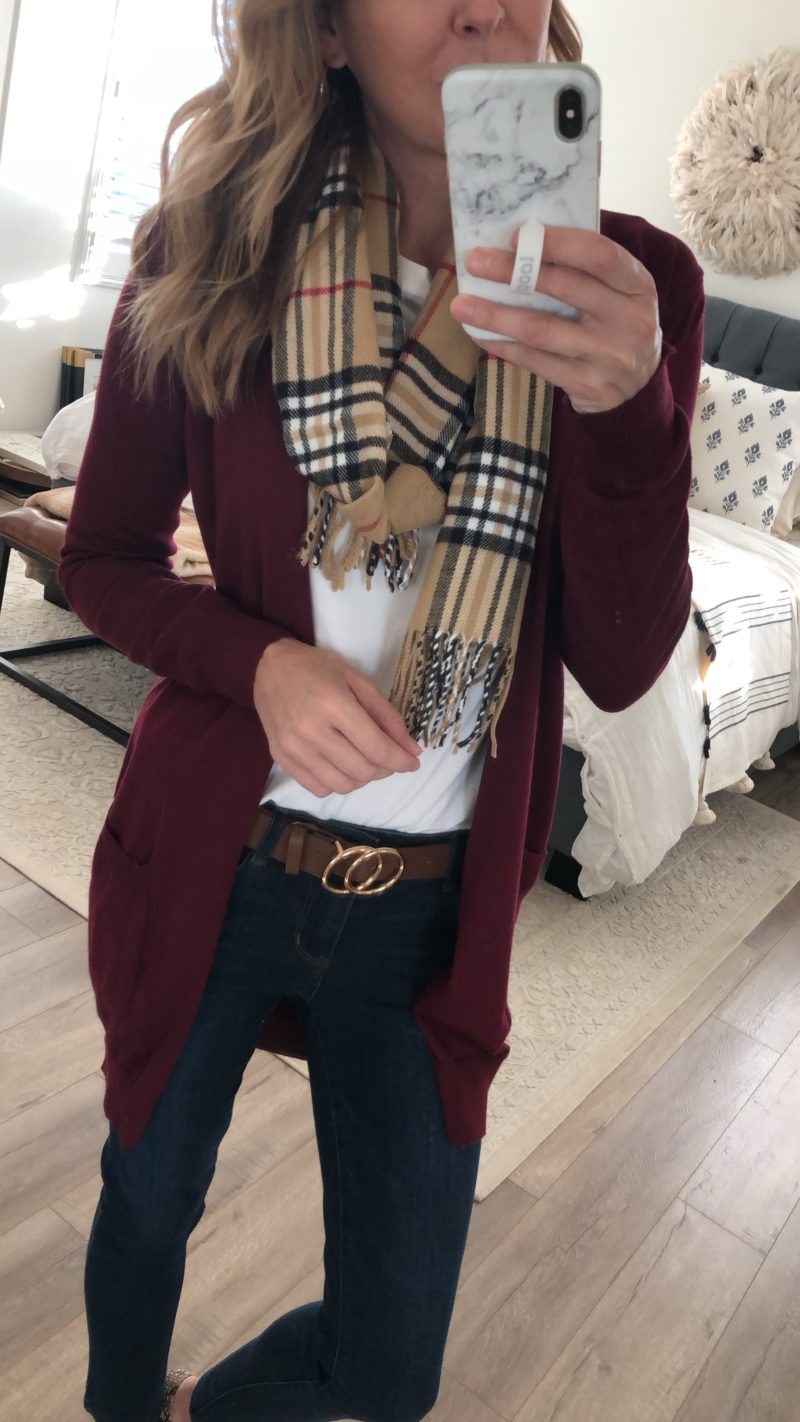 cardigan | t-shirt | scarf | belt
Another total score is this basic cardigan. It's not too bulky and is very soft. It only took a quick once over with my steamer and then it looked great. This cardi comes in many colors but I love this cranberry color for Fall. It has received excellent reviews on Amazon.
The scoop: Consider going one size up. I am wearing a small and it's a bit of snug fit. I don't mind that, but if you like it roomy, go with one size larger. Very soft and looks much more expensive than it is.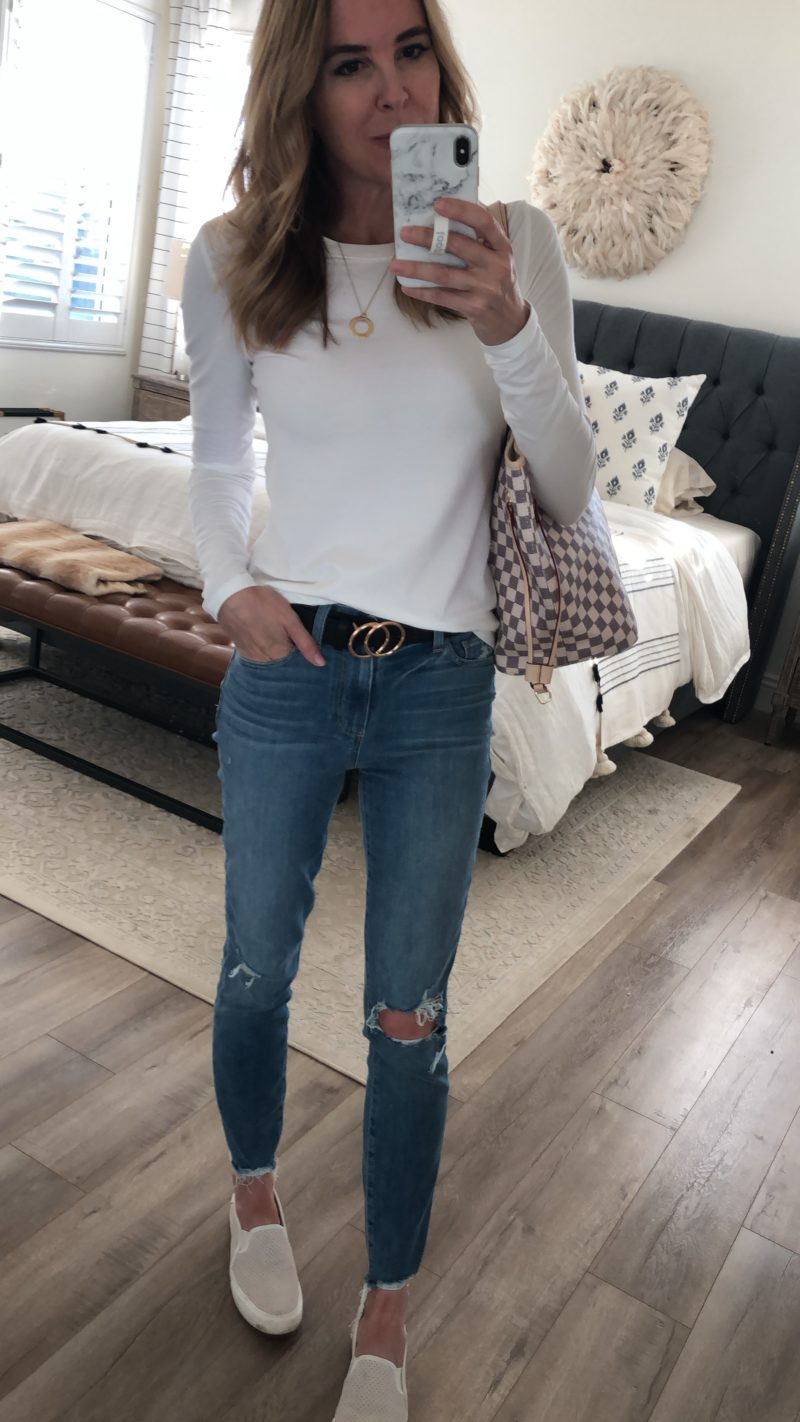 jeans | t-shirt | belt | shoes
LACE NUMBER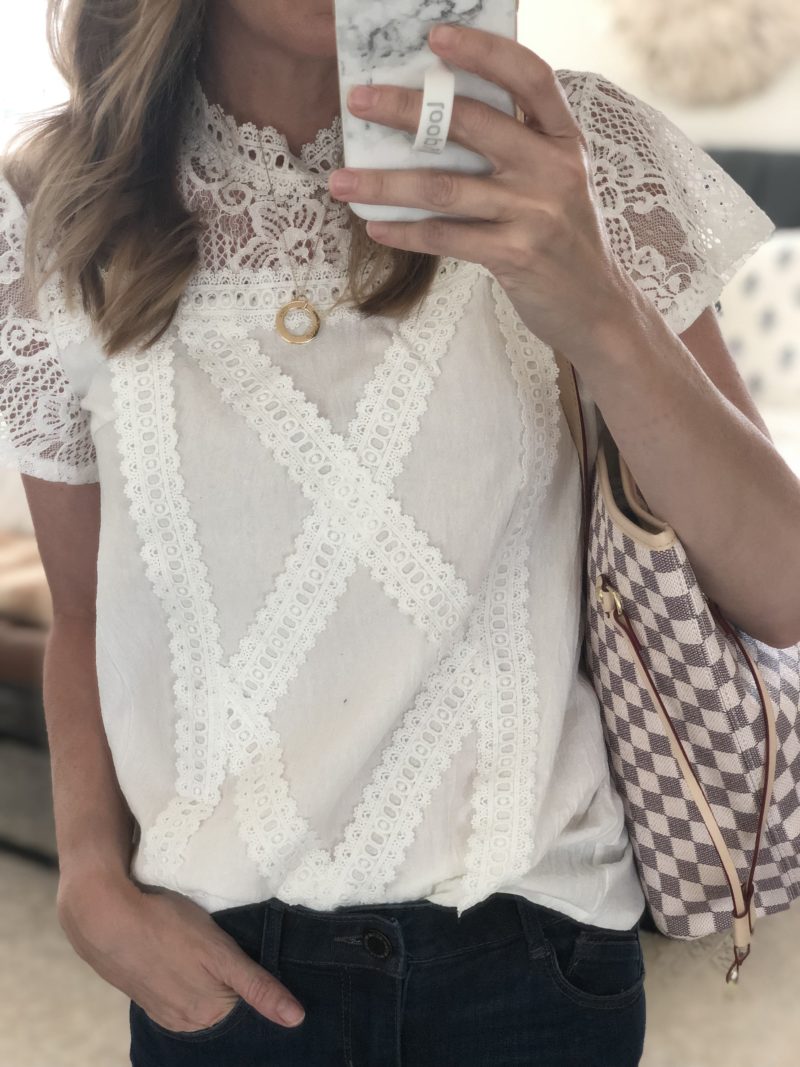 The lace top you all loved looks adorable with the tote. A cute combination for sure.
BEST SELLING PIECE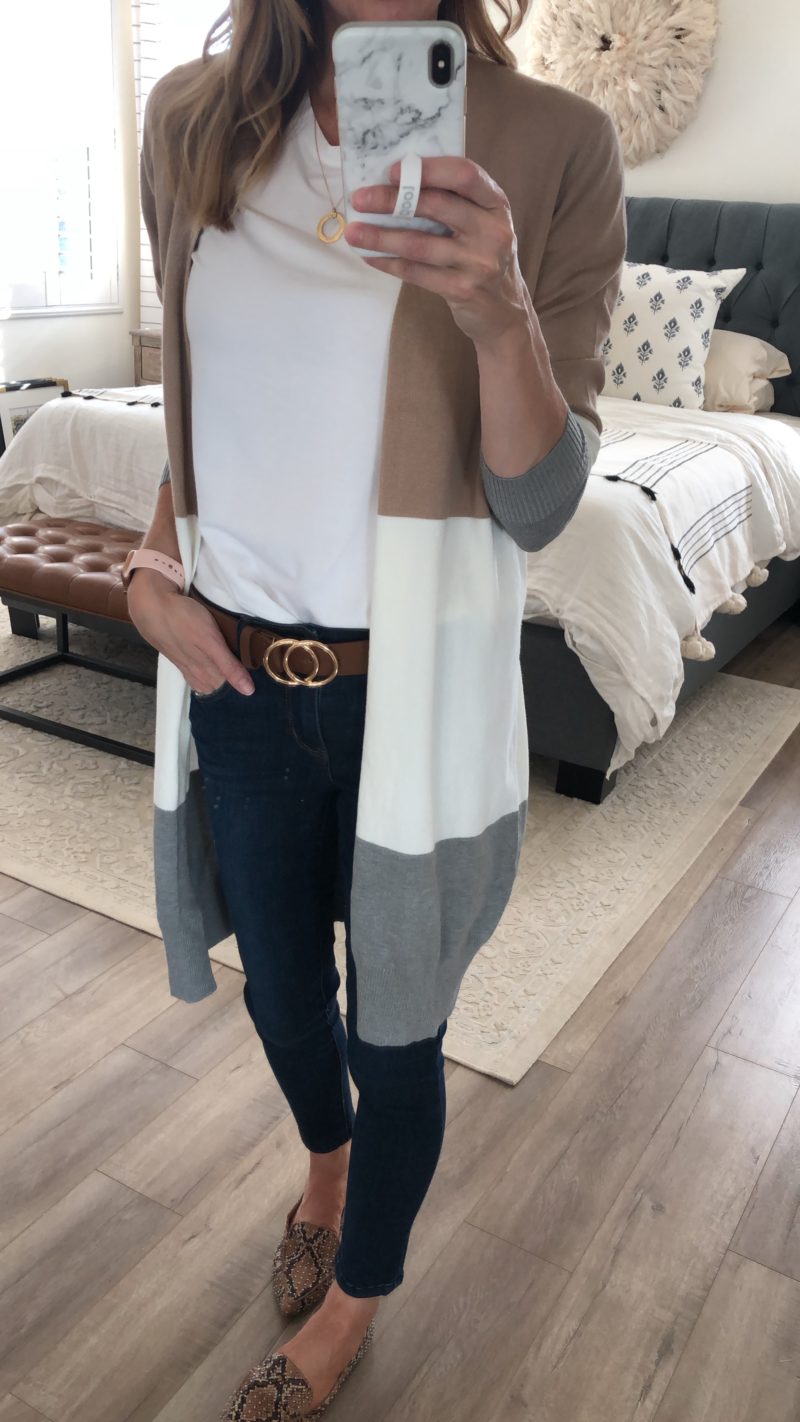 cardigan (khaki) | jeans | belt | t-shirt | necklace | loafers
This still remains one of the top selling items. Softer than soft cardigan. If you missed the first Amazon Fashion post you can get caught up below.
I have a jam-packed day ahead but looking forward to meeting up with a dear friend for lunch. That always makes the day so much better. Here's to a productive and happy Friday for all.