How was your Monday? We are trying to get into our summer groove. It's always a bit of a challenge with both of us working from home and the kids having other agendas. Our temps are certainly heating up so it's time for the summer wardrobe. I am excited to bring you Amazon Summer Fashion Under $40. So many fun finds and really affordable pieces.
SIZING REFERENCE: Every piece in this post is a size small.
SUMMER DRESSES
This dress is really soft and comfortable for summer. It's lightweight and boasts a high-waist tie. It comes in so many different colors and stripes.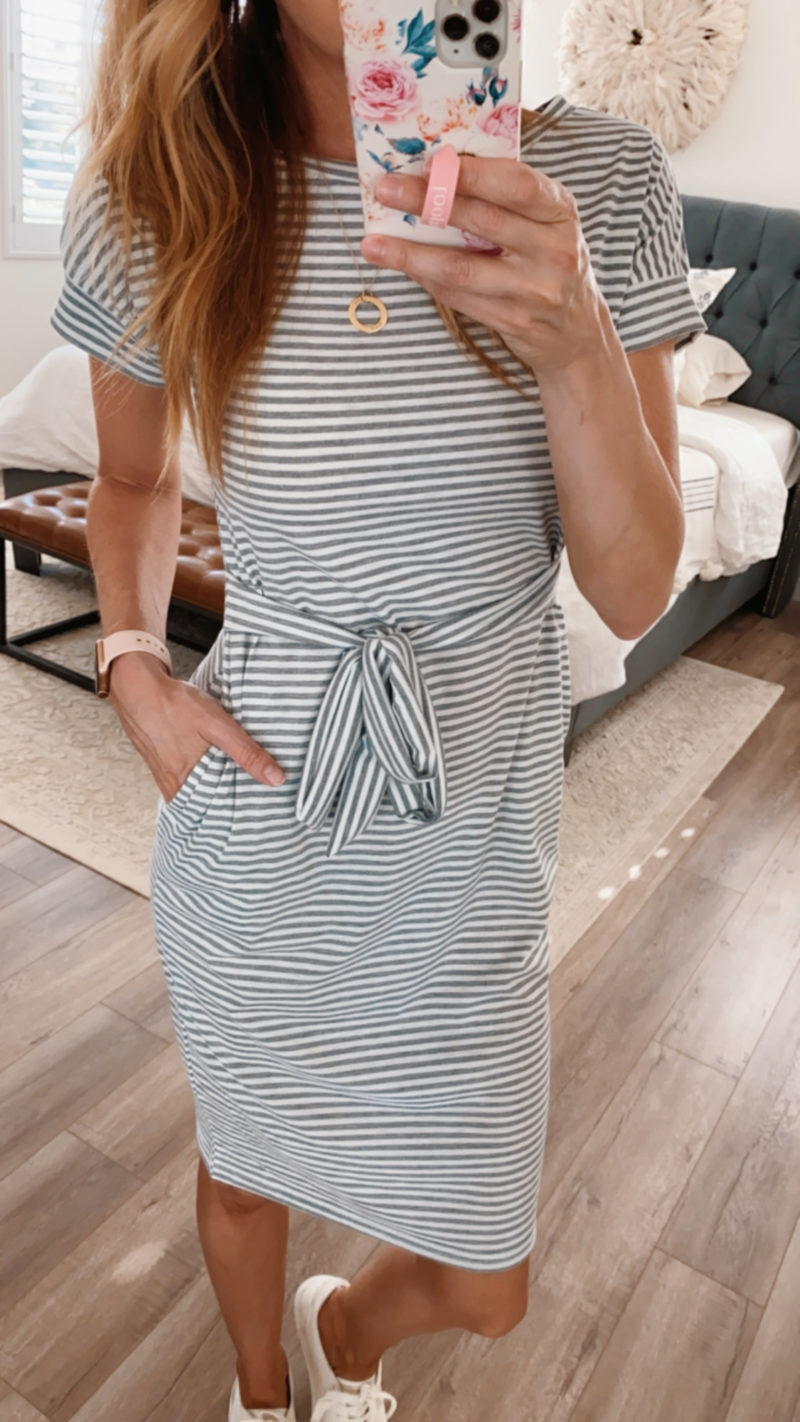 The tie is sewn into the dress and falls much higher on me than in the photos on the website. I am 5'7″ so perhaps it falls more at the waist on others. Overall I highly recommend this dress. It's under $30 and so comfy. I love the length and the pockets. You could easily dress up the solid color versions for work or a night out.
COMFY STRIPES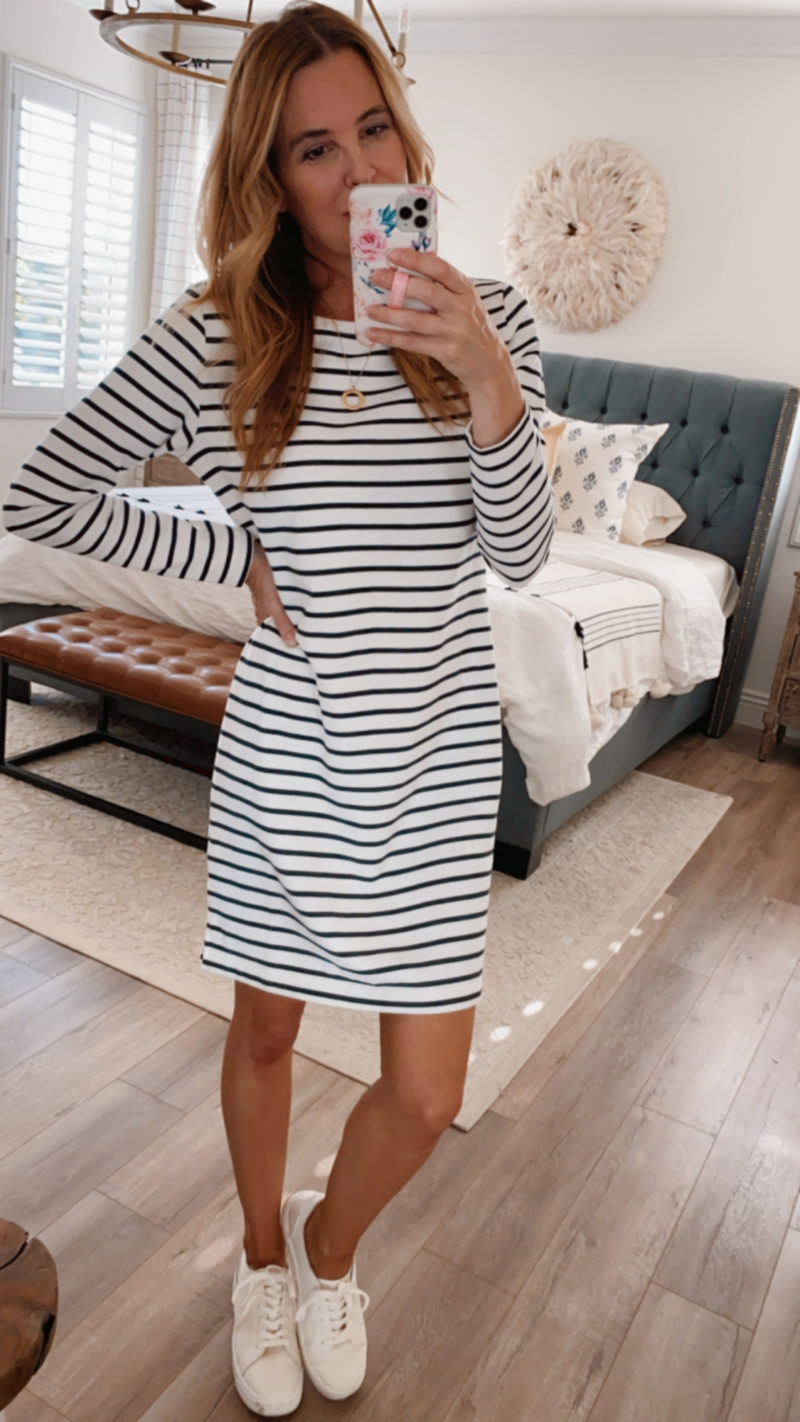 terry fleece striped dress | sneakers
Girls, this dress is so cute. It feels like a sweatshirt but still falls really nicely. It's cozy and perfect for dressing up or down. I have also paired it with my wedges and it looked great.
I like that it's not too short and is appropriate for work or fun.
ADD A SWEET BOW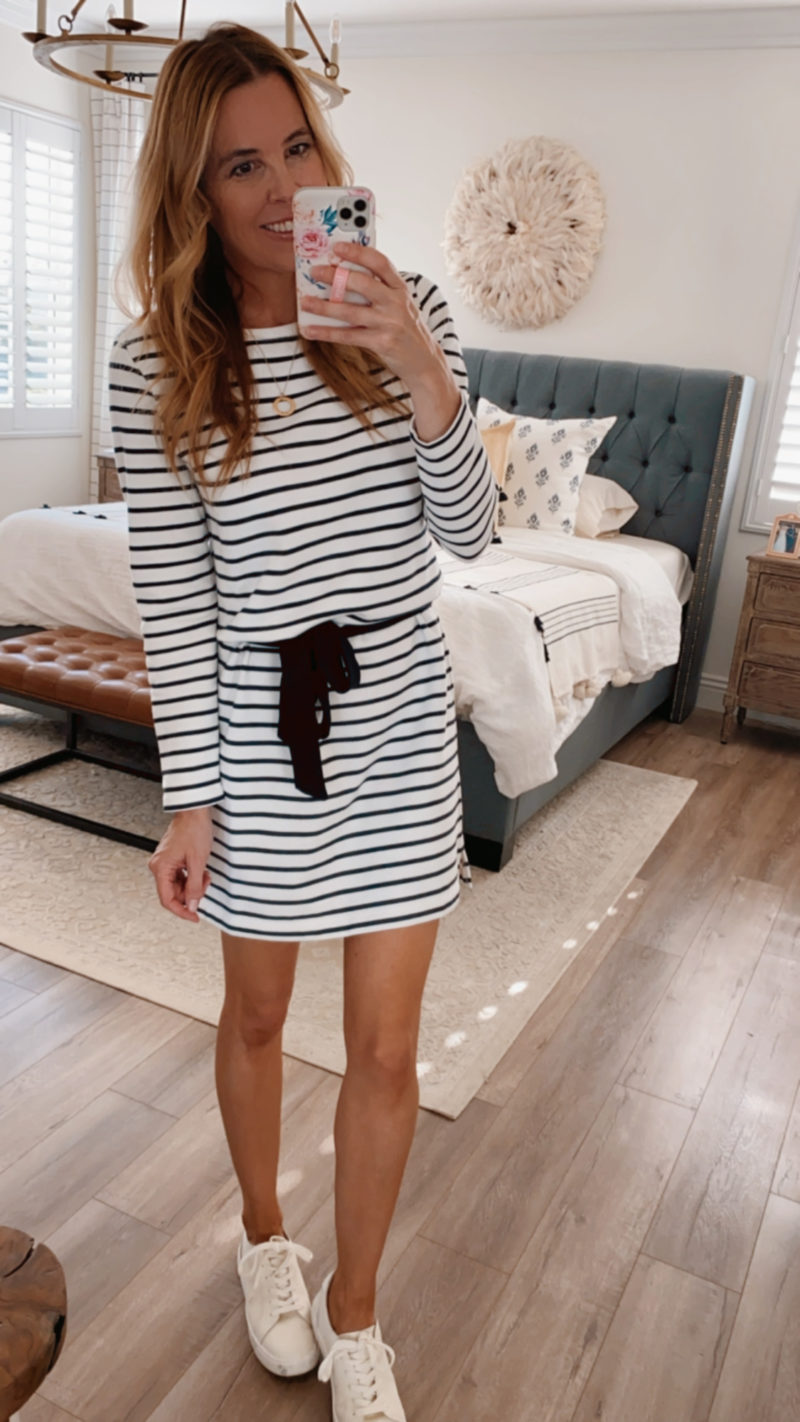 I grabbed a black sash I had from a jumpsuit (you'll see further down in the post) and gave the dress a new look.
FEMININE & FUN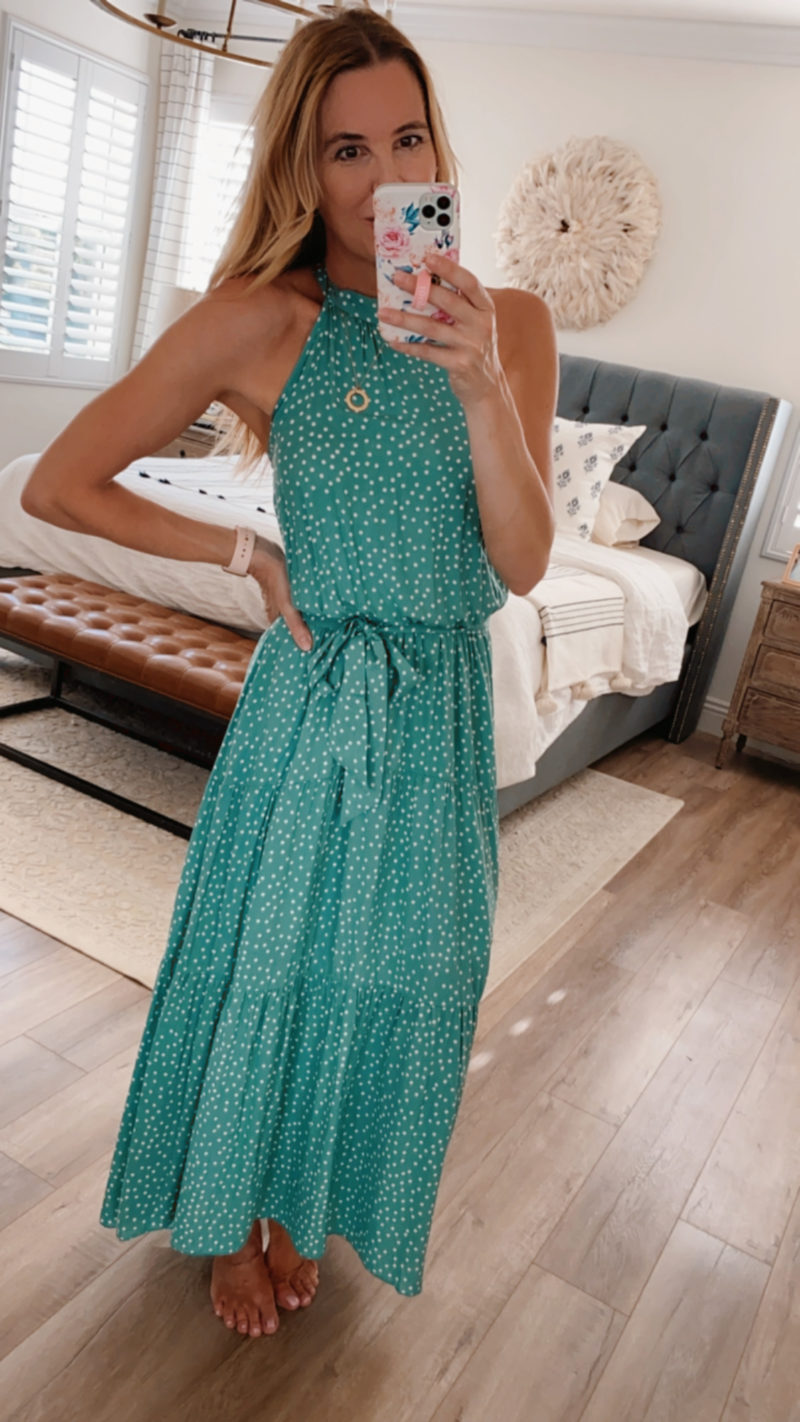 halter neck sundress | necklace
This may be one of my favorite dresses ever. It's such a great one, ladies. I can't believe it's under $30. It comes in 8 different colors. When it arrived it was definitely wrinkled but it steamed out so beautifully.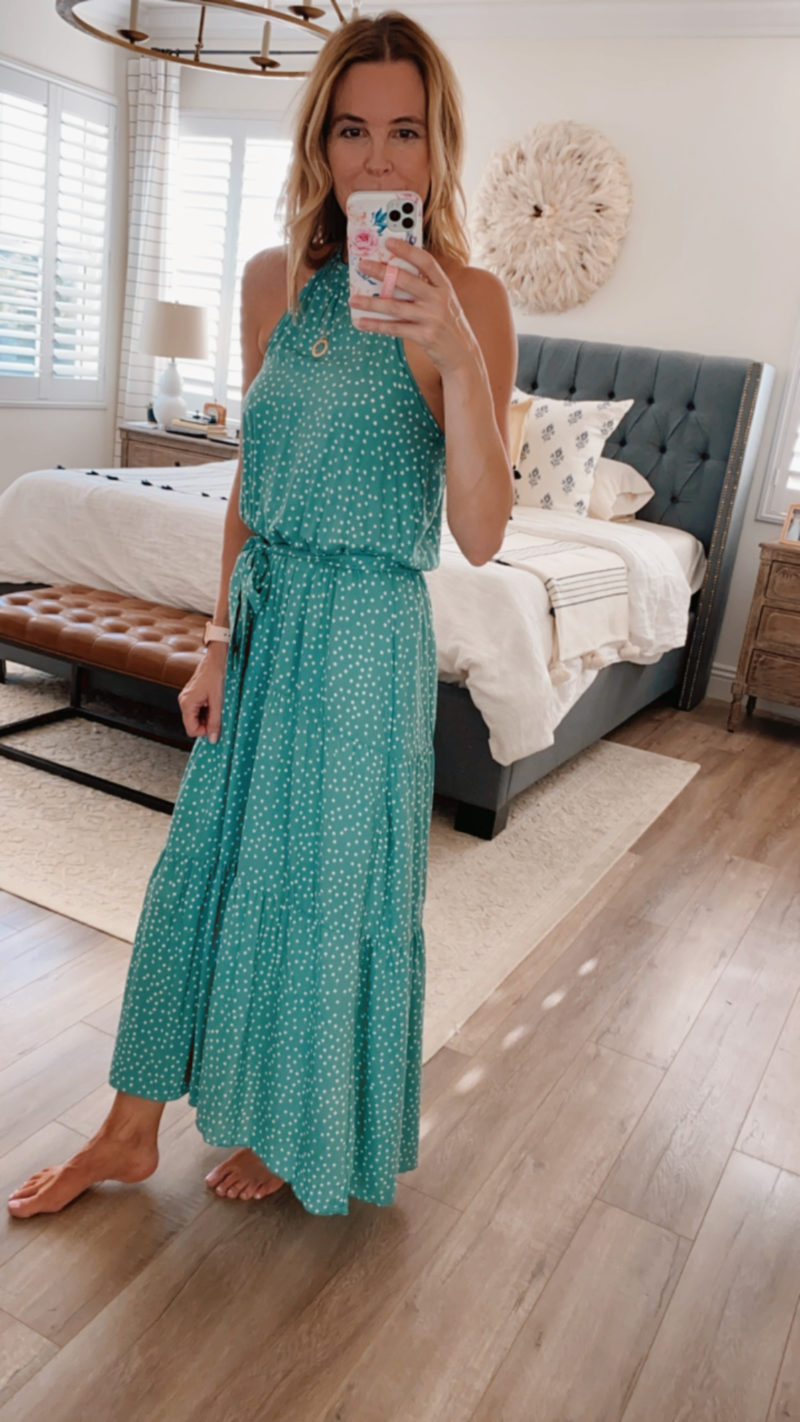 The back is a halter style at ties at the neck. I would recommend either the nipple covers or a strapless bra. If you are especially busty, I would go up one size. It is just slightly longer in the back than the front and so feminine and pretty. I am definitely going to order this in another color.
COMFY JUMSPUIT
First of all, I am sorry I don't have better photos of this. There is a black tie around the waist that forms a bow. It's so cute. You won't want to take this jumpsuit off. I can see myself wearing it to a meeting or school function but then adding heels and a fun clutch for date night. It's really cute. It is a substantial cotton fabric and not lightweight at all. It definitely falls nicely and not see through. The jumpsuit comes in seven different colors.
SUMMER SKIRTS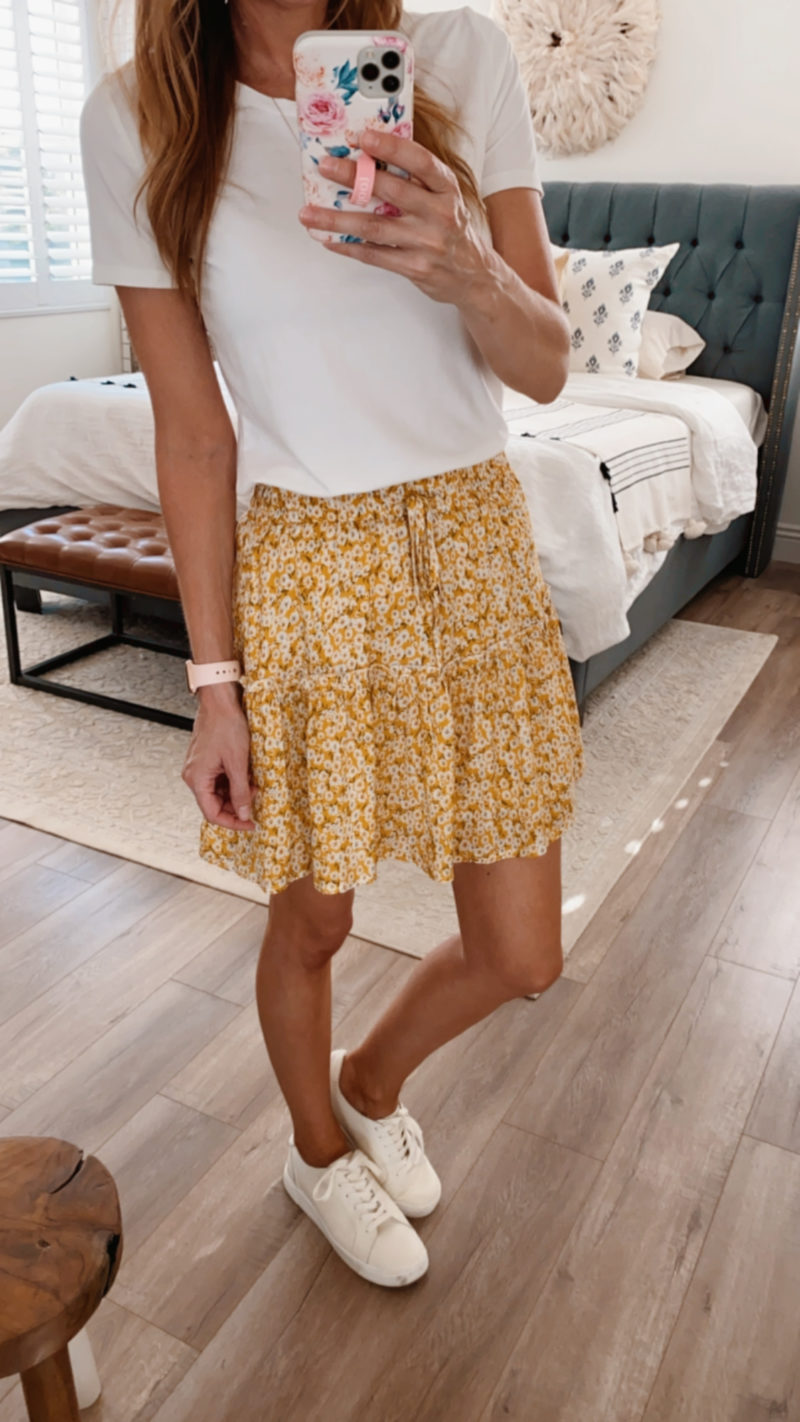 yellow floral skirt | white t-shirt | necklace | sneakers
I love wearing skirts during summer but struggle to find ones that aren't too short. These are perfect! And they are only $18. This skirt comes in one million colors and patterns and is darling for the warmer months. This yellow one is lined and fits perfectly.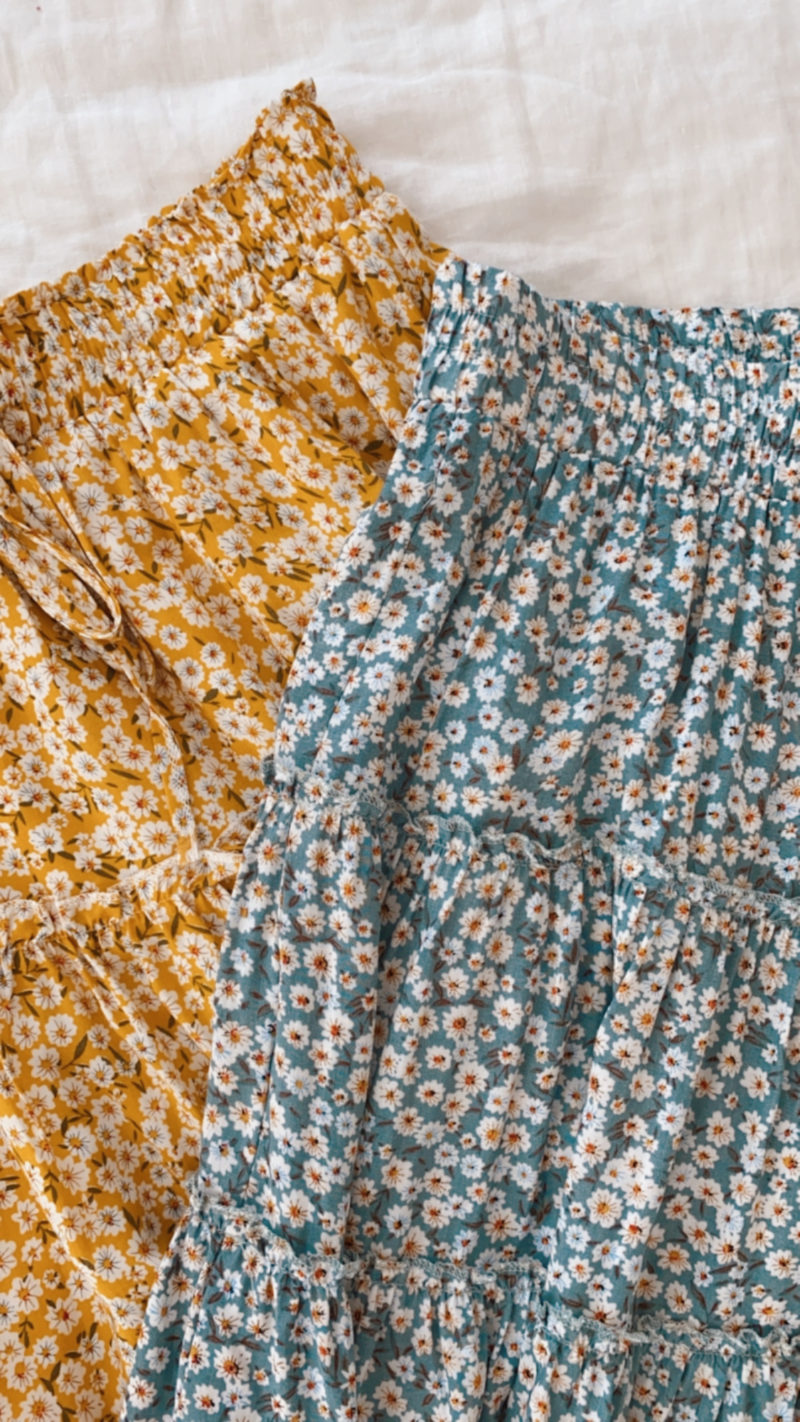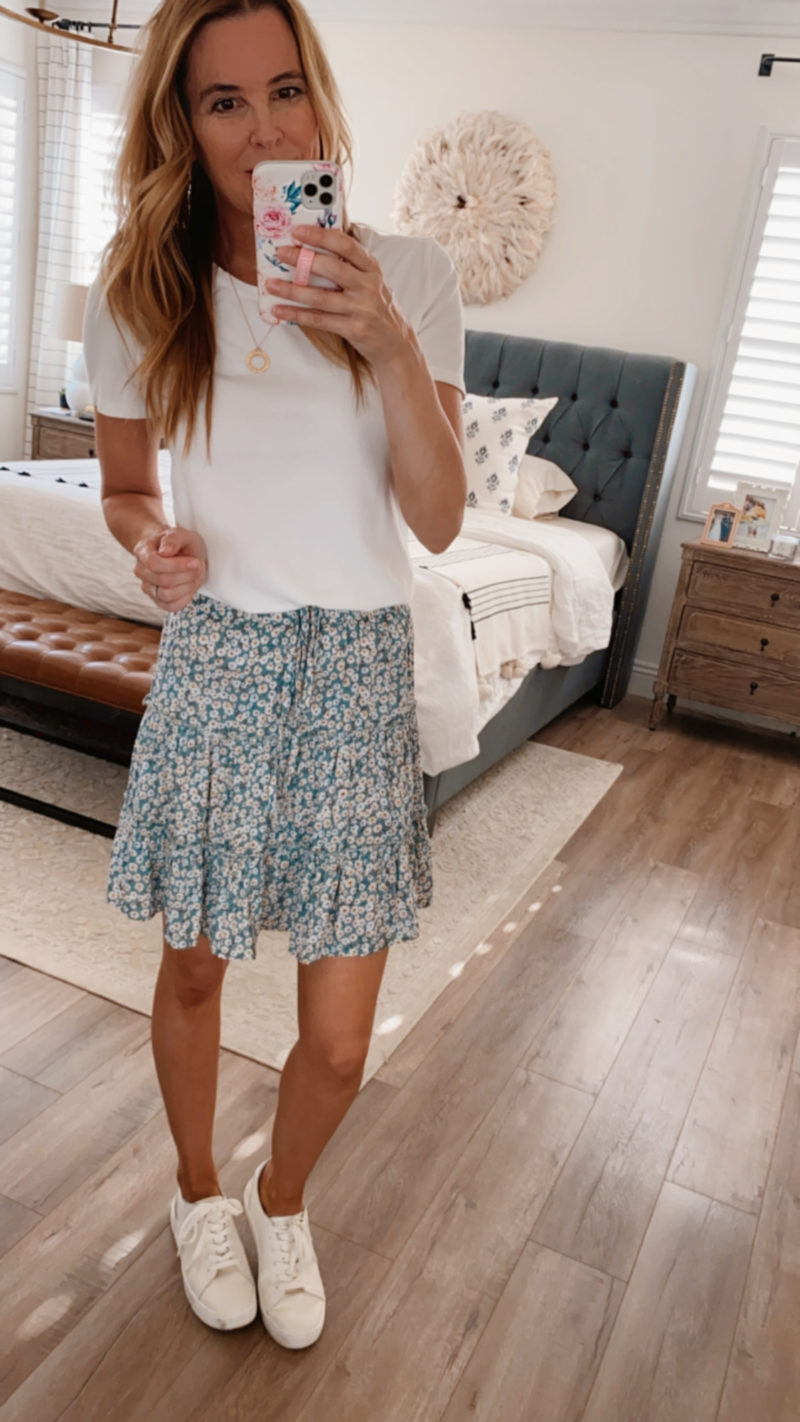 snake print skirt | white t-shirt
The blue version is not lined and fits a bit tighter around the waist. Based on this one, I might go up one size in the blue style.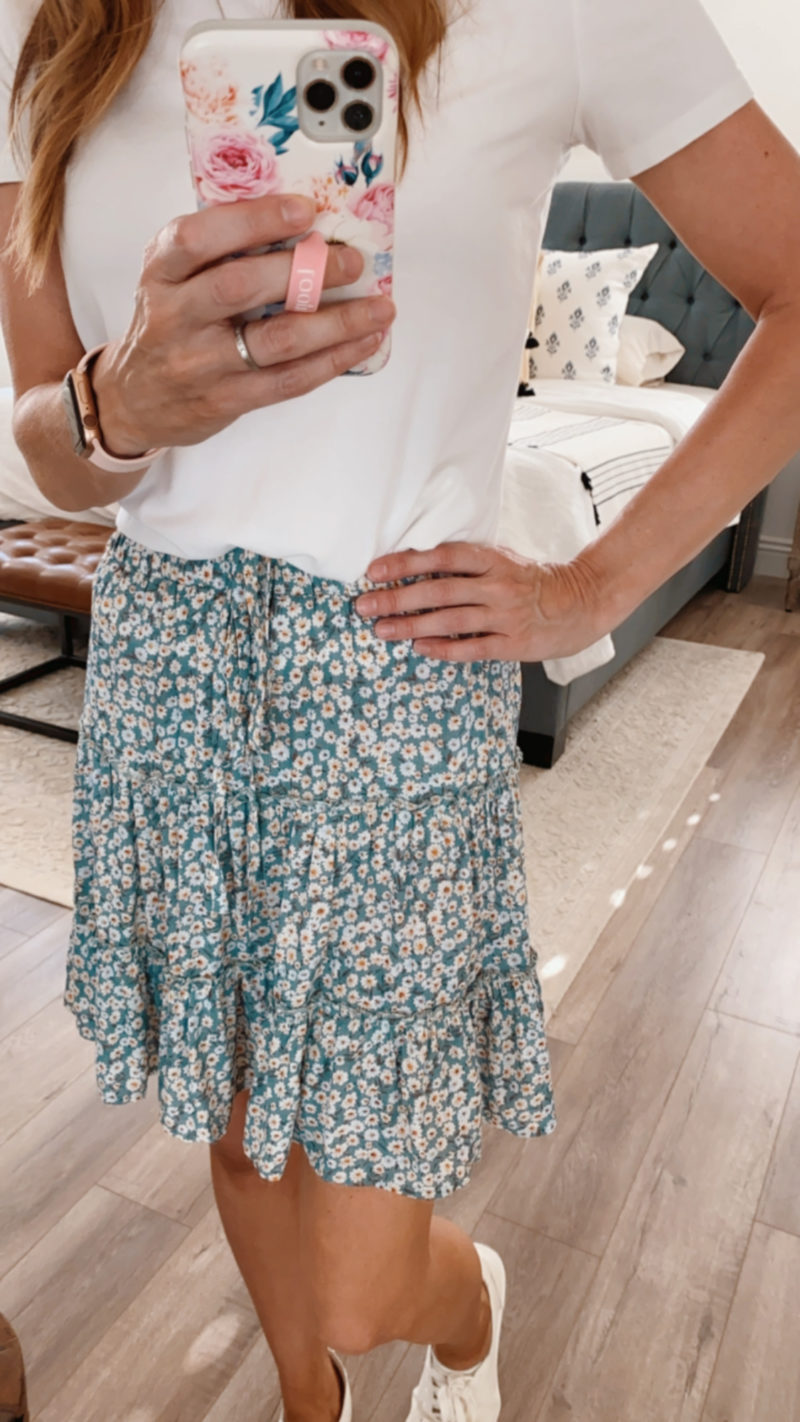 The print is just so pretty. Even my daughter has her eye on these.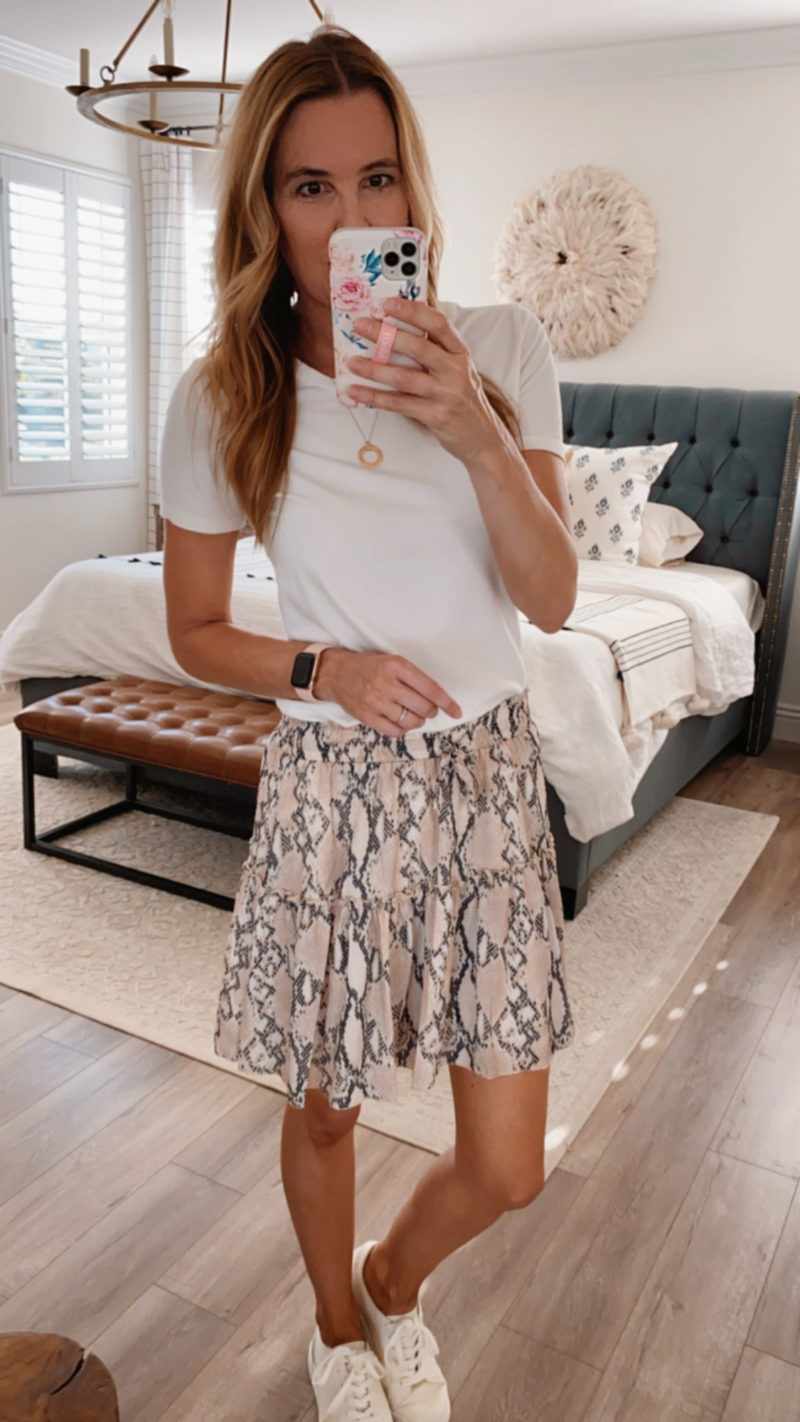 snake print skirt | t-shirt | sneakers
Fives stars for this snake print skirt. It's so comfortable and doesn't wrinkle easily. I think this would be a great piece to travel with (one day).
The white t-shirt is an Amazon favorite and best seller. They wash and dry beautifully and are extremely soft. They come in a two pack for $18.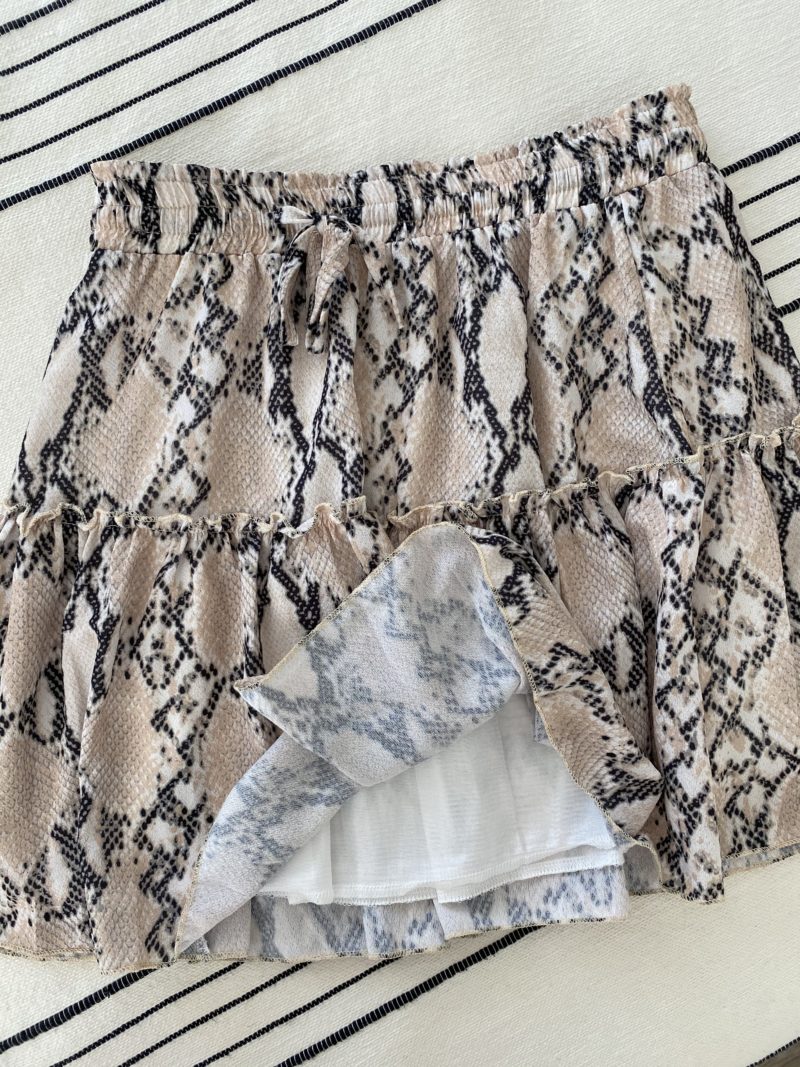 I really love that this snake print skirt has a lining. It's really comfortable and doesn't wrinkle which is great.
EYELET BLOUSE
Do you all remember this top? I bought it last summer and so happy I did. One of my all time favorites.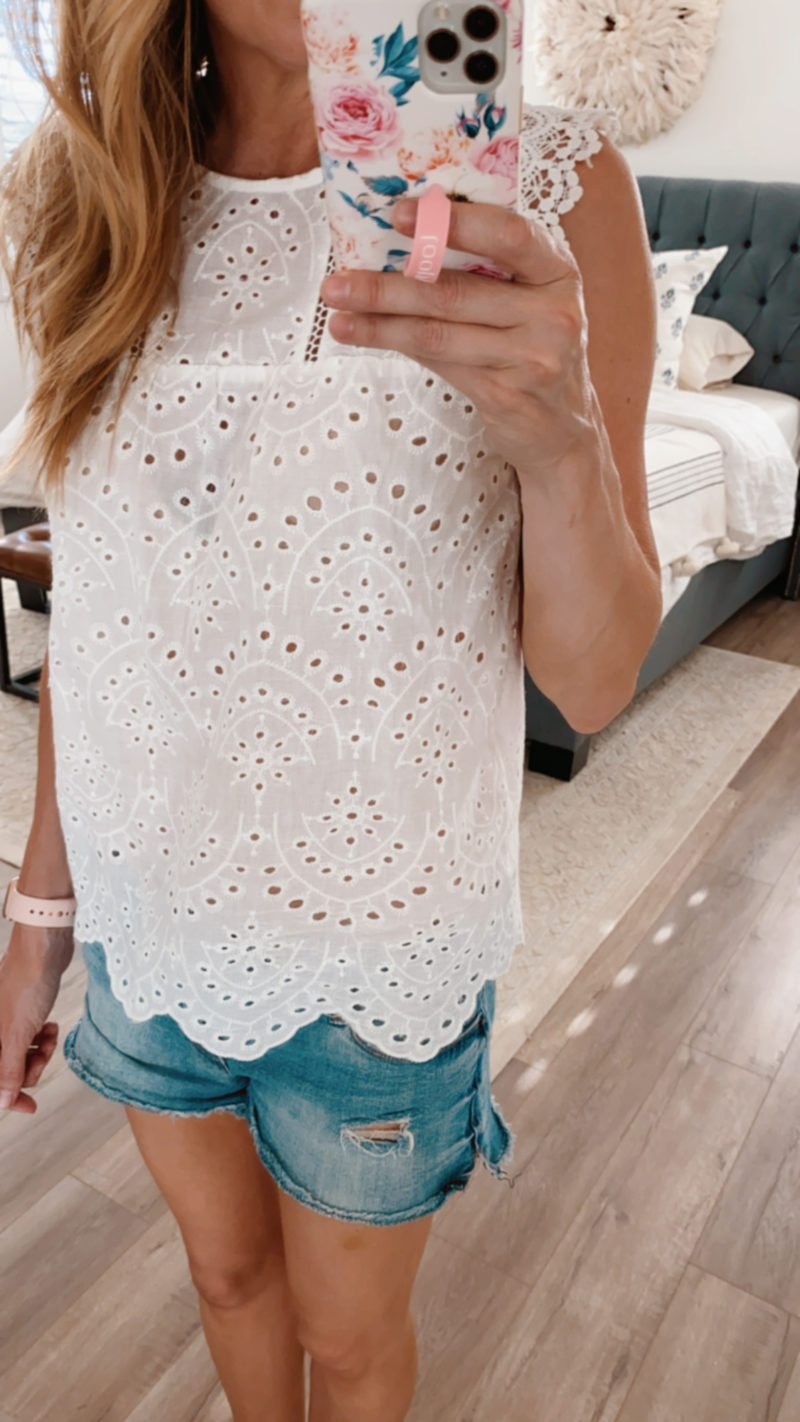 A closer look of the eyelet top to you can see how pretty it is. It is not lined so you need to be ok with that. I just wear a nude bra with it. It's a blouse I go to over and over in summertime.
BREEZY TUNIC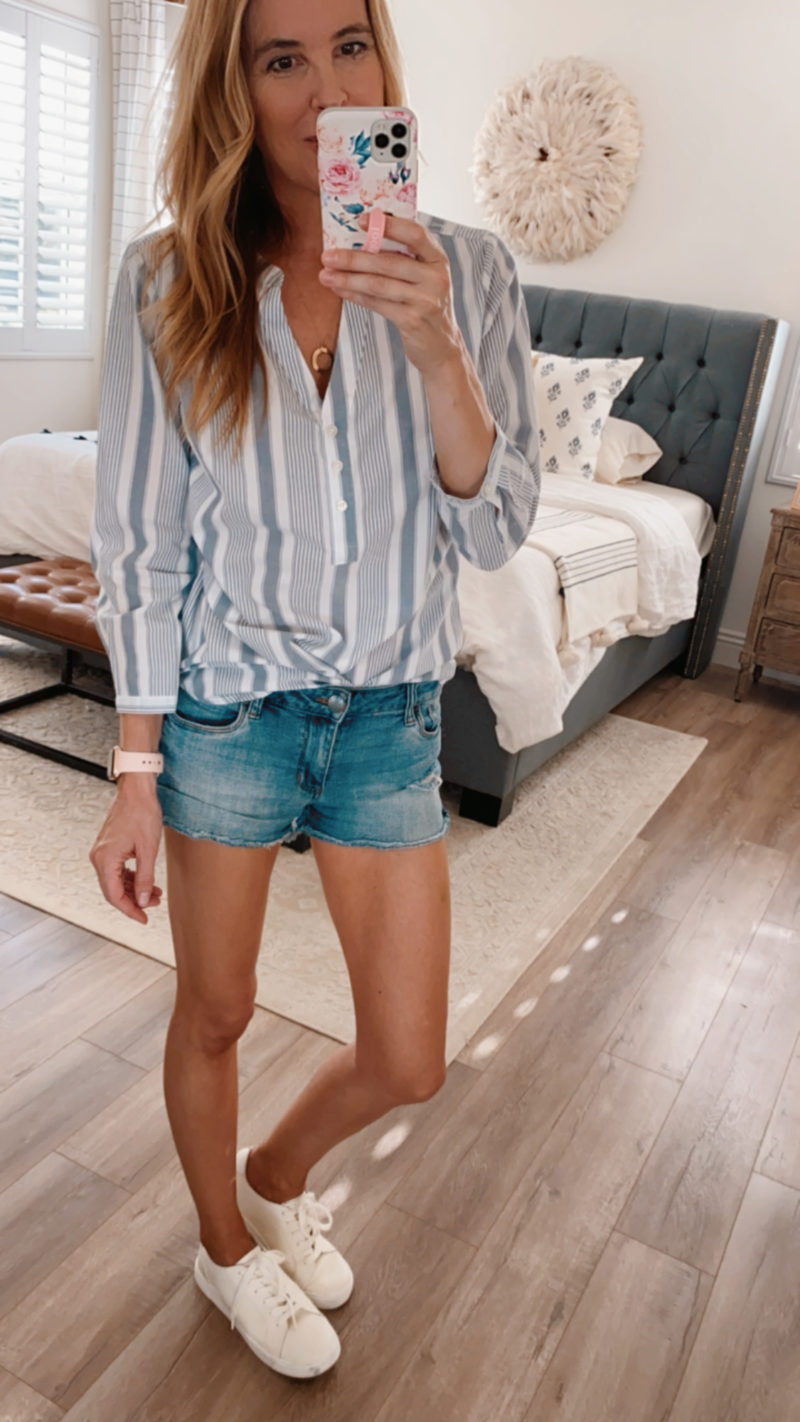 indigo beach tunic | similar denim shorts | sneakers
This lightweight tunic is a great choice for summer. It comes in many colors but I am always partial to the striped version.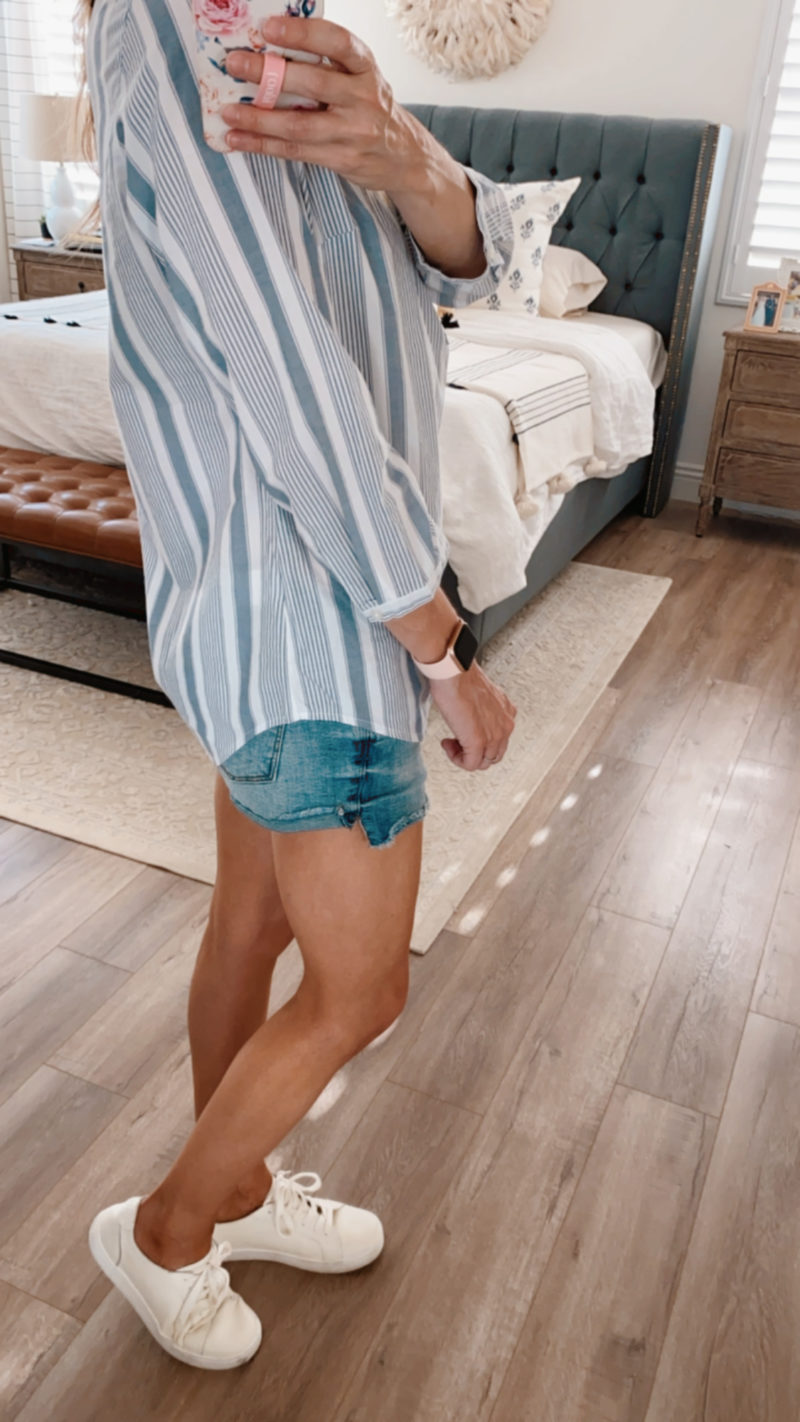 I wanted to show you that it is longer when untucked which is nice. It looks cute tucked in our out.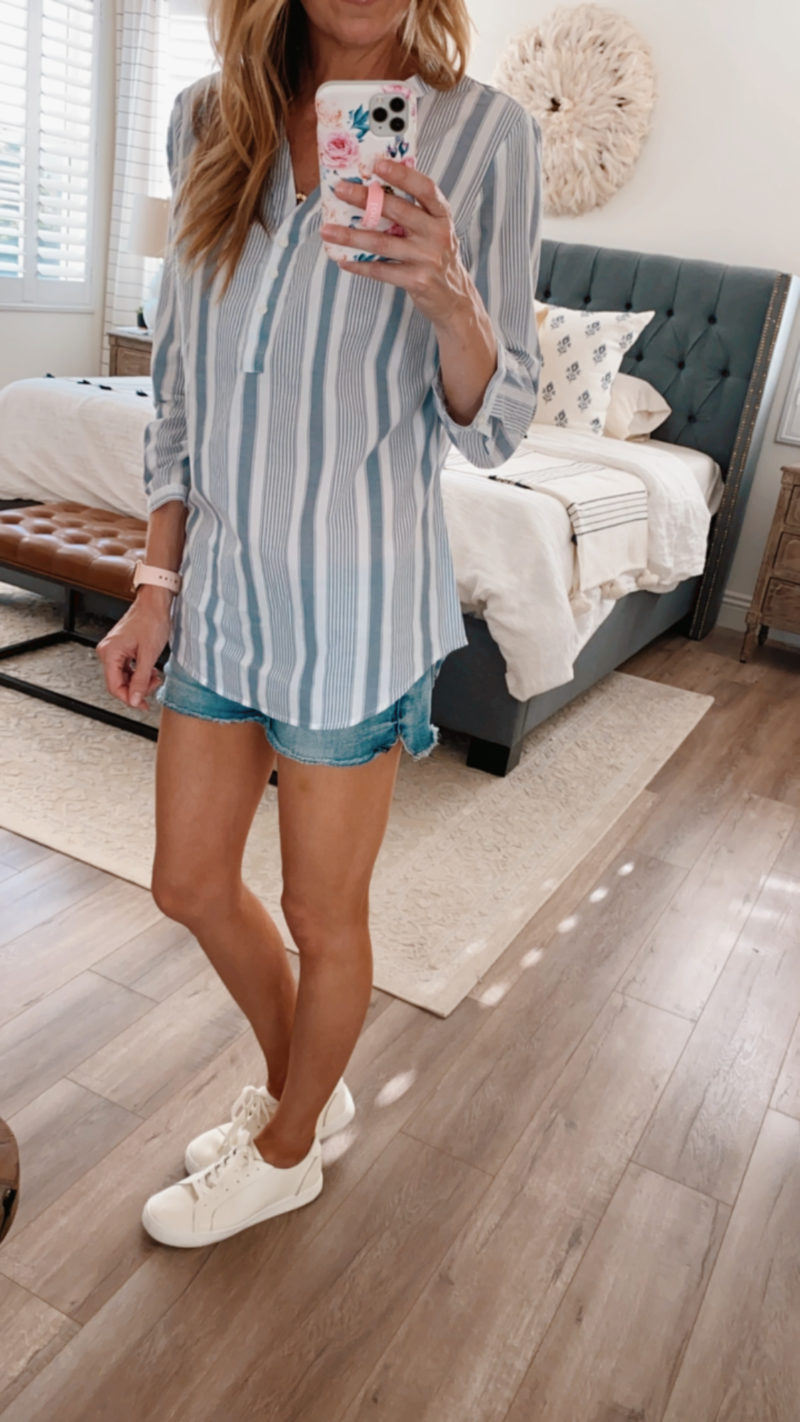 This would also look great with a pair of white shorts or jeans for a classic summer look.
SUMMER SHORTS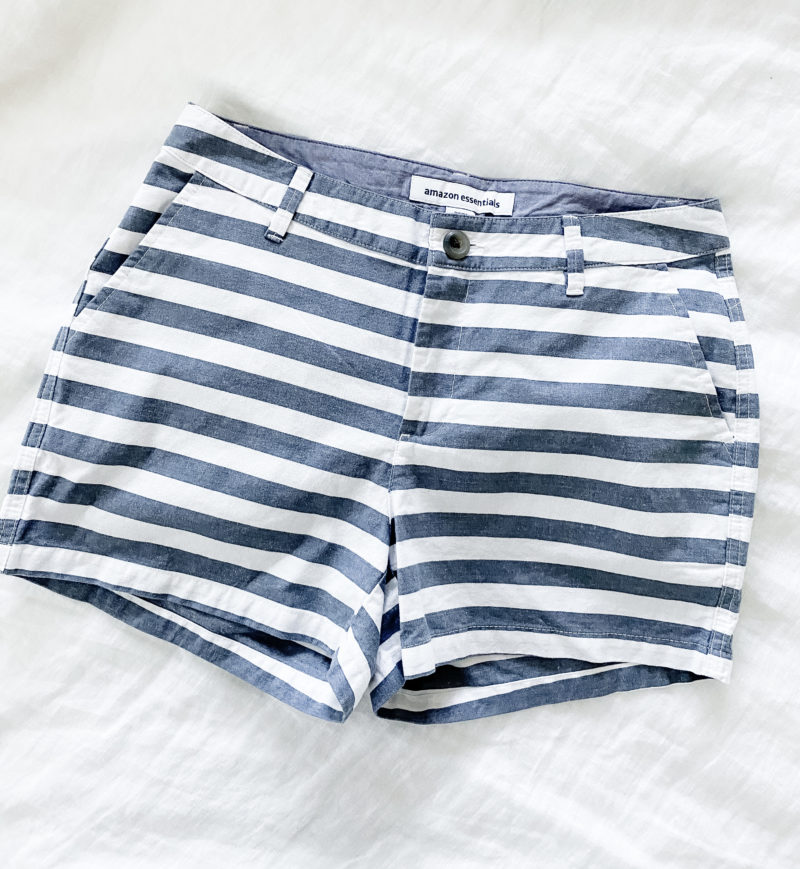 These shorts are darling. I realized I forgot to photograph them when I went to write the post but the online photos are a very good representation. With a 3.5″ inseam they are not too short and a great price point. Plus they come is many different colors and prints. (I wear a size 2 in these so I would say they run slightly large).
BEACH AND POOL READY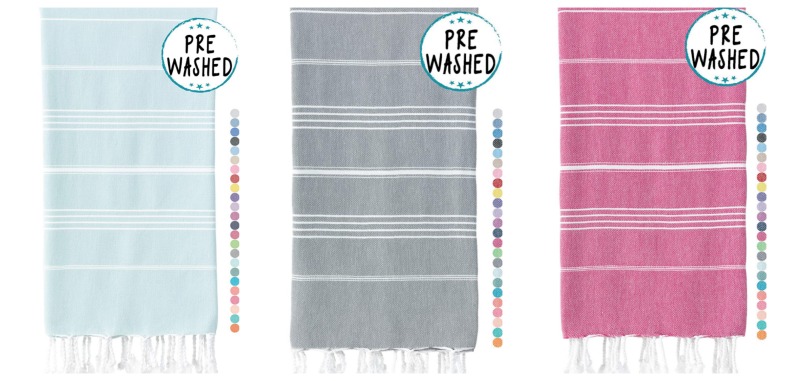 These Turkish towels receive amazing reviews and come in every color imaginable. I love using these towels for the beach or pool because they don't take up as much space as a traditional towel. Plus they are quick dry which is always nice. Because they are thin, you can wrap it around your waist, too.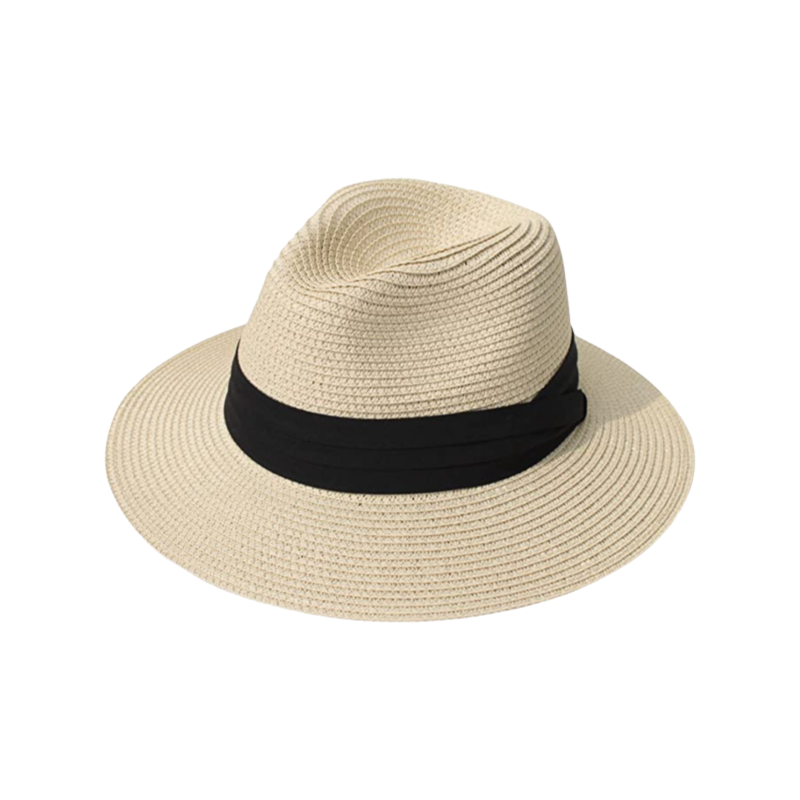 With over 5,000 solid reviews, this summer hat is a good choice. It's $23 and a great way to keep the sun off of your face this summer.
SENDING GOOD VIBES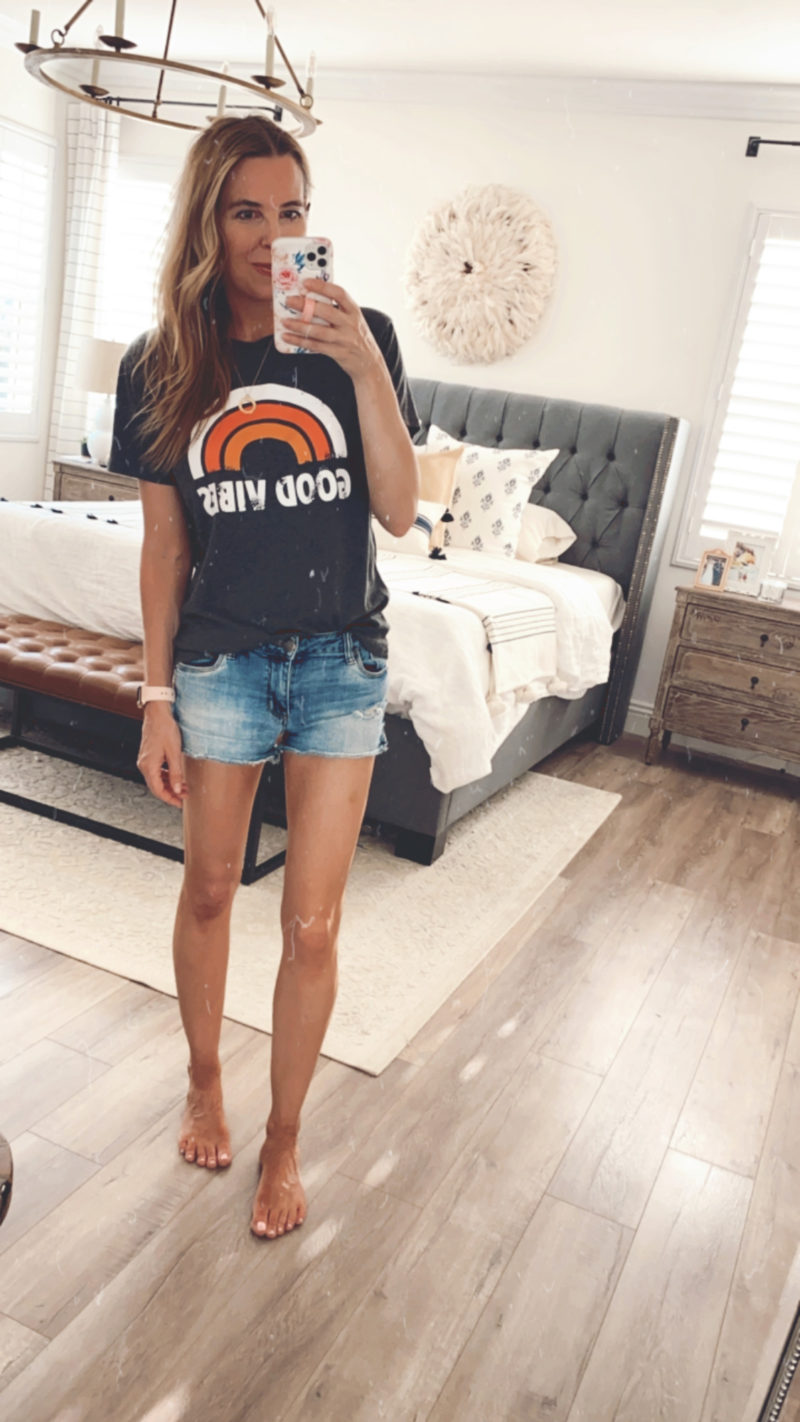 And if all else fails, just throw on your Good Vibes t-shirt and make someone smile today. We could all use more of that.
By the way, I bought this black one piece swimsuit and really love it. It's definitely flirty but fits really well. This another one piece that I recommend.
If you love the Amazon home finds, you can check in with the ones we love here.
What do you have on the agenda this week? Things are safely opening back up which is wonderful. A dear family friend of ours graduated "virtually" from high school and because we couldn't celebrate in person, I am off to have lunch with her and her mom. It feels so odd to say we are actually going out to lunch. I certainly won't take it for granted. Make it a good day, my friends.