Good morning. We celebrated another quarantine style birthday yesterday. We tried to make it as special as possible for my husband. It's definitely challenging but fun to get creative. With all of this time at home, I thought it would be fun to round up some of our favorite Amazon home finds. These are things we use all the time and truly love. Many of them have made these quiet weeks at home much easier.
Favorite Amazon Home Finds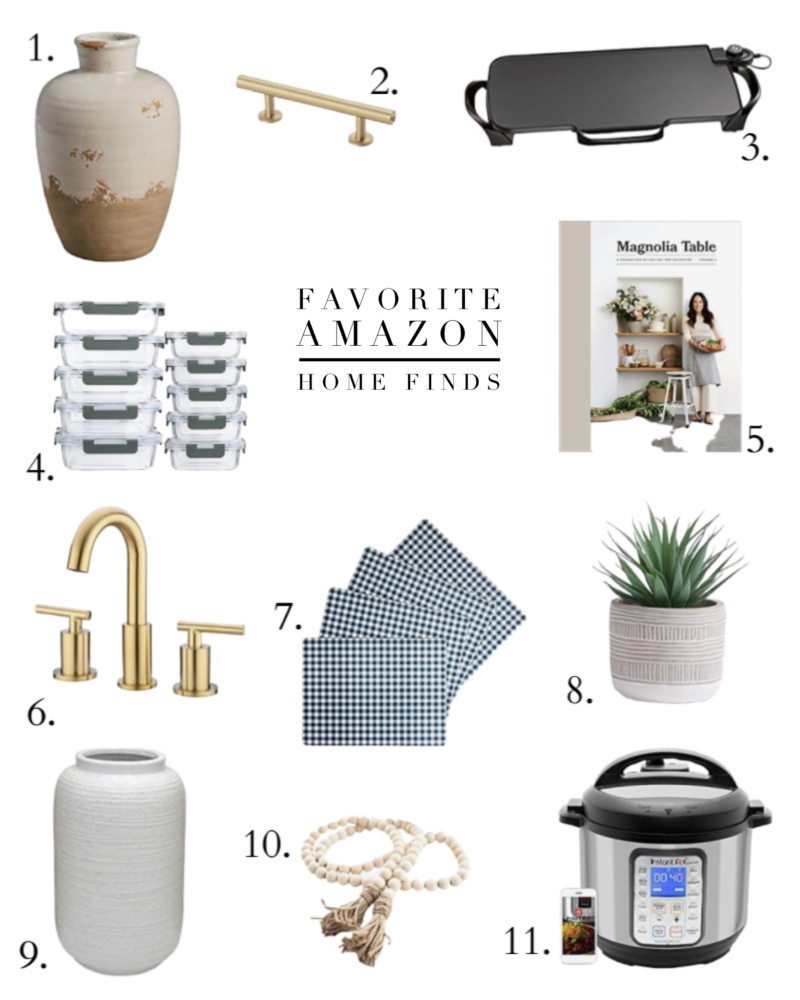 1 | TEXTURED VASE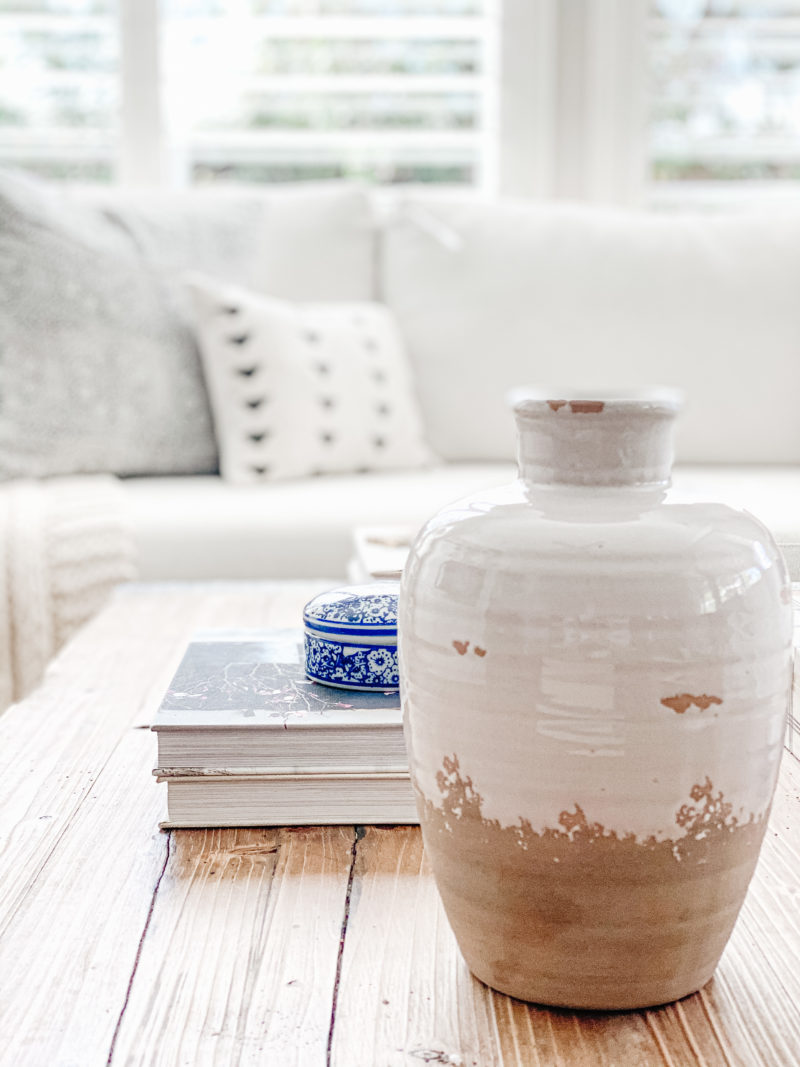 This textured vase has become a go-to for me. It's even prettier in person. I like that even when I don't have flowers in it, it looks beautiful. It acts as an art piece and will add texture to any of your rooms. It goes in and out of stock so just keep your eye on it. Just recently, I found this one for a friend. I really like that it's on a pedestal.
2 | GOLD HARDWARE
We used this gold hardware throughout the downstairs of our home. We have loved it since the day we installed it. It's now available through Amazon which is great.
3 | GRIDDLE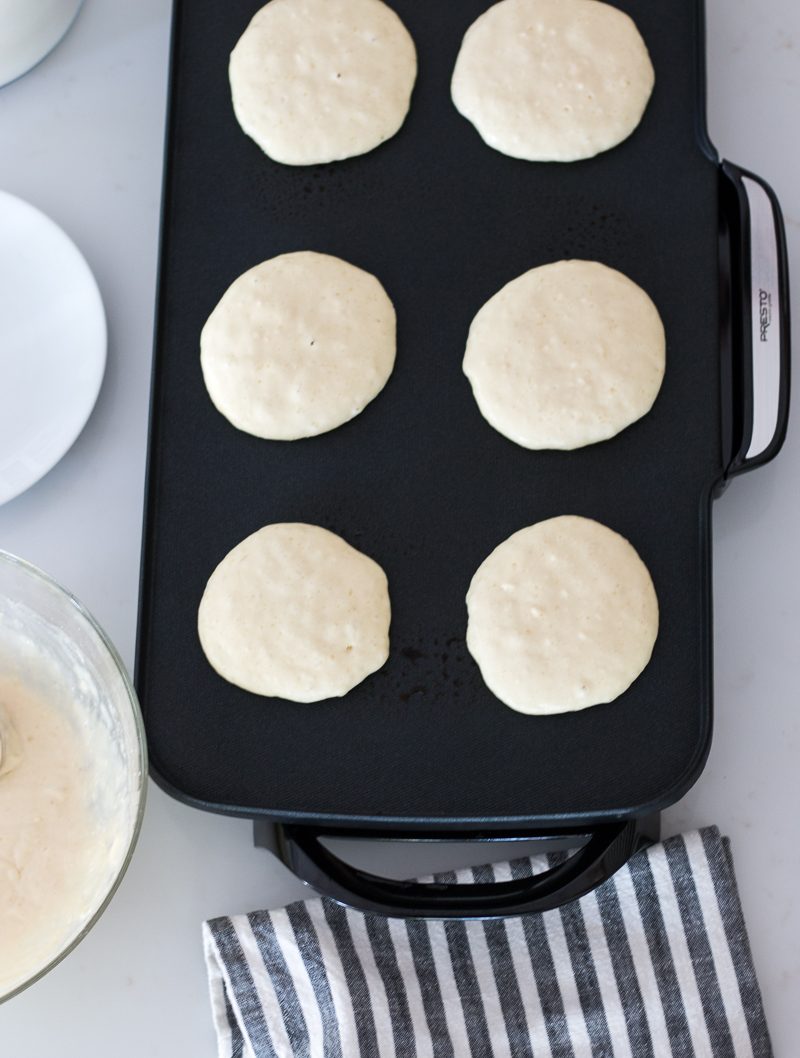 My daughter uses this griddle on a weekly basis to make pancakes and I love using this to make homemade chicken tenders. A great piece to have and one that gets used all the time over here. I appreciate that it's easy for the children to use and easy to clean.
4 | STORAGE CONTAINERS
Not only do I use these glass storage containers for meal prep, but also to store leftovers in the fridge. These have been a welcome addition to our routine around here.
5 | MAGNOLIA TABLE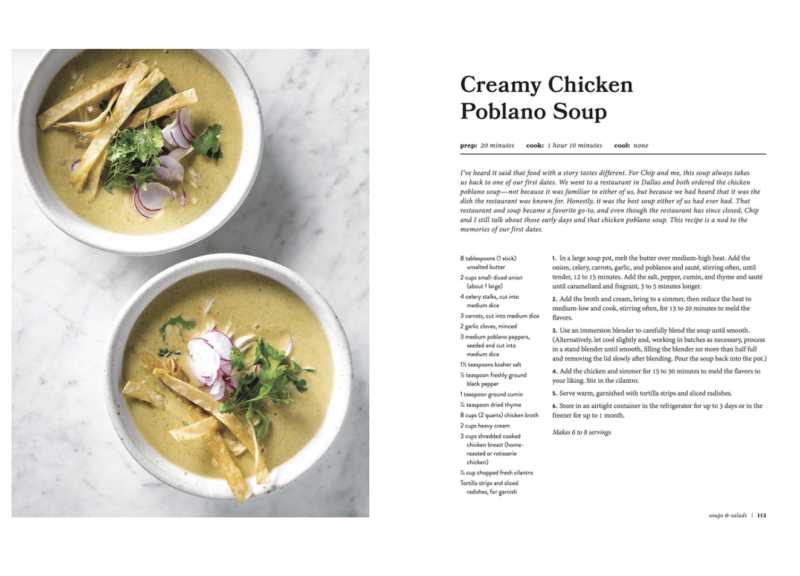 Magnolia Table is the second cookbook by Joanna Gaines and there is just something so comforting about her and the scrumptious recipes she makes. While many of them may be indulgent, I love that they remind me of recipes my mom made growing up.
6 | BRASS FAUCET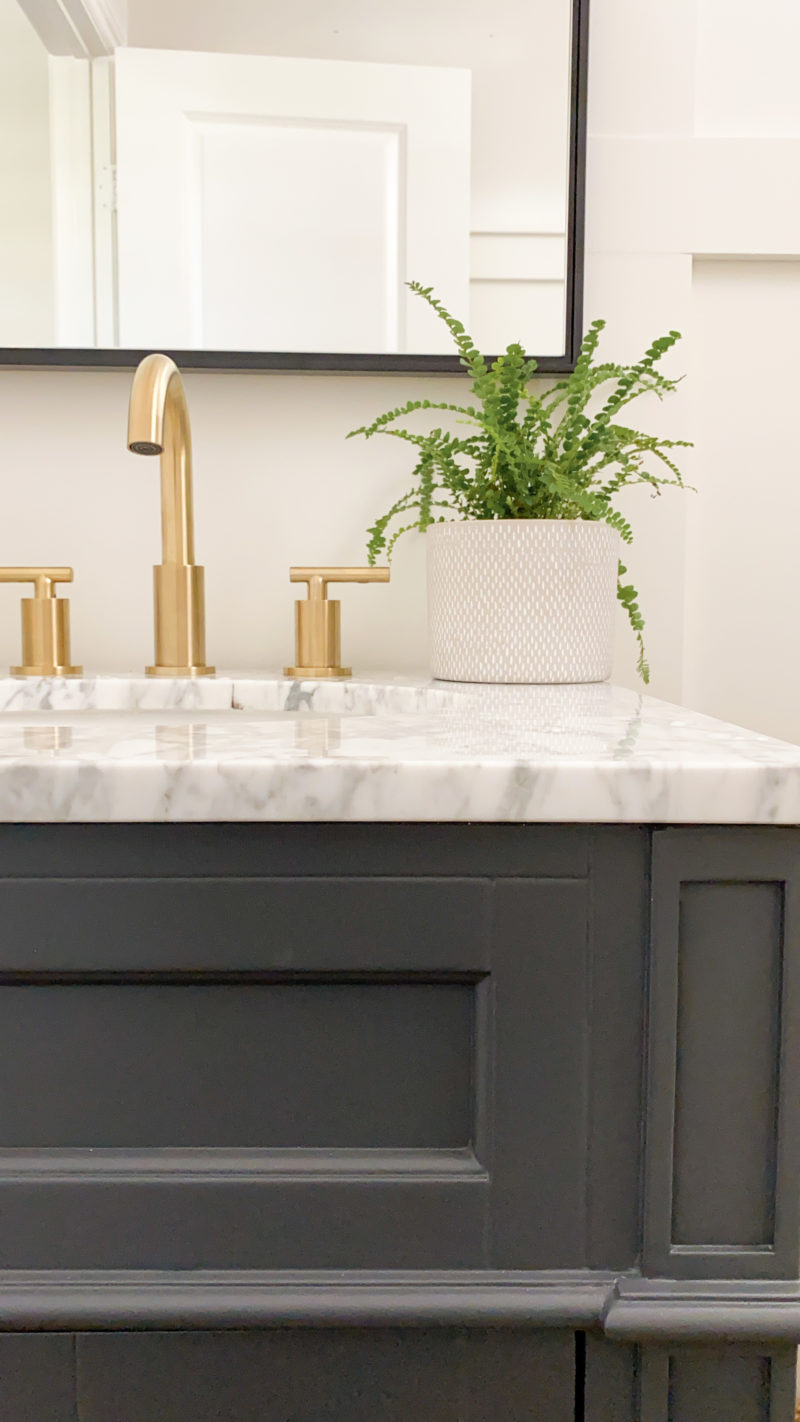 We have had this brass faucet for a couple of months now and absolutely love it. It's just the look I was going for in our newly renovated powder room and is under $100. It also comes in black and brushed nickel. And while it's not under $100, our bathroom mirror is also an Amazon find.
7 | CORK PLACEMATS
We use these gingham placemats daily but recently I discovered that a similar set is available through Amazon and they are only $14 for the entire set. A nice way to protect your table and add pattern to the space. While the $14 set may not last forever, it sure beats the price of these.
*A trick to keeping them nice is to only clean them with a barely damp cloth or sponge. Do not run water directly on them.
8 | FAUX SUCCULENT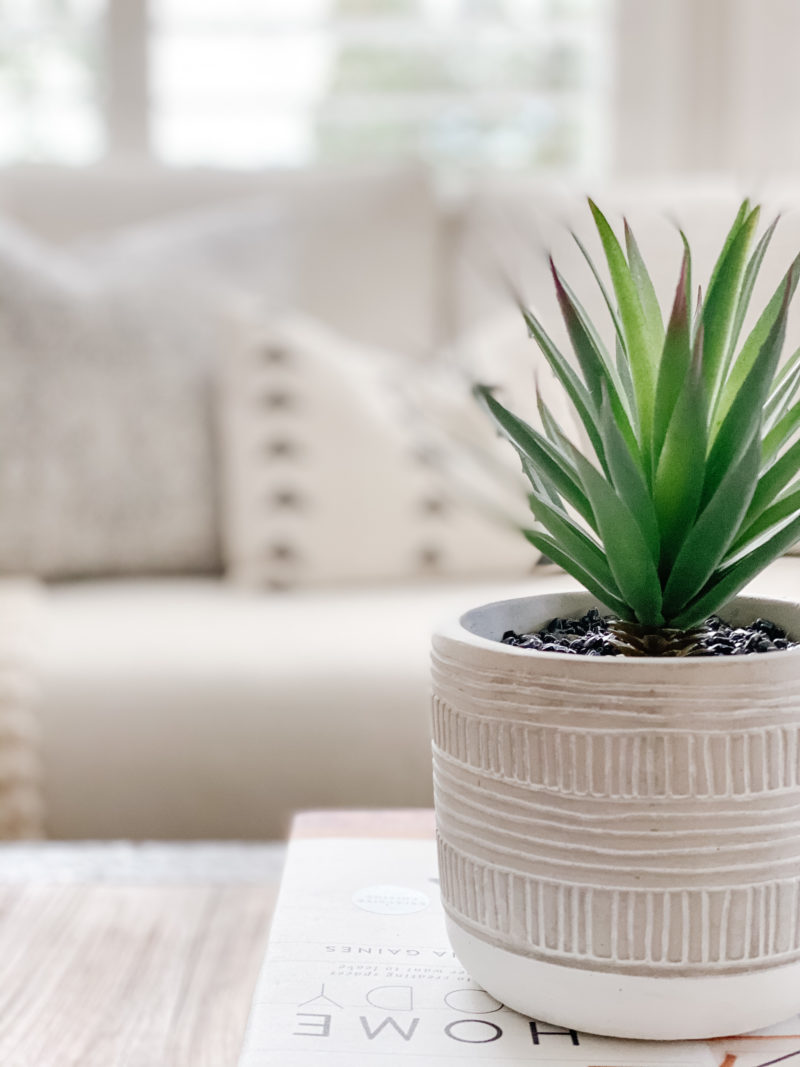 By far my favorite faux succulent. My exact vase is sold out, but this one is the same brand and plant. It looks great anywhere and is extremely realistic looking.
9 | LARGE VASE
This is the vase I get asked about the most. It has been a beautiful addition to our home. It has a really nice texture and looks great with real or faux stems. Here we have Israeli Ruskus which has lasted for weeks and weeks.
10 | WOODEN BEADS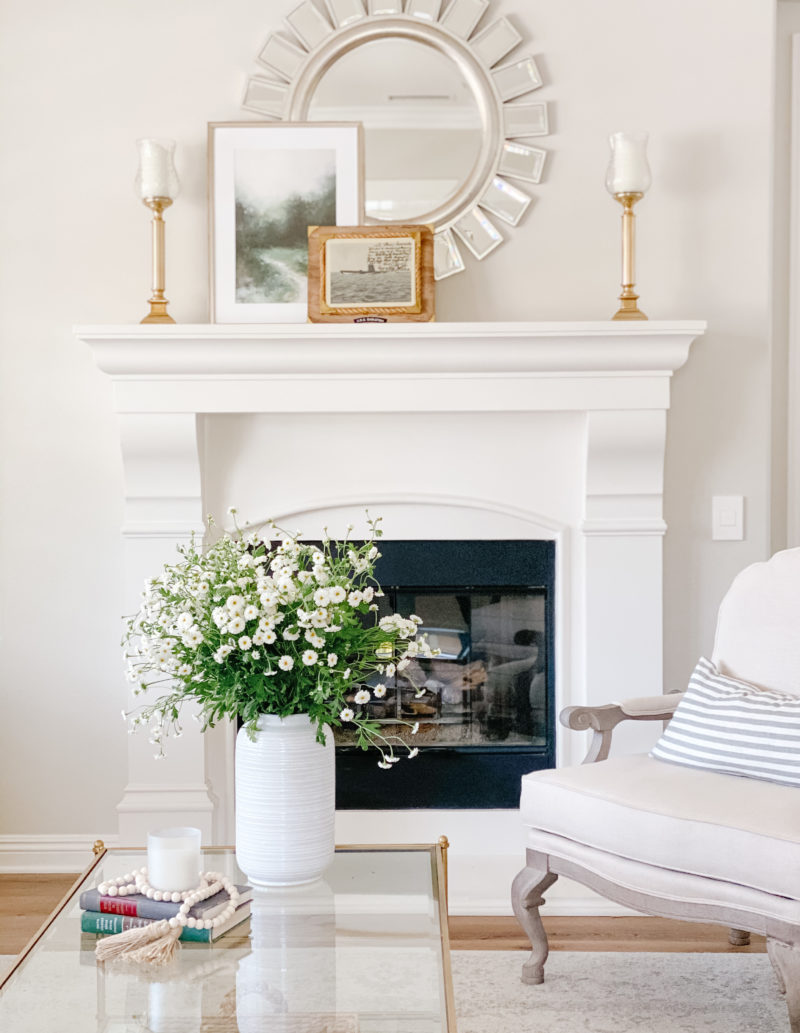 These wooden beads are such a steal at just $15. They are always double or more from any other designer website. They are great quality and look cute draped around pretty much anything.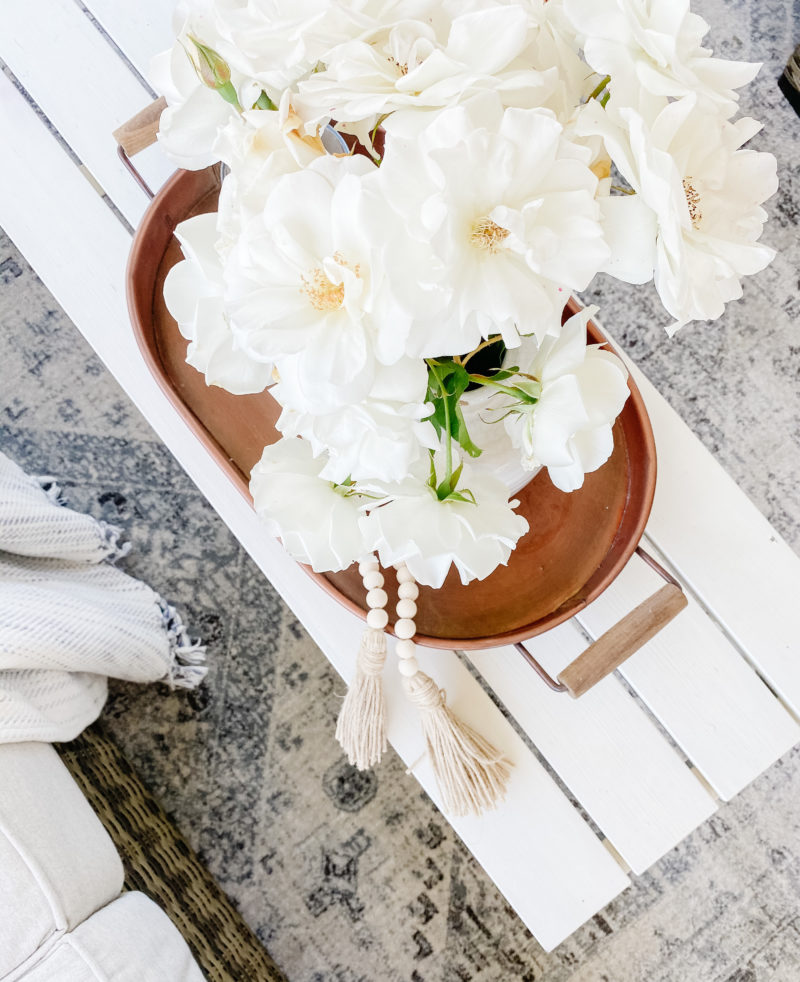 Just recently, I moved the beads to our porch to add a layered element.
11 | INSTANT POT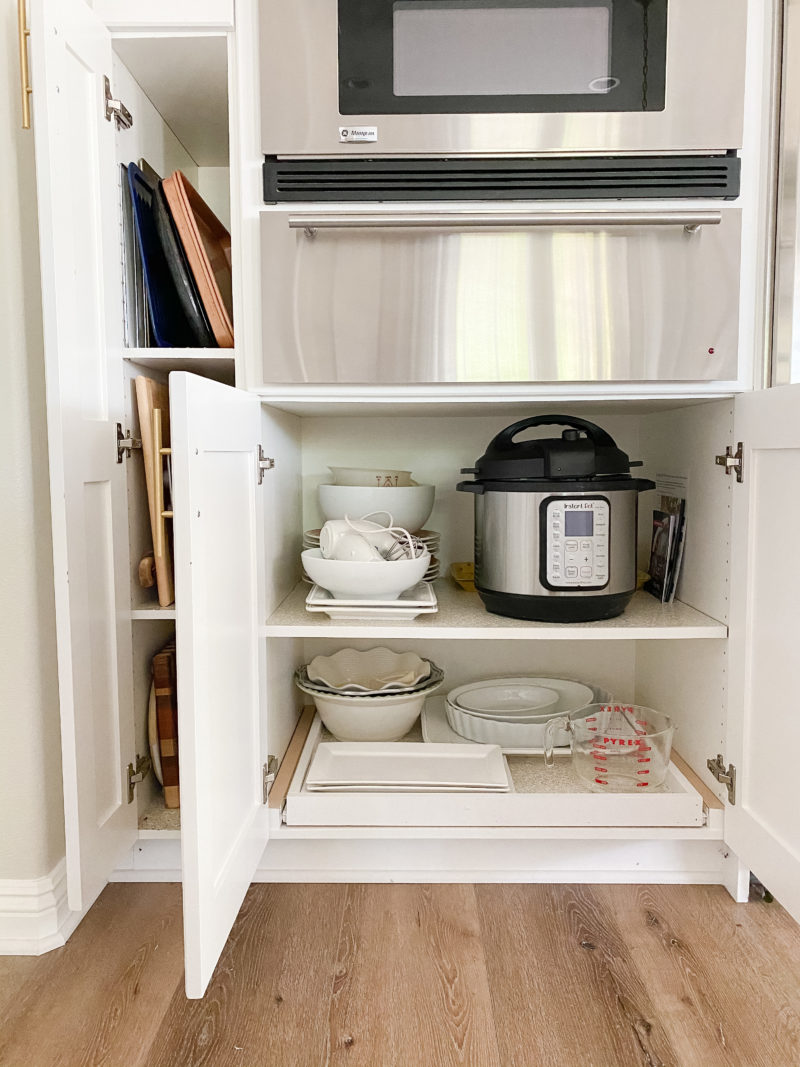 Last, but not least, our Instant Pot has been a lifesaver during this time. I use both the pressure cook function (chicken is ready in 30 minutes) and the slower cooker function. I make soup once a week and always use the Instant Pot to cook our chicken tacos. The more I use it, the more I love. Just recently I discovered that it makes delicious mashed potatoes in a flash. I will never make them on the stovetop again. Currently, the Instant pot is $50 off.
You can see all of my Amazon finds in my storefront. I hope this has been helpful. Have a great day.