Ok ladies! Raise your hand if coming up with new meals for your family is a total task as of late? My hand is as high as it can be. I just get in a rut. And with trying to eat really well the grilled chicken and salmon thing with broccoli is getting a bit tiresome for the kids. I reached out to one of my go-to girls for an easy weekday meal. Everyone loved these baked chicken chimichangas. Thank you, Natalie!!!!!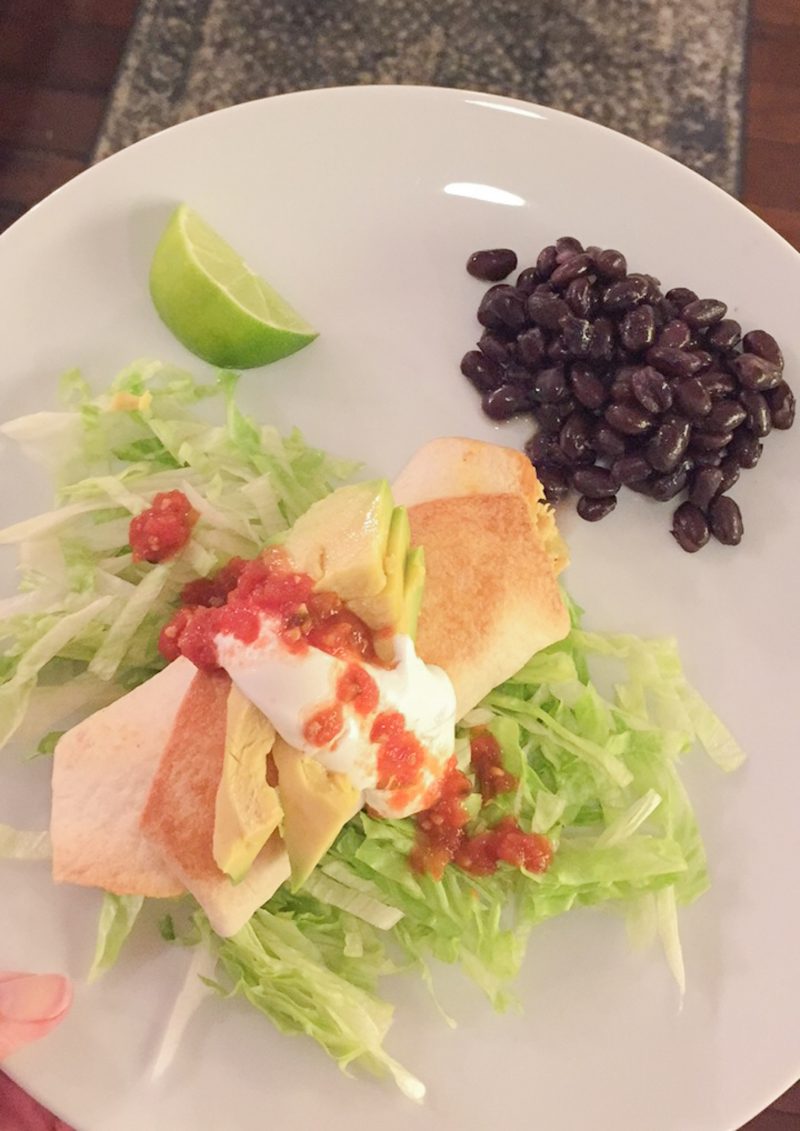 I think the big takeaway from these is that you can pretty much fill them with anything you want and make them as healthy as you would like. Gluten free tortillas would be a good option for those of you keeping gluten at bay. I followed Natalie's recipe and only made a couple of modifications.
INDGREDIENTS
8oz pkg. cream cheese ( I used 6 oz)
6oz. pepperjack cheese, shredded
1 1/2 Tbsp. taco seasoning
1 rotisserie chicken (shredded)
4.5 oz can of mild green chiles
8 flour tortillas
avocado oil cooking spray
1 avocado sliced
lime
sour cream or yogurt
salsa
shredded lettuce
DIRECTIONS
Shred the rotisserie chicken. (I like using a rotisserie chicken because it is moist and does well during baking). Stir together cream cheese, pepperjack cheese and taco seasoning. I used about 6 oz. of each cheese. Fold in chicken and divide among flour tortillas. Tuck in sides, and roll up each tortilla. Lay seam side down in a sprayed 9×13″ baking dish. Spray tops of tortillas with cooking spray. Bake at 350 for 15 minutes. Turn chimichangas over, and bake an additional 12 minutes.
Serve with avocado, lime, salsa, sour cream and lettuce. So yummy!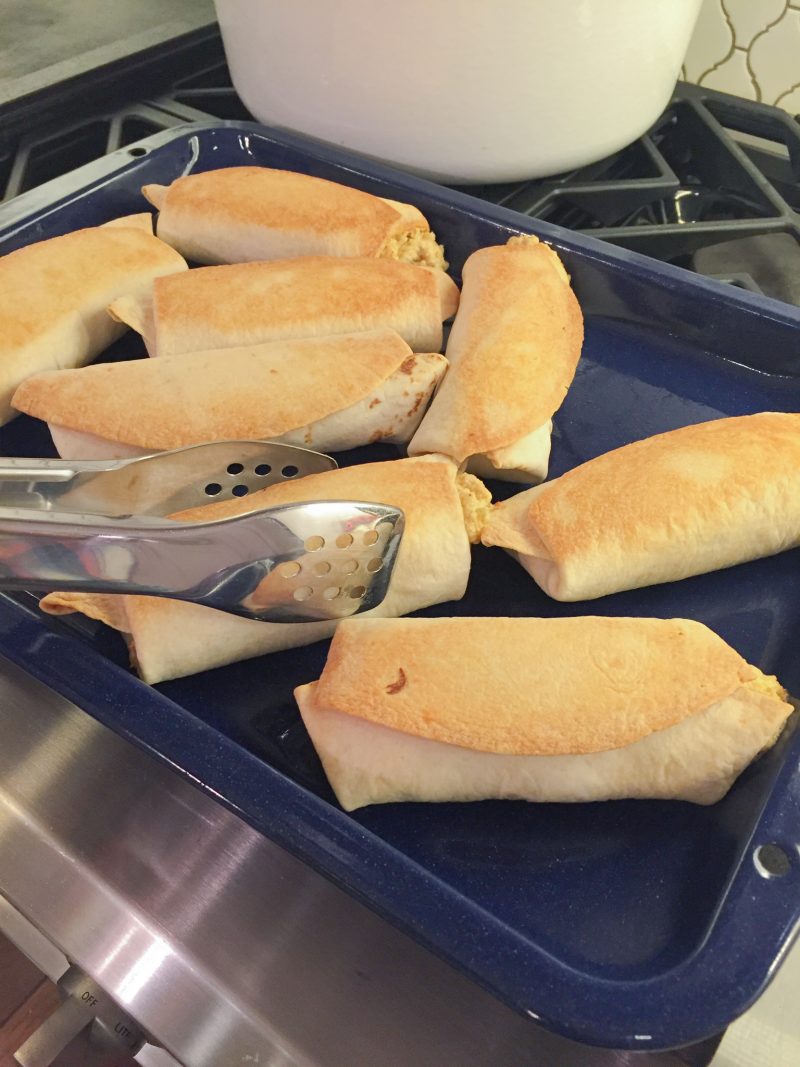 They came out of the oven so golden brown and crispy. Yummy! I could also see making a breakfast version of these with eggs. That would be a great quick meal for kids in the morning. Make them ahead of time and just heat them up.
Why I Like These
A few reasons, actually. My children love a yummy burrito in their lunches and this is a way that I can use leftovers for school lunches. I call them a burrito the next day in their lunch because they will lose their crunch when I reheat them. With a Wholly Gaucamole pack ( I use the single serving ones from Costco) and a fruit salad, this is an easy lunch idea. I also appreciate that these are baked and not fried. My kids LOVE any type of Mexican food so I am always trying to find a new recipe. Lastly, these babies are so easy to make! For me that is a total score.
Looking for more school lunch ideas? I often make this which is a huge hit and then create burritos the next day. Yummy and an easy lunch to pack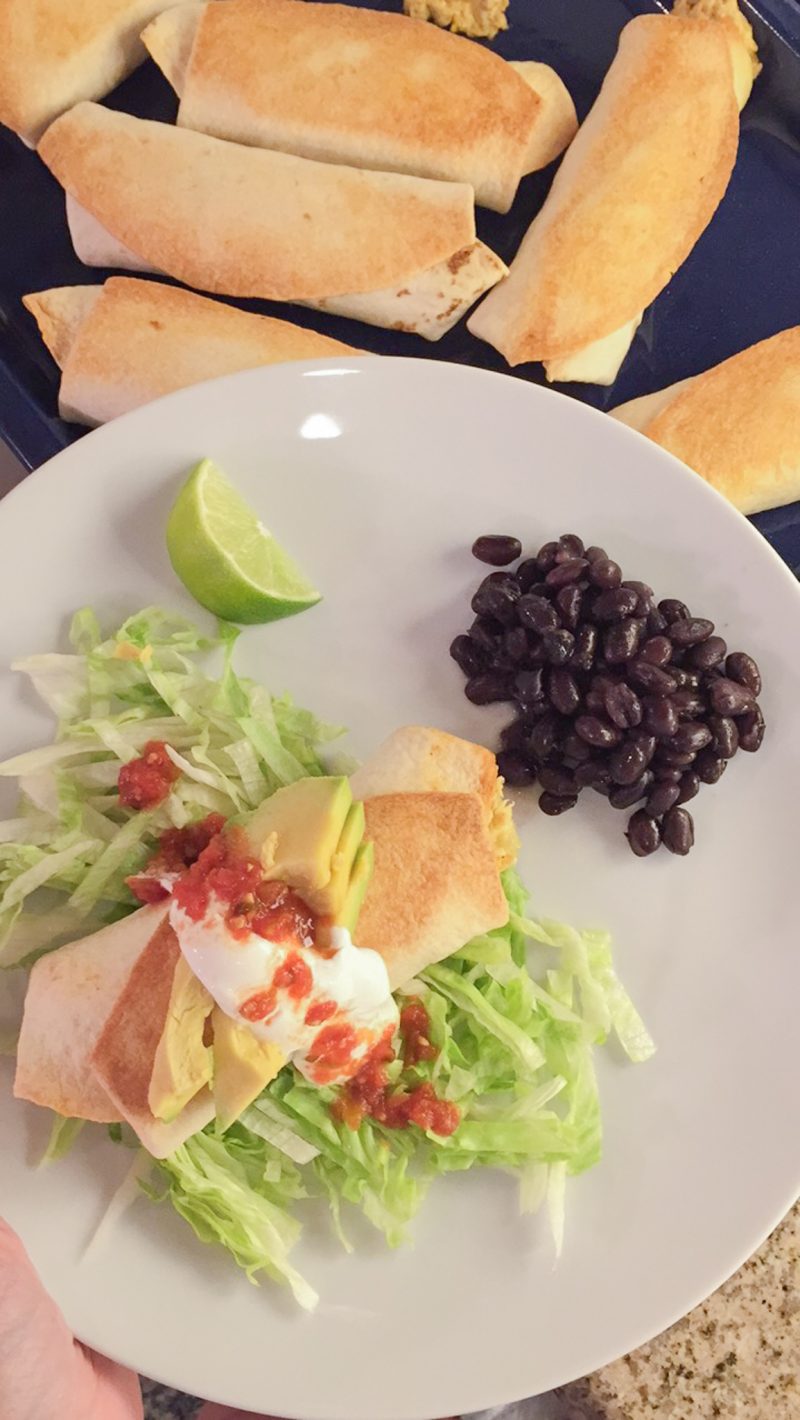 So yummy served with Mateo's salsa, fresh avocado, lime and black beans. I served it on a bed of iceberg lettuce simply because my kids think it looks like a restaurant. I went with it! LOL. These would also be awesome with my recipe for the best guacamole ever! 
So every Monday night I am trying a new recipe. That is my goal. I find myself with some time when kids are at sports and I have a quiet kitchen. If you have an easy recipe send it my way! I will keep sharing what I make. Hoping this expands our weekly menu options and gives the family a rest from our usual fare.
More of our favorites can be found here! 
And while we are on the topic of cooking, I just realized that these dutch oven pots are 40% off right now!!! That is huge. A very nice thing for a Christmas wish list. They are an investment but I only use two pots.
And thank you to Natalie for always being my go-to. I keep telling her she needs her own cookbook. She is seriously talented and makes the best salads ever.
I'll be back tomorrow with great sales, but wanted to remind you that Colleen Rothschild is having their Friends and Family even right now! Great time to stock up.
Have a wonderful Friday, my friends. I am off to be with my sweet mom.