I am beyond excited to share this space in its entirety with you. We took a basic builder-grade bathroom and transformed it with a budget of $1000. I am happy to report we came in just under that and have a space we are thrilled with. Here is our son's new bathroom.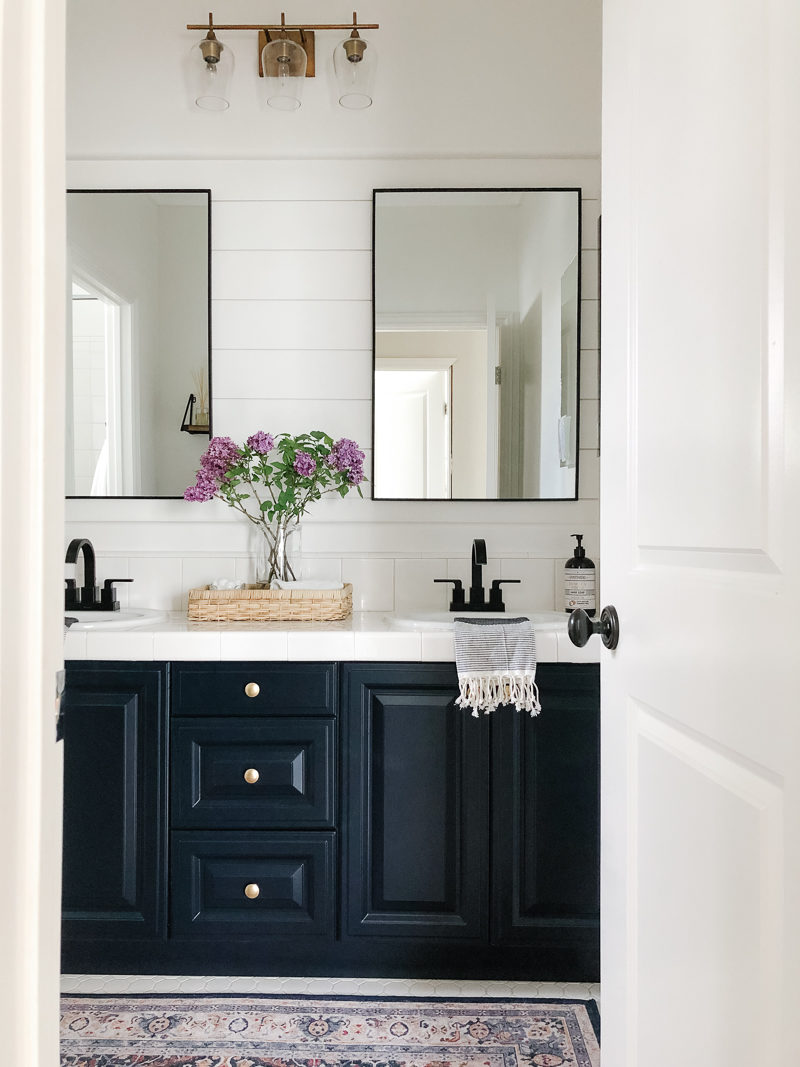 To fully understand what we did in this space, it's fun to look back at the before photo.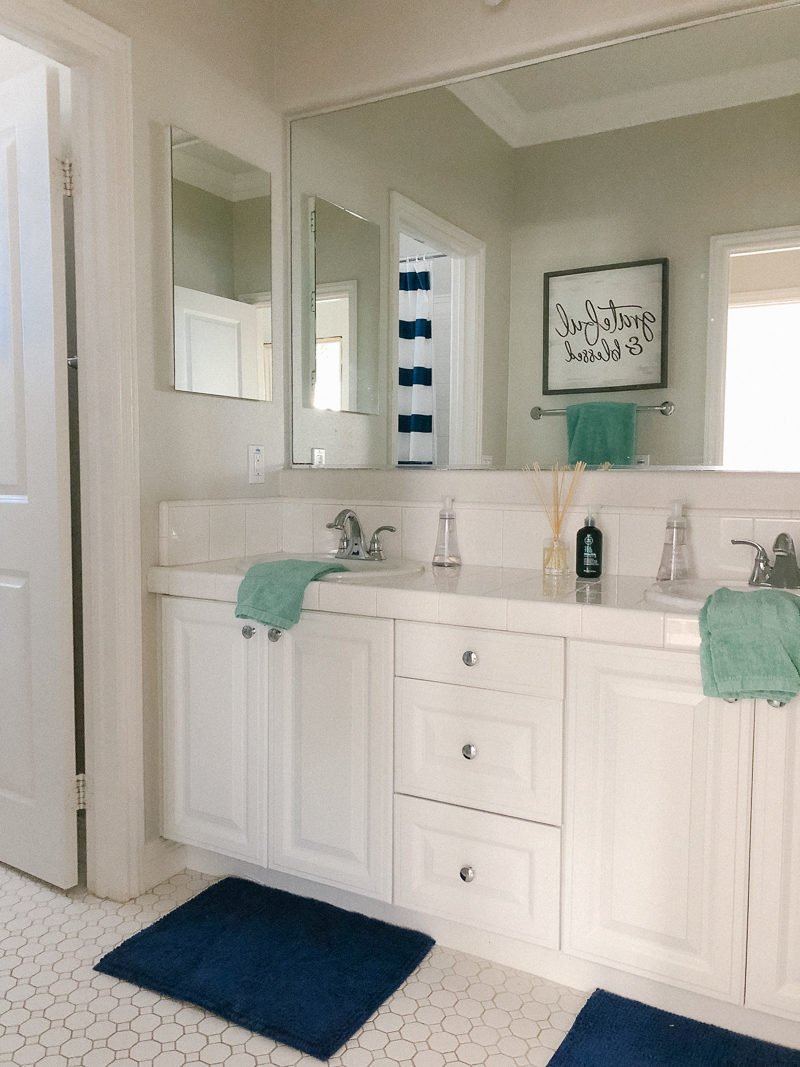 Pretty darn basic. Nothing at all wrong with it but we wanted to infuse our own style and personality This bathroom had so much potential and we knew that when we bought the home. Because we did not want to gut the space or spend a ton of money, I challenged myself to design it all with DIY projects and only $1000.
I stuck closely to the design board and we knocked out one project at at time.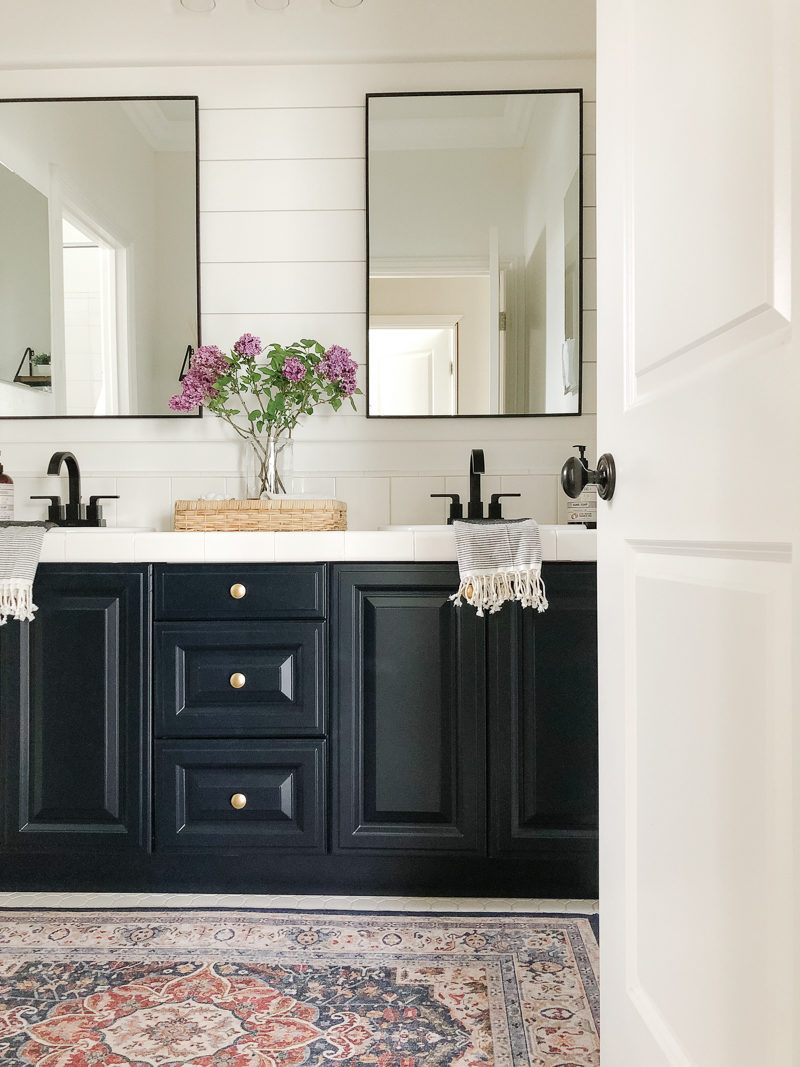 These are Thermofoil cabinets. That means they are not real wood and painting them can be a challenge. I spoke to my own cabinet maker and did plenty of research before tackling this vanity. So many of you have asked, so I will do a post next week on how we painted them but I did use this sprayer to achieve the smooth finish. While not a difficult process, it is long and involved one that deserves it's own step-by-step post.
The color is Galaxy Black (a Home Depot color that is discontinued but still in their system). It reads as a deep navy in person.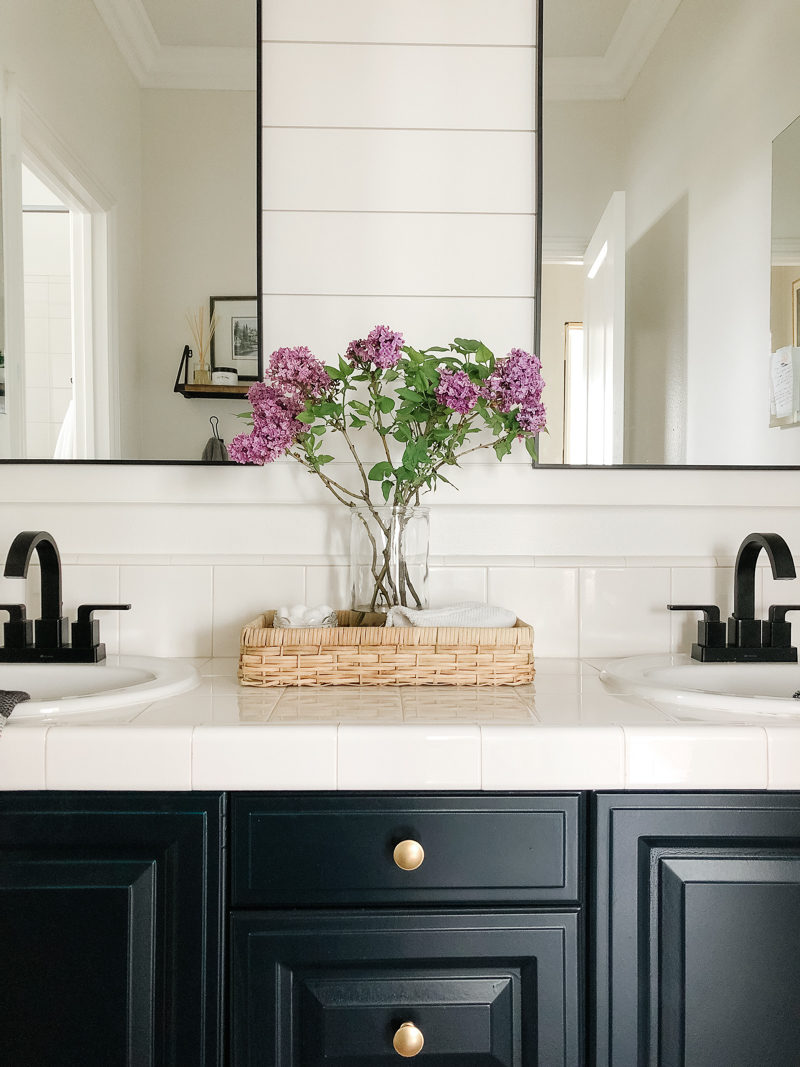 We are thrilled with the quality of the mirrors. The clean and simple black frame is just the understated look we were going for.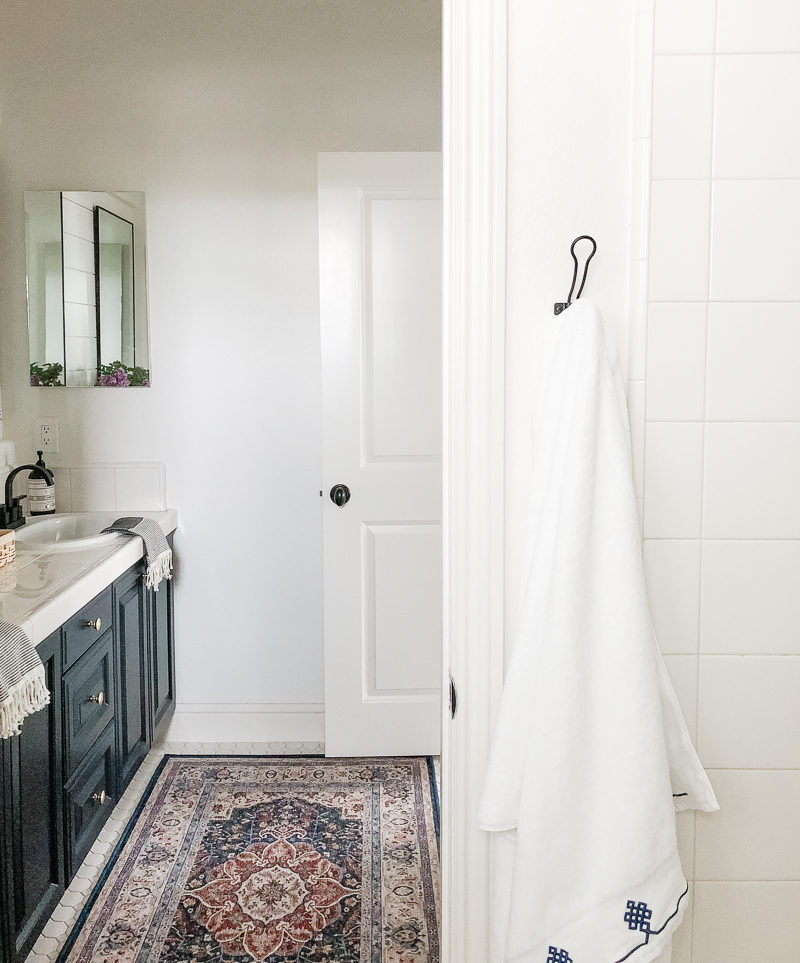 This rug is AWESOME. It's by a company called Ruggable. The top layer disconnects from the padding so that it can be tossed in the washing machine. Perfect for a bathroom.
update: Eight months in and we absolutely love the rug.
We hung a hook right next to the shower so my son can hang his towel there before hopping in. We kept both medicine cabinets because they provide such great storage. In fact my son prefers to use his medicine cabinet over a drawer.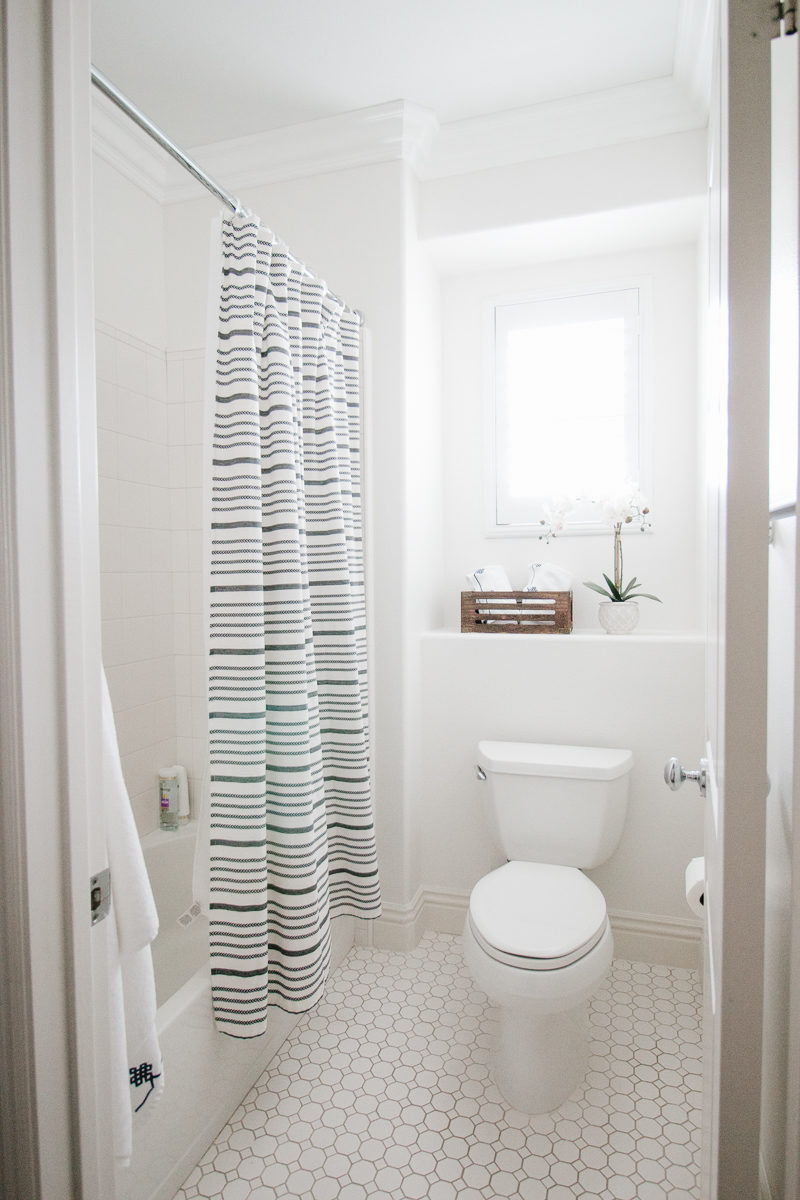 My husband ripped out the shorter baseboards and installed the ones we have throughout the house. It gave it a much cleaner look.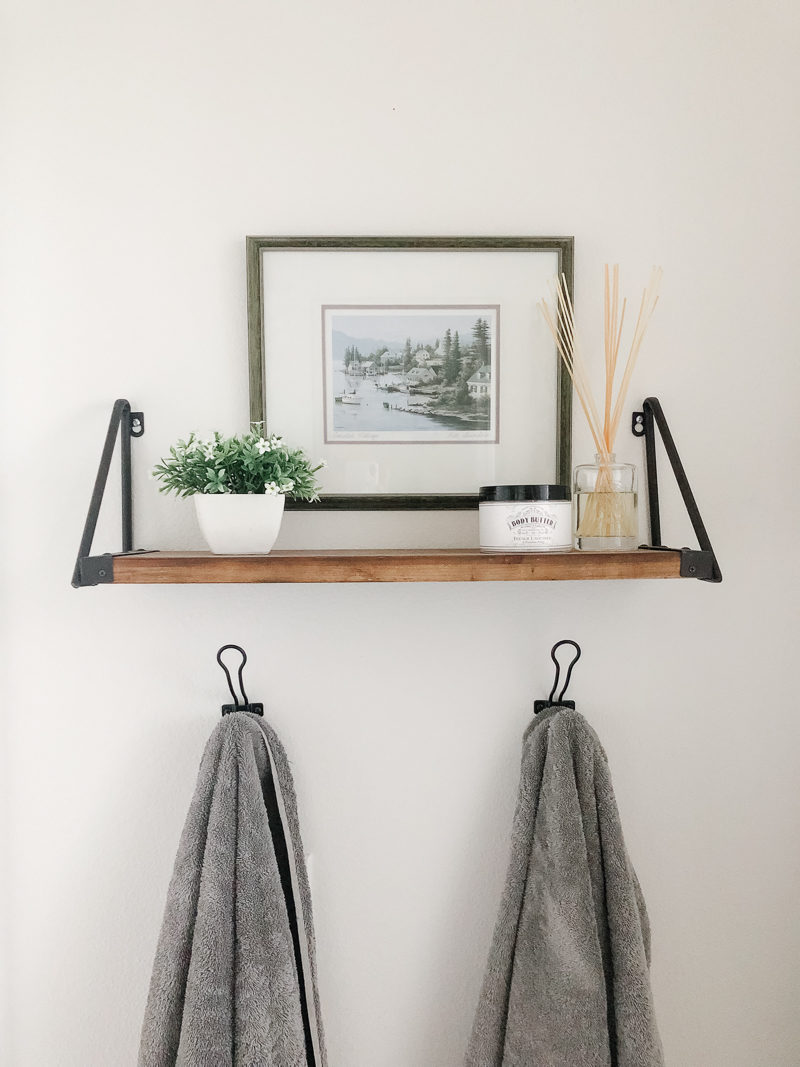 I was so torn on hooks vs. a towel bar. In the end I went with the hooks so it's easier to keep tidy. I also wanted to hang a shelf and didn't want two horizontal pieces on top of one another (yes, these are the things I think about). So far so GREAT. His towel has been drying well and it's never on the floor. A win-win.
The artwork belonged to my parents and it makes me so happy to have one of their special pieces in this space.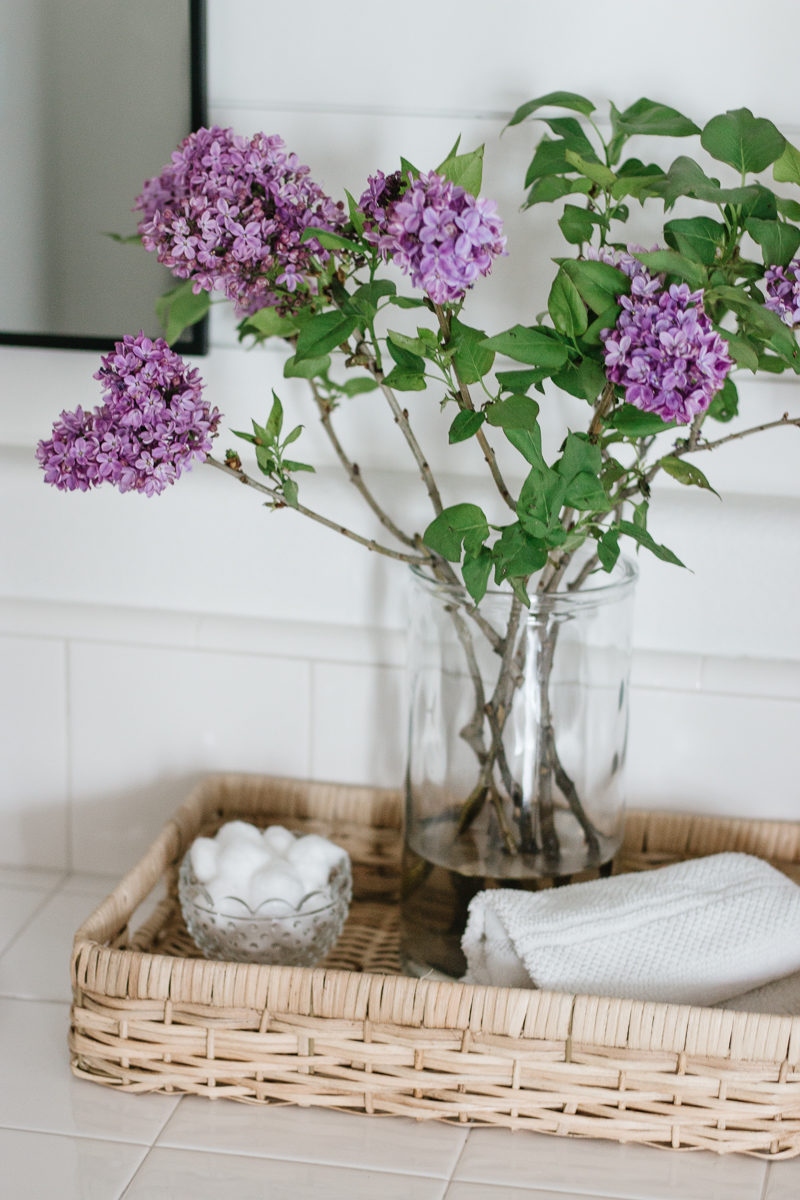 The basket on the counter adds texture and warmth and is a nice place to leave things for guests if they come and stay with us. My exact one is sold out, but this one is almost identical.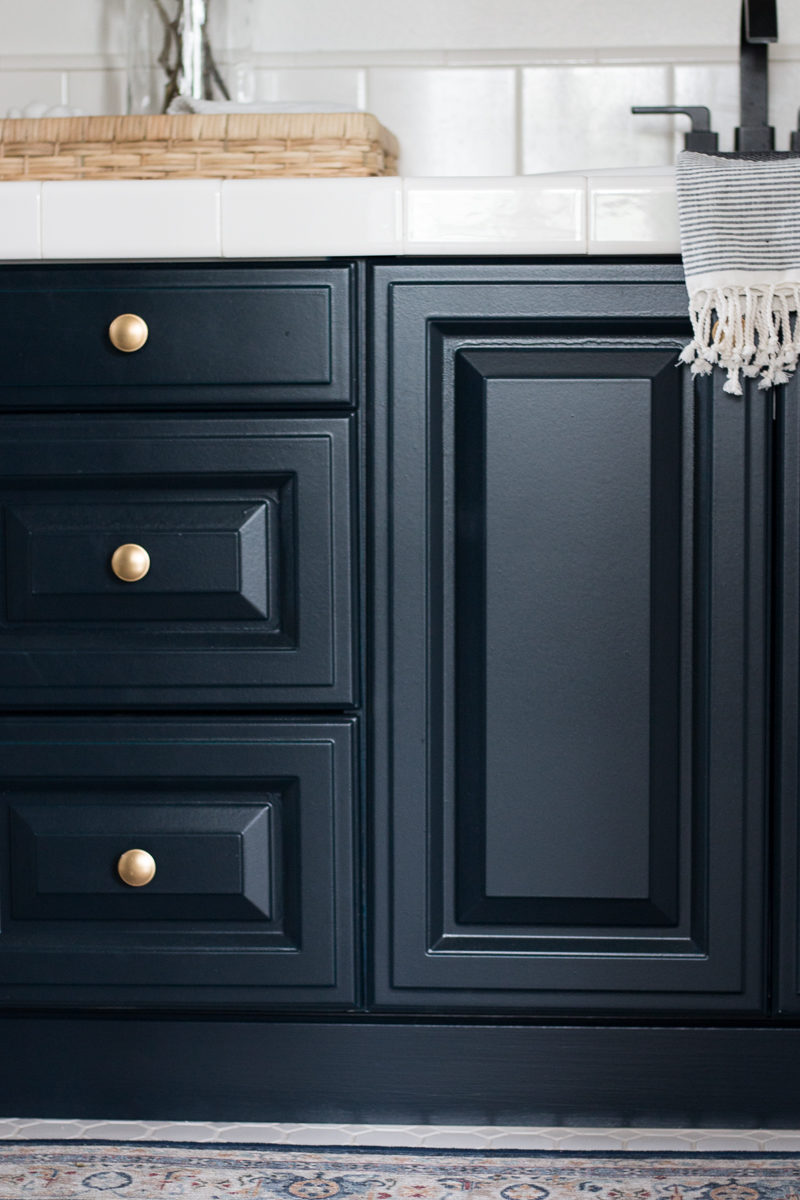 My husband added a piece of wood under the cabinets to make it look more custom. I gave it a couple of coats of paint before installing it. To cut down on costs, I used the existing hardware and just sprayed it gold.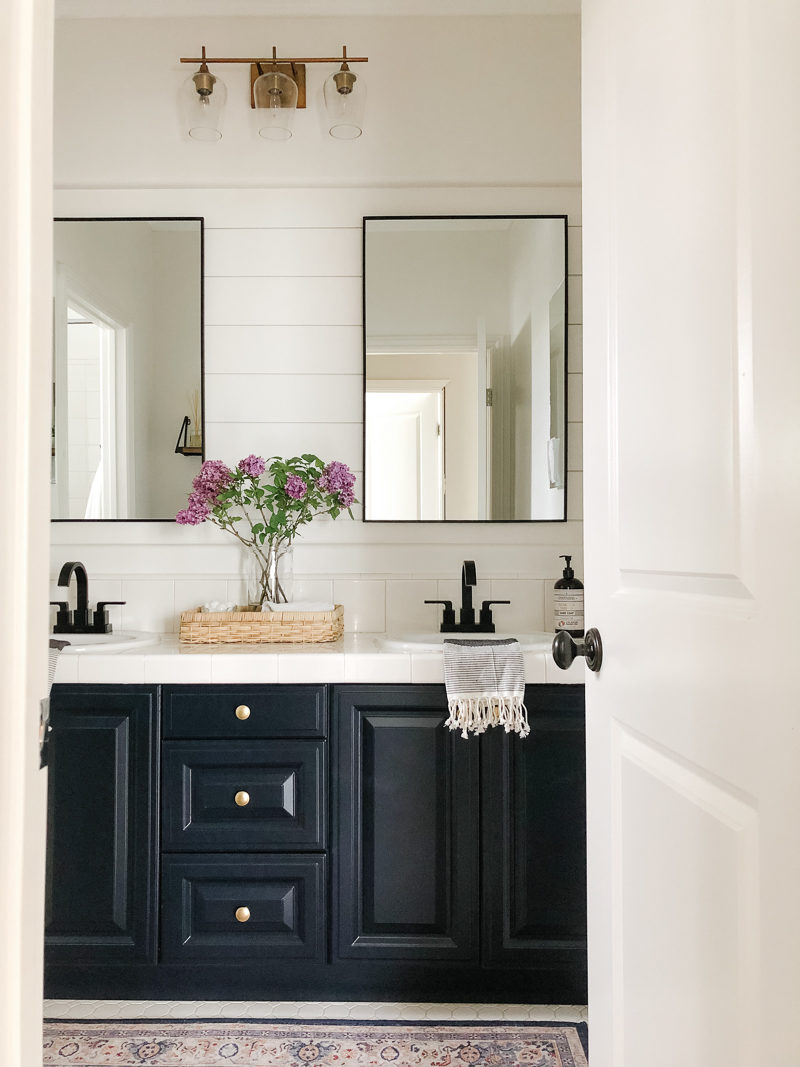 The shiplap is my favorite element in this new bathroom. The area was already inset with a builder mirror. After removing that, my husband used the shiplap from Home Depot. I used my trusty sprayer once it was installed to paint it White Shadow by Vista Paint. The entire shiplap project took us half a day (painting included) but makes a huge difference.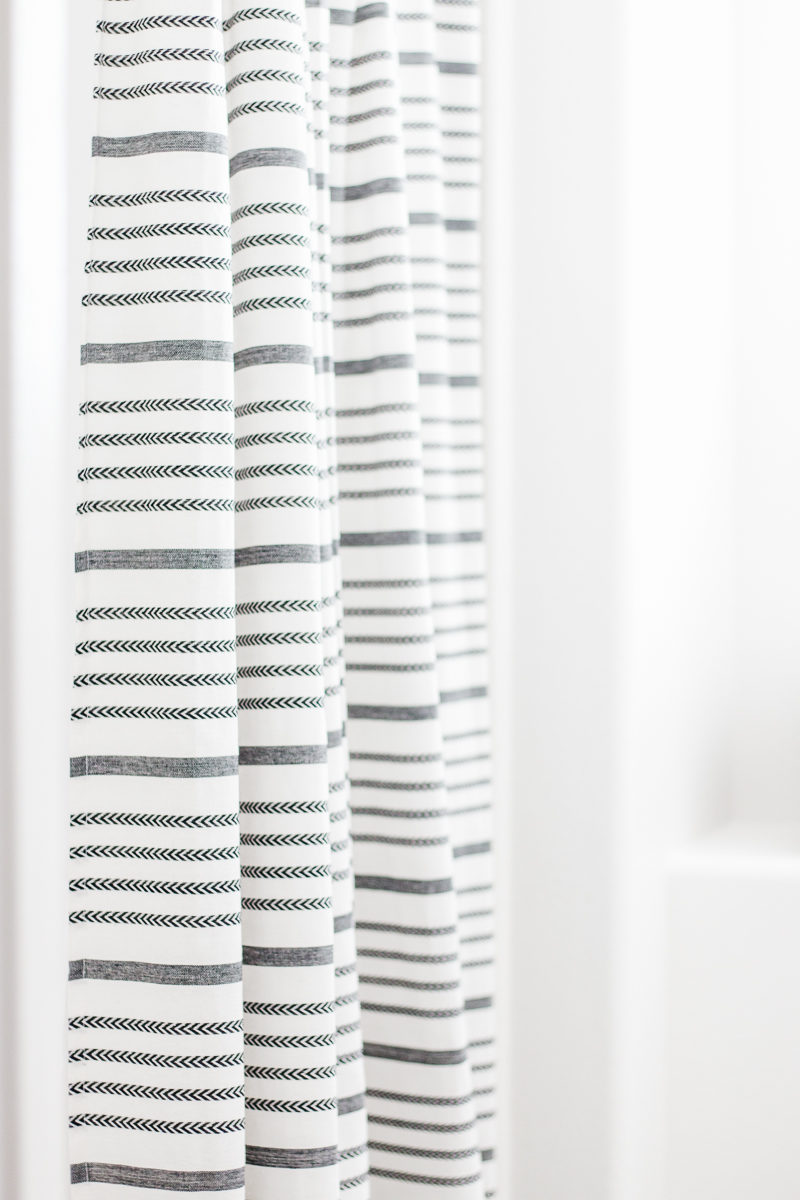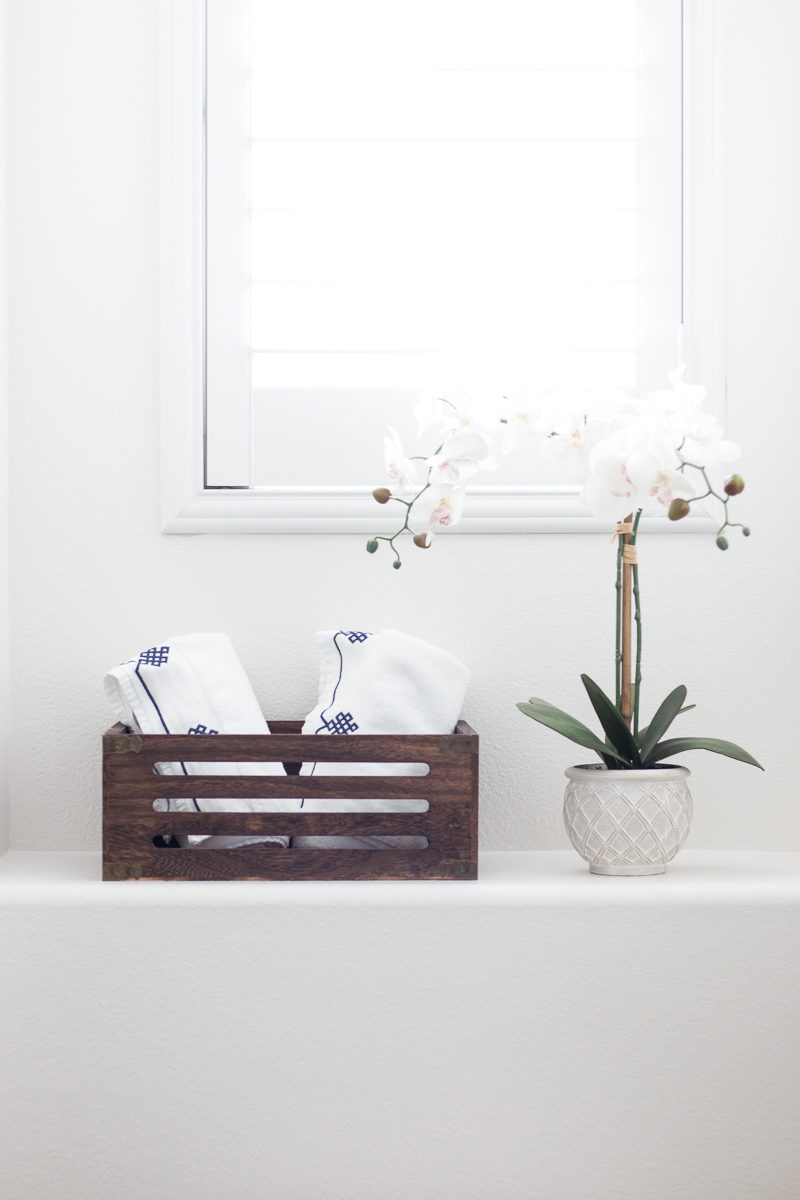 This is the only outstanding project left in the space. I would like to build a wood top for this ledge. I think it would add some warmth and custom charm. For now it's a wood crate with pretty hand towels!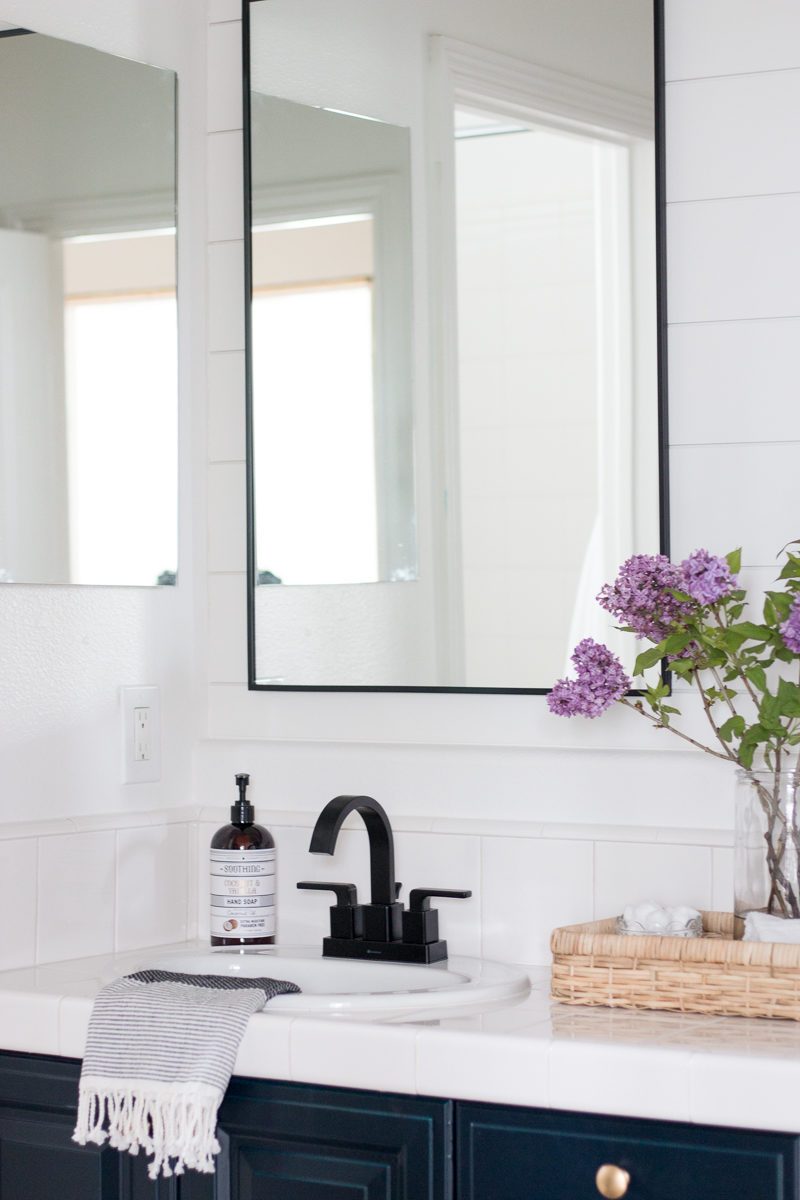 Because we did not want to go down the path of ripping out the tile countertop or sinks, we simply upgraded the faucets. I went with matte black because not only are they masculine for my son, but they really make a bold statement and draw the attention away from the outdated sinks. Fresh caulk around each sink also freshened things up quite a bit.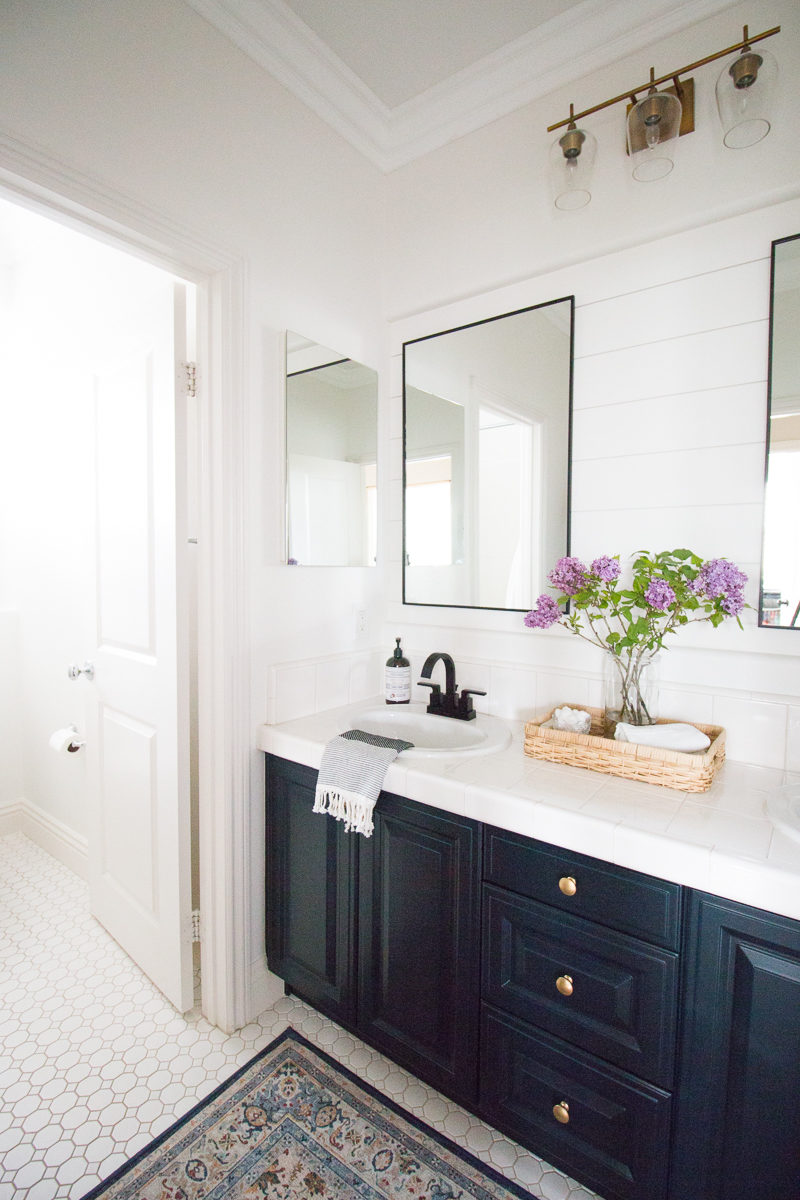 SOURCE LIST
hand towels – found these at Hobby Lobby for $6!
wall shelf – Michaels
cabinet paint color: Galaxy Black by Home Depot
wall color: White Shadow by Vista Paint
mirrors | sconce | faucet | basket tray | rug | shower curtain
I hope this inspires you to tackle one of your own spaces. You can see the breakdown of our budget here. With a little sweat equity and some careful planning, a bathroom on a budget is a real possibility. I will be back with a detailed post on how we transformed the vanity with paint. Thank you for following along with us on this one. It was such a fun project from start to finish.
Check out another DIY space we tackled: Pantry Reveal