Morning. Most of you know that we have lived in our home for over two years. We are still making our way through each room to add our own style. One room that we never really did much to is our son's bathroom. The time has come to add some personality and interest and I have given myself a $1000 budget for the entire space. Excited to share the plan with you today.
BEFORE PHOTOS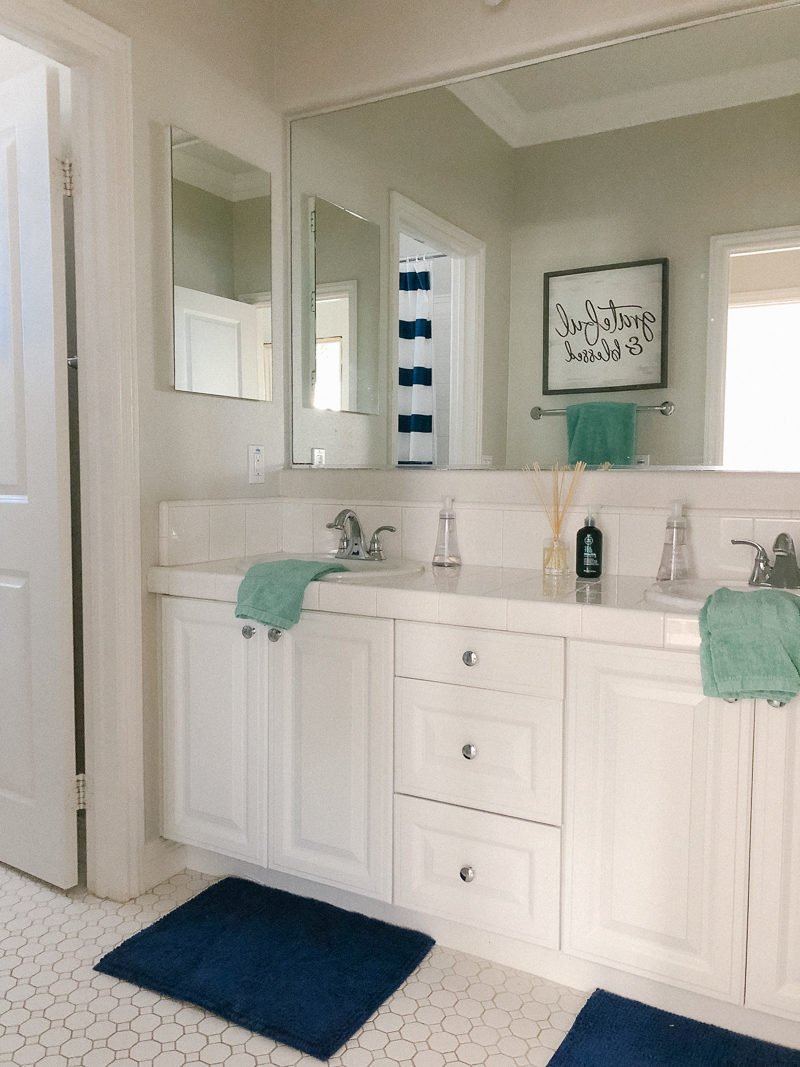 When we moved in, we painted the walls Pale Oak and swapped out the hardware and that's about it. In a perfect world I would replace the tile countertop with a solid surface and install under mount sinks. But that is not in the budget and a project we may tackle much later down the road. So I am working with what I have to add more color and charm. You can see this bathroom when we moved in this post.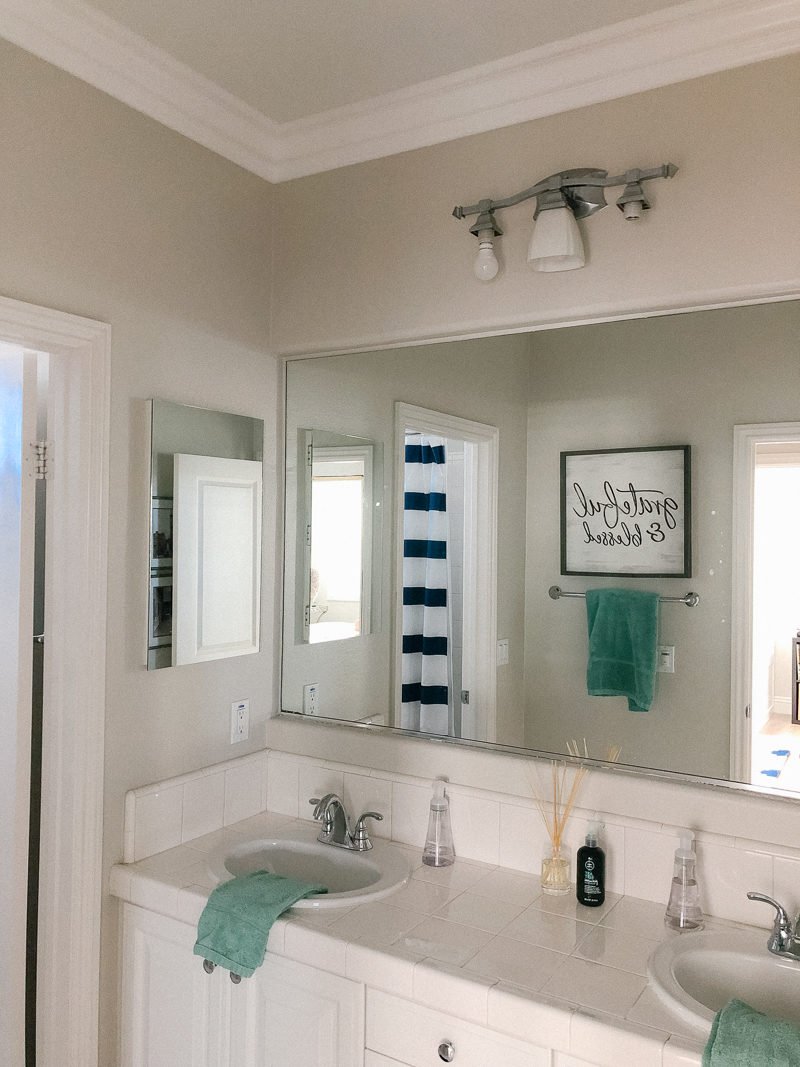 How do you like that light?! Don't even ask what is going on with that. I never wanted to replace it because I didn't have a design plan yet. The time has come.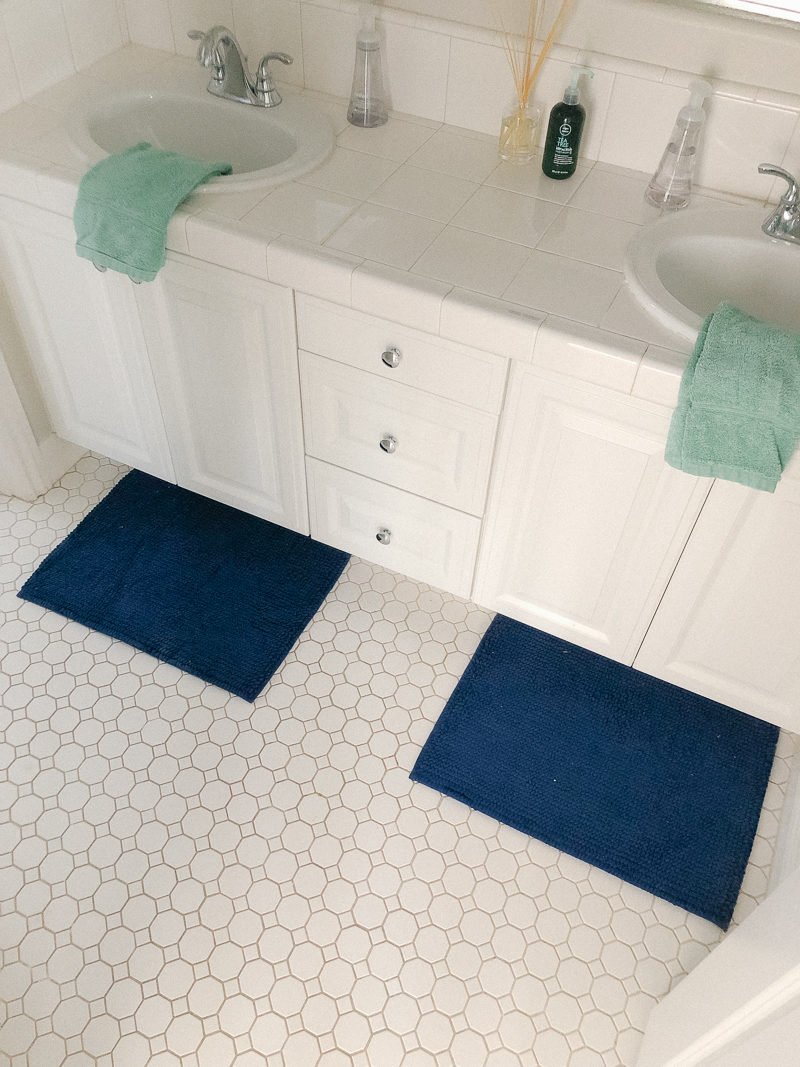 The floors are classic in my book. Planning to ditch the two smaller rugs and use one 3′ x 5′ washable rug to add more character and color. I think it will warm up the space, too.
DESIGN PLAN
mirrors | towel | sconce | faucet | rug
Here is the more masculine, pulled together design. The new dresser in our master bedroom inspired the look. We love the Hale Navy paint (by Benjamin Moore) so we've decided to carry it into our son's bathroom. The cabinet doors are actual laminate so I am planning to use a special primer that will allow me to paint them. The walls will be painted white to allow for more contrast.
The rug I chose is a Ruggable. Have you heard of them? I hadn't until a friend sent me a photo. Genius. The top comes off and is machine washable. Seems like the perfect choice for a young man's bathroom.
*The faucet I chose is sold out but this is another fantastic option.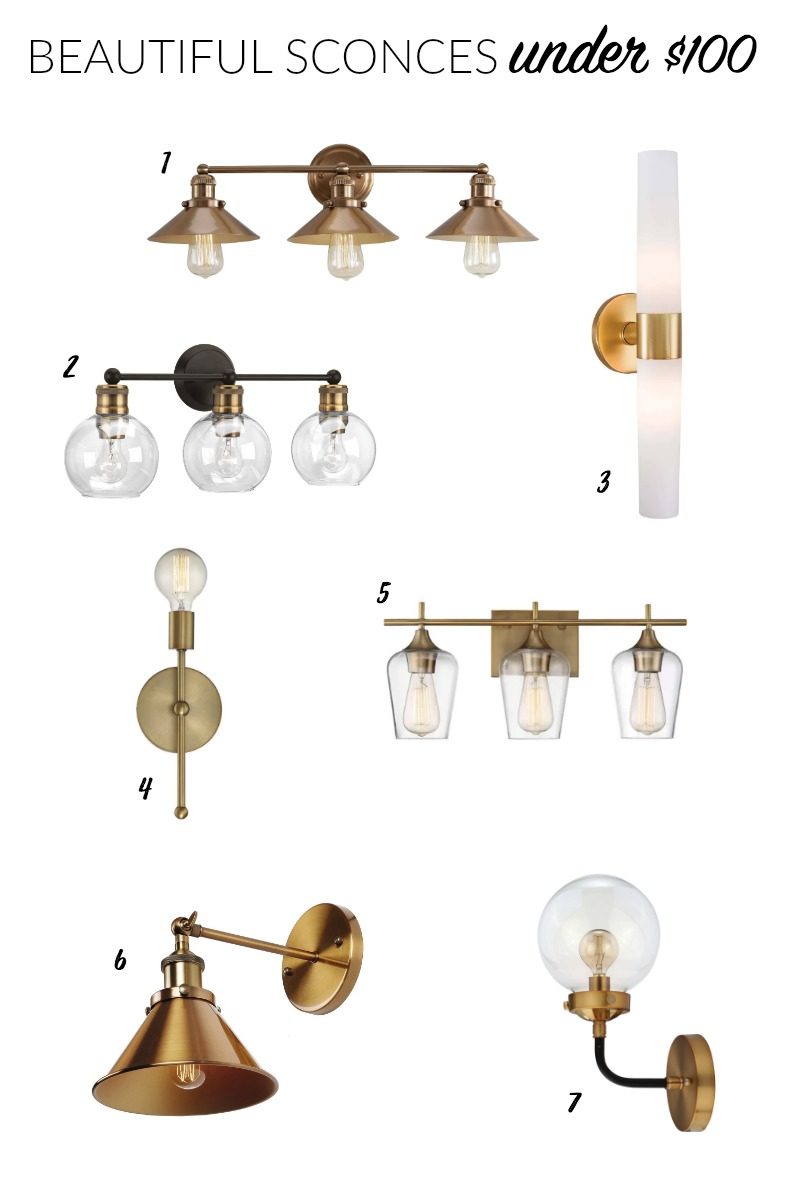 There are so many amazing lighting choices out there. I had so much fun shopping for the one we will use. I chose to go simple and classic. The gold will add warmth. The black faucets and mirrors will give the bathroom a more masculine vibe.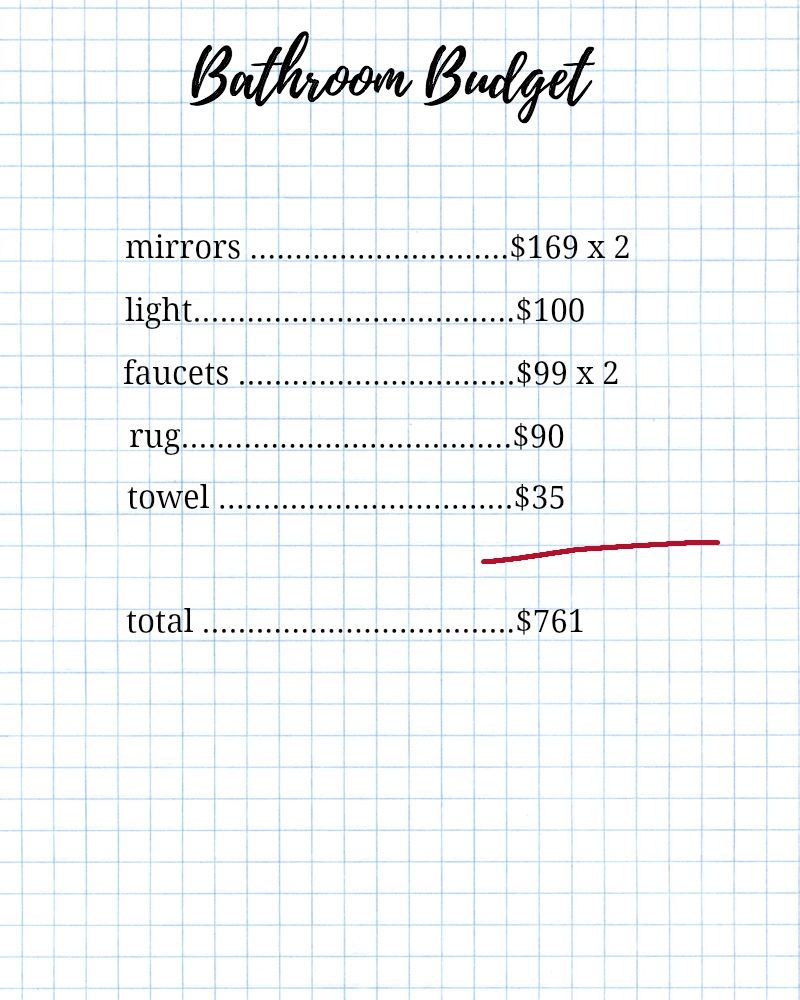 Here is where we stand with the budget. Not bad! That leaves me about $240 to buy paint, wood trim and accessories.
MIRRORS
I've decided to take down the large mirror and replace it with two. Most likely I will add wood planks behind them. The mirrors I chose were on sale which definitely helped. I searched high and low. Boy, mirrors can be pricey! I almost bought these. Love the rounded corners. Here are a few more I had my eye on.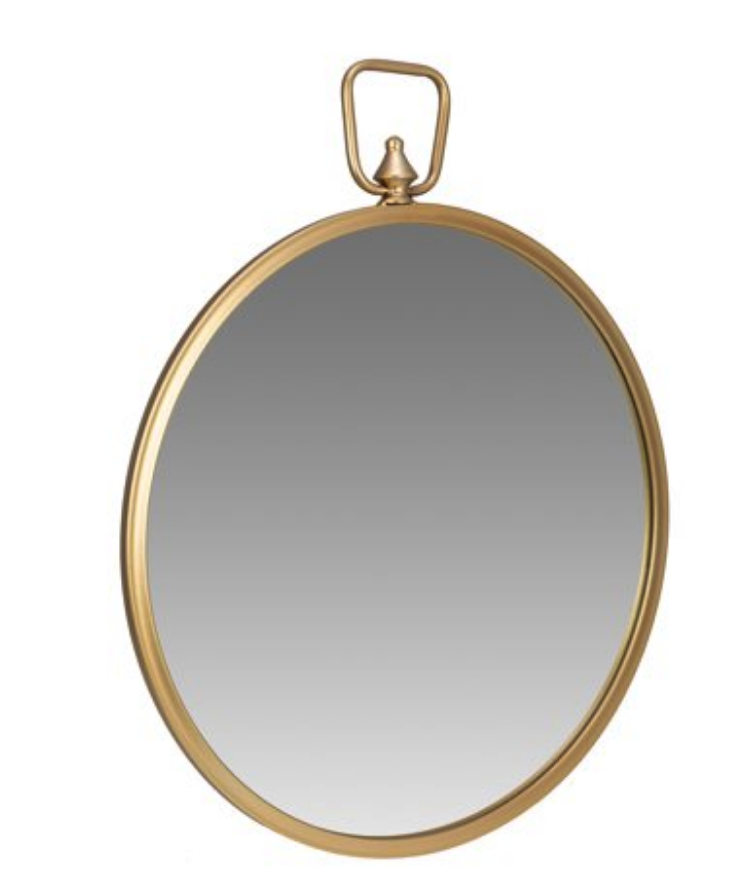 I almost ordered this black mirror (also comes in gold). The rounded corners are fantastic.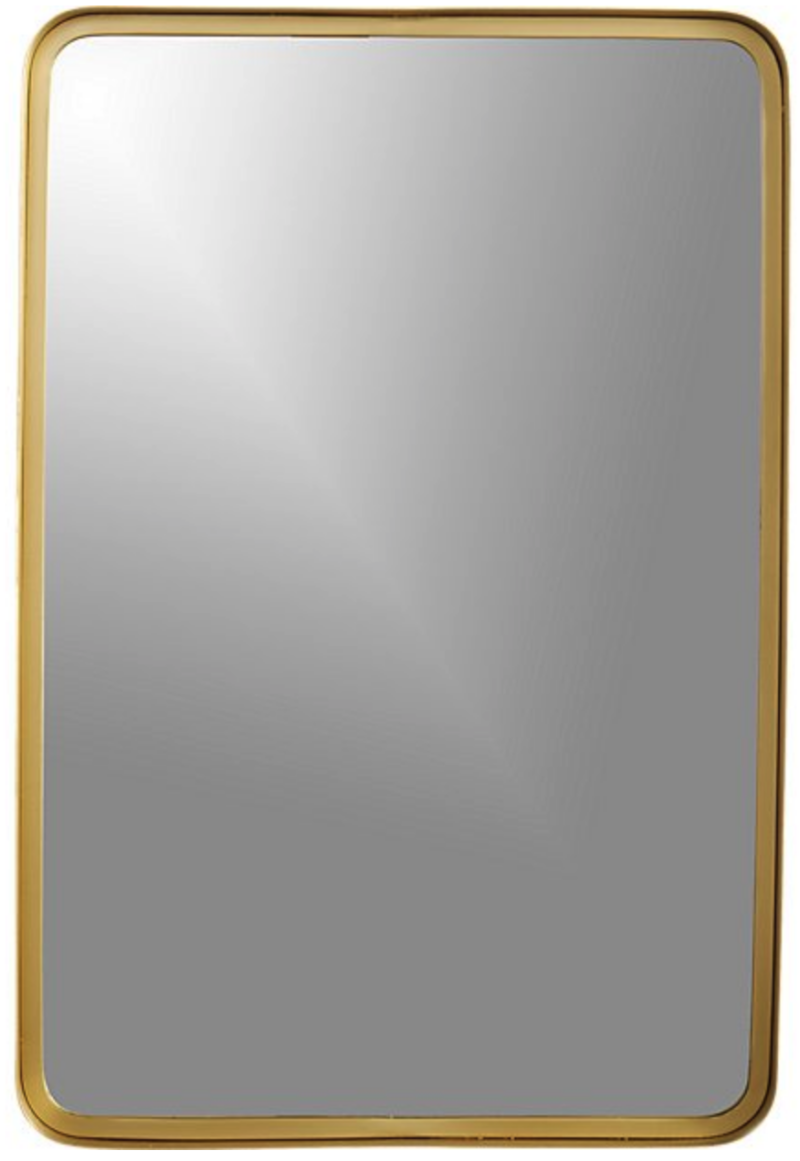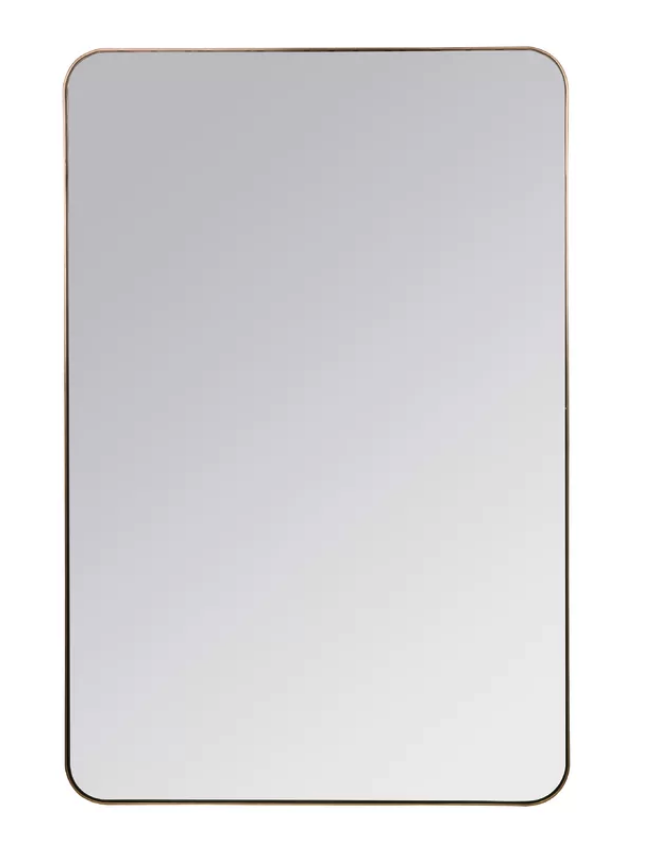 I am learning that I work best when I create a design plan like I used to make for clients. Having the visual picture of how things look together keep me on track and allow me to work much faster. It worked well for our master. Plus I have a much better idea of how the room will turn out. A few of the items will take a few weeks to arrive so I'll post an update as soon as I can.
DESIGN REWIND
Do you all remember this bathroom? I think it's one of my favorite transformations. The before is beyond rough!!! We did this ourselves and on a budget.
Wishing you a great Tuesday and week ahead. Headed to see sweet mama today.