Morning. There is a really cold chill in the air where we are today and it feels so good. Hot coffee hits a little different when you are able to be in a cozy sweatshirt. I don't know about you, but I am ready for Fall. Today I am sharing a room we haven't shown before. To be honest, I wasn't planning on even touching this room but alas here we are. It's a bonus room, much like the space we created in our previous home, and the kids use it all the time. Let's take a look and then we can chat about the possible game plan.
COME ON IN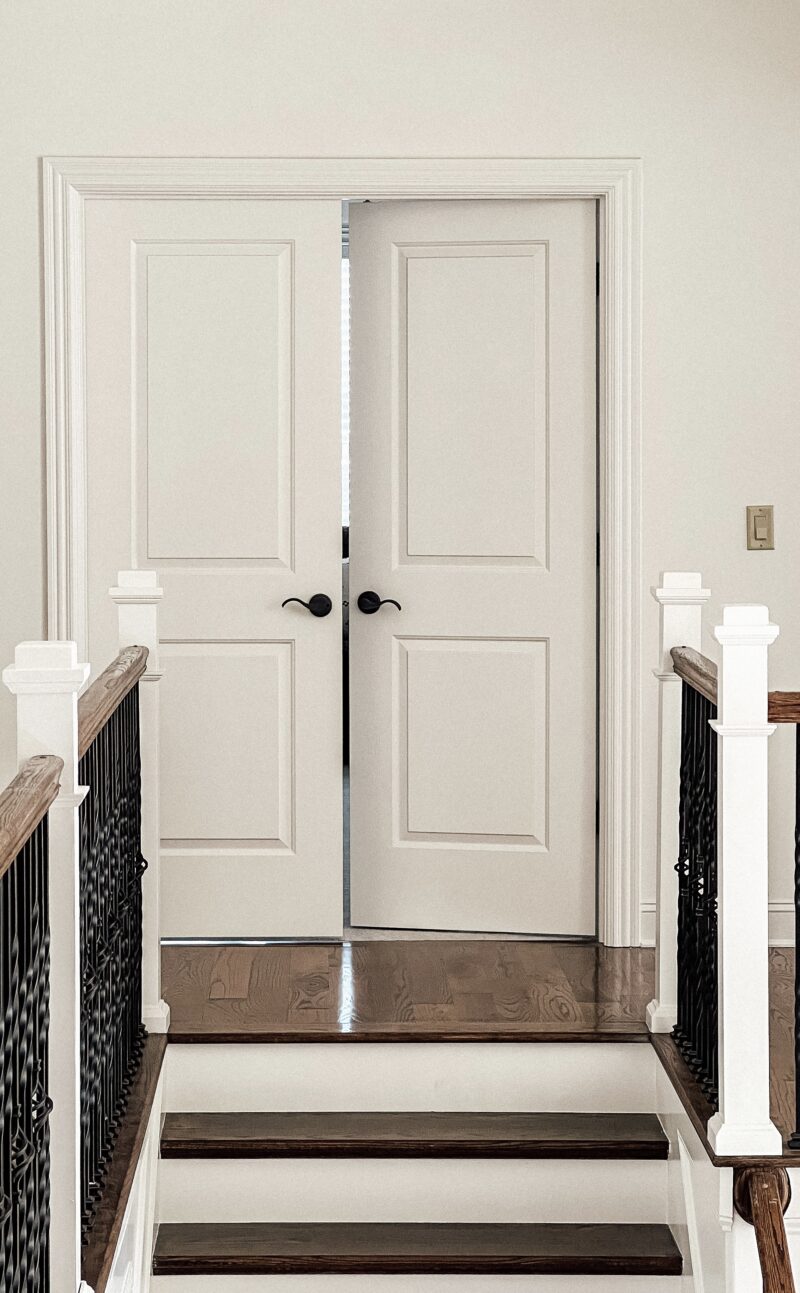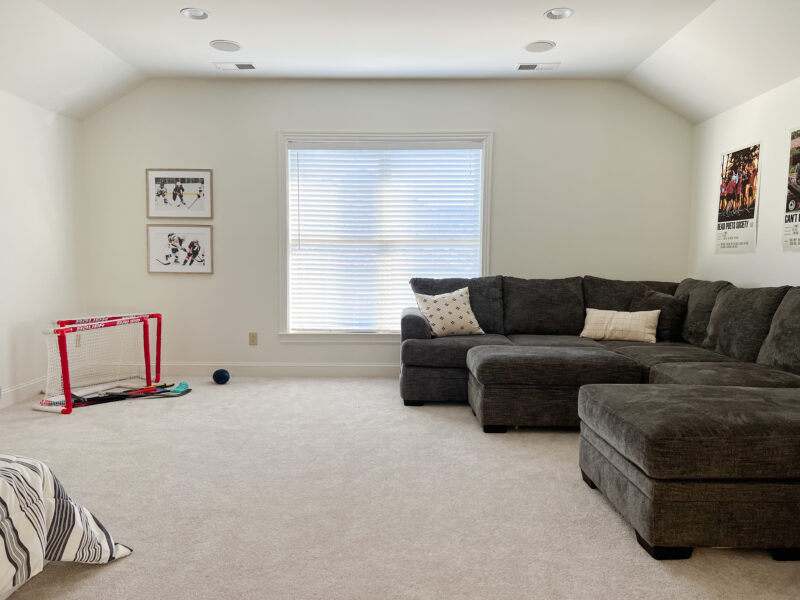 I warned you it was a blank slate! Can you see the potential? It's a fantastic size room and if we had younger children, I would probably turn this into a bunk room. It's begging for built in bunks along the sides. Having said that, as much as that would be fun, we don't need that and I have to stick to what my teens currently need.
IMPULSE BUY
This was the very first piece of furniture (almost identical) we purchased in this house. Will it win any high end design award, probably not, but it's ideal for this room. I think we were living here for all of a week when we went out in search of a sectional. Our moving truck had not arrived nor any tv's but we were able to gather as a family in here and watch movies. We had two requirements: crazy comfortable and durable. Oh, and also in stock immediately. I didn't want anything light colored and I just wanted to know we could all pile on here and watch a movie. While I am never a fan of an impulse buy, this was one we don't regret. We didn't spend very much on it and it's proven to be perfect for the kids and all of their friends.
Other than letting my daughter hang movie posters, we haven't done a thing in here. In fact this was to be the last room on my list but I am seeing that the kids and their friends use it all the time. I love that they choose to hang out here and have sleepovers, but we can do better than this. I figure if I wait much longer, my daughter will be off to college and it will be too late. My laundry room can certainly wait.
OUR CHALLENGES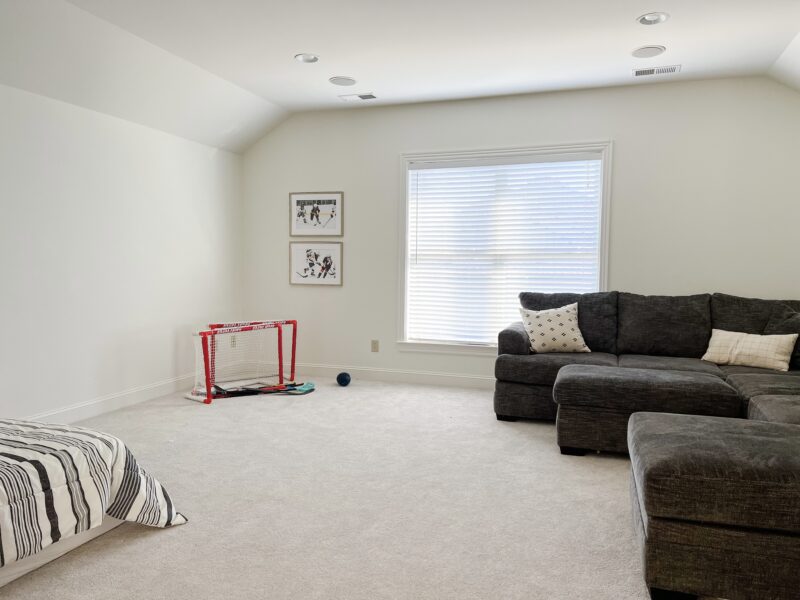 Just like in the last home, there are a few things that make designing this tough. We want to be able to keep the large wall to the right completely open. We use a projector for movies and the entire wall becomes the screen. That also means we would like the walls to remain white. The upside to that is that when the kids are playing hockey or anything else in here, a TV screen can't be damaged. I speak from experience. No TVs for us in a room like this!
We also want to keep the floor space as open as possible because it's hard to play mini sticks or a board game when you have too much furniture in the way.
Then there is the budget. I have zero interest in spending a ton of money in this room. I have come to know that a flex space like this evolves and changes over time so it doesn't make sense to go over the top.
I also want to pull this together quickly. My daughter and her friends sleep in here almost every weekend so this shouldn't turn into an off limits construction zone. In fact once it's designed and I have purchased what we need, I am hoping it a weekend warrior type of project. Or maybe that is wishful thinking?
The extra mattresses were from our bunk beds. It really is nice to have extra beds for the kids, but I need to get more creative than having them stacked on the floor.
OUR CA TEEN ZONE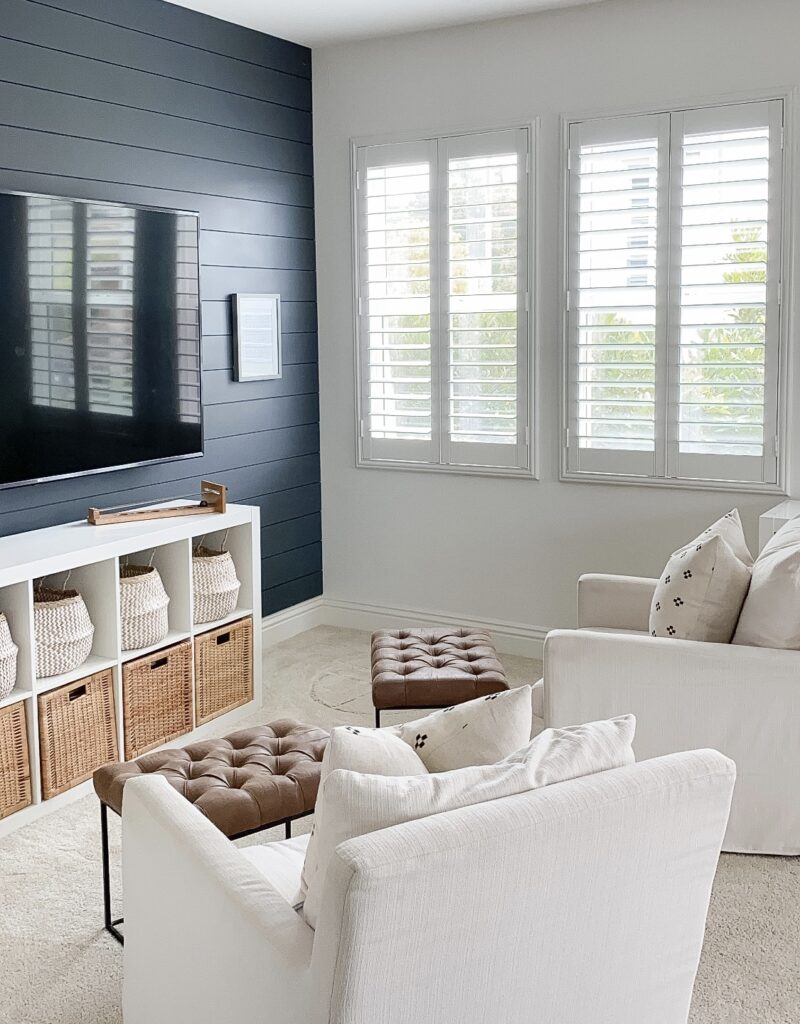 Do you remember this room? We took a wall down between two bedrooms and created one large bonus room. We never regretted that for a minute. It really is so nice for the kids to have a comfortable spot to hang out. You can tour that room here.
POSSIBLE DESIGN DIRECTION
To be completely honest, it was a recent decision to give this room some love so the design is a work in progress. In the end, we just want it to feel more inviting and have a bit of character. I don't want to over design it or make the kids feel like that can't totally relax so it's a bit of a fine line. Here are a few things I am considering.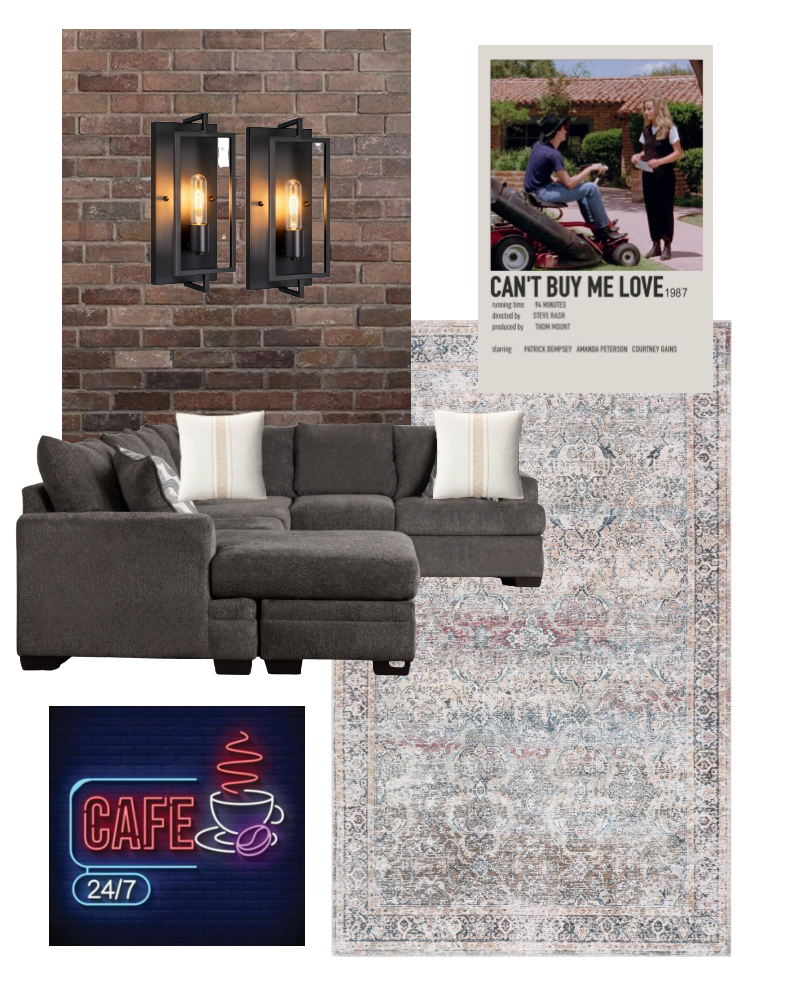 In our previous home we did a brick wall for our son and loved it. I would love to bring that brick element into this space. Most likely on the window wall. I think it will warm up the space and give it the much needed character I am looking for. I plan to keep the movie posters but frame them out. We will add a washable rug, pillows, fun lighting and maybe a neon sign. I haven't figured out if the sign will be movie related or just a cute open 24/7 sign. I will also want to incorporate some sort of media cabinet to store games and allow the kids to have food on top.
I'll do a tour in my stories soon so you can see the space in person. To be continued! Have the best day, my friend.