Good morning. I couldn't wait to push publish on today's post because I've been so excited to share these beds with you. At long last, the teen room is coming together and the kids couldn't be happier. Today I partnered with Walmart to share how we created a fun space for lounging or sleepovers.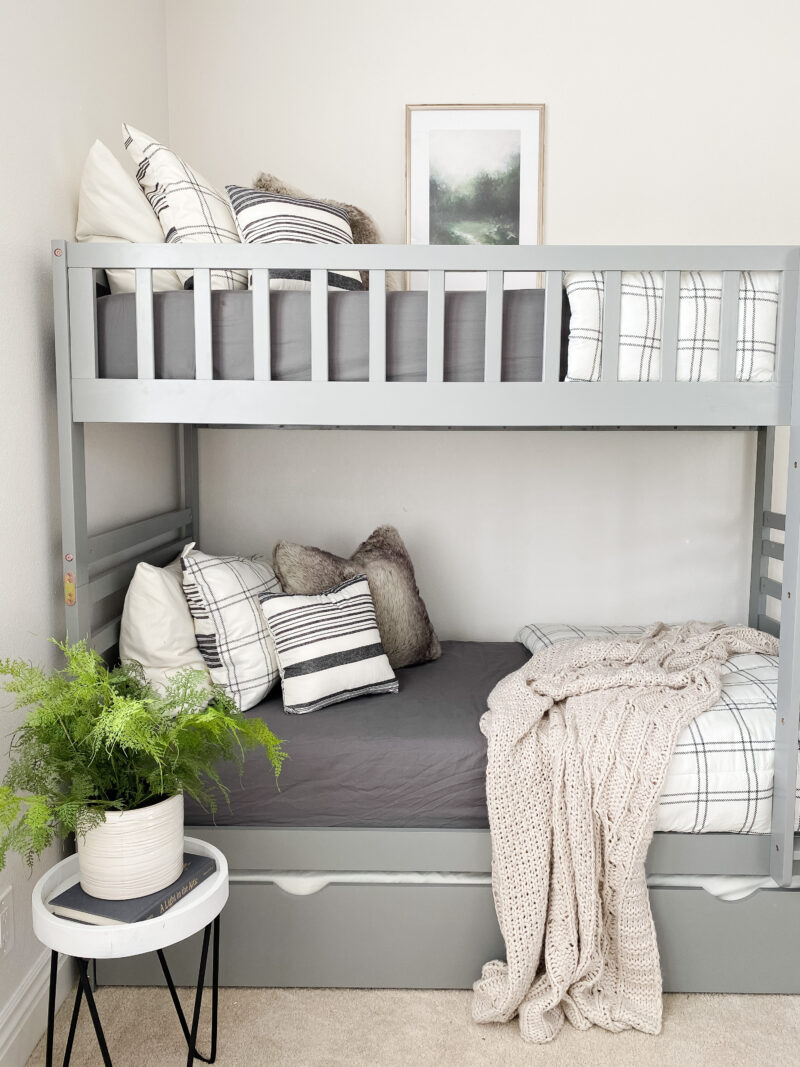 Our only regret is that we didn't do this a long time ago. It's taken us a minute to figure out how to best use this new space. You may remember we took down a wall between two bedrooms and created this large teen room. We had a hard time deciding between a sectional or bunk beds. There seemed to be pros and cons to both. But ultimately these bunks won out and it was a great decision. Especially because we already had three twin mattresses from the kids' previous beds. I held onto them just in case and I am so happy I did. Now it's the perfect spot for friends or family movie nights.
We actually called in the troops to put the beds together. Not because it's particularly difficult (you do need two people) but because we love for the kids to learn how to do these things. They are still talking about how much fun it was to do it together. It took us about two hours in case you are curious. We were all very impressed with how clear the directions were and how easily they came together.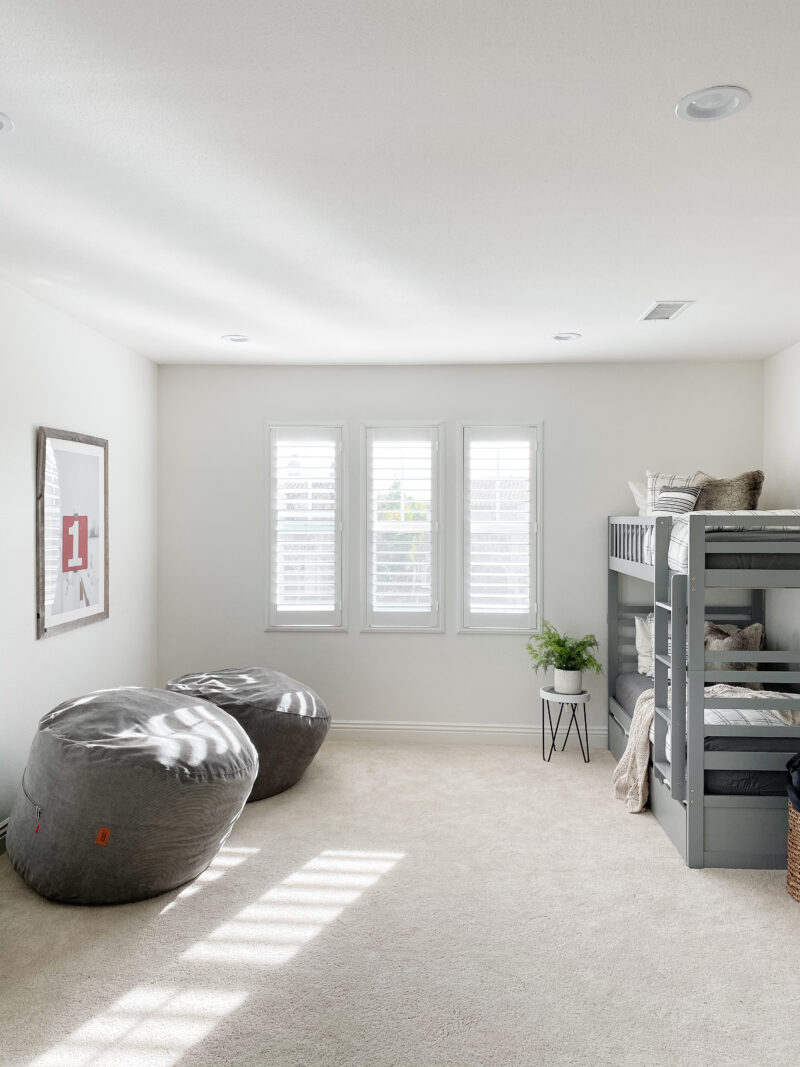 Here is a peek at this end of the room. The bean bags can also become mattresses which is really fun. The bunks fit nicely into the niche that used to be a closet. The kids like that there is plenty of floor space to hang out, dance, and of course battle it out in knee hockey.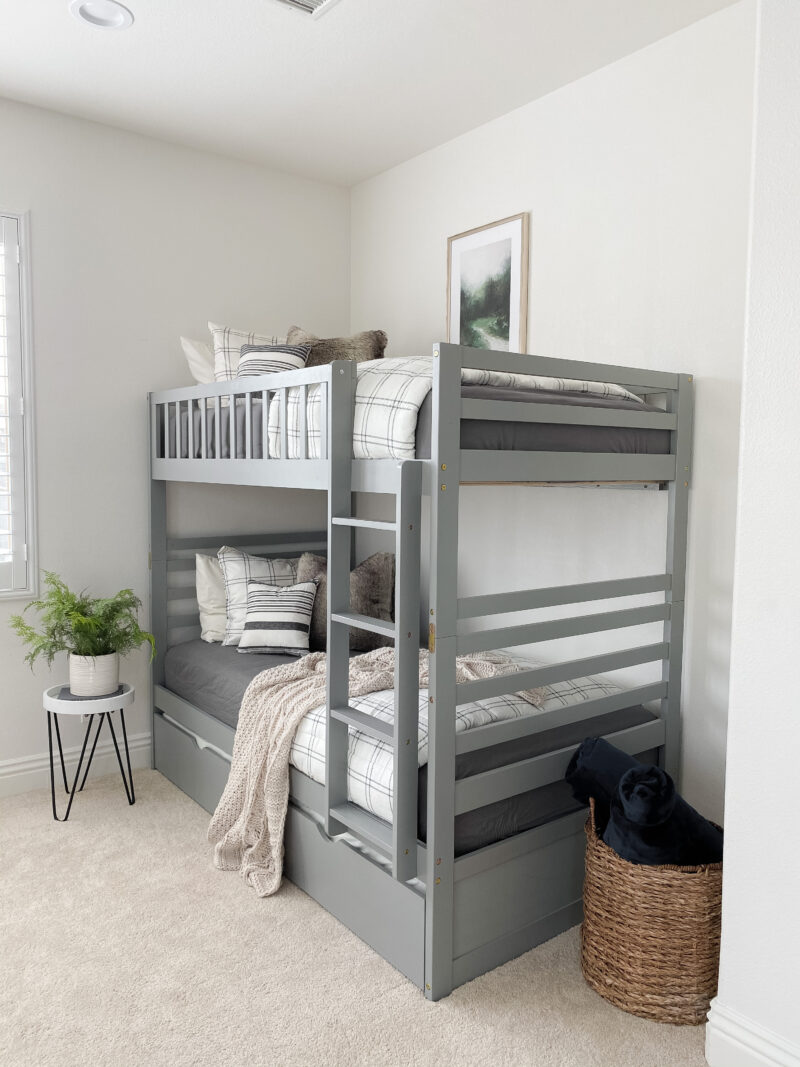 bunk beds | similar throw | bedding | table | fur pillows | gray sheet
At one point we thought we would have built-in bunks made but they were going to cost way more than we wanted to spend. My husband offered to make them but that would require a crazy amount of his time. When I found these bunks for only $310 from Walmart I literally ordered them immediately. After they arrived we had bunk beds two hours later. A good call indeed. And a very relieved hubby.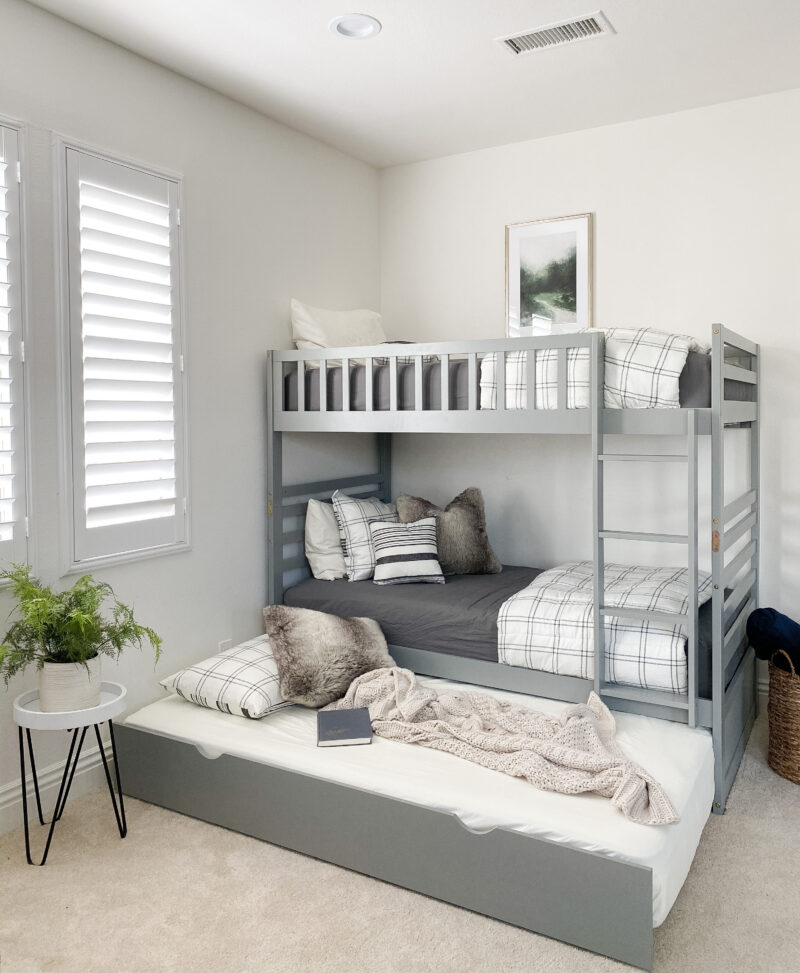 We loved that this bed came with the trundle. I like that it can roll completely out so you could put it further away from the bunks if you wanted more space. There are more affordable bunk options below.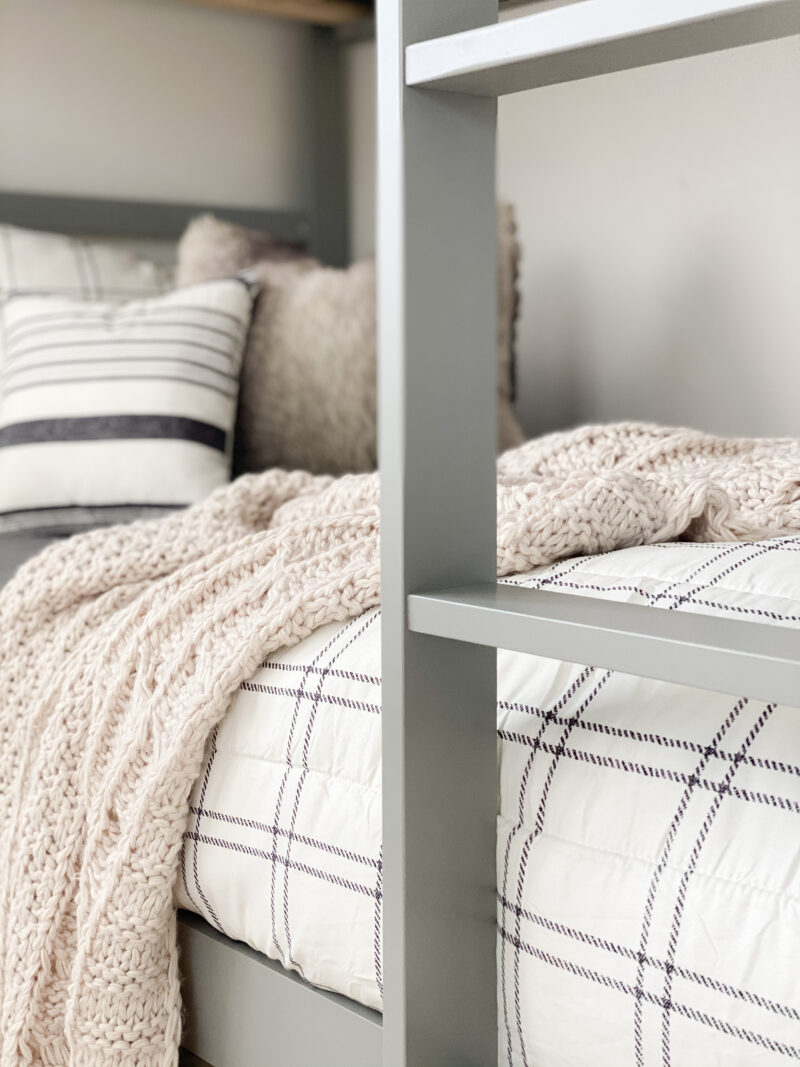 Let's be honest. One of the best things about installing bunk beds is choosing the bedding. I certainly didn't want to spend very much. This room is well loved and sees a lot of teens so spending a fortune on bedding would be a mistake. I also knew I wanted to steer way from a duvet and cover because they can quickly look sloppy (times two). I couldn't believe when I found this Walmart bedding set for $29. What?! It's even reversible. It came with an ivory set of sheets, a sham and the little striped throw pillow.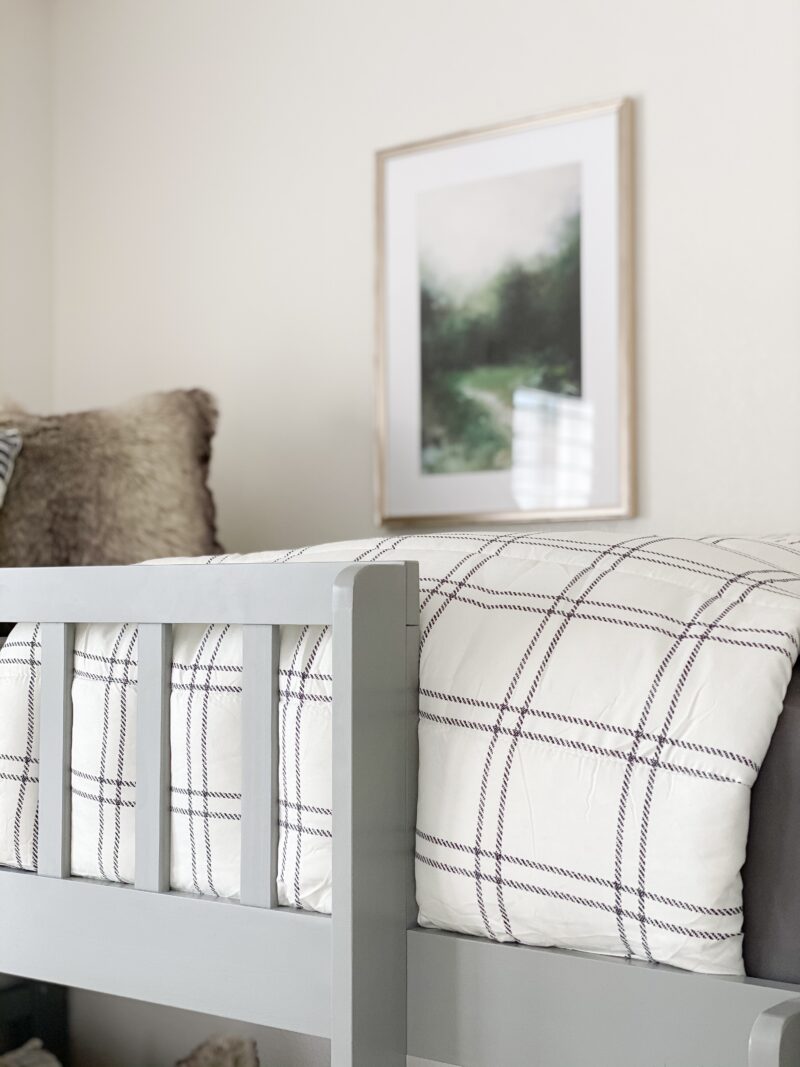 Call me lazy, but we already had gray fitted sheets on these beds so I kept them there. You can snag the dark gray here. I love the way it looks with the window pane plaid comforter. My tip for bunks beds is skip the flat sheet. My kids love to use throw blankets instead and it's so easy to toss those in the wash.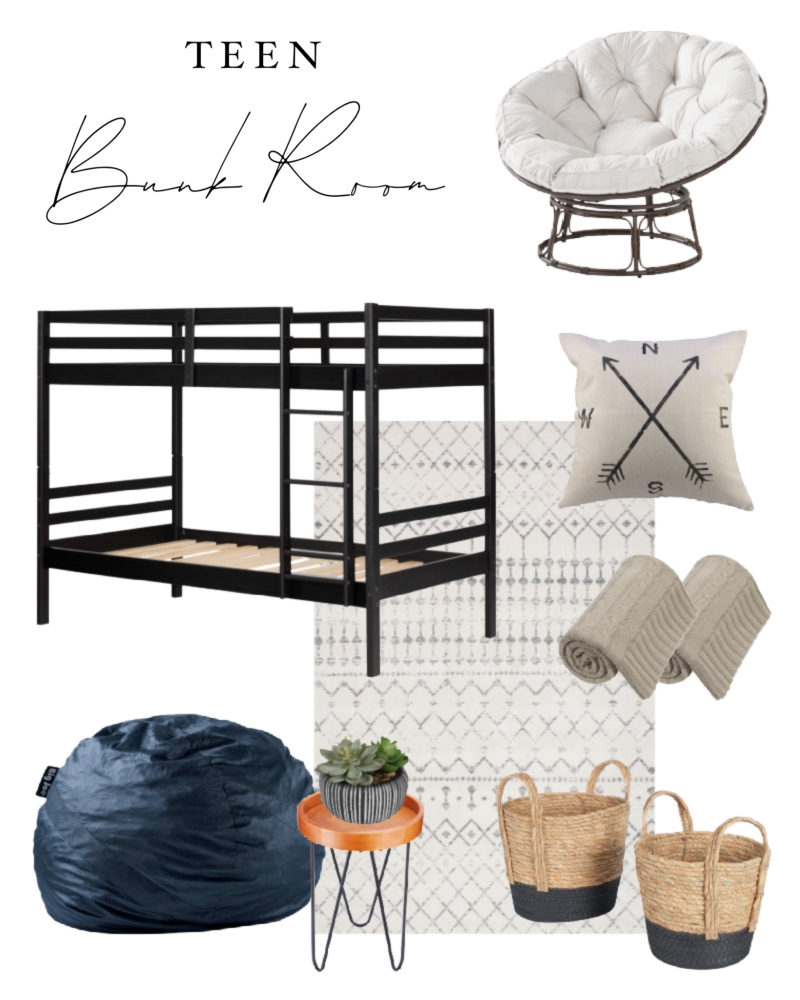 I thought this would be a fun design when using bunk beds with older kids. The set of baskets is darling. We used the same table but I painted the top of mine white.
Walmart has really stepped it up in the design department. I love that you can pull together a well-styled space without spending a ton.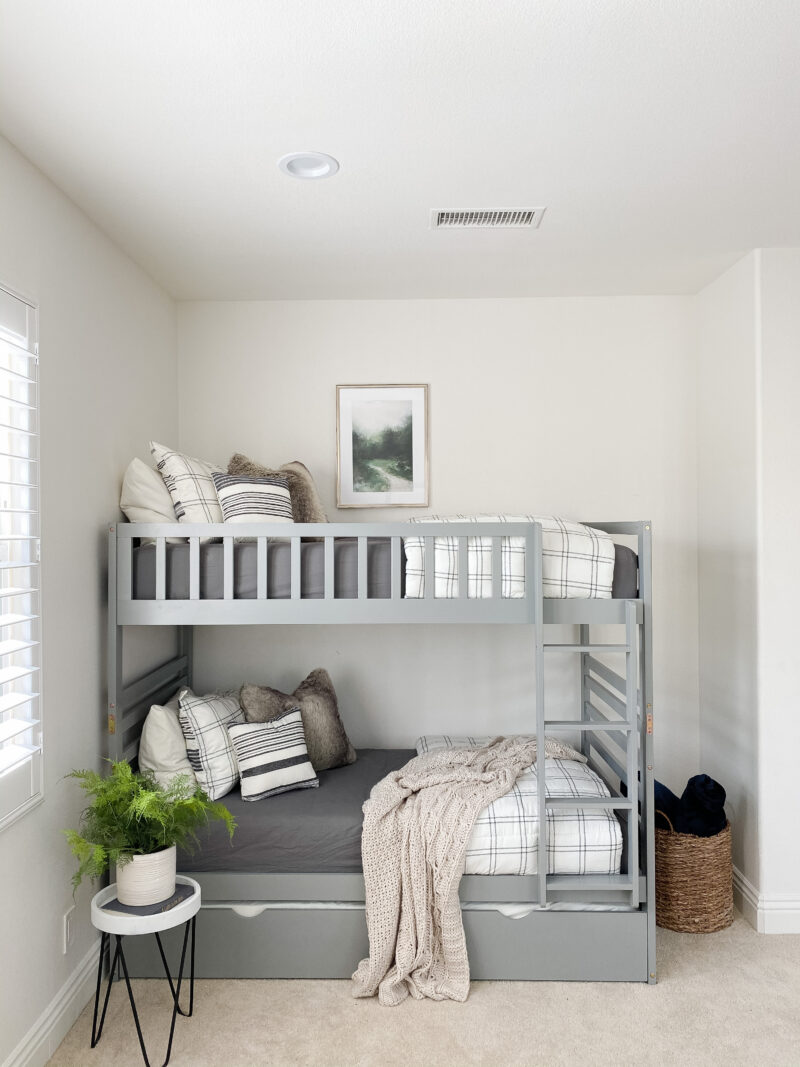 So far the kids are loving this space. The bunk beds completely transformed the room. Sure beats having three mattresses stacked in the corner. And while they may not be built-in, all of our bunk bed dreams came true and for a whole lot less. Stay tuned for a full reveal of this room very soon.