How is everyone? I took yesterday off to soak in the first morning of school with the kids. It was so much fun to see them walk on to campus together. They will be at the same school for one year before they are separated again so we are enjoying every minute of it. Especially having one driving schedule. Meanwhile back at the ranch, our renovation has come a long way. So excited to share the progress with you.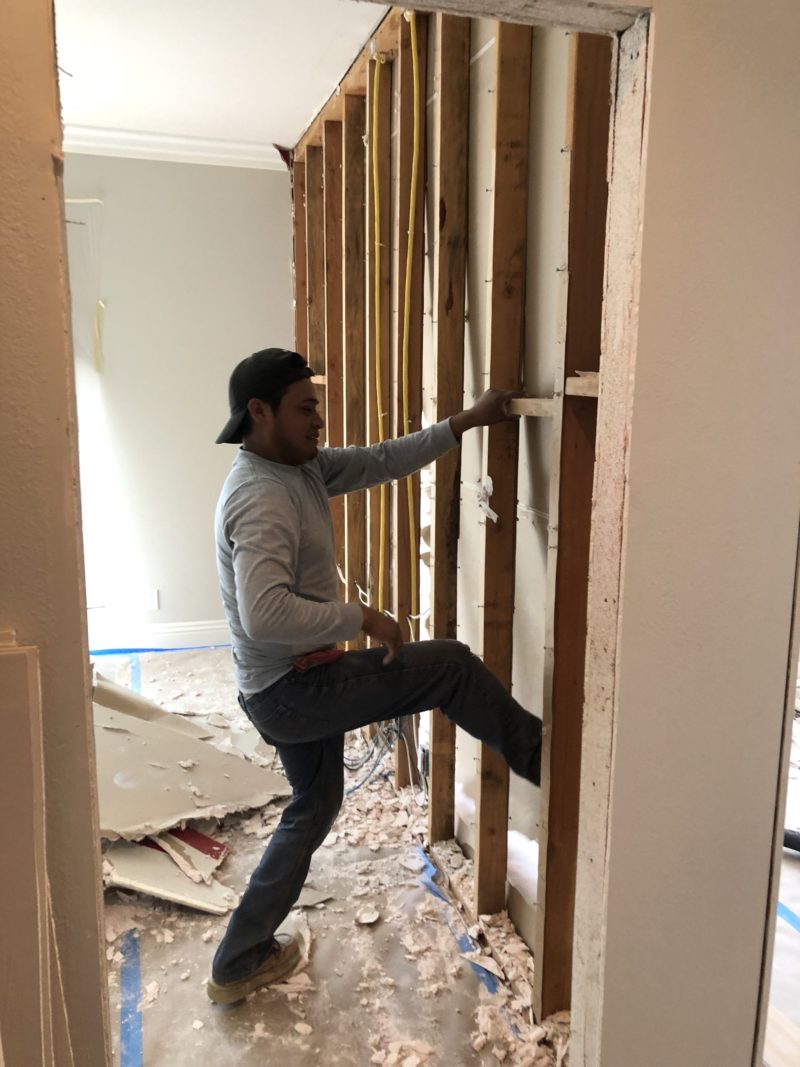 If you have forgotten what the heck we are doing, you can get caught up with our crazy idea, here. I happened to walk upstairs just as the wall was coming down. So exciting! It's one thing to have an idea in your head, but to see it actually come to life is the very best part. And there is a lot of praying and hoping that comes along with this stage as well.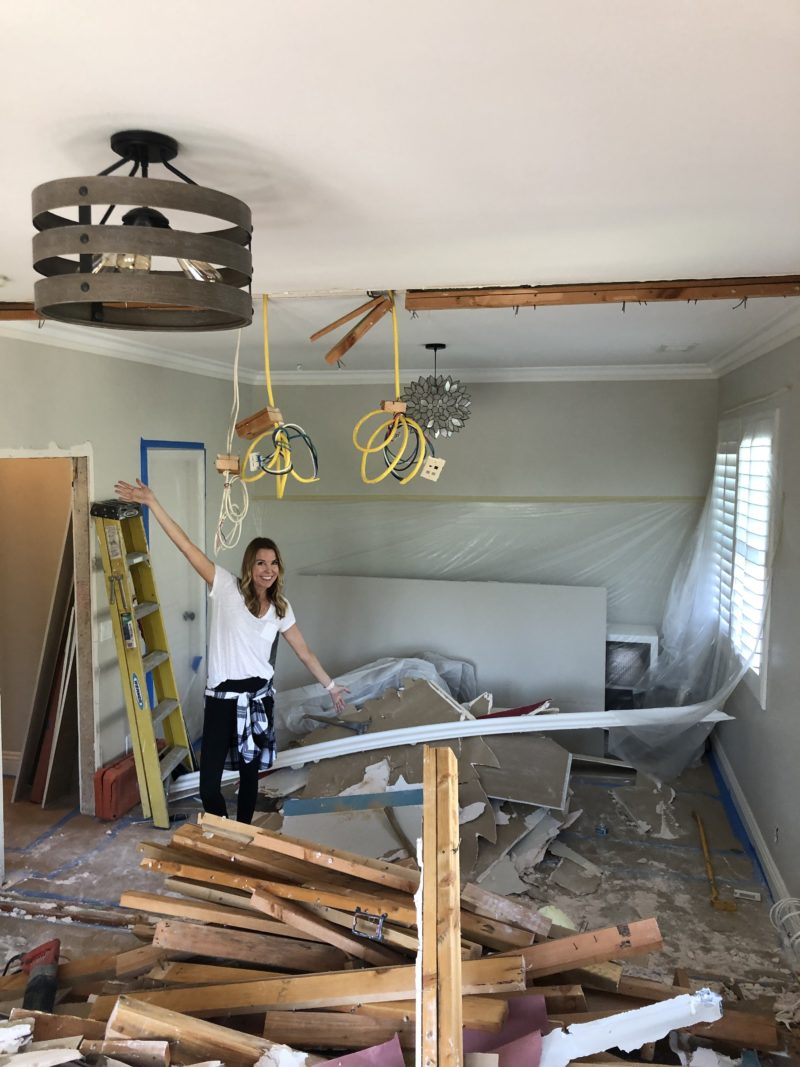 Tearing down a wall is not for the faint of heart. It's a hot mess, let me tell you. Are you loving the bevy of chandeliers going on?!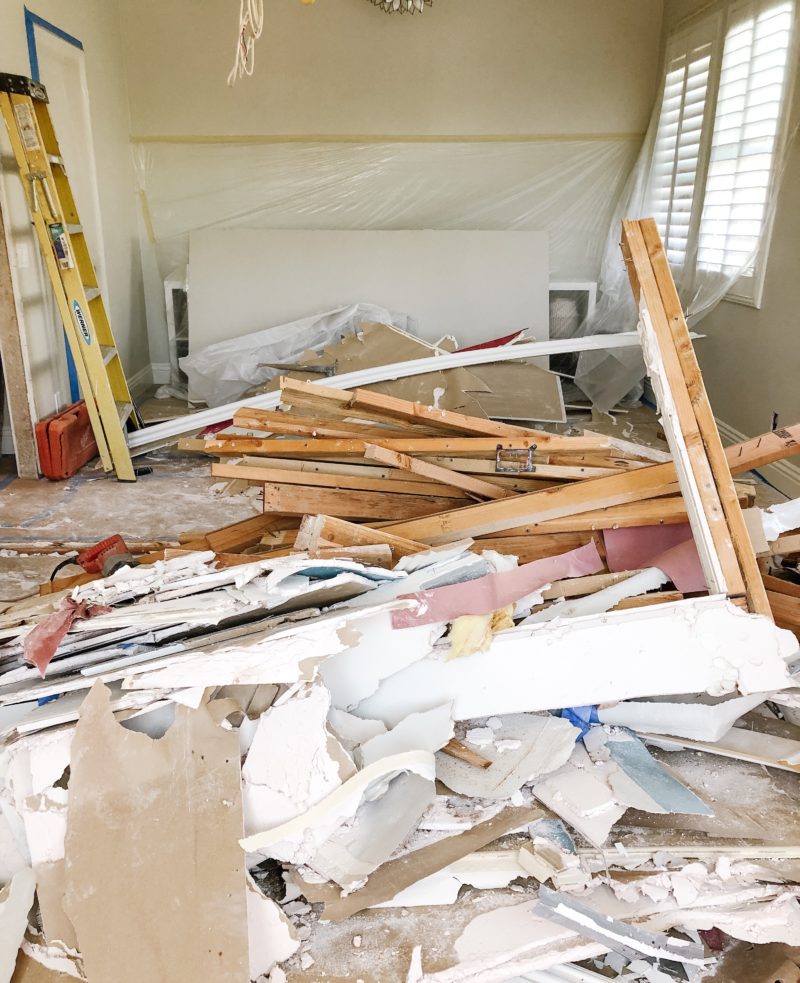 This was the stage that was hardest for me because behind the scenes my sister and were working long hours at my parents home to get it cleared out. So needless to say, every part of our "home" situation was a mess. Luckily our contractors managed to get this done in just over two weeks.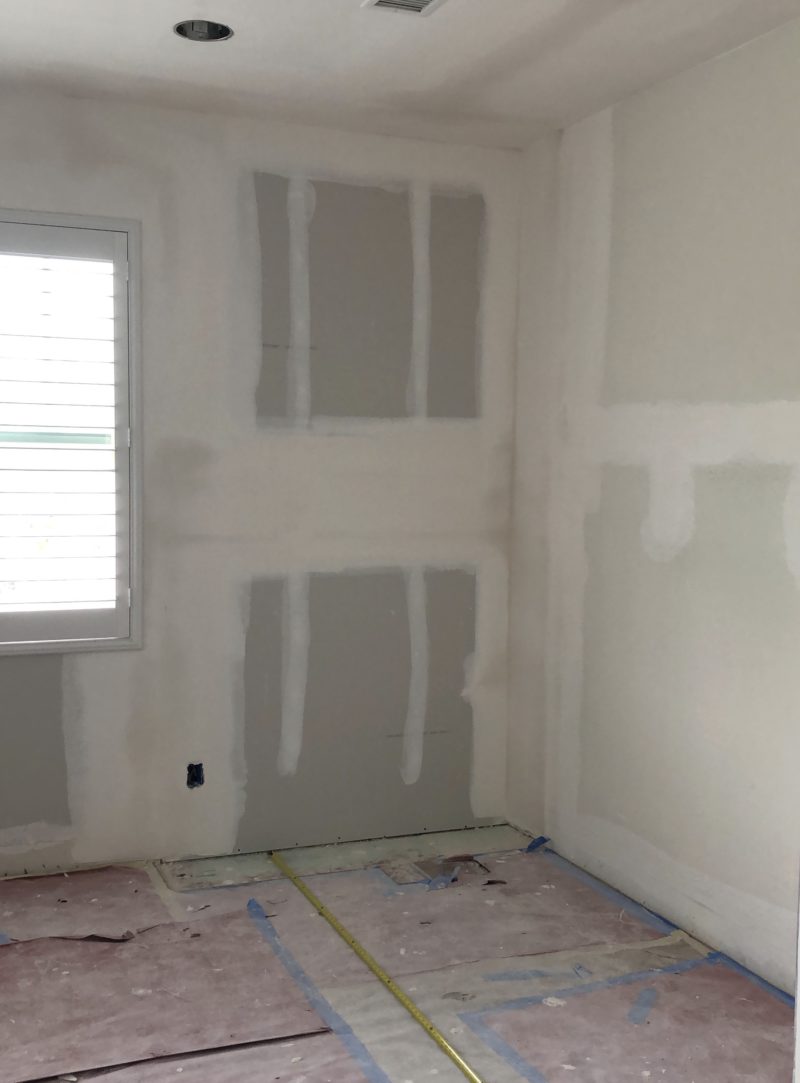 After clean up, the next phase was to mud the walls. This is when you really see things comes to life. We removed the soffit on this wall to create a flat wall. The closet was removed and will host bunk beds in the future. The tape measure on the floor indicates how far out they will extend. That helped me figure out where I wanted the electrical outlet to be.
PIECE OF ADVICE
I highly recommend having someone at home when major things are going on because it's those little decisions that pop up that are crucial to the end result of your design. (Especially when the electrician is working).
This is the opening for the large barn door. It will remain open most of the time and serve as a design element on the right side. We chose a barn door because we did not want to take up any space on the inside of the room. Plus this is now a kid hangout and we like the idea of having it open the majority of the time.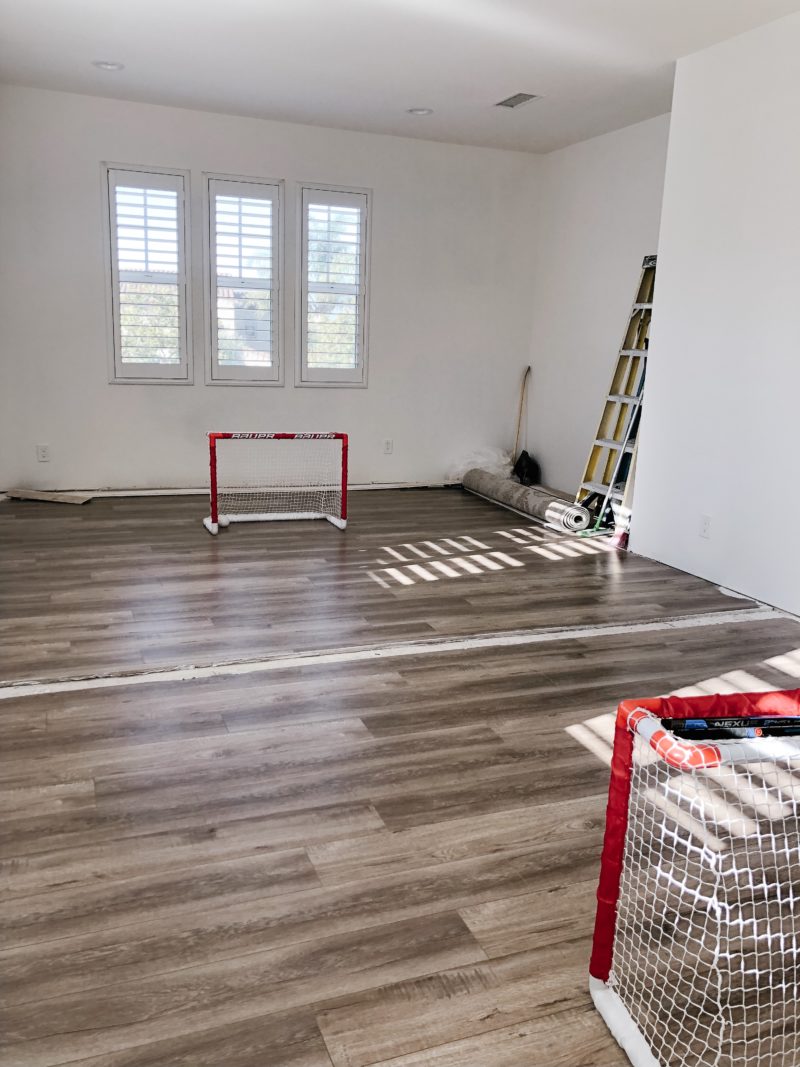 With a hockey lover in the house (two actually) you can imagine the fun they are having with mini sticks right now. To give you perspective, where the ladders and rug are is where the bunk beds will go. I thought I would take this time to answer some of the questions I have received over on my stories.
What is the flooring?
The floors are laminate. They extend through the entire upstairs. We LOVE they way they look. However, we will be carpeting this room. I am currently looking into Costco. They will come and give me an estimate this week. Plenty of people will try to talk me out of carpet but we know it's right for our family. We honestly can't wait to have a soft space. This room is for lounging and playing and we want it to be as comfy as possible. Plus it means sleepovers just got a lot more cozy.
What is your design plan?
Great question. I don't know. LOL. What I do know is that this space will be dictated by the children. I am not going for the most well-designed space but them most loved space (by my kids). We are dedicated to making it work for them and their friends. We are thinking bean bags that can easily be tossed out of the way to build a fort or play hockey.
I have visions of a game table in one corner that can serve as a work space for me when the kids are at school but host crafts or games when we are all together. Overall, we want to keep it very open. Less will be more so they can get the most out of the larger space. But if you have ideas, I am all ears!
What colors are the walls and trim?
Right now our upstairs is all Pale Oak by Benjamin Moore. We don't know the trim color. But when I touch up the trim I will use Swiss Coffee. Where the walls appear white it's because they were recently sprayed as the last step in construction and that is the basic white texture. I have not made any paint decisions yet. I was planning on using a moody color but the kids begged me not to. They prefer white and I am leaning that direction now, too.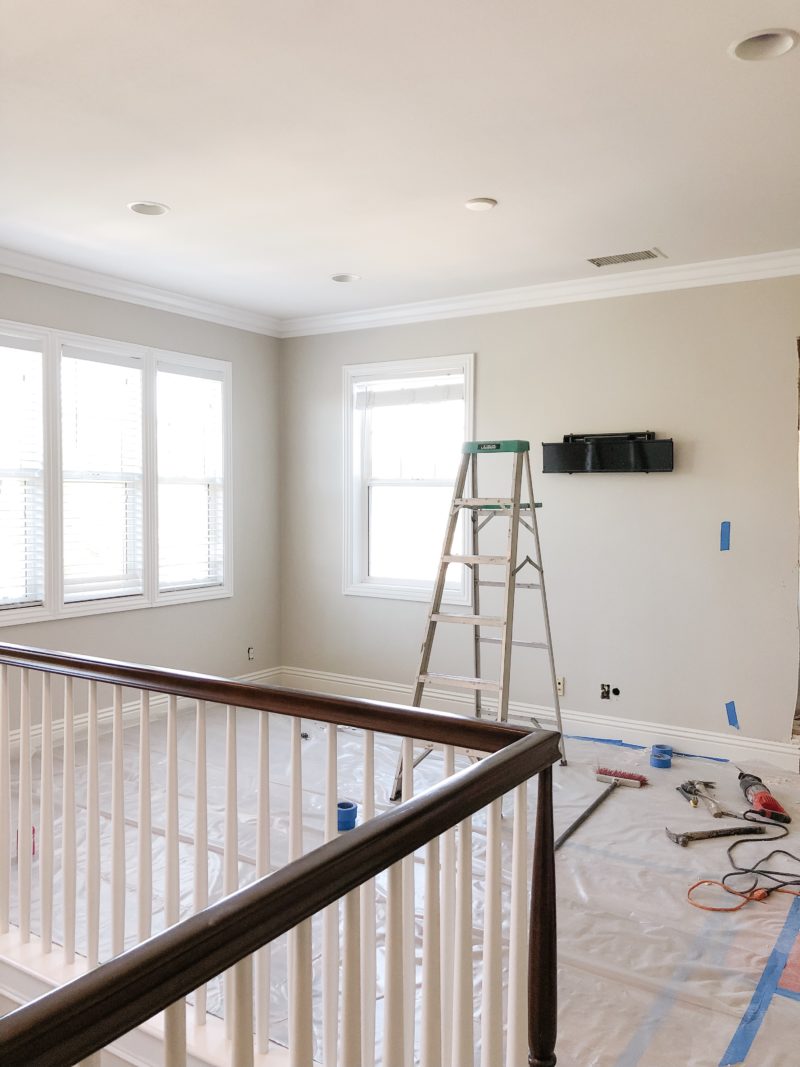 The other part of this project has been converting the open loft into our son's bedroom. I've loved watching every step of this process. Here is what it looked like they day we began.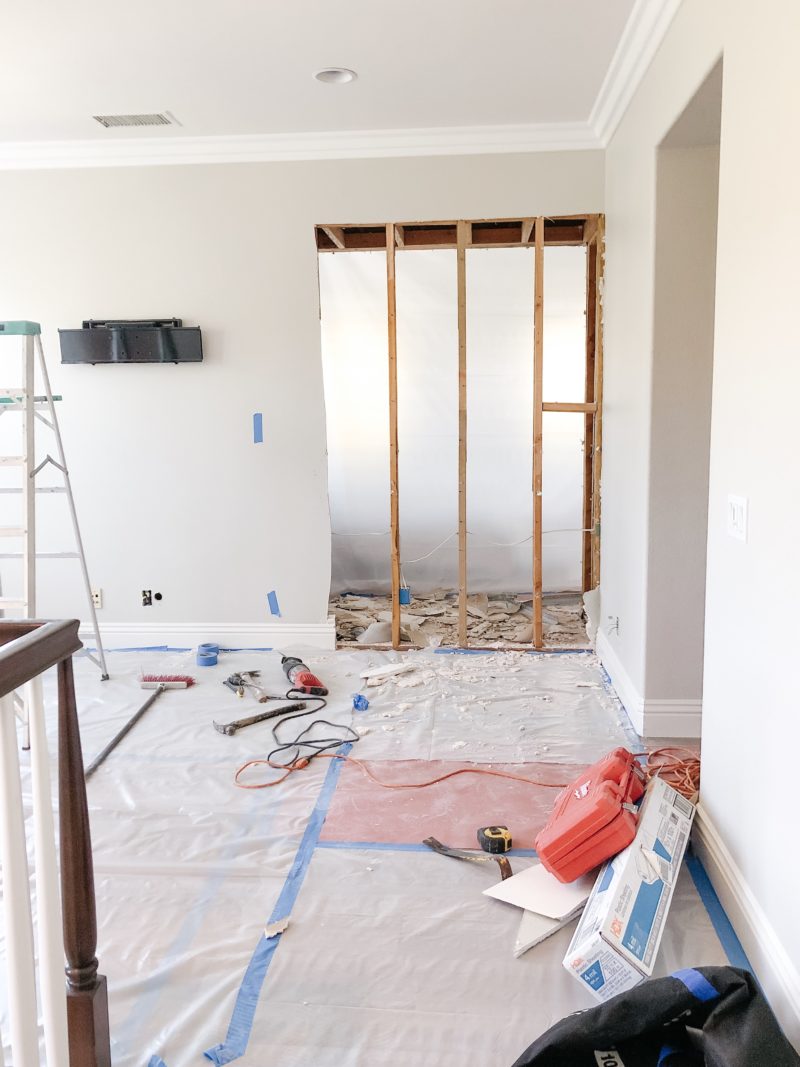 That framing came down and they created a new closet. We were able to borrow space from our master bedroom as well as the corner of the loft.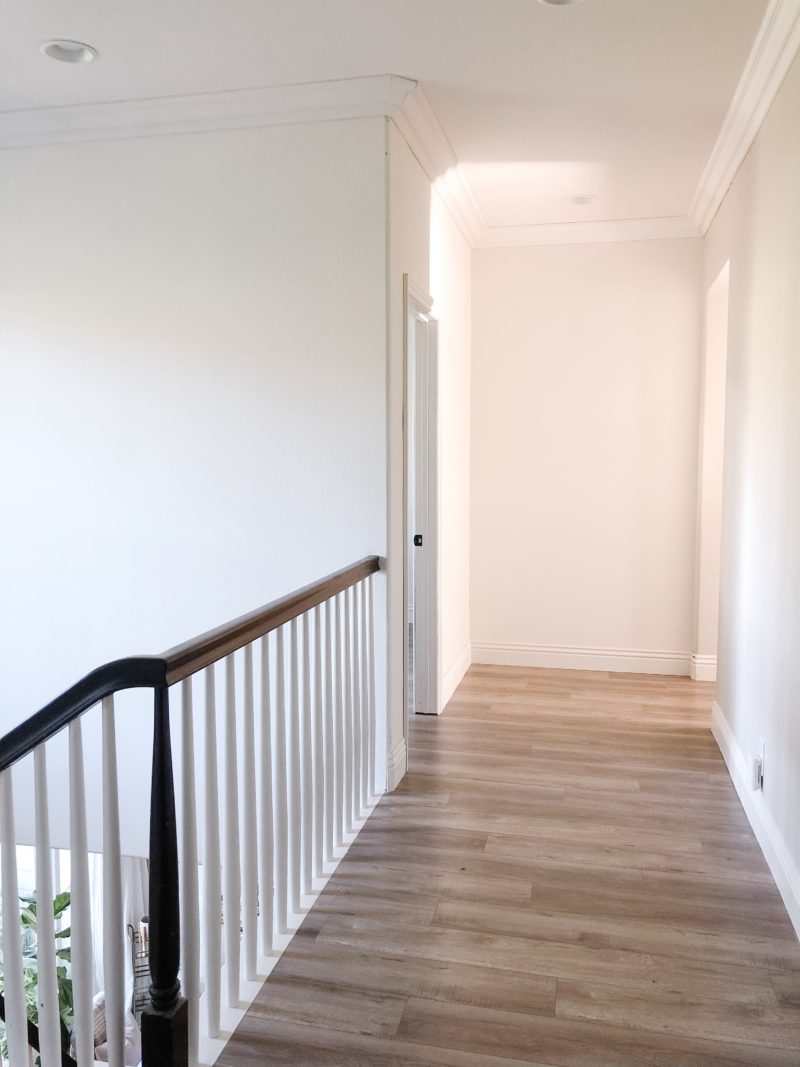 And before we knew it this happened! Crazy, right? My only trepidation was that things would become darker. We are so relieved to see that isn't the case at all. The barn door opening allows so much natural light into this hallway. If you are turned around (and I imagine you are), if you were to turn right at the end of this hallway you would walk down a short hallway and into the new bonus room.
I was never worried about this room being dark. It gets flooded with natural light. Such a happy new room. This was our number one priority. We will paint and decorate in the near future, but we just wanted to get him settled before school started. His dresser is at the foot of the bed so he has everything he needs right now. He's loving his new room. Although this kid thought sleeping in the family room right next to the kitchen was pretty epic. Go figure. 24/7 access to food and TV. He lived it up while he could.
NEW BED
I have my eye on a bed from Restoration Hardware for my son but I am waiting for a sale. Here's hoping we don't have to wait too long. He has also requested a brick wall and I am all over that. Can't wait to get going on that. I did order these sconces for his wall. Such a great deal.
What's Next
My next task is choosing paint colors and nailing down the carpet choice. After that we will slowly begin to furnish the teen room and work on designing the bunk beds. We are in no hurry and now that the sports schedules are gearing up again free time will be a precious commodity.
The Reality of Renovating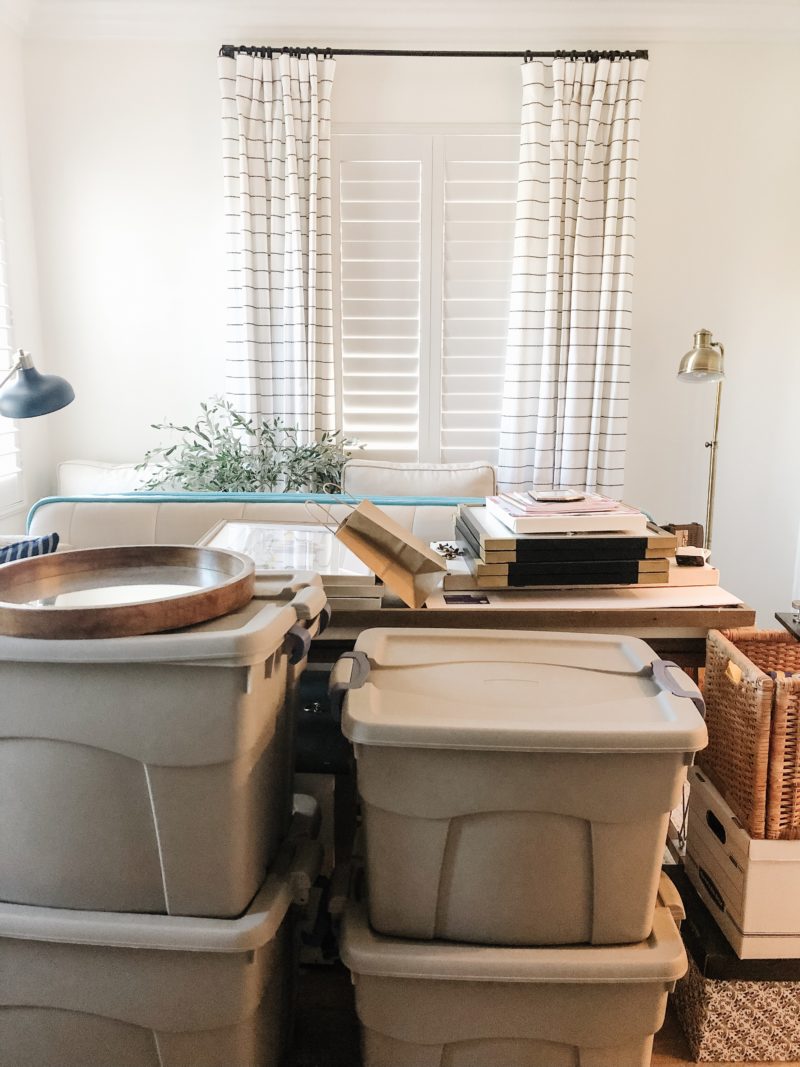 I don't want to over simplify this process. No matter what, it is always disruptive. This is our master bedroom. We have the contents of our former guest room and my son's room piled up in here. I spy even an extra mattress. There is a layer of white construction dust on EVERYTHING in our house and we have cleaned it twice already. It's a messy process but so worth it in the end.
It's also hard giving up your privacy and having people in your home all day. Sometimes it causes some serious crankiness in the house. But again, you just have to know what you are getting yourself into and remind yourself that this too shall pass. Enjoy the process. While disruptive, it's a fascinating process and an exciting one.
What are your plans for the day? I sure hope all of the kids going back to school have a great week. Here's to a successful year ahead.
*Did you miss our original plan, see the renovation plans here.