Good morning. First and foremost, thank you so much for all of the comments on my Instastories. Sharing the journey with my mom isn't always easy but you all are beyond supportive and kind. Thank you. I promise to get back to each and every one of you. I shared a fun fact about what she used to do when I was in school so you may want to check it out. Let's just say shopping is in my DNA. Speaking of, I scored the cutest pair of button-fly jeans and you need to know about them. I am sharing one of my favorite looks for transitioning into Fall and denim finds all under $40.
UNIQUE LOOK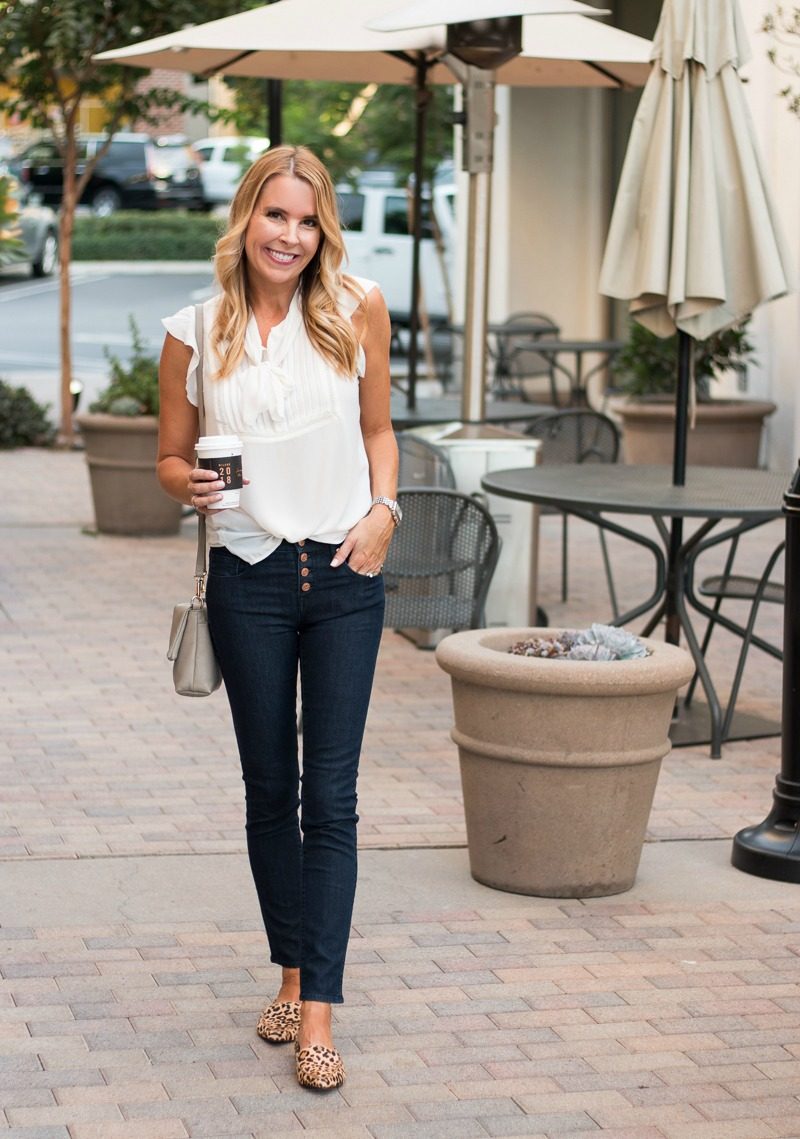 I just happened to walk into Loft and see all of their jeans are now $39.50. That is a screaming deal. I wanted to find something different and I scored with these. The copper button-fly detail is so cute and the dark wash is really pretty for Fall. Most of my jeans have some sort of distressing so these are a bit dressier which I love. I found them true to be size.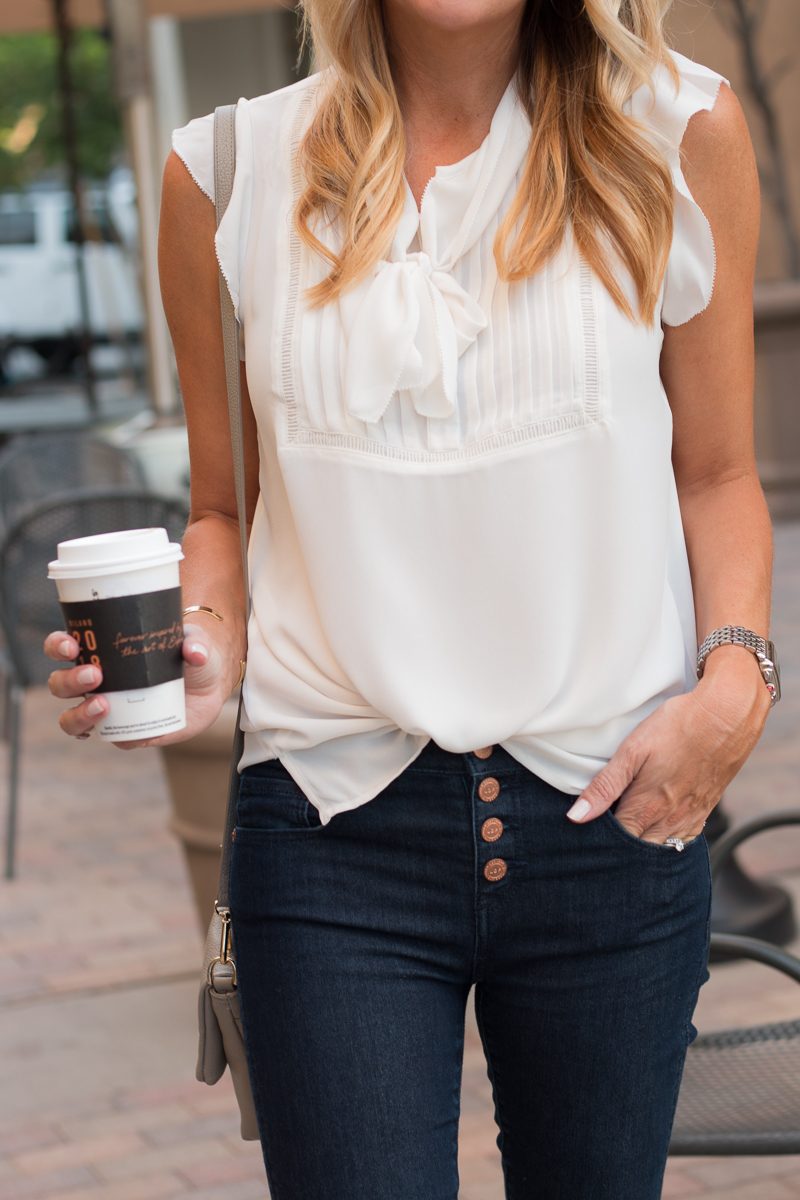 This ruffle blouse was calling my name, too. I love a nice feminine top with these jeans. You can toss on a cardigan and it's a really easy but pulled together Fall look. My crossbody bag is pretty much the only one I carry right now.
Style Tip: Gently tuck in a portion of your top so that the cute buttons show.
FALL FLATS
If you want to add one fun pair of loafers to your Fall wardrobe, I would choose these. Leopard is a neutral but adds so much to an outfit. They are very comfortable and look great with pretty much anything. I just wore them yesterday when I was with my mom. I paired them with this dress (under $40). Another favorite outfit of mine.
MORE CUTE FLATS

VERSATILE LOOK
Dark denim with leopard and white just look classic to me.  Pair this with a pretty blazer and it works for the office or a lunch meeting. Or swap the denim for these cute pencil pants ($39.50). 
SWEET SALE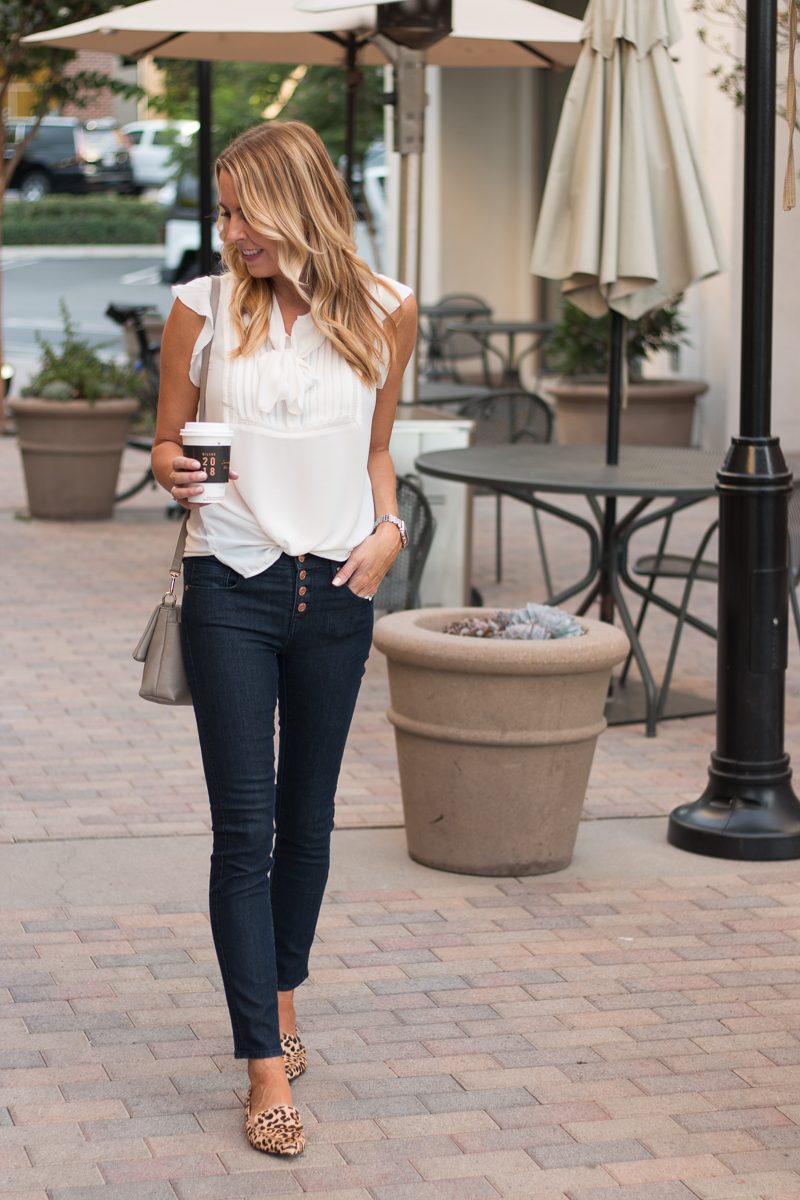 One last look. I rounded up more styles below and they are all $39.50 today. I tried these on and thought they were really cute, too. I just have a similar pair so I didn't need them. The white jeans with rave reviews are also included in the sale.
DENIM UNDER $40

But it's not just denim that is on sale. All of the pants are also $39.50. I am totally in love with these stretch pants that have the cute side ankle zipper.
Hope you can find yourself a new pair of jeans. This price is too good to pass up. Off to spend time with a dear friend. Oh, and I listened to an incredible podcast that has changed how I start my mornings. Can't wait to share with you! If you missed the post sharing my experience switching to natural deodorant you can get caught up here.
Make it a great day, friends.