Good morning. I hope you have had a wonderful week. We are so ready to immerse our selves in quality family time over the next few days. The kids have been working so hard in school and the idea of a break sounds amazing. Today I am excited to welcome you to our holiday home. It's all very simple but I sure do love the way the house feels this time of year. Welcome to the 2022 Christmas Tour.
WELCOME IN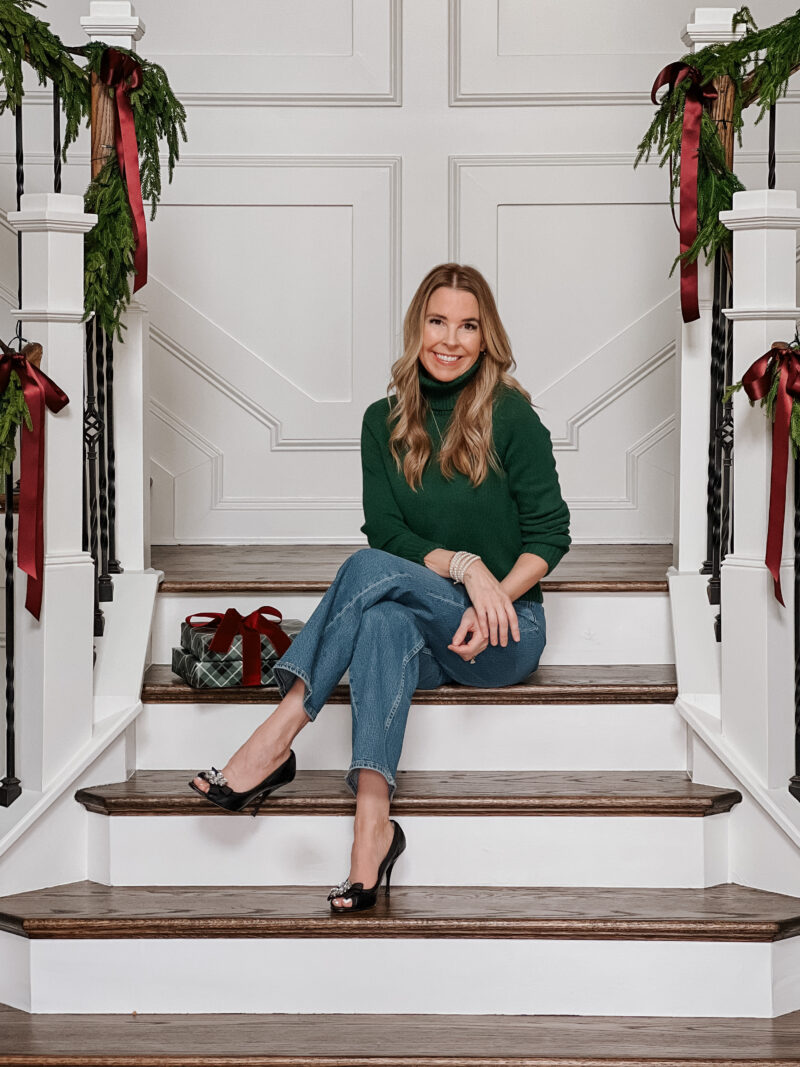 This staircase is a fun one to dress up for the season. This year I added battery operated lights to the garlands which has been lovely at night. Although next year I may opt for ones that plug in so they are brighter.
The satin ribbon is available in so many colors and makes decorating really easy.
LIVING ROOM
tree | rug | tables | chandelier | standing lamp | pillows
We kept this living room tree very simple with gold and ivory ornaments, satin ribbon and a few gold bows. I also used a few pearl stems I've had for years and years.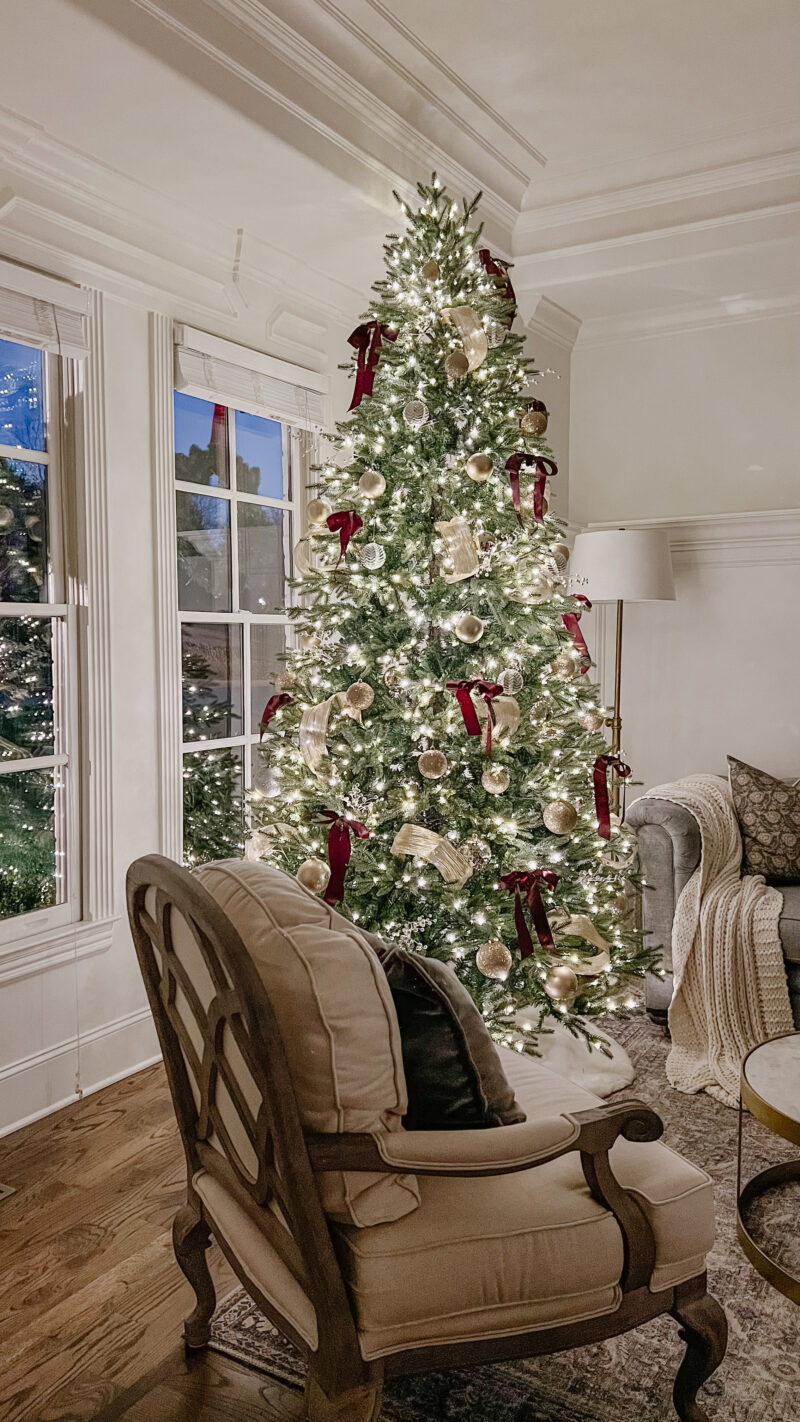 Always so hard to capture the magic of the lights and night but it's been lovely having the tree in the window this year.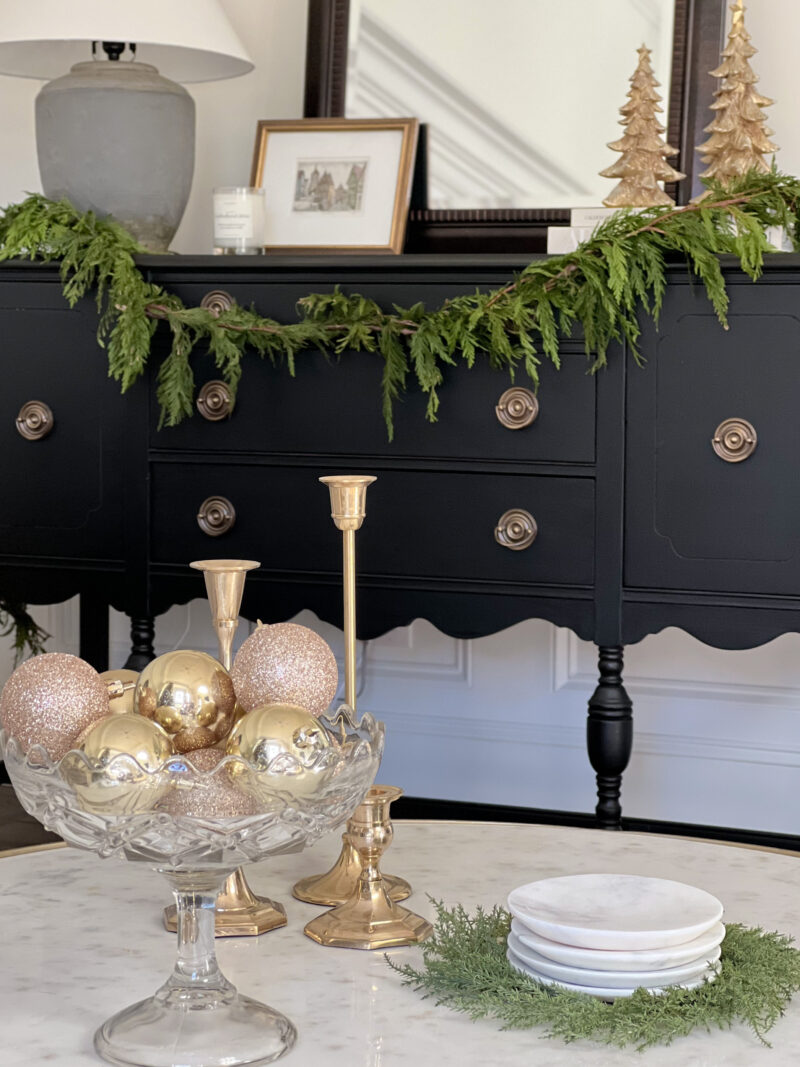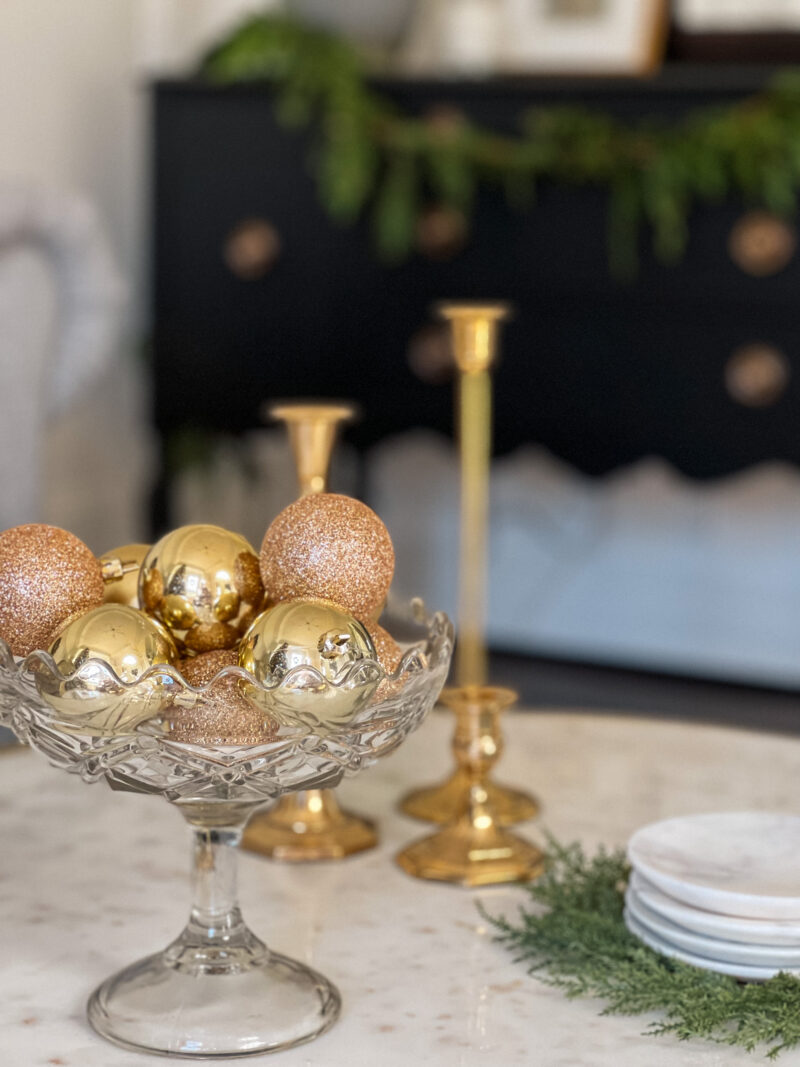 This glass dish belonged to my mom and I love having it out this time of the year. She used to float pink camellias that she would pick from her garden in this bowl and have them on the kitchen counter.
MUSIC ROOM
Across from our living room is this music room. Once again, this space is a bit hard to capture on camera but I added one large garland and lights to the piano and hung a couple of velvet bows.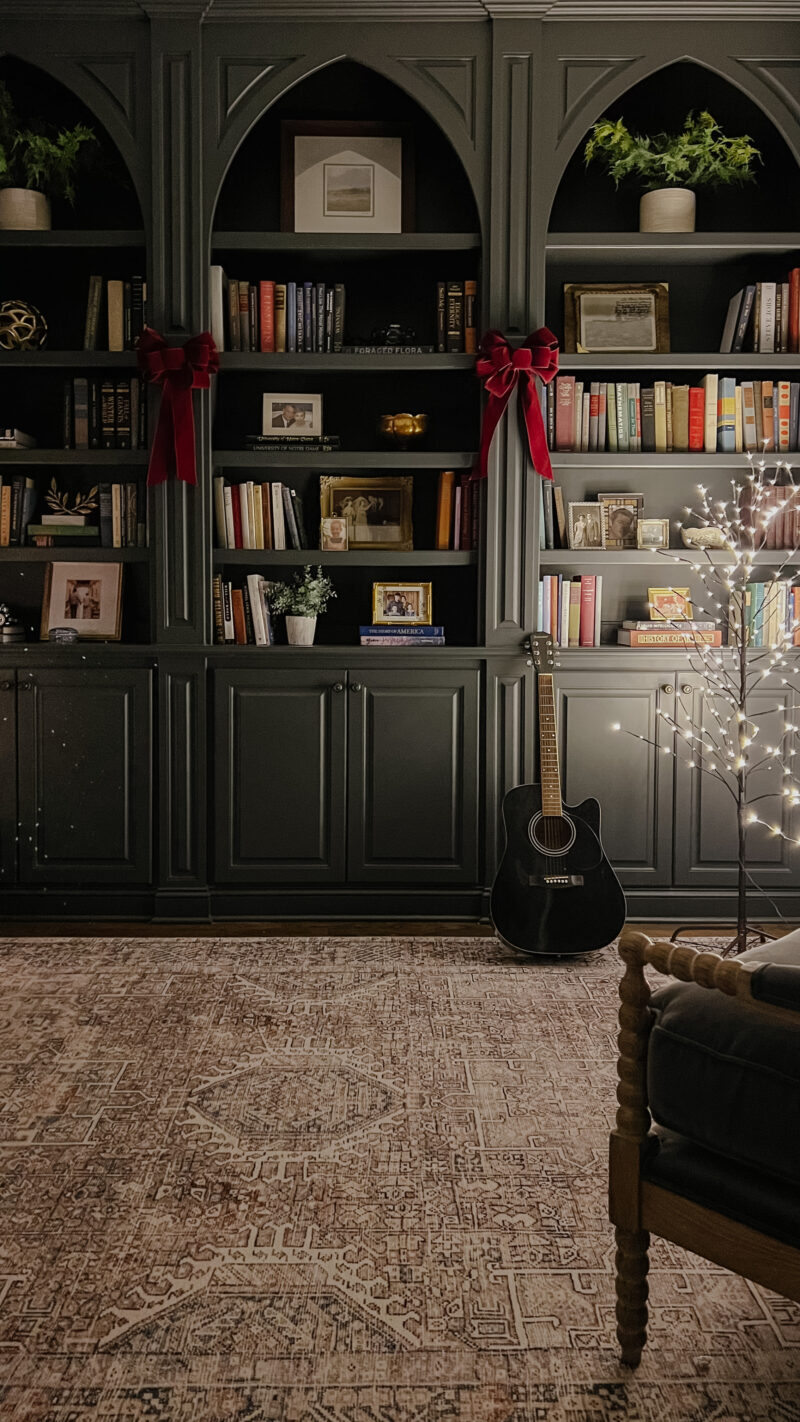 These twinkle trees were from Amazon. Next year I may even get around to placing them in pretty pots. We shall see. But I do love the way they light up this room at night. I may keep them up well into the new year.
OUR POWDER ROOM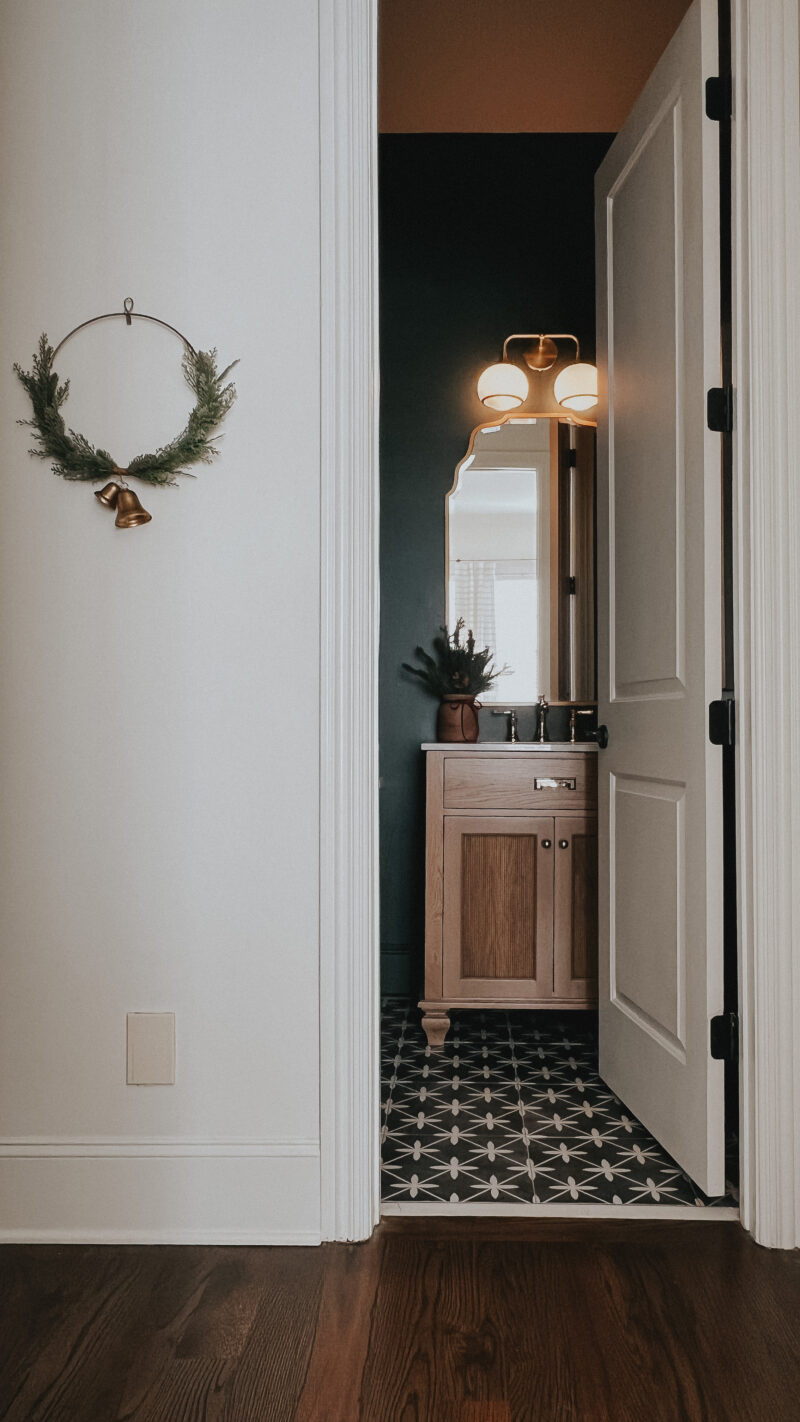 I added a few fresh greens and a velvet bow to the artwork to our powder room. The wreath on the wall was a Target find a few years back.
THE FAMILY ROOM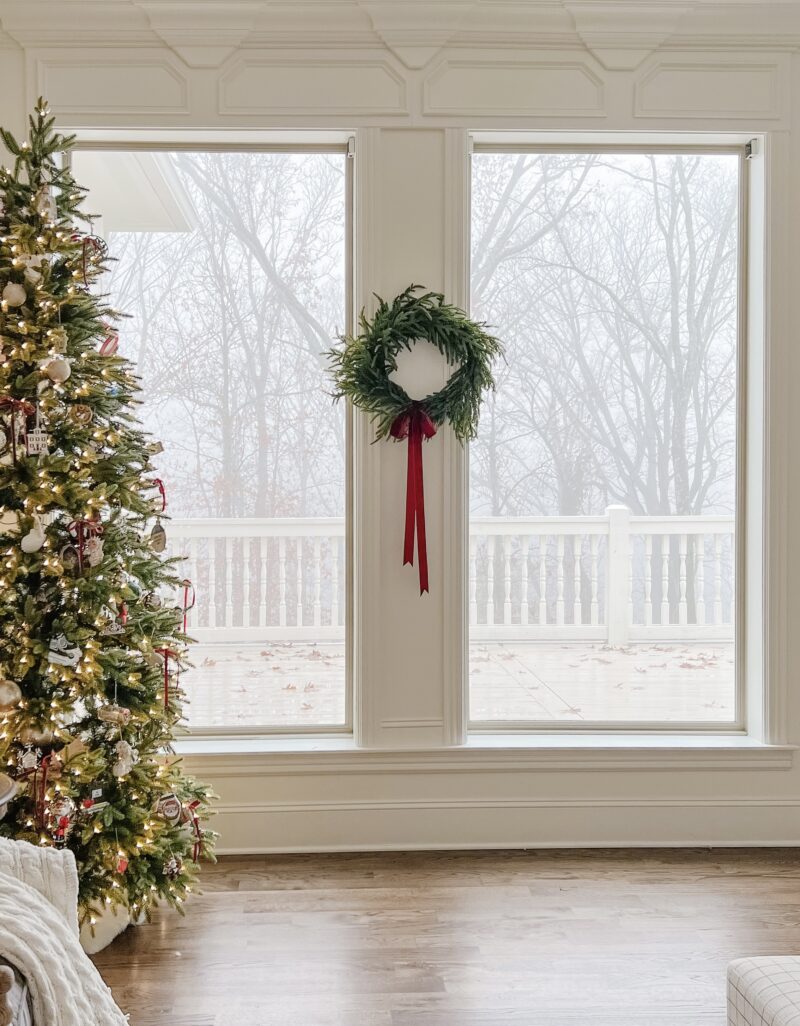 The family room opens to our kitchen and is where we have our family tree. It's filled with all of the ornaments from childhood and those we've collected over the last 20 years. I added a few small velvet bows to the branches. I'm hoping we see snow on those trees soon! It was magical last year.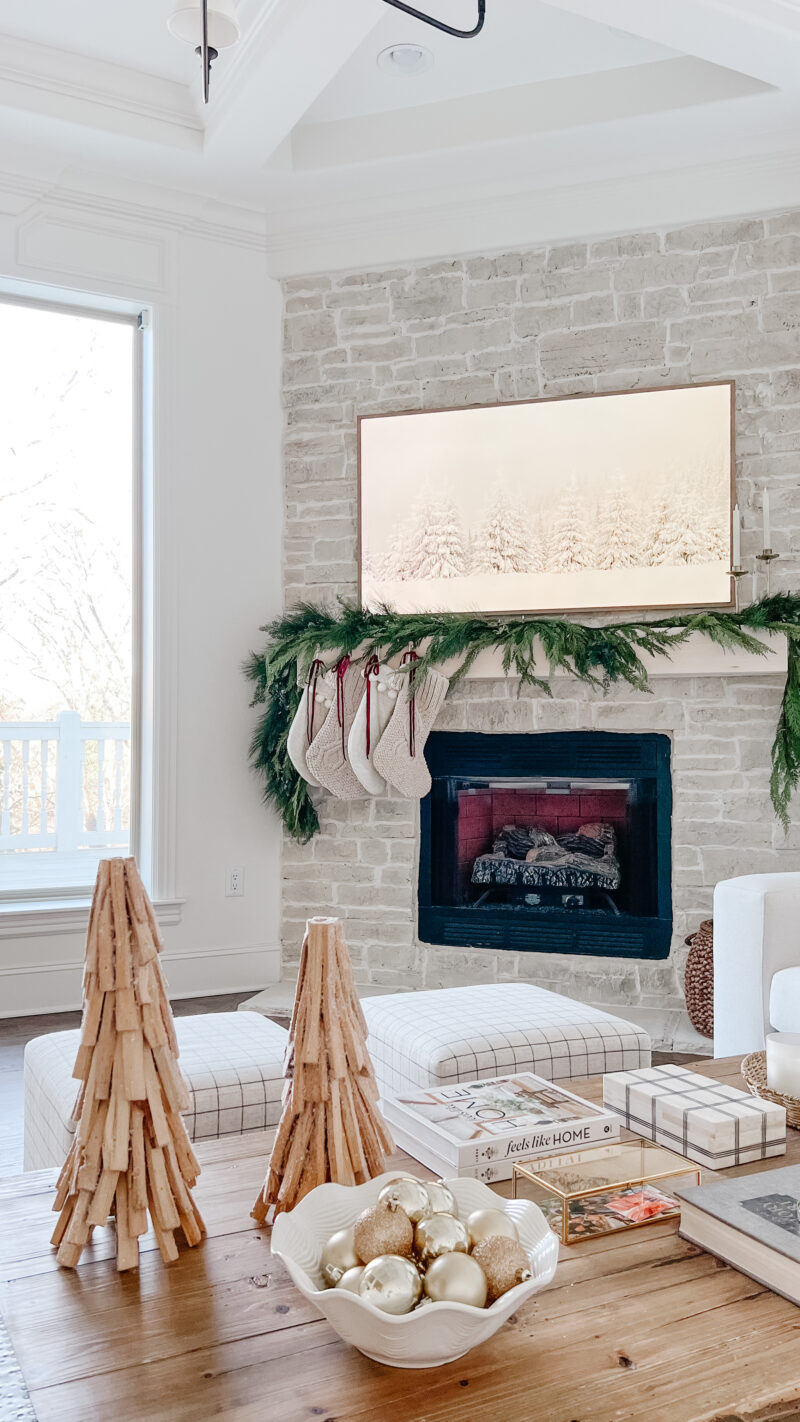 I draped a couple of different garlands on the mantel this year. We love these battery operated candles and this gold box has been fun for collecting the photos we print out. The window pane ottomans are one of my favorite purchases ever. We use them all the time. Highly recommend if you are needing extra seating.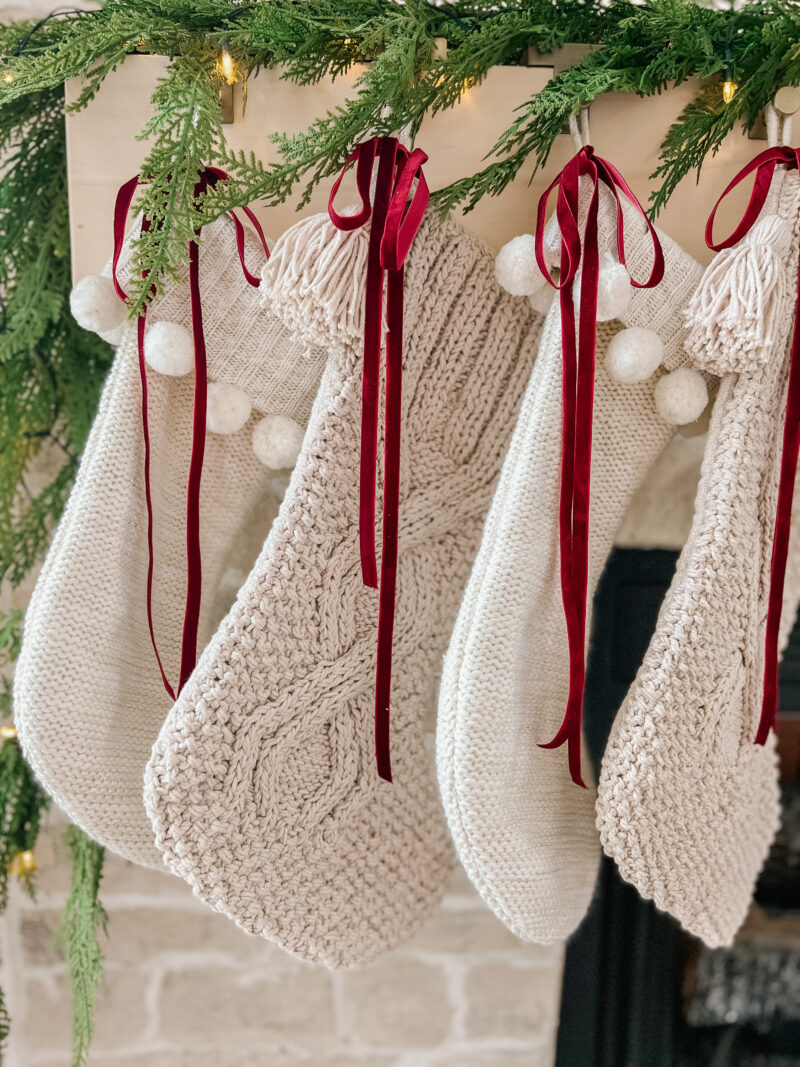 Our stockings are from a few years back (Target and World Market). These are similar.
THE DICKENS' VILLAGE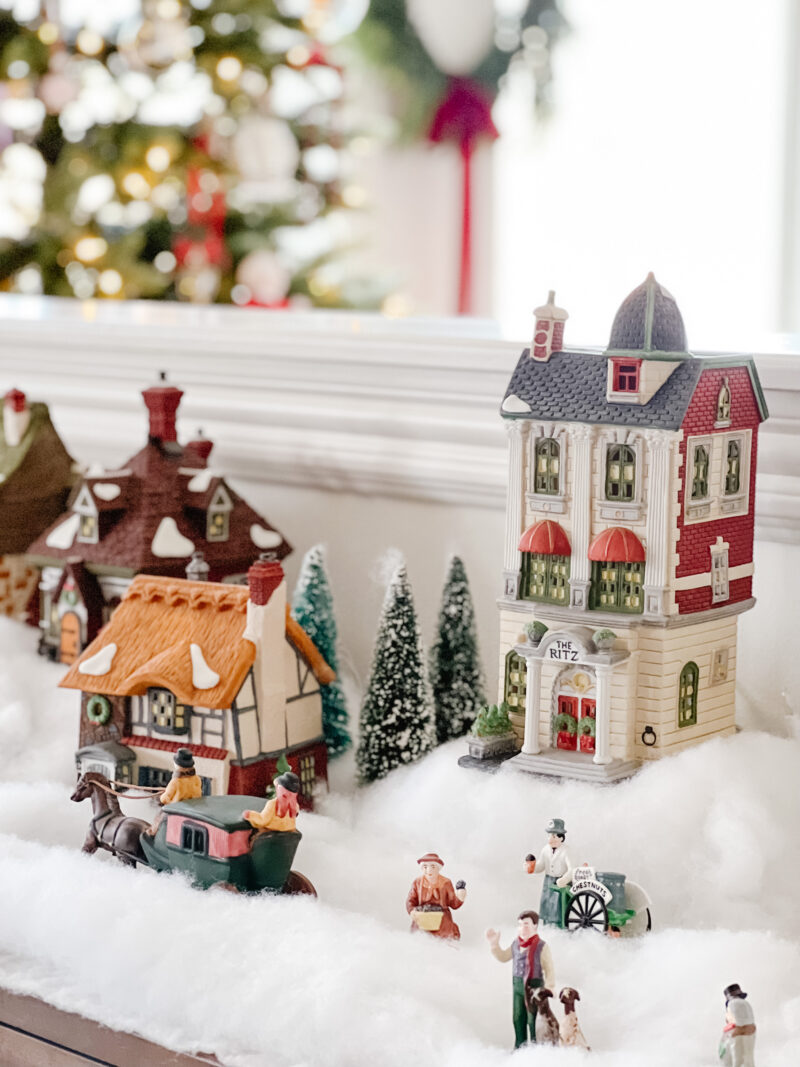 This might be my very favorite part of our holiday home. Each year my dad would carefully unpack all of the Dickens' village and take such pride in spreading it across a gorgeous mantel they had. Since losing my parents, having this village means so much. Every year my daughter now gingerly unpacks each one and arranges this so beautifully. Watching her reminds me of my father.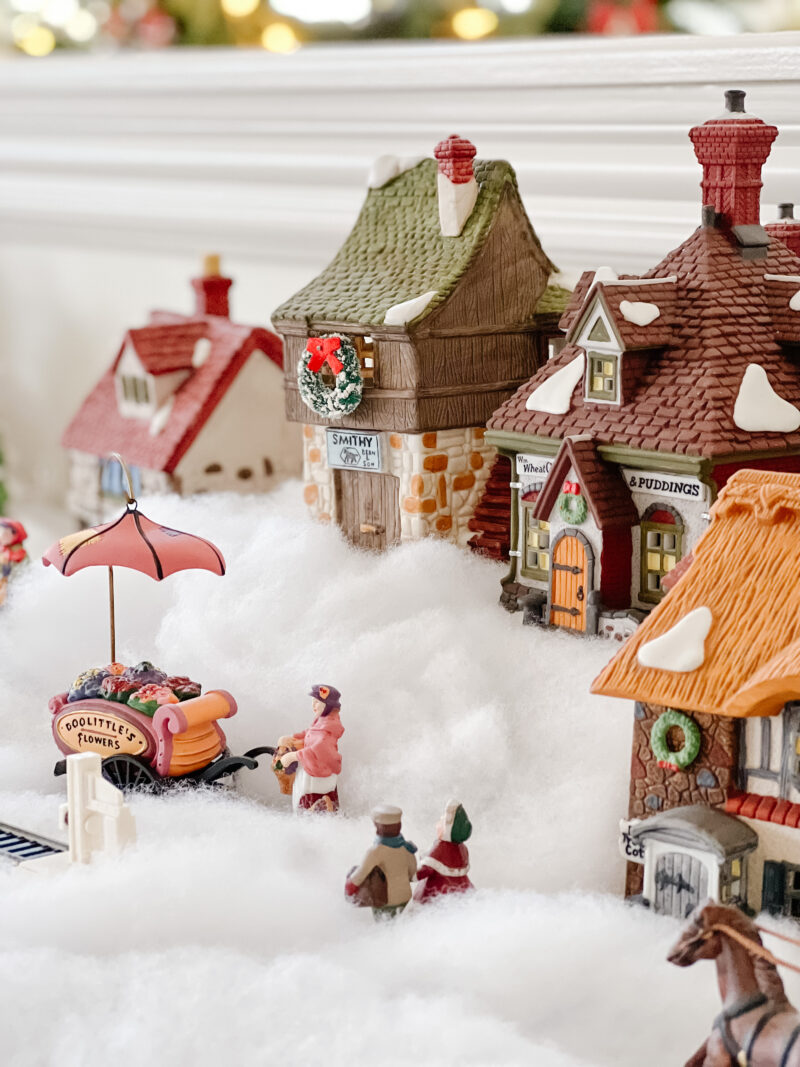 My mom loved every piece of this village and got such joy from having it displayed. We will continue that tradition in her honor.
CHRISTMAS KITCHEN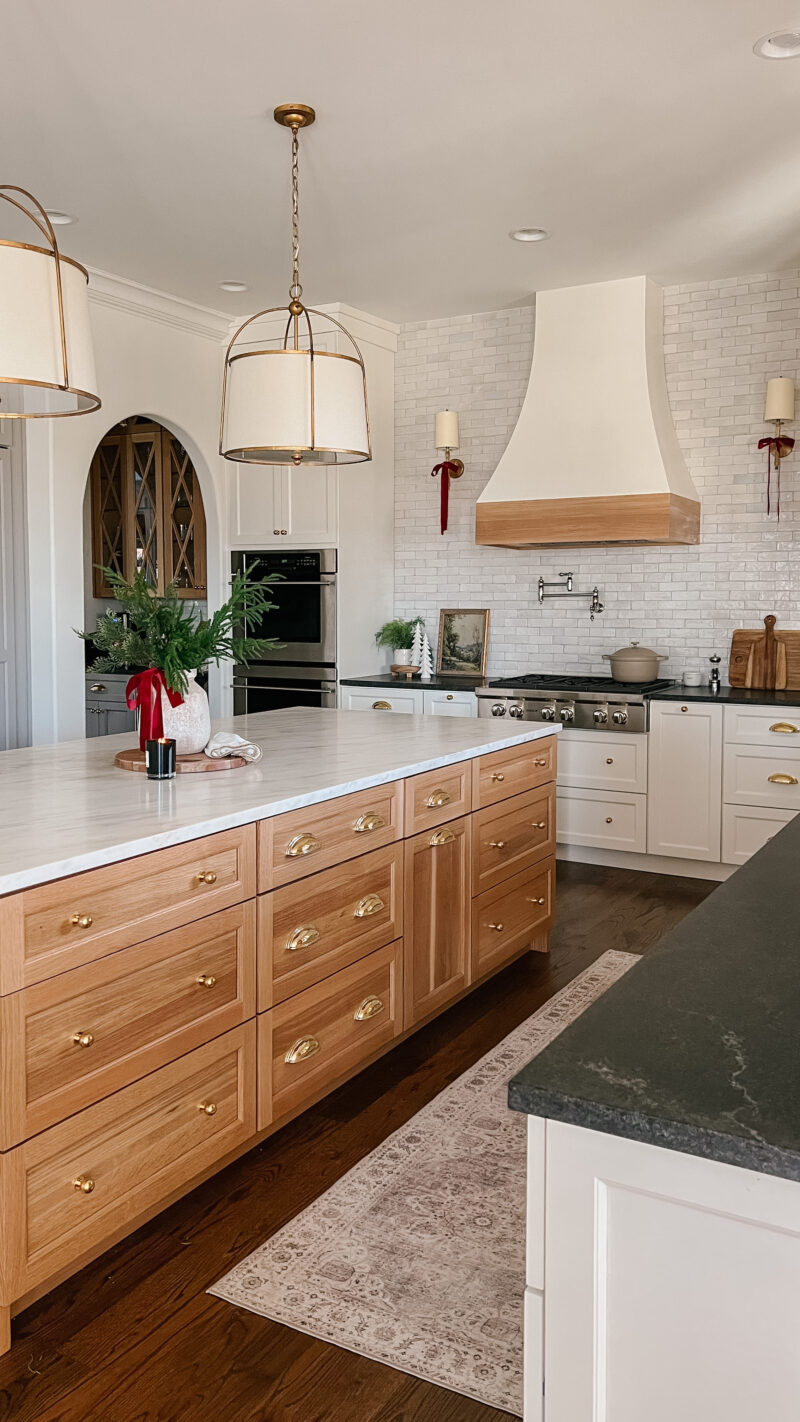 I kept things very simple in our kitchen. A few green, velvet ribbon and a wreath.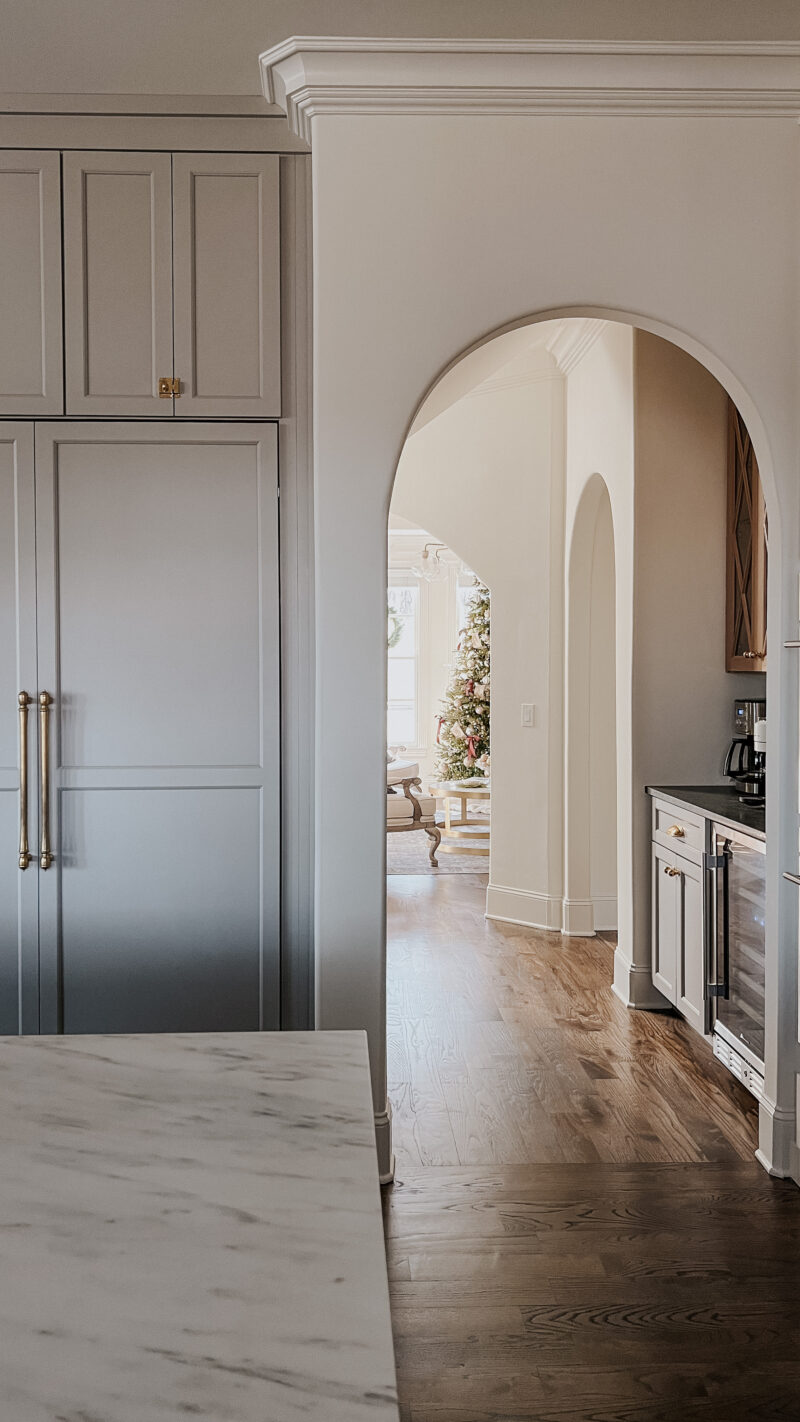 Always love this view. The arches peek back into our front living room and the tree.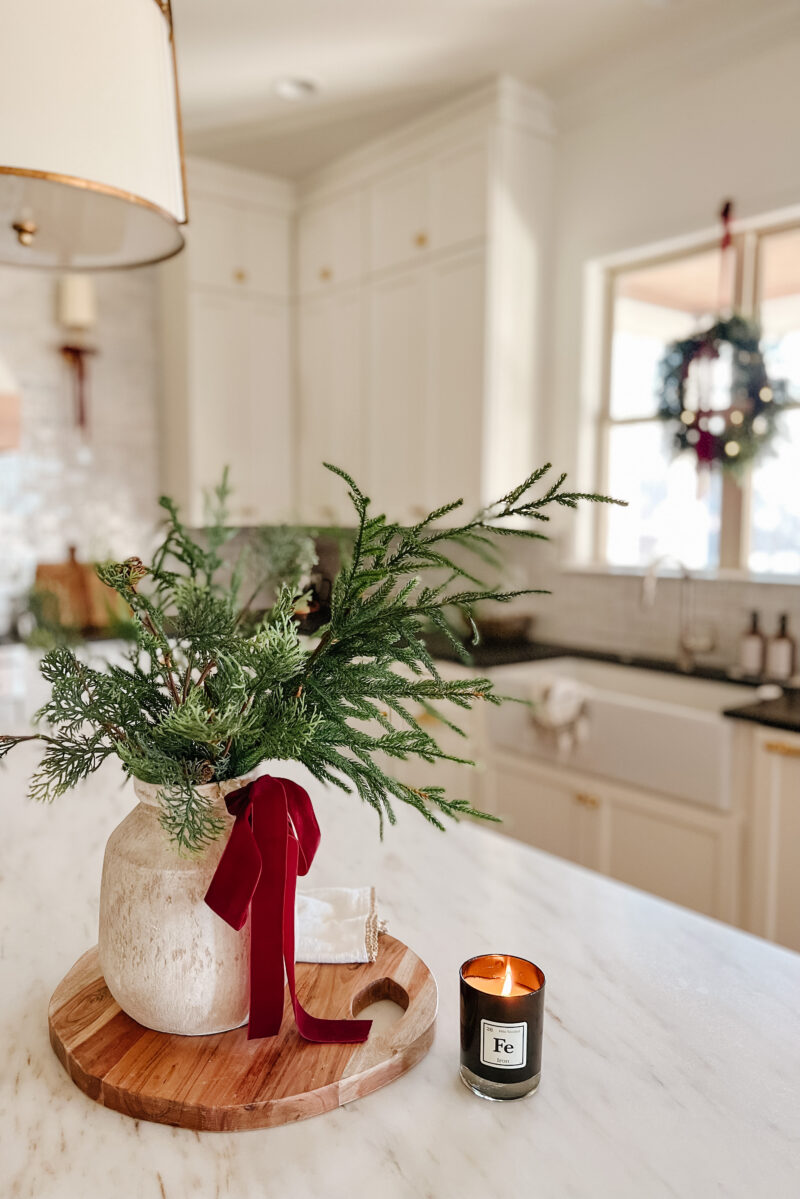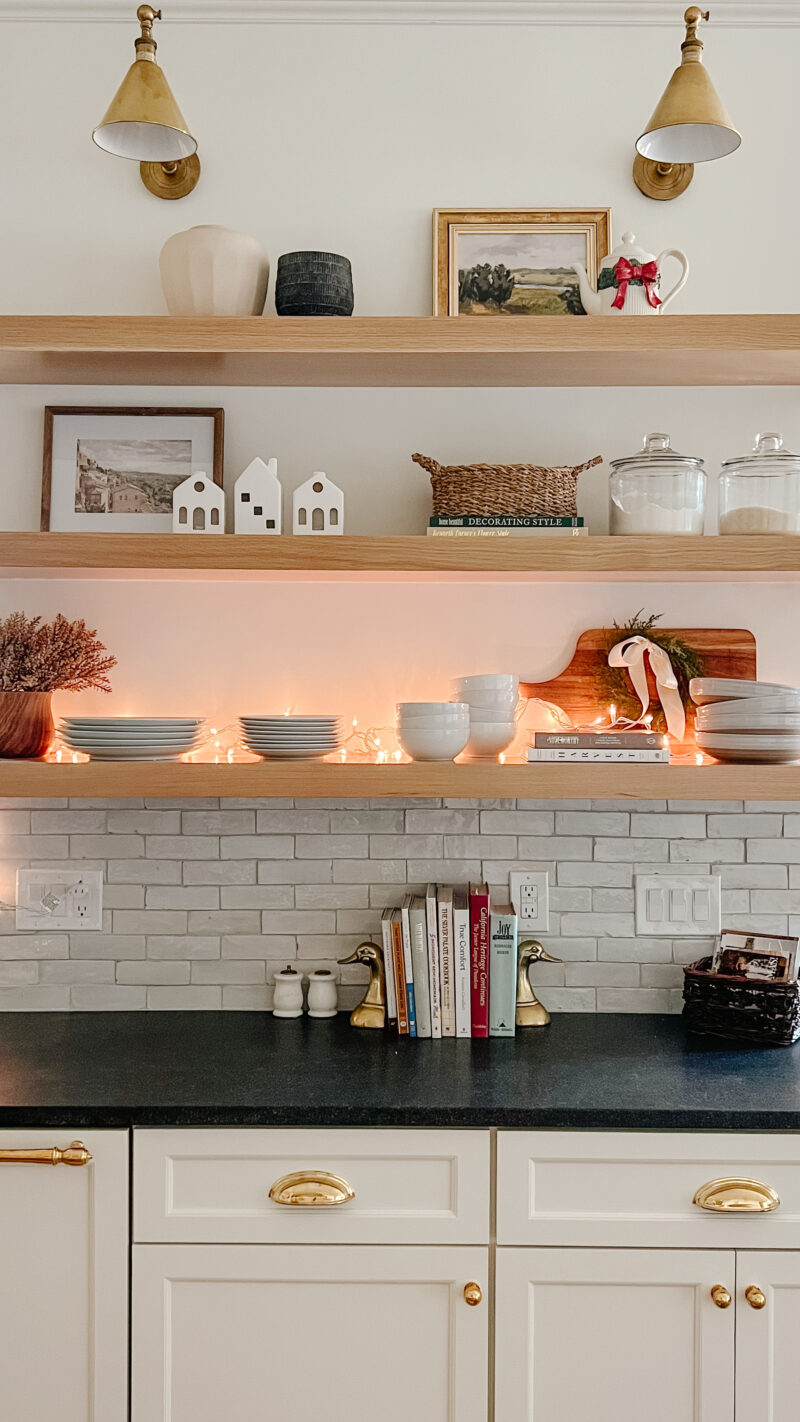 DINING ROOM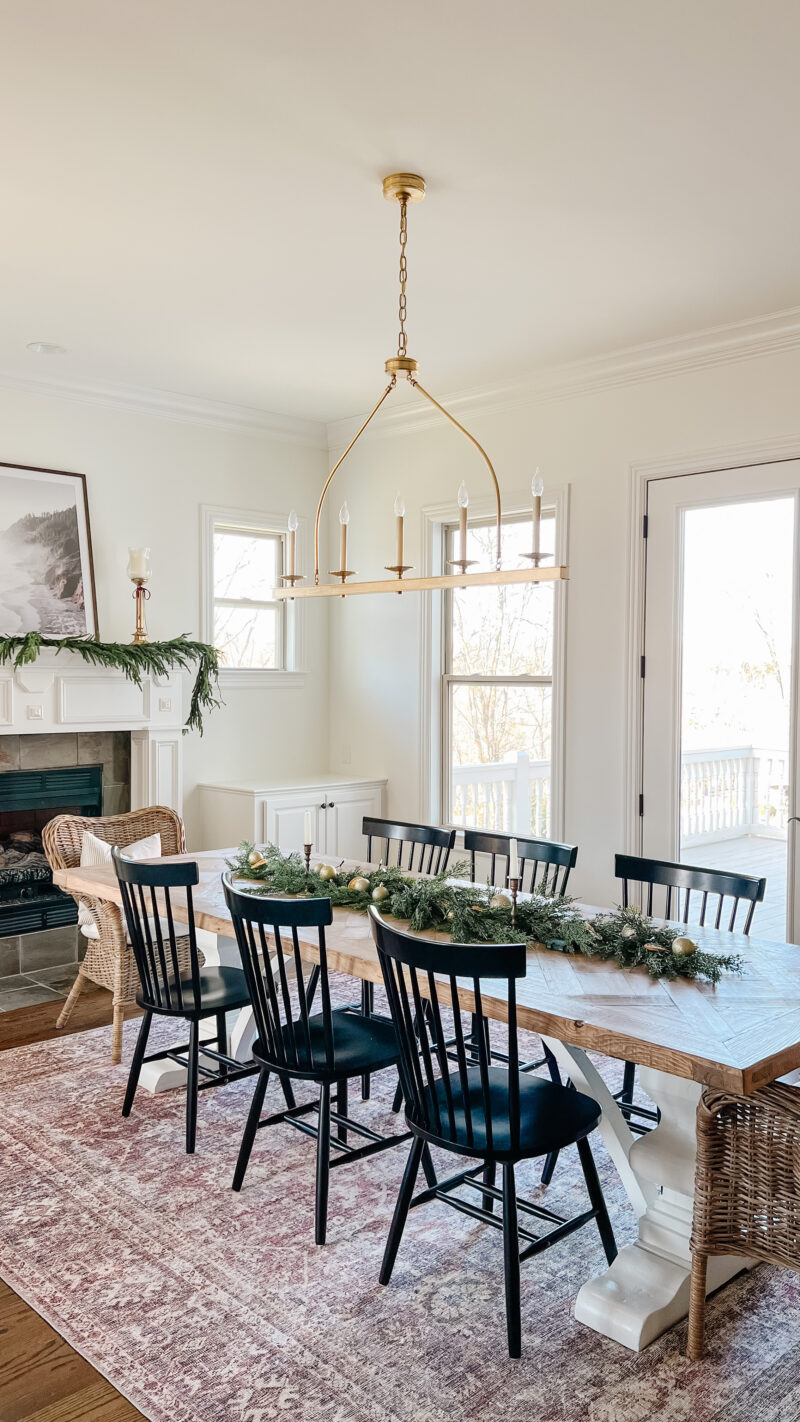 Garlands, dried oranges and gold ornaments keep things feeling festive in here. The lights on the fireplace and the table are on a timer so they click on each evening. I also have out the brass candlesticks that belonged to my parents.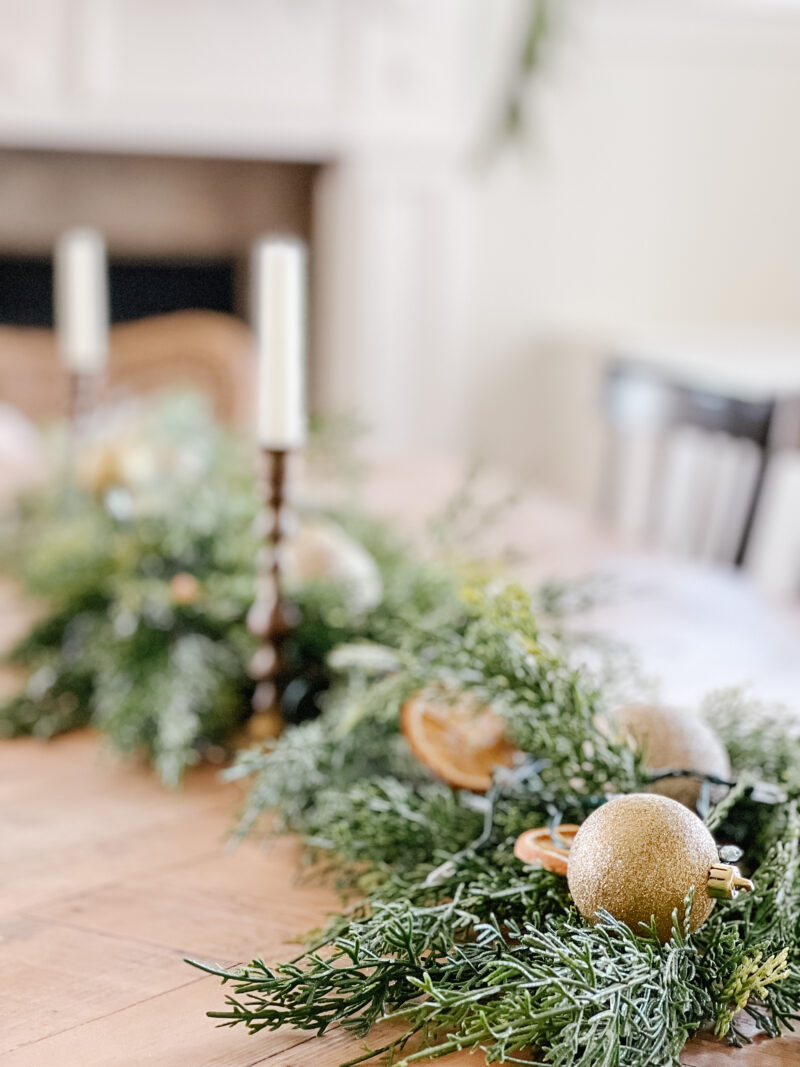 OUR NATIVITY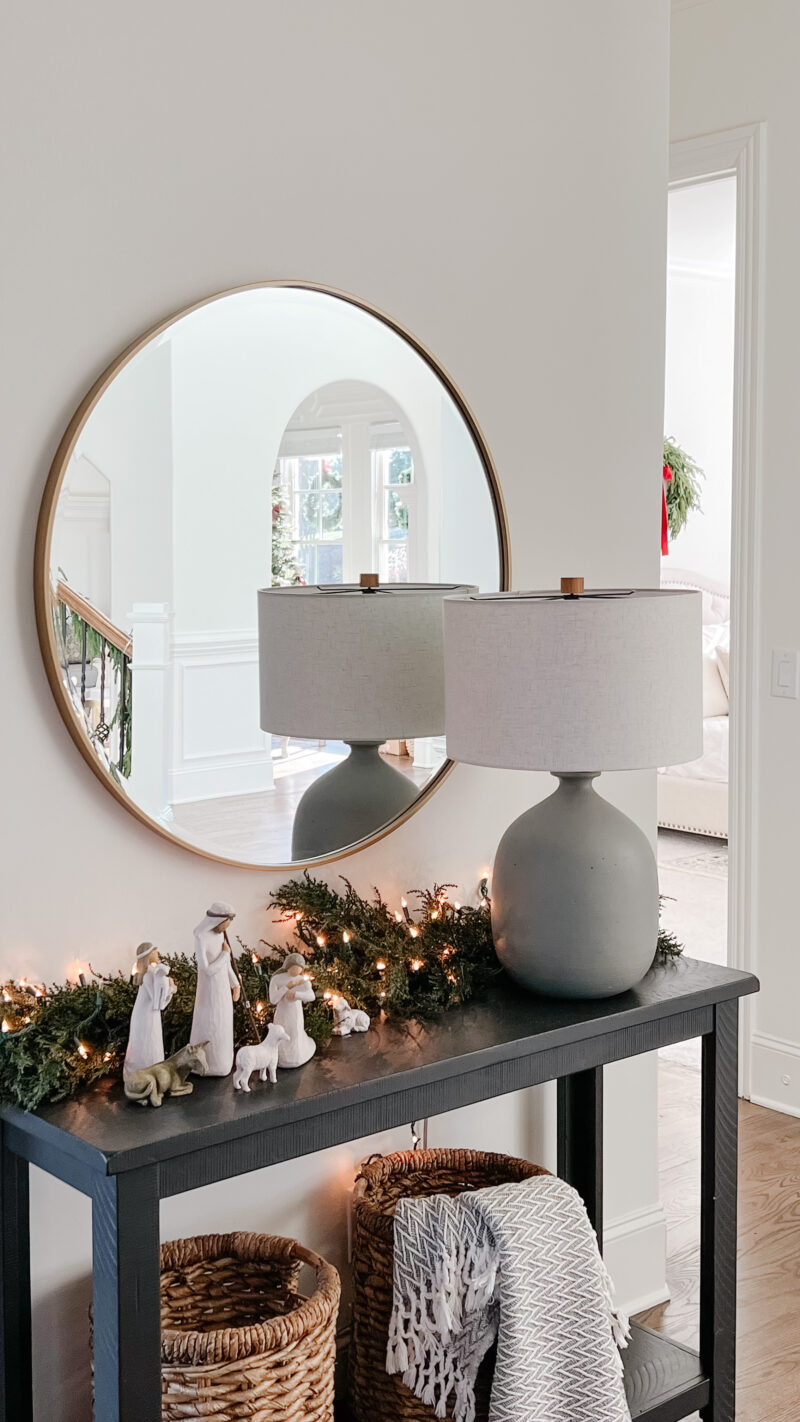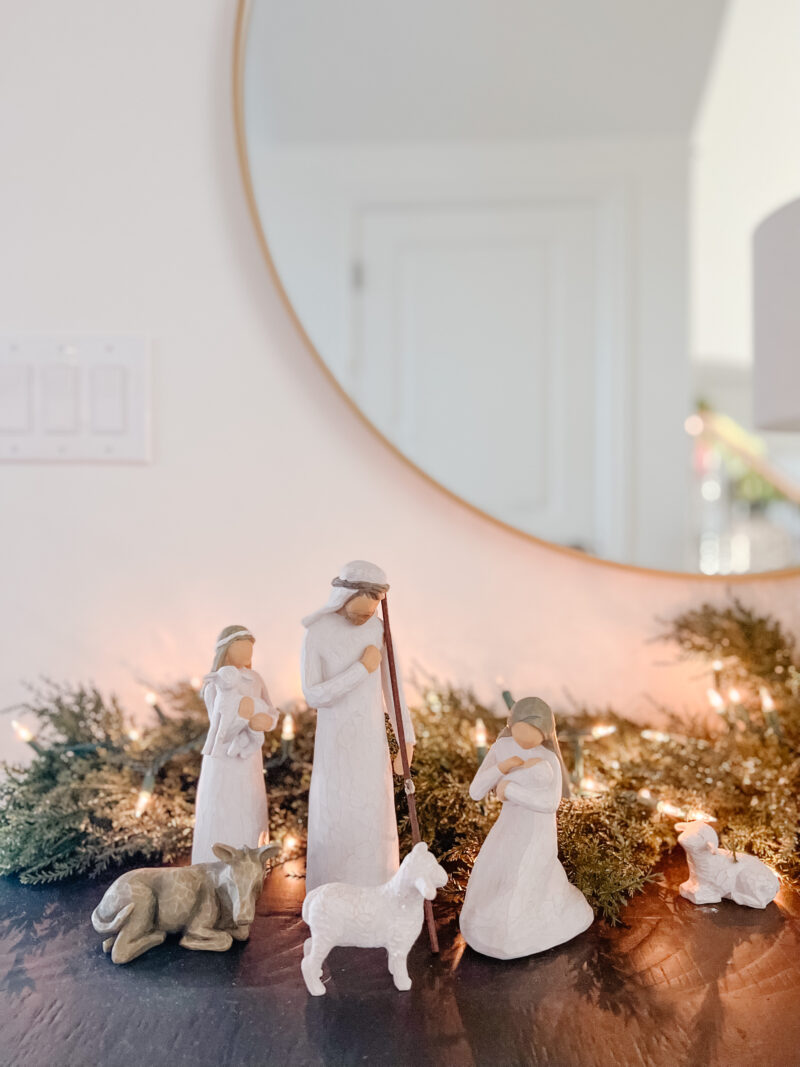 Sadly we can't find the nativity set we had for years and years. I did buy this one two years ago and love it. So elegant and simple. It has its own spot near our kitchen so we can see it at all times.
OUR BEDROOM
This year we have garlands on the mantel and a naked tree. It's my very favorite thing having a tree in our room.
GUEST SPACES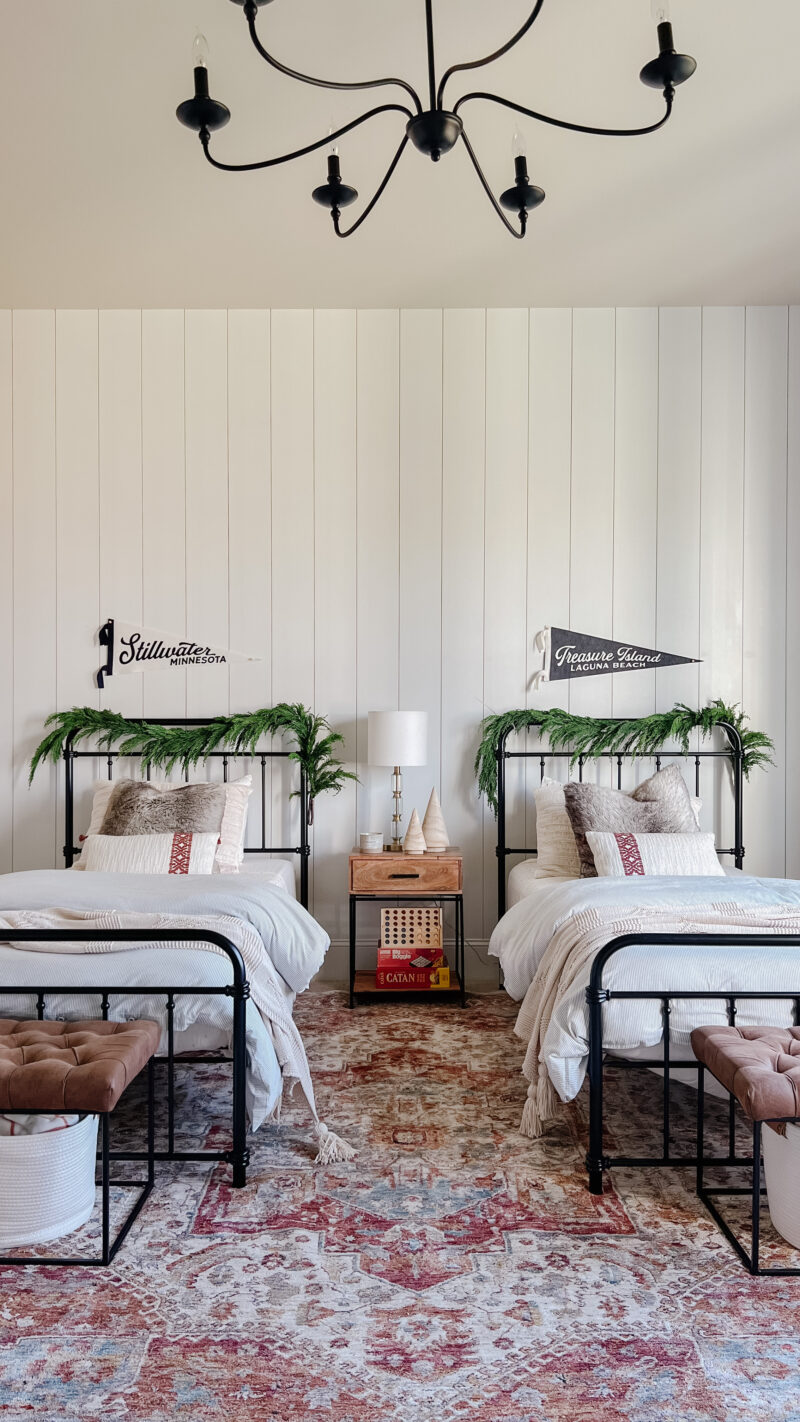 I draped a couple of garlands over the twin beds and used the wood trees we bought at Target last year.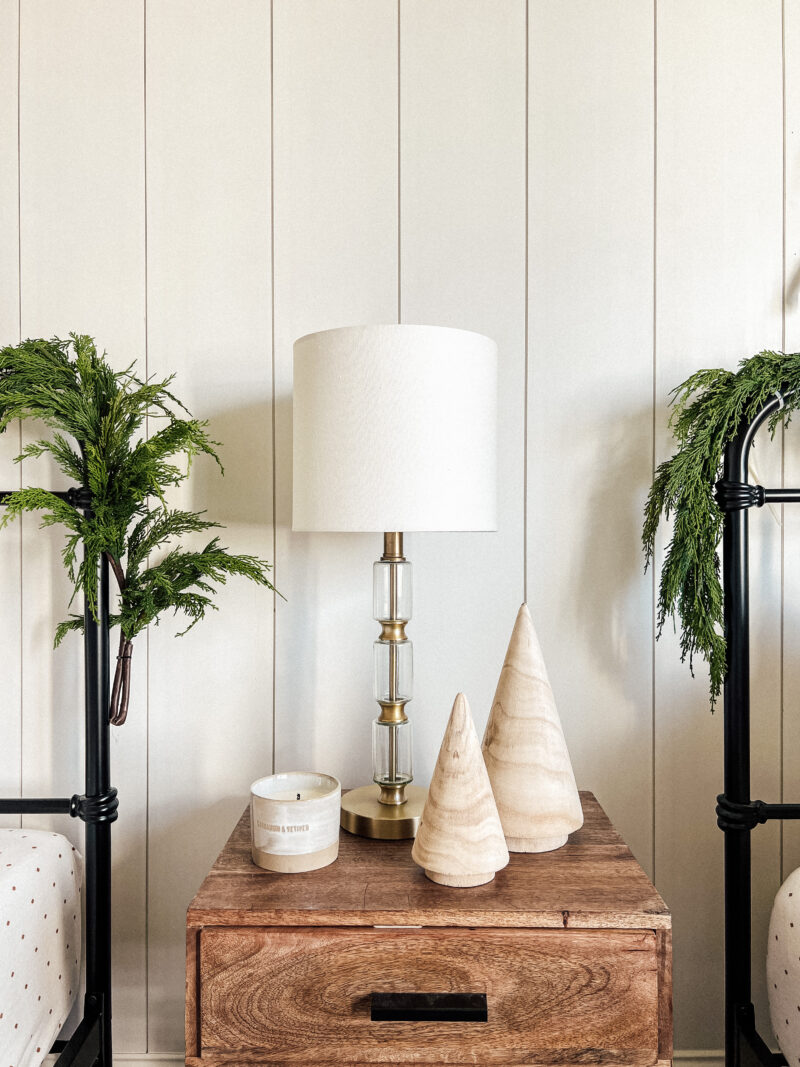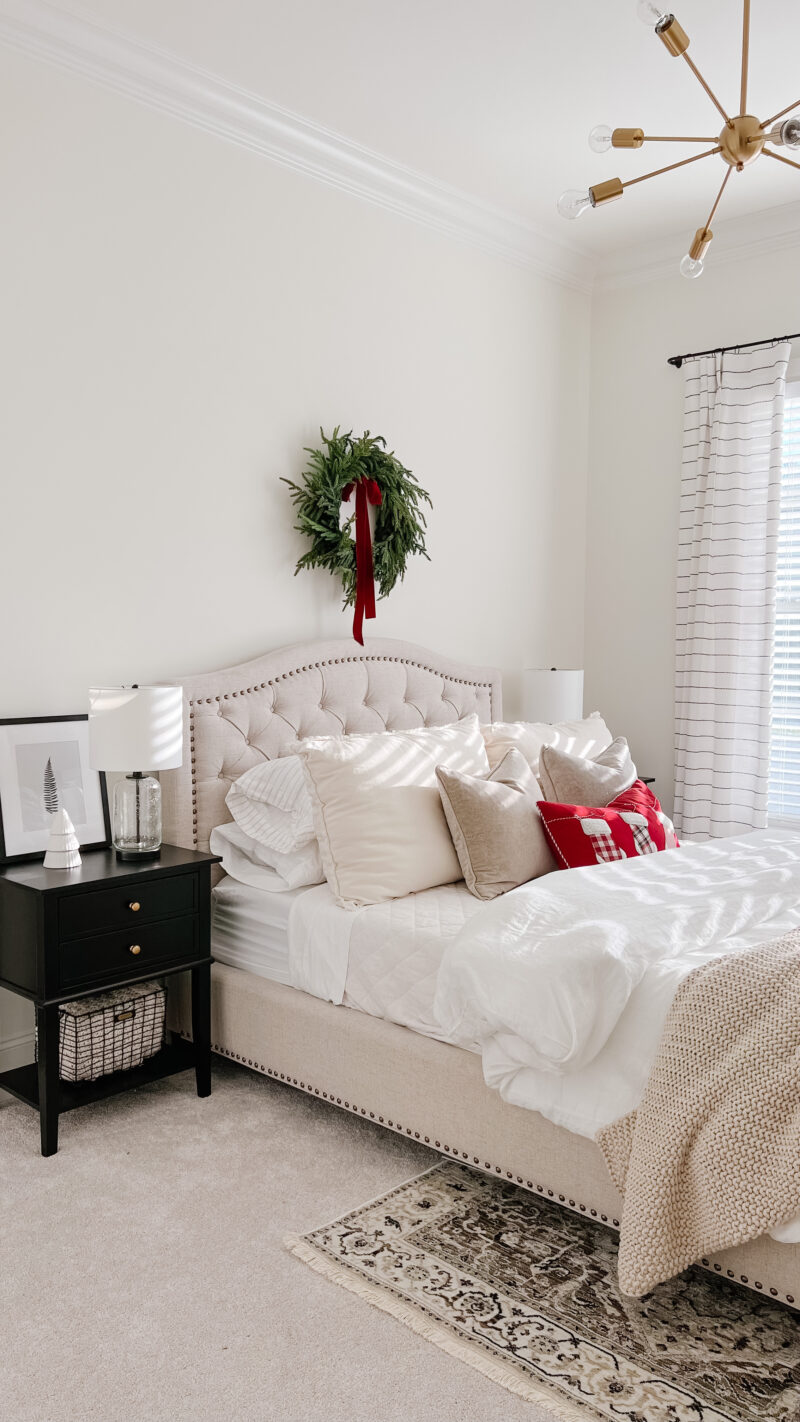 This room is cozy and ready for holiday guests. The sheets and blanket get rave reviews from everyone who stays which makes me happy.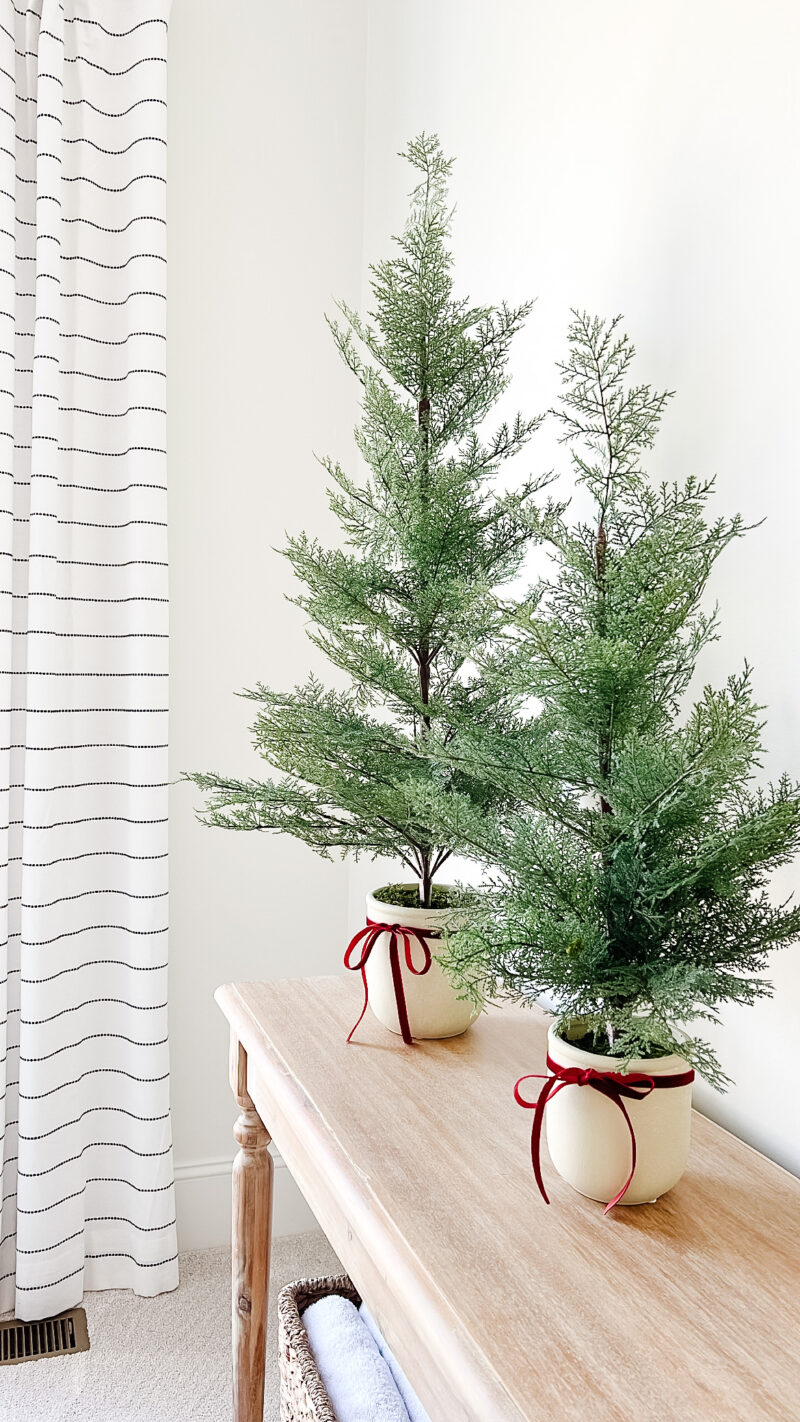 These trees may be the only thing I bought this year. I really tried to use what we had. I adore these and my add more to my collection. They are really sweet (this is the large and medium). You could even place them in larger baskets or pots to create something more substantial at your front door.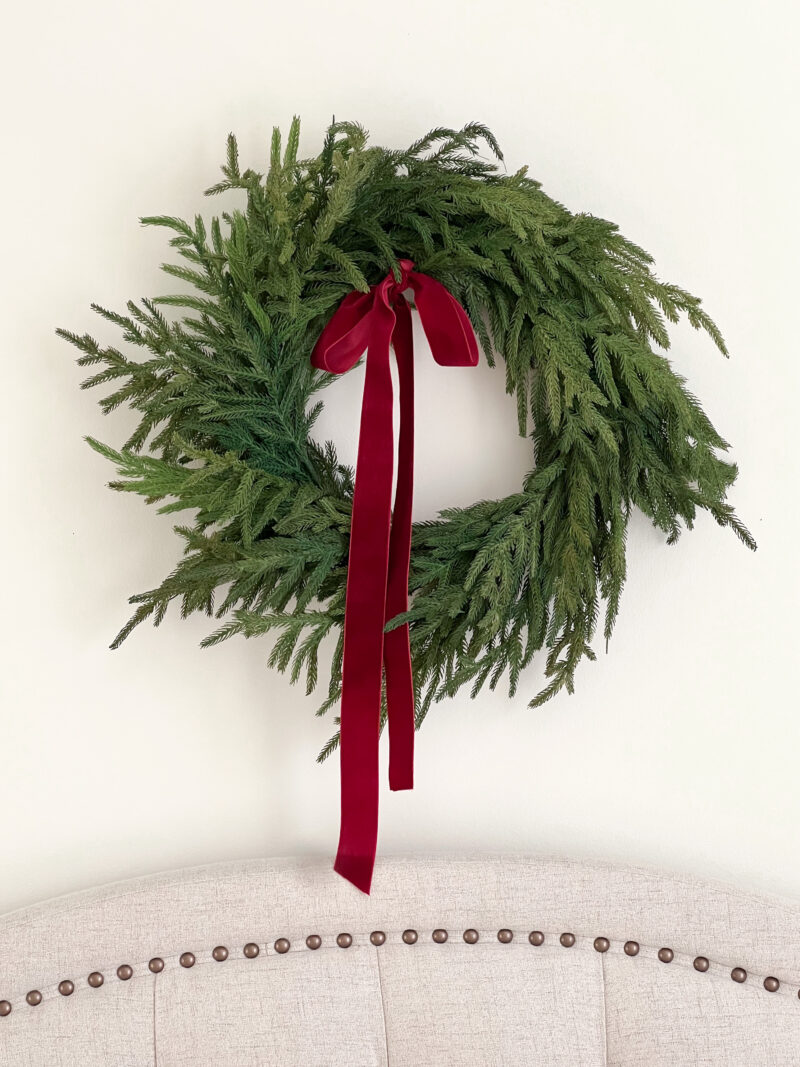 I love using these wreaths throughout the home. I take down artwork and put up a wreath and bow. They are very realistic looking and so easy to decorate with.
Thank you for taking a moment to walk around our home with me. I was hesitant to share because we really did keep it simple this year but I hope it inspires you to decorate in a way that you love. That's all that matters. Now if we could get time to slow down so we can fully enjoy the merriment of this coming week. Merry Christmas from our home to yours.