Good morning. I've been really excited to share today's post with you. There is no better feeling that ordering something and having it exceed your expectations when it arrives. I partnered with Walmart to share home finds I love. A partnership like that means I get full control over what I choose to purchase and how I style it. I share that so you know that these pieces are something that I truly love and select based on how our family lives. The extra seating we added to our backyard is not only classic, but comfortable, too.
CLASSIC SEATING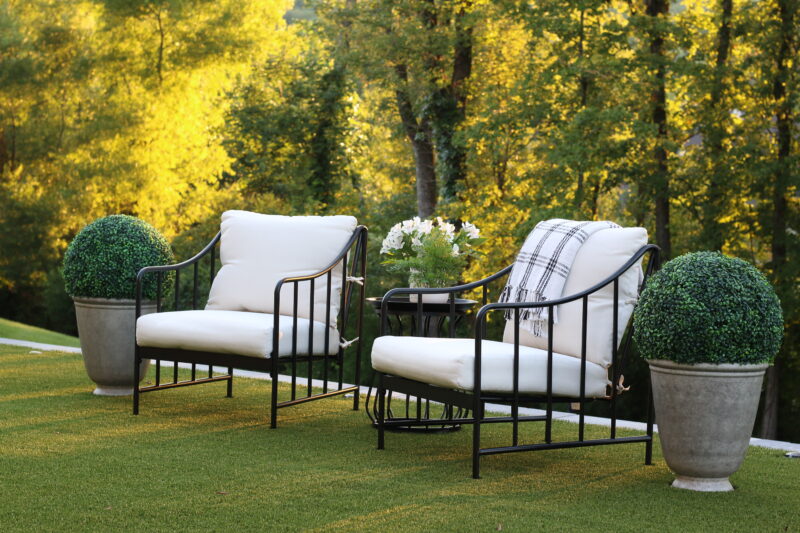 I wish you could have a seat in these and enjoy a glass of wine or iced tea with me. My husband and son put these together (didn't take long) and I was shocked at how much I loved them. I knew the black and white design would work well with the greenery but I what I didn't expect was how roomy and substantial they would be. They also come in a black and white striped option which is darling.
When we have people over and they use this big lawn area for corn hole and hanging out, it's great to have extra seating. Not only that, we can pull these over to the fire pit when we have extra guests. That sure beats grabbing arm chairs from inside the house. The plaid throws have been wonderful. We have had them for two years and still love the traditional vibe.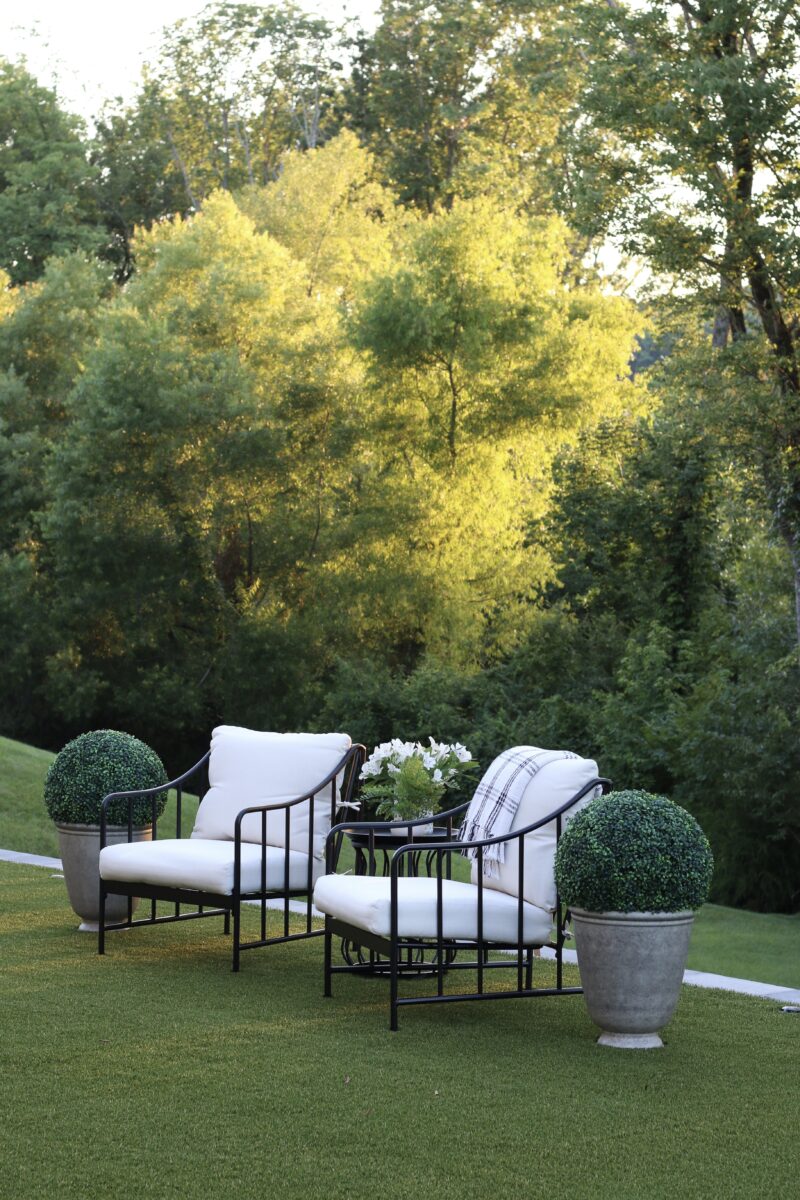 This set is now under $247 which is incredible. The planters are $17 each and were a good purchase. They are lightweight so we weigh them down with a brick in each one. It works really well.
The store images make the cushions appear darker than they are in real life. They are a beautiful warm white.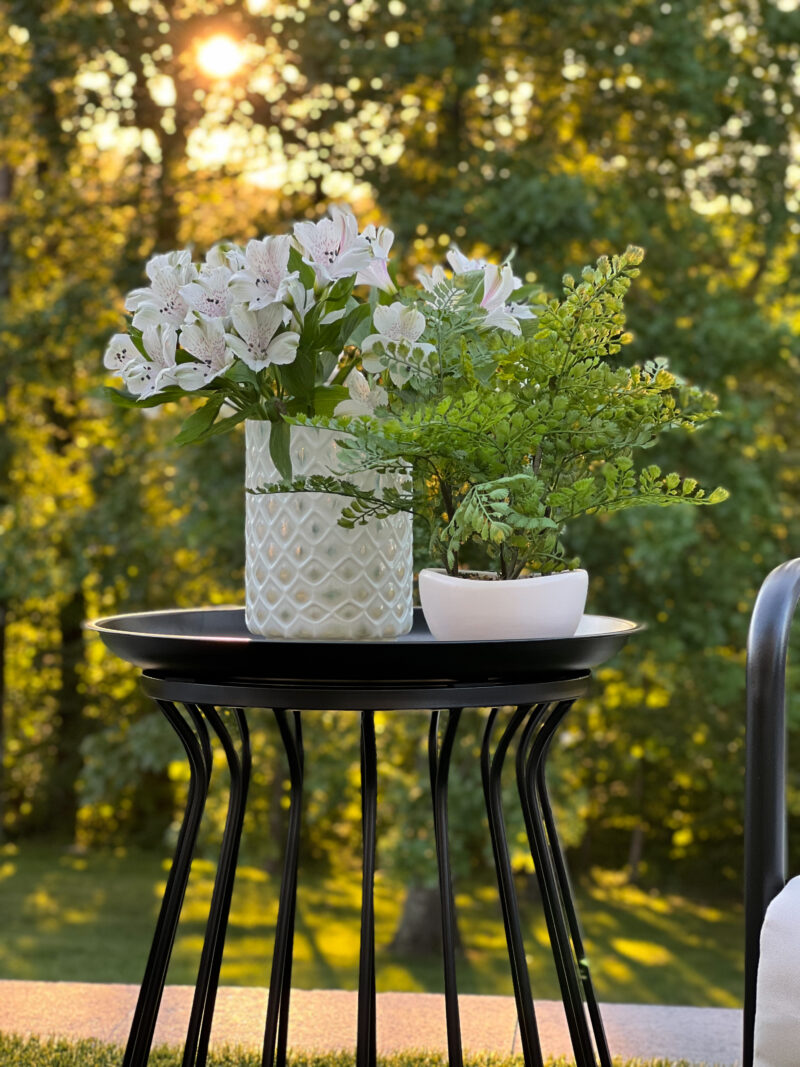 The chairs come with this cute table which is perfect for setting down a drink or styling with flowers.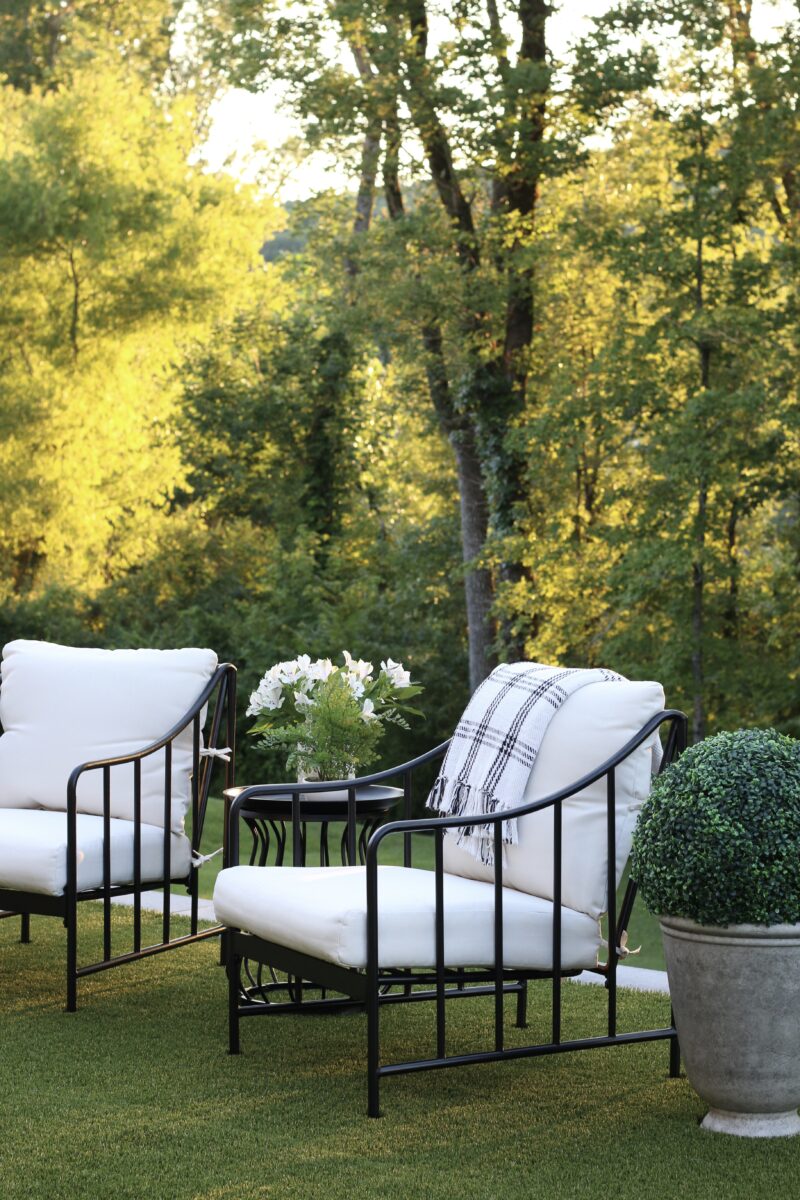 CLEAN & CLASSIC VIBES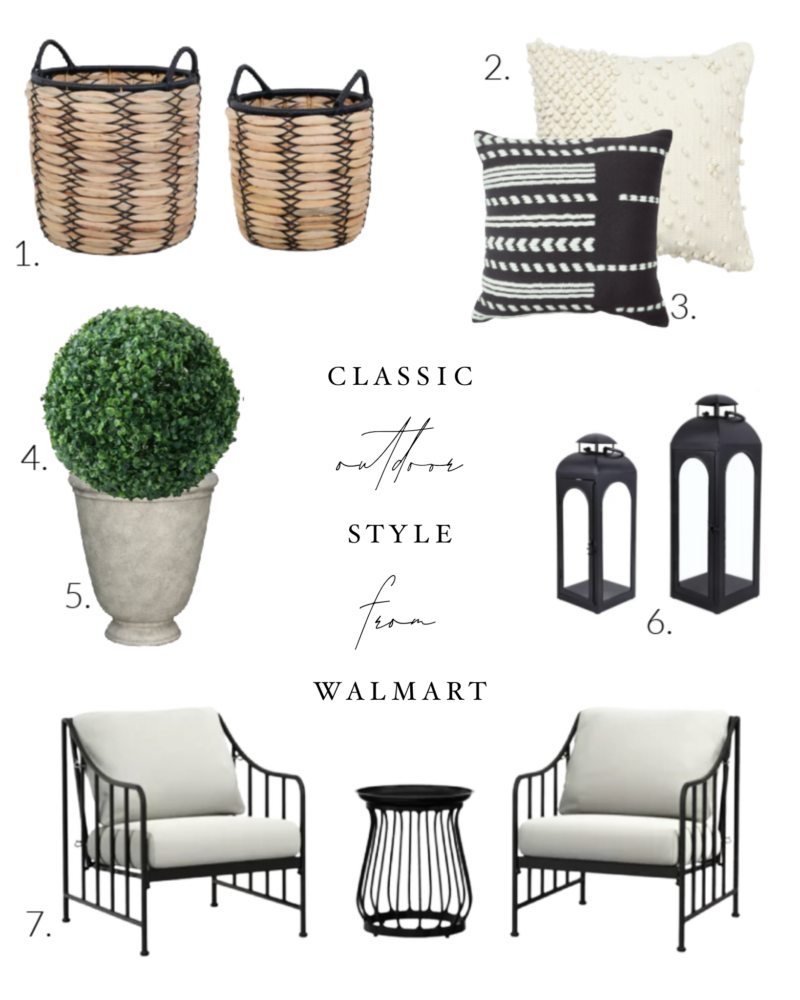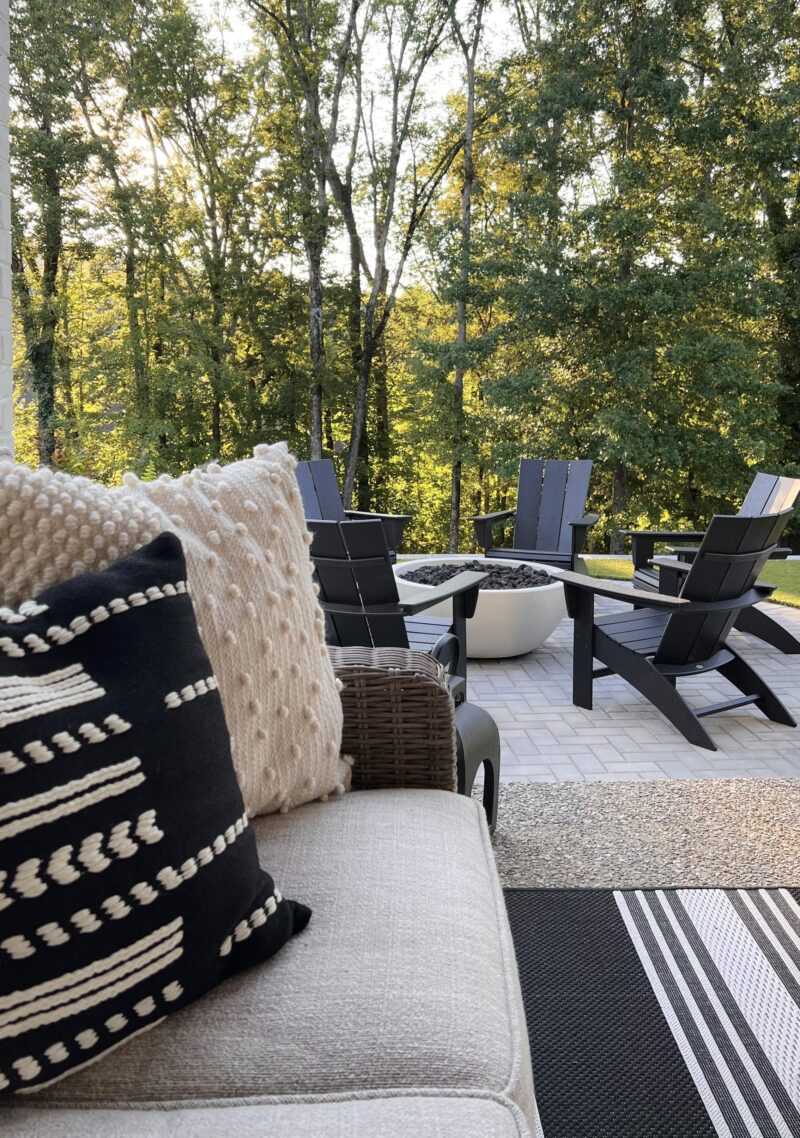 These pillows (black and cream) are a phenomenal price. i really like the warmth they add.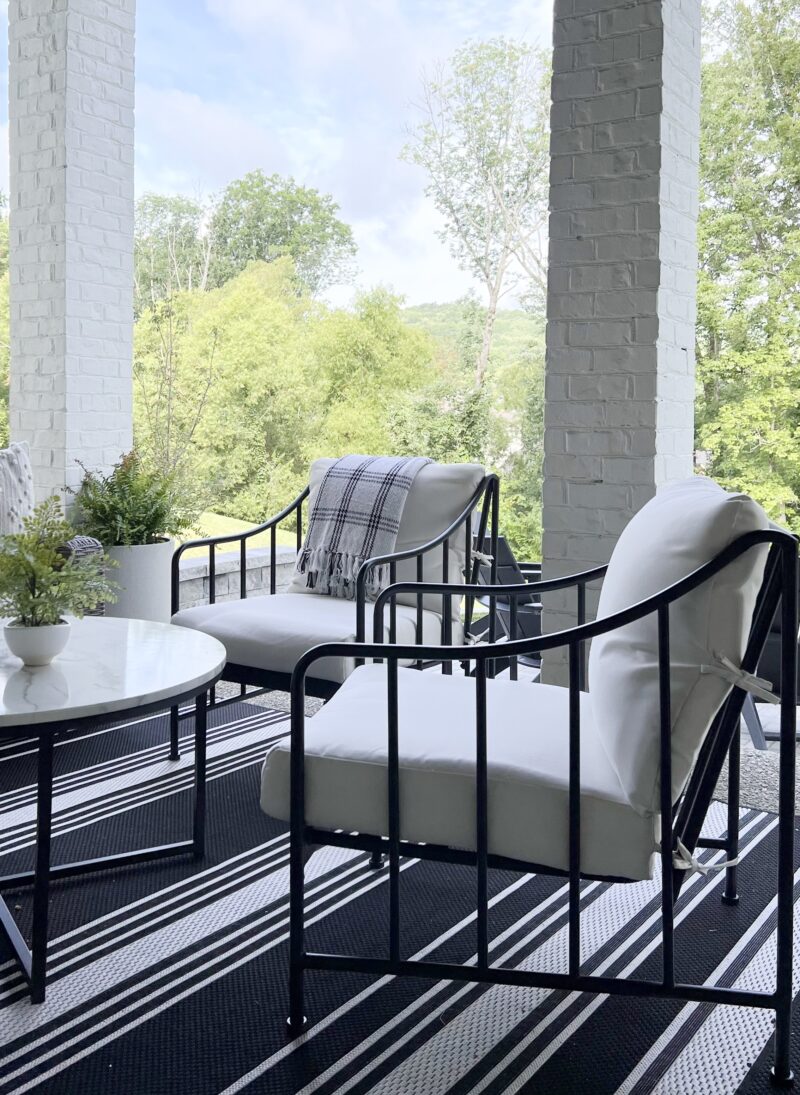 We will keep these pretty chairs under our covered patio when we aren't entertaining so that they stay out of the rain. I love that we now have the option to have more seating here or out on the lawn. I wouldn't hesitate to buy two sets and place them around a coffee table on a porch or patio. Truly love the lines and black and white design. I think they have the high end look without the crazy price tag.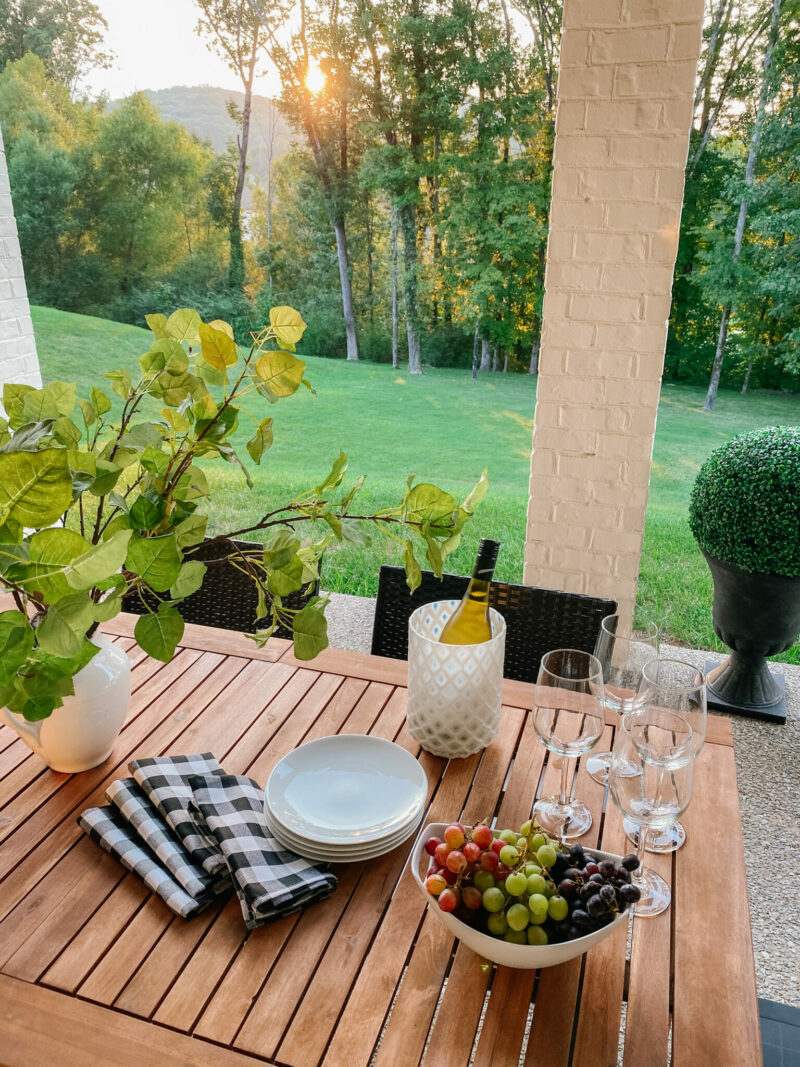 It was crazy to look back at photos of the yard before we flattened out a portion of it. It's hard to see, but the yard was an insanely steep slope. It was challenging to even walk up from the bottom. So grateful we took the plunge to redo it. Looking forward to fall nights out here. We are currently enduring some crazy humidity so it might be a minute before we get to enjoy these again.
*Why we skipped a pool and a look at our yard before.
Shop the Post