Good morning. While I share snippets and highlights of things we are working on in my Instagram stories, it's much easier to share the nitty gritty and thoughts behind our decisions here on the blog. I know that many of you are going back and forth about upcoming renovations, so I hope sharing our thought process is helpful as you start to hone in what is best for your family and home. As always, the most important thing to consider is what works best for the people in your house and how you live. Let's rewind to our laundry room project.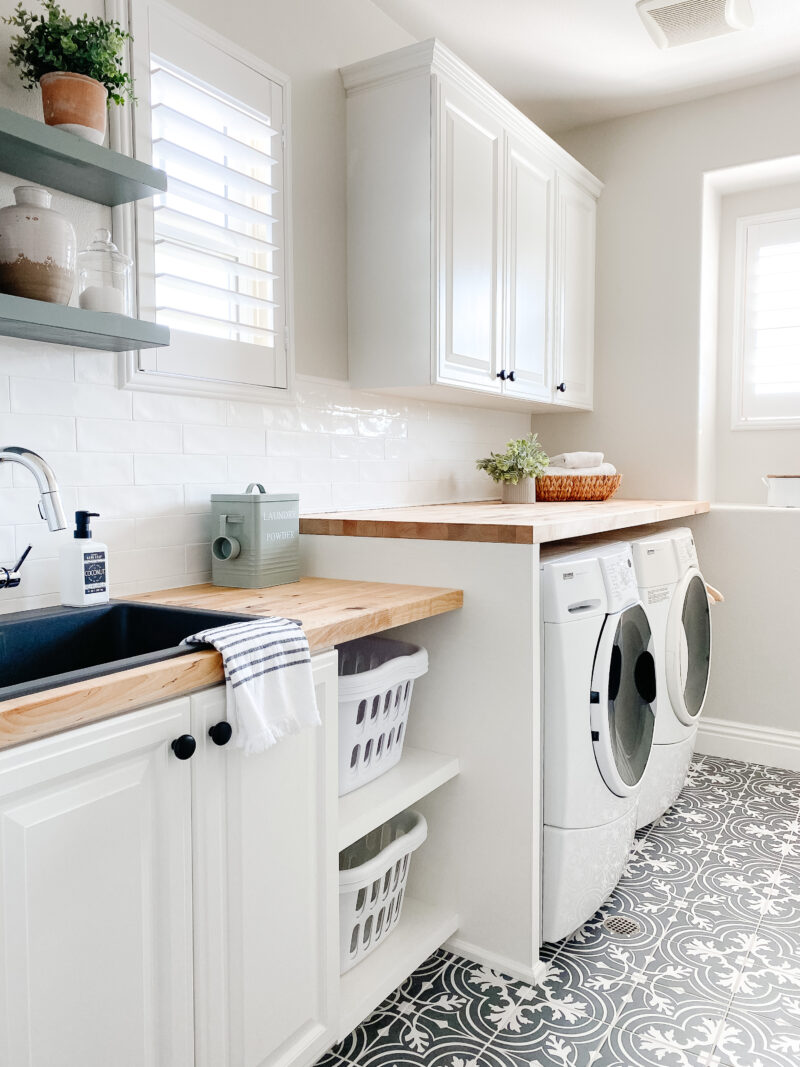 our previous laundry room makeover
WHY WE HALTED THE LAUNDRY ROOM PROJECT
Recently I shared inspiration for our laundry room and even had two talented contractors come out and give us bids. I had been sharing inspiration photos for months and couldn't wait to dive in. The laundry room of my dreams was right around the corner. And then reality set it. The bids came in, and while fair, they were like a large stop sign telling me to take a step back and think this through. Custom cabinetry, countertops, trim, lighting, and all the rest add up. There is no question the laundry room would be beautiful, but the price tag attached gave me pause. Do I really want to take that chunk of our budget and spend it on a room that no one sees? Did that make sense?
As we get older we are better about sitting with a decision for a bit of time. And as we thought about it, it became crystal clear that we would be better off putting that money towards our backyard and moving that up on the list. After all, we don't plan on entertaining or making memories in our laundry room.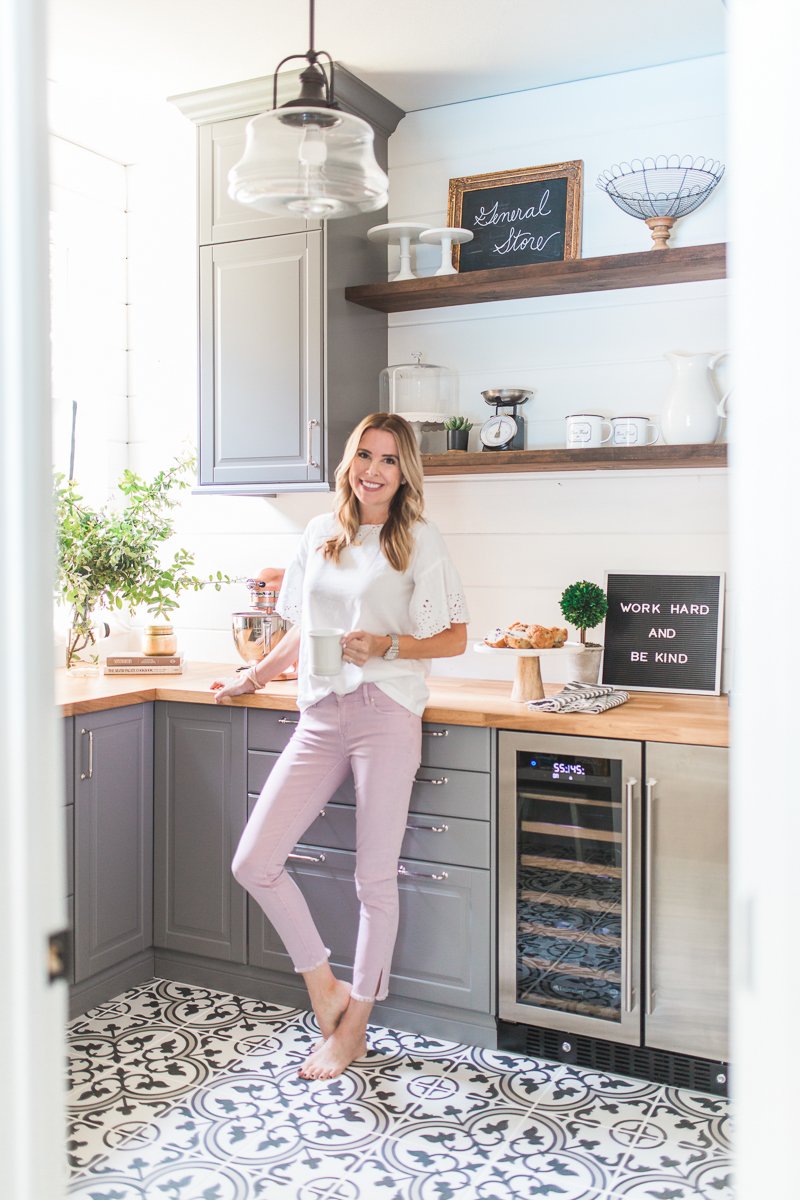 Now don't get me wrong, we still need a laundry room but I think my husband and I may do that ourselves. Or at least dial it way back. Do you remember our pantry project? We did that ourselves and I think we should do something similar for the laundry room.
WHY WE DECIDED AGAINST A POOL
Another huge thing we changed our minds on was putting in a pool. We initially had big plans to do so but we are thankful we pumped the brakes. I will forever be envious of homes with pools and think they are amazing for gathering and making memories. But when we made the pros and cons list for ourselves, it just didn't make sense. The cost is sky high here in Tennessee (far more expensive than California mainly due to the rock in the ground). In fact, we couldn't believe the quotes that came in. They were not at all what we expected. We have a backyard with a slope which adds a significant expense.
We also took into consideration the kids' ages. My daughter will be a senior next year and while I know her friends would love it, she won't have much time to enjoy it before she is off to college. Not to mention, I definitely have seen that they enjoy a pool for 30 minutes and get out. Gone are the days of us having to drag them out of a pool like when they were little. And to be perfectly candid, we love that this is the place they want to bring their friends at night. But at night, they are enjoying the hot tub (we have an above ground one and love it) and hanging out in our basement or bonus room. I LOVE having them here and that brings me to my next point.
WHAT WOULD ADD VALUE TO HOW WE LIVE?
Some of my very best memories in high school were sitting around a bonfire on the beach. I loved that quality time with friends and just staring at the fire for hours. It spurred conversations, laughter, and friendship. While we can't give them the beach, we can give them a fire pit to gather around. That quickly moved up the list for us. And I can't wait to have family evenings out there. Add in my husband's guitar playing and it sounds pretty good to me. And far cheaper than a pool!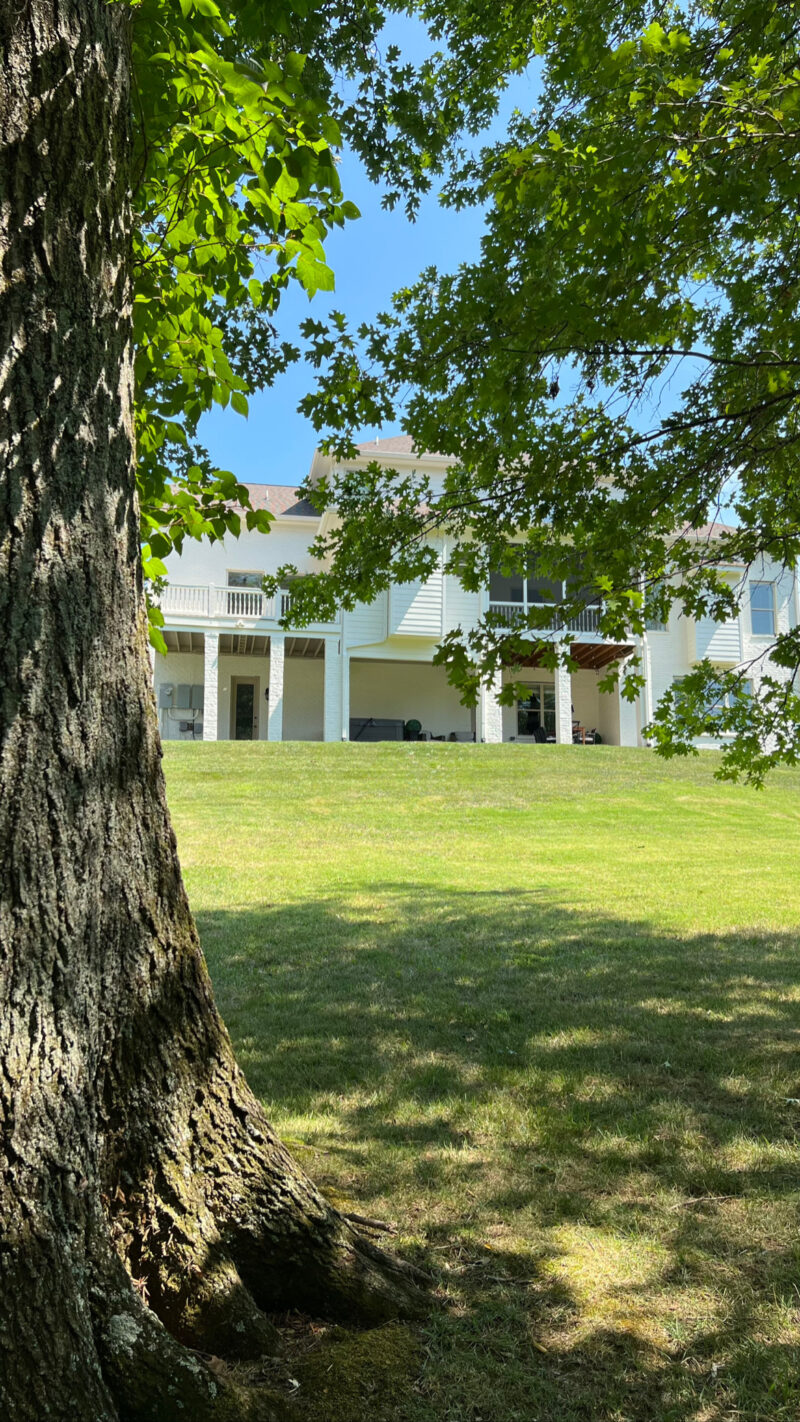 THE BACKYARD PLANS
We do have a large slope and while the grass area is beautiful, our dream is to have more useable space for entertaining and hanging out. We know we want to incorporate a fire pit area and flat lawn space for corn hole and gathering with friends. That will require a retaining wall so we've worked closely with a landscape architect to help our vision come to life. My favorite part of our backyard are the large trees and look forward to spending more time out there enjoying the view. We have HOA approval and are full steam ahead. Of course we have the rain to contend with so progress may be slow, but it is progress nonetheless.
My dad used to say that it's wise to wait before making big house decisions. Let the house tell you what it needs. I am so thankful for that advice as it has served us well. We are focused on the areas that will bring about memories and allow the kids to gather with their friends.