Is it really true? It's October? I'm sorry, but when did that happen? Does anyone else feel like this year is zooming by? Well in honor of it being October 1st, the Michaels Makers are getting in the spirit by sharing a DIY costume. I decide to go with what everyone loves: a coffee & donut costume. With extra whip cream, of course!
Who ordered a scrumptious donut and coffee? And don't tell anyone, but that giant coffee actually doubles as a trick or treat bucket. The little donut has plenty of space to collect sweet treats of he own on Halloween.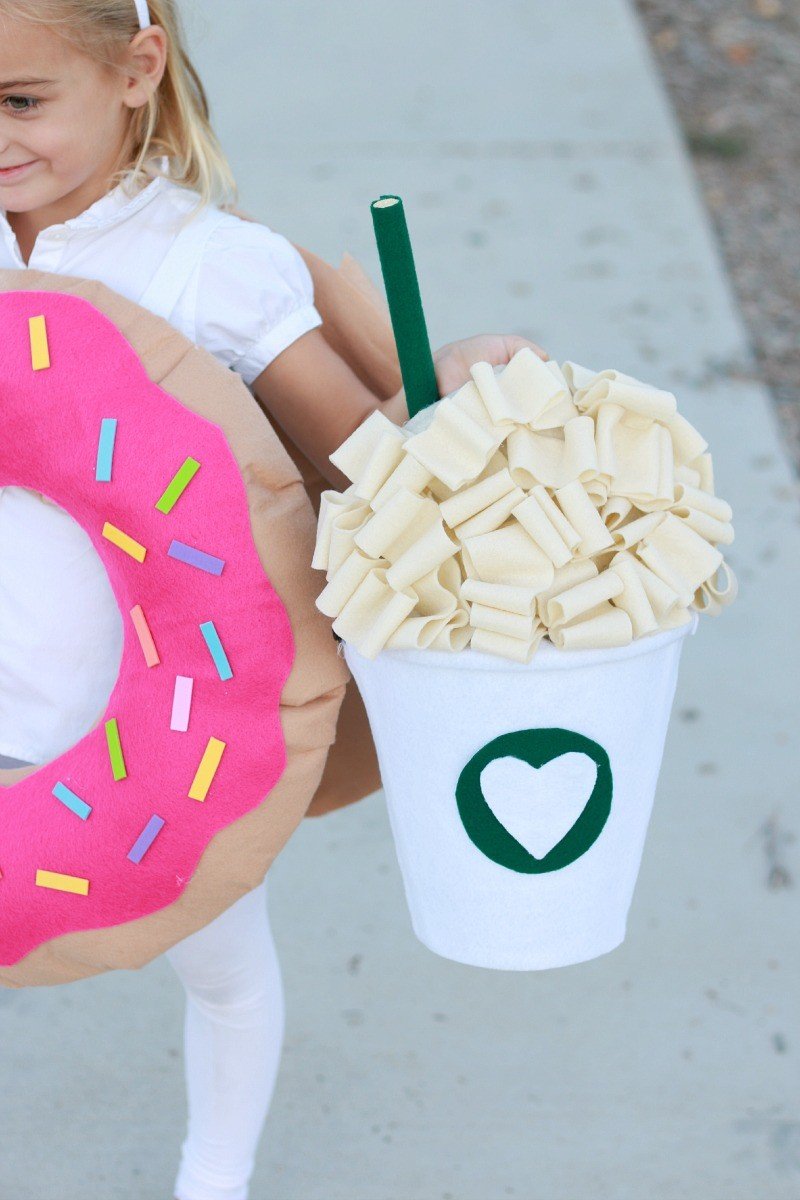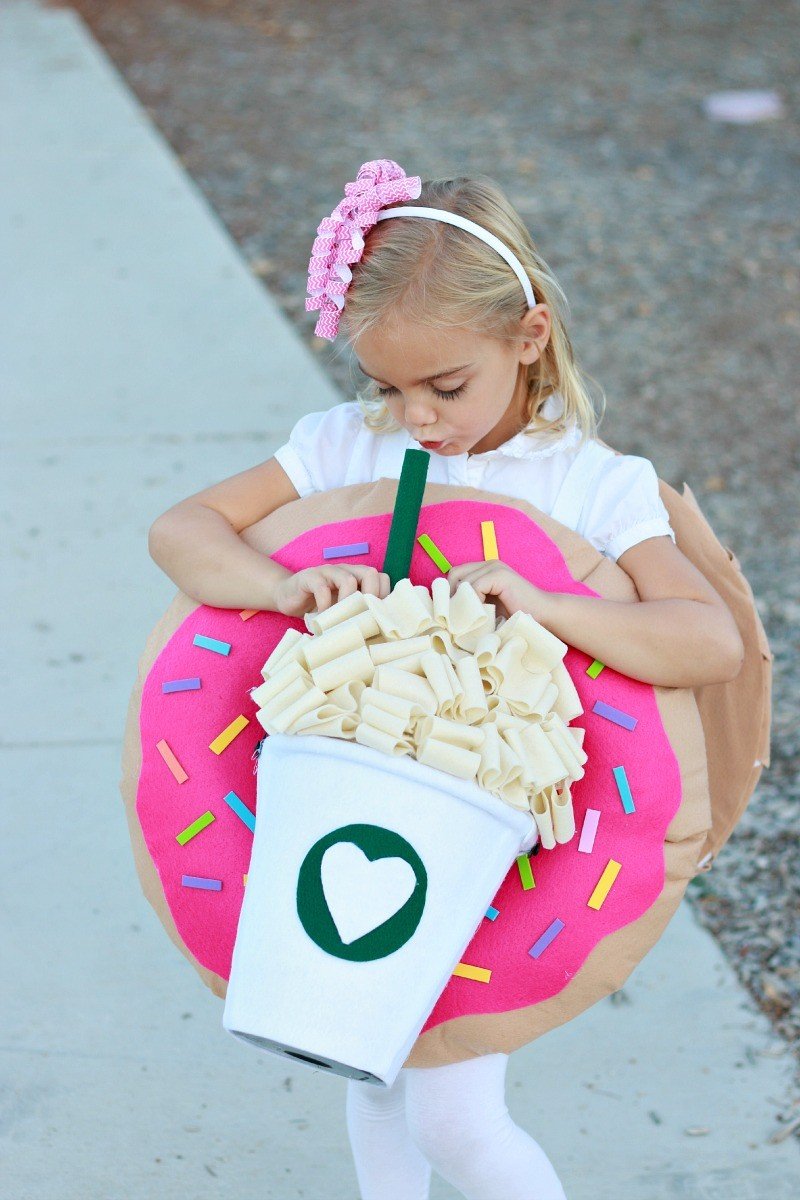 When my daughter saw the finished costume she immediately said how hungry she was and how she wanted a donut! Too funny. Here are the main supplies needed to make this DIY Coffee & Donut Costume.
DONUT SUPPLIES:
tan felt
hot pink felt
craft foam sheets (for the sprinkles) with adhesive backing
fiber fill
2 pieces of foam board
scissors, razor, pencil, string, hot glue gun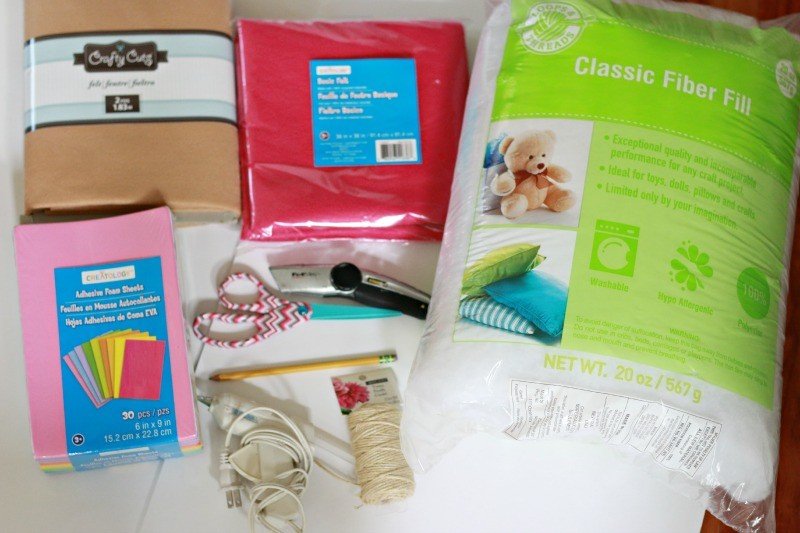 Create the Foam Rings
I made my rings 20 inches in diameter. So I found a spot that was 10″ in from the edge of the board and marked a dot. This dot will be how you create a perfect circle. Do this on both boards.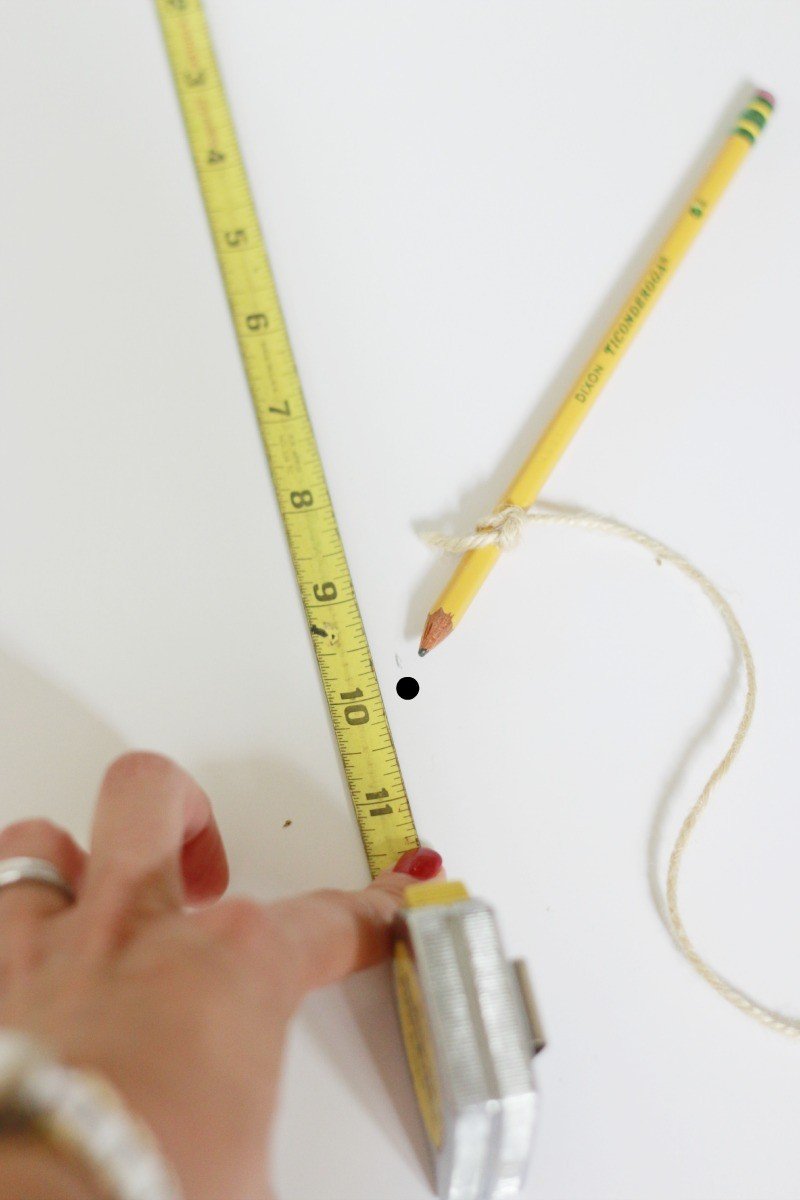 PHASE 1
Step 1: Prepare Your Pencil
Tie a piece of string around the base of your pencil. Cut it to be ten inches long after it has been tied. Hold the string on the dot.
Step 2: Create a Perfect Circle:
While holding the string on the dot, draw your perfect circle. Works every time! Do this on both pieces of foam board.
Step 3: Draw the Inner Circle
You can use the same method to create an inner circle or grab a salad plate and trace! Bam. Inner circle done. Do that on both rings.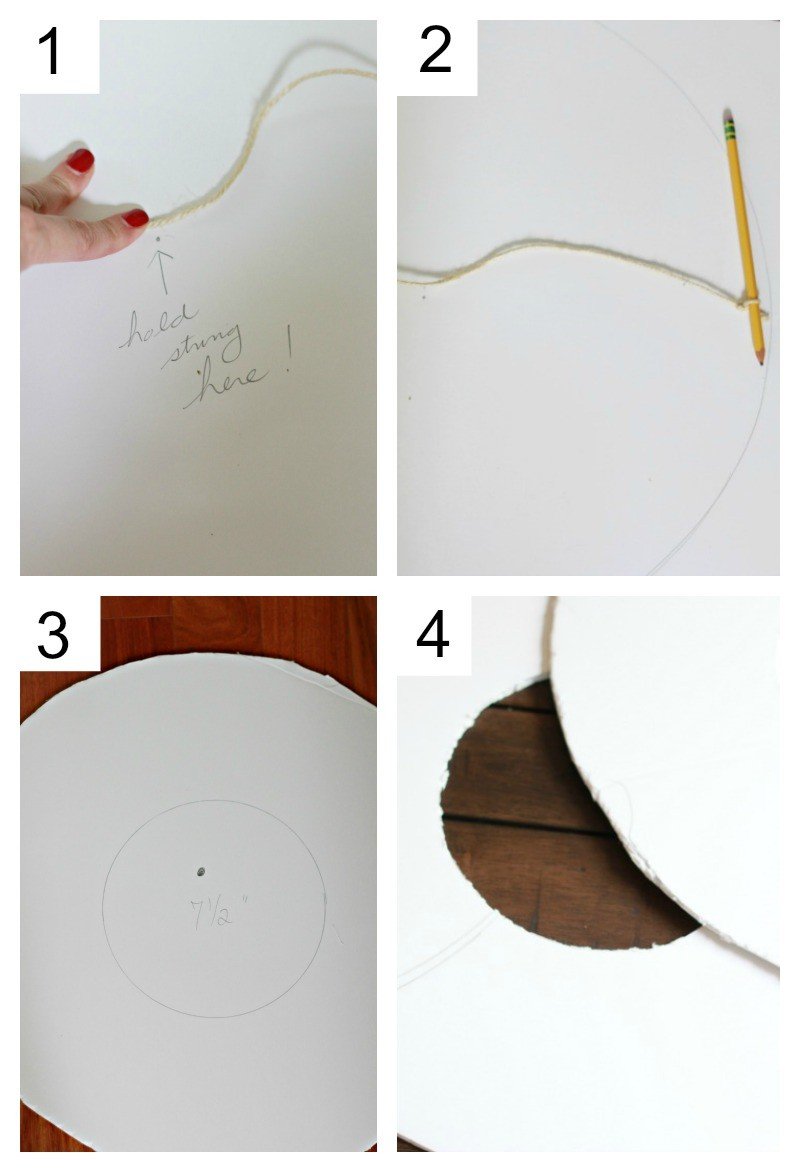 Step 4: Cut Out the Circles
To cut the rings, I used a razor blade. It is much easier if you cut on one side, flip the ring over, and cut again. Then the piece will pop away from the rest of the board. Don't try to cut all the way through from one side. Too difficult and time consuming. Take it from me! I learned the hard way.
PHASE 2
Place both rings on the tan felt. You want to leave a generous amount of tan felt near the outer edge of the circle. I should have left more than I did because as you stuff your donut you lose the excess.
Step 1: Glue the Inner Circle
Prior to using the hot glue gun on the inner circle, snip the tan felt to create tabs. I didn't cut anything away, just cut to the board. This makes gluing the felt to the board a piece of cake ( or donut!).
Step 2: Fill the Donut
Glue a portion of the outer ring and begin stuffing with fiber fill. You want to glue a little more and then stuff. You'll get the hang of it. It's not hard at all. You just want to put enough fiber fill inside so it really has a nice puffy donut shape.
STOP: Before you do the second ring, trace it once on pink felt and once more on tan felt. You will need both rings of felt later in the process!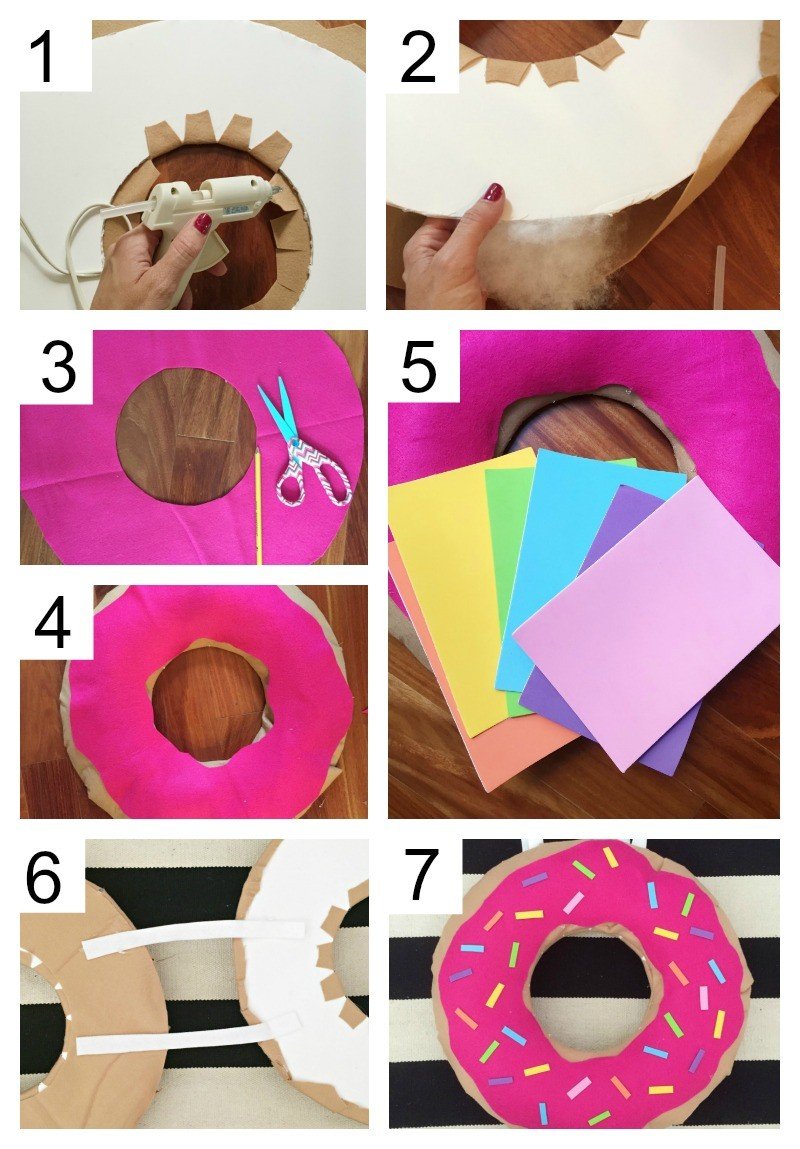 Step 3: Pink Ring
You should have traced a ring on to pink felt. Use that ring on one of the finished donuts.
Step 4: Create Icing
With the ring placed on the donut, gently cut each edge to be wavy. Glue the icing to the donut.
Step 5: Add Sprinkles
Take the foam adhesive rectangles and cut sprinkles. I just used my judgement on what size to make them. Totally up to you! The are peel and stick and this would be a great way to get your child involved.
Step 6: Connect the Donut Rings
After you created two donut rings, add one tan felt circle to the back of the non-iced ring. You do this because it could potentially show when wearing it. Once you have done that, cut two strips of white felt and attach them to each side. Make sure you have your child nearby so you can measure exactly where you want them to hang.
Step 7: Marvel at Your Work
Done and done! You have a pink sprinkled donut. I will do a detailed how-to for the coffee trick or treat bucket in an upcoming post.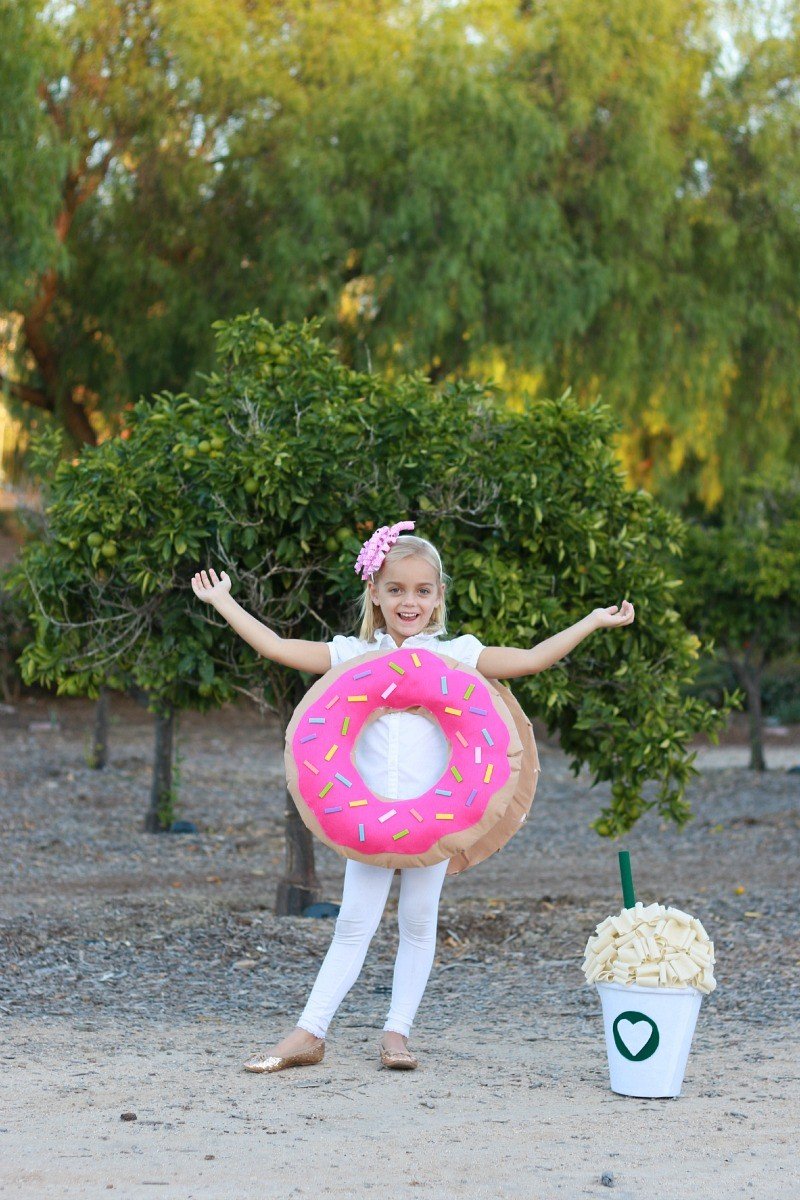 I think this costume looks the cutest with white clothes underneath. It makes the donut pop that much more. And my cute model doesn't hurt, either! I made her headband from Michaels' supplies, too. It's just a cute ribbon that goes on top of packages. I hot glued it to a plain white headband.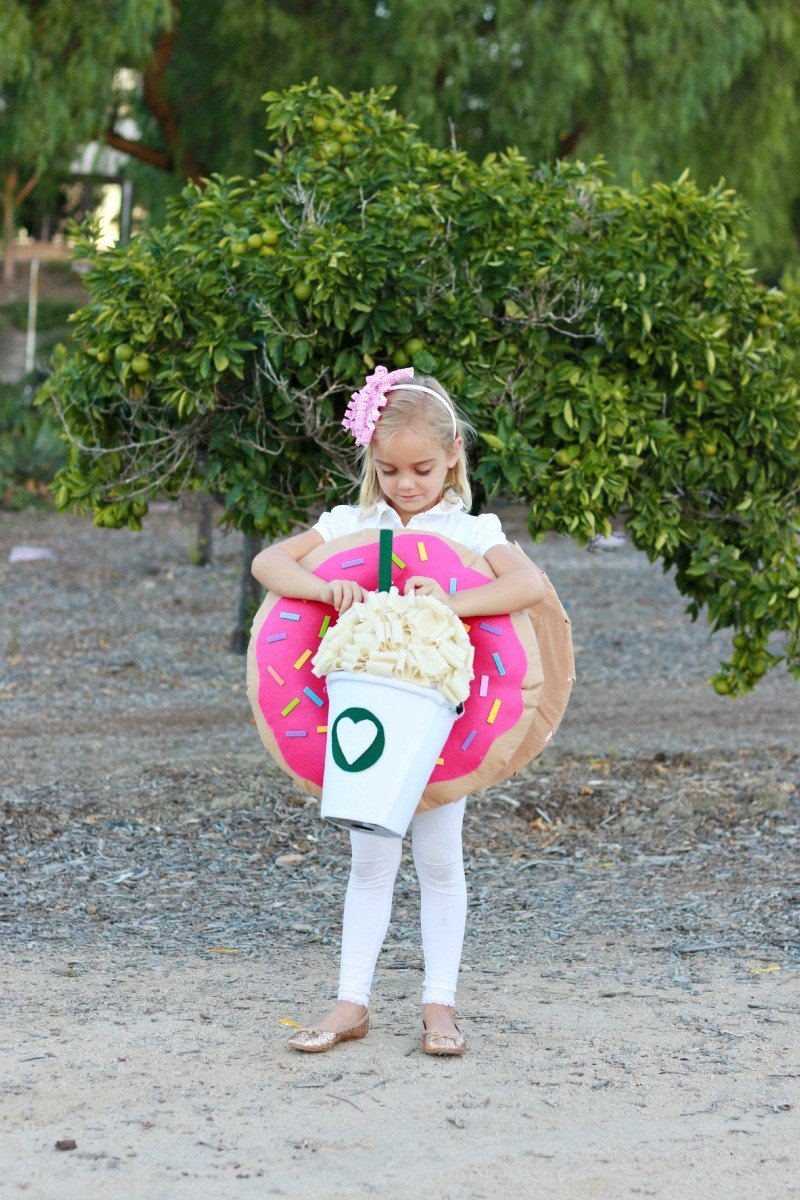 I grew up with a mom who always made our costumes. It was such a fun tradition and we loved being a part of the process. I can't say that I make them every year for my children, but I will say that the years we do, it is so much more fun.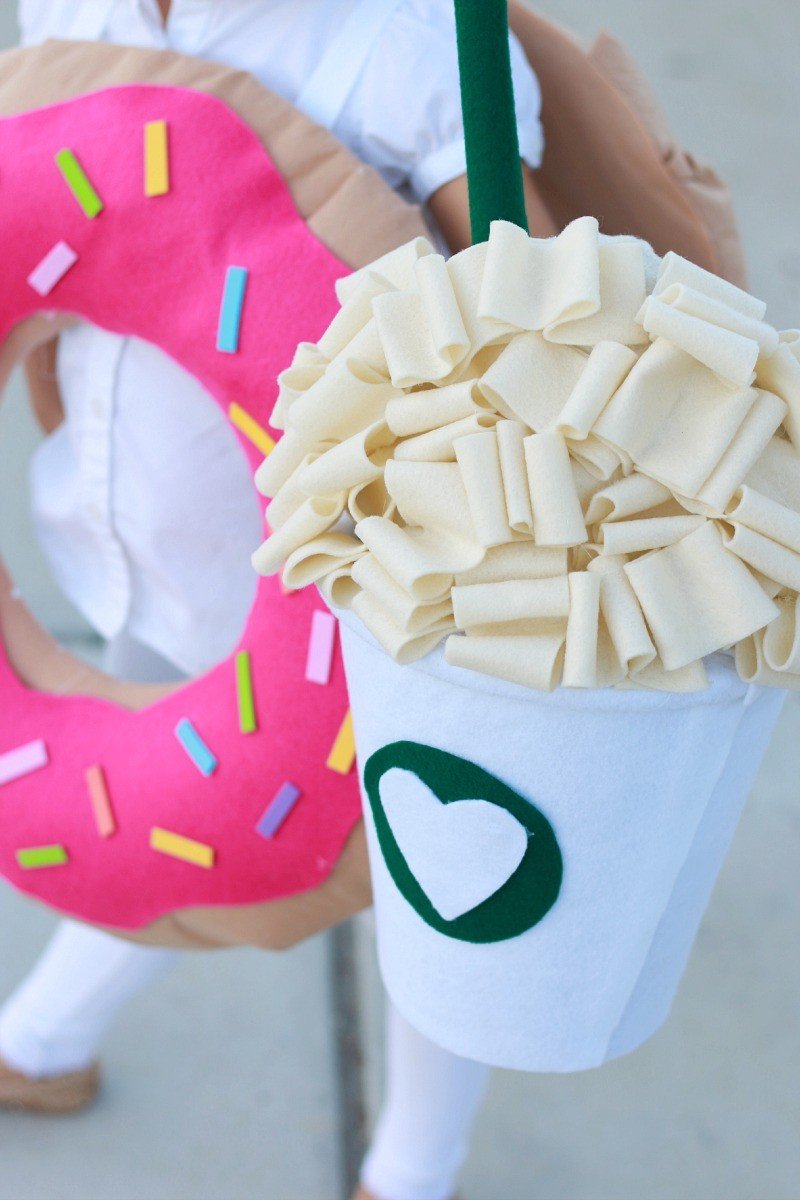 Are you getting hungry and thirsty? I thought that might happen.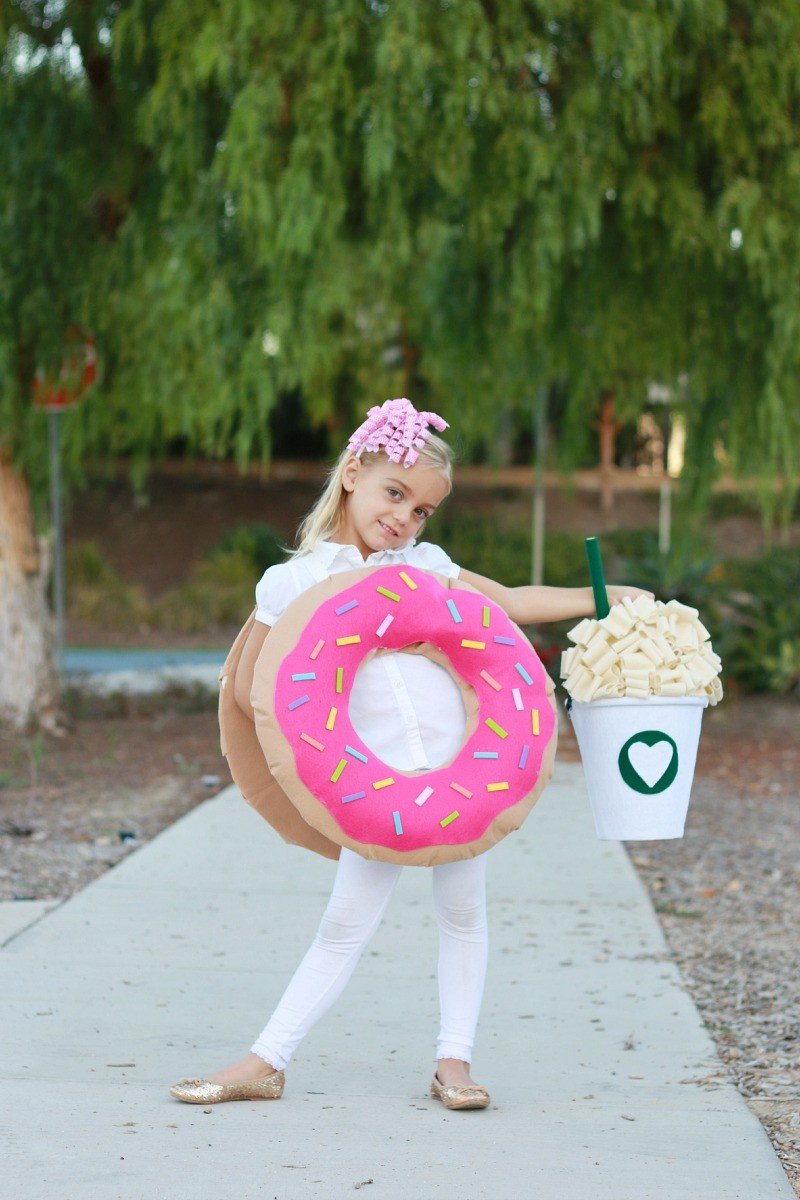 This costume was so much fun to make. Like I mentioned earlier, I will do a DIY post on the Coffee Trick or Treat Pail soon. I thought it was best to split them up in case you are only interested in the donut portion of the costume.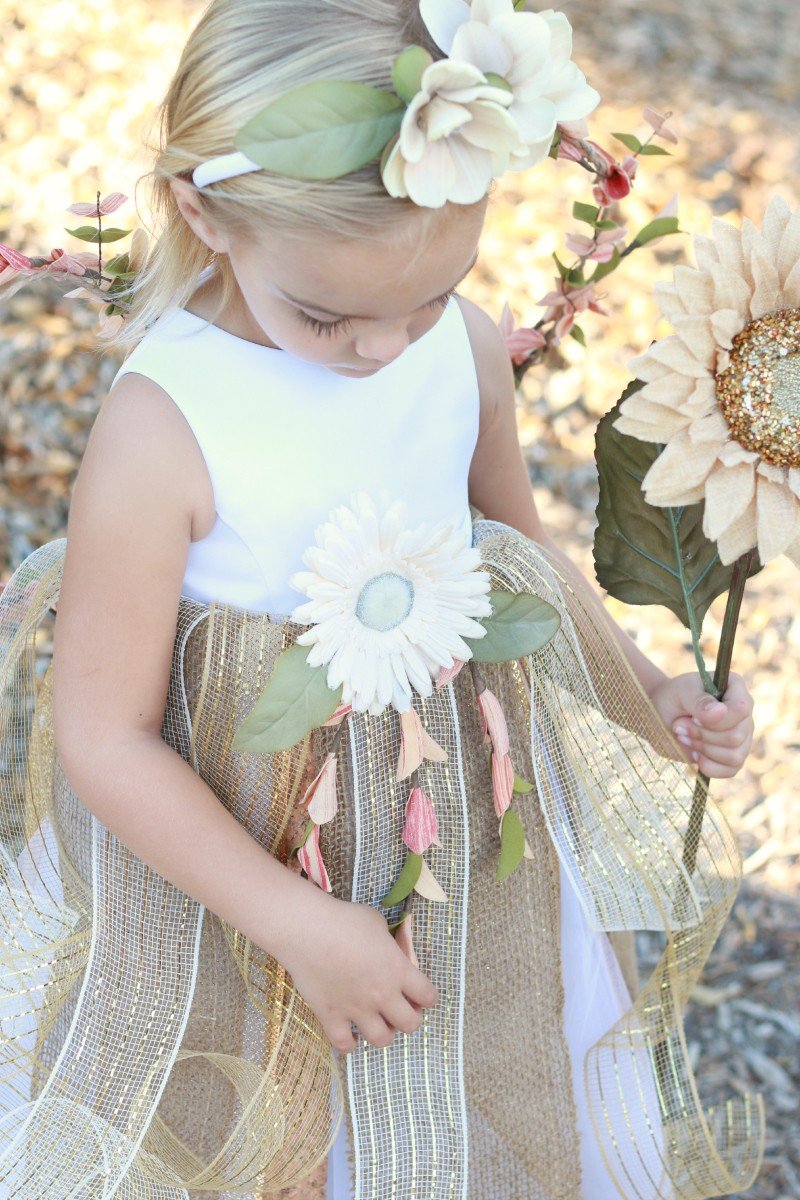 Here is a look back at the Fall Fairy Costume I created last year. You can see the DIY here. And to see my son's DIY Cheeseburger Costume (my favorite) go here.
My favorite part of our #MichaelsMakers challenges is seeing what creative ideas everyone else came up with. Their fun projects are linked below. Enjoy snooping around. With 50 fun costume ideas, you're sure to find some inspiration. And whether you're into spooky sights, playful pumpkins or giggling ghouls, the Michaels.com Halloween project page has tons of ideas for DIY Halloween costumes and décor.