Ok, friends. SO many stores are getting a jump on Black Friday and Cyber Monday. It's a bit nuts but it's also a nice time to knock out some Christmas shopping. That's exactly what I am doing. I've rounded up some great deals as well as a section for gifts under $30 at the end of the post. Hope you find some fun things.
J.Crew 40% off Everything!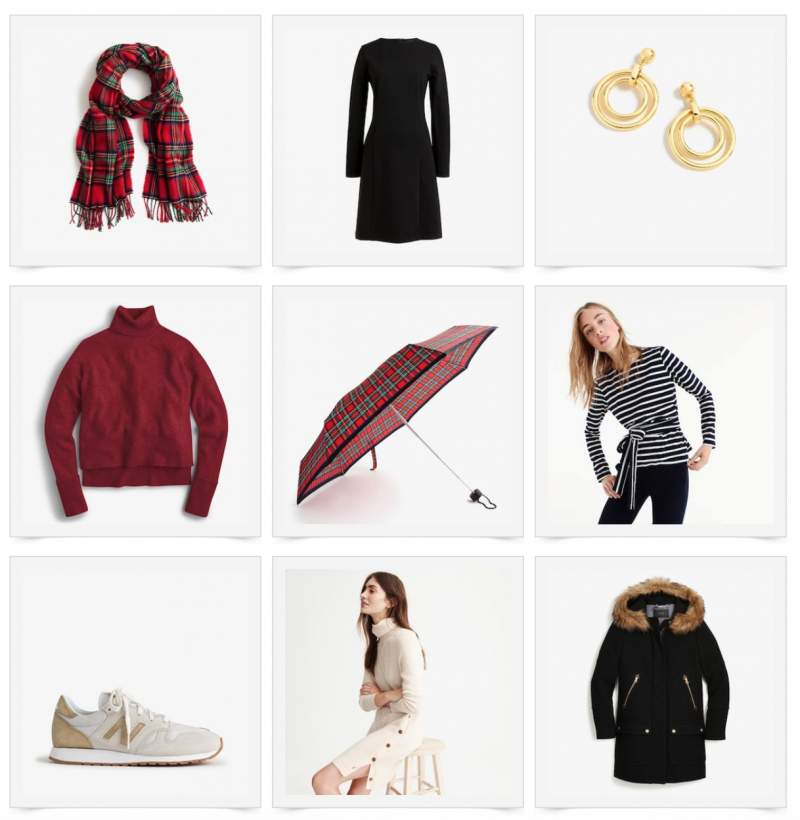 scarf | dress  | earrings | sweater | umbrella | top | shoes | dress | coat
These are my top 9 picks. Although with everything being 40% off it's a GREAT time to shop. I find J. Crew to be very pricey so I only shop if it's on sale. I've been waiting and waiting for the coat to go on sale and finally ordered it. I was so torn between the black and the gray but decided the gray will look so cute with black leggings and boots. I can't wait for it to arrive.  The kicks are on my wish list so Santa, feel free to take advantage of the sale. They also come in navy with rose gold. Too cute. I am a sucker for anything cable knit and love the dress.
My sister and I were just talking about how we all seem to lose umbrellas. It's so annoying. In any event, this one comes in plaid and a darling stripe. Great gift idea, too. The gold earrings and scarf would also make fantastic gifts. With 40% off of everything and free shipping, you can't beat it.
Shop the J. Crew Sale

LOFT 40% off Everything!
hat | key chain | scarf | bracelets | earrings | sweater | tunic | pullover | fair aisle
Loft is also kicking things off with 40% off everything. Such darling sweaters and accessories right now. I love this updated take on a traditional fair aisle sweater. And the colors in this tunic are gorgeous. I love the idea of gifting a friend with the initial tassel key chain. I am a HUGE fan of beaded bracelet stacks. I've been wearing them for years and they never go out of style. Great gift idea for a girlfriend or daughter.
Shop the Loft Sale

Serena & Lily 20% off!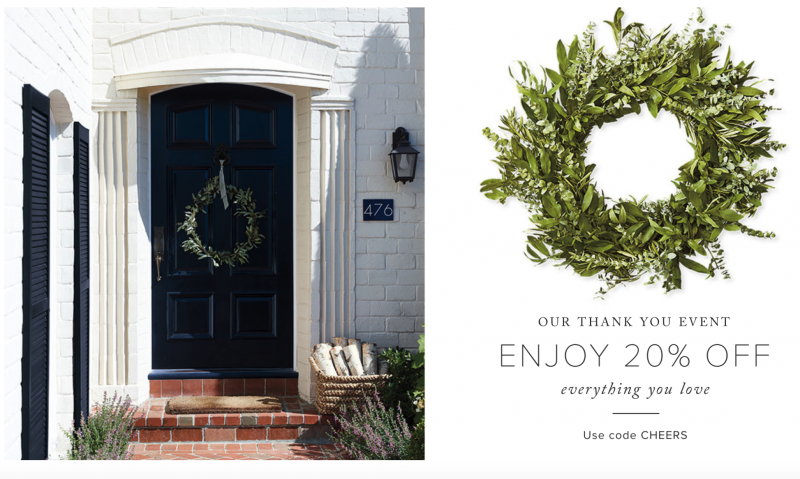 One of my very favorite decor stores is Serena & Lily. Let's just say I am more of a window shopper unless it's on sale so this 20% off thing is a good one! Our kitchen chairs still remain one of my all time favorite purchases for this home.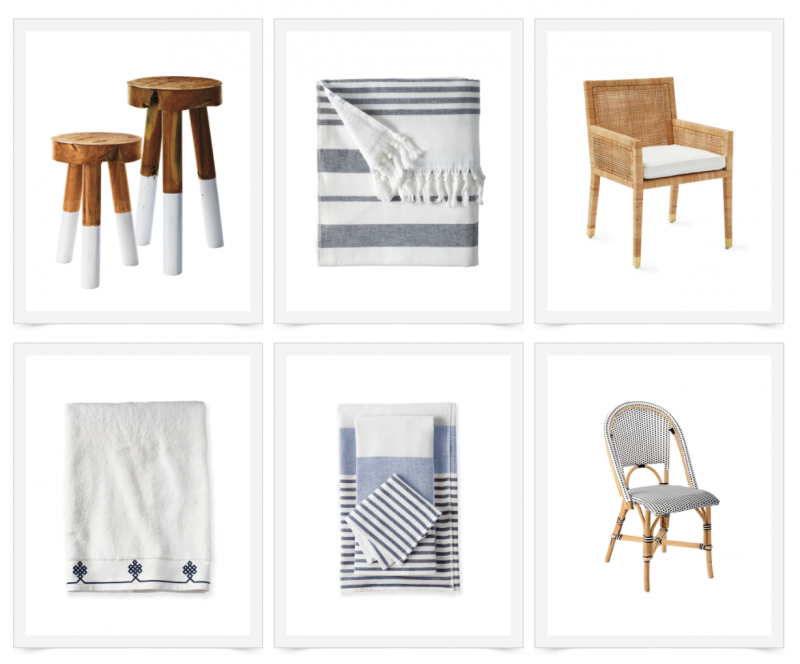 stools | beach towel | arm chair | bath towel | striped towels | dining chair
We have these towels for our guests and love them. They are so soft and pretty. I also have this and adore it. Love it so much it's going to make one of my gift guides. It's a great value and it's now under $40!!!! We also have one of those stools and it's a great addition to any room. Hope that helps narrow things down if you are on the hunt for something special from Serena & Lily.
Shop the Serena & Lily Sale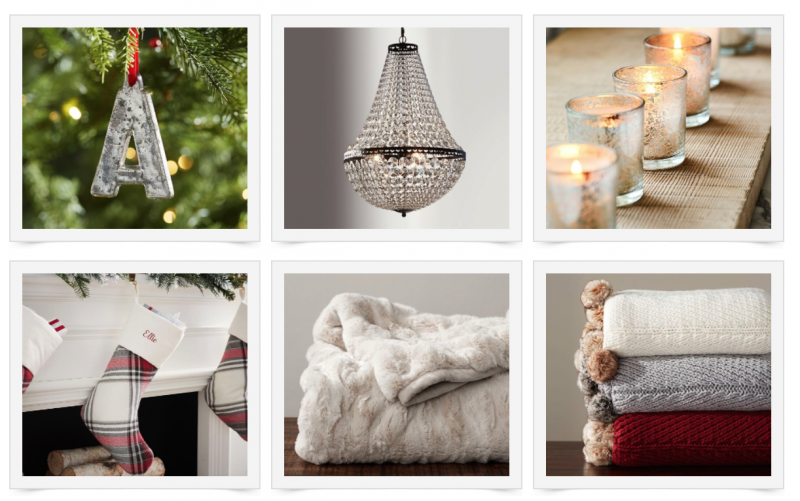 Pottery Barn has a decorating event going on which includes 30% off of many holiday decor items. This throw as well as this one are both beautiful. And these stockings are now only $15! Love some traditional plaid. When these ornaments go on sale, I like to stock up and place them on bottles of wine to give to friends. Tied on with a piece of fresh greenery and it's a really pretty holiday gift. Also a huge fan of mercury votives. They look gorgeous any time of the year. This set is on sale for $20!!!! Great gift idea or you can split them up. The chandelier is very similar to ours and currently on sale.
Shop the Pottery Barn Sale

NORDSTROM SALE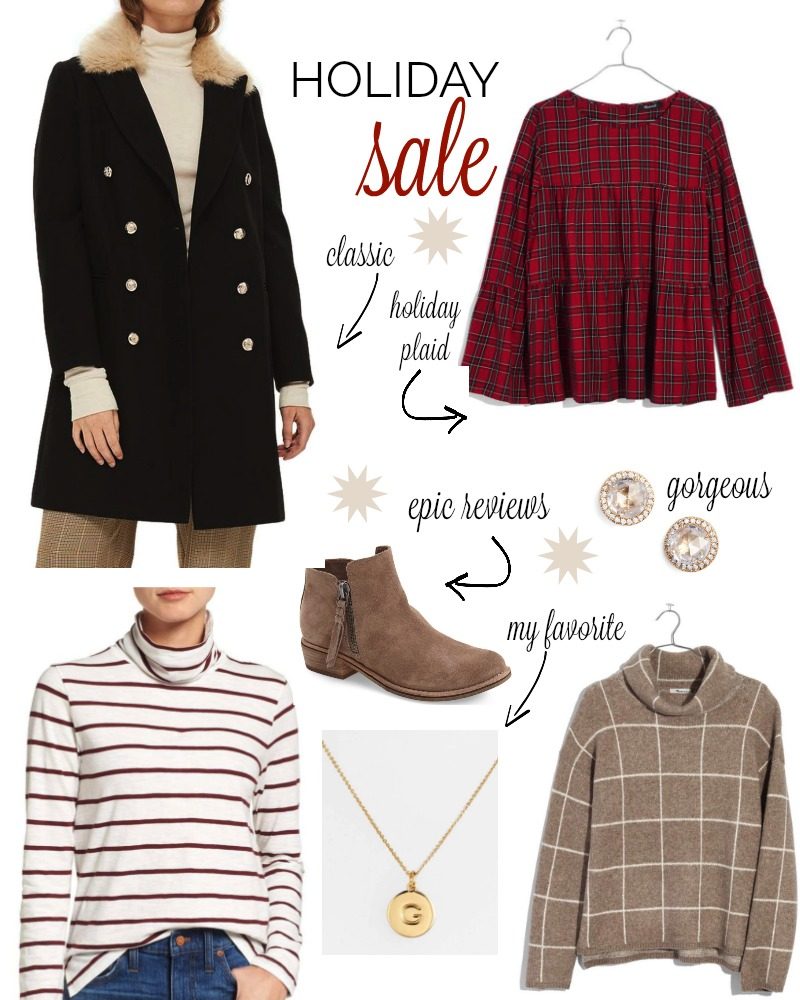 coat | plaid top | booties | earrings | striped top | necklace | sweater
What a darling coat. I love the classic style. The earrings are a great choice for a gift and under$35. The pendant is also one of my go-to gifts and it's currently price matched. It's rarely this low. The backside reads, "One in a million." The booties are not only on sale but have received almost perfect reviews. That's no easy task.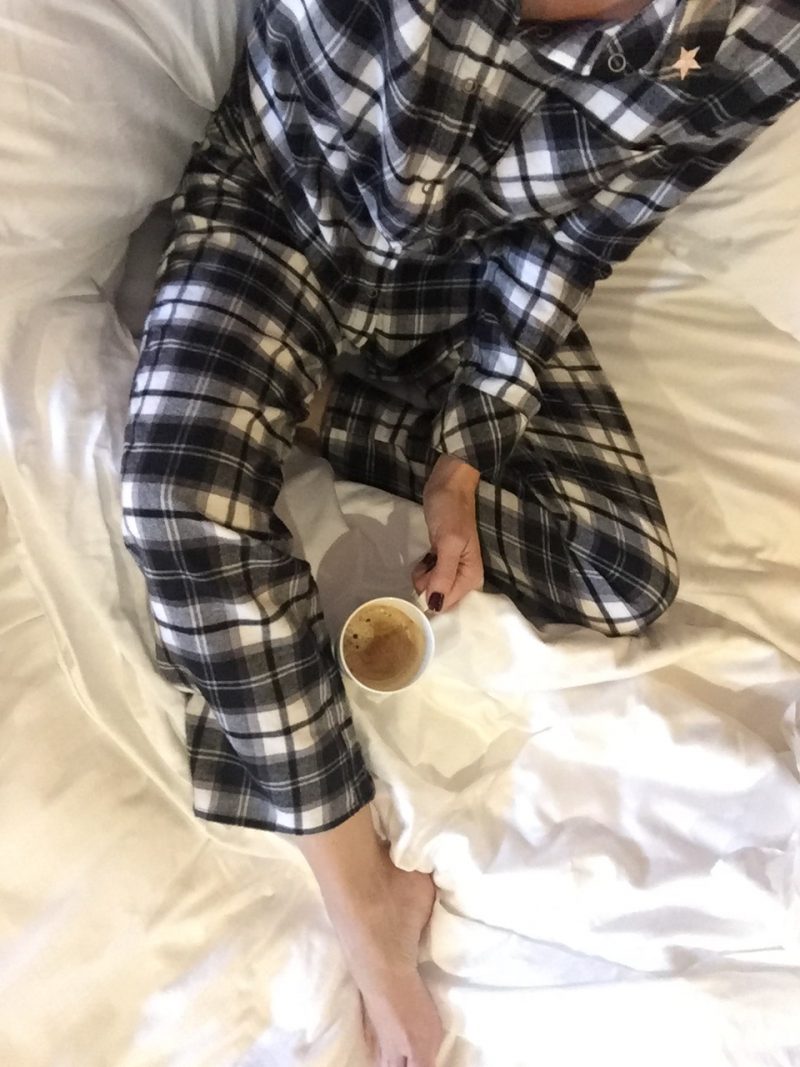 And while these pajamas are not on sale, I received them in the mail and haven't taken them off since. I LOVE them. They are extremely soft and comfortable. These were one of my picks in The Cozy Girl Gift Guide. Two thumbs up for sure. I am wearing a size small. They come in many different colors, too.
We are off to the grocery store with the rest of the world today. We took a couple of days for R & R and are ready to get our Turkey day on! We host tomorrow so we have some cooking to do! What about you?
Happy Thanksgiving to you and your families. Sending love from our home to yours.