Good morning, sweet friends. I'm so happy to welcome you into my home. We tend to keep things quite simple over here and hope to create a home where everyone who walks through the door feels welcomed and at ease. I hope you'll feel the same.
I rely on fresh greens a lot during the holiday season. You can pick them up for free in any tree lot and they add not only an amazing smell but such a sense of warmth.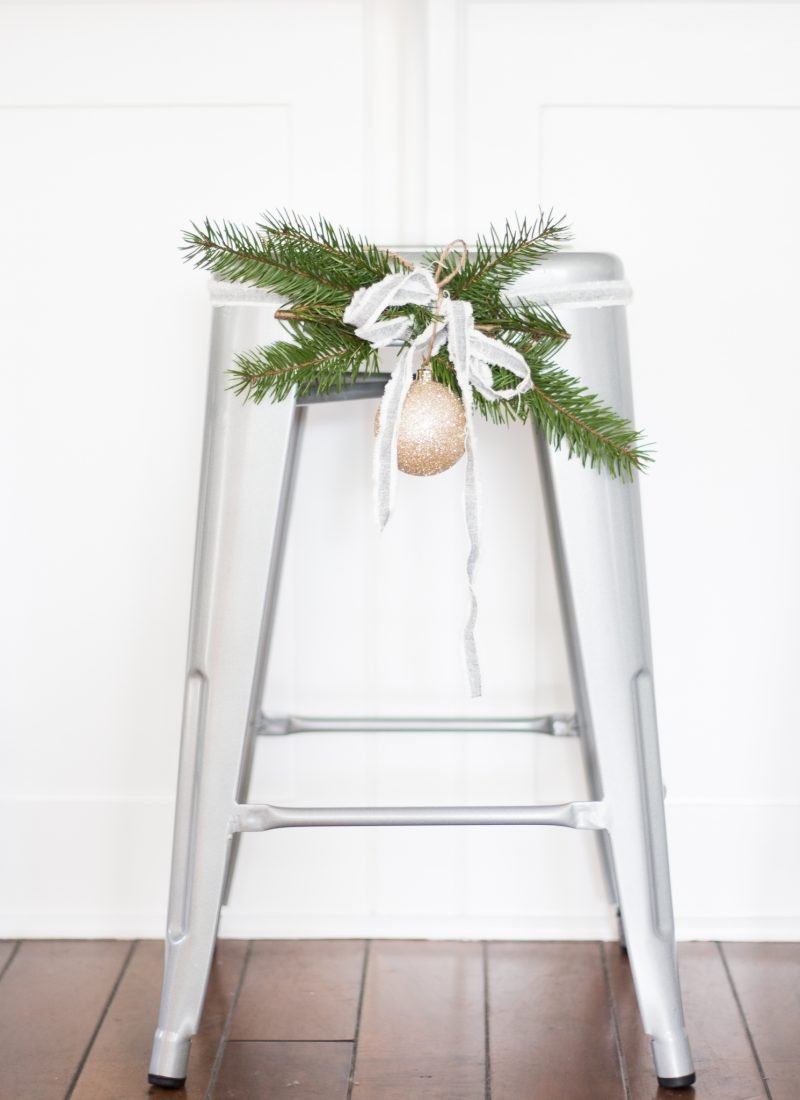 Each stool has a bundle of greens and a glittered gold ornament. I will usually only replace these bundles once during the season. A little trick I learned is to spritz them with water every now and again.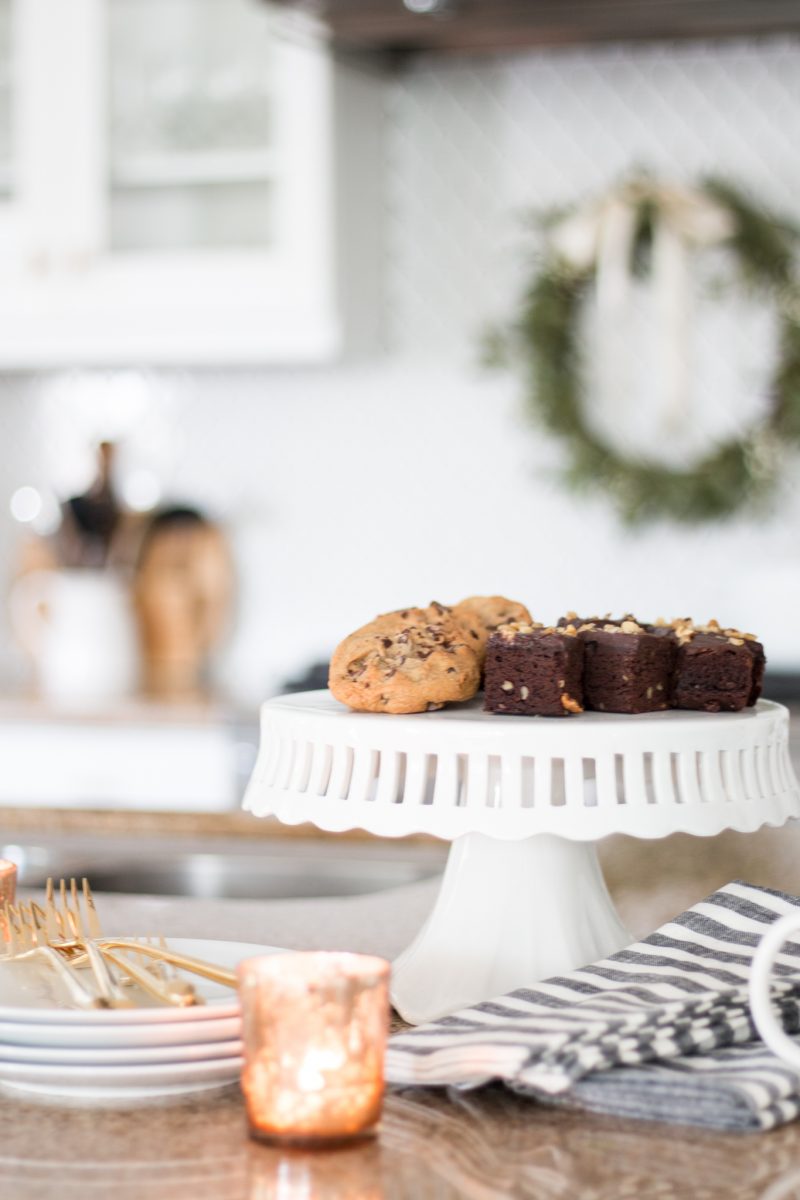 I've also come to adore little mercury candle holders($20/set).  They add such a gorgeous glow to anything. You can keep things simple but when you add candle light and a cake stand, suddenly things look more pulled together. My kind of gathering!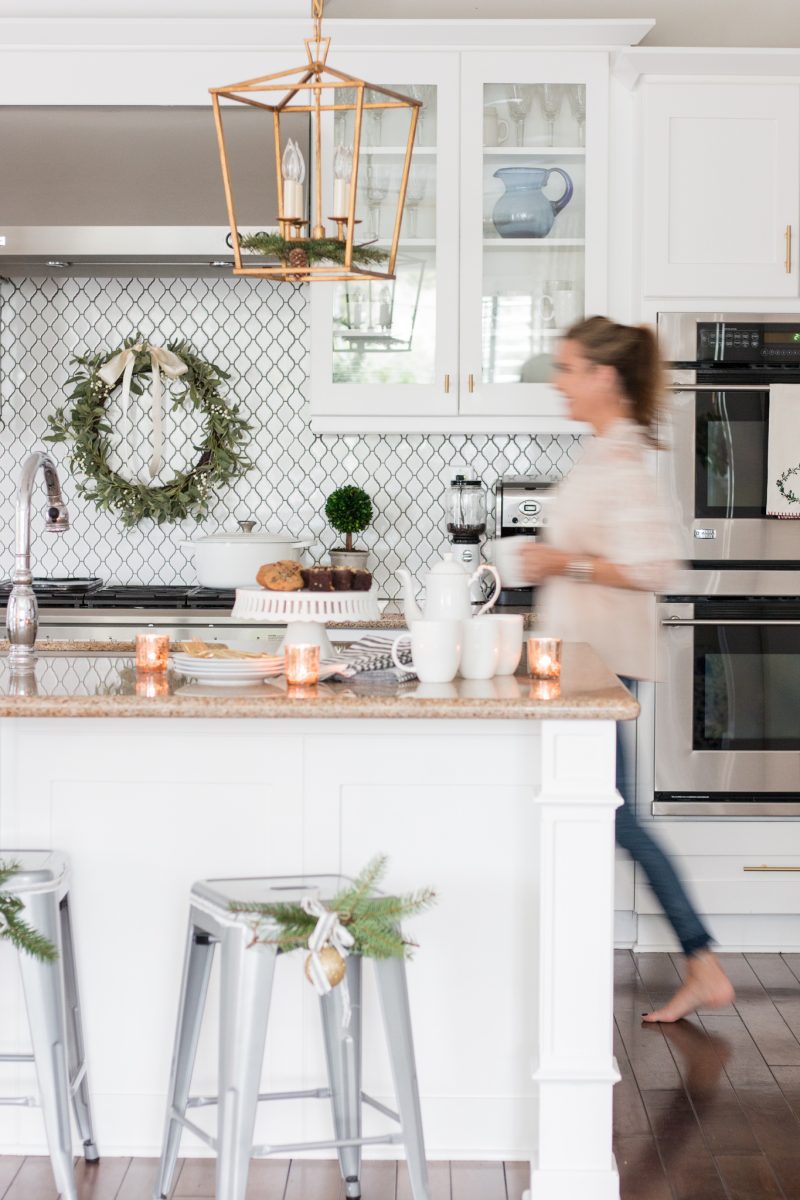 lace top | jeans | stools | pendants | votives | striped napkins
The kitchen really is the hear of the home and we love spending time in here. The kids are always at this island after school for snacks and homework time. It's one of my favorite parts of the day. You can find pendants almost identical to these right here.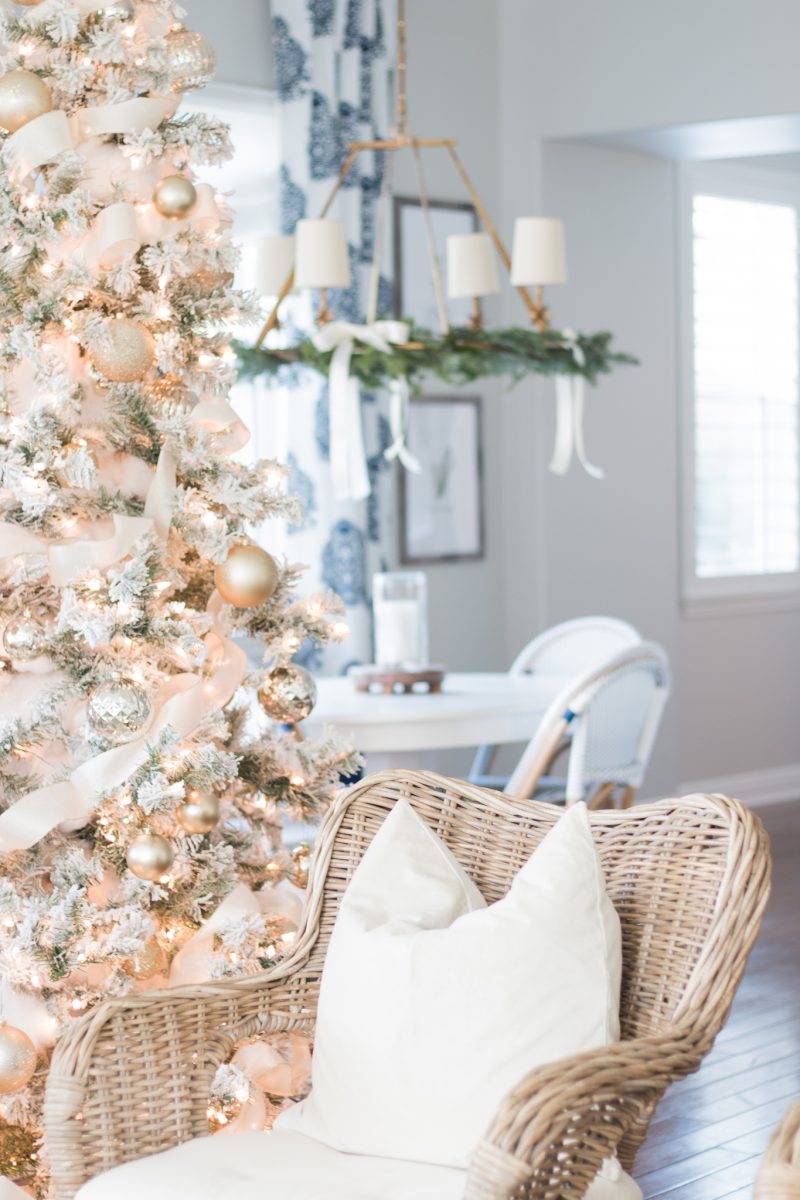 Our family room, kitchen and breakfast nook are all together which makes this space our favorite place to gather. This wicker chairs are from Ikea and have been a wonderful addition to the great room in case you are on the hunt. Very inexpensive and they add great texture to the room.
Those of you who have been following me for quite some time know that we have had a gaping hole in our ceiling since we moved in to this home. At long last we finally have a chandelier and I could not be happier. We went with one that coordinated with our nearby pendants but with a slightly different shape. And we can see our dinner now! Even better! This is another option that is quite similar.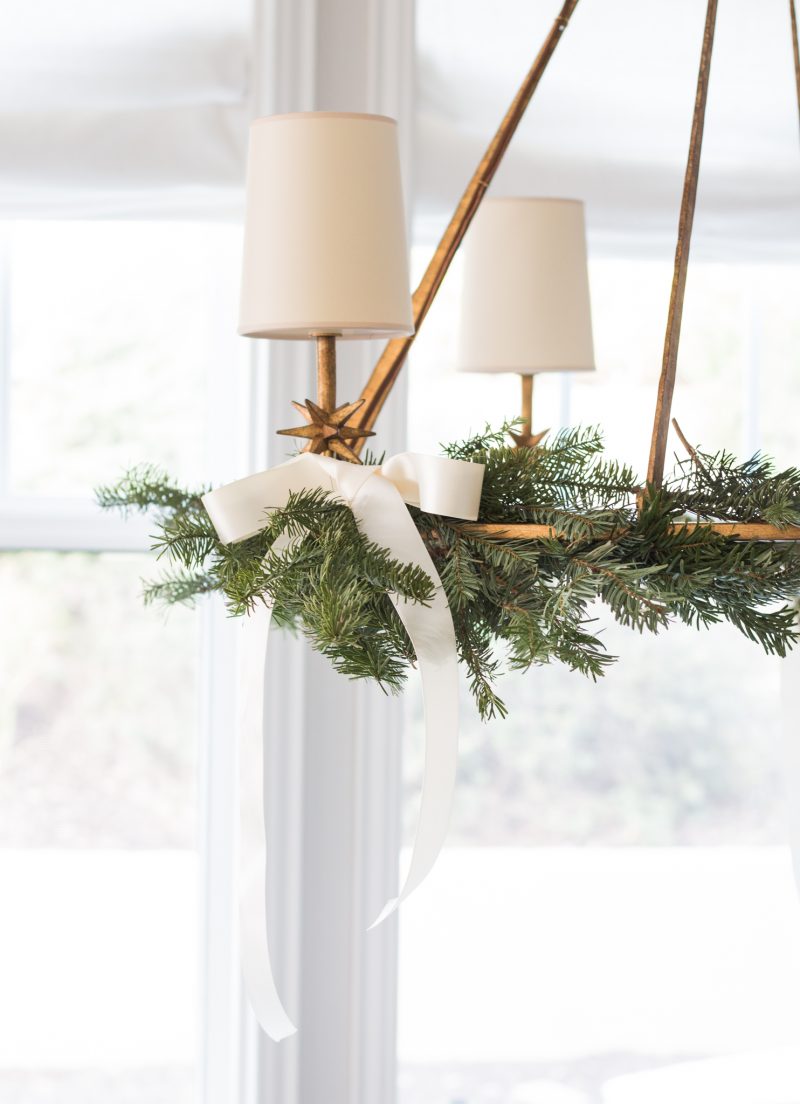 To get this look I just took very thin wire and attached fresh greens around the chandelier. It took about 15 minutes to do and it's my favorite holiday decor this year.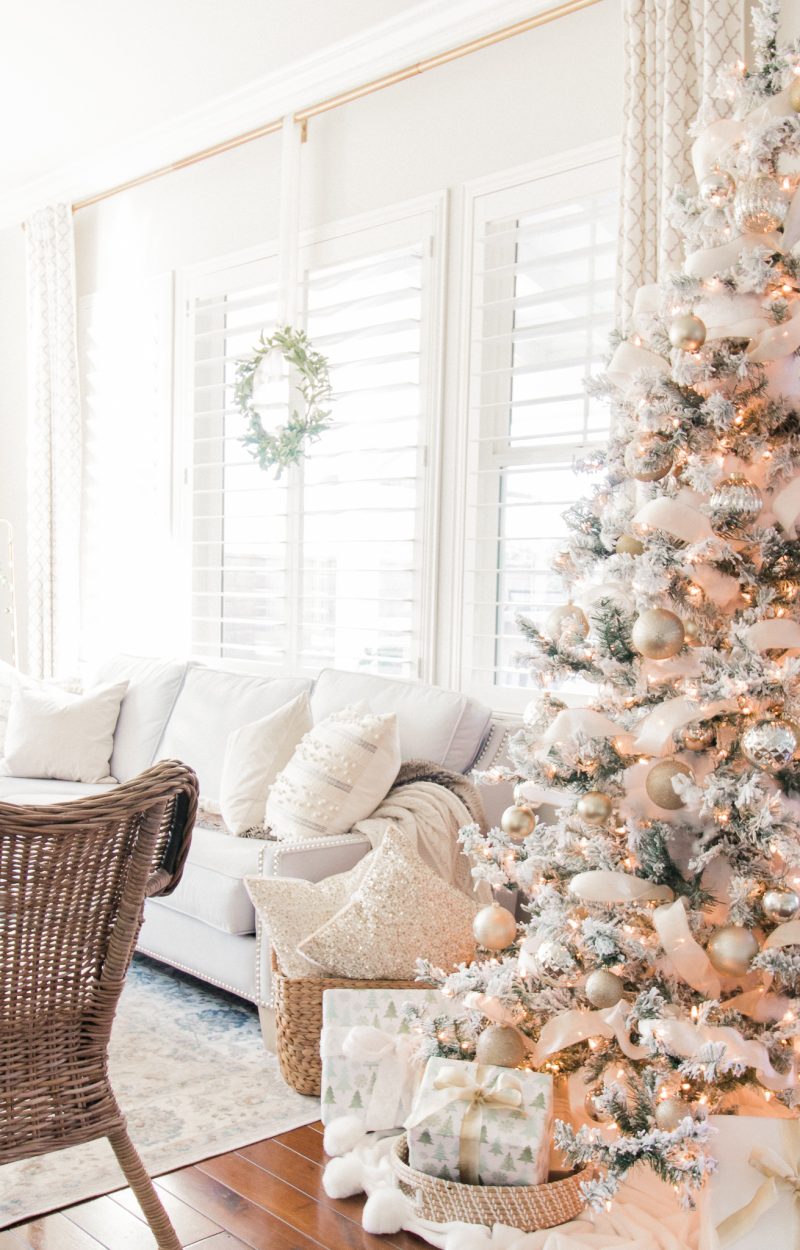 Our new addition this year is the frosted tree. The family questioned me a bit until they saw it. It's really so pretty and adds a warm glow to this space. It's been a welcome addition for sure. I shared inexpensive tips and tricks for trimming our tree in this post.  We do still have a traditional family tree in our living room which boasts all of the ornaments made by our children as well as those I have from growing up. It's the tree with all of the memories that is the special one but it sure is fun to have this glam version in here.
This was a garland from Joanna Gaines Hearth and Hand collection that I made into a wreath. So simple and a nice way to add some greenery to the windows.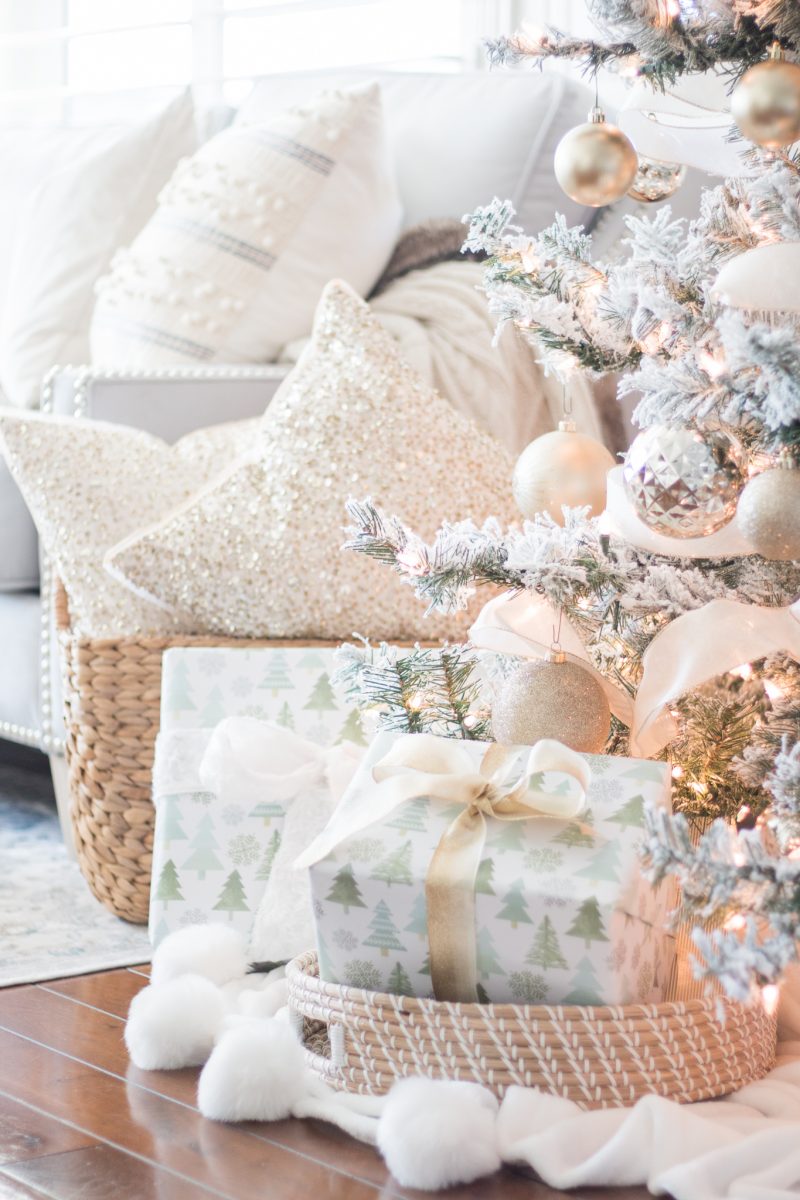 I opted to use a pom pom throw from HomeGoods beneath our tree this year. It's an inexpensive way to wrap your tree plus it can be used year round which I love.
OUR BUTLER'S PANTRY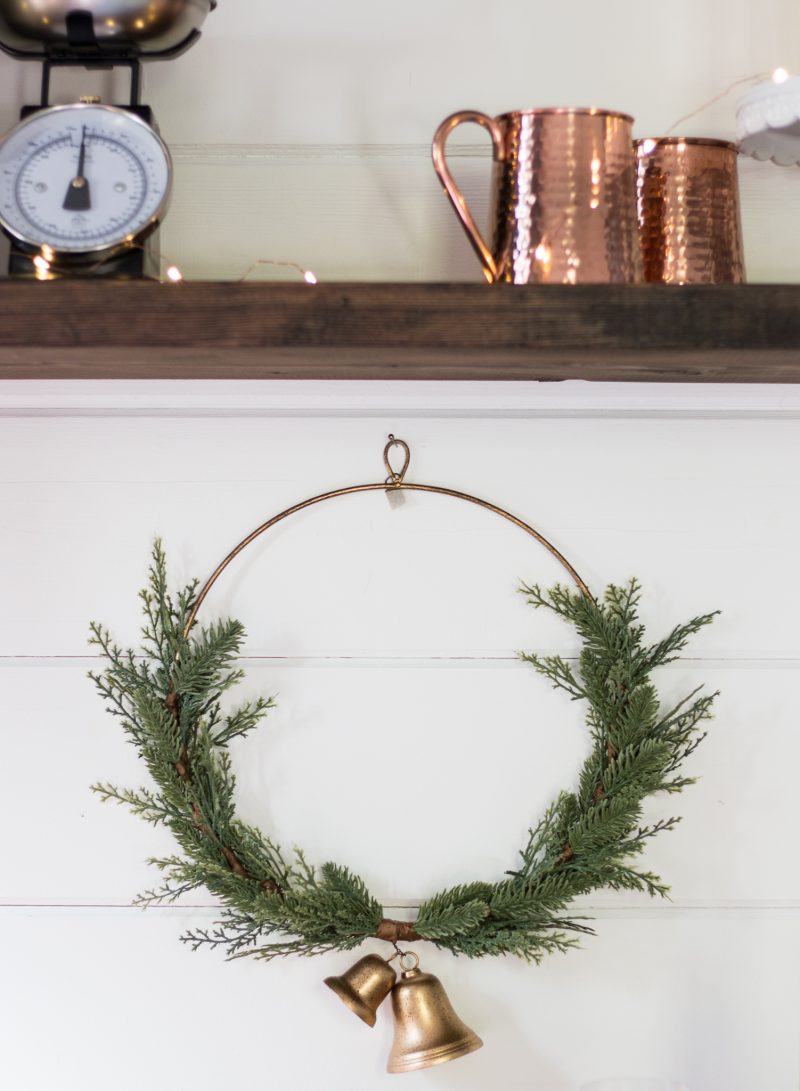 If you are new to my blog today,  you may not know that my husband and I recently converted a portion of our garage into a butler's pantry. After our amazing contractor gave us four white walls, we designed and worked on the space ourselves. It's been a true labor of love and it was so much fun styling it for the holidays.
This space is just beyond our kitchen and anytime we entertain it surprises me to see so many guests hanging out in here. Our school house pendant light is currently on sale.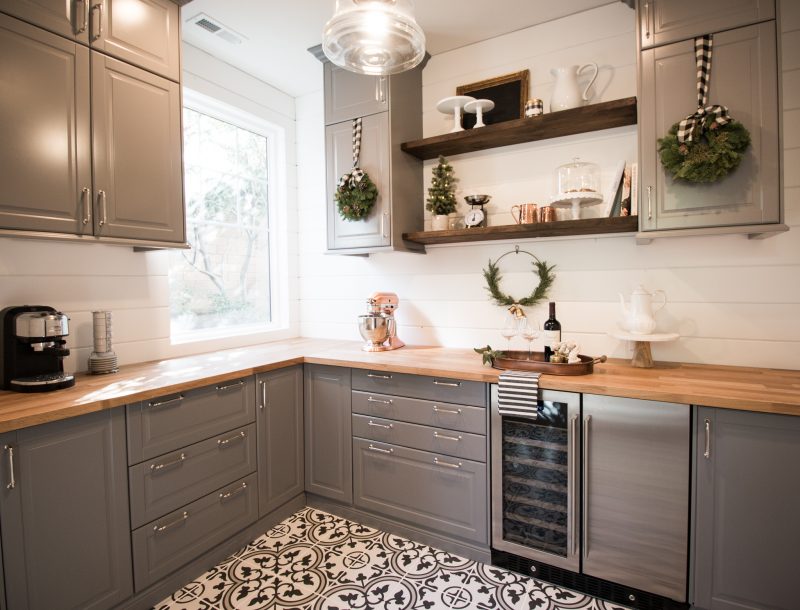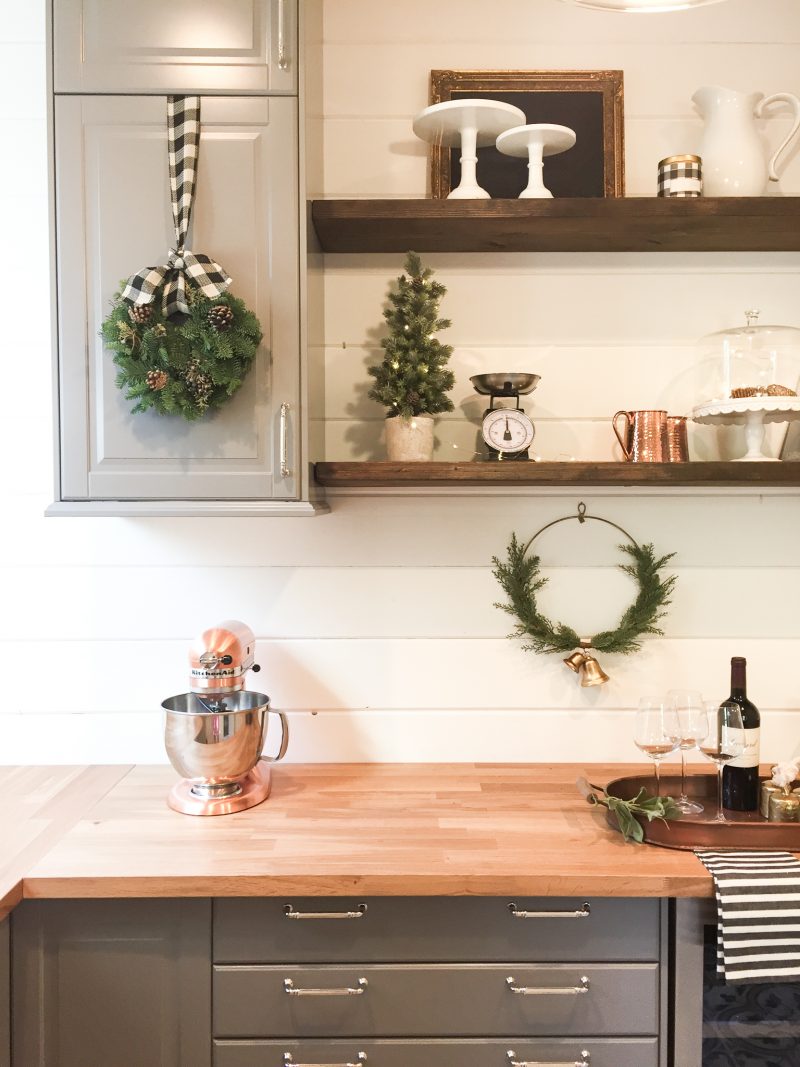 To hang these little fresh wreaths, I didn't do anything magical. I wrapped the ribbon over the top of the door and secured it with painter's tape! That's my secret weapon. It won't hurt your paint but keeps the wreaths secure for the season.


OUR DINING ROOM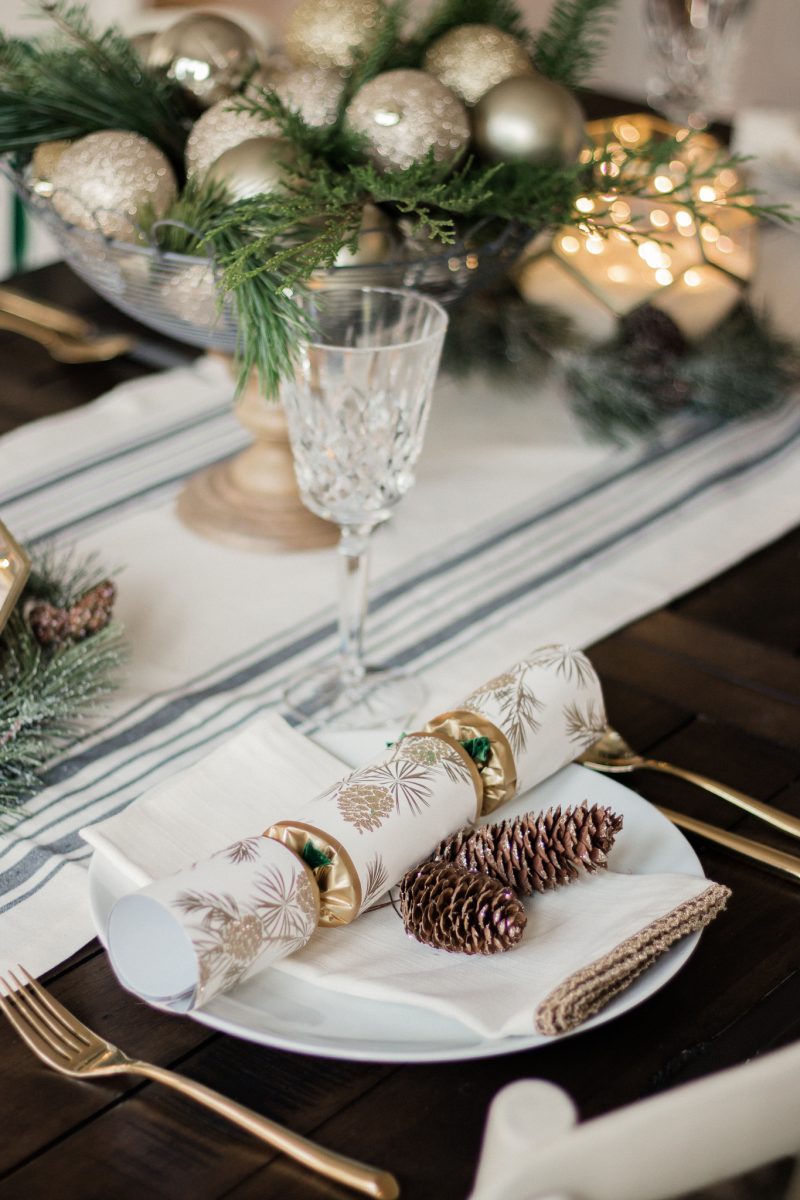 Here's a sneak peek into our holiday dining room, too. Green was definitely the color I gravitated towards this year. Something very clean and classic about it to me.


Thank you for joining me this morning! It's always so fun to invite you in and share a little bit of how we get decorate this time of year. If you need me I will be pouring some coffee and then working on our Christmas cards. One of my very favorite thing to do.
Shop Our Holiday Home