Good morning. Thank you so much for all of the sweet comments about our kitchen sink organization. I think we can all relate to those little hot spots that drives us nuts. I will try to share more of those quick updates. The questions poured in about our floors so I wanted to not only tell you what we chose but why we did and hopefully offer a few tips on things to consider when choosing new floors.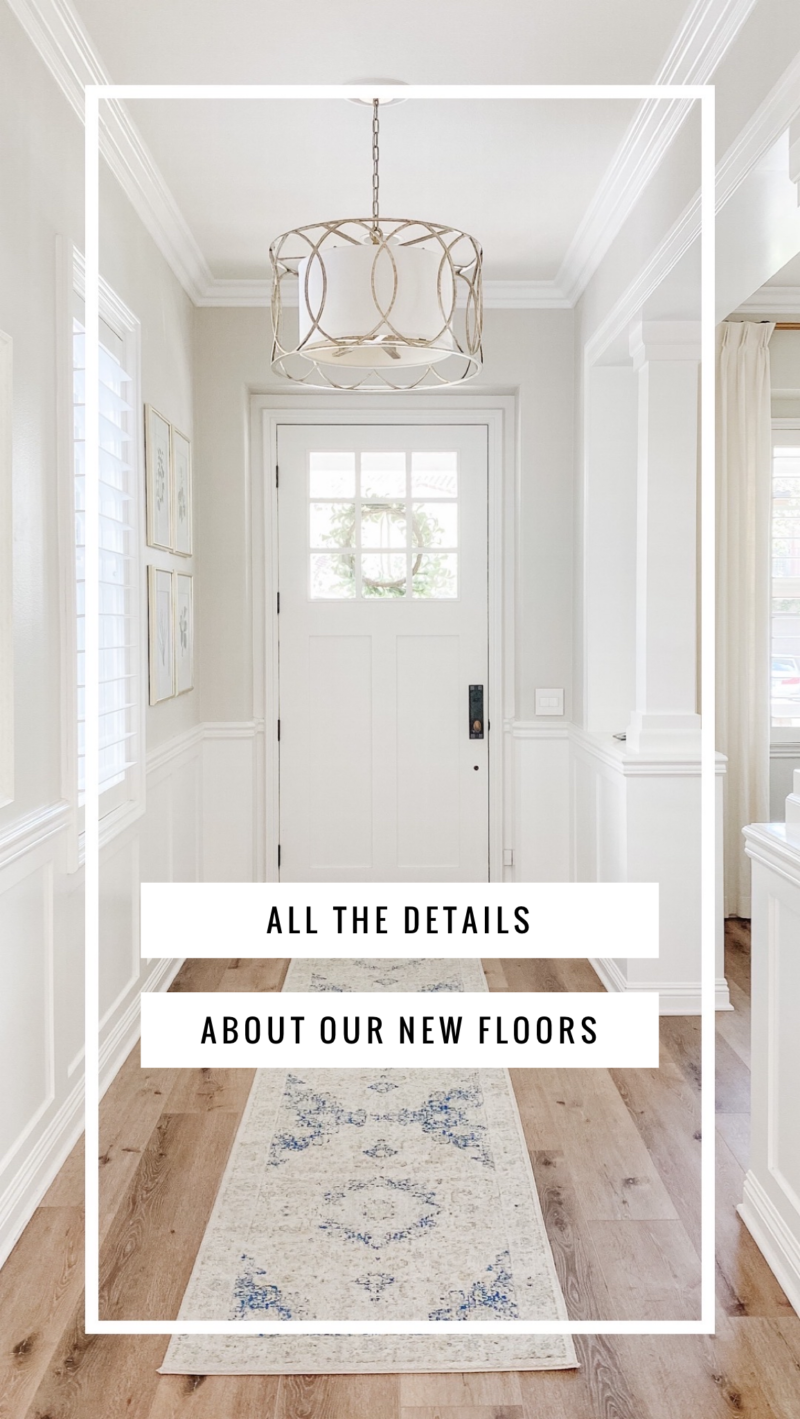 After so many questions about our floors, I wanted to get this post up right away so I searched my phone for photos I already had. I always use the Studio McGee presets when I edit my pictures (they are amazing). But they do lighten things quite a bit so I wanted to share some that are more true to the color.
WHY DID WE INSTALL NEW FLOORS?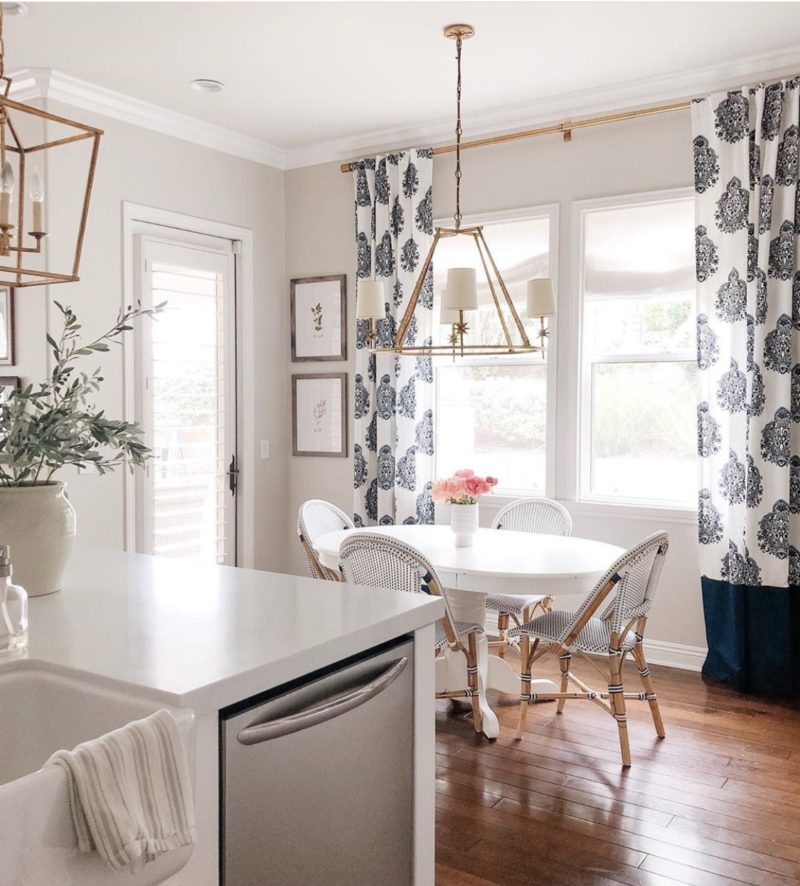 There's nothing better than pretty hardwood floors. I love them. Unfortunately we inherited flooring that was flawed. It had never been sealed and there were dents and scratches everywhere. One of the things I love about our home is all of the natural light that pours in. But with that came a huge spotlight on all of the scratches and dents. It was not in our budget to replace them when we moved in but looking back that would have been the time to do it.
LVP – LUXURY VINYL PLANKS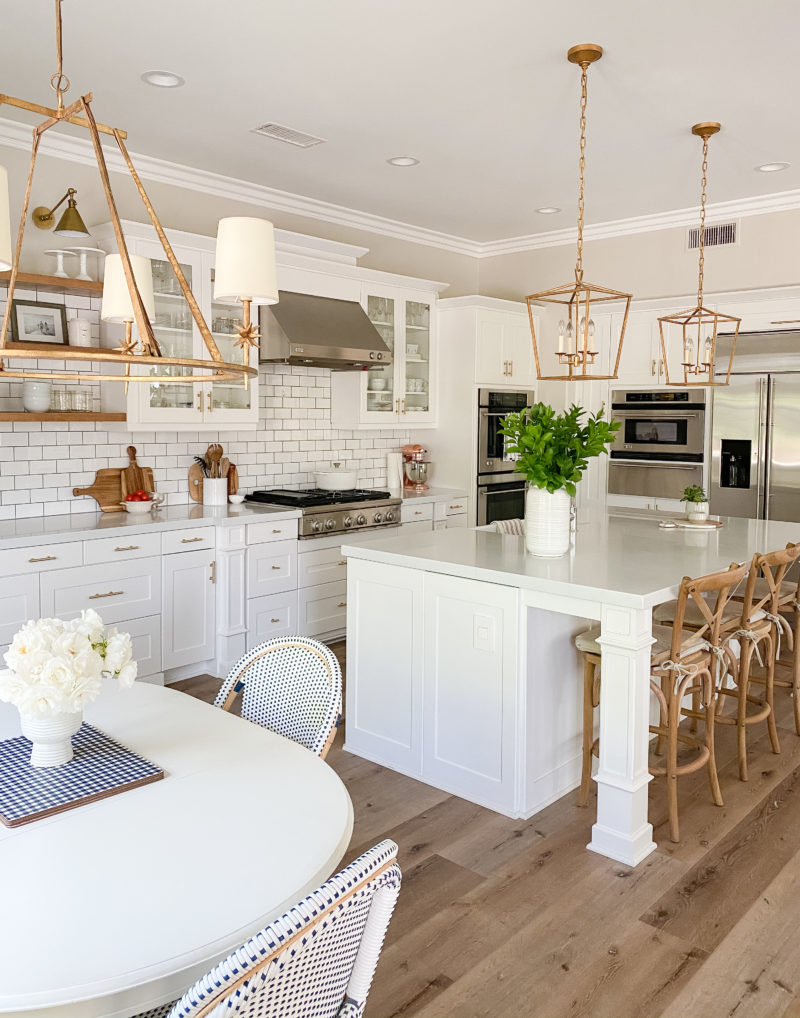 chandelier | chairs | table | pendants
After four years of going back and forth with how to change our floors, we finally decided that LVP was the right choice for our family. We looked into sanding the original flooring (still costly) but they said they could not get rid of the deep dents and scratches which covered 90% of our floors. That was a big disappointment as we thought that might be the way to go. Having just gone through an entire house repipe (for leaks) and experiencing dust and demo for months, we were not up for ripping the floors out. LVP can be placed on top of existing wood or tile. Be sure to ask your installer, though, because that can negate a warranty. Always do your due diligence on big decision like that.
WHY LVP FOR US?
For us, having the floors installed directly over our existing floors in less than a week was a dream come true. Not only that, the LVP fit our budget and gave us beautiful, durable floors. Something we always wanted. If we even slid our chair out from the table on our previous wood floors, it left a huge scratch. Knowing these are waterproof and virtually indestructible is fantastic. The affordability of the LVP option is a huge selling point as well.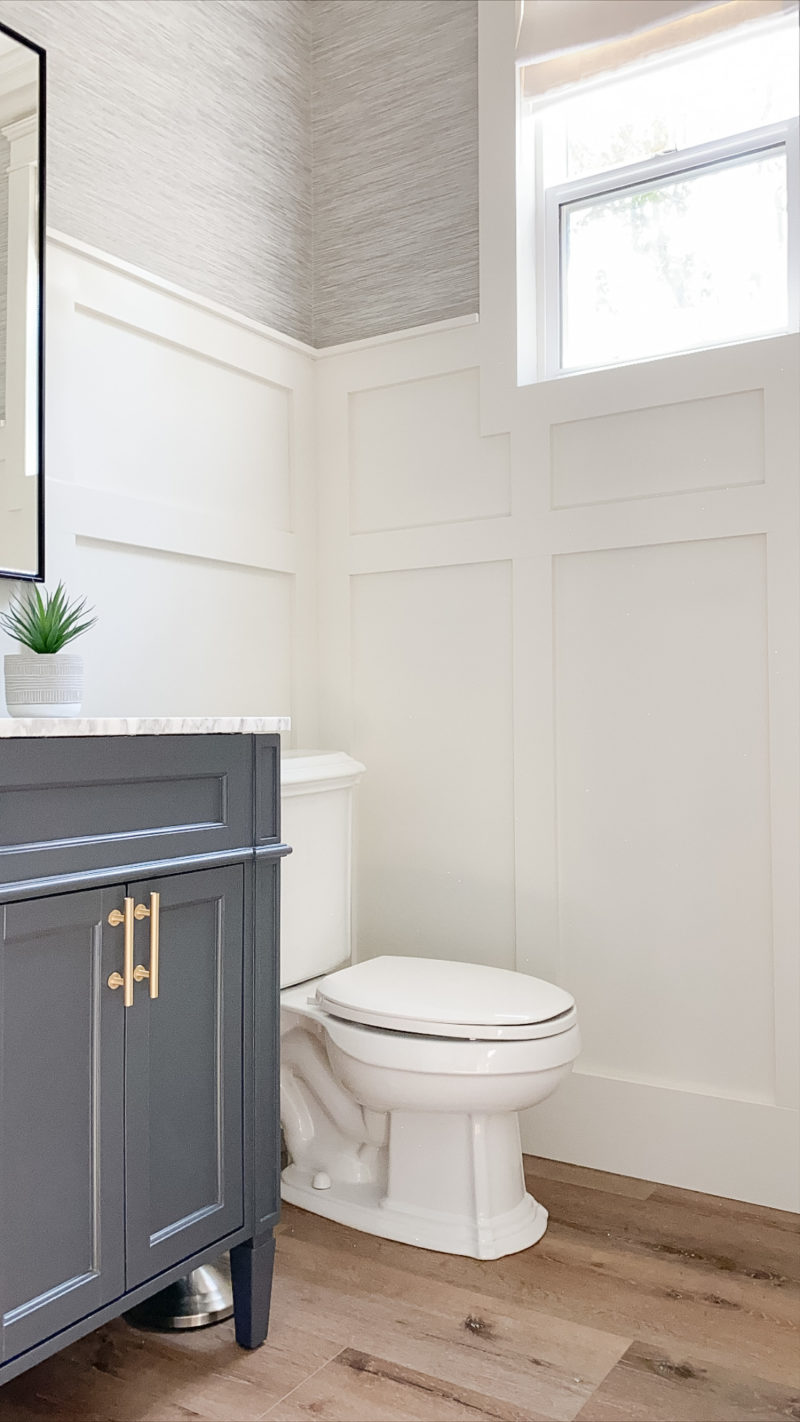 I love they way the look in our new powder bathroom. They compliment the dark vanity so well.
COLOR CHOICE
No matter if you choose real hardwood or LVP, the following tips may help.
The good news is that there are a million options. The bad news is that there are a million options. You really need to think about what you are looking for. Without question, the trend has swung towards extremely light floors. While I absolutely love that look, I knew it wasn't right for our home. Part of why I loved our previous floors was because of the warmth they added. We've chosen light walls and a great deal of white millwork so a medium tone warm color was what I was looking for. I also think they have staying power. Once you decide if you want light, medium or dark you can begin to narrow things down.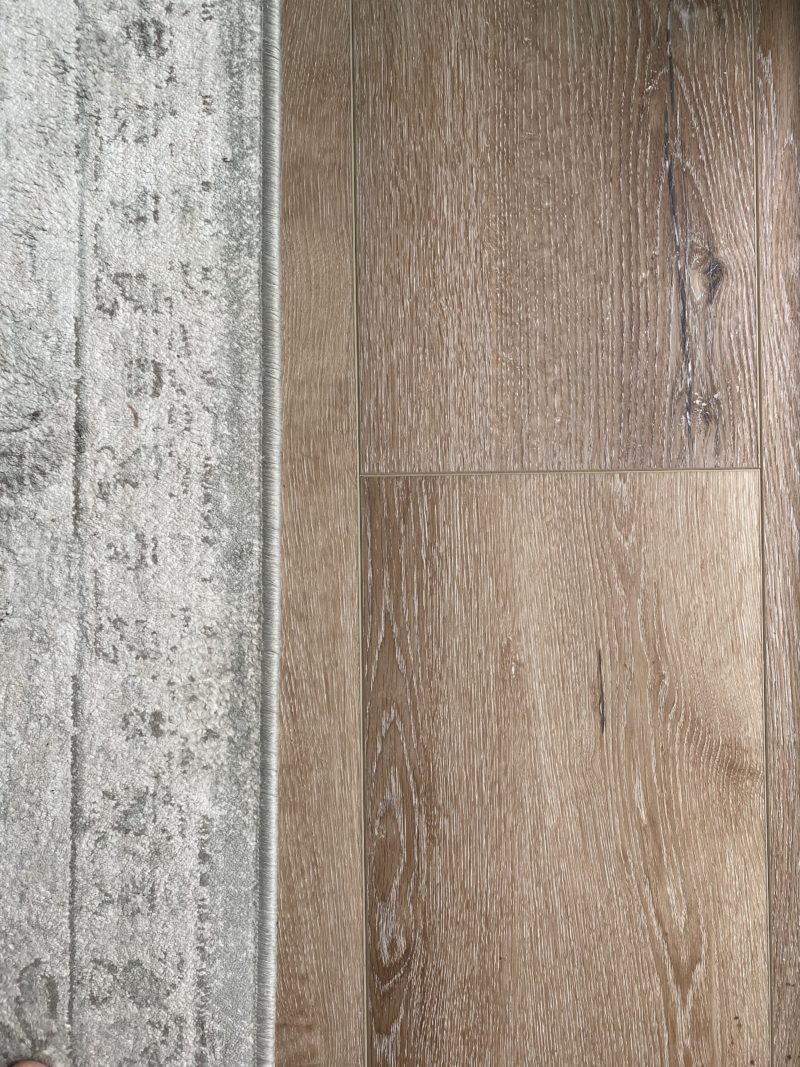 THINGS TO CONSIDER
After you know the color family you are looking for, consider how much movement you would like. You can install floors that are very uniform or go with the opposite. My advice would be to look at your own home rather than anyone else's. It's too easy to swoon over other's photos and let that sway you. Your unique space will lead you to the right decision. Do you have a ton of movement in your kitchen countertops? Should you keep your floors more mellow? We chose countertops without a lot of movement and we were drawn to the floors that had more color variation and knots. That is such a personal choice. Go with your gut. When you bring samples home, you will know what you like. I must have brought 15 samples home and I kept coming back to this one.
MOVE THE SAMPLES AROUND
Another piece of advice I have is to really move those samples around. Sometimes I thought I liked a lighter one and then I placed it next to some of my furniture and I didn't care for it at all. In our home, many of the lighter options read very yellow. My point is you don't want to choose a floor and then have to start changing up your decor. Take your time and gather the samples. You'll know. Or call in a friend or two an have them give you their thoughts.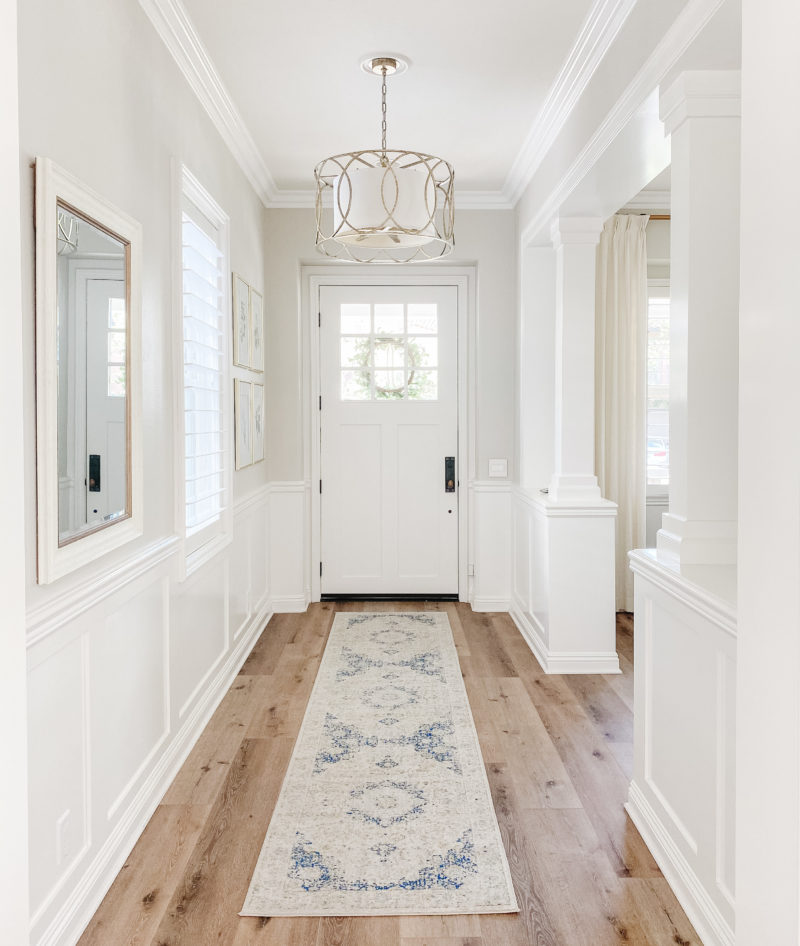 STRESS FREE
I think the last thing I will add is that the stress-free living with these is AMAZING. We live hard in this house and my son and his friends can tear through here and I don't worry. He has be known to sneak in with his roller blades on and grab a snack when he thought I wasn't looking. Our previous floors would have left a track. We don't worry at all about these floors and that is a gift.
Our specific floors are LVP by Republic Flooring. It's the Great Oregon Oak collection and our color is Sessile Oak. Our neighbor had installed them and that was how I was introduced to them.
I hope this has been helpful in your own search and I am sorry it has taken me so long to blog about the details. Feel free to email me if you have any questions or leave a comment below. Enjoy your day!