*Post written in collaboration with World Market.
It's the Submit Your Space design day! Before I reveal the family chosen, I want to thank everyone who took the time to photograph their homes and send me their stories. I was completely blown away. Your homes are truly beautiful. I kept telling my husband that I wanted to choose every single entry. While your home may not have been selected, I hope my design today will give you some ideas for your own space and help jump start the process.
I was so impressed with Linda's willingness to open her home to her dear parents. While my mom and dad never lived with us, I can certainly relate to helping with the caregiving and just how different life can be when faced with a diagnosis like ALS. Creating a beautiful space for three generations to enjoy makes me so happy. I love picturing Grandma and Grandpa sitting around the table sharing their wisdom with the grandchildren. Priceless.
CURRENT DINING ROOM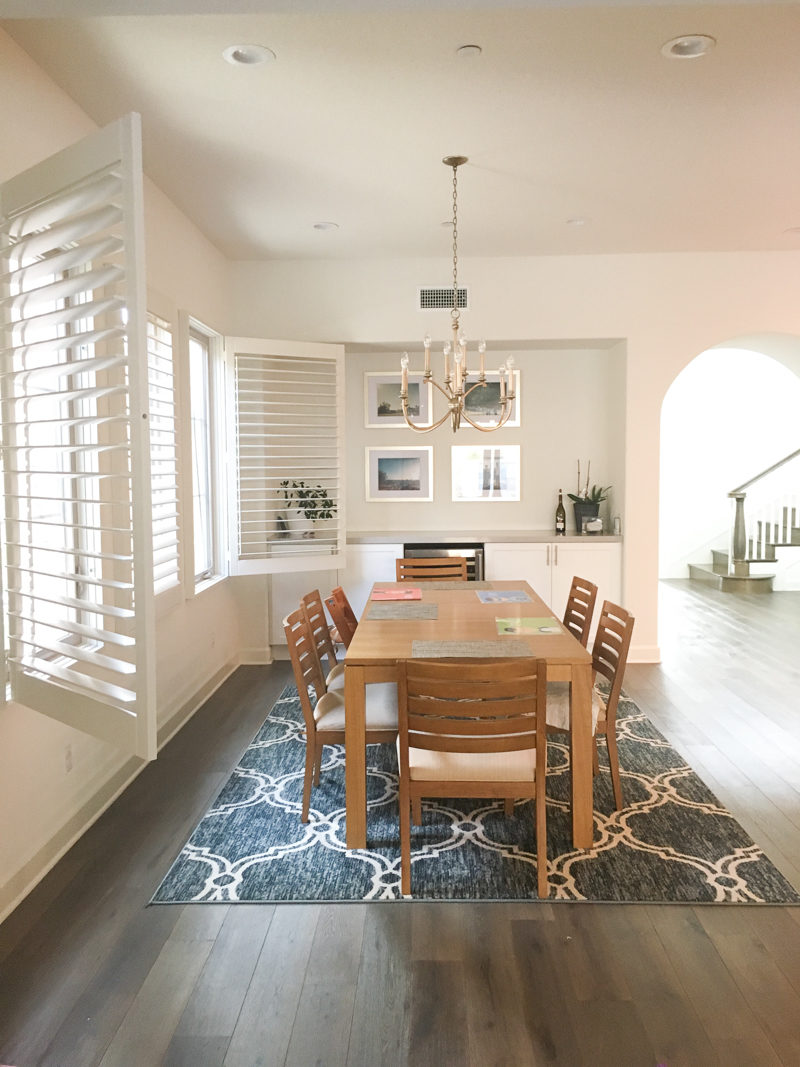 Beautiful, right?! Every home submitted was so pretty. This space is already so lovely. We just need to add some warmth and texture.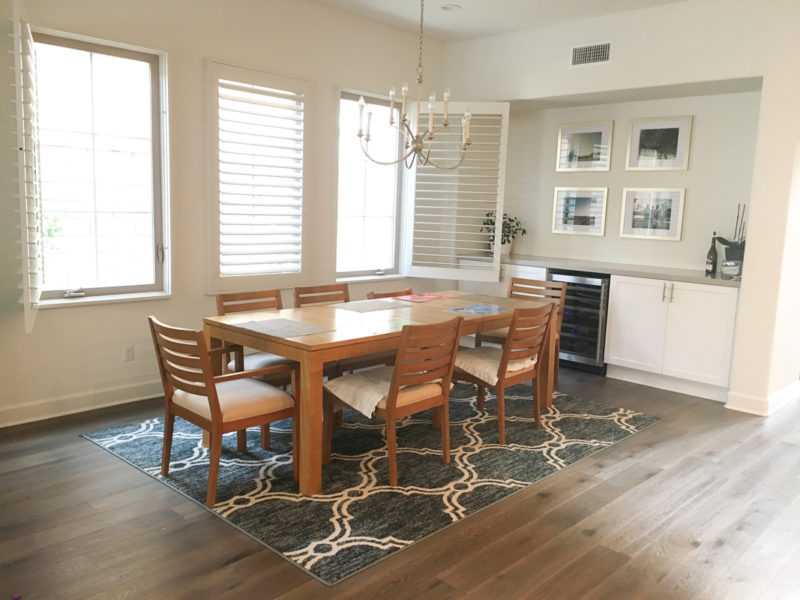 The adjacent kitchen has darling navy and white barstools so I want to keep that in mind when creating a design for this space. Plus we know they have a large family and the table needs to sit at least seven.
I want to create a space that feels inviting and warm. Linda is drawn to a bit of a coastal vibe so my plan is to design a room that reflects that.
COASTAL ELEGANCE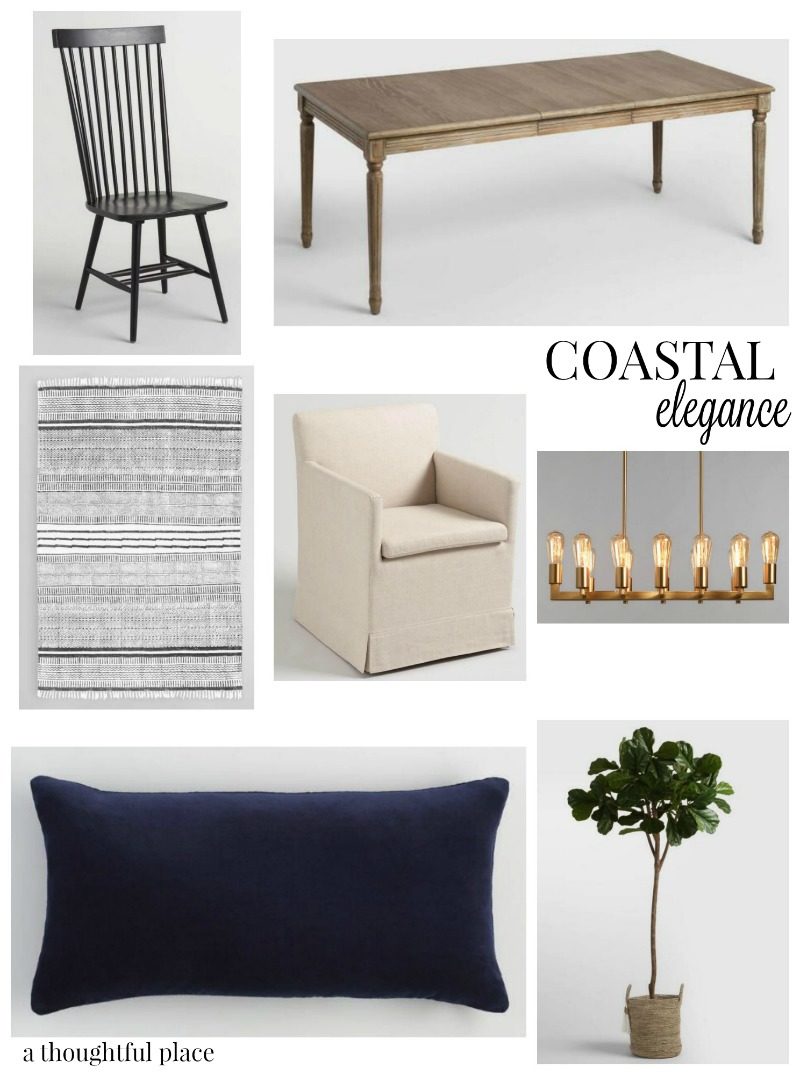 The problem with designing for other people is that I suddenly want to redesign my own dining room. Everything I chose is neutral but rich with pattern and different finishes. The gray and white striped rug is beautiful and offers more of a coastal feel than the current rug. The black farmhouse chairs are chic and fun and easy to clean!!!! When you have a house full of people, that is key! I like the idea of adding the softer chairs to the ends with a pop of navy on each one. I adore this table. The color is gorgeous and it has a leaf so that it can extend to 76″.
The chandelier I chose is quite similar to what they have but with a cleaner, more updated look. I love the brass mixed with the navy textiles.
SHOP THIS LOOK

LAYER IN WARMTH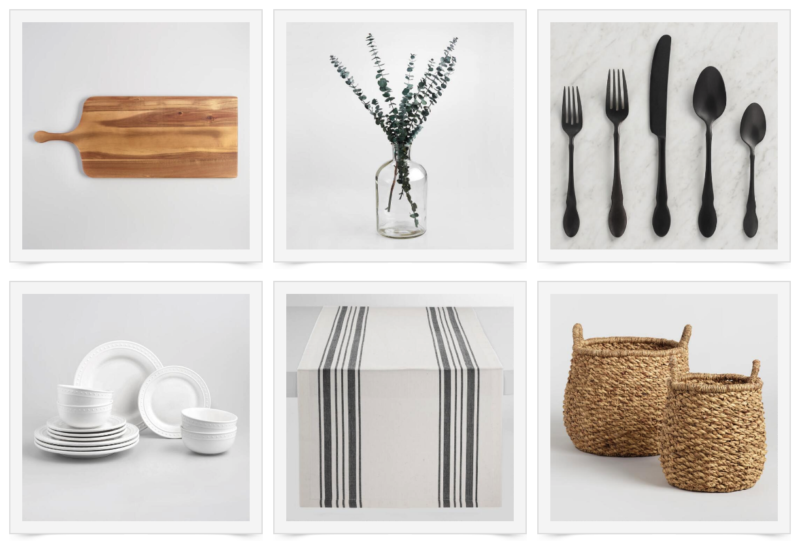 The key to creating a warm and cozy feel is layering in the accent pieces. My recommendation would be to add shiplap in the pretty bar area. It would tie in with the coastal vibe and add architectural interest. I would then add in two large vases with oversized arrangements on either side of the artwork.
Have you seen the matte black flatware? LOVE. It looks so sharp and current paired with crisp white dishes.
The fiddle leaf fig tree can be placed to the left of the windows inside one of these beautiful baskets. It will add visual interest to the space and soften the lines of the shutters.
SHOP ACCESSORIES

A TOUCH OF COLOR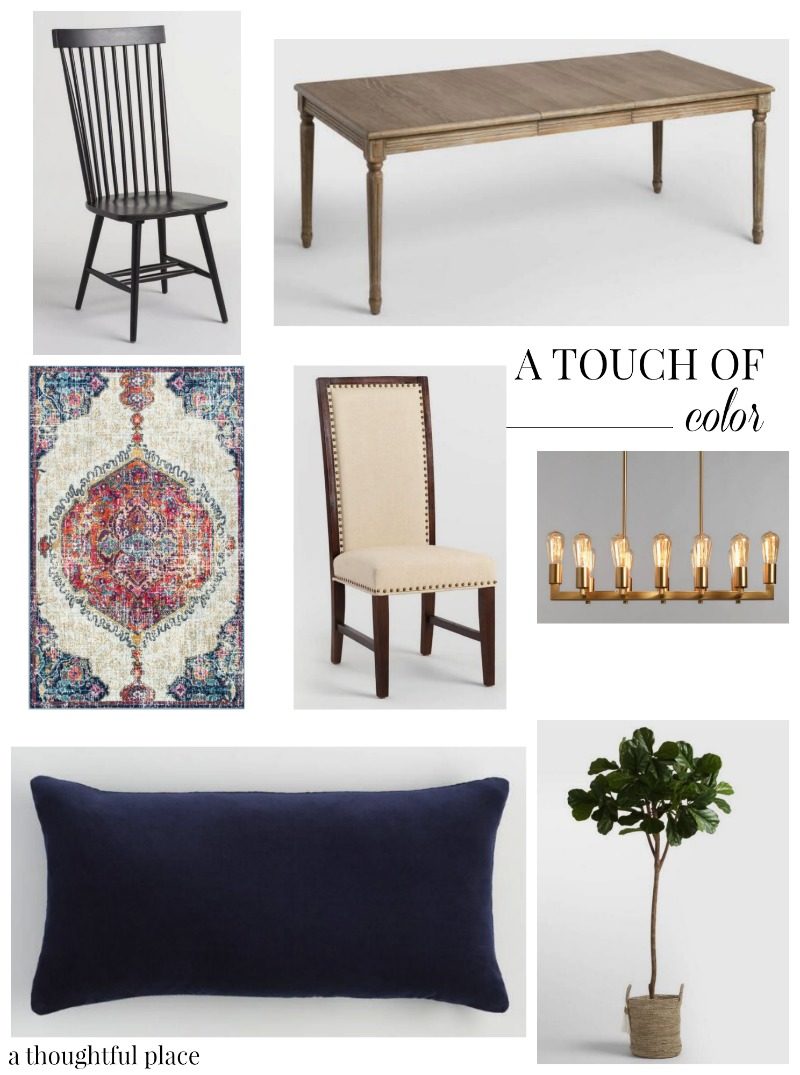 I wanted to offer one more design in case the family is up for incorporating more color. This rug is so vibrant and pretty. And the chairs would be in keeping with a traditional look.
SHOP THIS LOOK

Linda, I wish you and your family all of the best and years of happy memories gathered around the table. I hope these design boards provide you with the inspiration you are looking for.
And thank you to World Market for providing the family with $200 to help get the design party started!
A heads up that all dining furniture is 30% off right now.
Now off to spend time with mama. Enjoy your day, all.