Thank you for all of the wonderful comments on the "Humble and Kind" post. I really love that the song resonates with so many of you, too. As some of you mentioned, I can listen to that song over and over and it still strikes at my core. A little bit less serious today and just a couple of easy to wear favorites. I think much of my style is dictated by comfort but I still want to look pulled together. Here is what I am loving right now.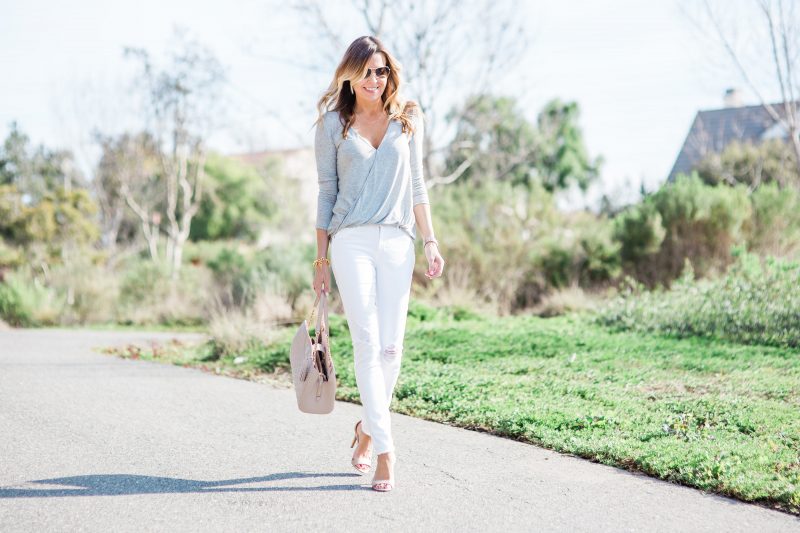 If you are on Instagram, you may have seen me post this top. It's a home run as far as I am concerned. It's a step up from a t-shirt just because of the darling cut. It drapes beautifully and comes in a few colors. I really love this top.
*UPDATE: This top is now on sale for $20!!! Sooooo good!!
EASY TO WEAR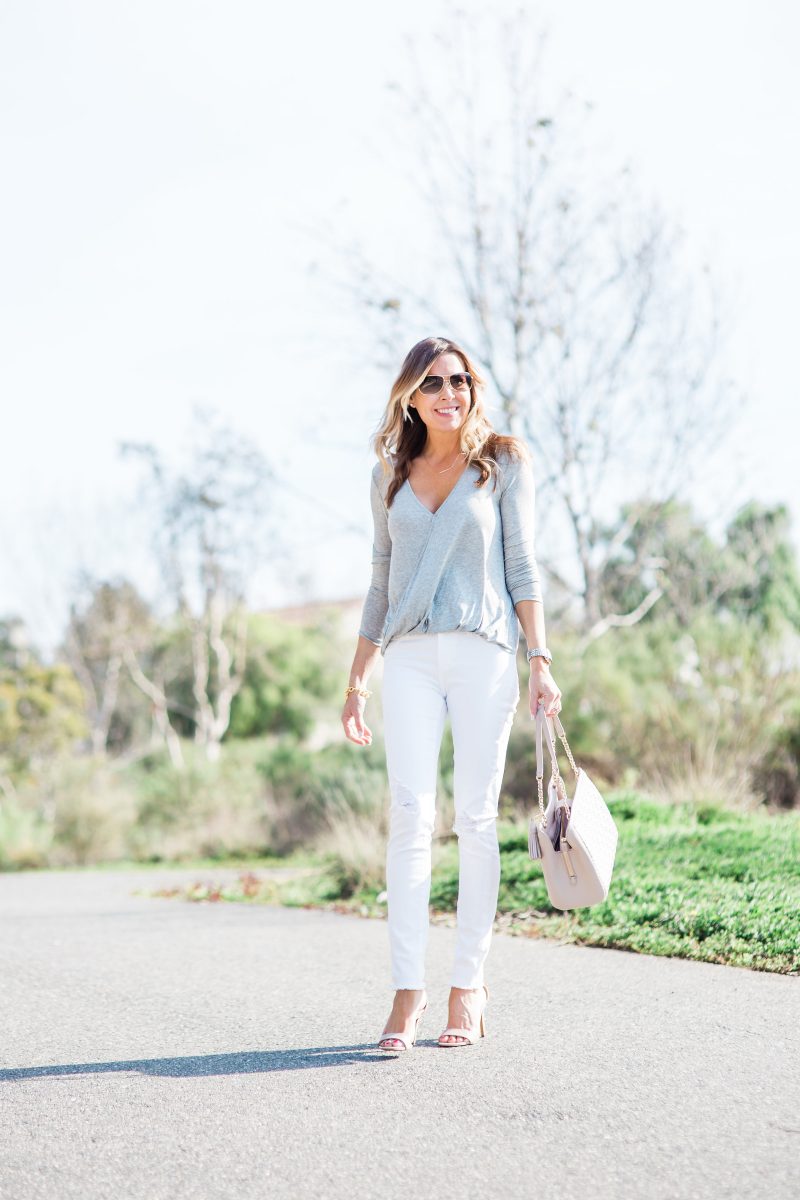 I've been getting so much use out of this handbag. It was a gift from my husband but this one is a very similar look. The blush/nude color goes with everything and I receive compliments on it all the time. I think a light handbag works in winter and spring. This is another option of a really cute blush bag. Loving the two-toned. This outfit works well with a bit of a heel for evening but I will also wear this exact look with these mules.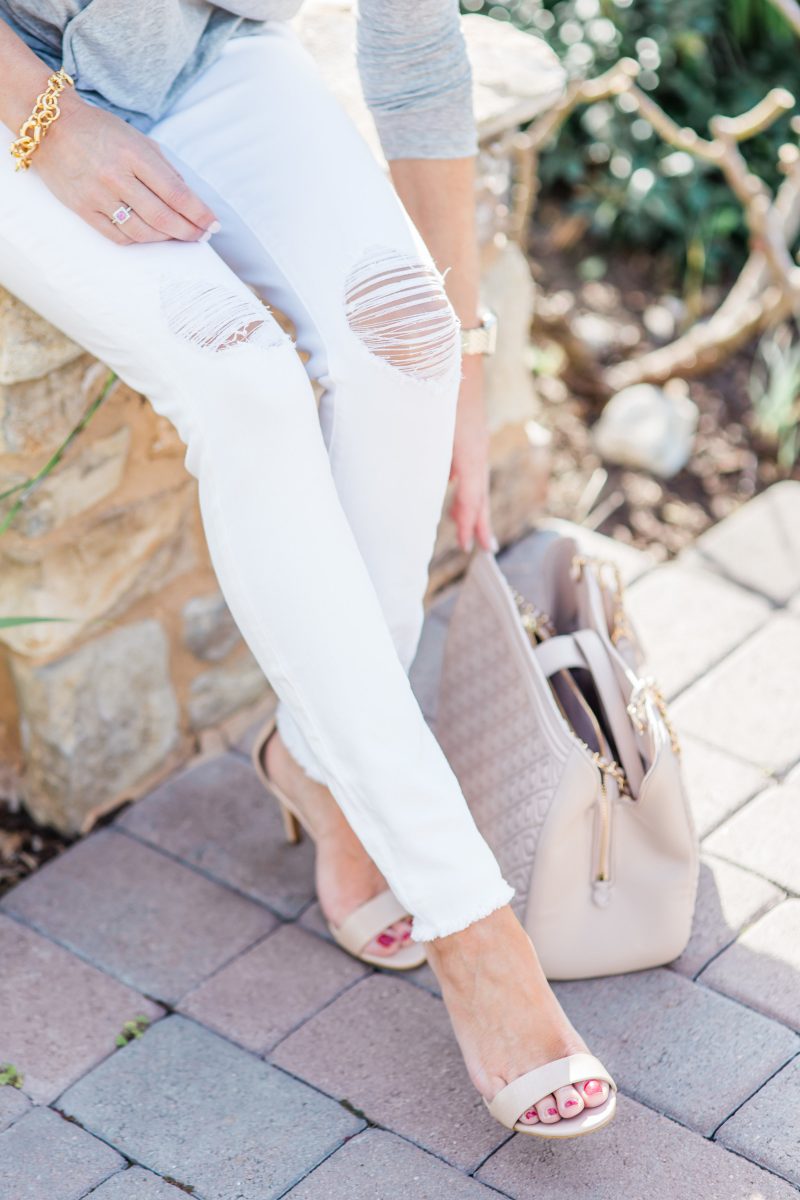 You've seen me wear these Articles of Society white pants for so long now. They recently came out with this version. They have a bit of distressing and the ankles are frayed. I went with a 25 (my usual size in this brand) but they do have some stretch to them. I love that they are long and not cropped. Works well paired with a little heel. I had breakfast with dear friends yesterday and one of them was wearing similar jeans with this sweater.  Really great outfit that I want to copy!
SOFT NEUTRALS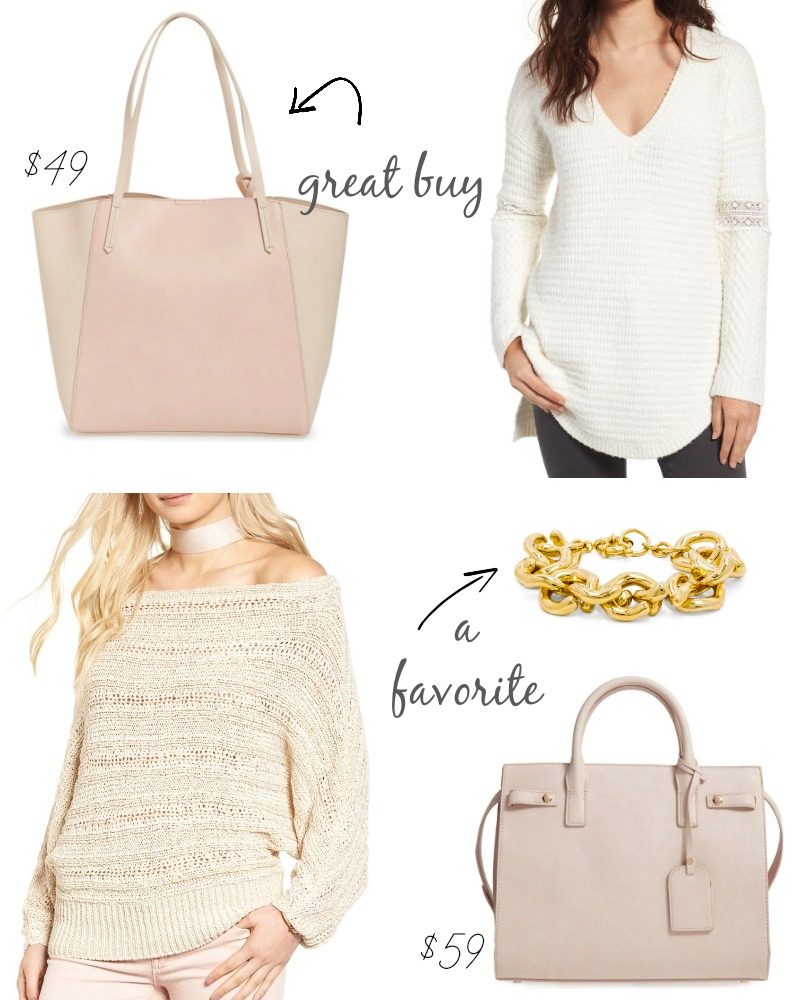 tote | v-neck | bracelet | sweater | satchel 
Grays and creams have been showing up a lot lately with my outfits. I just really love the light neutral colors in winter. Plus they transition so well into spring. The gold link bracelet is a new one from Baublebar and looks cute paired with casual tops.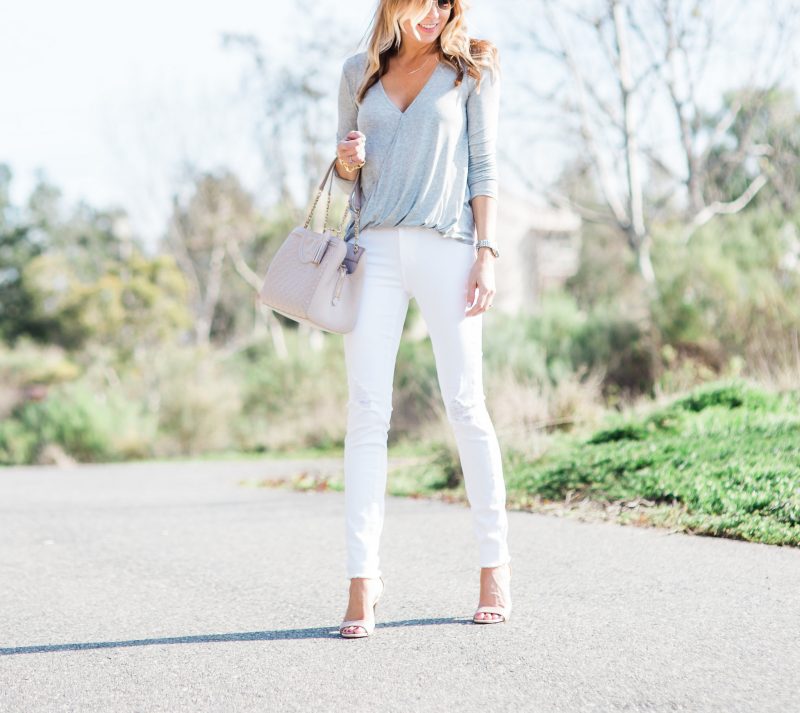 white pants | top | heels | handbag | bracelet | necklace | sunglasses
Very much appreciate that you can eat and drink until your heart's content and it won't show in this top. And even though it's quite simple and casual, it still has a flirty vibe. Great one to dress up or down. It says true to size but I am wearing an XS.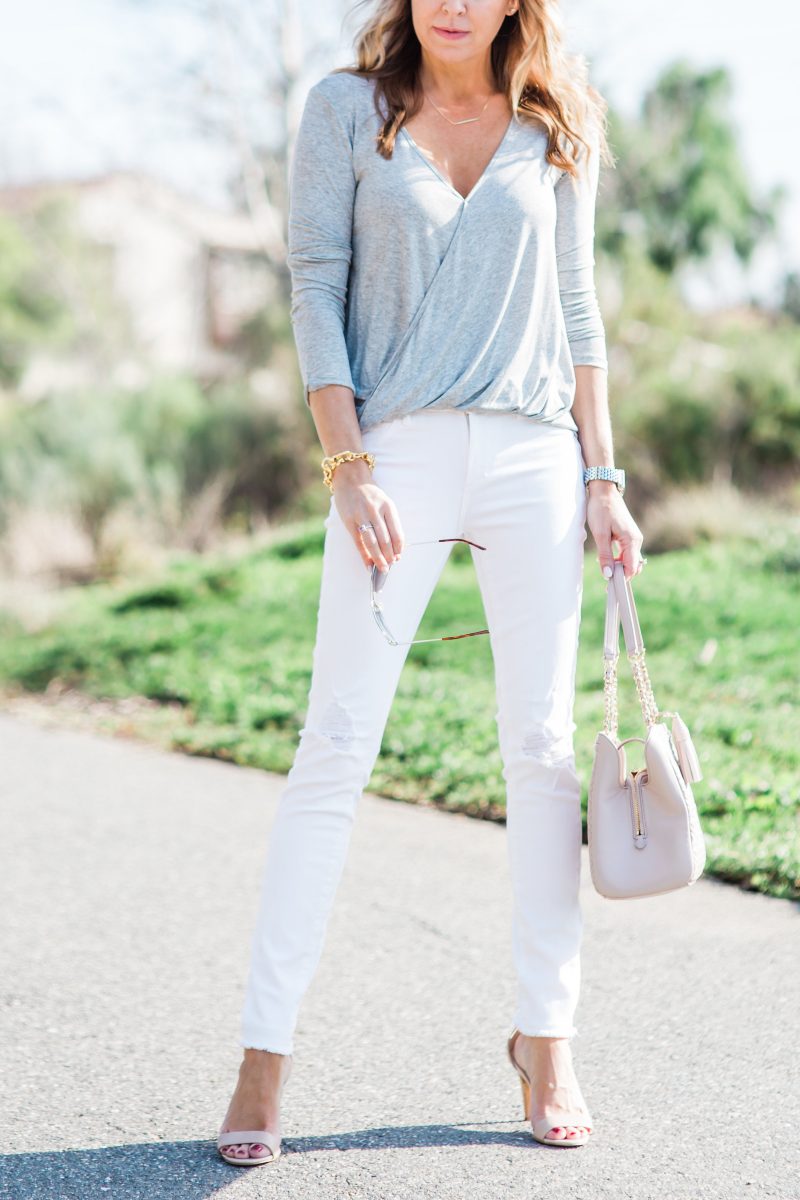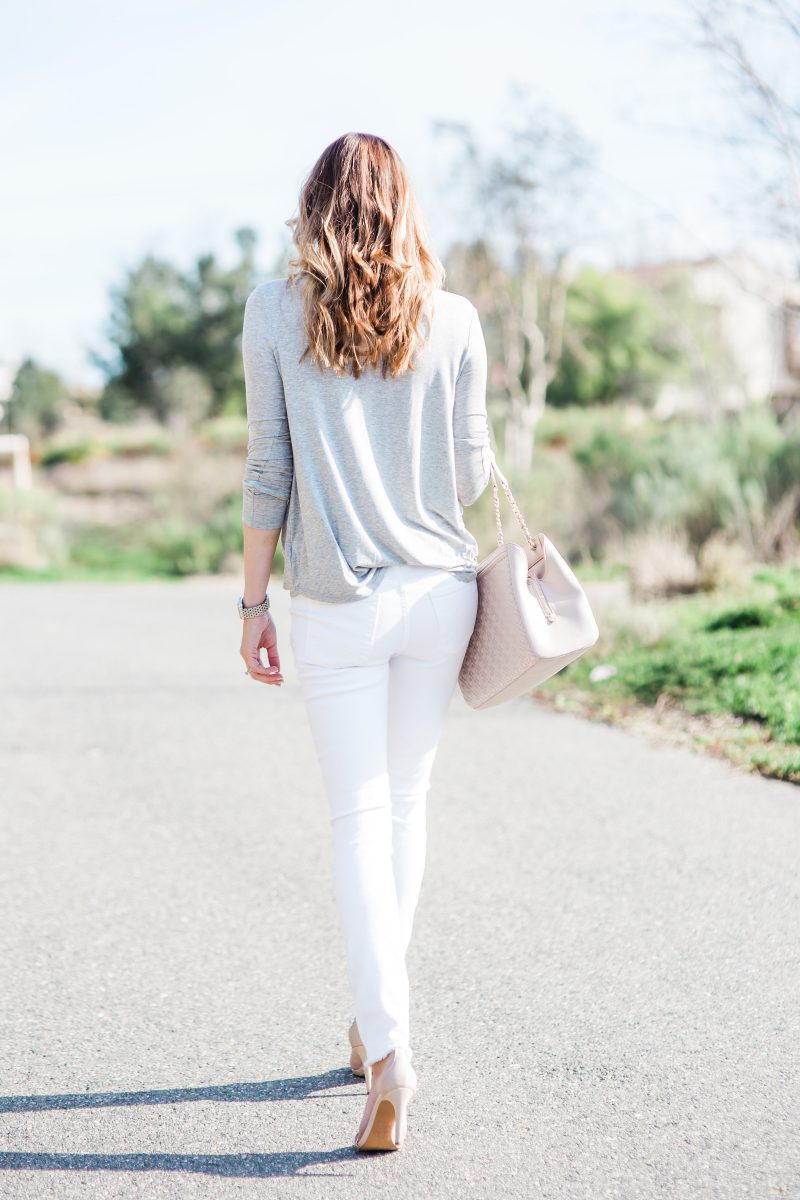 The top can hang down longer in back or you can tuck in just a tiny part of it to make it drape like this. I like it both ways. So what do you think? Versatile top? It's already one I am wearing on repeat.
How's your week shaping up? We are in a pretty good groove with homework hour and sports practices so hoping to keep that rhythm going. Sneaking in a dinner out with a dear friend tonight which should be good for the soul. Always nice to carve out time to foster those friendships that are near and dear.
Lastly, thank you to my sweet readers who have been sending easy recipes my way. You're helping to make our crazy Fridays much smoother. Have a good day, friends.
*Affiliate links used / Photos by Gabi Wells Photography 
Shop the Post