Thank you for all of your sweet and kind comments about our weekend away.  I love hearing everyone's stories and thoughts.  I am still unpacking as I jumped right back into a fun project upon getting home. Today I am turning to Fall Fashion Finds & Plaid Scarves. I gave you a sneak peek a few days ago and wanted to chat more about them.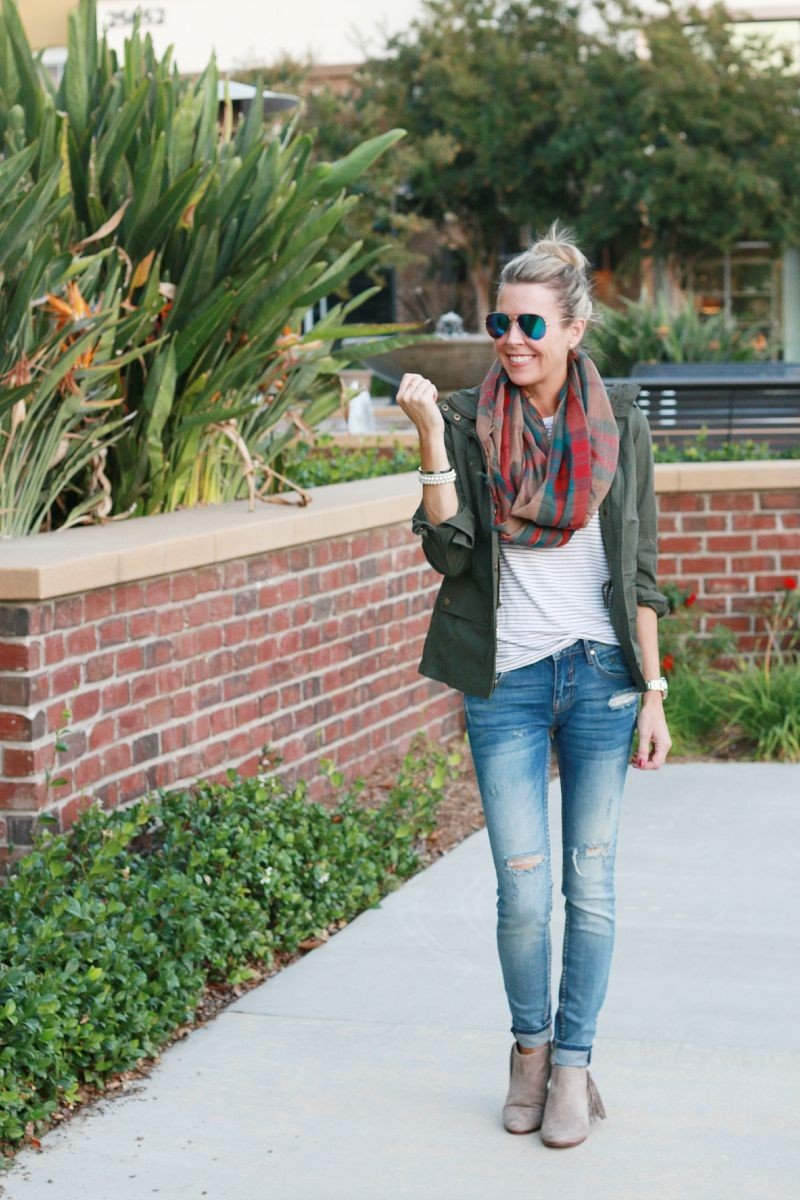 distressed jeans | t-shirt | jacket | scarf | booties | sunglasses
Shop This Look

I mentioned Gray Monroe, the darling online shop owned by my girl Jenny,  in my Saturday Shopping post.  I had been waiting for this lightweight army green jacket to be restocked and as soon as it was I scooped on up. I also have darling vest I can't wait to show you. This jacket is perfect for crisp fall days and is a fun layering piece. I have been wearing my striped tee with so many outfits, too. I think any basic striped tee is a great staple for Fall. Do you have one?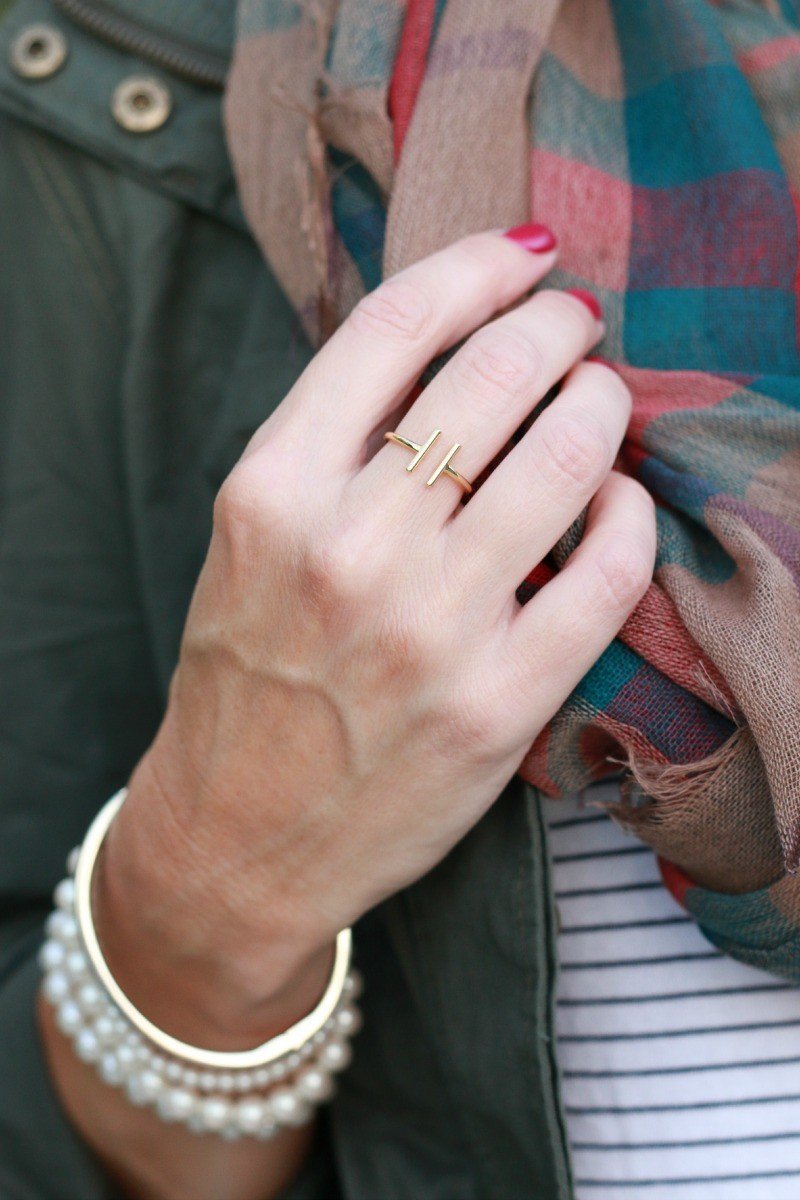 I wanted to share an up close look at this ring, too. I love how feminine it is. And it's a great price. And the warm color combination of the plaid scarf are such a great fit with the jacket.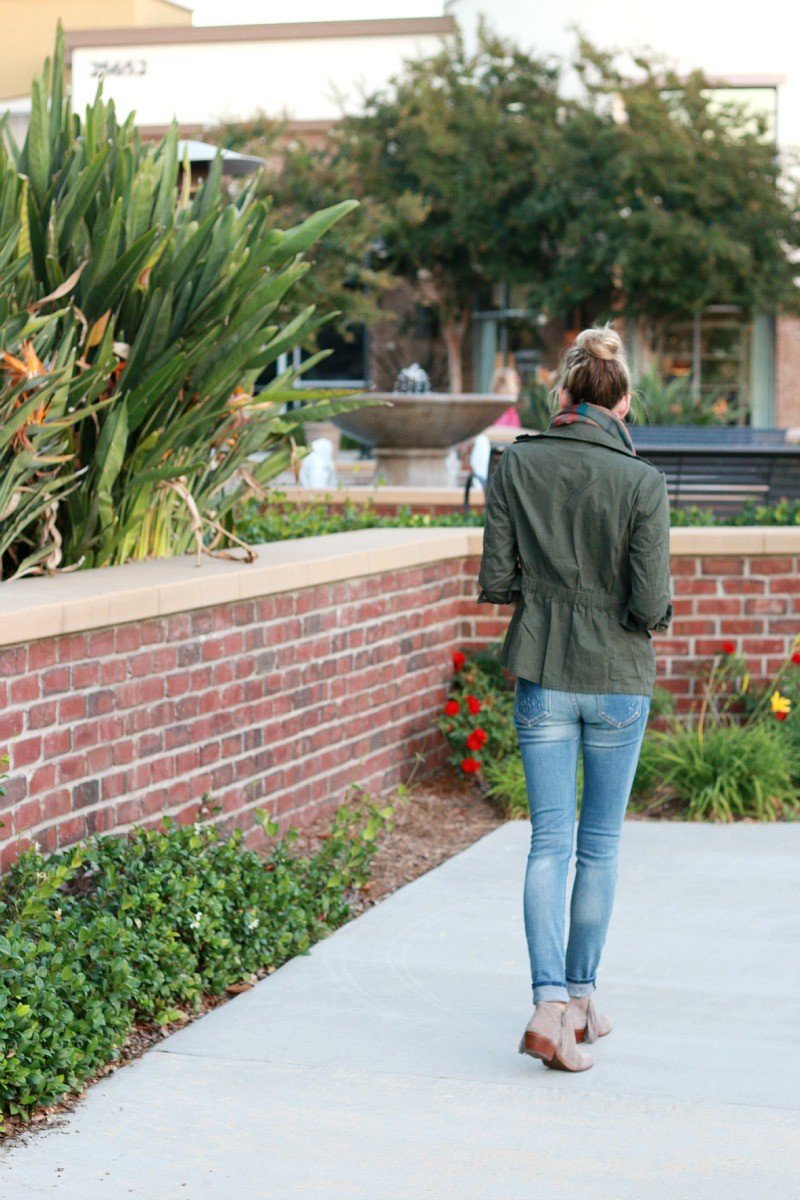 And here is a quick look from behind so you can see the cute waist on the jacket. And no surprise I am wearing my booties. I live in them. I did buy one half size down.
polka dot sweater | jeans | scarf  | loafers | similar bag | watch | ring
Have you found a good pair of distressed jeans yet? I really do love these. They have just enough going on without being totally torn up. They are tight around the ankles so you have to tug them to get them on but once they are on they are so comfy. (Just keeping it real). And a secret to not destroying your distressed jeans. . . put them on while sitting on the floor. That way the leg of the jean is straight and you can avoid sticking your foot through the holes. Believe me, I've done it and it's horrible. You pay money for those perfectly distressed holes (which my mom still doesn't understand) and don't want to ruin them! (wearing a large in the sweatshirt).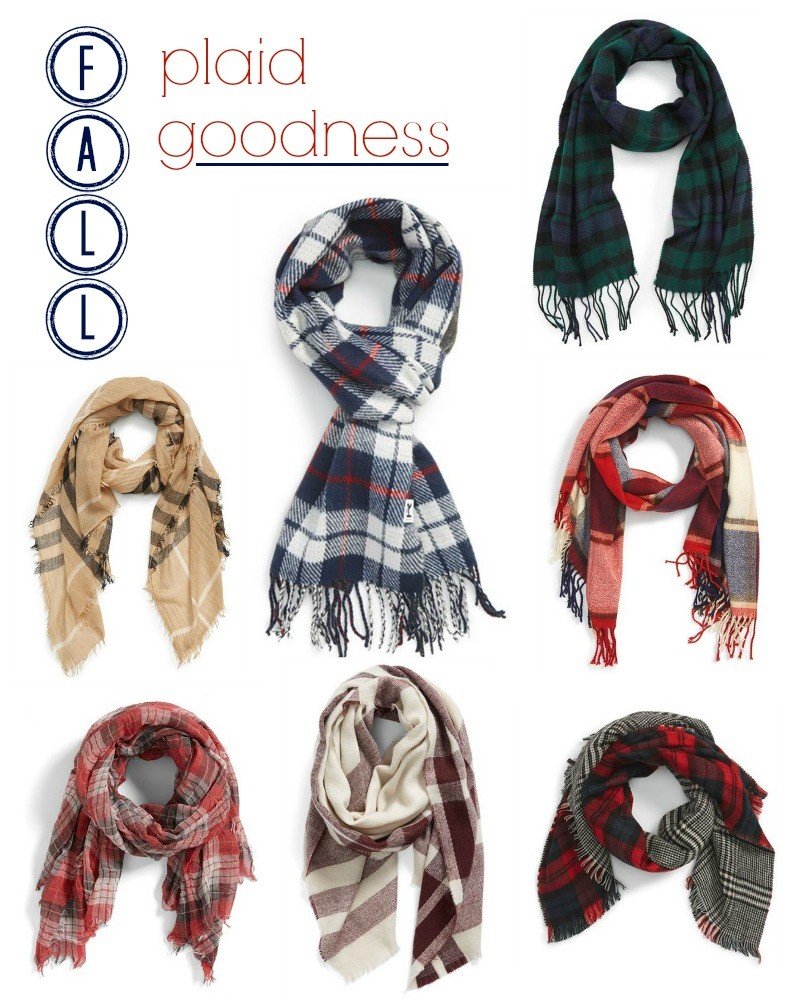 My love affair with plaid is ongoing and there are SO MANY cute scarves out there!!!! All of these are great prices. Wanted to share my favorites. Shopping Tip: Always check out the men's scarves. . . they have the best plaid designs! And scarves are unisex.
Shop Plaid Scarves

And just a heads up that one of my favorite dresses has been price matched. Love this dress and have worn it a zillion times. And I have not tried this on, but this drop waist dress sure caught my eye for fall. Anyone have it?
Please pop in tomorrow! I have been working on my next #MichaelsMakers project (hint: think Halloween and breakfast) and I am dying to show you. Hope you'll stop by.
And a very special Happy Birthday to my amazing dad. He is the rock and strength of our family and I love him more than he will ever know. I am so lucky to have him as my dad. Dad, can't wait to celebrate with you and the family tonight. Love you.