Happy Monday, all! We took the family back to The University of Notre Dame this past weekend. It's far from Southern California for such a short trip, but it really was magical. There is something so special about taking your children to your alma mater for the very first time. And it is even more special as their two cousins are attending now. It was pretty surreal to see my nieces hanging out on my old campus. We also had great friends from my college days that also came with their families. All in all it was a jam packed weekend filled with happy tears, faith, family, friends and football. Here is a little recap.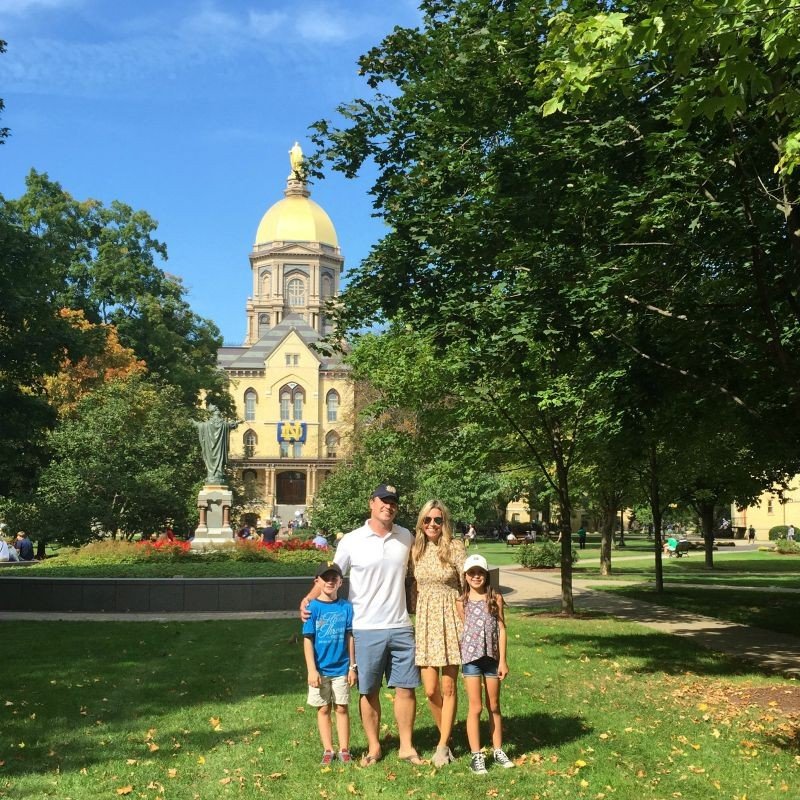 my fall dress | booties | sunglasses
We were somehow blessed with the most glorious weather ever. If you know South Bend, Indiana then you know that this is not the norm. Temps were in the high 70s with gorgeous blue skies. Perfect for showing the family around campus. The golden dome is so near and dear to my heart so this was a pretty special moment.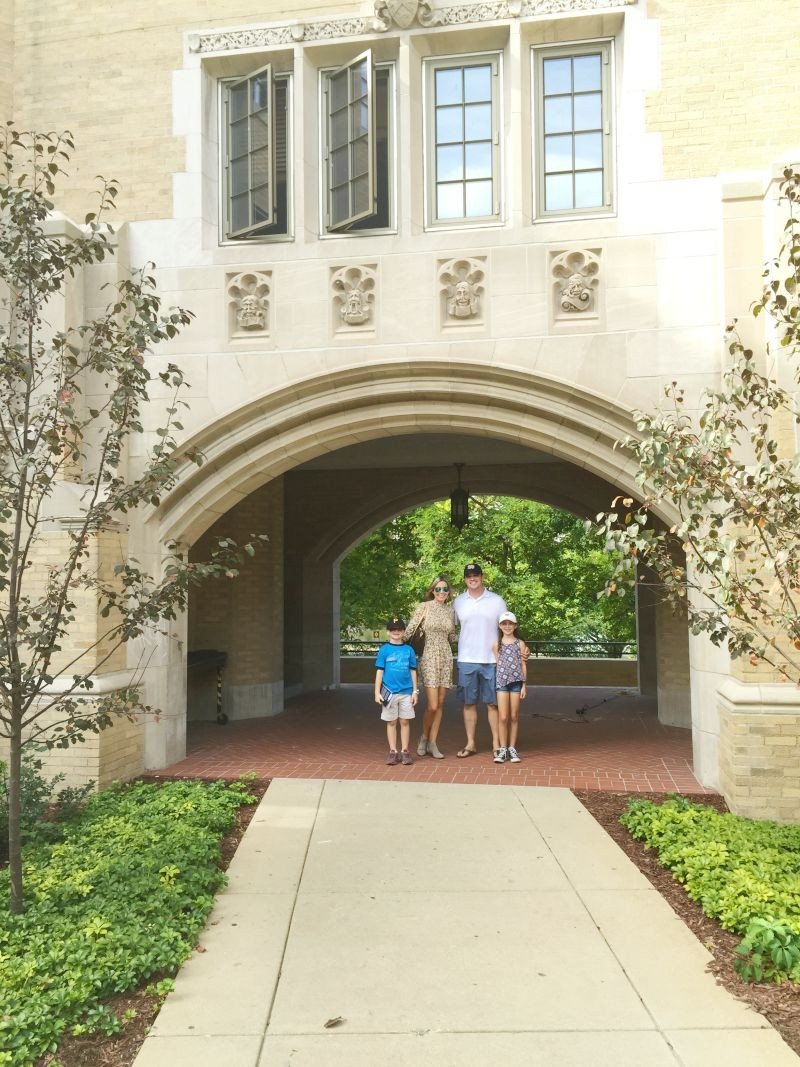 And then we showed the children my old dorm. Lyons Hall was home sweet home for four years. Through that arch is the lake and the view takes your breath away.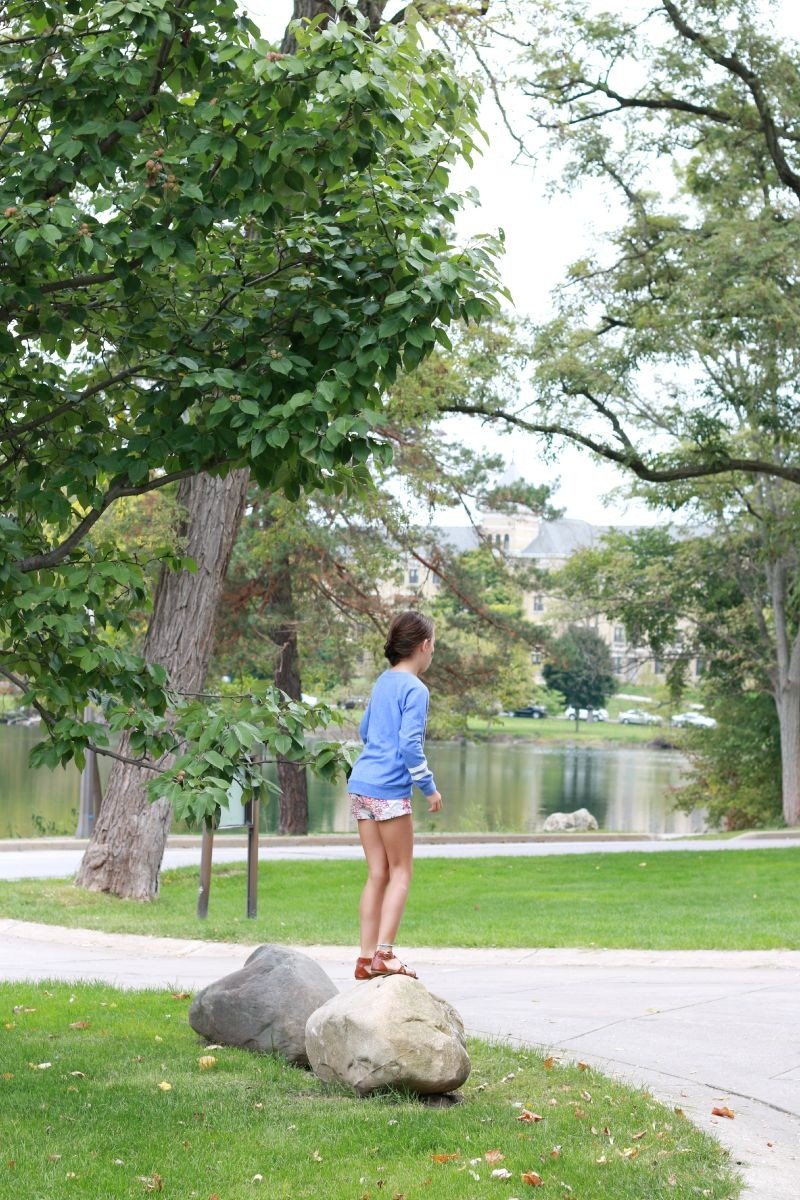 (through the arch of my dorm to the lake)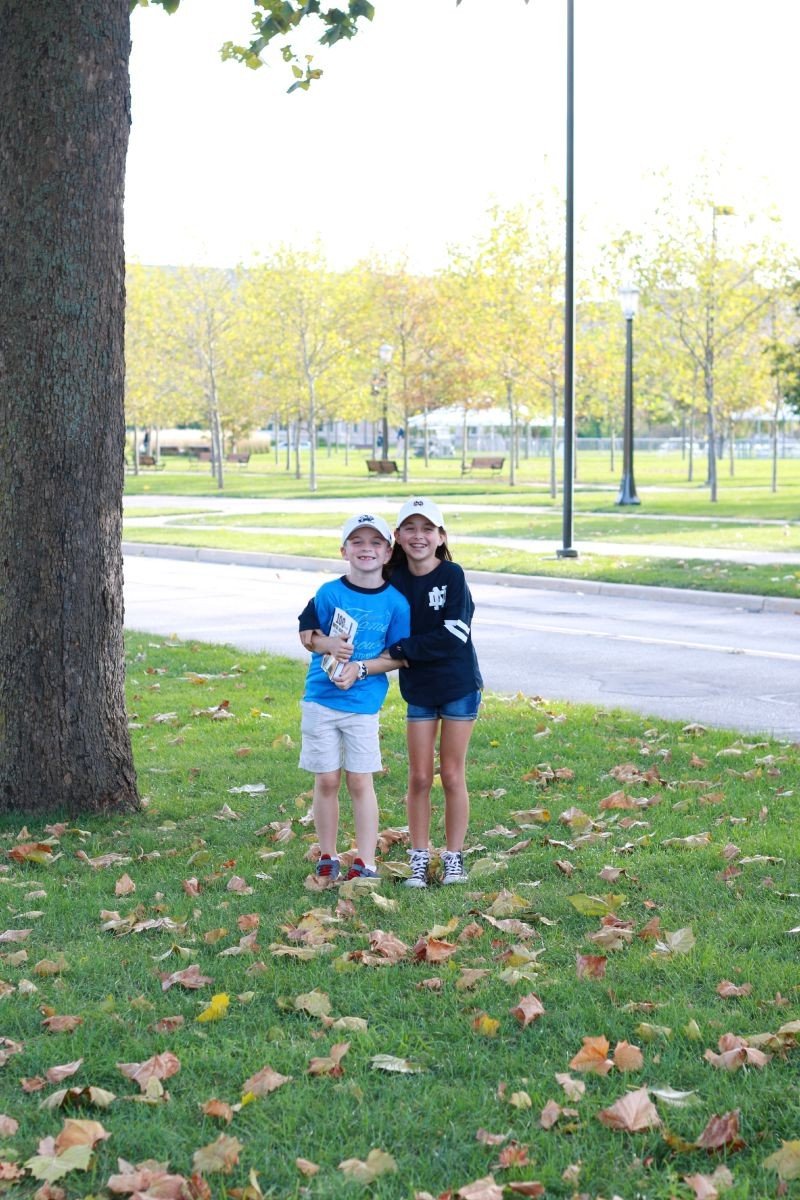 Love this shot because it captures my son's personality so much. We told the children they could pick out anything they wanted from the bookstore. My daughter went straight for increasing her wardrobe including the socks below. My son. . . he went for a book that shares the history of Notre Dame. Love it.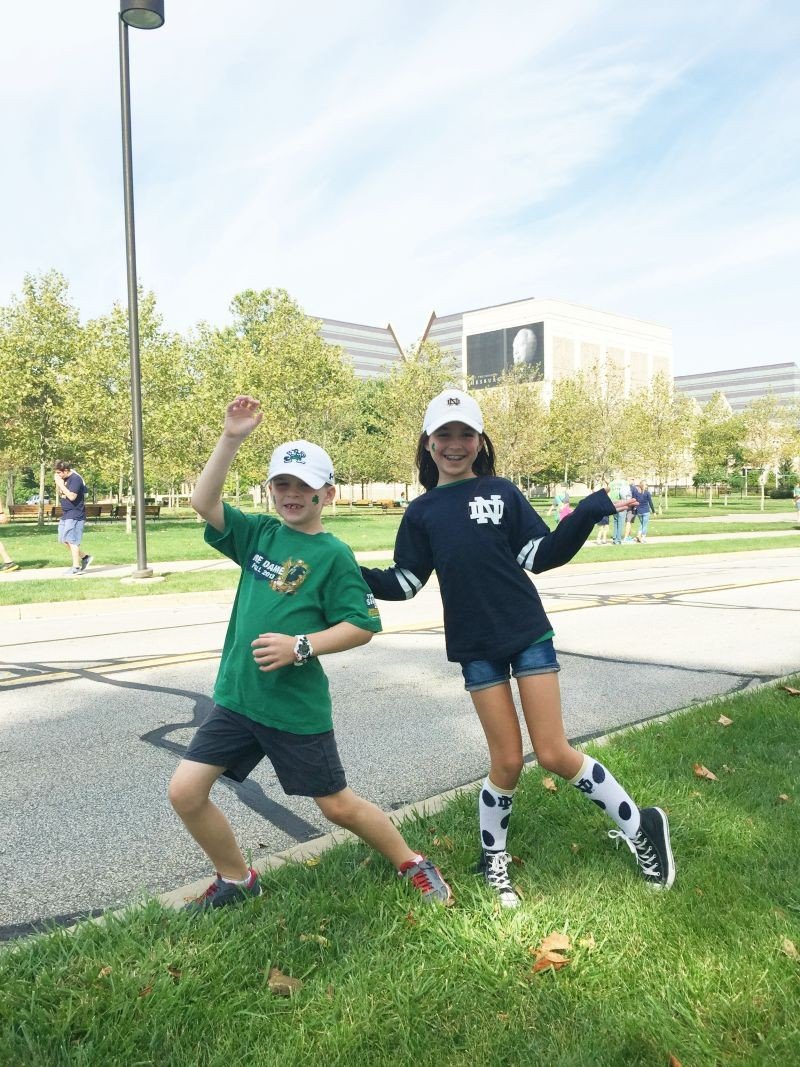 On Saturday we sported some serious spirit wear for the football game. The kids felt right at home and my daughter loves any chance to bust out knee socks. Love that about her.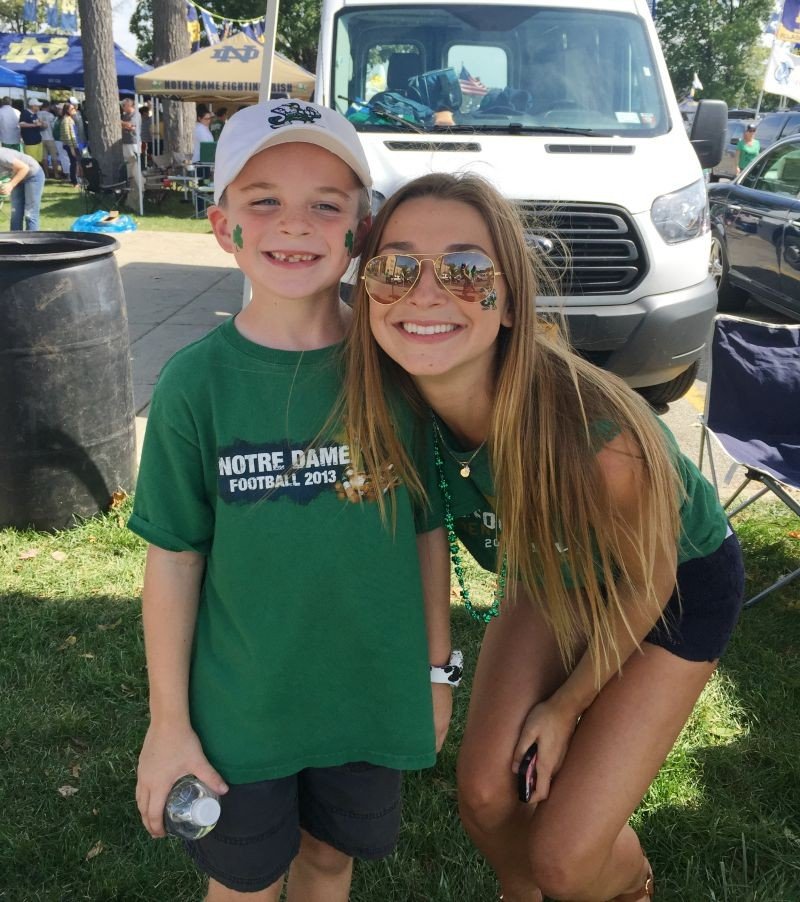 With my two nieces now attending, my kids were in heaven seeing their cousins who we miss so much. When we were talking about the trip on the flight home, we asked the children their favorite thing about the trip and my son quickly replied, "Seeing the girls!" Sigh. So awesome that family was his highlight.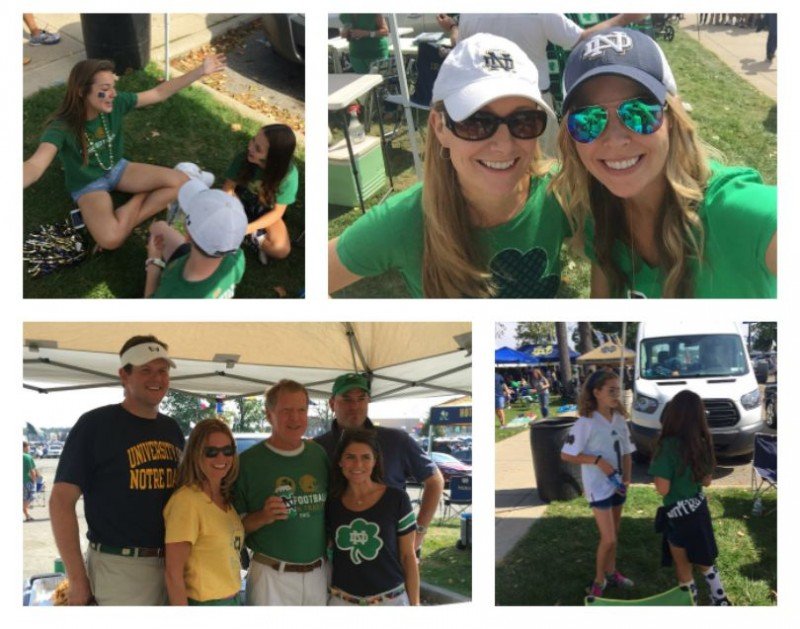 And I was lucky enough to have a handful of my college friends in town for the weekend as well. Thanks to the Earley family who setup the most amazing tailgate party. Mad skills. And no college football weekend is complete without the selfie with my girl, Moka. Except back in the day we would have to wait to get these selfies developed. My how things have changed.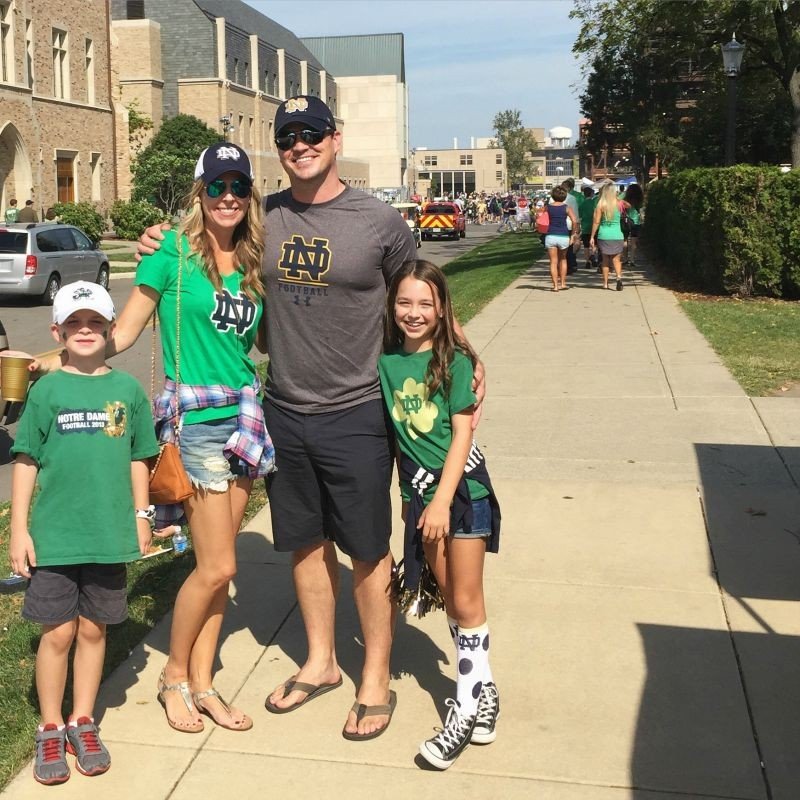 Safe to say we are all good on spirit wear. I think the Fighting Irish bug has struck!
My two beautiful (and intelligent nieces). My son was so excited to pass off his Flat Grady to these girls (anyone familiar with Flat Stanley?)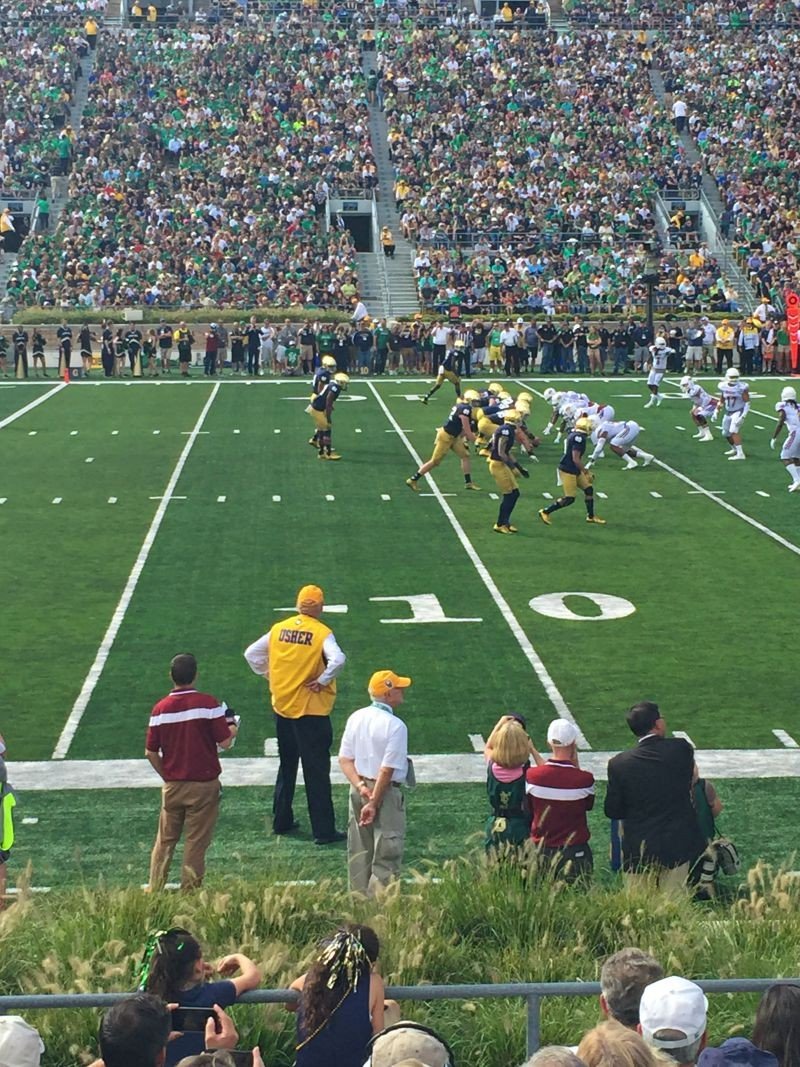 And the seats we had were pretty amazing. I give my children credit for lasting through an almost four hour game. The victory made it that much more fun.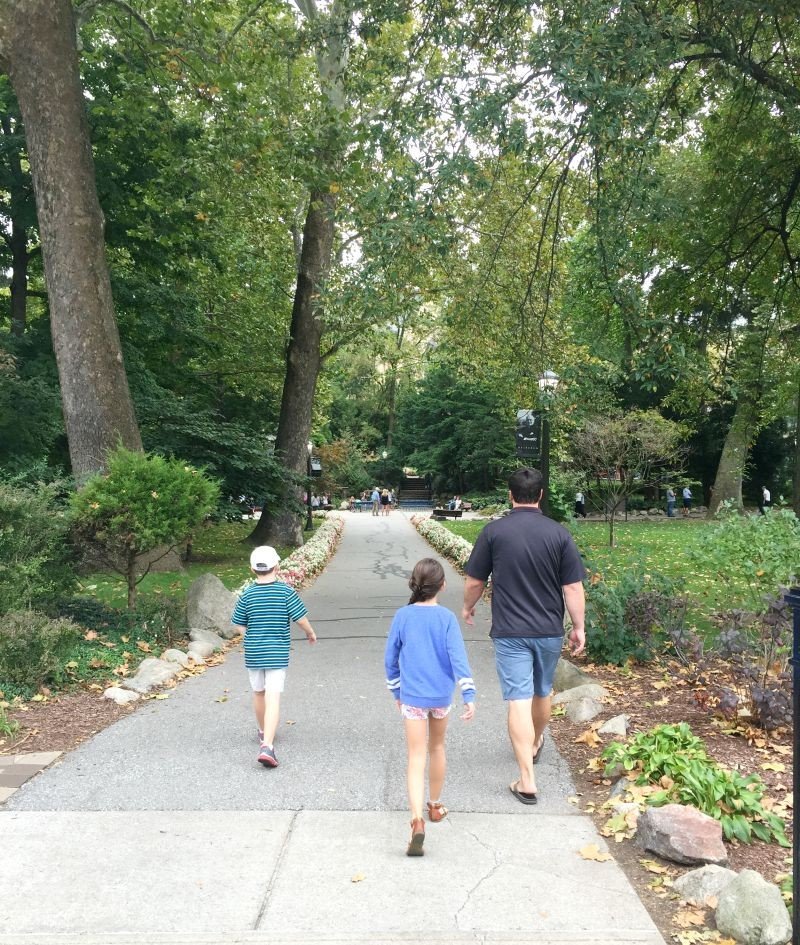 A special spot on campus is the Grotto. Students often go there to light a candle and say a prayer. It was really magical seeing my family walk up to this sacred spot.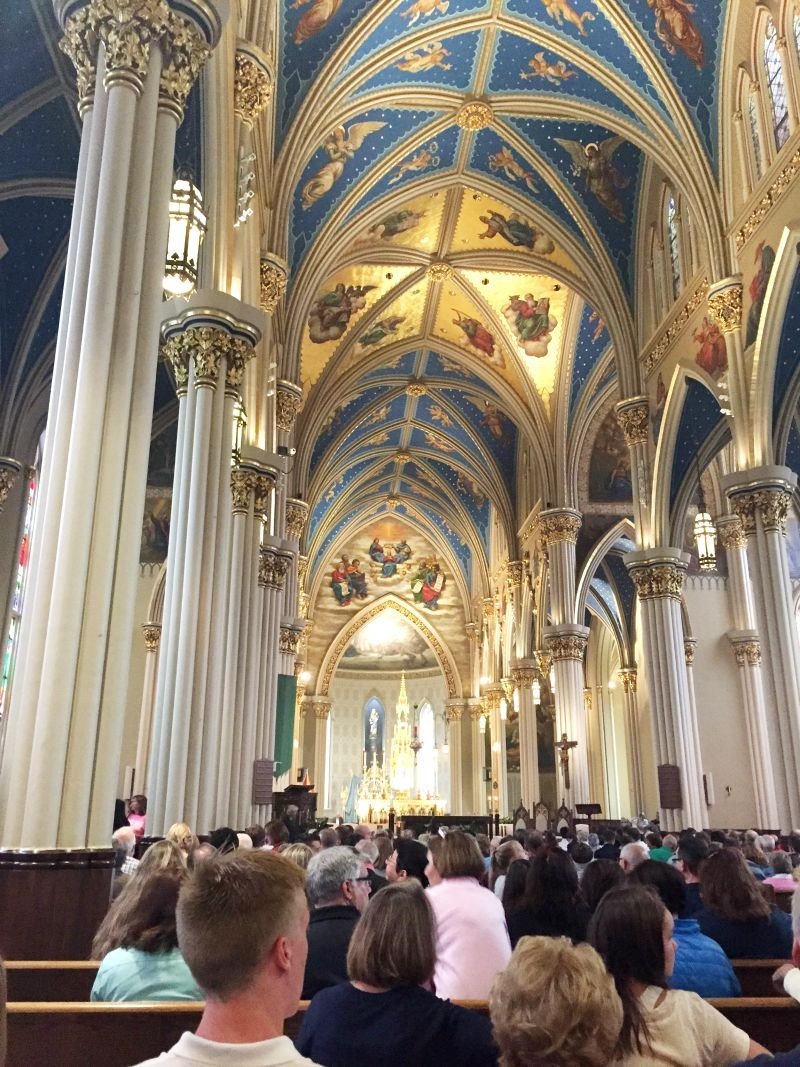 We wrapped up the weekend by attending mass at the Basilica of the Sacred Heart on campus. Hearing the voices of the choir and singing the alma mater at the conclusion of mass brings me to tears every time. Such a sense of family and community.
We could not have asked for a better trip. Truly. Feeling so fortunate that it worked out that we could take the family back to my old stomping grounds and visit my nieces. When we climbed into our car late last night to drive home from the airport, Grady turned to his sister and said, "Riley. When I get home, I am applying for college!" Priceless.
Wishing you all a great week. Thanks for letting me share.
For other travel posts you can snoop around below:
San Diego // Napa Valley //  One Night in San Francisco  // San Francisco Day 2