Thanksgiving is less than two weeks away. What?! How in the world did that happen. We have hosted Thanksgiving every other year for the last 10 years. We love it. It's such a glorious holiday because it involves food and family. What could possibly be better? We definitely have some tricks up our sleeves to keep it easy and stress-free. I teamed up with Nordstrom to pass along our five ways to simplify Thanksgiving dinner.
ONE | SET THE TABLE EARLY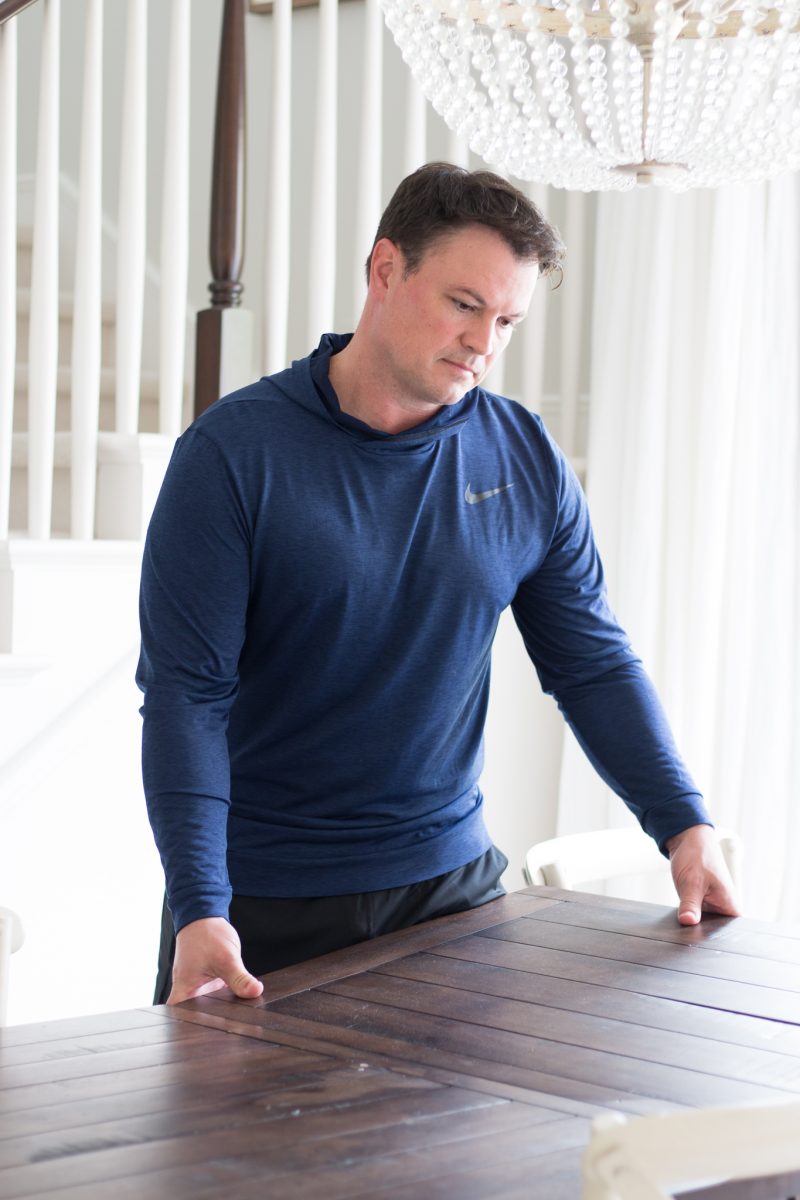 Prepping to host a holiday has always been a team effort over here. That is how my grandparents rolled, followed by my parents. We are in this together and they passed down the idea that it's much more fun to be a team than to try and rock this life alone. So team work it is for getting ready for major parties, too. This guy does the heavy lifting. Literally. I have a disc issue so any thing that needs moving or lifting is left up to this handsome boy. Setting the table a few days ahead of time can really take much of the stress away.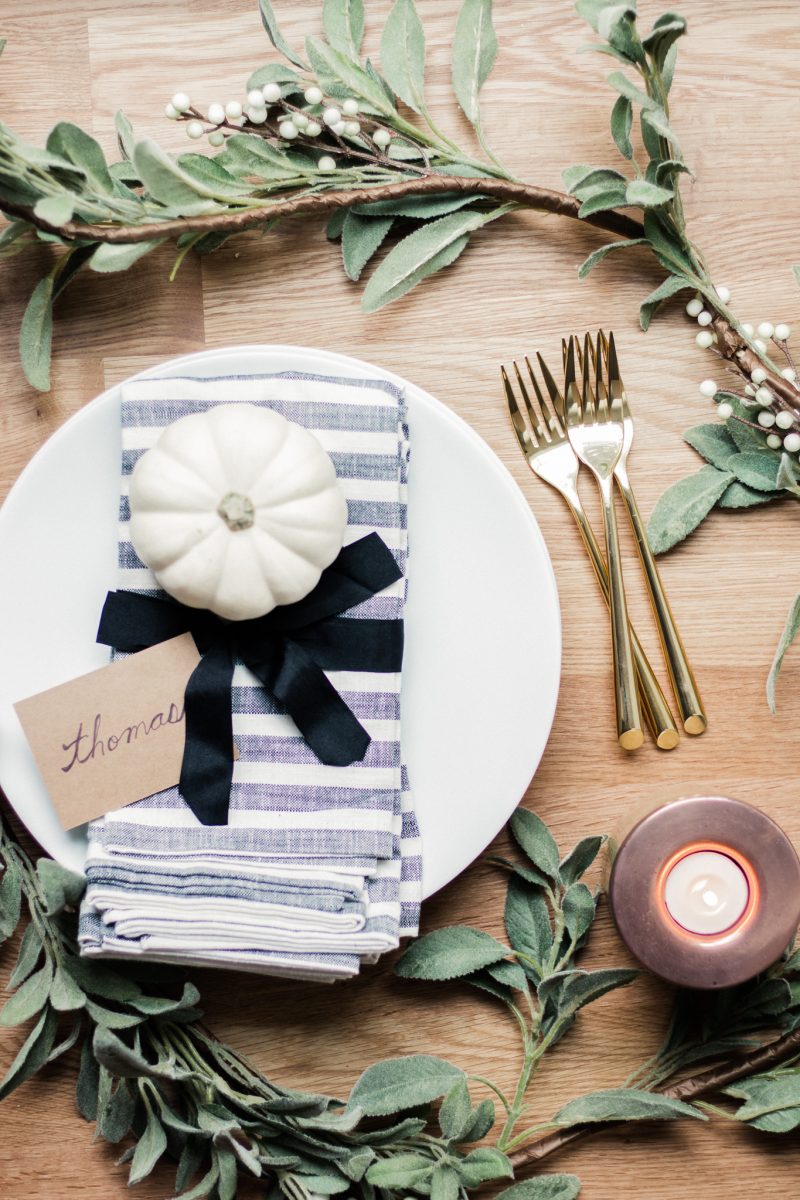 I usually start with one or two items and they dictate the rest of my table. This year I chose the garland and striped napkins to set the tone. The table will be rustic with a touch of glam.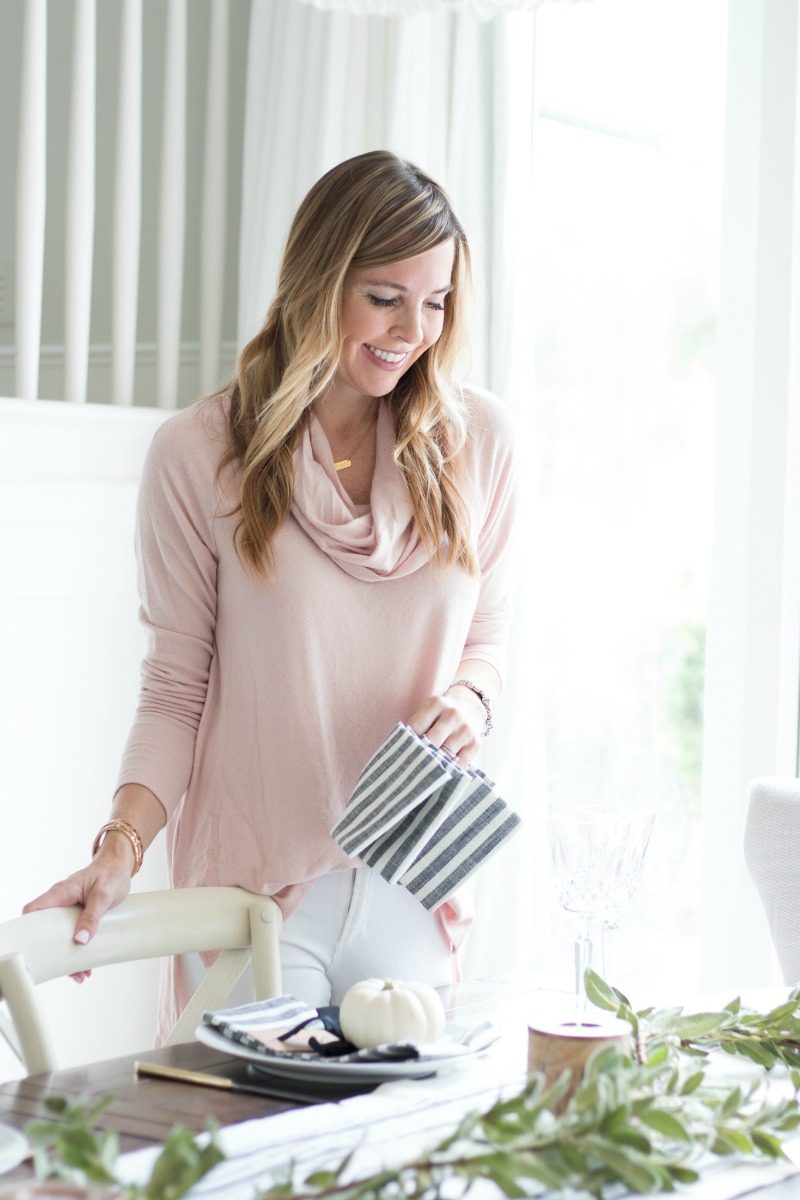 I am fully aware that many people only have one table (we had one table for the last 13 years of marriage) and can't have it out of commission for a few days. I still set the table ahead of time. Then I unset it. Yep!!! Sounds crazy but it's so helpful. Find a spot to put everything and when it comes to the day of your party, it's a breeze to set up. The creative work is already done so it's stress free.
TWO | NO FAIL TURKEY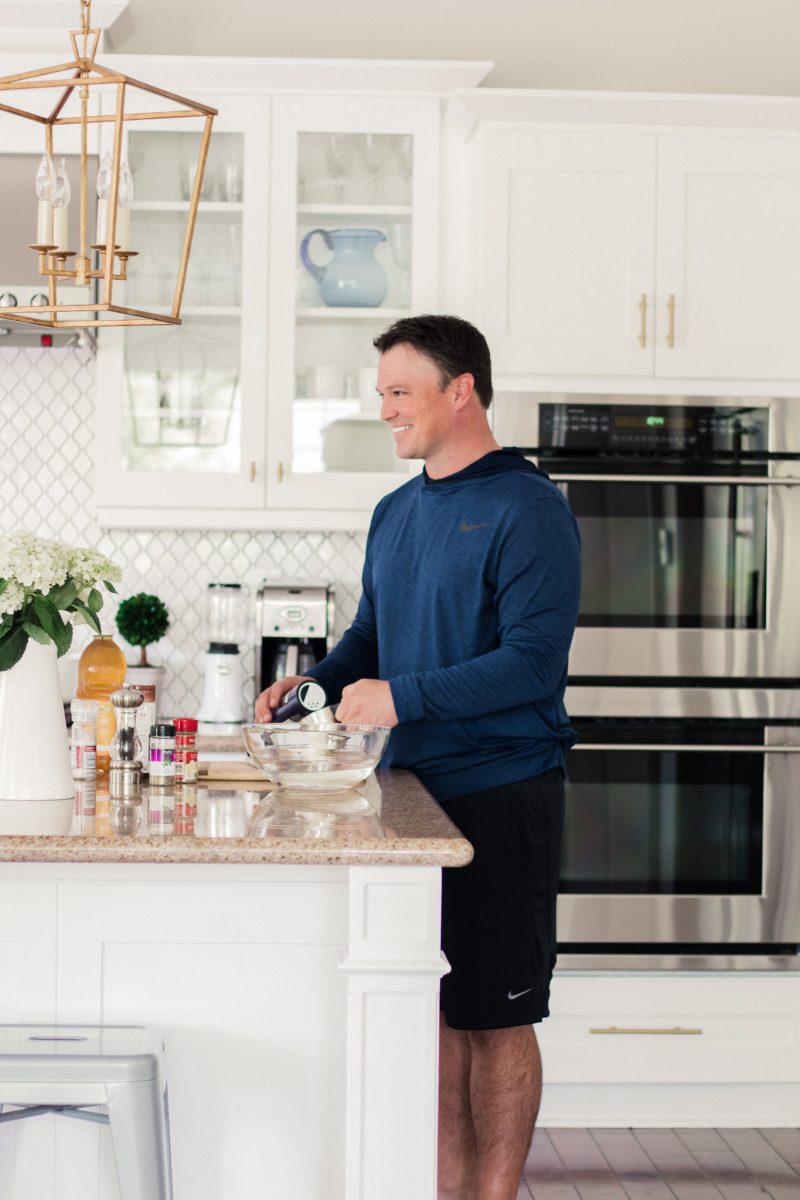 This dry-fit hoodie would make for an awesome gift. My husband loves it and wears it all the time. Definitely a great buy! Same with the shorts ($35). This is also a great quality pullover and excellent gift idea.
More Casual Wear He Loves

Let's talk turkey. The main event!! Years ago, my husband suggested he take on turkey duty while I plot and plan the sides. Plus my sister always brings a side or two so it sounded good to me. I was so scared that first Thanksgiving. When you have a large group of people coming over expecting a lovely dinner, the pressure is on. All the credit goes to my hubby. He rocked it. So we have stuck with the same recipe year after year. After all of these years, he is sharing his secrets today.
BRINE INGREDIENTS
1 gallon vegetable broth
1 cup sea salt
1 Tbsp rosemary
1 Tbsp sage
1 Tbsp thyme
1 Tbsp savory
1 gallon ice water
DIRECTIONS
In a large stock pot, combine the vegetable broth, sea salt, rosemary, sage, thyme, and savory. Bring to a boil, stirring frequently to be sure salt is dissolved. Remove from heat, and let cool to room temperature.

When the broth mixture is cool, pour it into a clean 5 gallon bucket. We use a brining bag (local grocery stores have these). Stir in the ice water.

Remove innards. Place the turkey, breast down, into the brine. Make sure that the cavity gets filled. Place the bucket in the refrigerator overnight.

Remove the turkey carefully draining off the excess brine and pat dry. Discard excess brine.
Now cook turkey as desired. The following is how we cook it each year.
18 lb turkey | preheat oven to 350°
After patting dry, coat with salted butter. Under the skin, too.
Place the following inside the turkey: stick of butter, 1 1/2 sweet onions, 2 gloves of garlic, 1/2 Sierra Nevada beer.
Coat turkey with sea salt and fresh ground black pepper
Place on bottom rack. Cook for 4 hours (until 160°) Lower the over to 200° and cook until turkey reaches 165° (approximately 30 minutes)
Remove and cover with foil for one hour. Carve and serve.
And there you have it! Our secret recipe for a great tasting turkey!
THREE | PLAN FOR BREAKFAST
Even if you're hosting, you want to enjoy the holiday before everyone comes over. We always prep an egg casserole the night before and pop it in the oven first thing in the morning. It just starts the day out right and everyone loves it. It immediately gets us in the holiday mood.
FOUR | SET UP A DRINK STATION
This can also be done a couple of days ahead of time. Of course the cold drinks need to be put out at the last-minute, but we highly recommend having a self-serve drink station. Whether it's a little table off to the side, a bar cart, or a table you've brought in from another room. It's so much easier to have everything in one spot and away from the hustle and bustle of the kitchen. This guy always handles the drinks so it's one less thing for me to worry about.
FIVE | BE READY EARLY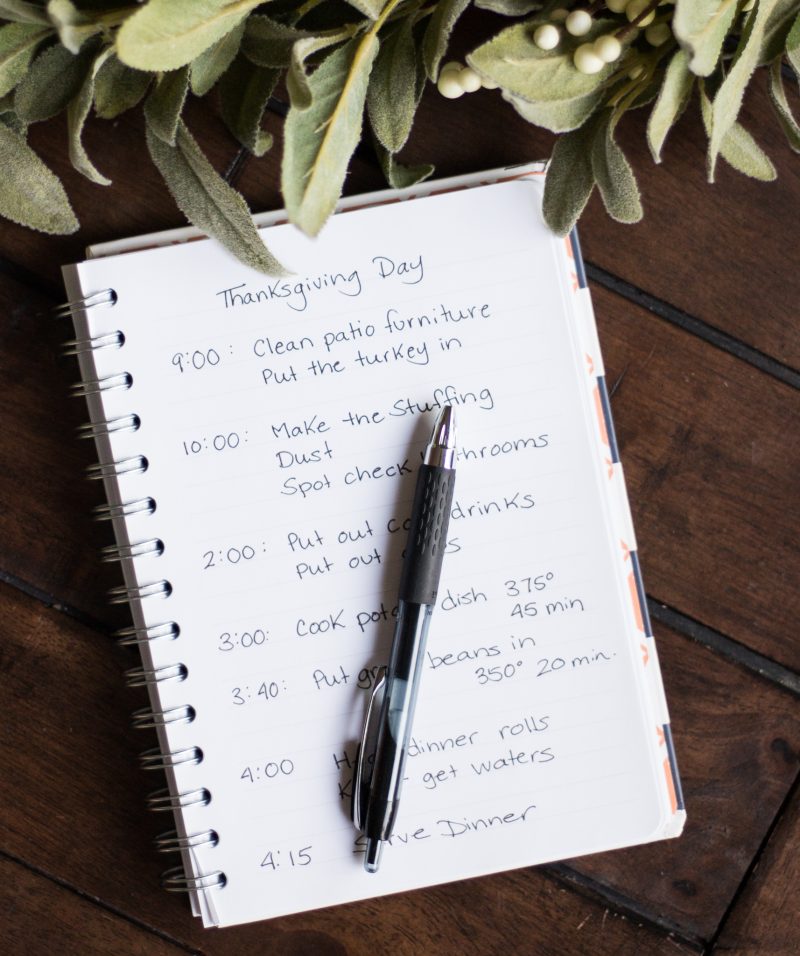 This is my favorite tip of all. We always schedule the day so that we can be ready 30 minutes before the guests arrive. Why? So we can take a deep breath, pour a cocktail and appreciate all of the hard work we've put in to get ready. I truly believe that you should be fully present when you entertain. We do all of the work before family and friends arrive so we can party with our crew. That's where the memories are made.
I also write down EVERYTHING that needs to be done that day. Even what time things need to go into the oven and what time we need to put the bowl of ice out. It sounds crazy but it's so helpful. Then you don't have to think you just follow the schedule. It also assures everything is ready at the same time. The trick is to start from the time you want everyone to sit down to dinner and work backwards. Once you map it out, you can pretty much save the schedule year to year. It's key to serving a successful Thanksgiving dinner. I will even write down a time to start the after dinner coffee so it's ready for dessert.
pullover | jeans | shoes | dress shirt
He cleans up pretty well! I honestly love hosting parties with this guy. He is so much fun and makes everyone feel so welcome. His work wardrobe pretty much doubles as his "dressing up" look. He has always chosen to invest in a few good quality pieces rather than go crazy with a huge closet full of clothes. And let's be honest, I've hogged most of our closet. Keeping it real. I have always loved him in a classic pullover.  This is another favorite of his.
Step it up Wardrobe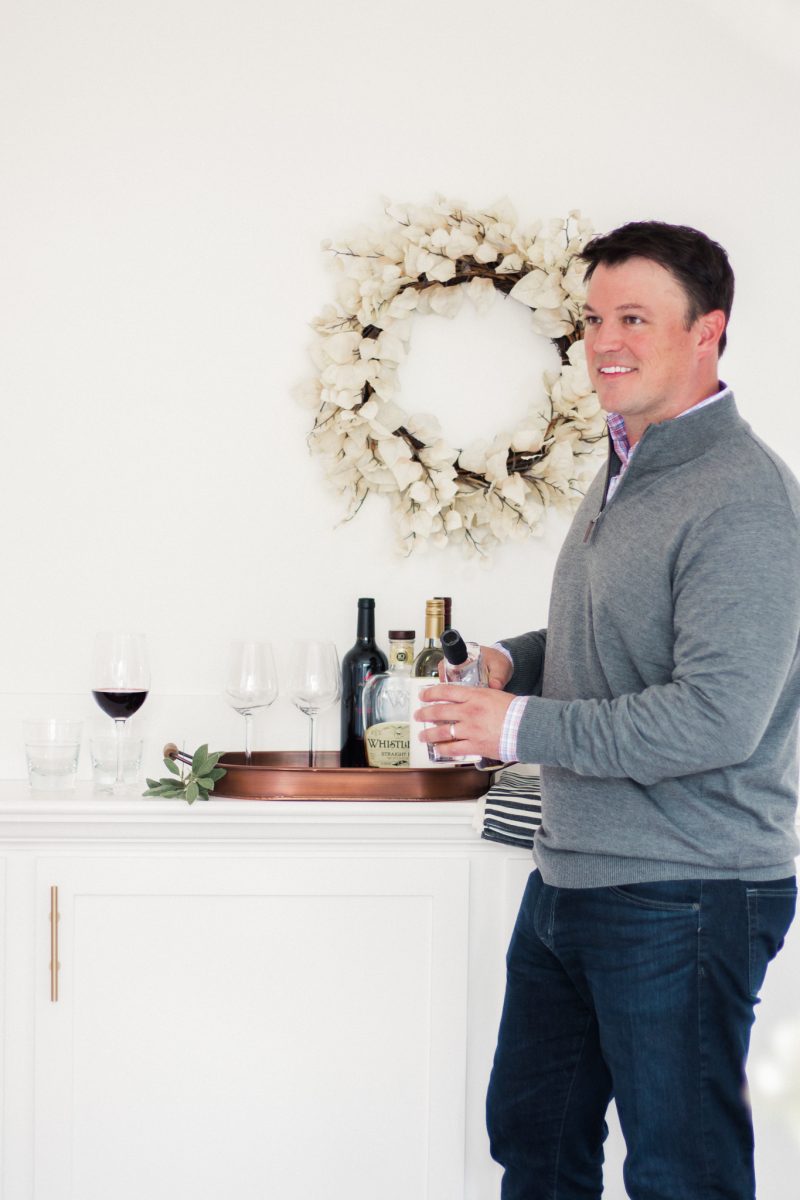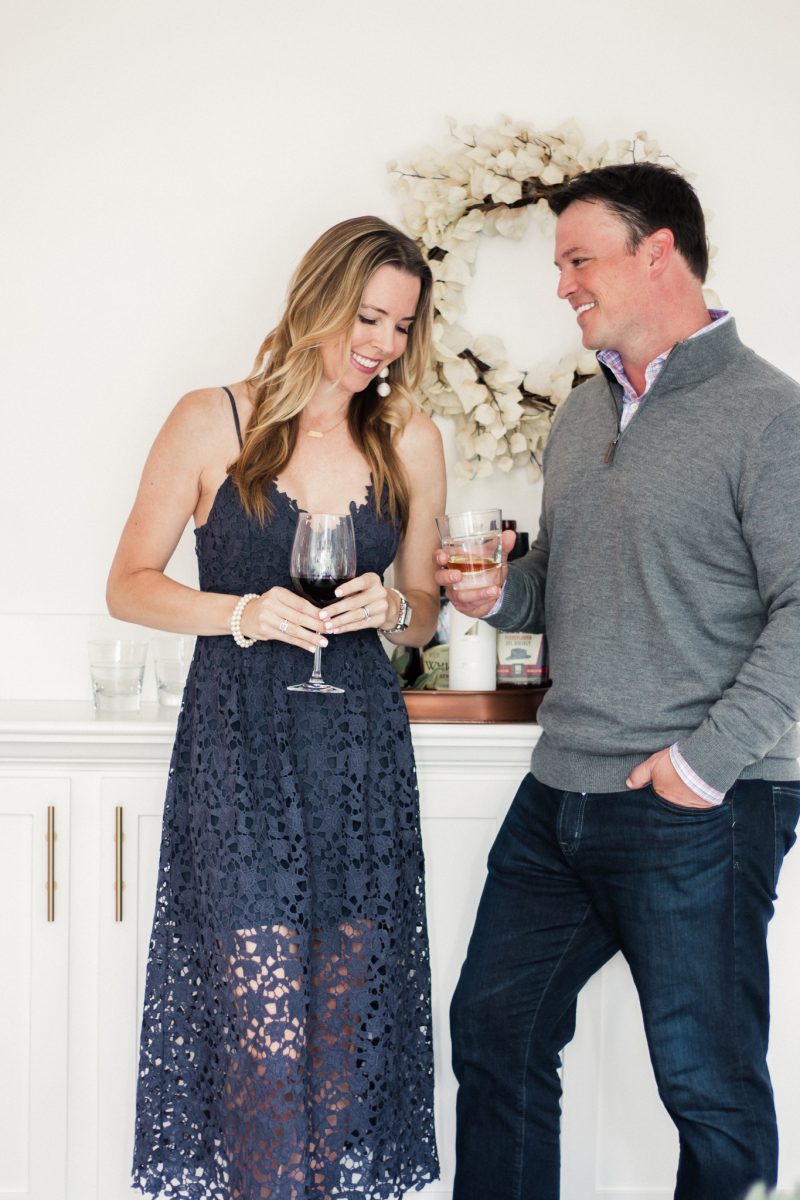 dress (size m) | heels |earrings | pullover | shirt
Cheers to being ready before the knock on the door and to pulling together a stress-free Thanksgiving dinner. Hope these tips help if you are opening your home to family or friends in just two weeks. Let me know if you have tips to add in the comments below.
*Proud to partner with Nordstrom on this holiday post. Affiliate links used.