So excited to bring back Fixer Upper | The Takeaways. It's one of my very favorite series here on the blog. I have such deep admiration for Chip and Joanna Gaines. Not only are they immensely talented, but they are so profoundly dedicated to their marriage and family. Their show is an all time favorite of mine and I have enjoyed sharing their makeovers alongside the takeaways I see in each episode. So without further ado, here is the latest installment.
EXTERIOR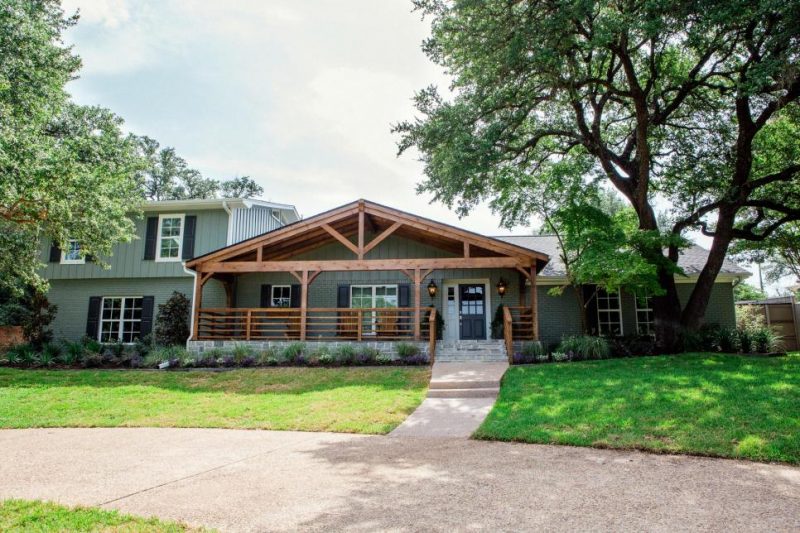 Takeaway #1: Add Wood Touches to the Exterior
Does your exterior need some warming up? Some interest? I like the trend of adding contrast with wood tones. Imagine all of that wood painted the house color and suddenly it loses all interest and charm. Of course lighting on either side of the front door also adds charm.
KITCHEN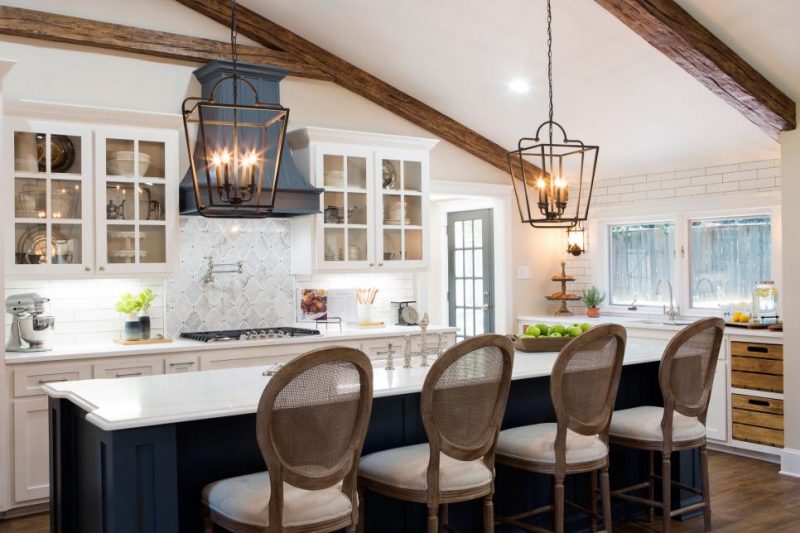 pendant lights | mixer | wood tray
Takeaway #2: Consider a Pot Filler
This is for those of you who are undergoing remodels. I have received so many emails lately about how you all are overhauling your kitchen. If you are, maybe a pot filler could work. Such a luxury but something that makes a huge difference in function and design. I wish I had one!
Takeaway #3: Infuse Wood Elements
Maybe you can't suddenly install gorgeous wood beams, but you can add wood here and there. Whether it's through bar stools, storage bins (you can see off to the right) or a wooded bowl on the counter, it helps achieve that casual charm of a farmhouse.
Charming Bar Stools

These are so pretty and remind me of Restoration Hardware. I like the mix of wood and fabric.
FRESH FRUIT
Takeaway #4: Decorate with Fresh Fruit
I am all about this. Currently I have a bowl of fresh lemons on my counter. Not only do they smell amazing but I can use them, too. I also find that when I leave apples and oranges out, my children love to eat them. A bowl of fruit is also a great trick when you are entertaining and there are no fresh flowers to be found. Instant life and color on the counter.
Takeaway #5: Swap Out Door Fronts
This is a trick we have used. You would be shocked at the difference it makes. Instant face lift by having your doors cut and glass added. It's not a huge financial investment and it adds a touch of glam. It's not as hard as you think to keep things pretty behind those doors. We all use glassware and dishes. Simply show them off.
Takeaway #6: Paint the Island a Different Color
This trend is still going strong. Also not a huge financial commitment and can really transform a kitchen. I love this blue.
CHARMING DETAILS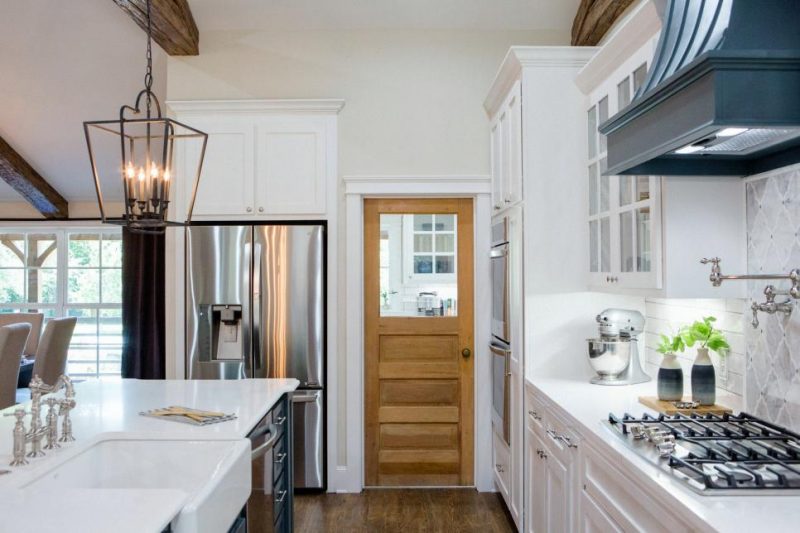 Takeaway #7: Look for a Door to Change Out
Believe me. I am walking around my home trying to figure out where I can add a reclaimed door. I think I found the spot and will keep you posted. This adds so much interest, doesn't it? Picture that door plain white and it loses so much charm.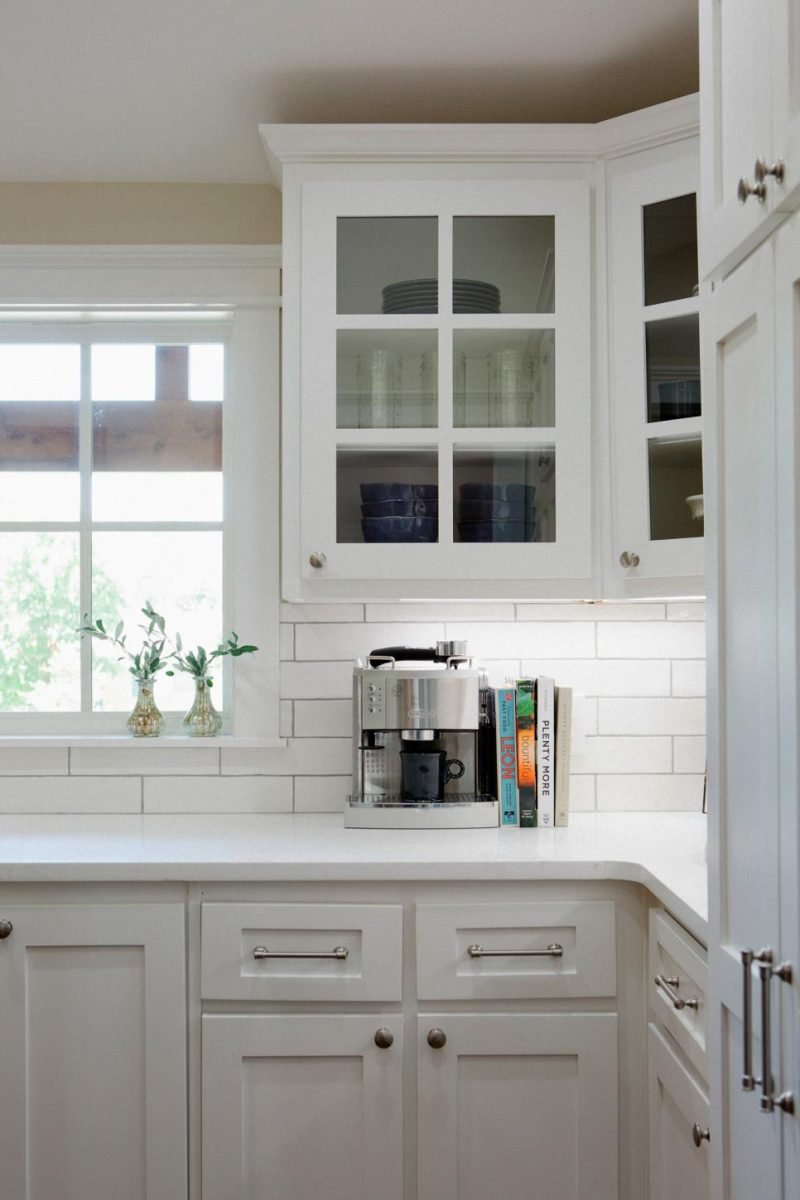 Takeaway #8: Add Books and Greenery
Always love the little sprigs of greenery Joanna infuses throughout the home. You also can never go wrong with displaying books. Our homes should reflect our interests and passions and books can often do that. They also keep things from looking too darn perfect.
LIGHTING
Takeaway #9: Add Interest with Tile
Love the idea of tiling an entire wall like this. So pretty and it adds so much glimmer to that space.
Tile With Personality

Takeaway #10: Let Sconces Create Warmth and Light
I love a great sconce. It obviously takes some planning in the electrical department but they really are something you should consider if you are doing a remodel. Nothing is more beautiful than a space lit by perfectly placed sconces. These are a nice compliment to the pretty island pendants.
Lovely Sconces

GREATROOM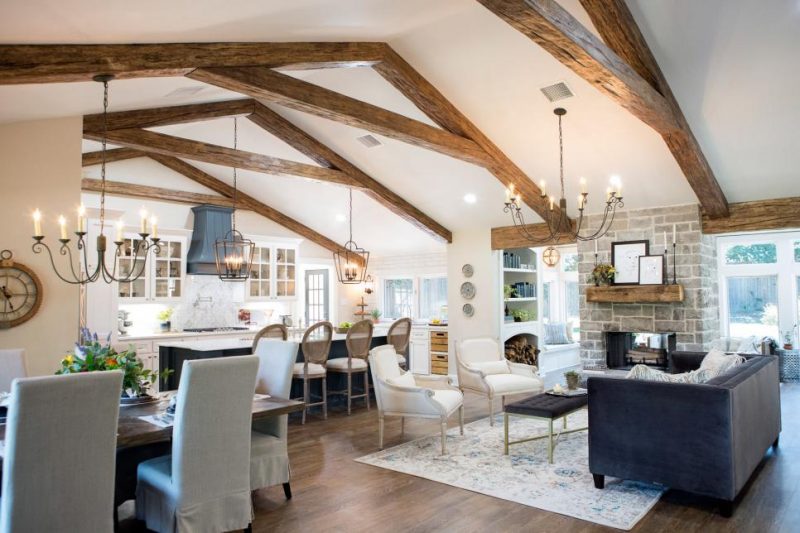 Takeaway #11: Match Your Chandeliers
I usually love to switch things up but when you are talking about a giant great room, consider having your chandeliers match. It cuts down on visual clutter as long as the scale matches each space.
Charming Chandeliers

While it is not inexpensive, this light had me at hello. It's so pretty. If you are considering splurging on a light, this one might be one to consider. I have never regretted investing in a pretty light fixture. As long as you truly love it.
Takeaway #12: Be Sure Your Rug Fits the Space
One of the biggest mistakes people make is buying too small of an area rug. It's almost always key for the front legs of the furniture to sit on the rug. You can also have all of the furniture on top of it but sometimes that can look too overwhelming depending on the room and design.
THE DINING ROOM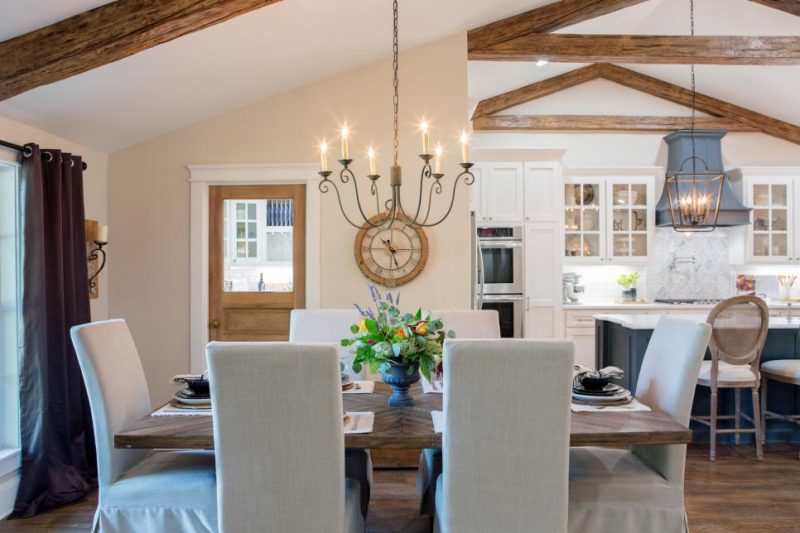 Takeaway #13: Mix Wood with Upholstery
Contrast is always a fantastic idea when creating your dining room. I like how Joanna mixed this gorgeous wooden table with these upholstered parsons chairs.
Upholstered Dining Chairs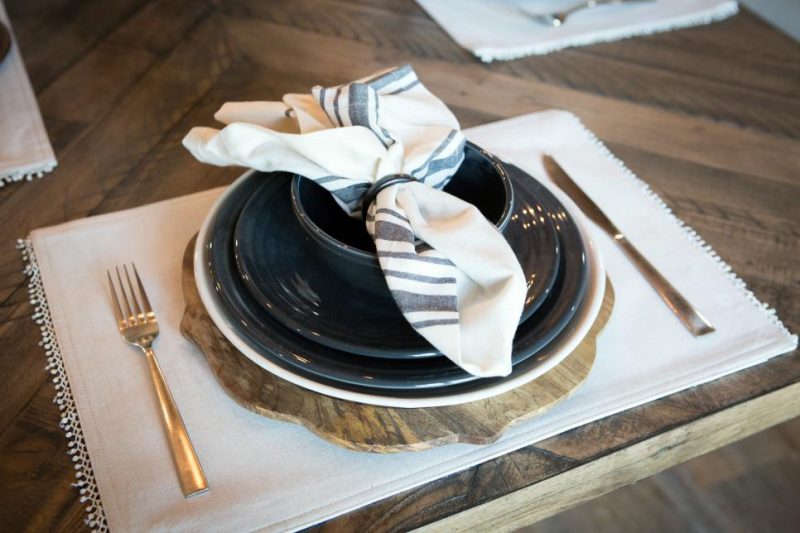 I took note of these napkins because I had just picked them up for myself. Love the neutral stripe. These are the wooden chargers Joanna used.
LIVING ROOM
similar items: chairs | rug | coffee table | sofa
Takeaway #14: Mix Cleans Lines with Curves
We have a very similar sofa in our living room. We have loved having a velvet sofa so far. We pretty much fight over who gets to sit on it each night. But the key with a sofa with such clean lines is mixing it with chairs that have some curvy edges like these do. A perfect combination.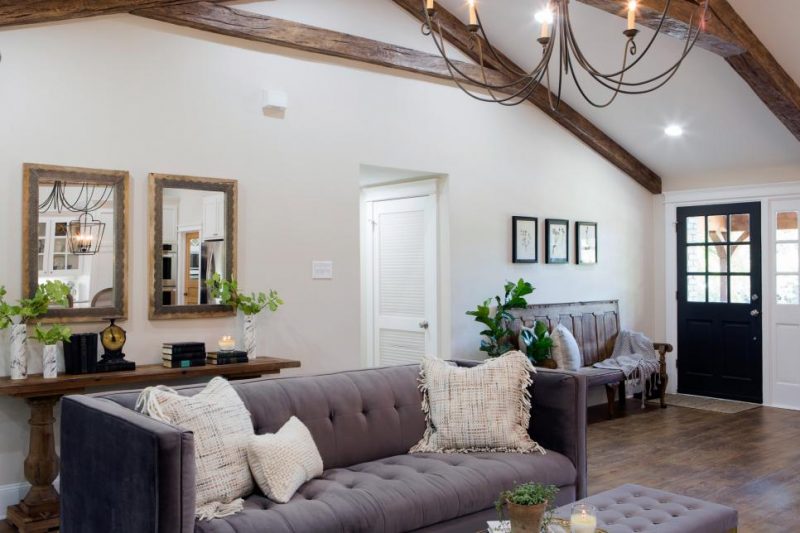 Takeaway #15: Use Two Mirrors
Do you have a piece of furniture you need to hang art over? One giant piece may be too hard to find and too pricey. Double up on one piece for a really pretty look.
Takeaway #16: Add Texture with Pillows
I want to steal these pillows. What great texture. If you choose pillows that have less of a print, be sure they are packed with texture.
ROOM WITH A VIEW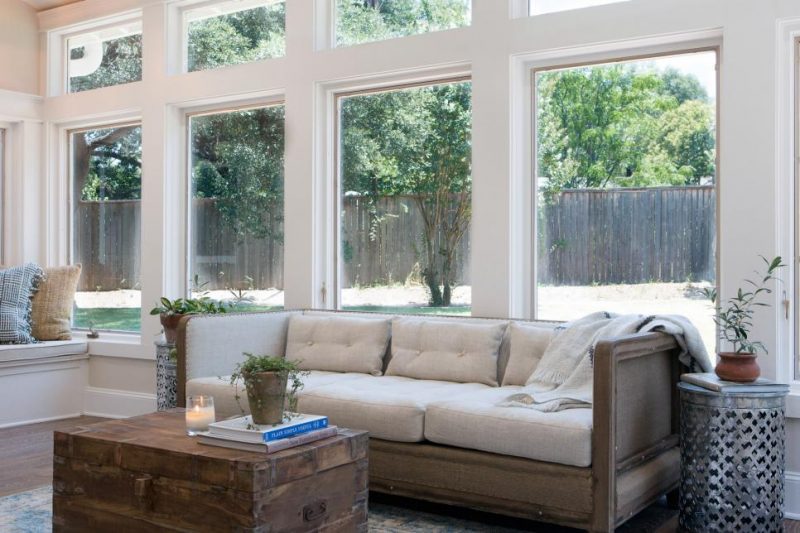 Takeaway #17: Mix Wood and Metal Elements
This sofa! Amazing. Great combination with the metal side table. If you cover up that metal table with your hand, the room loses a little bit of edge and interest. I love how she flanked this amazing couch with one on each side.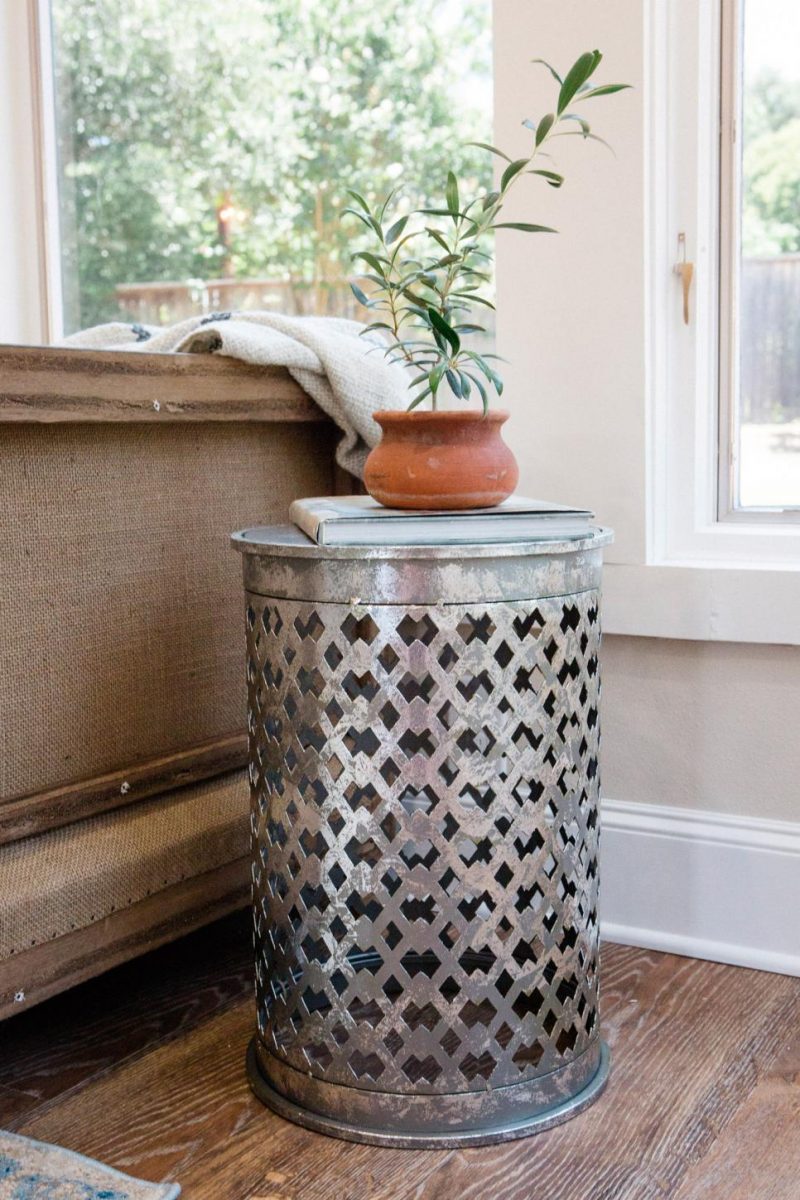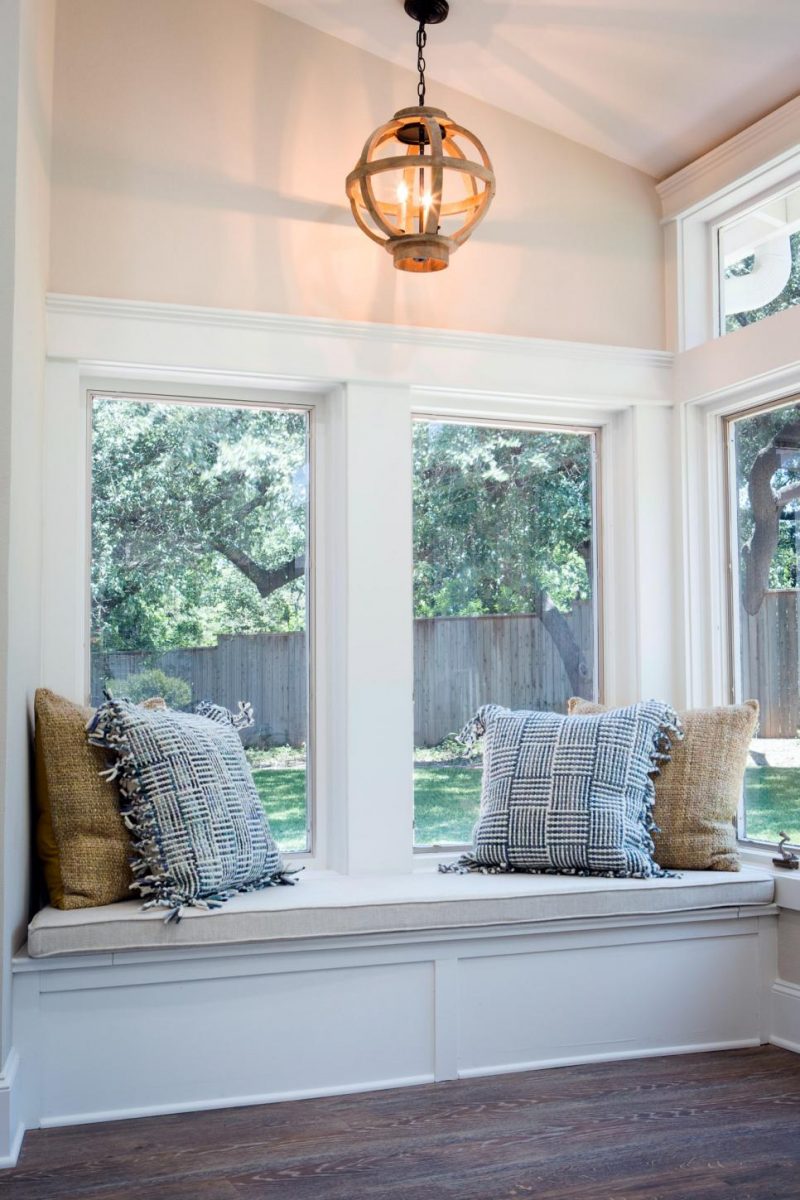 Takeaway #18: Look for Hidden Seating or Storage
Do you have a spot in your home that could become a window seat? What a lovely way to add more seating or more storage. Often times bedrooms have this opportunity.
MASTER BEDROOM
gray duvet | white duvet | bed 
Takeaway #19: Keep The Bedroom Serene and Calm
The mix of grays, blacks and whites keep this bedroom very neutral and calm. I feel like that is why we are often drawn to pretty hotel rooms. When you walk in you feel so relaxed. I like how simple and clean this room is.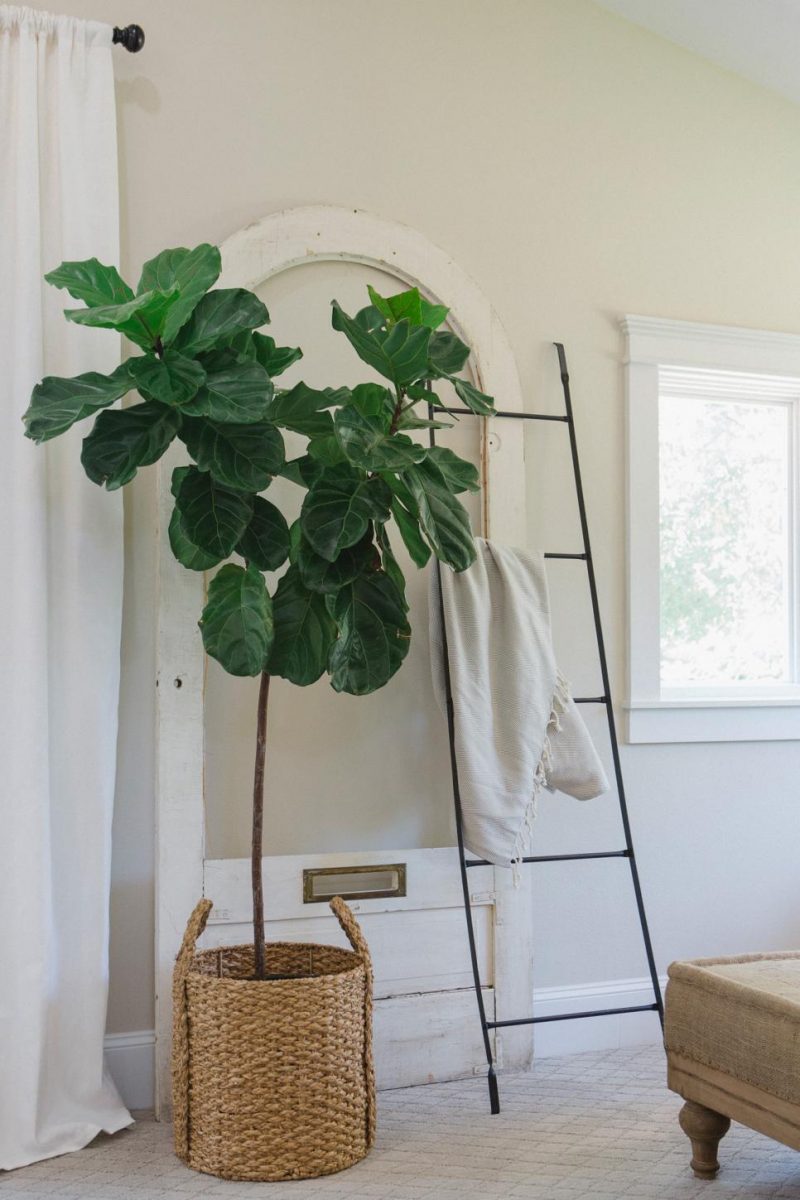 Takeaway #20: Layer, Layer, Layer
Have a wide open wall that needs decor? Layer it up. The door, the ladder, and the fiddle leaf fig are perfectly styled and create such gorgeous interest. This has me wanting to do this in our own home.
MASTER BATH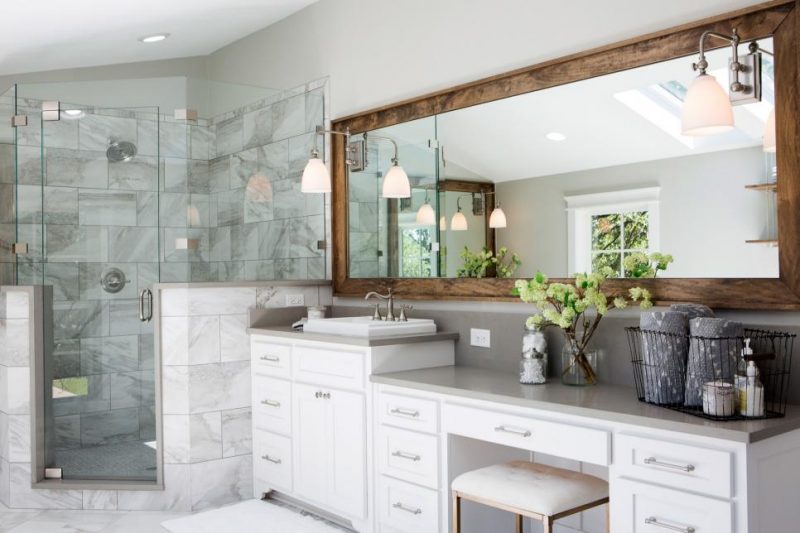 all photos by Jennifer Boomer/Getty Images via HGTV
Takeaway #21: Warm it up With Wood
In our last home, we framed out a bathroom mirror with distressed wood. I liked the contrast it created and this bathroom does the same thing. Only it's completely stunning!!!! I wouldn't mind getting ready in here. Maybe you have a tired bathroom that just needs a fresh coat of white paint on the cabinets and a pretty wood frame around the mirror.
Takeaway #22: Create the Hotel Room Bathroom Feel
A basket of towels, a jar of cotton balls, and some fresh greenery. It goes a long way to making a space shine. There is no reason you shouldn't treat yourself to pretty things like that in your own bathroom. This towel is on sale and really so cute.
Spa Like Touches

Hope this inspires you to make a few changes in your own home. If you want to get caught up on past installments of my Fixer Upper Takeaways series they can all be seen here (or on my sidebar).
*Affiliate links used