What does Wednesday bring for you? I am getting work done this morning after my workout and then heading to lunch with my sister and a dear friend we've grown up with. Friendships that run deep are such a treasure. My mom used to always tell me to focus on quality over quantity when it comes to friendships and I still believe that today. Speaking of mom, we have our Tuesday up on stories if you haven't seen it yet. In style news, I popped into the mall and snapped a few photos of pieces I loved. I walked away with a few of them. Let's get started.
FALL DETAILS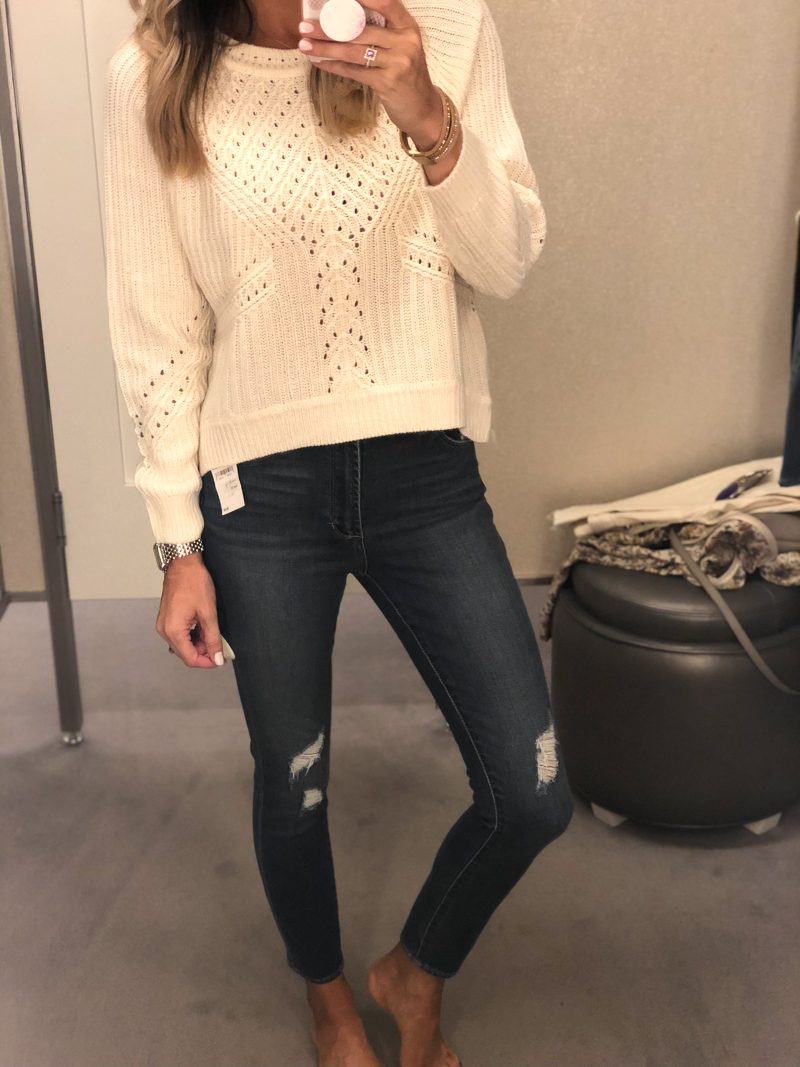 Darling sweater. I like the detail and the waistline. It's shorter in the front and hangs longer in the back. Here it is paired with high-waisted jeans.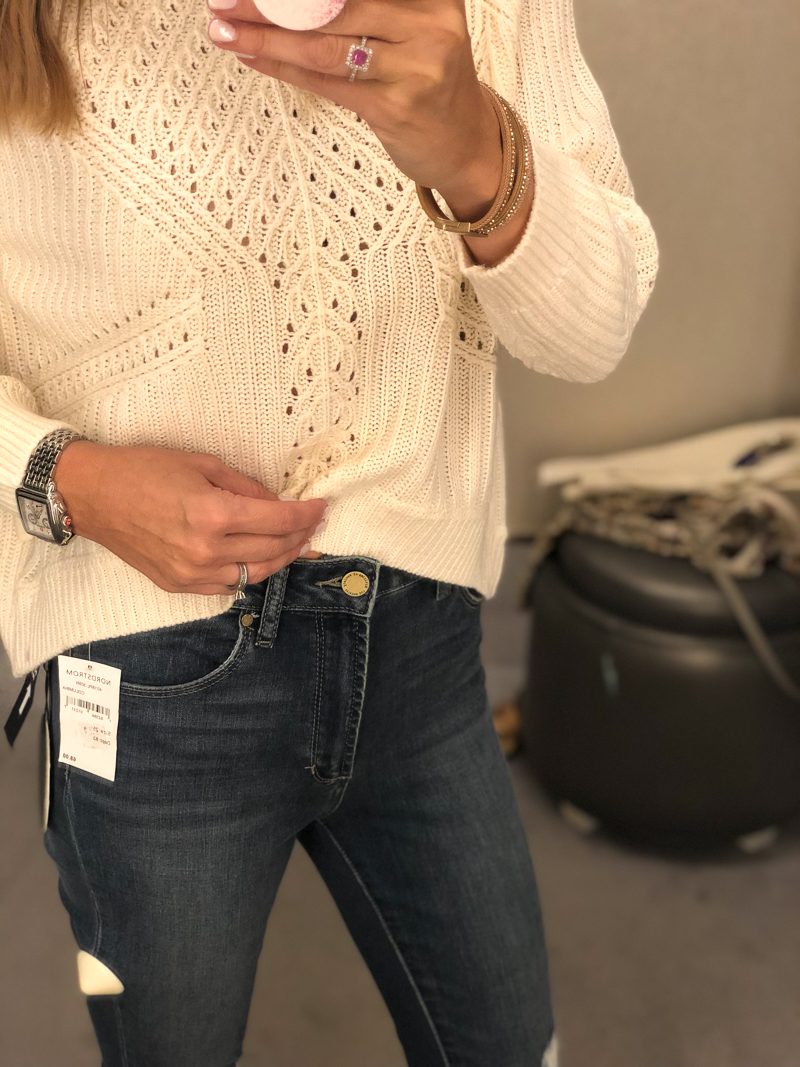 I have always appreciated the price point of the Articles of Society jeans. They are very soft and fit well. Plus they are not big and bulky like so many other denim brands. I am in a 25. These are high-waisted. To be honest, I prefer a lower waistline but I know many of you have written asking for options and this one is a good one.
THERMAL LOVE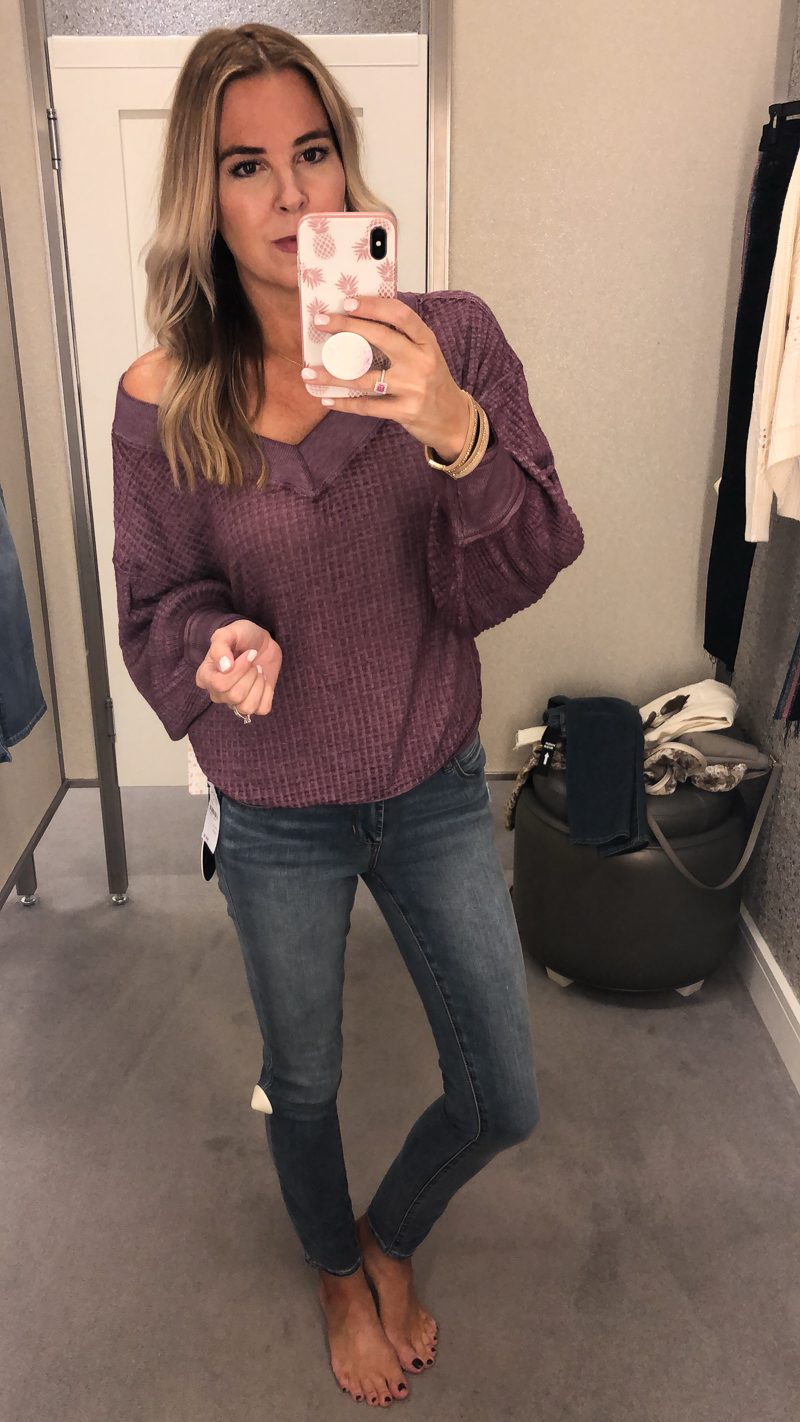 I wasn't impressed with this top on the hanger but loved it once I put it on. The color is prettier in person (everything looked more muted in these photos). It comes in so many colors and can be worn up on the shoulders or slightly off. I love the relaxed, chic vibe of this. Also LOVE the wash on these jeans. Great price and super soft. If you need denim for Fall that isn't quite as dark as your usual go-to pair, these are a great option. True to size.
DARLING DRESSES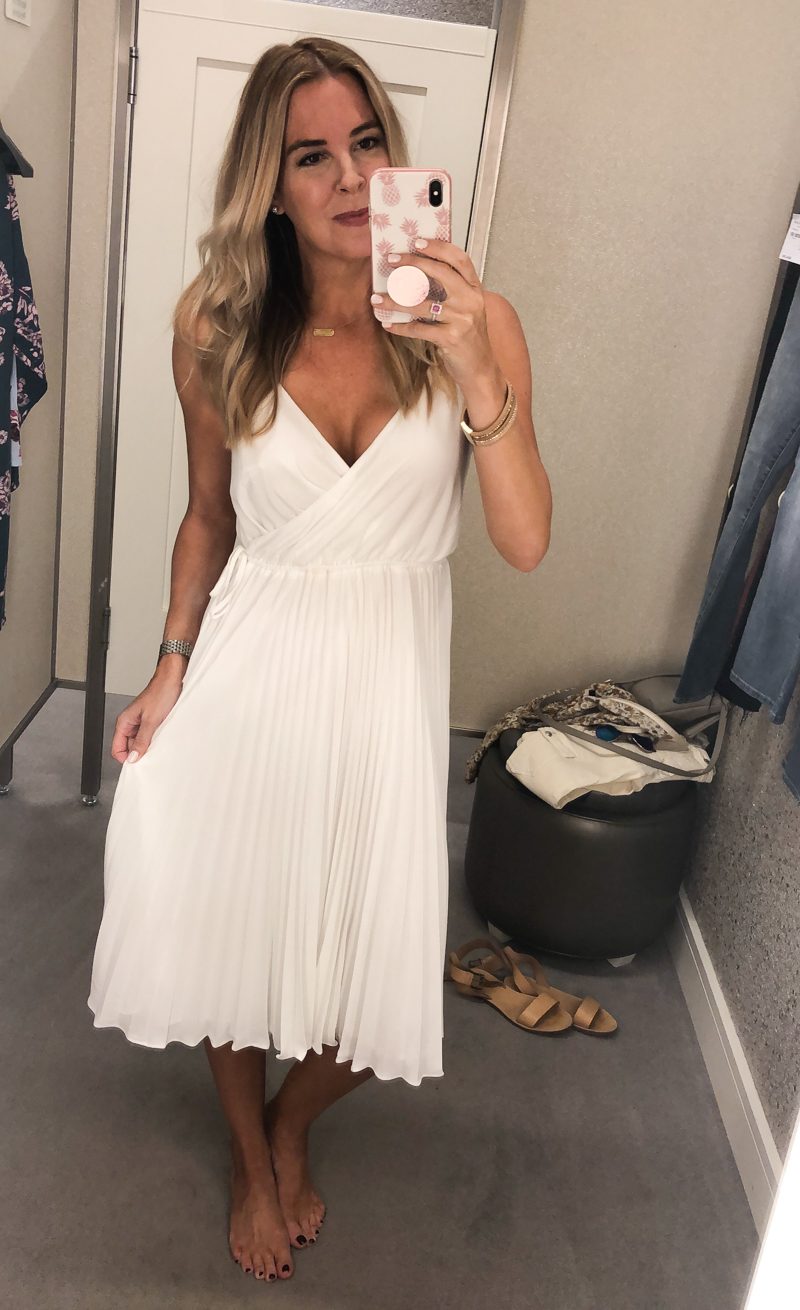 I have to admit I wanted to stand over an air vent a la Maryland Monroe. This dress is soooo pretty. I wear white year round and this dress is a winner in my book. It is so pretty when you twirl around.
Many of you have asked about my lip color. It's my favorite liner and the color is Cyber World. I wear it pretty much daily. I apply less for a more natural look and more if I want intense color.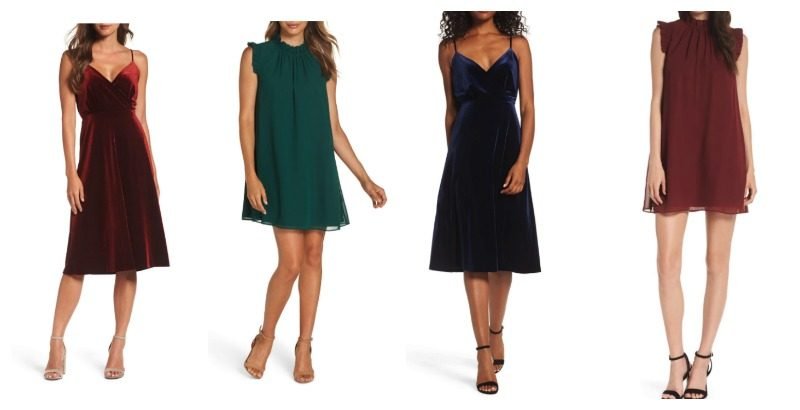 Because I loved it so much I looked up more dresses by this maker and found these. I thought these would all be gorgeous for a Fall wedding, holiday parties and family photos. The jewel tones are gorgeous. The short one comes in three different colors.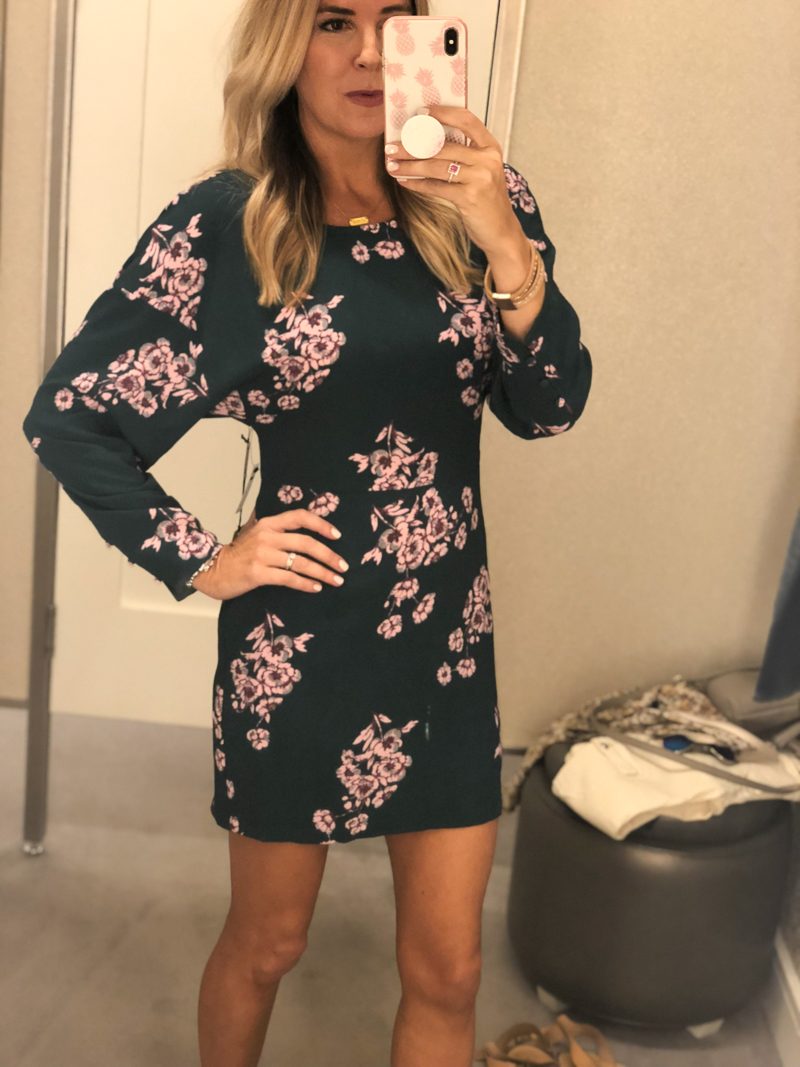 This dress came home with me and the color is so much prettier in person. I am not sure why I couldn't capture it. It's more of a beautiful, hunter green with pink flowers. But not as bright as it looks in the online store photo. Trust me it's rich and pretty color. There is just something about the cut that is so lovely. This has date night written all over it. I will most likely pair it with my nude heels. I sized down to an XS.
BACK IN STOCK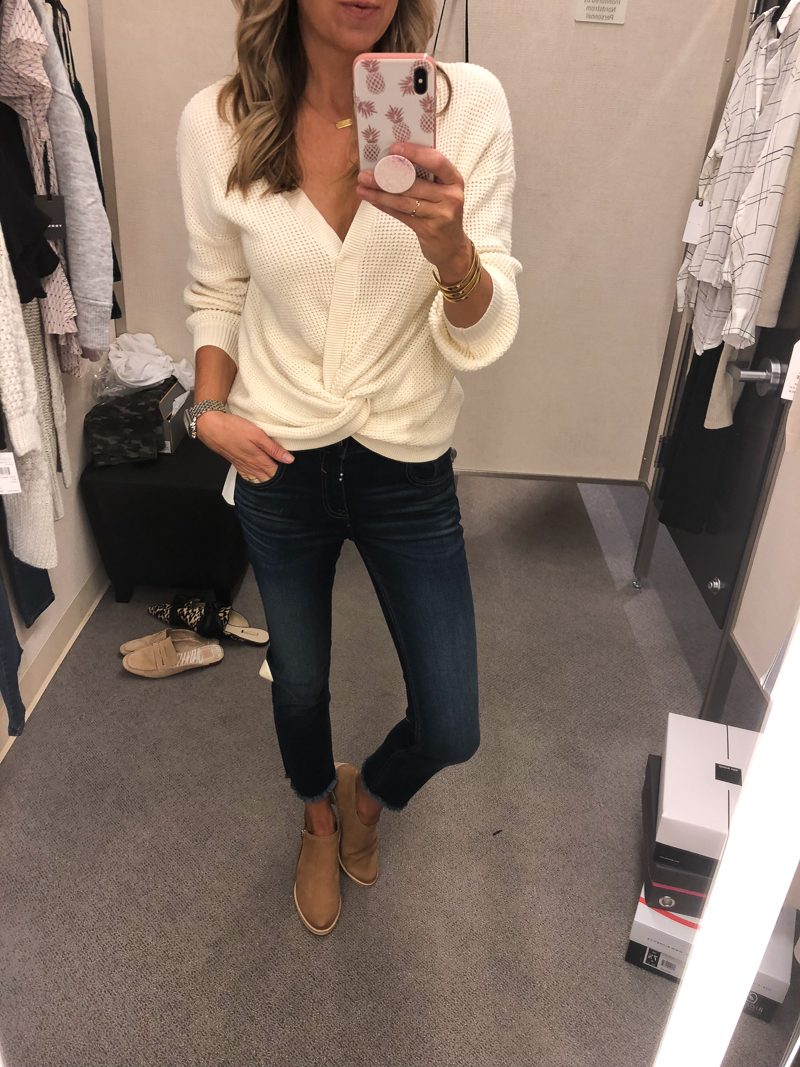 Just a heads up that this sweater of mine is restocked in all sizes in this ivory color. I have worn this so much. In fact I just wore it this past weekend with a pair of black shorts and heels for a double date with friends. The booties are also so great for Fall. The heel is low and I LOVE the light color. My jeans are now 40% off. I grab these all the time. Great deal and very comfy.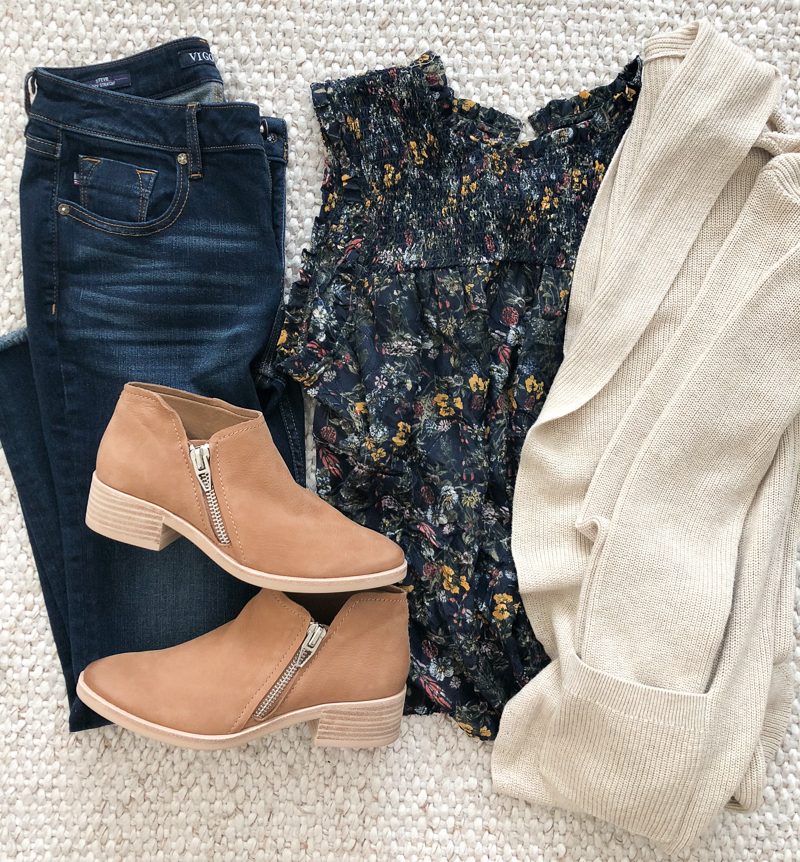 Here is a better look at the darling booties.  Always grab this light colored cardigan my when I just need something to keep me warm.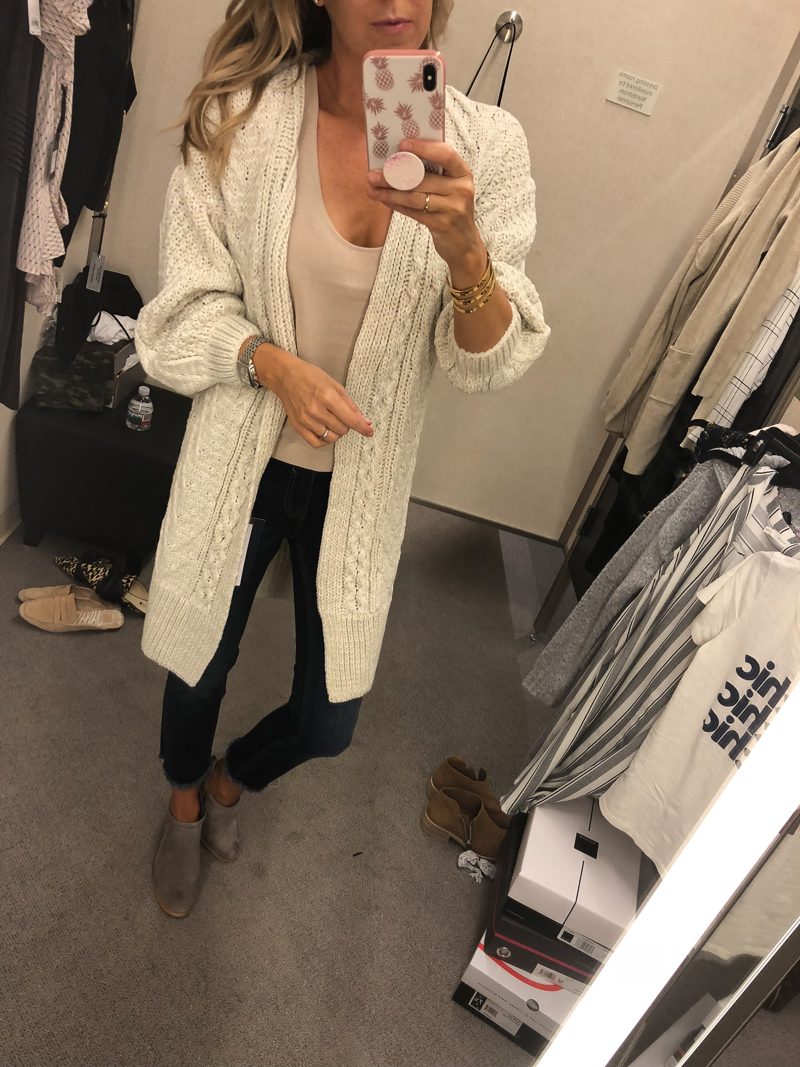 I bought this sweater back during the Nordstrom sale. While it's no longer on sale, it is restocked and I have been surprised how much I want to grab this. It isn't cold enough yet, but I have styled it a few ways for an upcoming blog post. I paired it over a polka dot jump suit when I shared my shopping secrets.  What I love most is that when you turn sideways it has a nice slim profile. So while it's a bulky cable knit it does not look frumpy nor does it overwhelm my frame. Two thumbs up on this one, friends.
Hope it's a productive and good day for you. And to our friends bracing for Florence I pray you have all taken shelter. Be safe.