Welcome. That's the feeling we want our homes to have, right? So even the front door is an opportunity to add warm and simple touches that portray how you want people to feel when they see your home. I shared our front door on my stories the other day and had so many questions so I thought I would answer them all here. Come on in.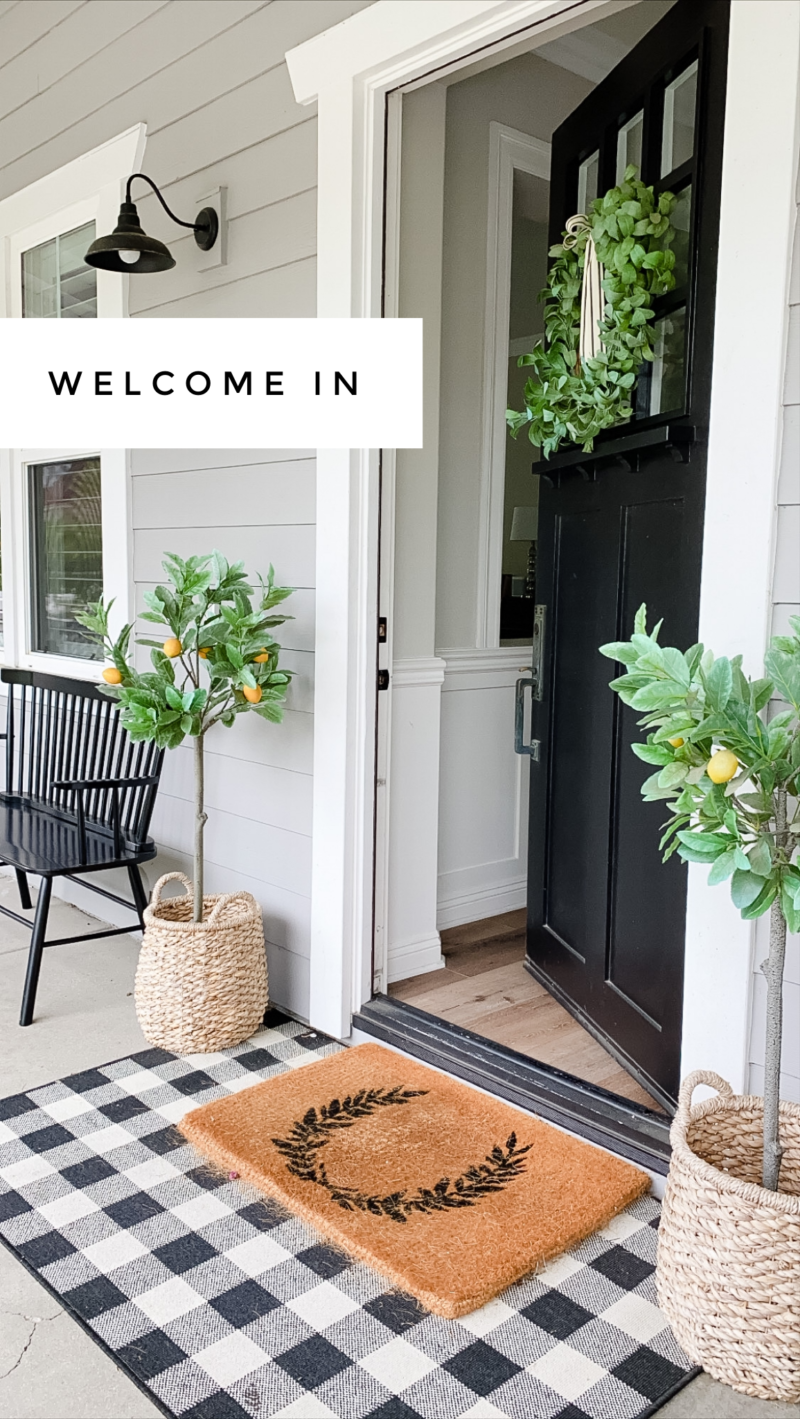 How tall are the lemon trees?
Our lemon trees are 4′ tall. I picked them up from Hobby Lobby two seasons ago. I might need to replace them next summer as they are beginning to fade with the sun exposure. The porch is covered but the door receives direct sunlight for a portion of the day. That is actually why we moved to faux trees. I had terrible luck trying to keep something alive. I tried for two years. It was more affordable to go with a faux tree and switch them out after 2-3 years. This lemon tree is also 4′ and currently on sale. They definitely bring me joy and I am happy we switched over to artificial.
Is the bench made for outdoor?
We love this bench. I do think that over time, the sun exposure will take a toll but so far so good. It isn't specifically made for outdoor purposes so I would recommend making sure the spot you place it is covered. It looks darling inside if you have space, too. I had it in our entryway for a bit of time. It also comes in gray and white. It's a fun spot to add seasonal decor to as well.
Can you tell me about your wreath?
I ordered the wreath from McGee and Co. a couple of years ago and it is no longer sold. This one is beautiful but quite an investment. I think this wreath is a good option. The photos from buyers are really pretty.
Does the check rug get dirty?
Great question. I took these photos without cleaning anything first. The doormat sheds a bit so every once in a while we vacuum or shake out the rugs. While the checkered rug does get spots now and again from dirty shoes, it is indoor/outdoor and can be hosed off. That is the beauty of it.
What size is the black and white rug?
Our rug is 3'7″ x 5'6″. For a long time I had a much smaller rug layered under the doormat and I didn't realize the scale was off. I highly recommend going larger if you have the space. It makes more of a statement and this one is under $60.
What is in the baskets?
Loved this question because most faux plants come in very tiny pots. They need to be placed in a much larger basket to add the texture, scale and charm. This is my exact basket and we filled it with rocks from a local hardware store. You will want to do something to cover the original pot and to weigh them down so they do not blow over. I have seen other people place a layer of dirt on top of the rocks which is also a great idea. Definitely makes it look more real. I might get around to that one day.
FRONT DOOR CHARM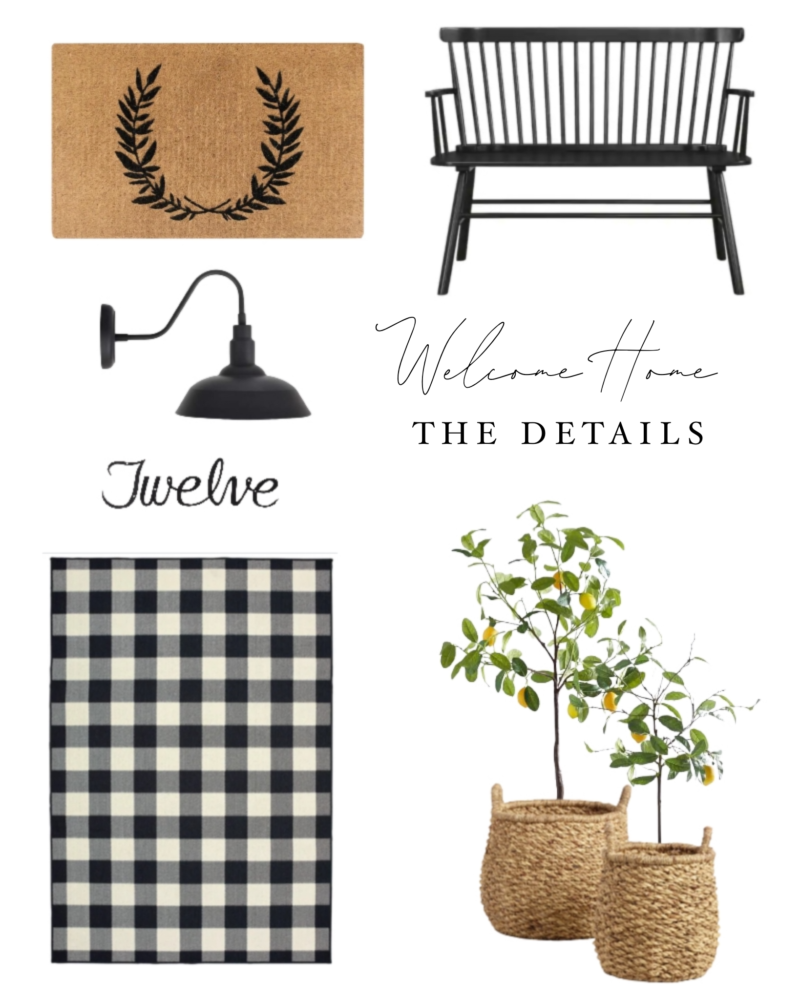 doormat | bench | light | number | rug | lemon tree | baskets
Even though we aren't entertaining right now, it's still fun to create a welcoming environment for our family. I hope these ideas spark an idea or two if you find yourself upping your curb appeal game. And in case you missed it, yesterday I shared easy ways to make your family night in extra special. Make it a great day.