A big thank you to all of you who left such thoughtful comments on the Fixer Upper post or who sent me a personal email. Your taking the time to do that really means so much. I love that we all enjoy the show and the design ideas so much. Today I am getting a little girlie on you and sharing a fun garden party look. While is Dallas, I wore this two-piece dress and had so much fun shooting with Rebecca. While I am a ripped jeans and tank kind of girl, I also LOVE getting dressed up. It's just plain fun. The only thing that would have made this party more fun is if my husband would have been there to go out with afterwards! I rounded up some pretty dresses that would be great for any upcoming summer events. I will be wearing this dress to a wedding we are attending in just a couple of months.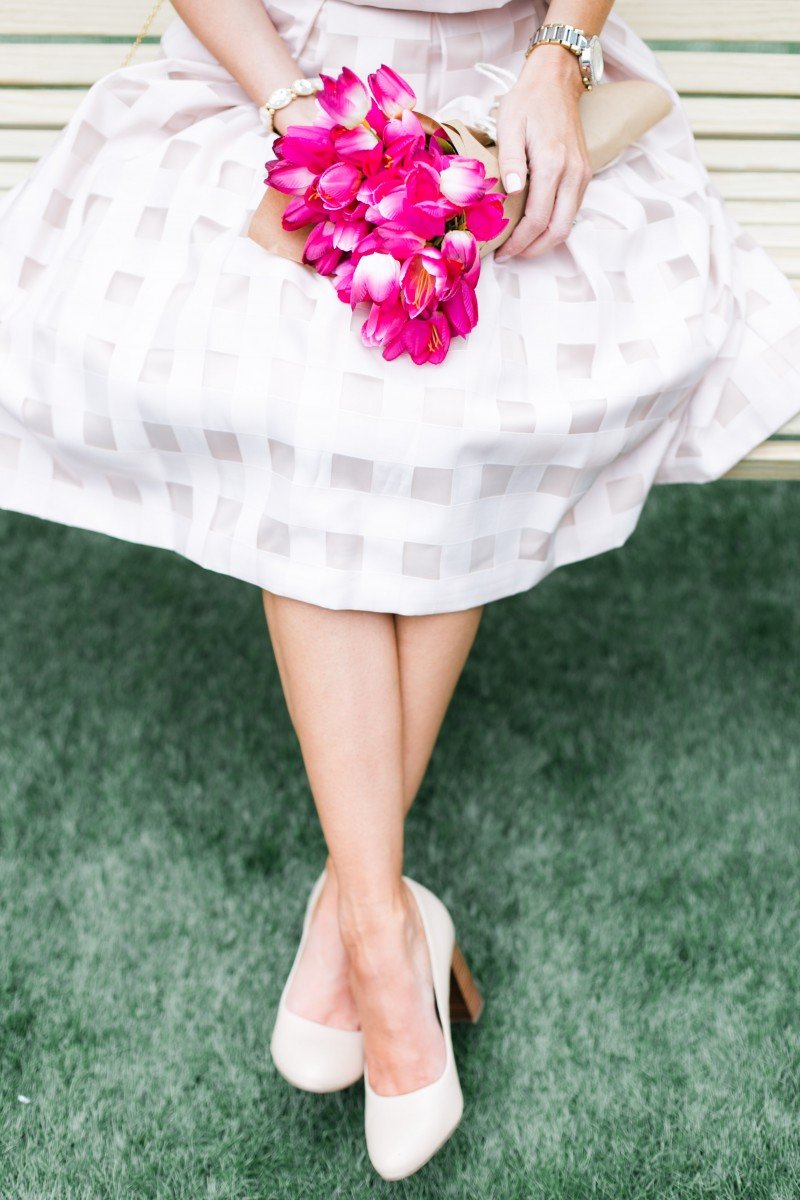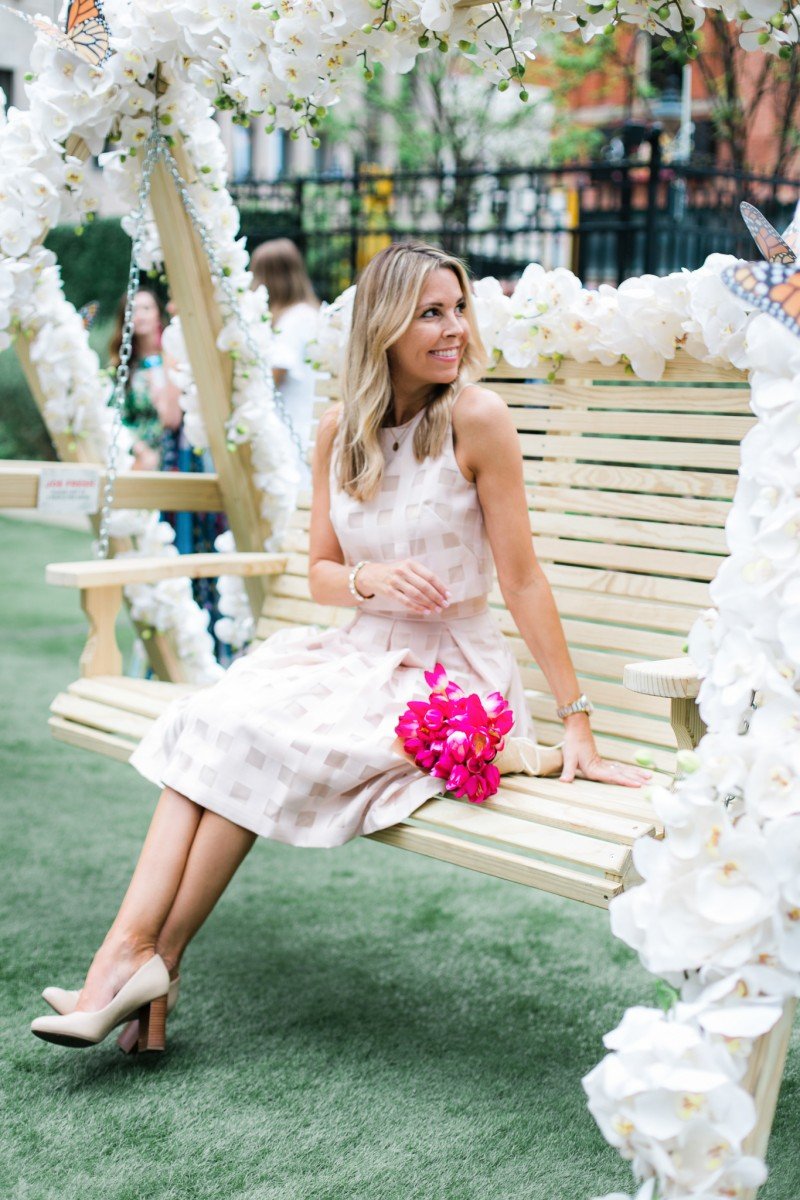 The garden party hosted by Joe Fresh had such beautiful decor. I wish I could magically transport this flower covered swing to my yard. I had never worn block heel pumps before and I am sold. Girls, these are sooooo comfortable. First of all, if you have any outdoor events they are ideal because you don't end up aerating the lawn. But also, I could literally wear them all night they are so comfortable. These particular ones are almost sold out but I rounded up some more block heels below ( I bought 1/2 size down). I really want to try these on. How cute are they?!
Block Heels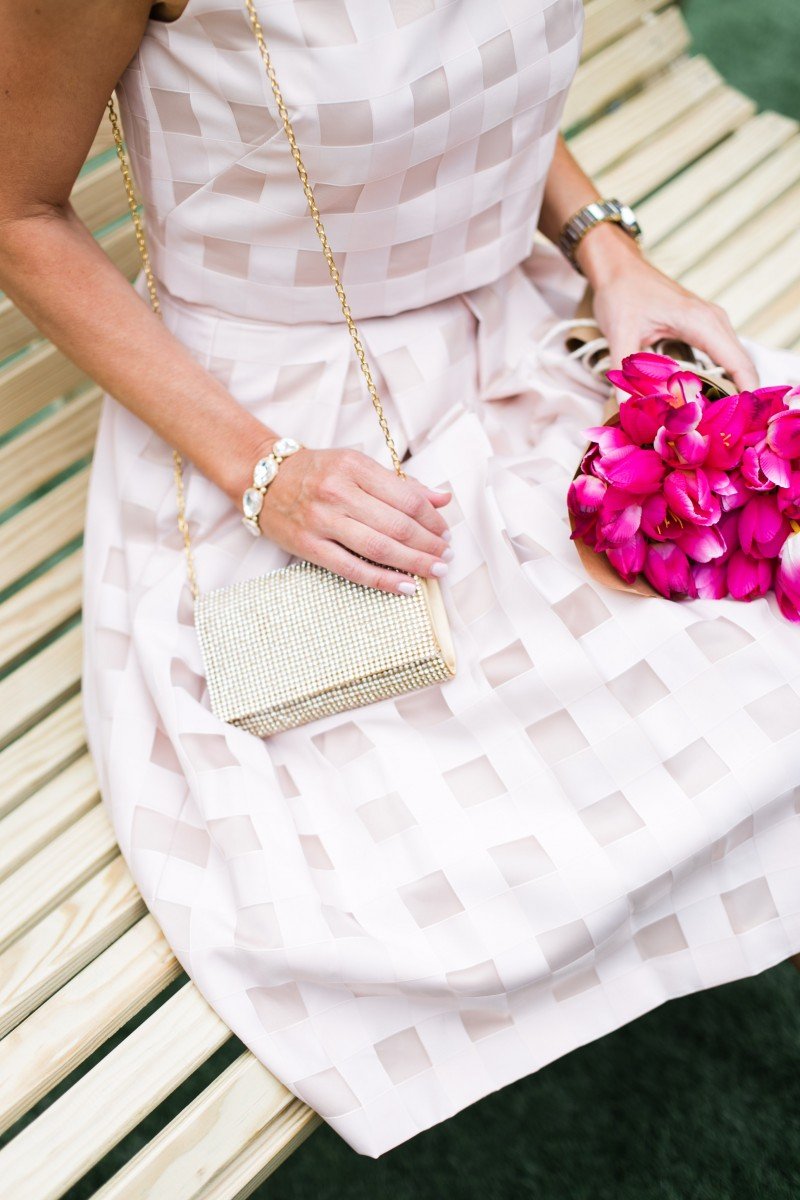 It's in the details, right?! I thought less would be more with this dress and I wanted to keep the overall look neutral so I went with a simple bracelet and my rhinestone clutch. I have had this for years. I really do hang on to key pieces forever. My advice when purchasing a true evening bag is to be sure it has an over the shoulder chain. It really is so nice to be at a party or wedding and be hands free. It just makes sense. Mine is no longer being sold but this one is so similar. And go with a metallic so it goes with any color you choose.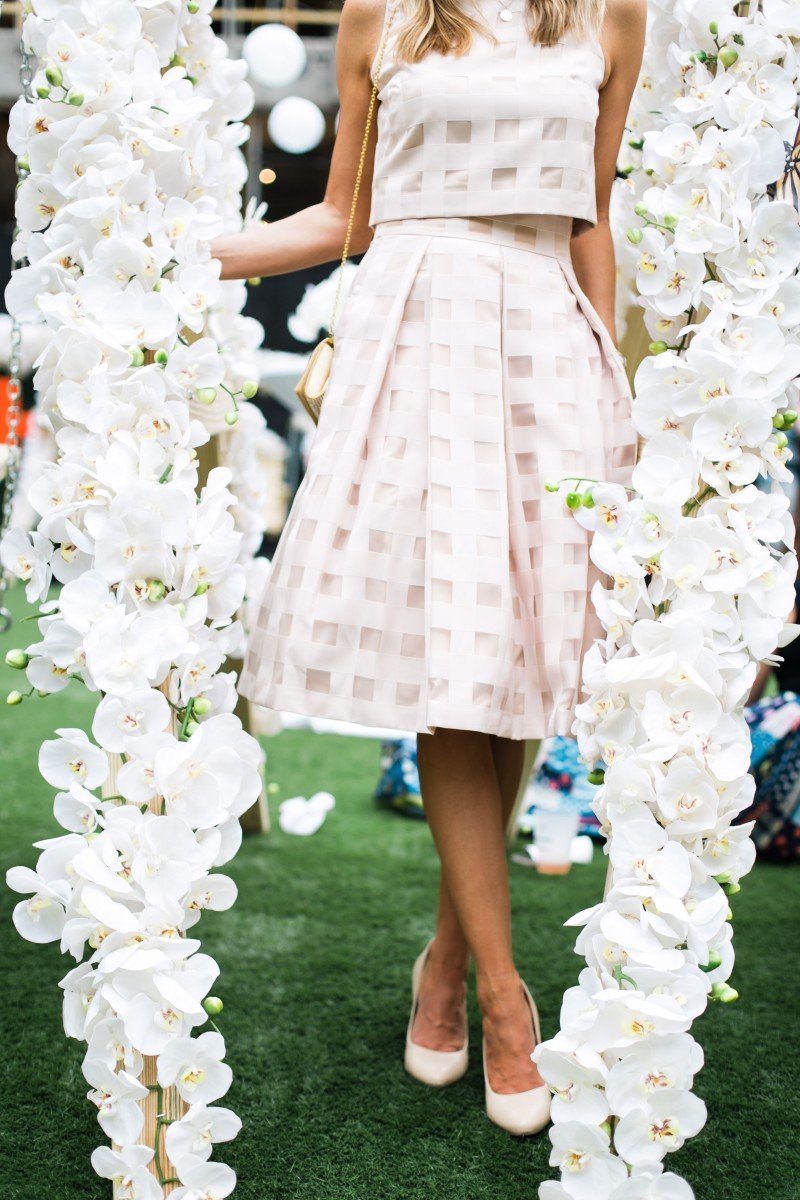 Sometimes it pays to go outside of your comfort zone. I had never worn a dress like this. I normally gravitate towards the short swing style dresses. Highly recommend trying something new. Maybe just trying on a few dresses in store will help you break out of your comfort zone, too. And remember, the hanger is never the best model for a dress so don't judge before you try it on! And if you are buying online, I am wearing a size 2 in this for reference. I know sizes have gone quickly. This is the same cut but in a floral print top and skirt. So pretty for this time of year.  I almost bought this one. It's much prettier in person. And if you are a strapless kind of girl, this dress is so gorgeous.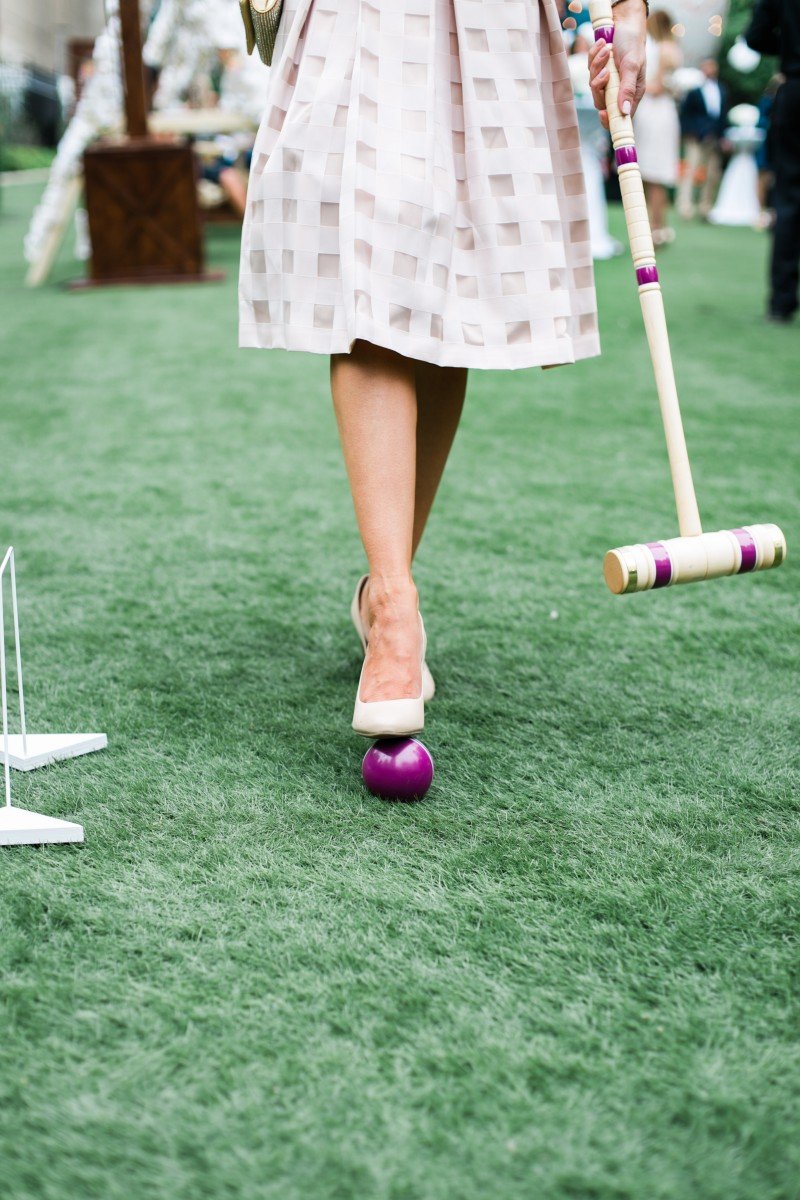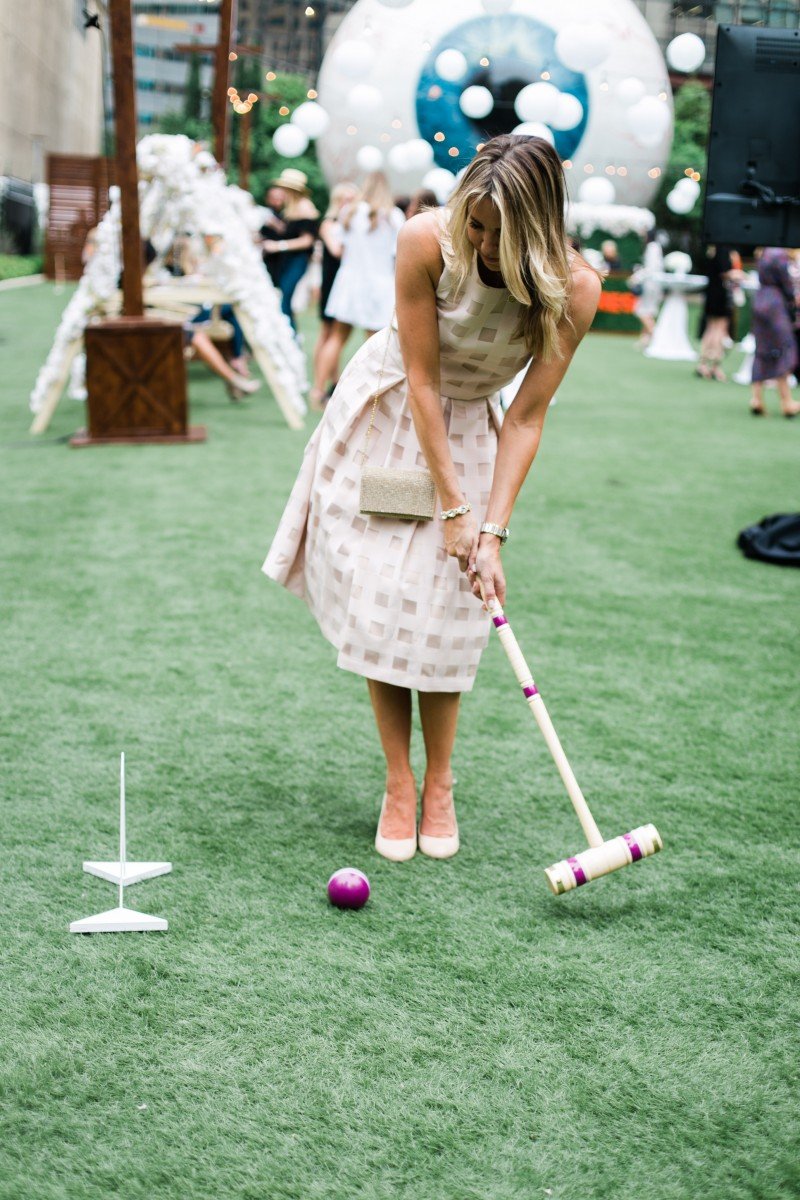 A party with a giant eyeball and a croquet set. Totally normal, right?! I have to say, though, croquet brings back so many memories from when I was younger. The grandchildren would all play at holiday parties. One year, my sweet older brother was standing directly behind me and I took a huge golf-like swing. The poor kid. I literally gave him a black eye with the mallet. It was horrible. He's in heaven now and I am sure he was looking down when I picked up this mallet thinking, "Get our of her way, people! She doesn't know what she's doing!"
While this little gold purse is no longer being sold, I found a few more that would be good options.
Beautiful Evening Bags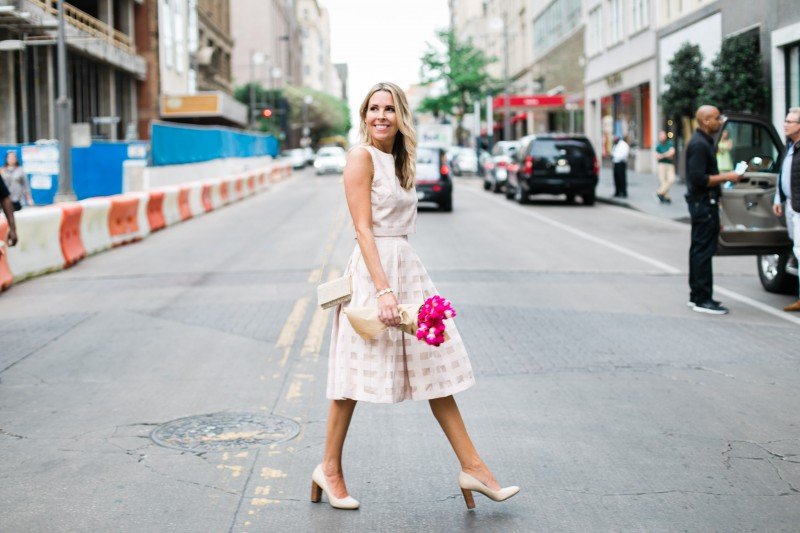 If you have a special occasion coming up, I rounded up dresses I absolutely love below. And this one is being price matched right now which brings it down 25%. It's really so pretty.
Pretty  Summer Dresses

If you are on Instagram, I tried this strapless dress on and really like it. Such a beautiful floral pattern plus you can dress it up or dress it down. It's only $62 and looks so much more expensive. I bought a 2.
And this little number is only $66 and a great cut for so many body types. I love the neckline and it comes in four different colors. I just stumbled upon this teal dress. I love the detail and the color. And the $44 pricetag!
And this super comfy dress is 30% off because everything in the store is for the friends and family event!!! Unrelated to dresses, one of my favorite tanks is now only $20.  I have the white one.
A huge thank you to Rebecca from Beckely & Co. for snapping these photos. We had so much fun working together. If you are in the Dallas area and need a photographer for any reason, I highly recommend her. She was amazing to shoot with.
*affiliate links used