Thank you for all of the sweet comments about our daughter's design plan. She is so excited. I always love 'Fixer Upper | The Takeaways' day on the blog. My admiration for the Gaines Duo knows no bounds so it's always so much fun to watch an episode and then share the takeaways I see with all of you. While none of us may be making over our entire home, it's fun to tweak things here and there and anytime we can infuse some Chip and Joanna style it's a good day. Sharing 16 Takeaways and sources for many of the beautiful pieces from the carriage house at the Magnolia Bed and Breakfast. This home is all about rich textures. Can't wait for you to see.
Takeaway #1: Curb Appeal is Key
Isn't this beautiful? The darling couple that will be running the B & B will live in this carriage house on the property. Dreamy. When you really break down this exterior there is a lot going on. You have contrasting paint colors with the dark shutters and light house color. Plus the white trim and gorgeous wood door and planked porch. The black lights and the pretty planters are the icing on the cake. I am realizing that our home could use some wood accents. While we have a black door, the wood elements really warm up this exterior. So maybe take a look at your exterior and see which of these elements could make a big impact to really amp up the curb appeal.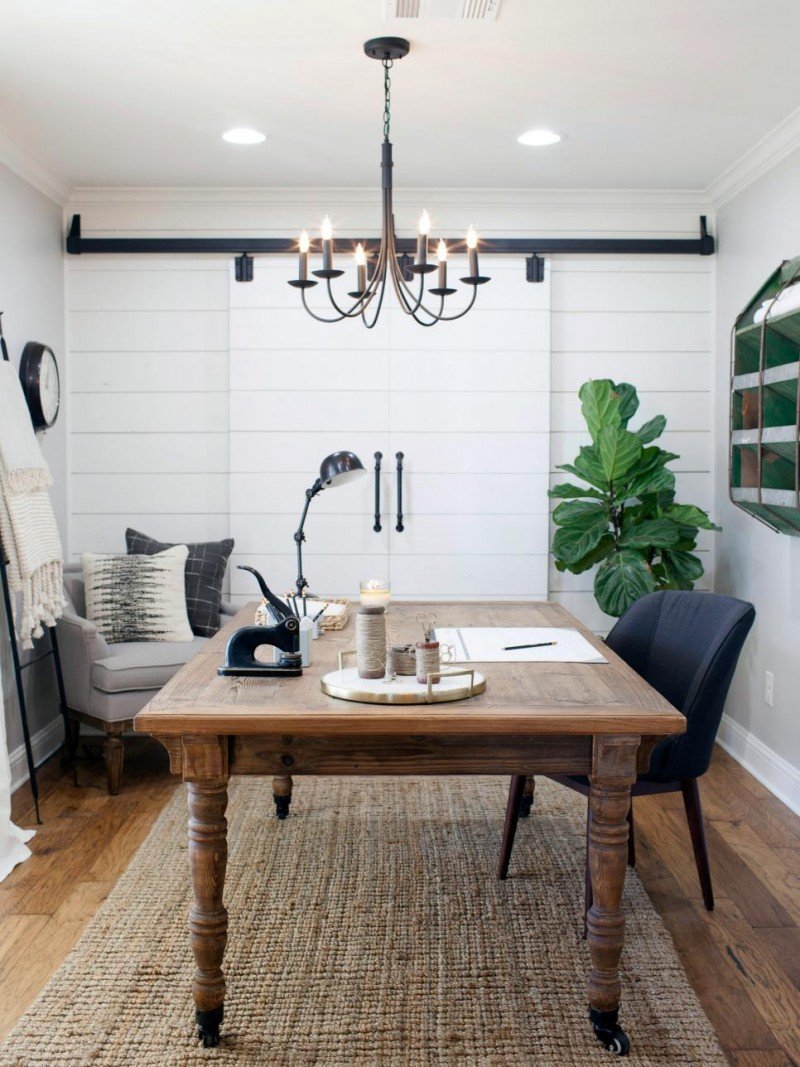 Takeaway #2: Consider Adding Casters
I never really thought about this before but we all know it's in the details. Using an old table as a desk can really add so much warmth and character. Take it one step further and have casters put on. You can order these online or even find them at hardware stores. I like how the black casters break up the neutral table on the neutral rug. And just a little detail that really adds a lot.
Takeaway #3: Pair a Rustic Table with a Textured Rug
I love the texture in this room. It's largely due to the rustic desk placed on top of a great neutral rug. While the floor, desk and rug are all similar in color, the layering adds dimension to this space and works well with the shiplap walls.
Such a classic chandelier. This one is quite similar and on sale right now. This one is also very similar but pretty pricey.
Build a Similar Office Space

Takeaway #4: Add Copper
They did it again with a beautiful kitchen. I love the copper lantern pendants. GORGEOUS. You can find them here (27% off). They have received awesome reviews. I wish you could find them in my home but we don't really have a spot for them. I love the way they contrast with the dark metal on the barstools. The copper adds so much warmth and they repeated that in the faucets and cabinet hardware. Really pretty with the white backsplash and pale gray cabinets.
Shop This Room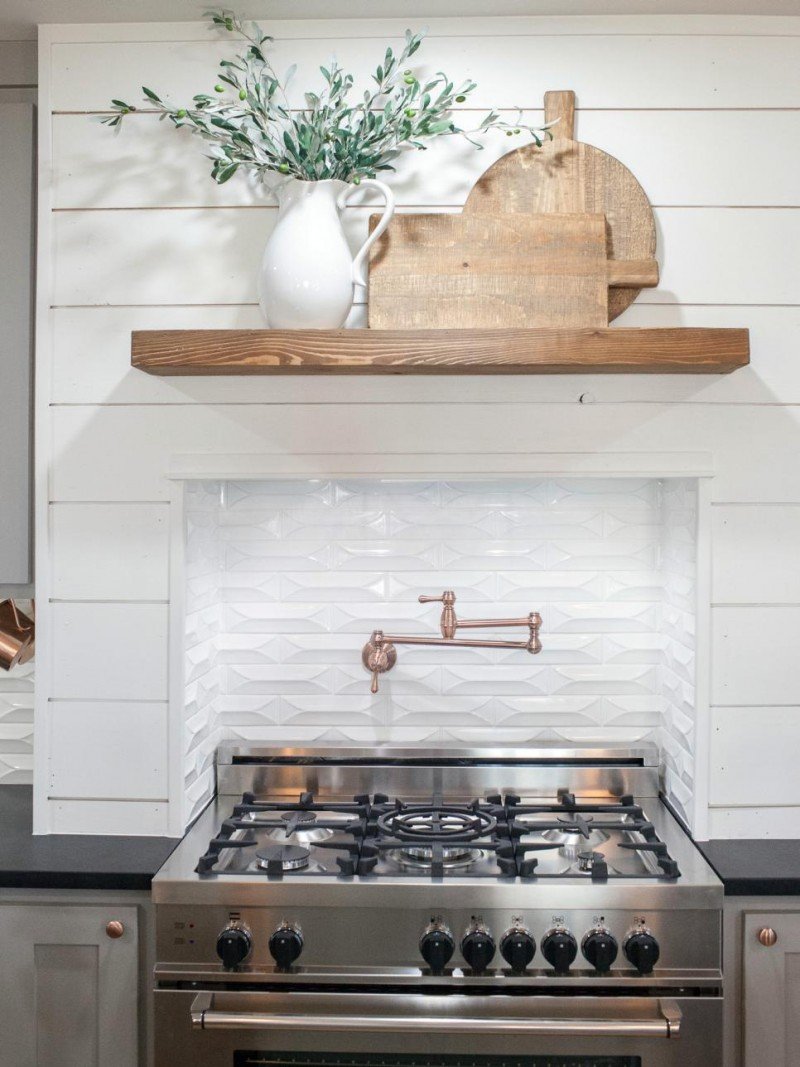 Takeaway #5: Ditch the Hood
I just want to stare at this. I am assuming the vent is above the stove and I love swapping out a traditional bulky hood for this streamlined shelf. So simple and beautiful. I have this white pitcher and keep it on our dining room table with flowers on a daily basis.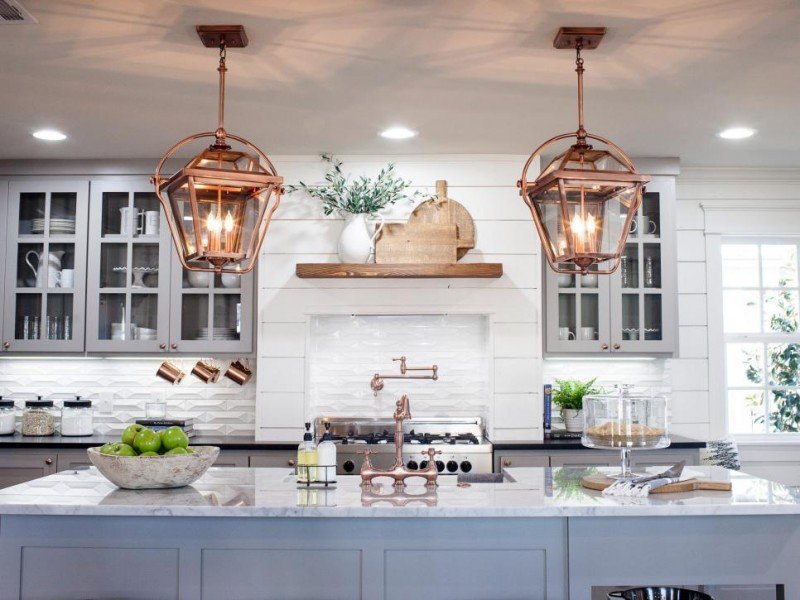 Takeaway #6: Use a Textured Backsplash
I told you this home is all about rich use of texture. Look at that backsplash. It adds so much dimension. We have something similar but the beveled edges aren't quite as pronounced. I think anytime you can add some depth to your backsplash it really creates more interest. Also love the way it reflects all that gorgeous light.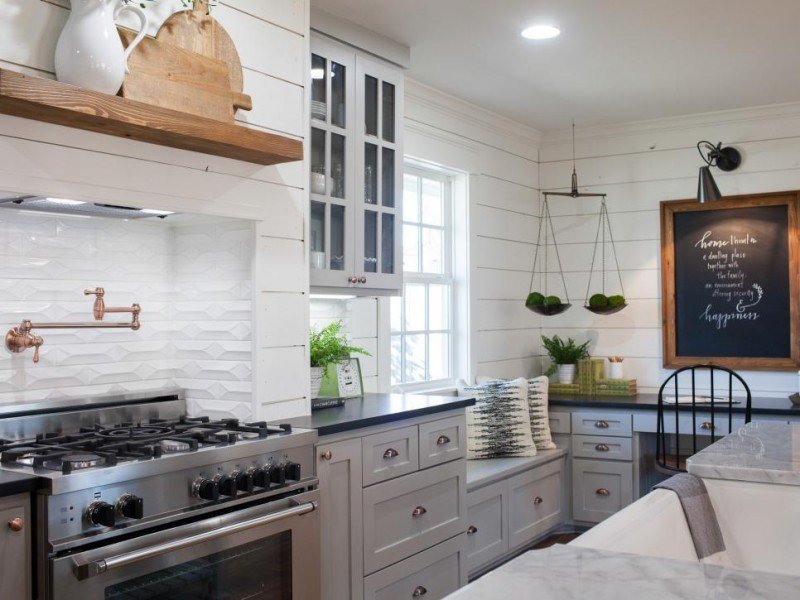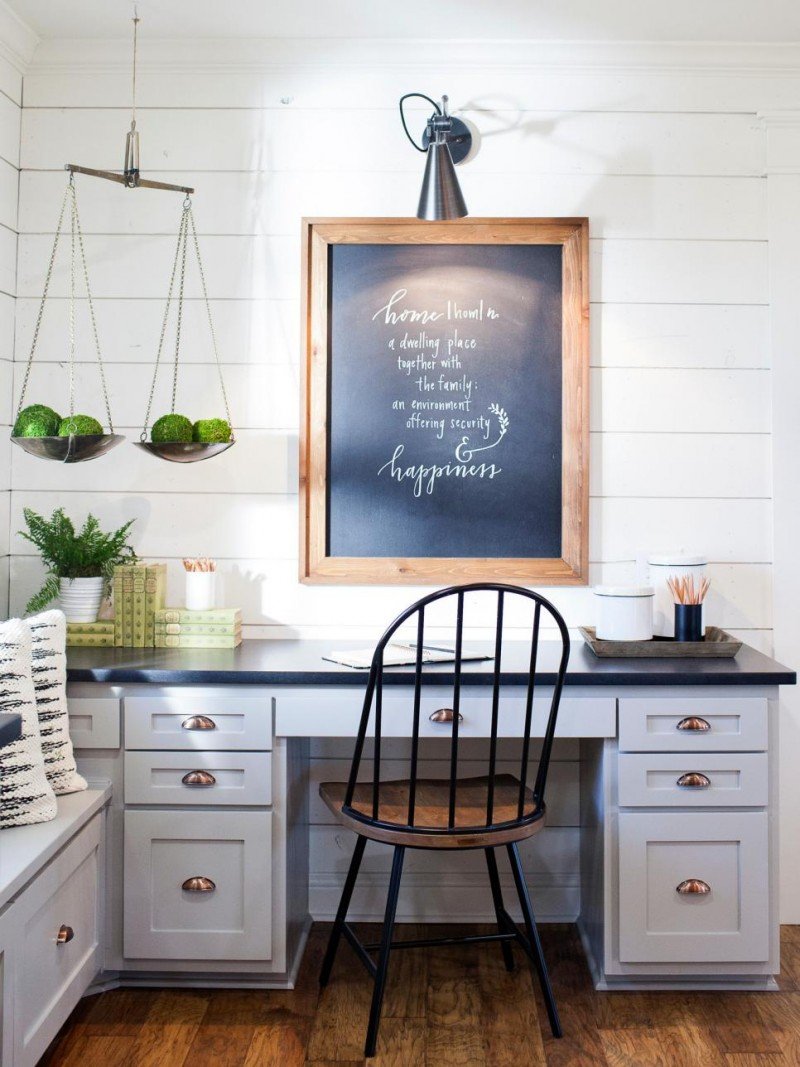 Takeaway #7: Chalk it Up
Some call the chalkboard a trend, I call it a staple. I honestly love a chalkboard in the kitchen. We have one above our sink and I write inspiring quotes on it and often change them up. Or I can write birthday messages or a menu when we entertain. Chalkboards instantly make a space look a bit less formal. Not as buttoned up and when your really want your home to feel lived in and welcoming, a chalkboard can accomplish that.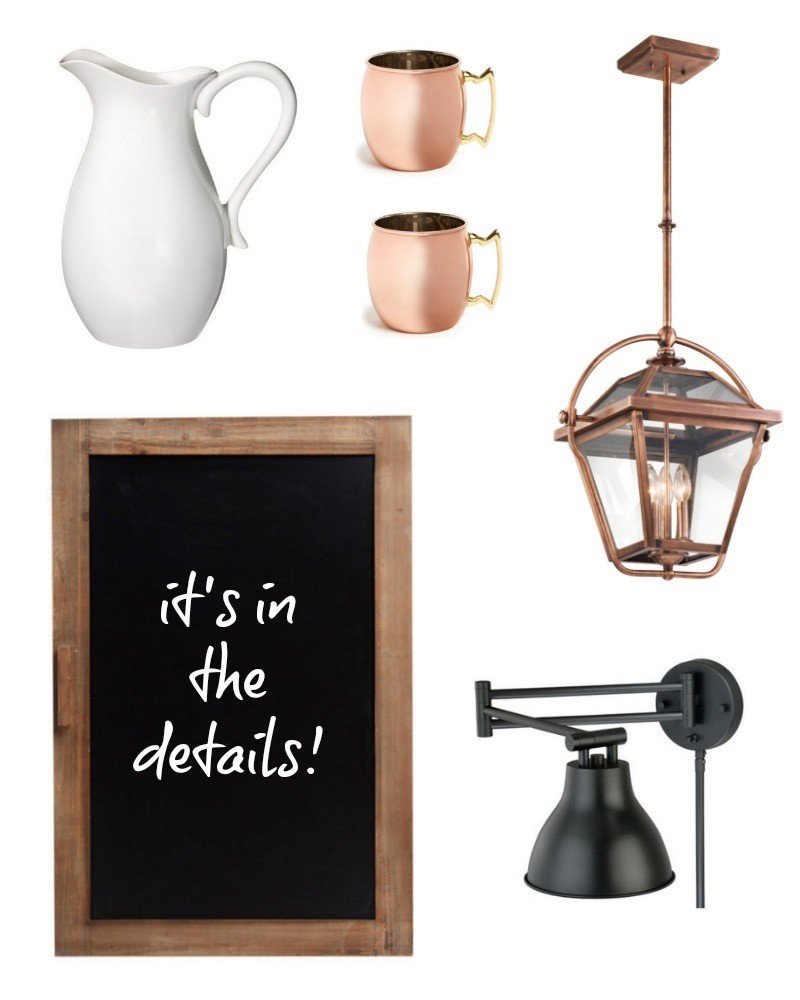 pitcher | copper mugs | pendant lights | chalkboard | swing arm lamp
It's in the details, right?! These are some of my favorites from this room. Those copper pendants are just over the top so fantastic.
Takeaway #8: Set a Warm Table
I love this dinnerware. I am usually an all white dishes girl, but the black trimmed edge is pretty darn cute. The wood chargers add so much warmth to the table. Similar ones are found here.  This reminds me of the office with the layered tone on tone look. You have the table, placements and chargers that all come from the same color family but add so much warmth and texture.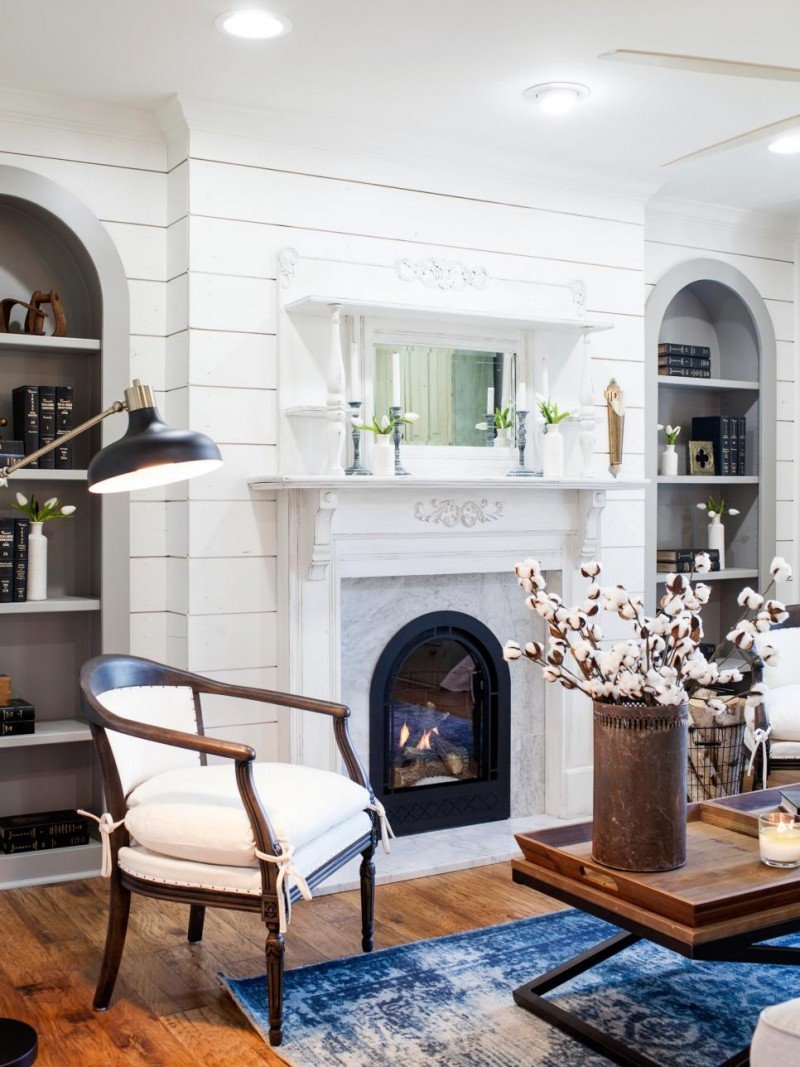 Takeaway #9: Use Beautiful Accent Chairs
I'm completely smitten with this room. I really really love it. The color of the floors, the overdyed rug and the traditional accent chairs. Ahhhh! If anyone finds those exact chairs please let me know. I am still looking but found really beautiful ones below. But what an impact, right? And I like that in this smaller space, they used chairs that are more visually open. The lamp is the same one we used in my son's room and can be found here. 
Unique Accent Chairs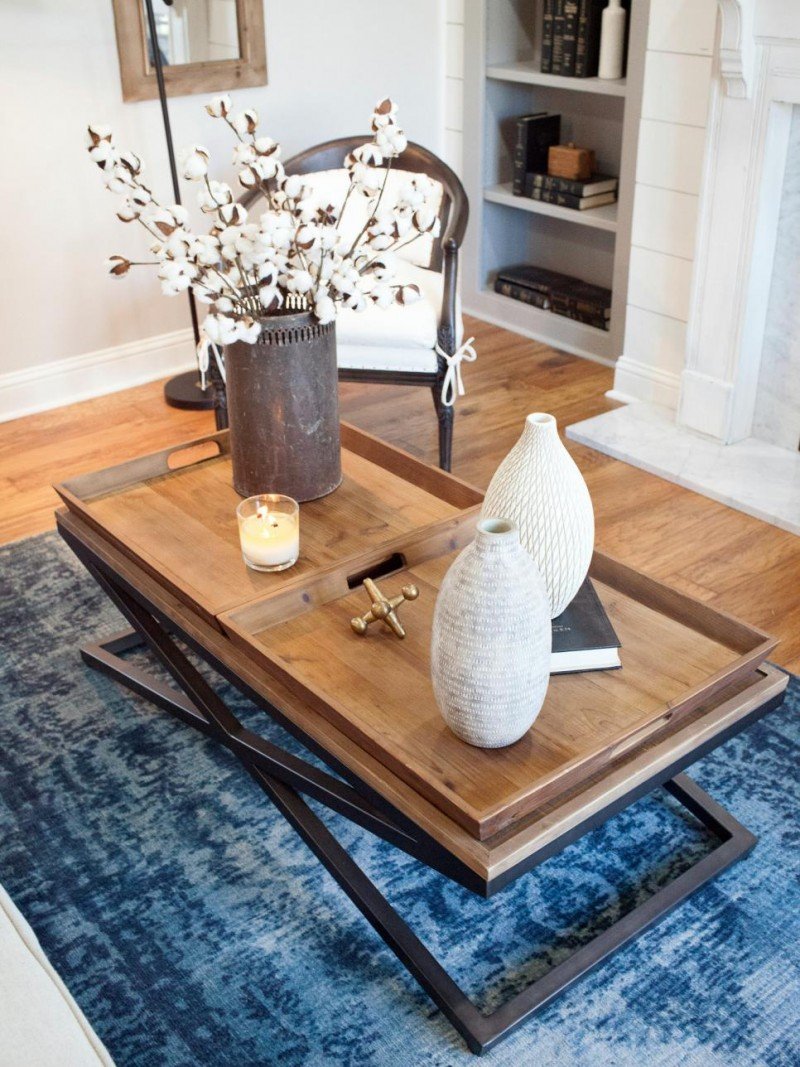 Takeaway #10: Add an Overdyed Rug
These rugs have been on trend for quite some time, but really do create such a pretty pop of color while remaining neutral enough in pattern. And they do give the room more of a lived in feel when paired with the wood tones and casual accessories.
Beautiful Rugs

Takeaway #11: Add Trays to the Coffee Table
This is also a great coffee table. I really like the idea of having trays on top. You could even add your own trays to any current coffee table. While looking around I spotted this one and for some reason I just love it. The way the legs are made makes it so unique. This one is quite similar with the tray and a very inexpensive one, so not sure about the quality.
Similar Coffee Tables

Takeaway #12: Sticks in a Vase
This is more of a family joke. My sister once said you can make a space look great with sticks in a vase. LOL. But it's true. Add some really pretty stems to a unique vase and it looks fantastic. Plus the tall stems help to fill the visual space of the room. My family room looks entirely different if I don't have an arrangement on the coffee table.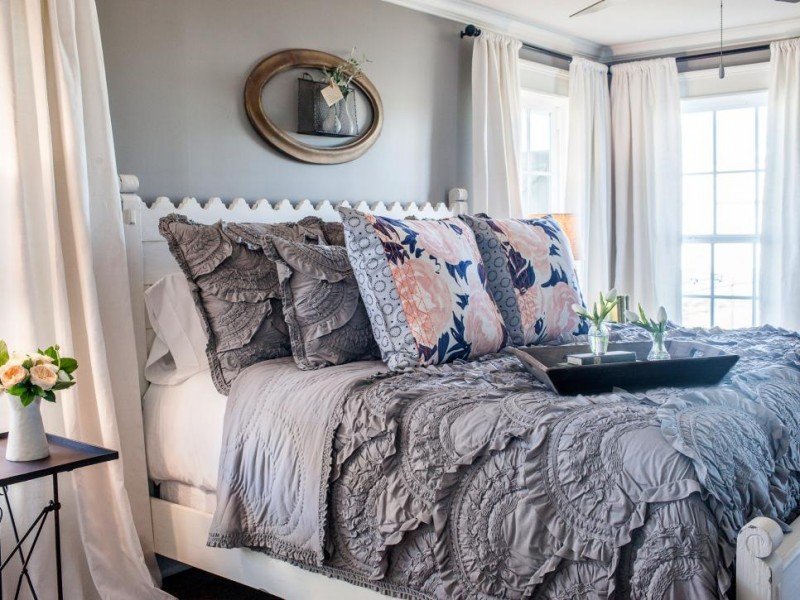 Texture, texture and more texture! I love it. The coverlet is from here and rather pricey. But this would be in inexpensive alternative and a great way to infuse that texture. The floral pillows remind me so much of the ones from Caitlin Wilson.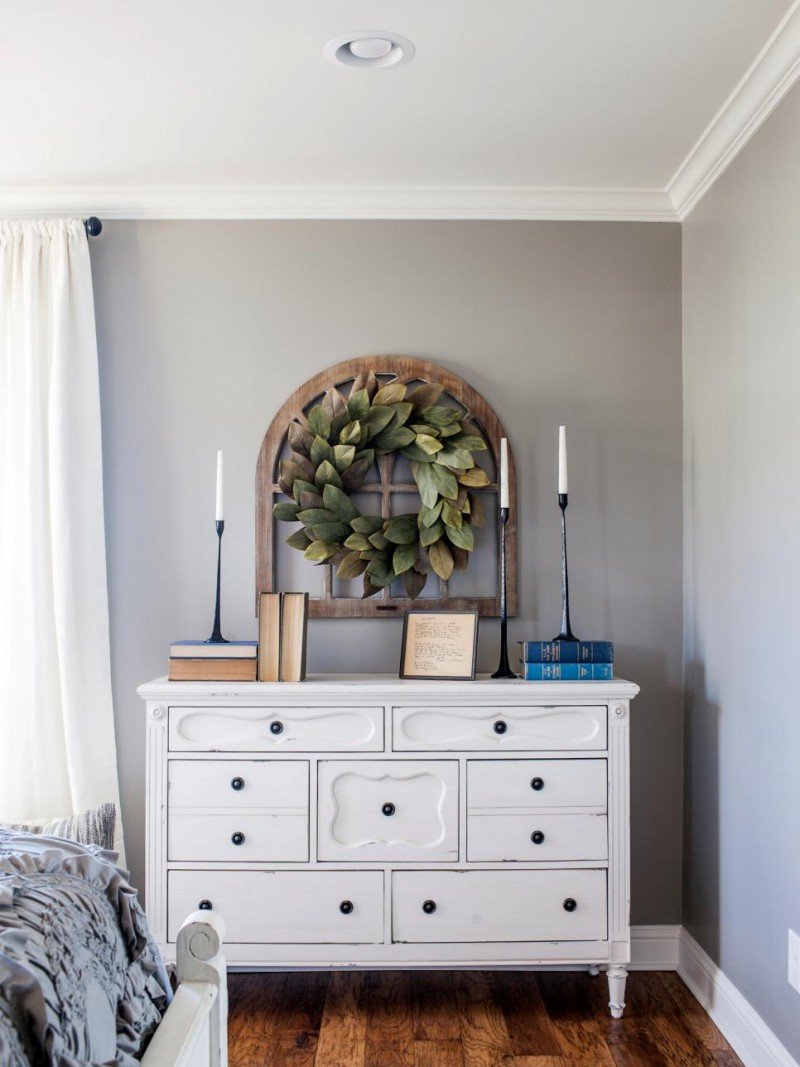 Takeaway #13: Use a Wreath Year Round
Isn't this pretty. I really like the white dresser with the color of the floors. And the magnolia wreath over the window frame is beautiful. The wreath would be a great DIY project from somewhere like Michaels. Or you could keep an eye out at HomeGoods. It doesn't have to be the holidays to add a pretty wreath to a room. This has me thinking I may do this above our bed. I honestly love our bedroom the most during the holidays because I hang a wreath above the bed. Thinking I should do this year round.
Takeaway #14: Shop Thrift Stores for a Dresser
This is a great way to style a dresser if you're struggling with yours. And thrift stores are a great place to find old dressers that you can paint yourself. I love the Martha Stewart Vintage paint for projects like this. New ones are rounded up below. But I say save yourself some money and consider painting one you find!
Shop White Dressers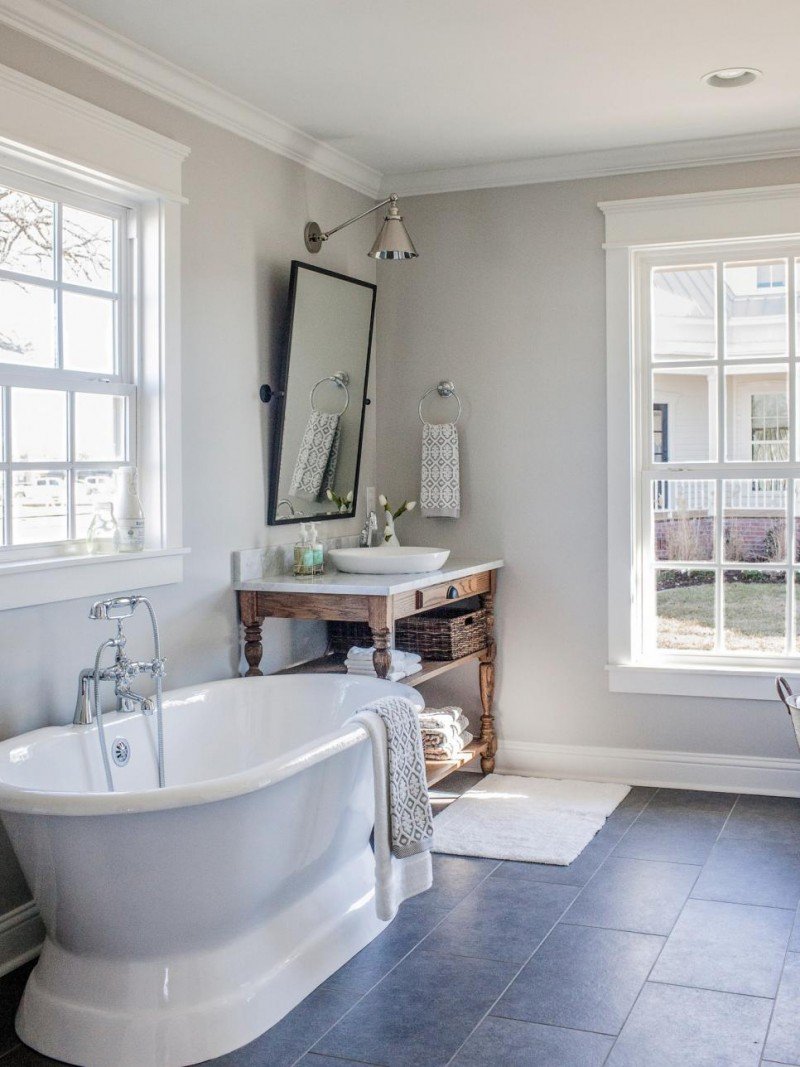 Takeaway #15: Add Textured Towels
Once again it's about texture and detail. The textured towels are so pretty. These are a lovely ivory version.
Takeaway #16: Turn Furniture into a Vanity
I really like when the vanity can look like a piece of furniture. Their carpenter, Clint, created these but this one gives a really similar feel. And I like how it is juxtaposed with a more modern sconce. 
Where can you add more texture to your home? Can you add more layers?  This beautiful carriage house has me eyeing each room to see what I can rearrange. Sometimes just shopping your home or moving things from room to room can create an entirely new look. And I am on a mission to DIY a magnolia wreath so I will share that soon (whether it works or not!).
And as always, thank you to the very talented Chip and Joanna Gaines for providing us such gorgeous inspiration. Their hard work and talent always pays off and I am not so secretly wishing they would relocate to California! You can see more of this gorgeous home here. 
To get caught up on past installments of this series, you can read below.
Photos via Jennifer Boomer/Getty Images (via HGTV). Affiliate links used.
Shop the Post