I may be alone on this, but when the kids are just about to get out of school, I amp up my need for organization. Maybe it's fueled by the fact that the house is about to be turned upside down 24/7. Whatever it is, I'm going with it because the mood rarely strikes these days. Almost every birthday in our family falls in Spring and Summer and I had not revamped our gift wrapping station in forever. Sharing how it looks now and a few tips to make life easier.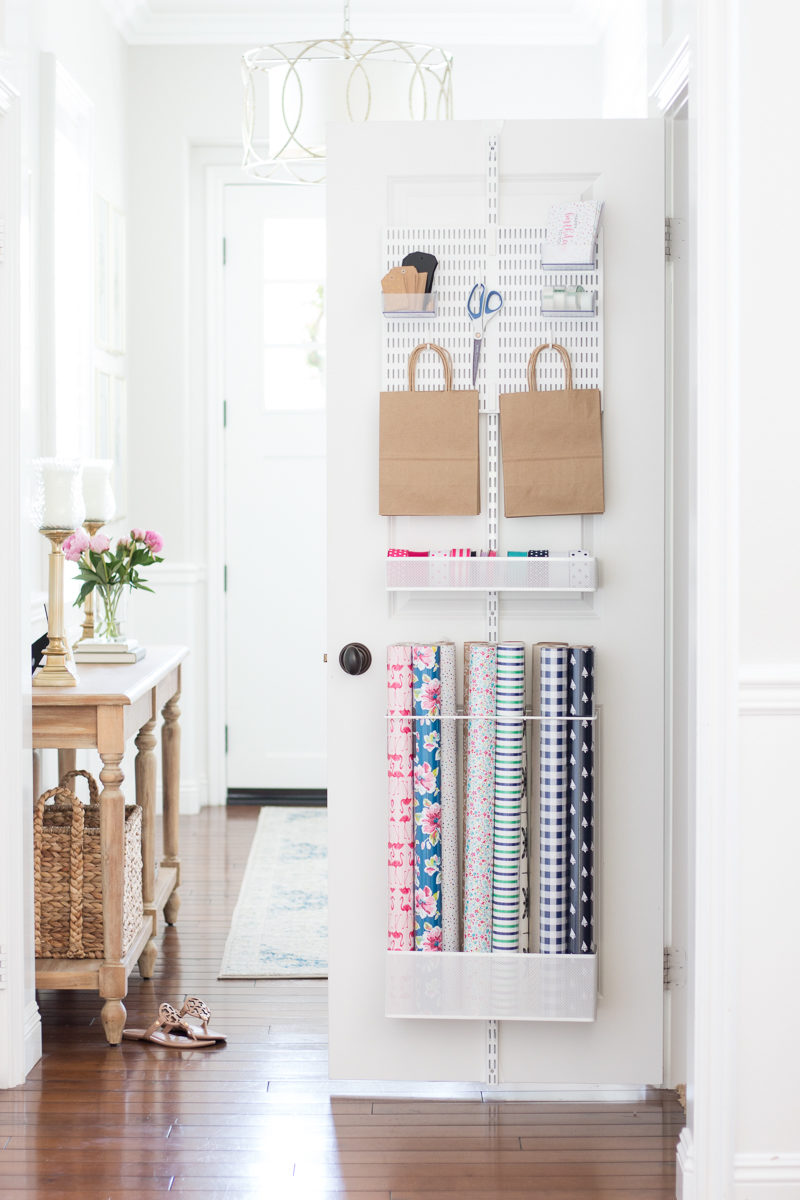 This door system is great no matter what size home you have. Chances are there is a closet door somewhere you may be able to use. Plus it does not harm the door in any way. It's a win-win.
Recently even my daughter noticed that our wrapping paper had seen better days (all that was left were the ones we no longer liked) and none of the ribbon matched. I honestly hadn't given it much attention since we installed this system. It was time. I only hit up HomeGoods (for paper) and Michaels (for ribbon and cards) to get this back on track.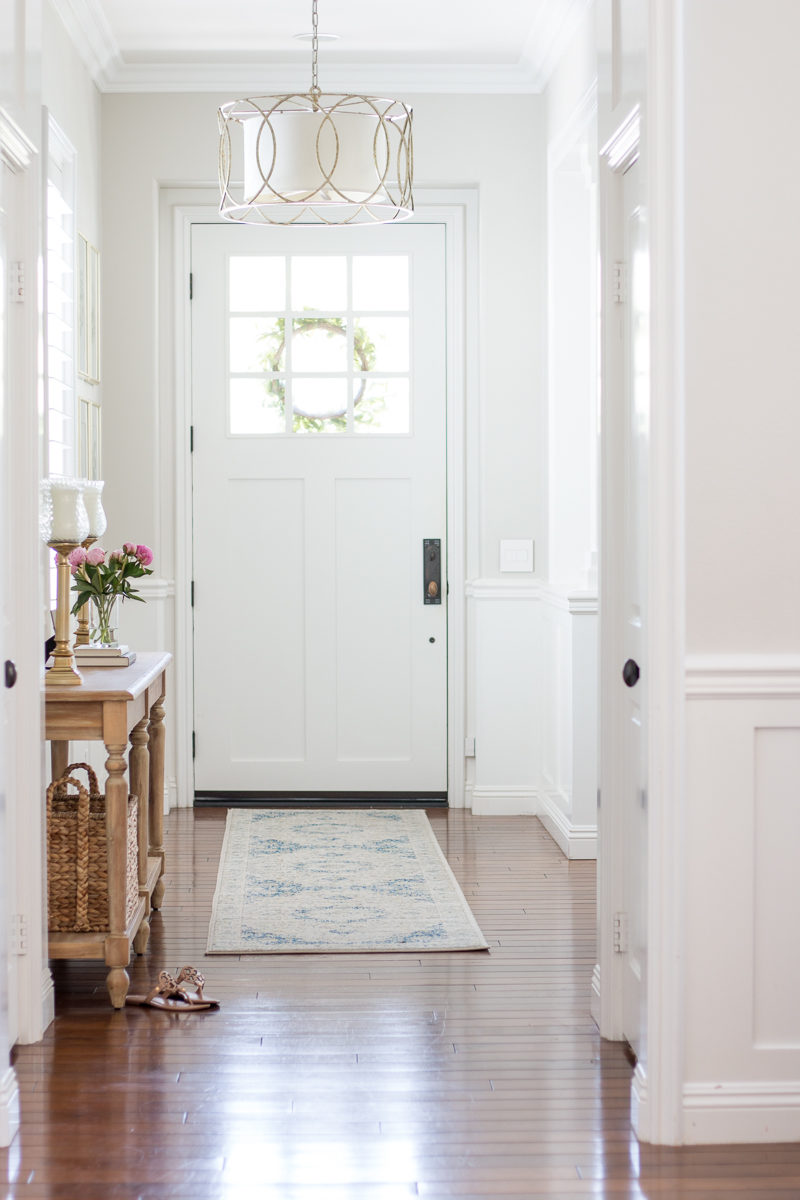 rug | console table | sandals | chandelier
This closet sits under our stairs just off the entry. It has a tendency to be a catch all which can drive us a bit nuts. My daughter recently created a craft zone for all of her supplies which is a good use of space. The door across from this closet currently holds cleaning supplies and my camera accessories.
FAVORITE PAPER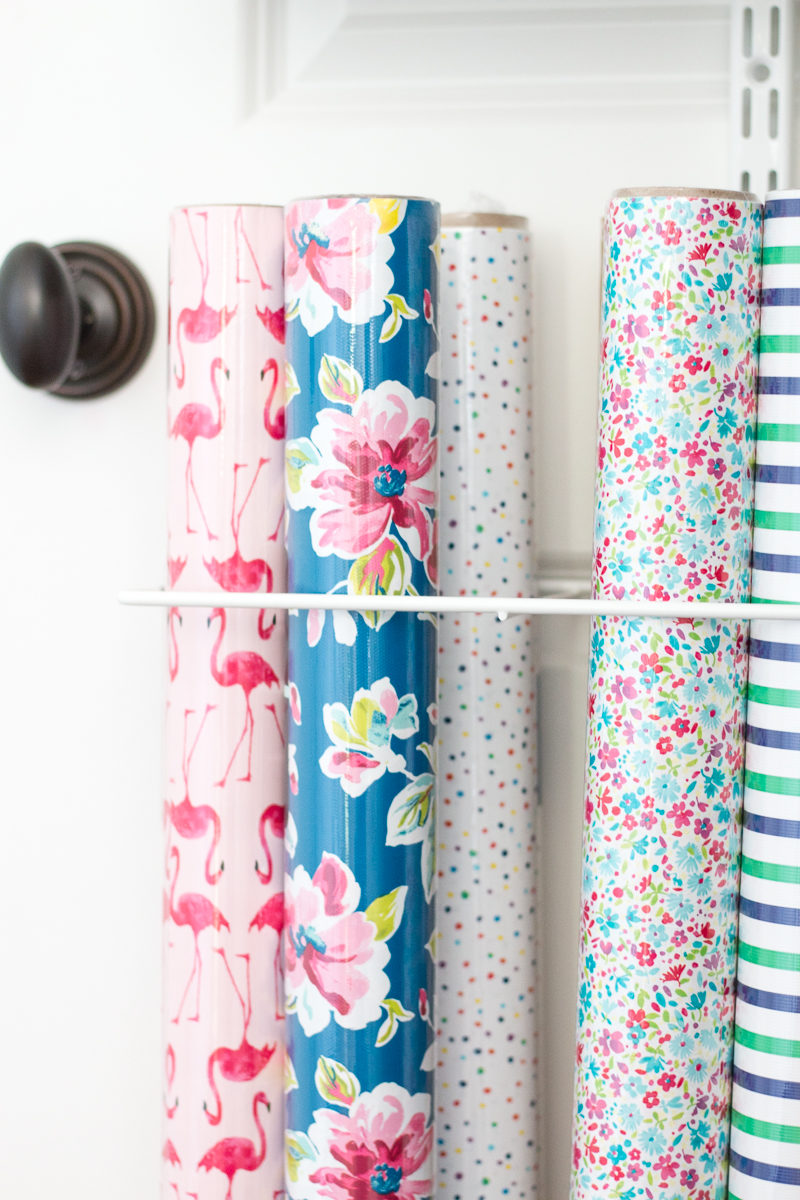 I bought this hanging system on a whim one weekend and it is hands down one of our best purchases ever. Not kidding. I used to take up precious floor real estate with a box of wrapping paper that was always toppling over. I also had all of our tote bags and ribbons shoved into a drawer. Pairing everything down and having it all in one spot has been fantastic.
TIP: If you ask me, HomeGoods wins for the best wrapping paper around. First and foremost they always have cute coordinating patterns. They are usually around $2.99 and last a long time. Plus it cuts like butter! It never tears and is so easy to fold. Have I mentioned that wrapping gifts was one of my very first jobs back in the day? I was super young and was asked to wrap during the holidays. I got my love for a well-wrapped gift from my mom. She was the best.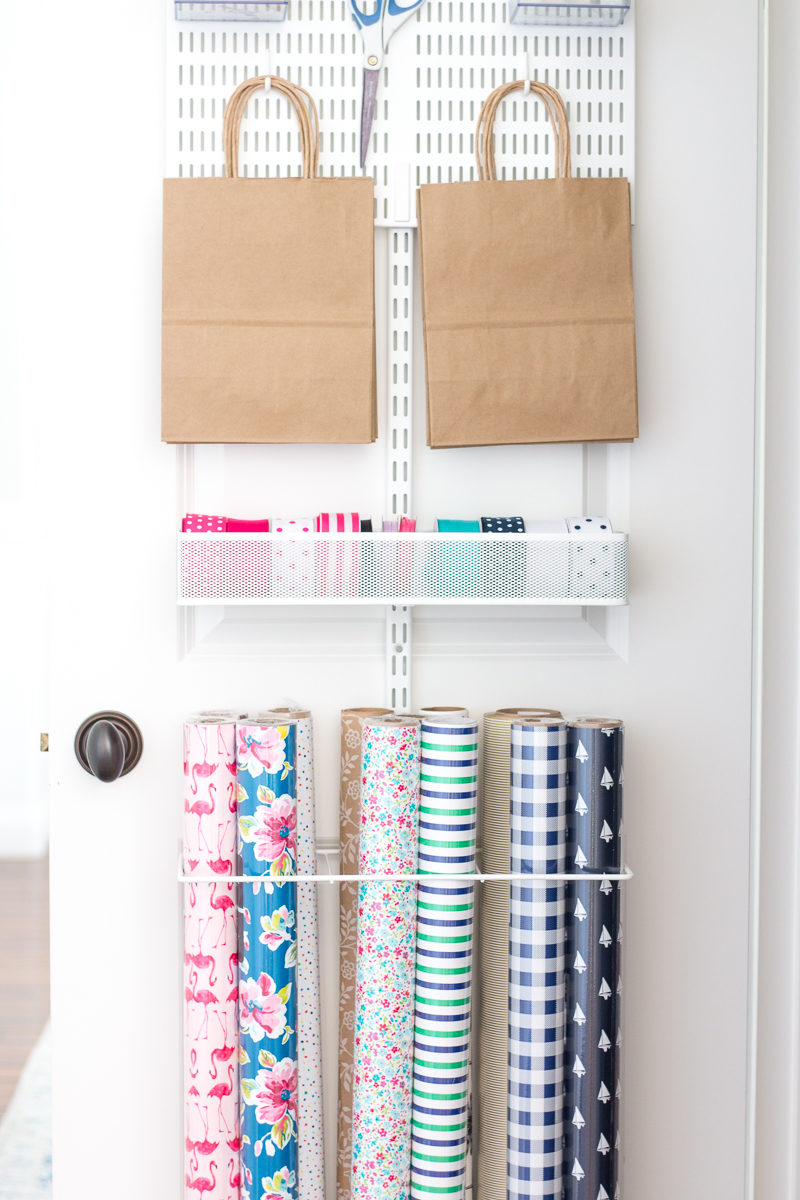 TIP: Stick to natural tote bags that way every card and ribbon looks cute on it. I also like the way white tissue paper looks coming out of the natural bag. The only thing not on the door is the tissue paper that I keep on a shelf in the closet. I usually buy mine at Costco during the holidays and it last for years. No joke.
TIP: Keep gift tags, scissors and tape right on the door so you have everything you need to wrap a gift and go.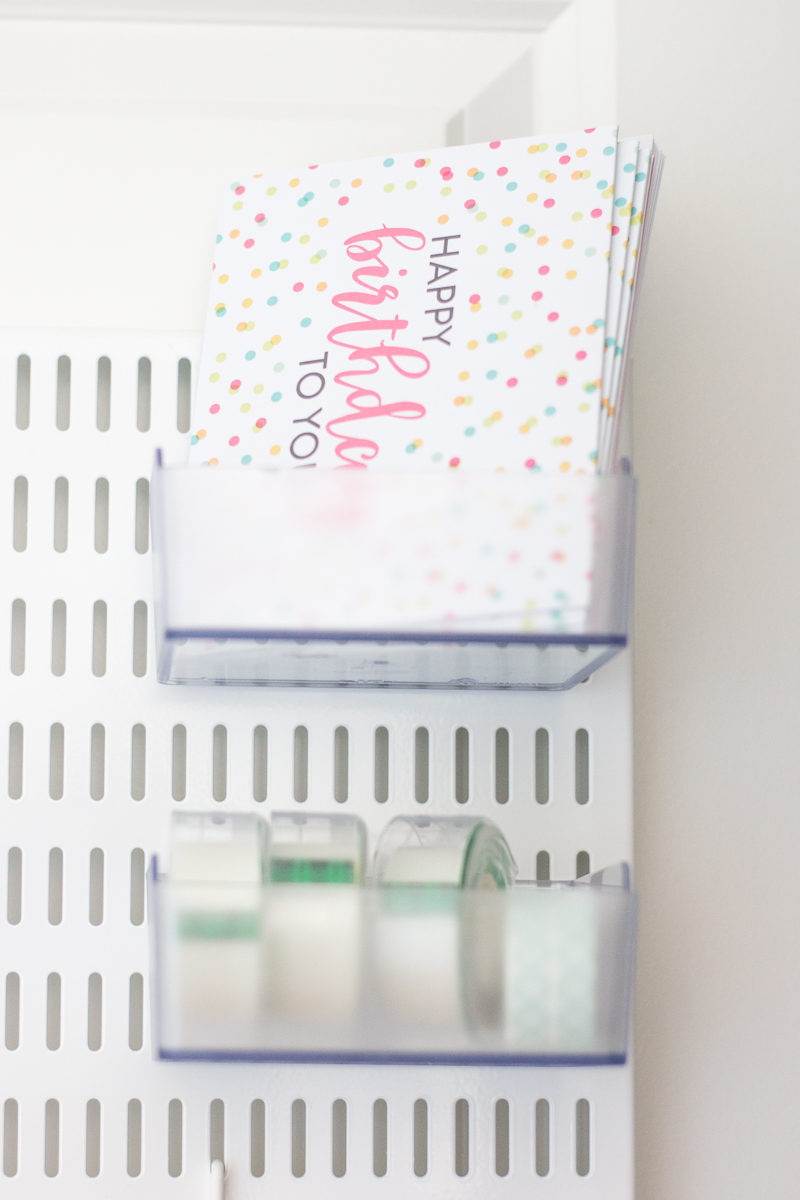 PRICE PERFORMER
TIP: Aside from the brown bags, I am a big fan of the gift card sets Michael's carries. This cute set has 30 cards and is only $10. Great to have on hand for birthday parties, neighbors, and teachers.
PLAN AHEAD
TIP: My last wrapping tip is to snap a photo of your wrapping paper before you go buy ribbon. You can keep it easy and just buy white ribbon, too. But if you have a photo on your phone you can easily see what will coordinate. No sense wasting money and coming home with cute ribbon that doesn't go with any of your papers.
I've also found that having all of this handy and in one spot has really come in clutch for random situations that pop up. Whether it's dropping some treats in a bag for a friend going through a tough time or needing that last minute hostess gift . . . it really does make it so much easier.
I'll be back with more organized areas in our home soon. Let me know if you have a spot in your home you struggle with.
Now off to school. This week is so much fun with all of the end-of-the-year activities. Make it a great day, my friends.