Any time I can get a space pulled together in our home, it's a great feeling. Today I am sharing our newly organized linen closet with you. I partnered with World Market to share simple solutions for getting organized. Sometimes it's the quick projects that can make the greatest impact. I may or may not accidentally leave these doors open now! It's just so much more fun to look at.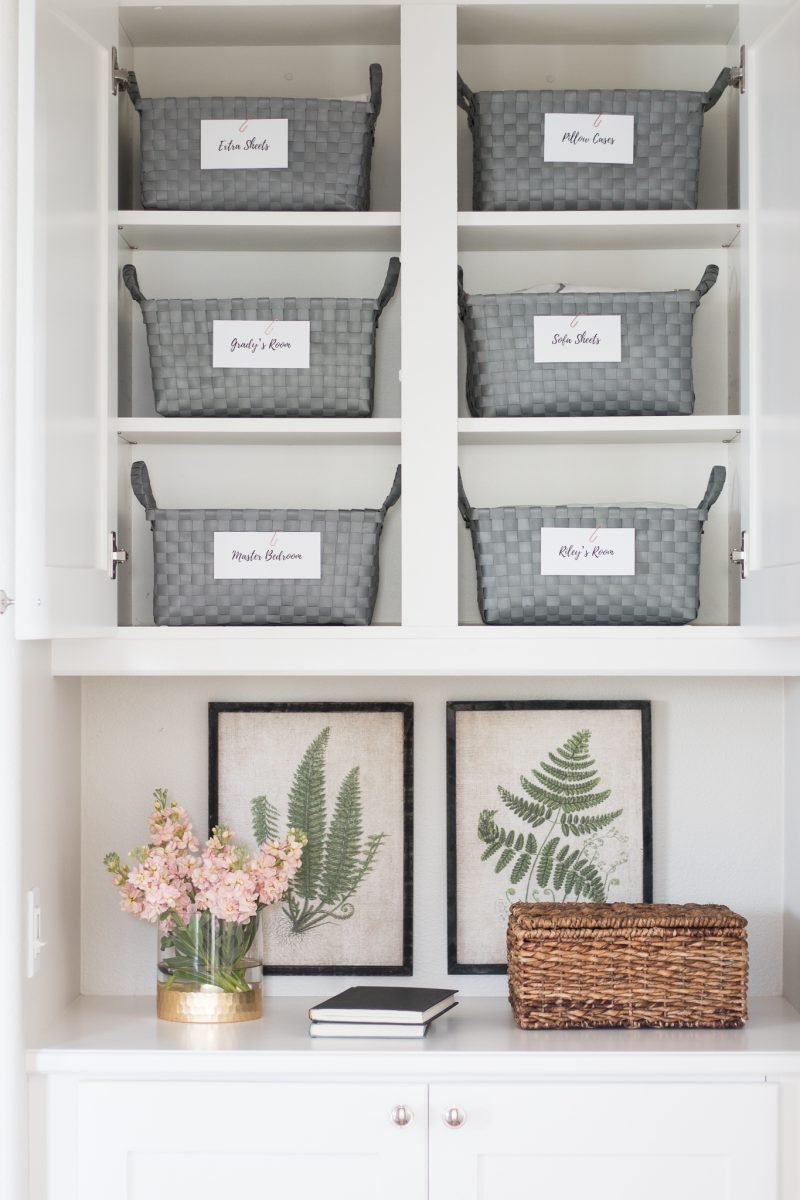 These built-in cabinets are right outside of our laundry room. We are very thankful to even have a linen closet as we were lacking one in our former home. But I am hoping that no matter where you store your linens, you'll gather some easy to implement ideas.
THE BEFORE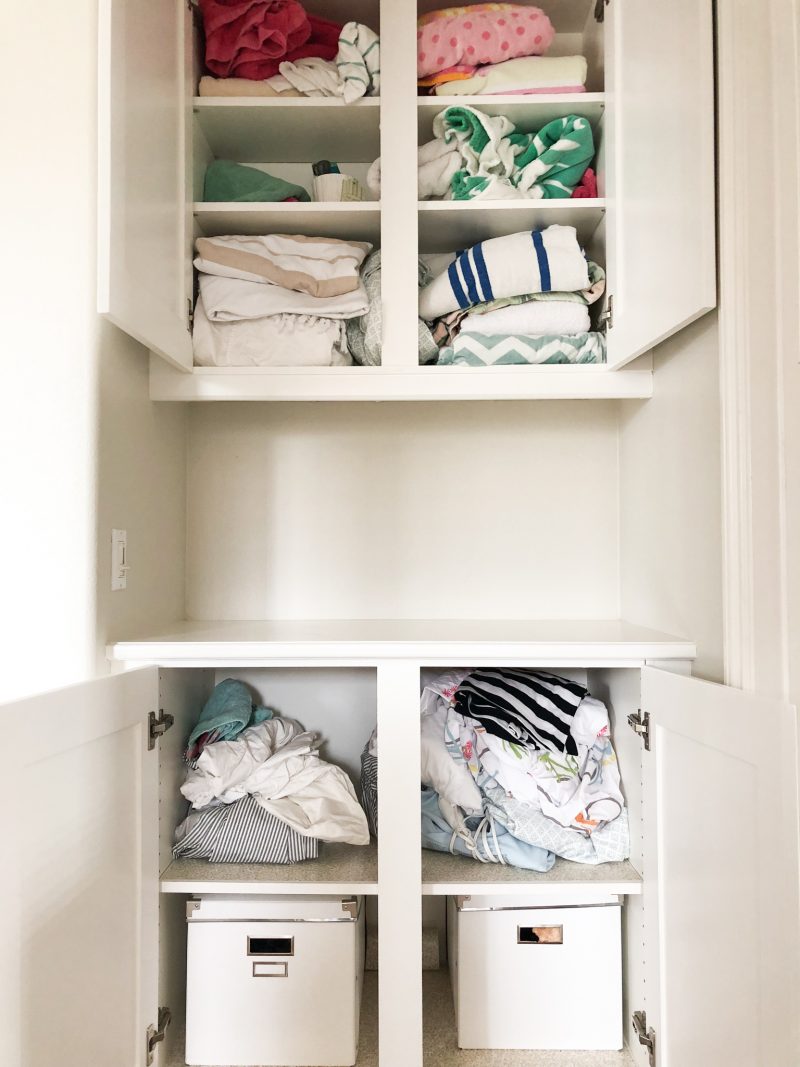 I'll be the first to admit the before wasn't pretty but it wasn't terrible. Just disorganized and it made it really easy to just shove towels and sheets in here. Plus it was really difficult to find a change of sheets when we needed them. I also realized I had this entire space backwards. The towels take up the most space and yet I had them above on the narrow shelves. The sheets are more streamlined yet I tossed them in the deep cabinet. That was mistake number one. To begin, I unloaded everything and eliminated just a few items we no longer need. But 90% of what you see here went right back in to our cabinet. (Don't mind the random striped top in there. I really didn't edit before taking a before photo)!
STEPS TO TAKE
Remove everything.
Sort into what is staying and what is going.
Re-imagine the space. Can things be placed differently?
Measure every shelf BEFORE you go shopping (buy bins that fit the space well)
Organize into bins and label
BEST KEPT SECRET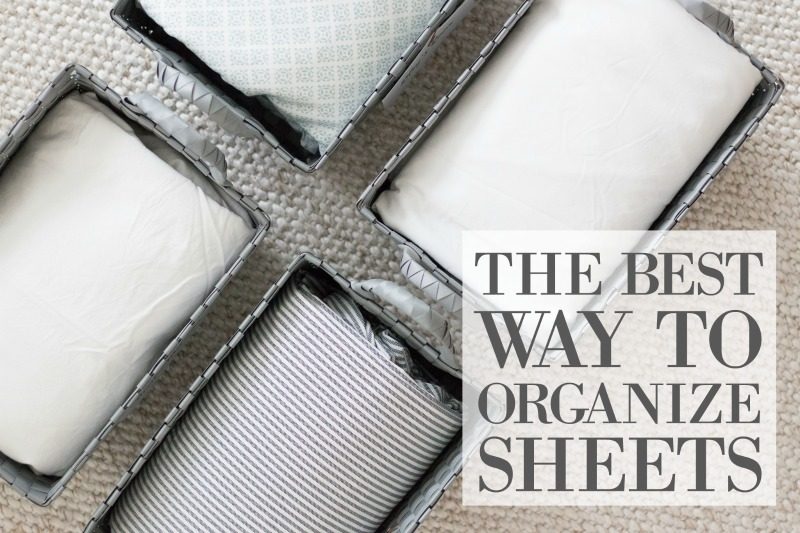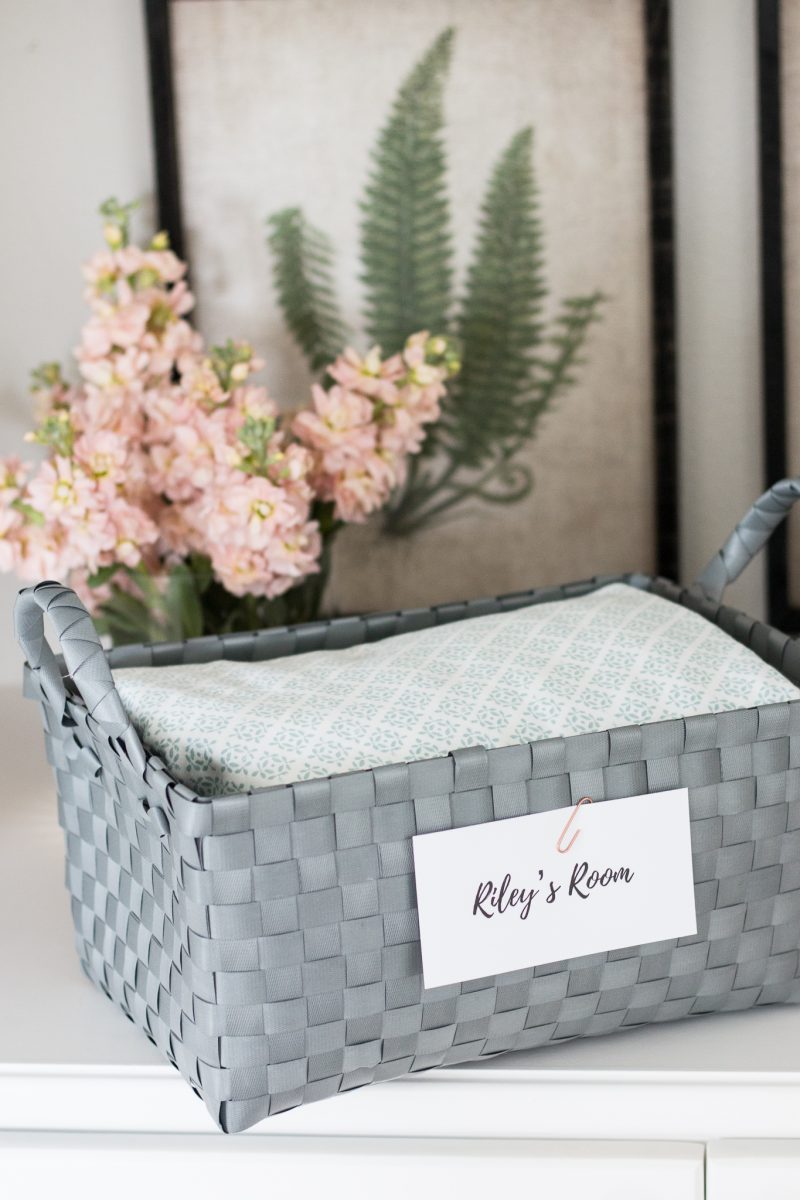 These bins are my new best friend. I stumbled upon them and thought maybe they would work. When I got home and tried them out it was a whole new ball game. I LOVE them. I didn't even read the tag until I got home. It said, "Shower Caddy." Forget the shower caddy, this bin is the perfect home for a set of sheets. No matter what size they fit perfectly. you don't even need to fold them perfectly. Just wrap the pillow case around the set neatly and they look amazing. Plus the bin is lightweight and fits perfectly on a narrow shelf. The best part is that these are only $6.99. Sold.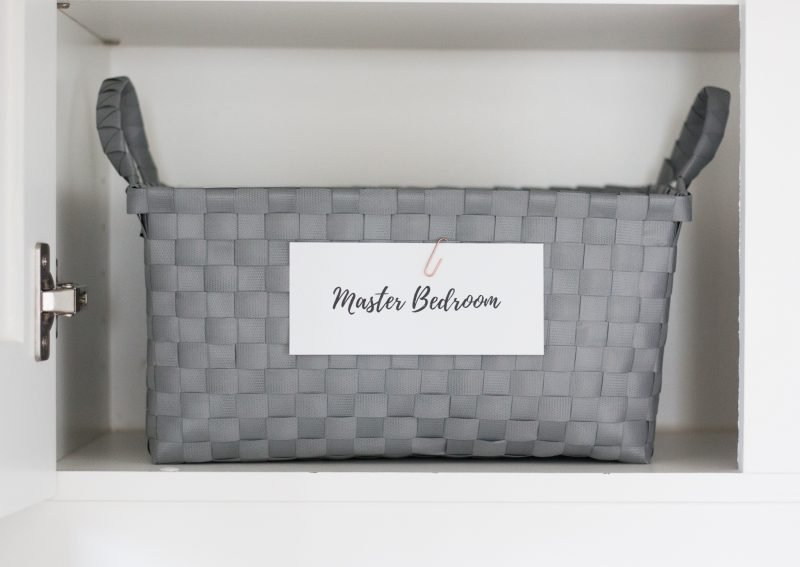 In case you are curious, we have six bins. Our children each have an extra set of sheets, as do we, plus a bin for pillow cases, extra sheets and sofa sheets. Growing up, my mom would always make us a bed on the couch when we were sick. I do that for my children, too. We have a cheerful set of sheets with bicycles all over them. Anytime one of our kids is feeling ill, we grab that set and make them a bed on the sofa. I have no idea why we have 10-12 extra pillow cases but we do. So an entire bin is dedicated to that.
KEEP IT SIMPLE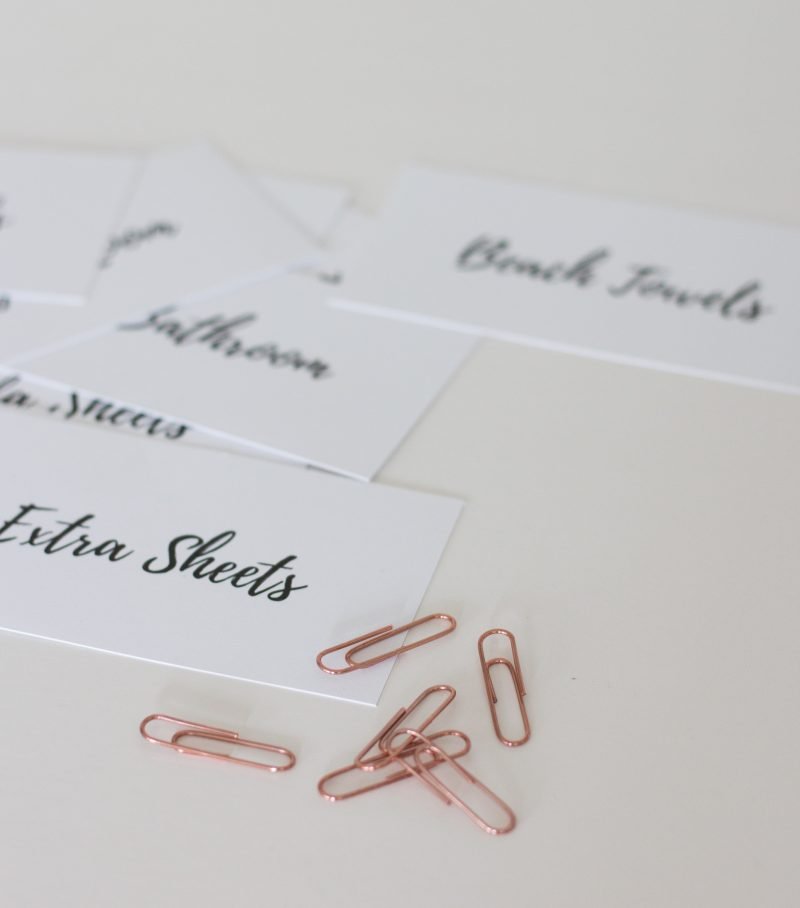 While you can dream up any labeling system you wish, I kept it very simple by printing out names on cardstock. I cut them and attached them with copper paperclips. Done and done!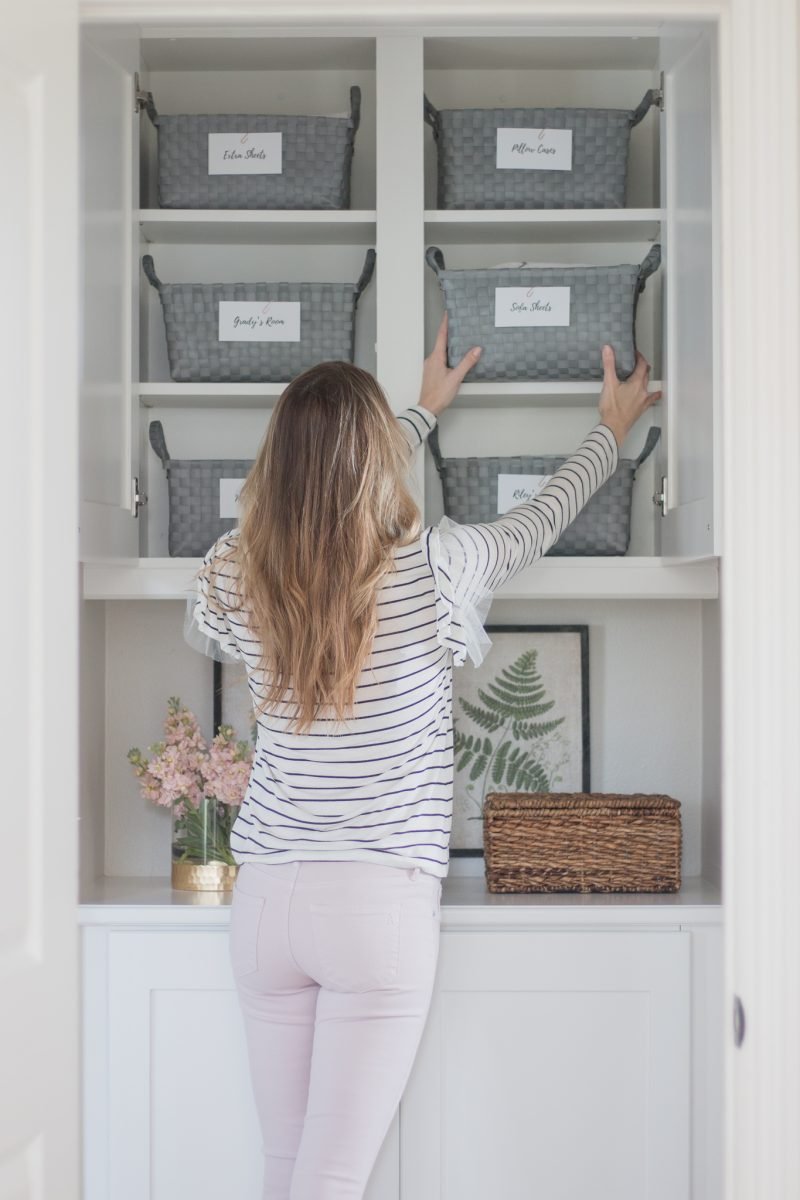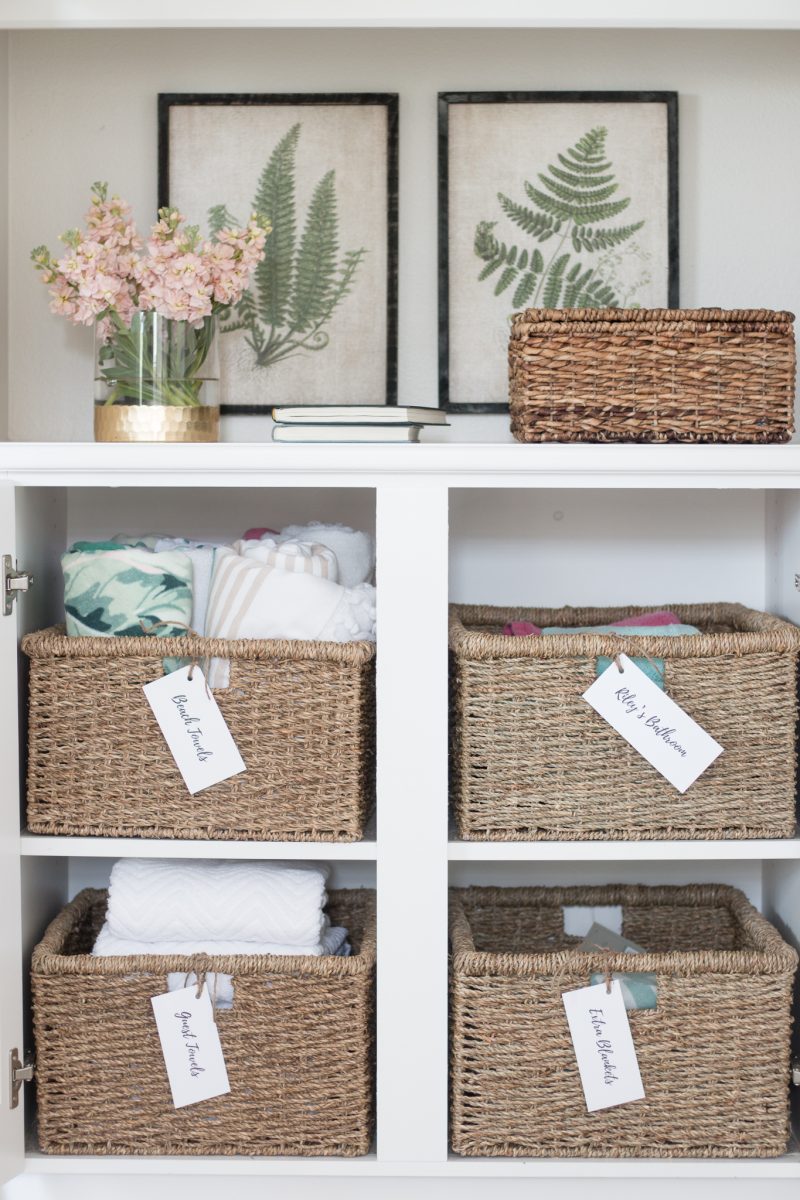 ORGANIZED TOWELS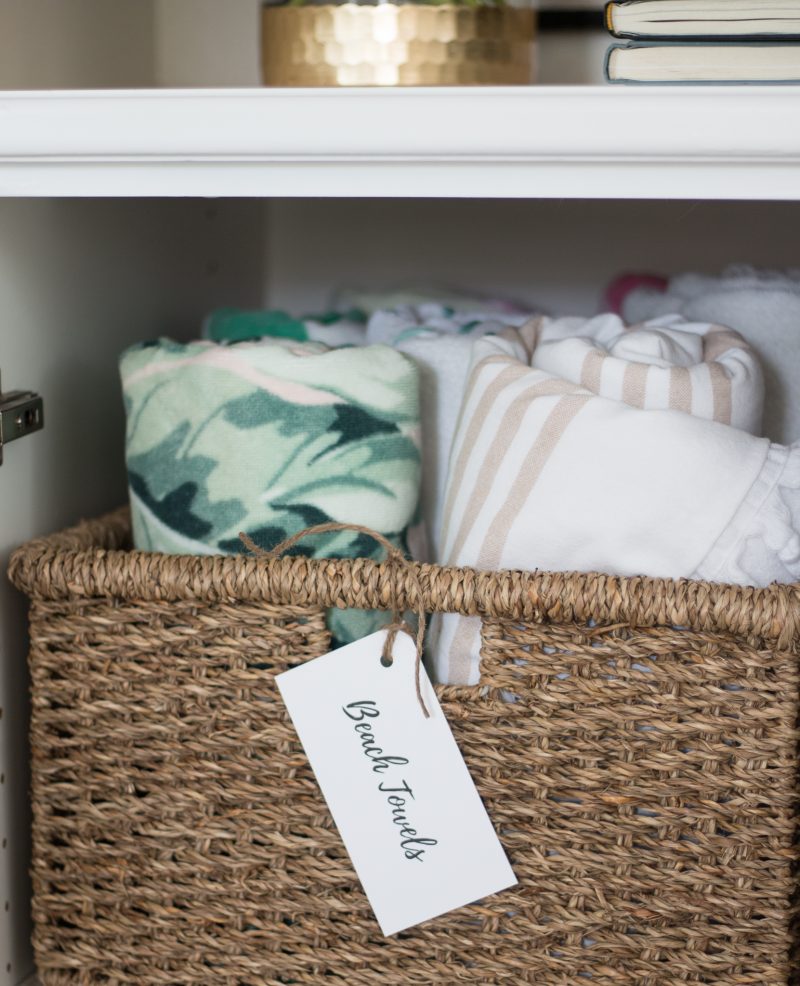 As I mentioned earlier, it made more sense to relocate the towels to the bottom cabinet. After all, they take up more space and the children need them more often. The four baskets I used for the bottom cabinet are labeled as follows:
Beach Towels
Riley's Towels
Extra Blankets
Guest Towels
ROLL THEM UP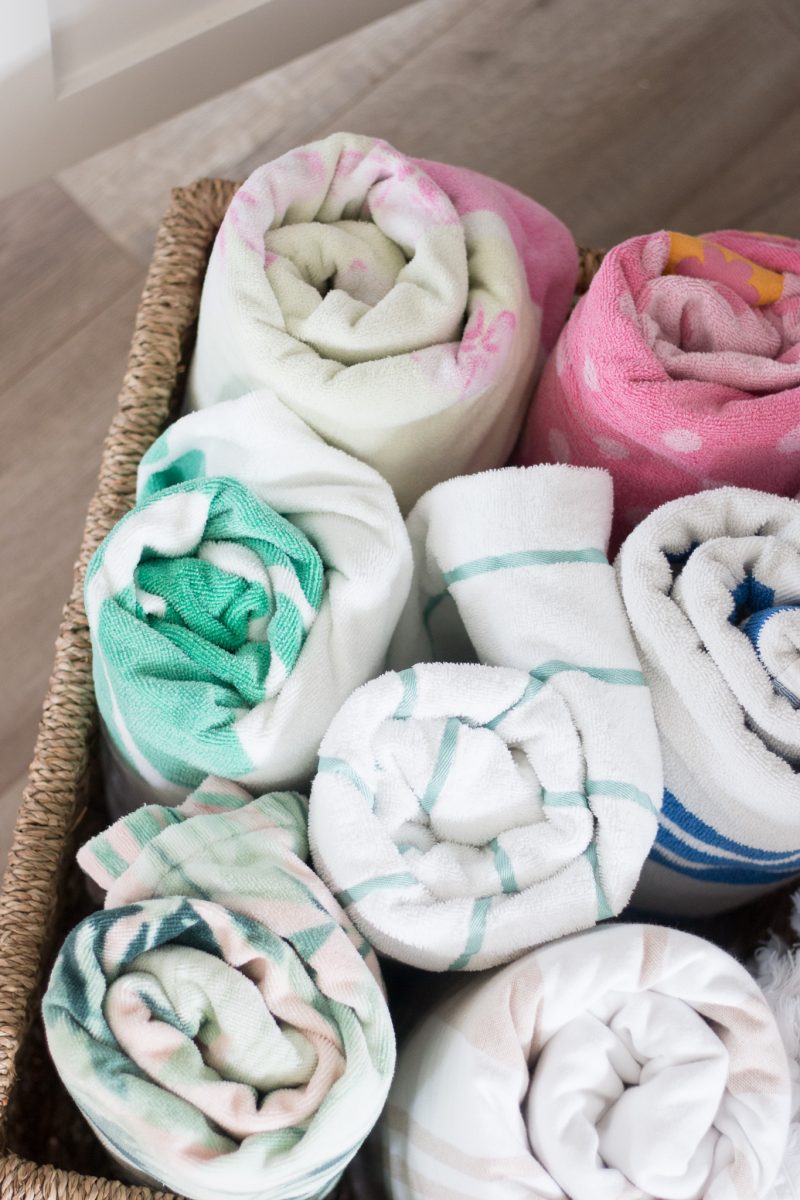 I don't know why this never occurred to me, but rolling the beach towels saves space and allows you to see which towel you want to grab. No more digging to the bottom of the pile. Plus the basket holds seven towels this way.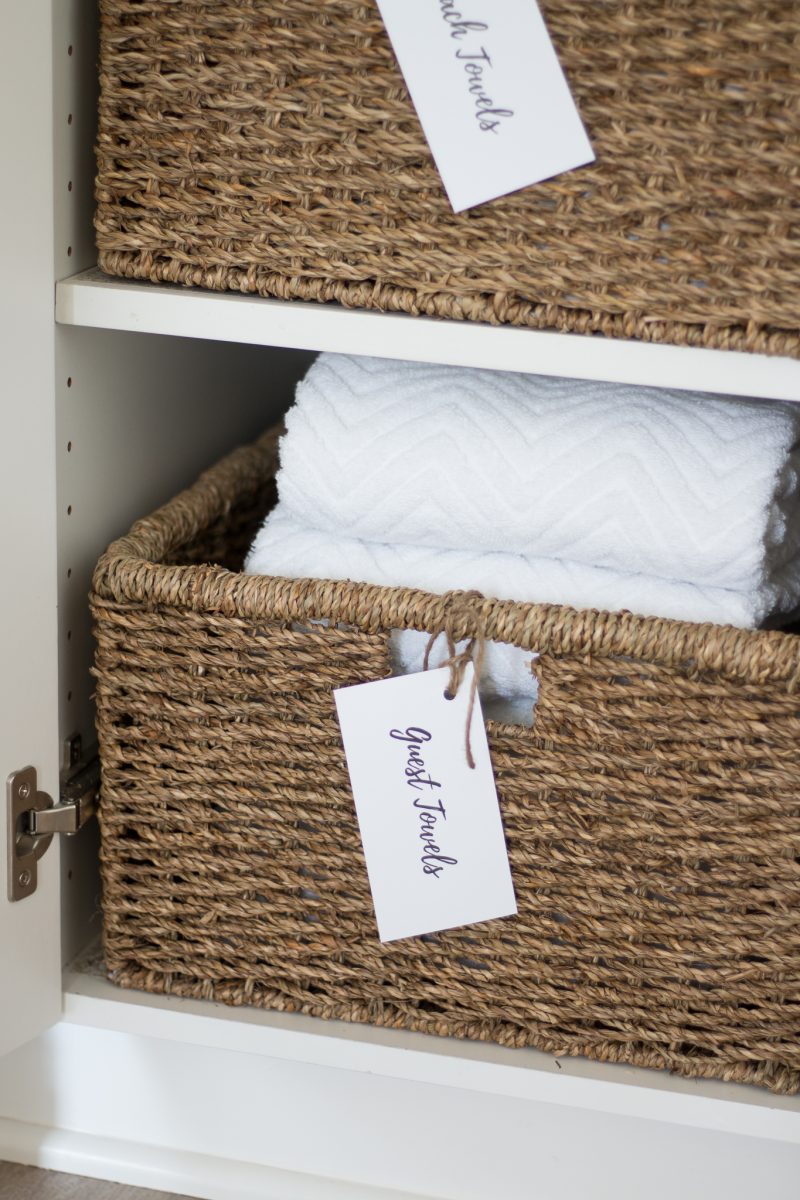 Guest towels are readily available when anyone stays over. The extra blanket bin is great for when my daughter has a sleepover or when anyone needs an extra blanket.
MOM HACK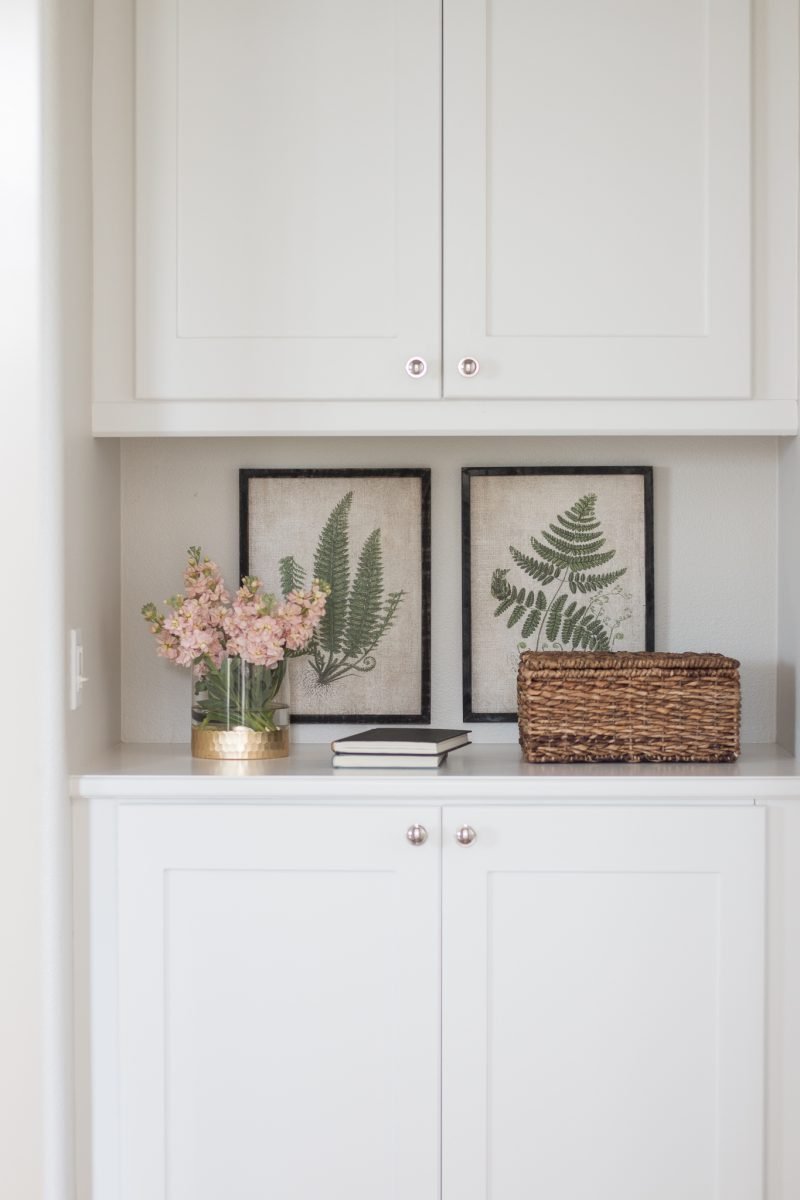 Ok, moms! Listen up. So I often hear this. "Umm. . . Mom. I'm out of toothpaste." "Umm. . .Mom, I don't have any soap."
Perfect.
Keeping up with what the kids have and don't have in their bathrooms is not my strong point. So I've come up with a solution. The basket here now holds the extra toothbrushes, toothpaste, soaps and more. When I hit the store, the new items now go here. If anyone is out of something they can grab it from this basket. So can guests. And now I only need to check one spot. Boom.
The travel size items are great for sleepovers or when guests are visiting but also help us out in a pinch. It's so easy to open this and see if I need to add toothpaste or soap to my list.
ONE LAST LOOK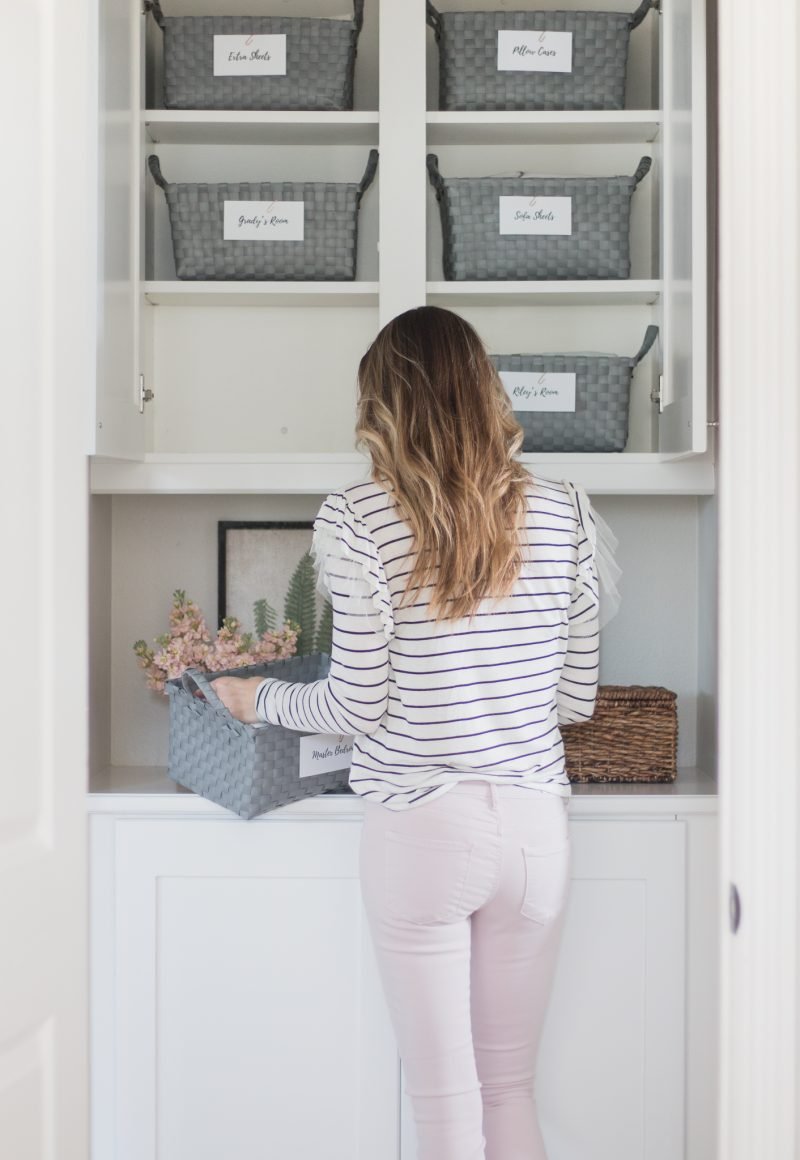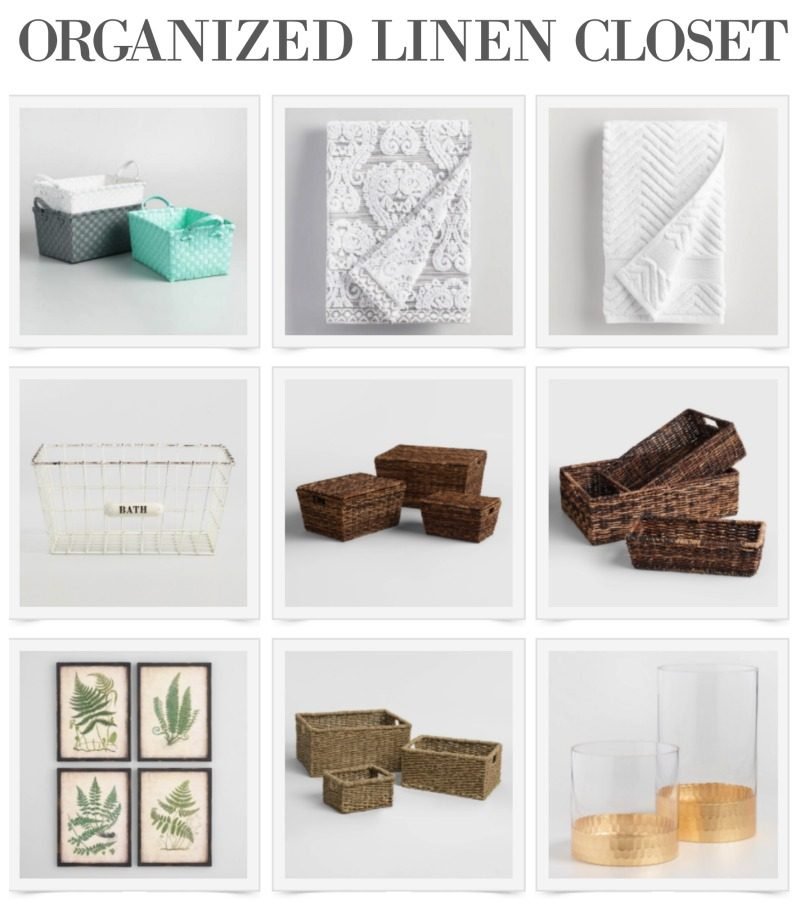 Isn't it funny how we can live with a mess for so long and yet it only takes minutes to make a change. I've loathed this unorganized mess since we moved in and it was time to finally get a handle on it. To get a similar look you can shop my items below.
GET ORGANIZED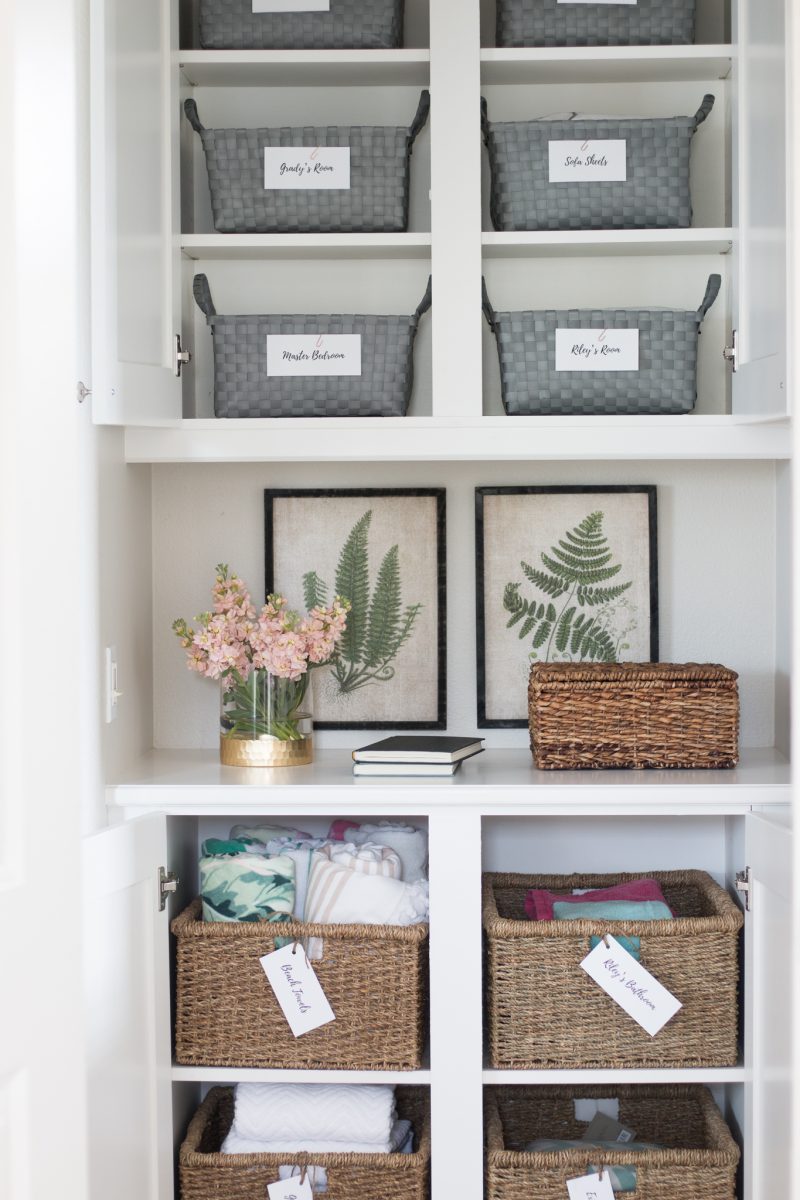 While this area stayed an unorganized mess for well over a year, it only took me about an hour from start to finish to get it looking like this. It really doesn't take much time as long as you plan and measure first. Finding bins that fit your space is key. If nothing else, I hope you'll check out the shower caddy bins for your sheets. They have changed everything over here.
If organization is your thing you'll want to check out my latest projects.
Thanks for stopping in. I hope this gets you motivated to tackle a spot in your own home. Enjoy the day. xo
*Proud to partner with World Market on this post. Affiliate links used.