I'm excited to share this small project with you all. Our guest room has a lovely bathroom attached and we are so grateful for the space. We have a couple of guests on the calendar so we are wanting to get things ready to go for them. When we bought this home, I knew that it would be unrealistic to tear out perfectly good materials. And renovating a bathroom can be a huge expense. We know because we had just renovated our daughter's bathroom prior to moving. I am hoping that this project inspires you to make a few changes without spending much money.
THE GUEST BATHROOM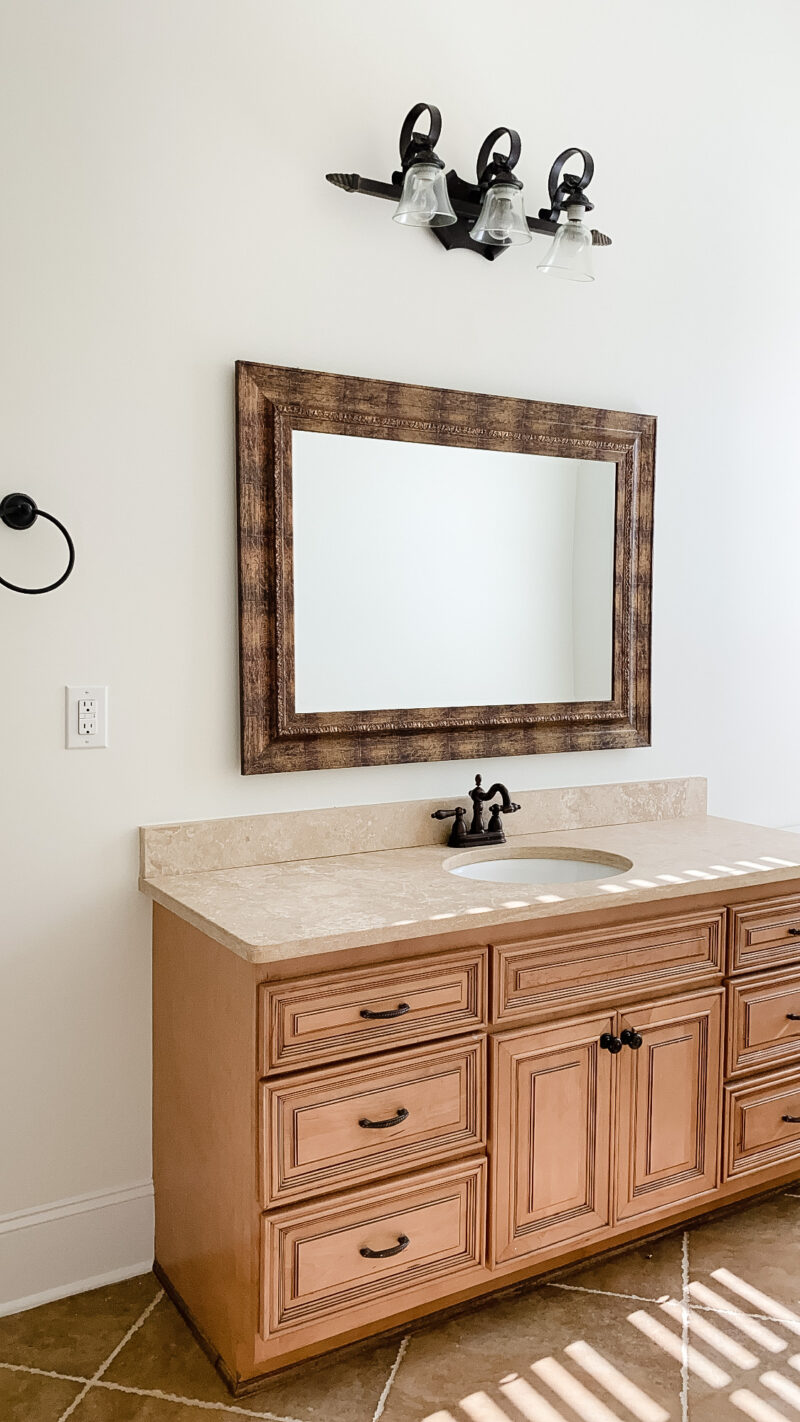 WHAT I LOVE
It's completely unrealistic for us to gut a bathroom just because it's not exactly what we would have chosen. While there are some things in this space I don't love, there are so many that are wonderful. Here is a list of what I love about this space:
the natural light
tall ceilings
amount of space
solid wood cabinetry
the warm tones
generous countertop size
the neutral feel
freshly painted walls (Alabaster by Sherwin Williams)
everything is in great condition
I think it helps to start with the positives in any space. It's so easy to zoom in on what we don't love, but by looking at what is working, it helps change the perspective. Plus it will help you generate a game plan.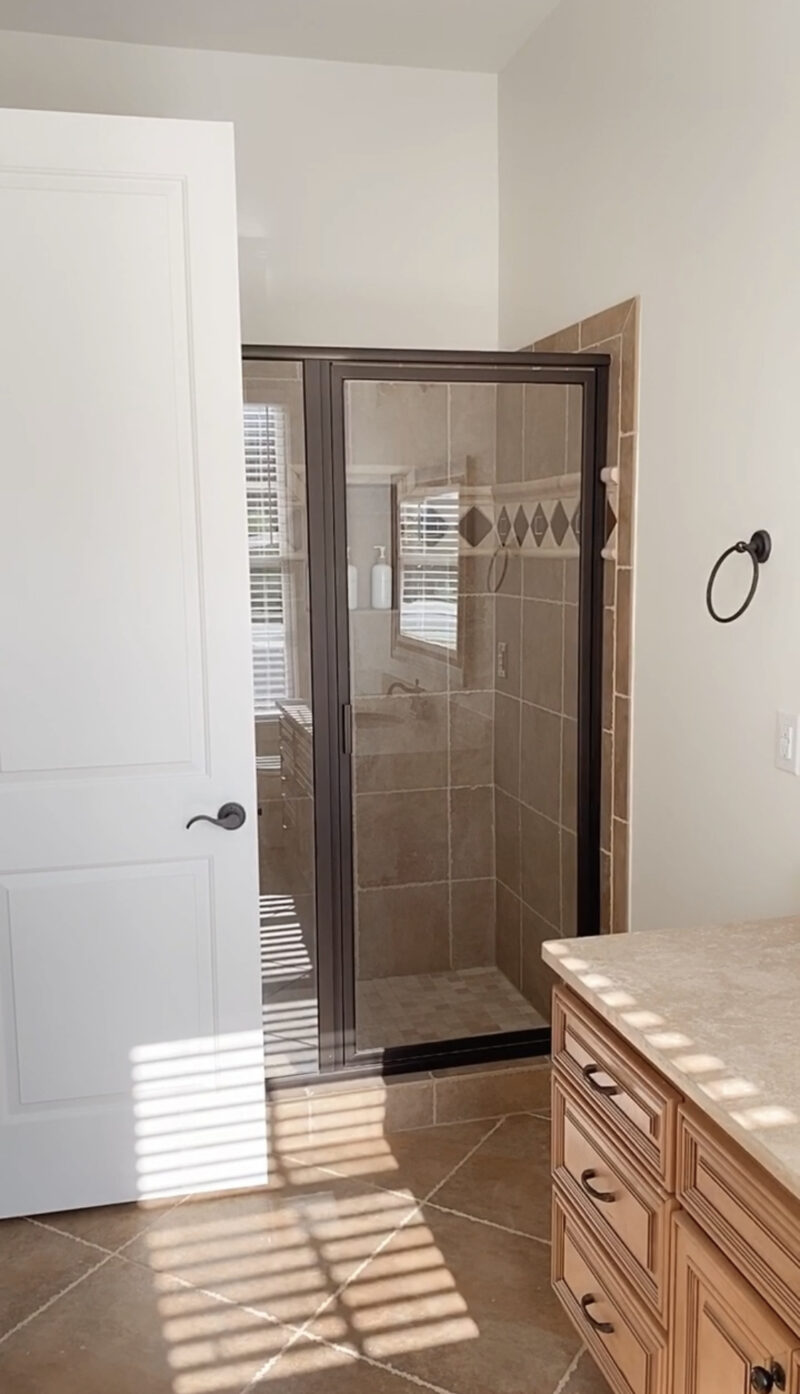 WHAT I DON'T LOVE
I would not have chosen the floor and the shower tile but it's in perfect condition and I would rather put the money towards other projects in the house. Instead, I will focus on cosmetic changes and bringing in design elements that are more congruent with the rest of our home. Here is what I am not loving about the space (and can easily change):
cabinet hardware
the gap between the mirror and the light
light fixture
height of towel ring on the wall
scale of the faucet (and finish)
inset tile in the shower – not sure if I can get creative on that or not
NEW HARDWARE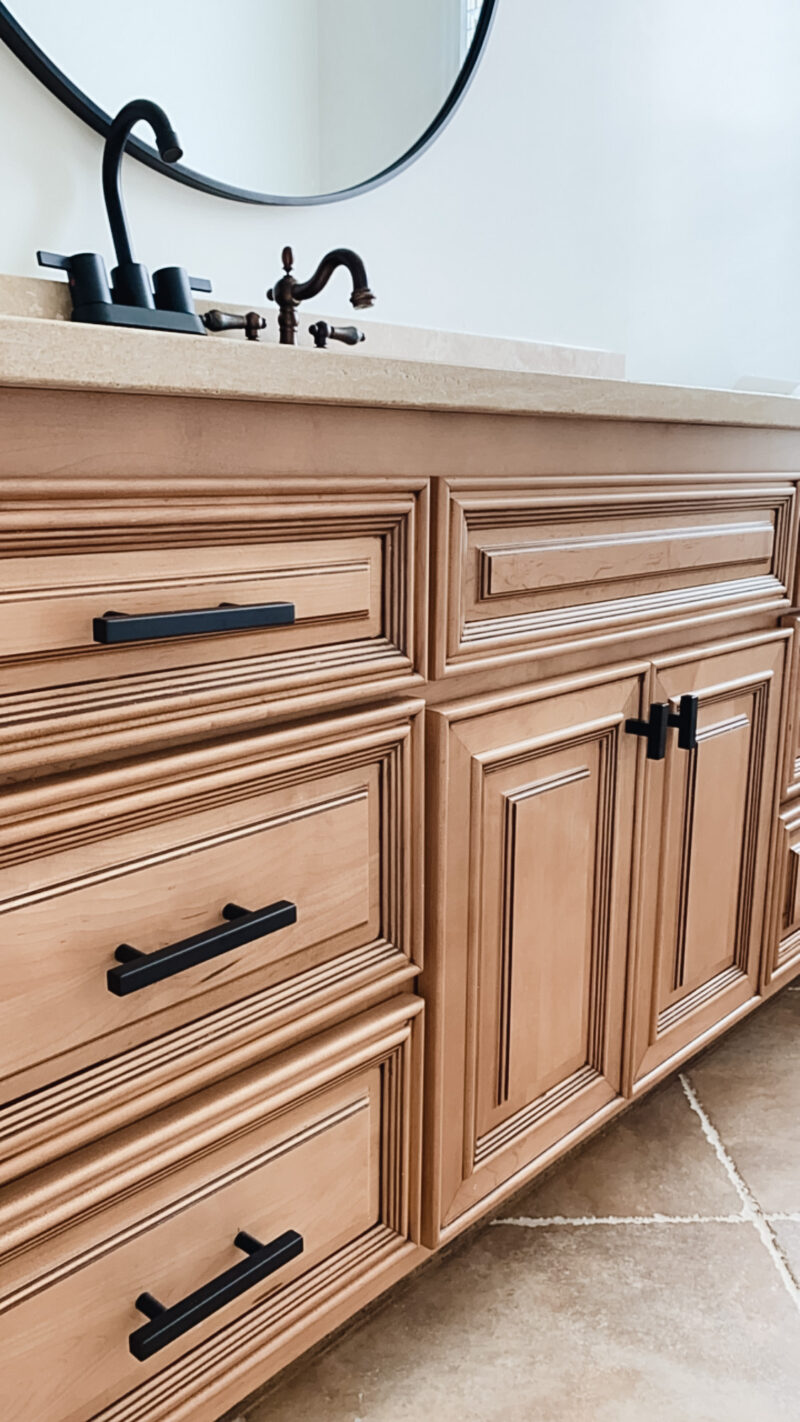 The first update was with the hardware. It's astounding to me how much of a difference that can make. And so darn easy. I ordered these off of Amazon. Just be sure to measure the distance between your preexisting holes so that they match up with the new handles. I chose hardware that is larger in scale, too. This is a big room and a large cabinet and while the distance between the holes remained the same (3″), the handle itself is larger and takes up more visual space. If you use a drill, this project takes ten minutes.
NEW LIGHTING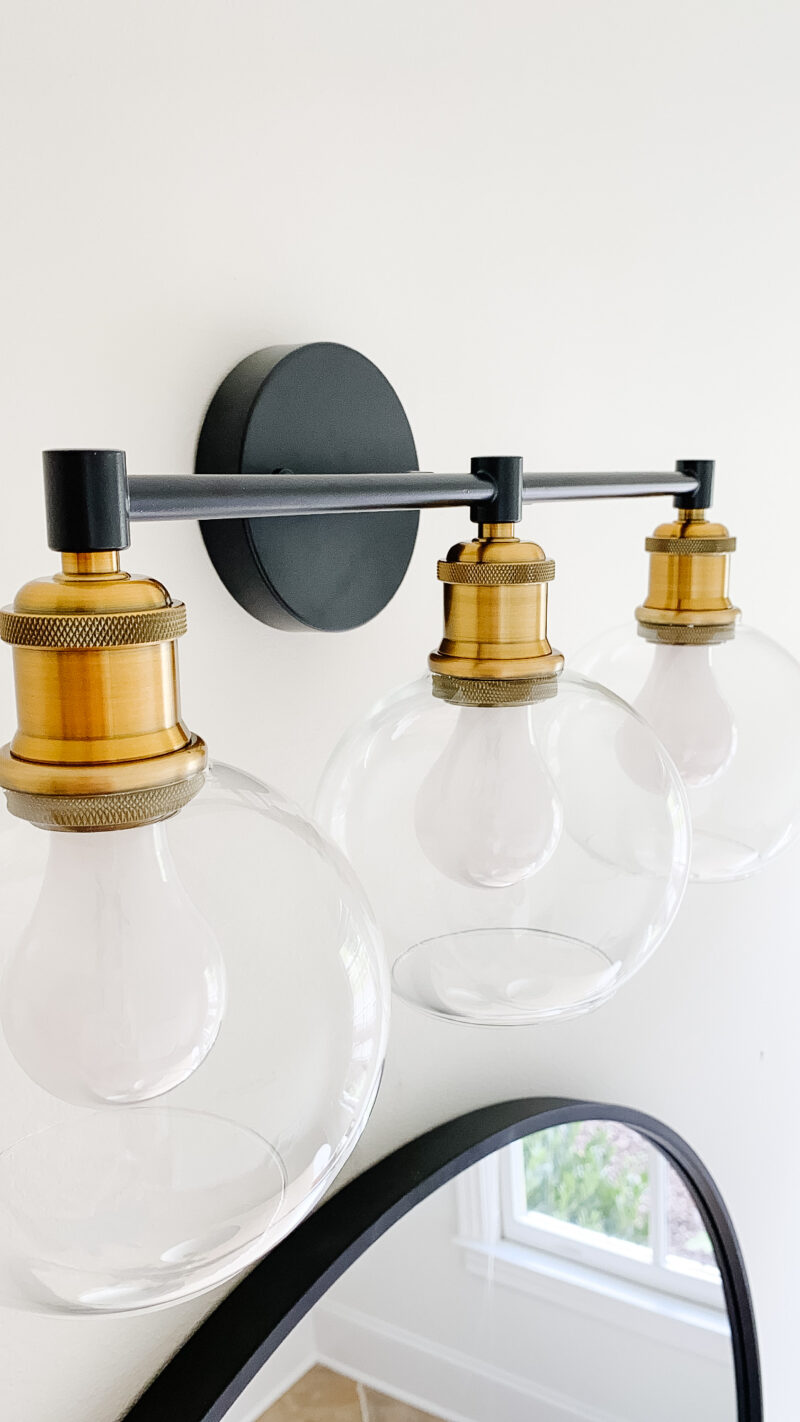 Next up was the lighting and the mirror. What a difference! I didn't love how there was such a big gap between the mirror and the light. After measuring the space, I knew that a 36″ round mirror would work best. The one I found was under $100 and the perfect size. Plus I was able to pick it up locally. The light is one of my favorites. The mix of brass and matte back keeps it current and adds a bit of warmth. All of these changes were made it one day and we are well on our way. I will update with more photos soon.
THE DETAILS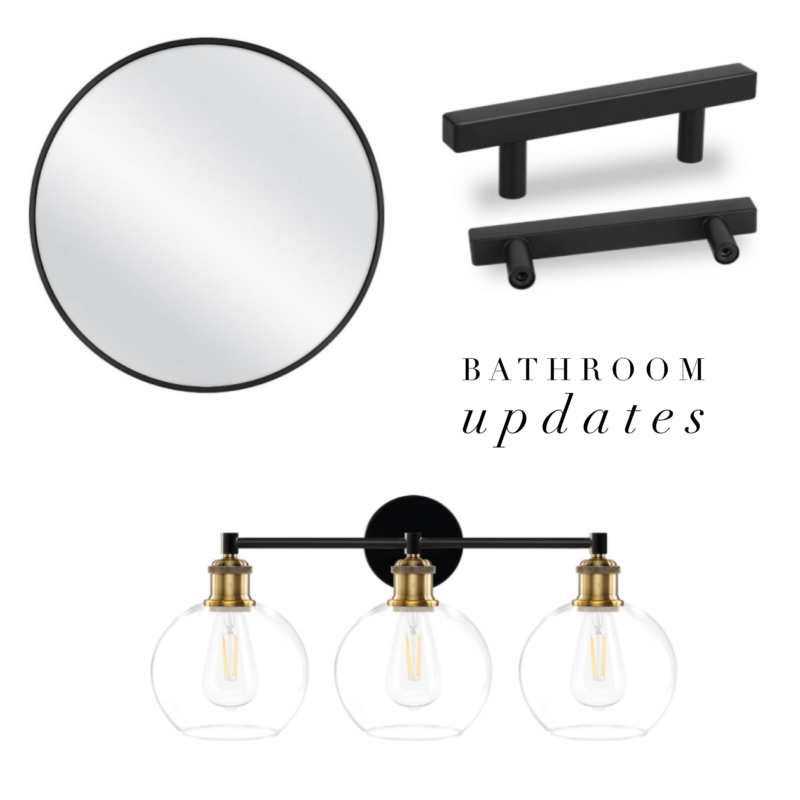 So far we have done very little but it has made a huge impact. Next up we will swap out the faucet and add decorative touches.

Here are a few of the decor elements I chose.
Looking forward to having guests use this space. Our powder room is another story and getting a total overhaul so I will share that soon.
MORE BATHROOM INSPIRATION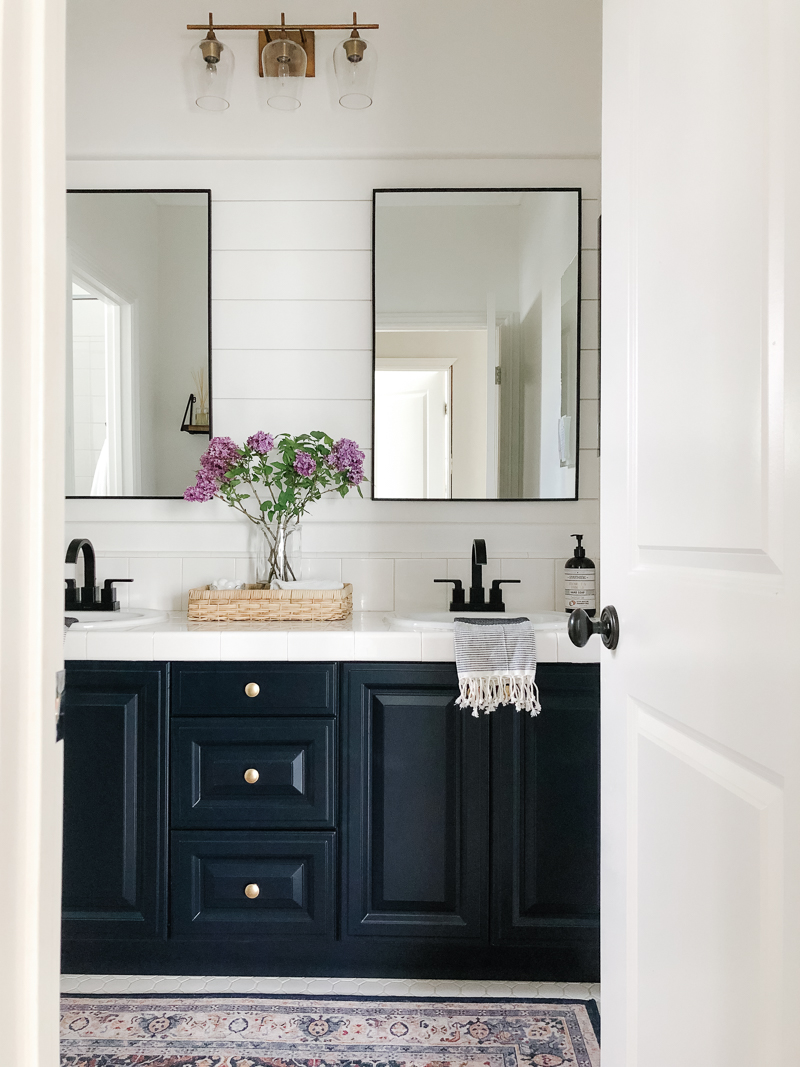 If you are looking for more bathroom ideas, this was another bathroom overhaul on a budget. The shiplap accent wall was my favorite. Make it a great day, my friends.