Styling a bar cart for the holidays is one of my very favorite ways to entertain and kick off a party. You really can keep it simple, yet beautiful. I partnered with World Market to create two entirely different looks for this upcoming holiday season. One is perfect for welcoming the little ones for a pajama and hot cocoa party while the other one will get the party started for the adult crew. Both took only minutes to pull together.
PAJAMAS & HOT COCOA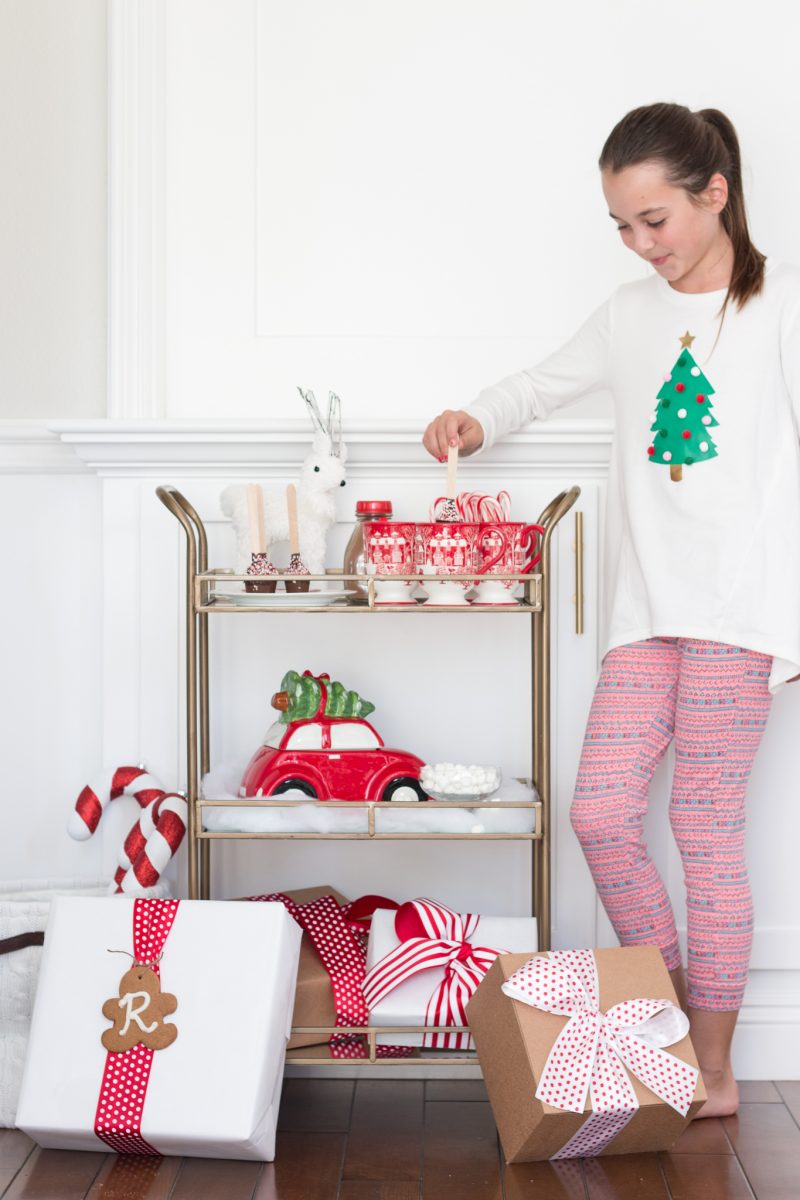 A gift exchange with the kids would be really fun. Or maybe a book exchange. These gifts were repurposed and are from under the Home Sweet Home Dream Tree. The homemade gingerbread ornaments make for simple and fun gift tags.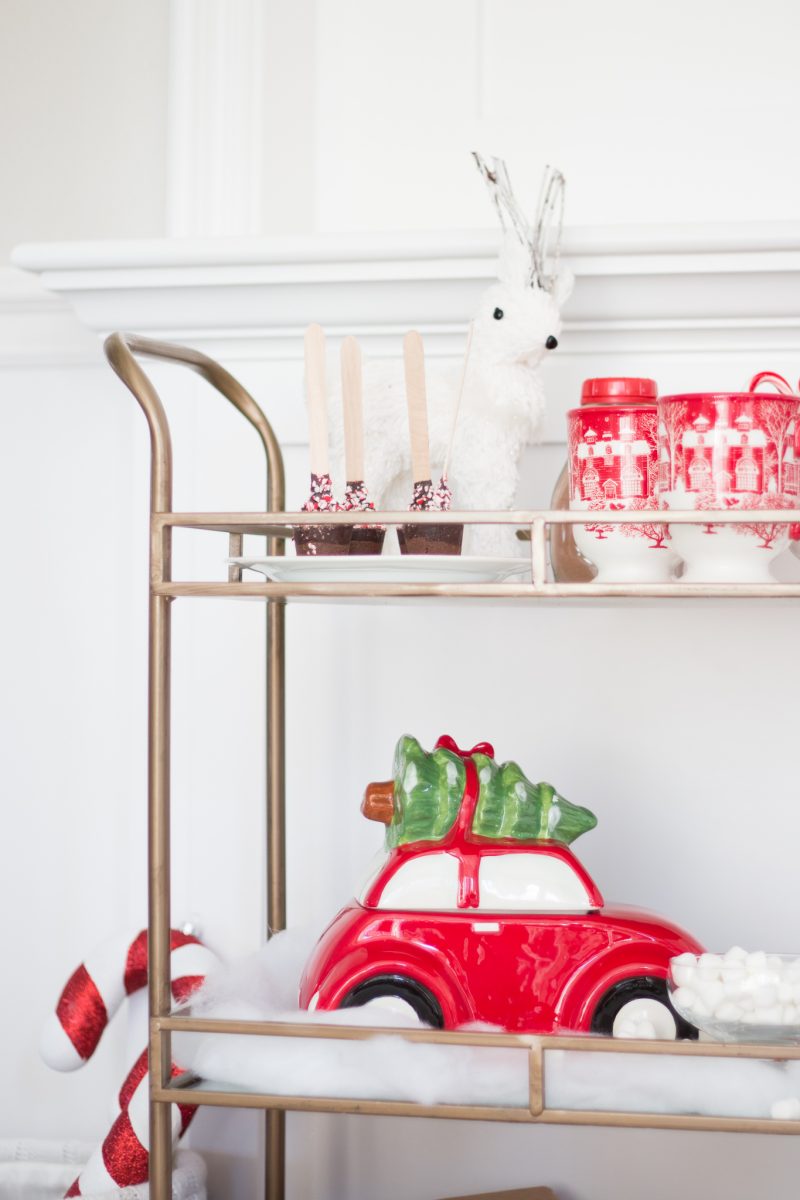 This red bug brings back so many memories because a '71 Volkswagen red bug is what I learned to drive on and I  loved that car. The top of this comes off revealing a really cute cookie jar and filled with cookies would make a really cute gift.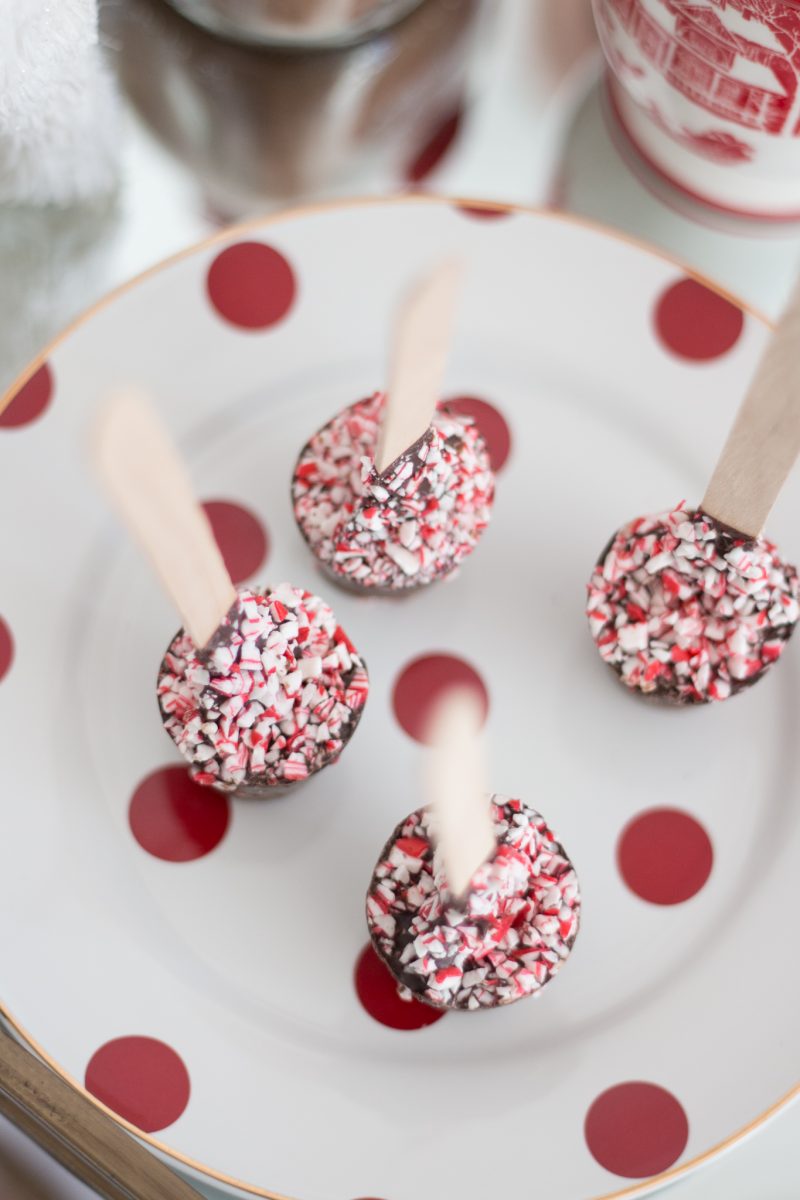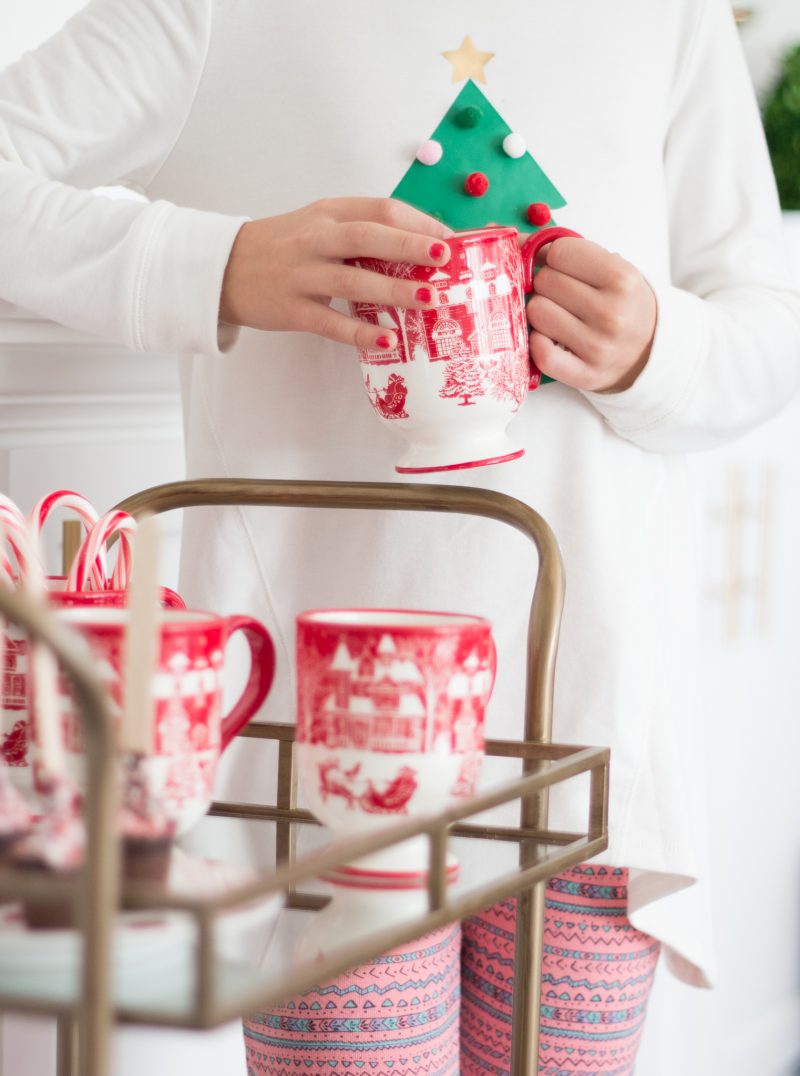 These mugs are precious. I love the classic design and think they are timeless. I also LOVE these santa mugs but our store was sold out. I saw them last year and waited too long so I think I need to order these.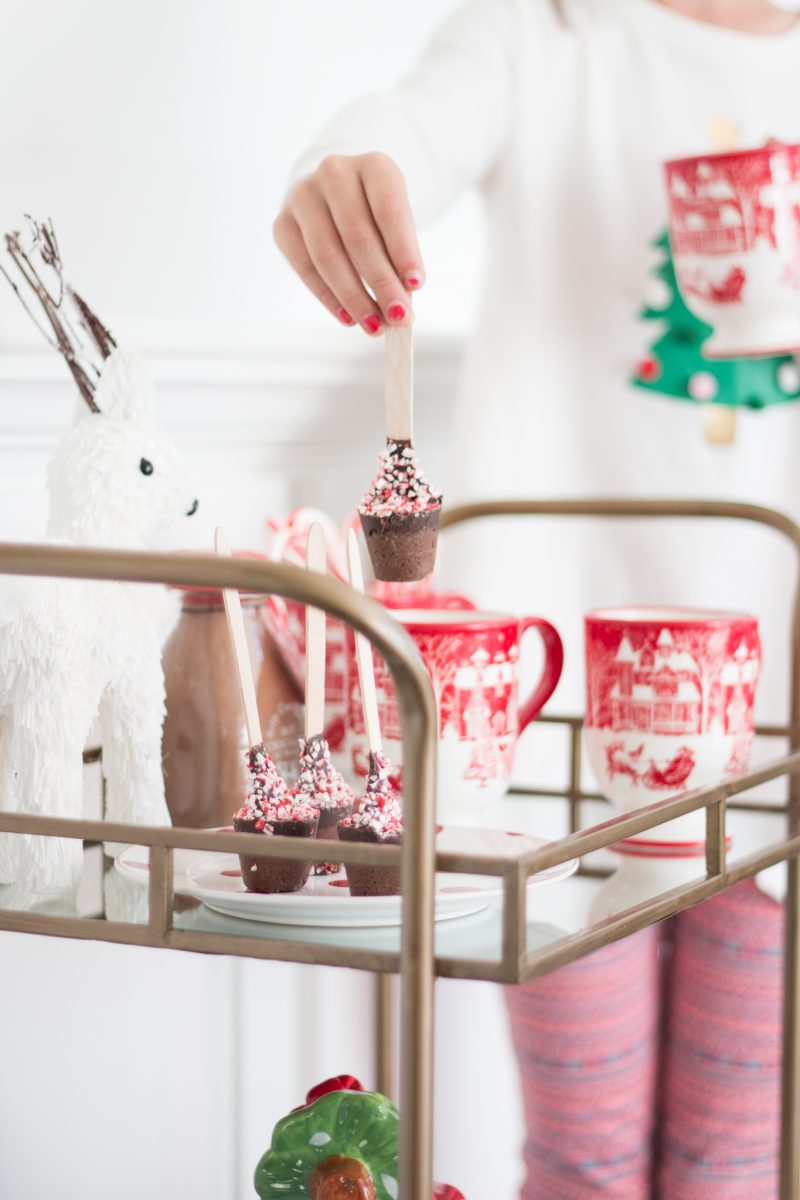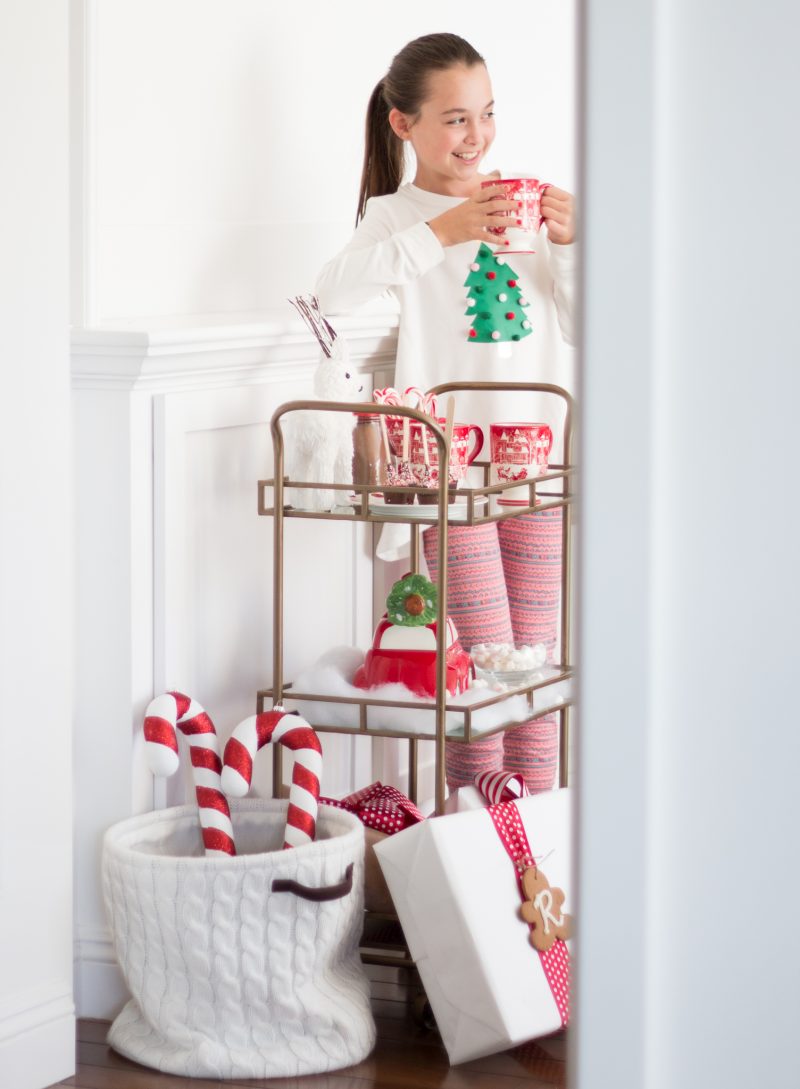 This sweet girl had so much fun helping me with this shoot. I adore the young lady she is becoming. Very thankful she wants to invite her friends over for a hot cocoa bar and gift exchange. I am hoping and praying she always wants to bring her friends around.
Shop This Kids' Holiday Cart

The hot cocoa and stir sticks were a huge hit with my two. Easy and super fun for the kids. I also noticed the mugs are on sale. I love the red and white city scene.
HOIDAY SOIRÉE
With the onset of the holiday season, I thought it would be fun to show you how to style this versatile cart (25% off) for the adults. It doesn't have to include alcohol or a full bar. We are all about offering a couple of drinks and by now we know what our friends enjoy. We are hosting a party next week and our decanter will be full of wine versus cider for the shoot. Just keeping it real. #tricksofthetrade.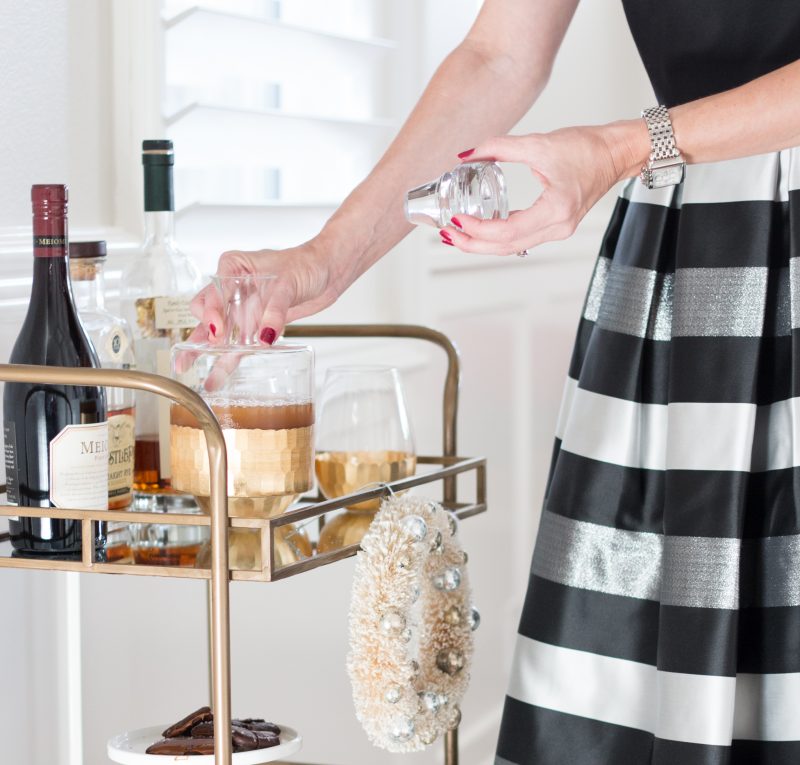 This spot is close to our living room and fun to be able to offer guests a sweet treat or cocktail when they come in the door for a party.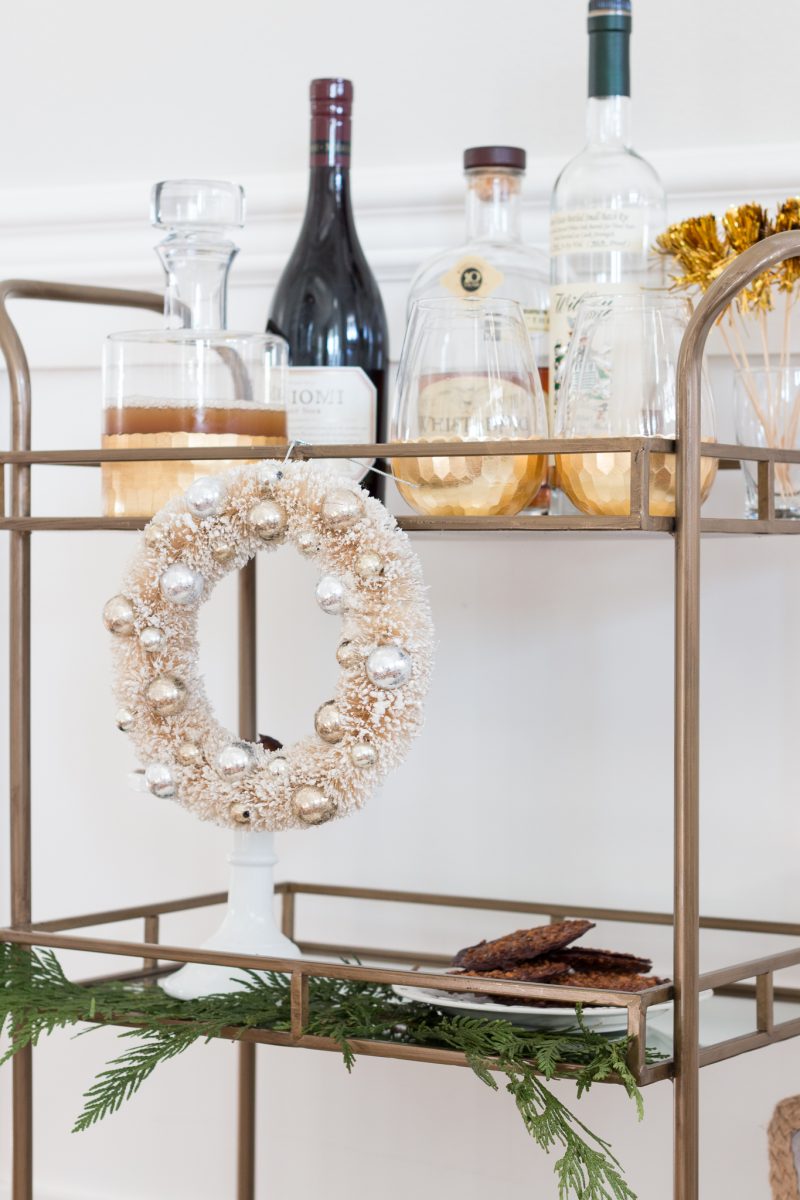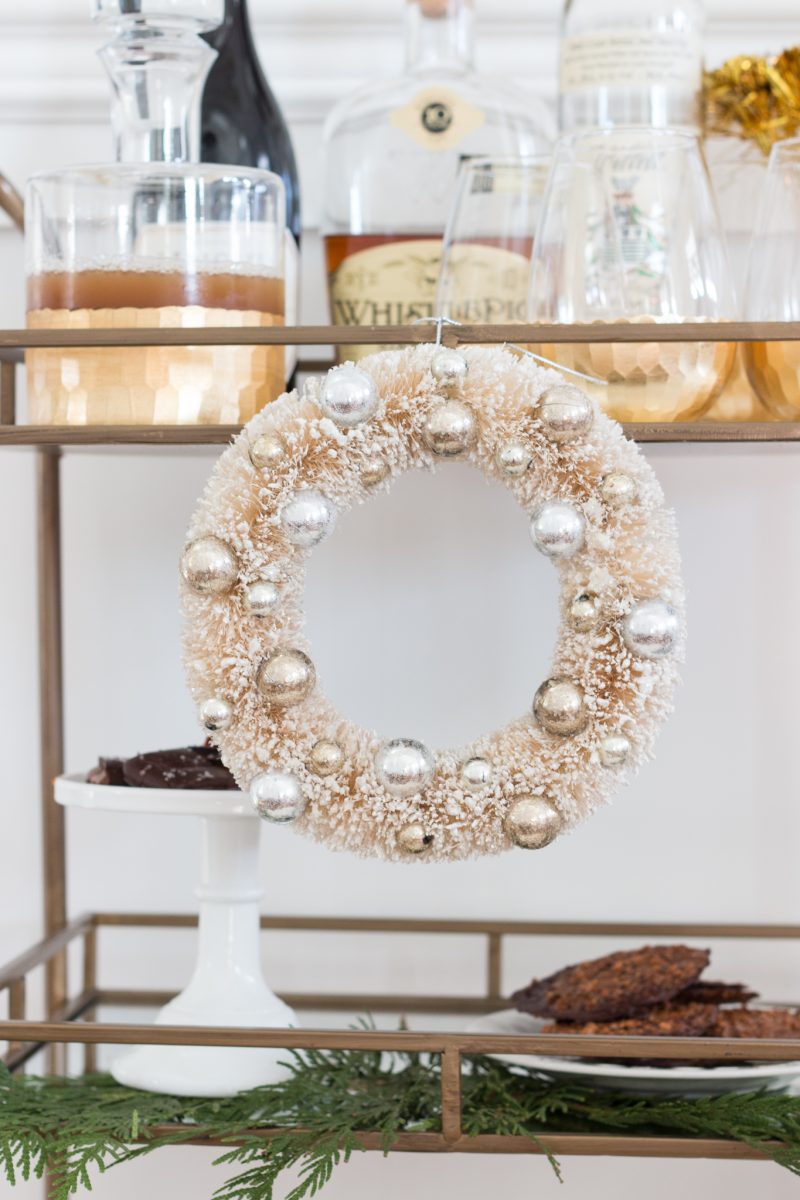 This wreath is so sweet and a fun addition to the cart. Adding fresh greens from somewhere like Trader Joe's gives the cart some life and smells amazing.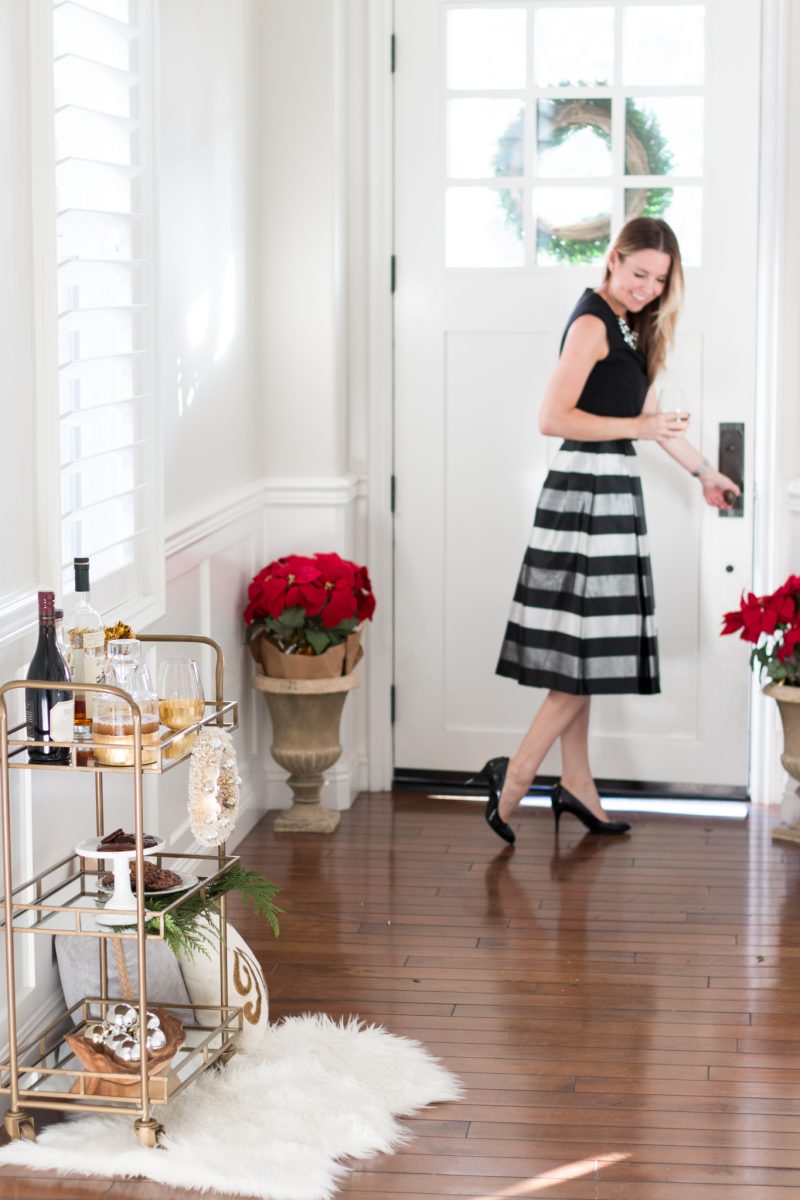 Shop the Bar Cart for Adults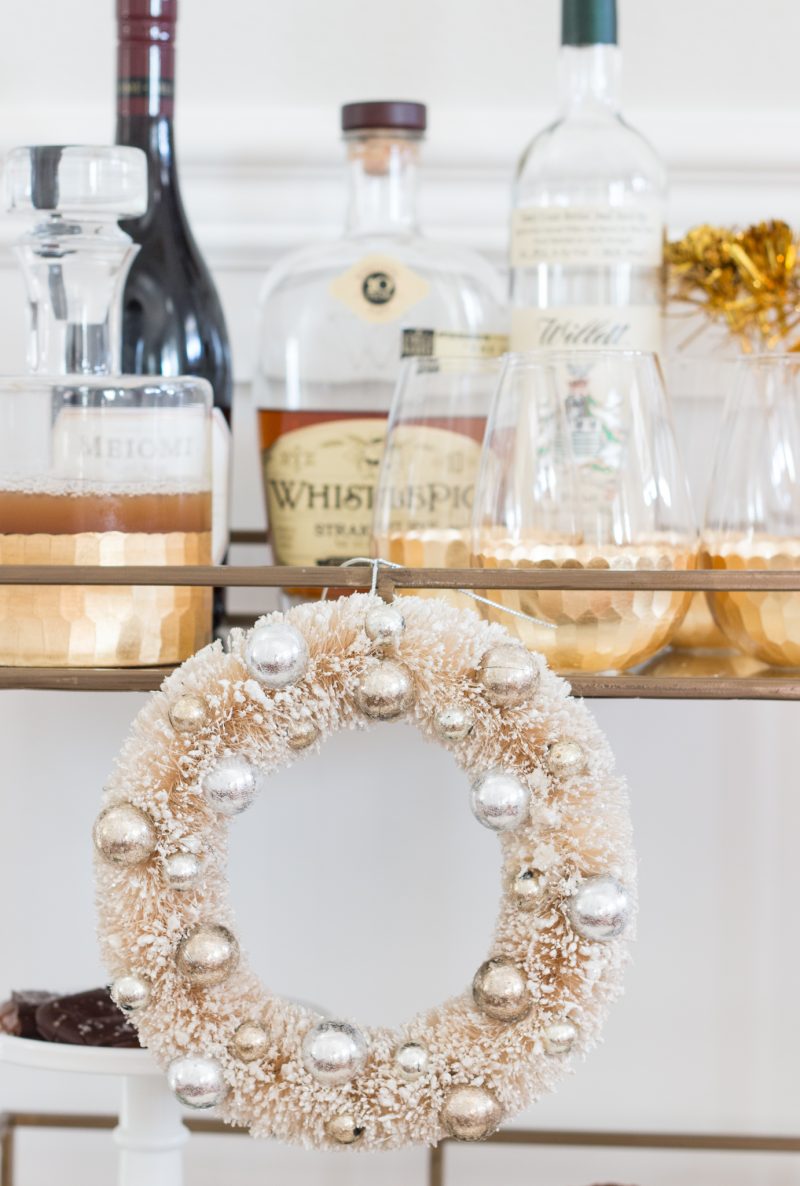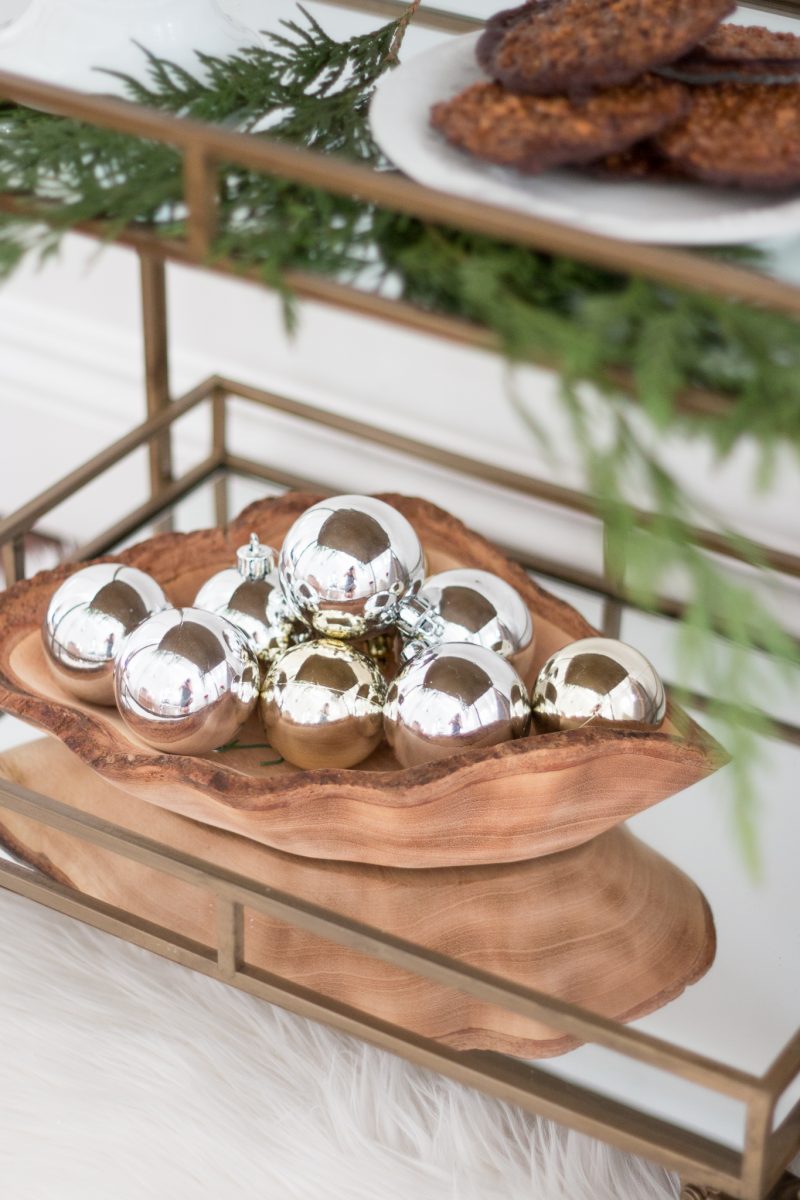 I couldn't resist this bark bowl. With a handful of ornaments its bar cart ready. It would be a great one to toss on your table with crayons in it during the year. We've actually always styled our bar cart with coloring supplies so the children could easily grab them and create.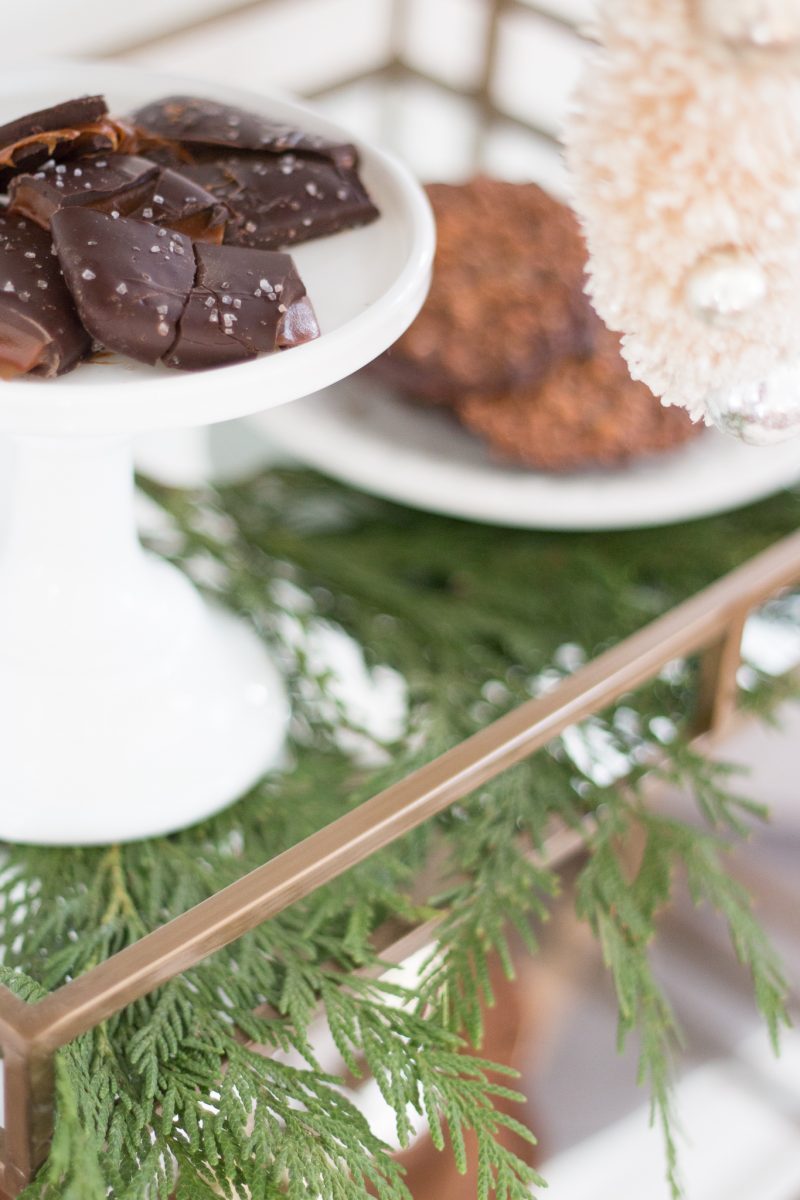 Stop the presses. This Salted Caramel Bark is out of this world. You know I am not a sweets lover but this is beyond delicious. It's soft and salty and seriously good. I am planning to to pick up a few boxes to keep on hand to give to friends and neighbors.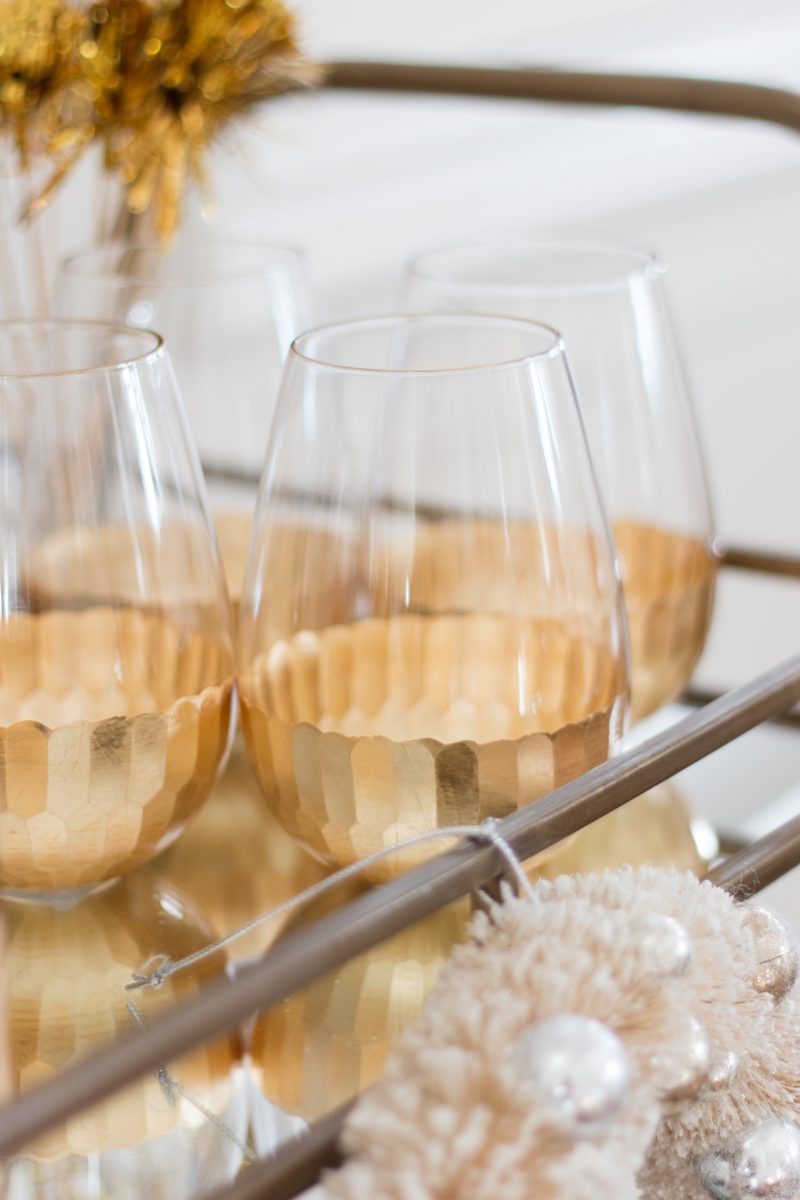 Without a doubt, these gold stemless wine glasses are fun for the holiday and touch of glam makes the bar cart look even better. Better yet, they are on sale!
(click on any image above for details)
I hope these spark some ideas for your holiday entertaining. The great thing is that a bar cart takes up hardly any space and can be placed inside or out for a party. Let me know if you style one for your next get together. Maybe even for Thanksgiving.
*Proud to partner with World Market on this post. Affiliate links used. 
Shop the Post