Good morning. I hope you'll grab a cup of coffee or tea and make yourself at home with our home for the holidays tour. Last year we traveled for Christmas. It was a wonderful trip, but staying home this year just feels right. This is definitely my favorite time of the year in our home. Come on in.
THE FAMILY ROOM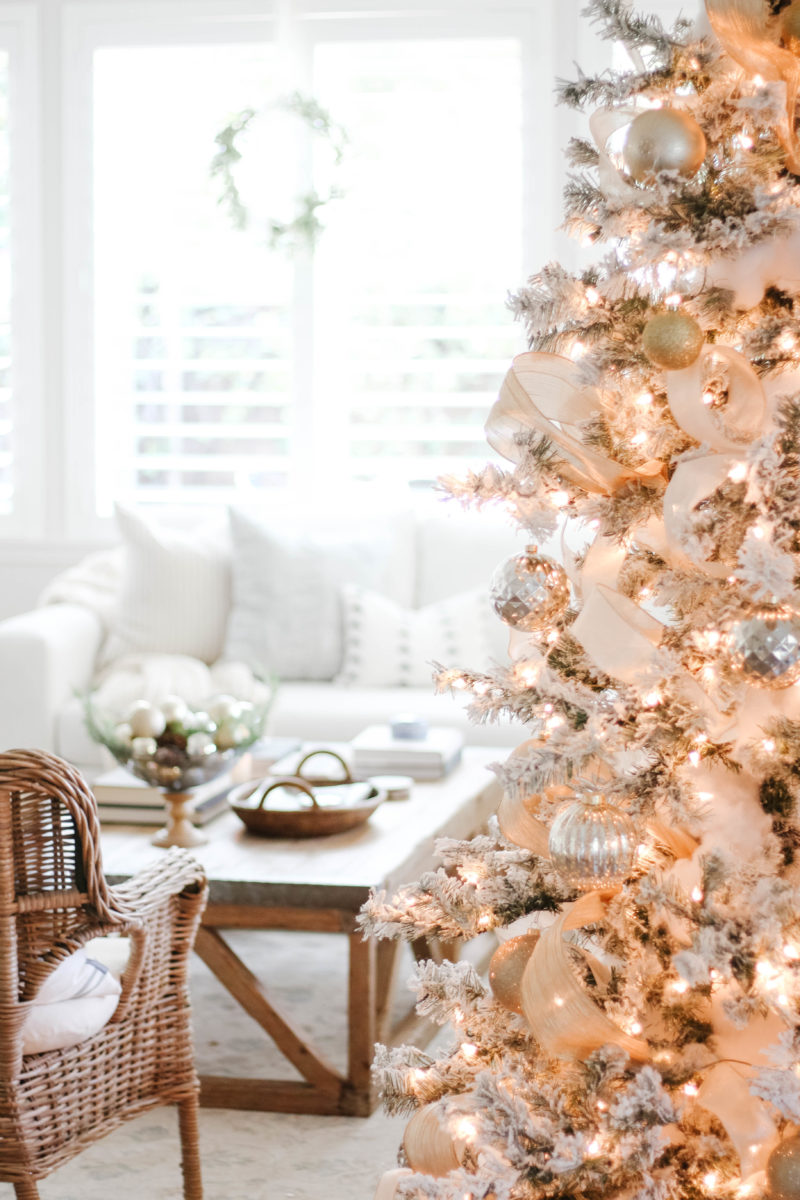 We kept the family room neutral this year. The frosted tree lends itself to that and I really like the calming vibe. The tree is decorated with gold ribbon and silver and gold ornaments. Nice and simple.
Our coffee table is quite large so I am not afraid to use a few stacks of books. I appreciate the warmth they bring to a space. And these are from my parents home so they mean that much more.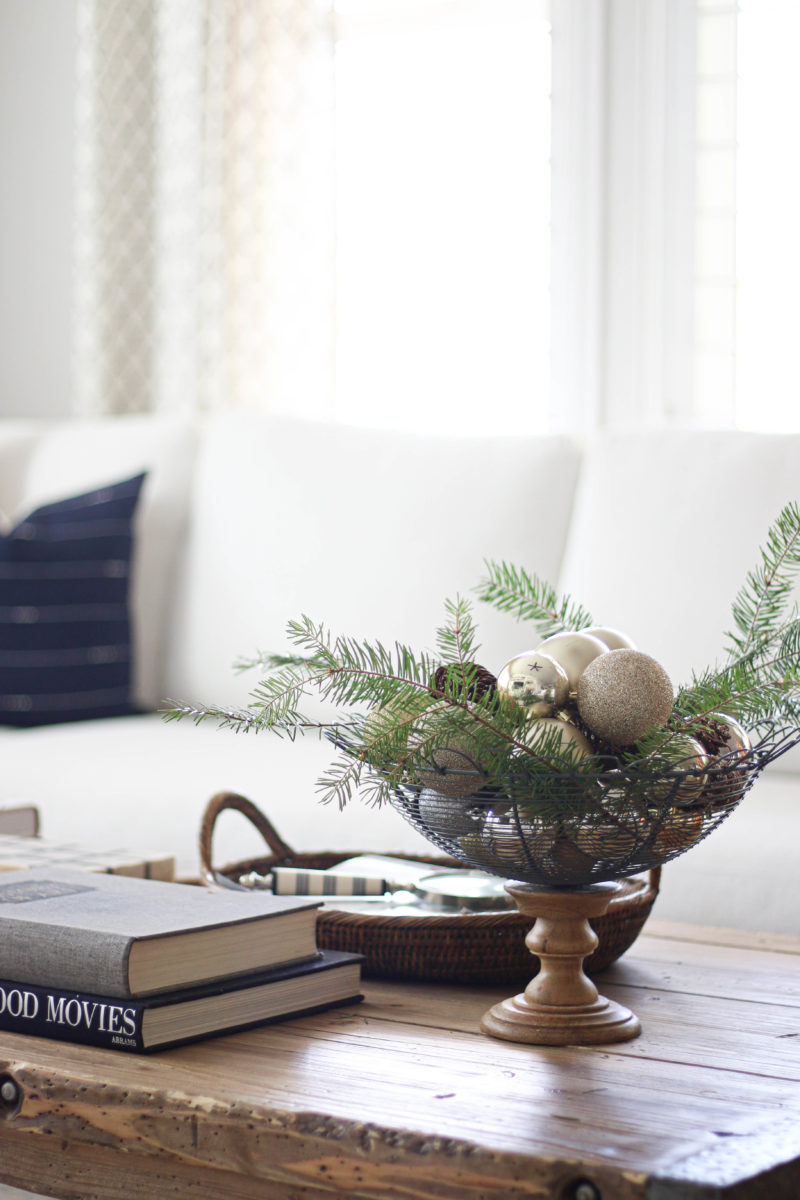 Because our trees are not real, I like to insert fresh greens in throughout the house. It's easy to swap them out if they get dry and the smell is amazing.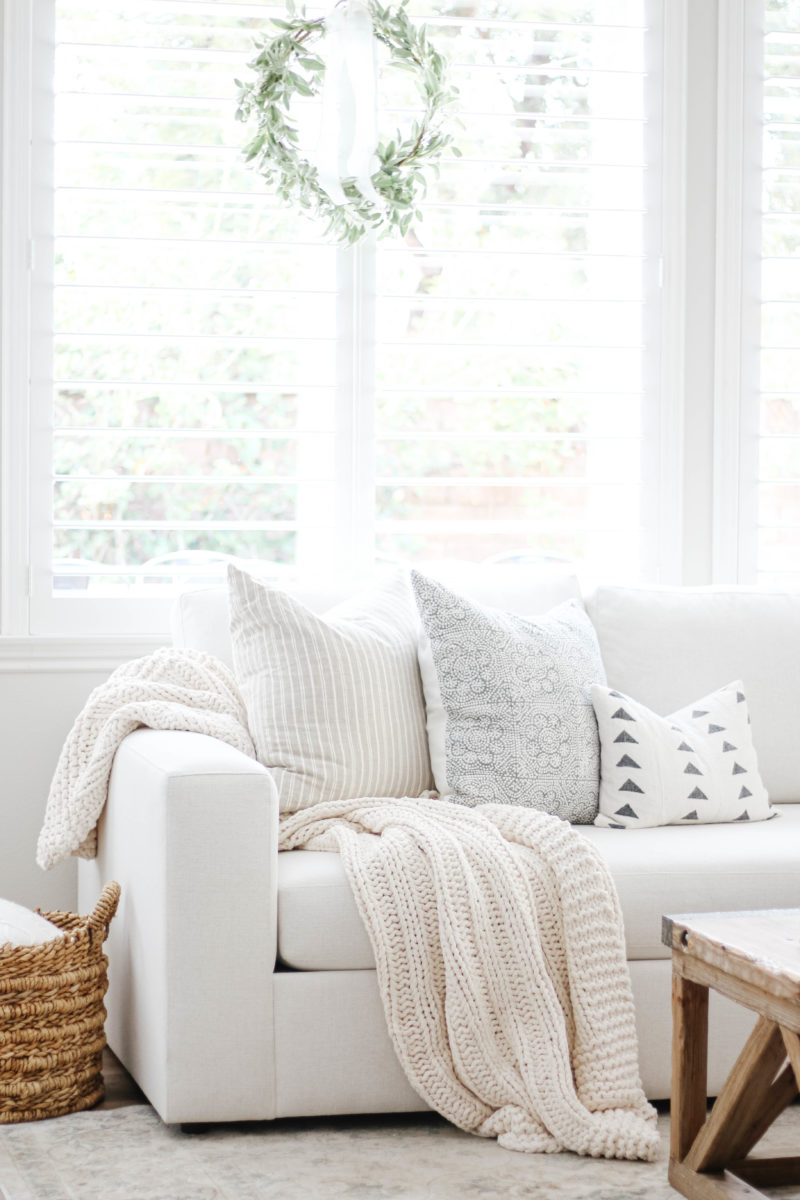 My Christmas present arrived early! A new sectional. We changed things up around here and the entire family is loving it. I wish you could see the fabric up close. It's actually an off-white textured fabric but it's hard to capture in photos. It's a special performance fabric that will allow us to spot it and clean it. And of course throw blankets will be on it quite a bit.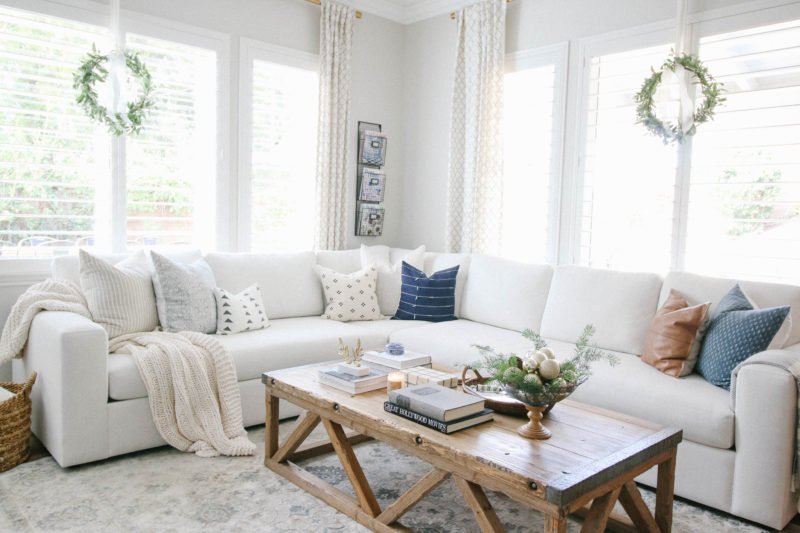 This room is large with high ceilings and this sectional fits the scale of the space so much better. It's nice and deep and everyone can now pile on and cuddle which we love. If you are local, The Sofa Shop and Comforts of Home (same owner) are awesome to work with. They can help you customize a sofa for your space and you'll spend less than you would at a major store. I was able to select everything from the height of the cushions to the width of the arms.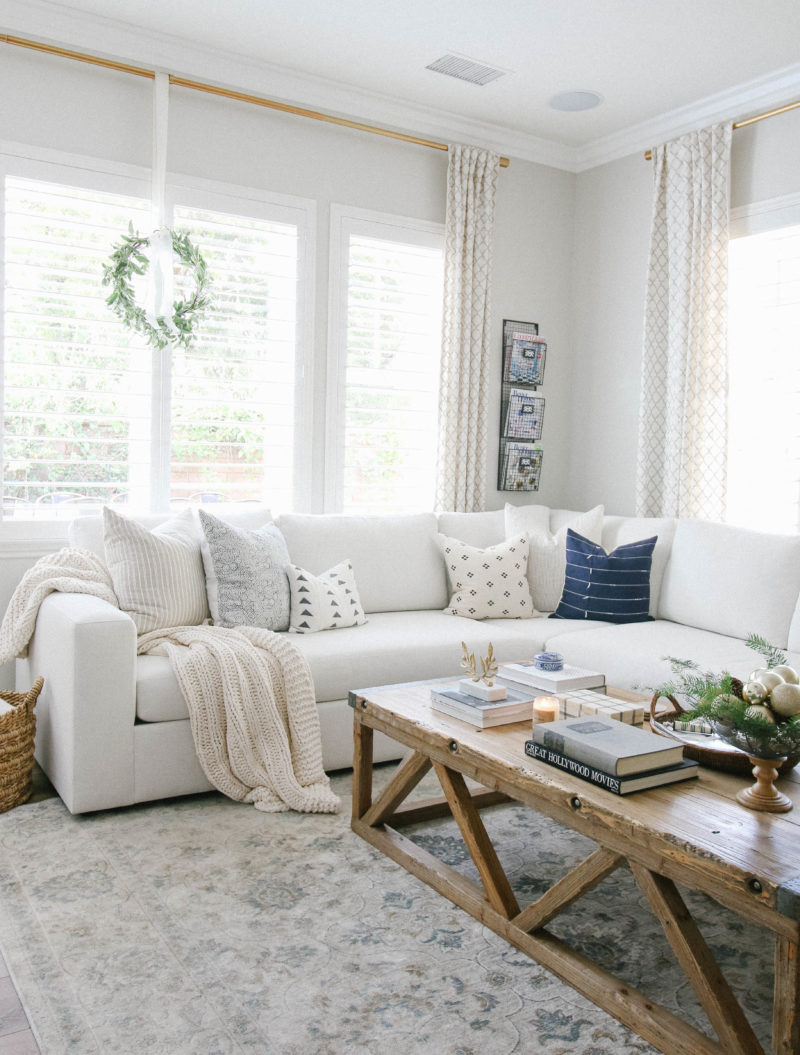 coffee table | throw | drapery rod |
Our two sofas are now with one of our favorite families in their home. So happy they are being loved once again. This room is a mix of high and low. The rug is from HomeGoods and I made the window treatments myself. Most of the pillows are from the Danielle Oakey Shop.
OUR HOLIDAY KITCHEN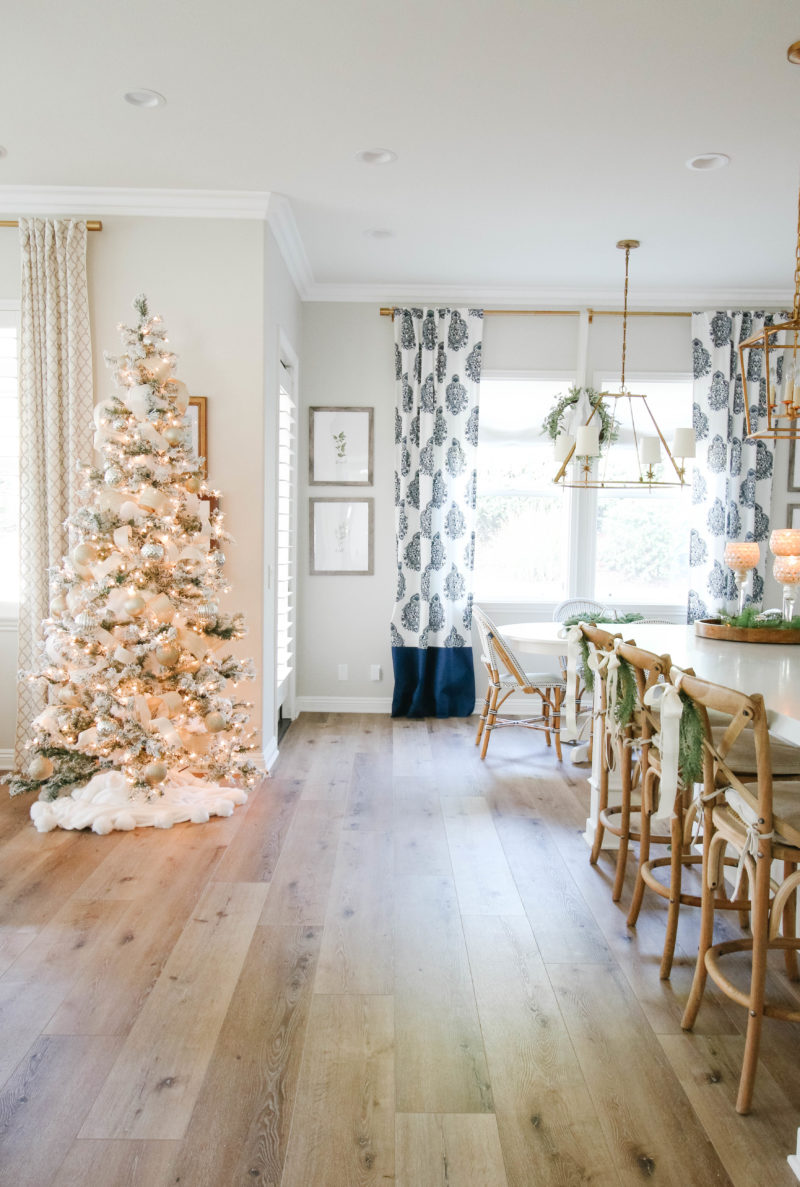 tree | barstools |bistro chairs | chandelier | pendants | table
The family room opens up to the kitchen. I kept it simple with wreaths and fresh greens. Our bistro chairs are currently $50 off.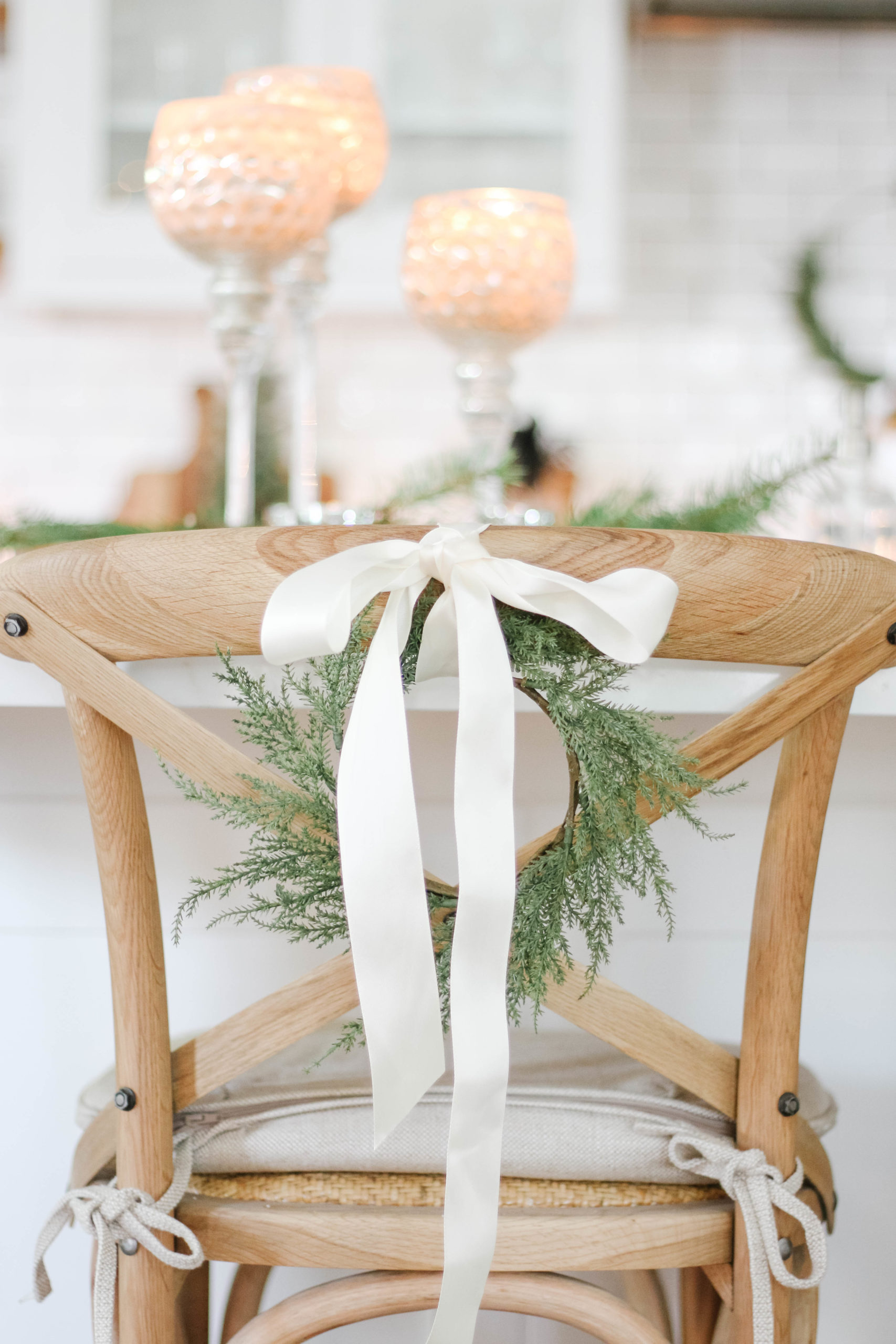 These little wreaths were an inexpensive find from Target a couple of years ago.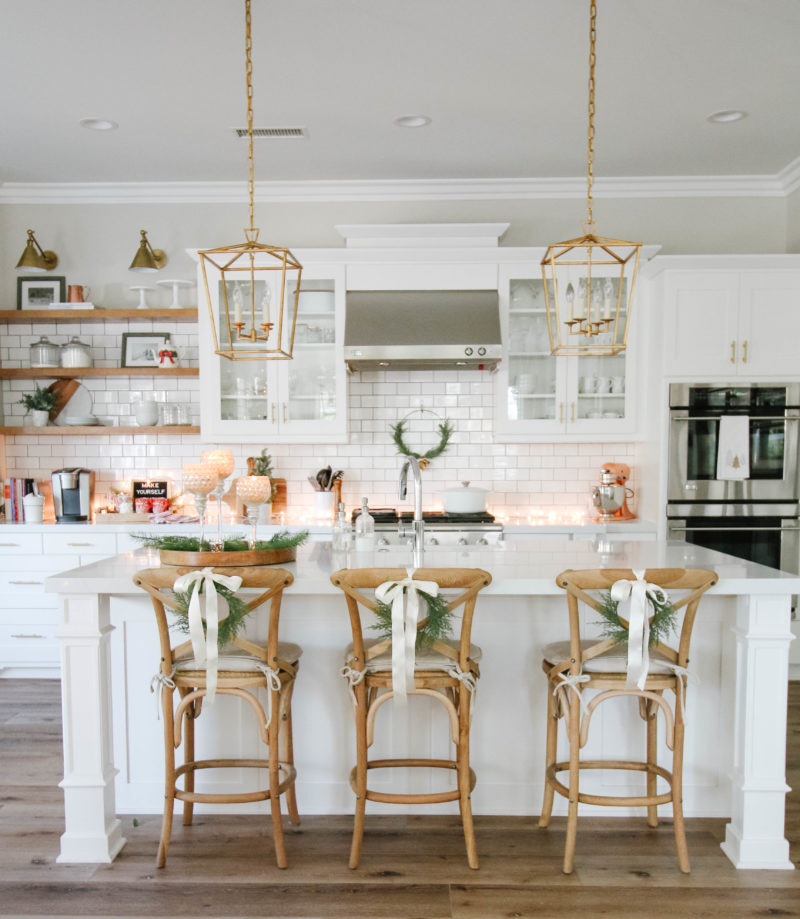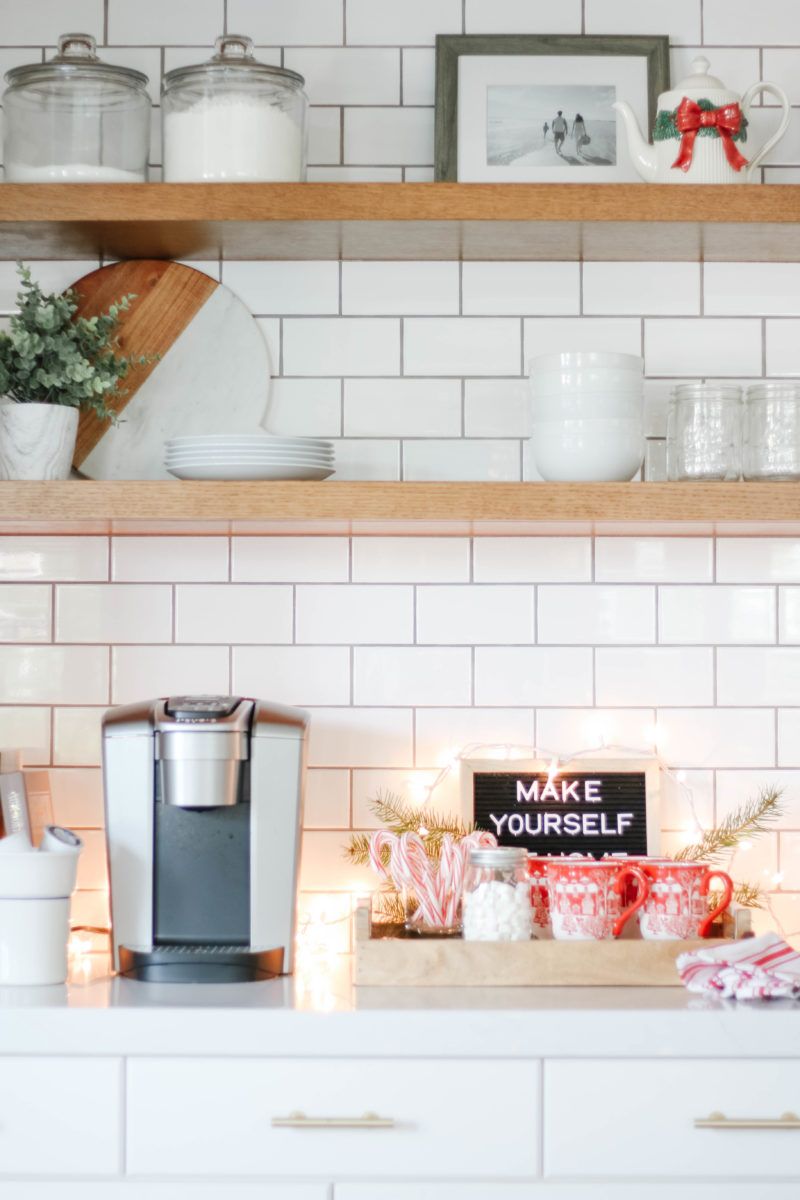 We set up this hot coca bar prior to my daughter's team party and we've decided to keep it here for the next couple of weeks. So fun for the kids to be able to enjoy during the holidays. And mom!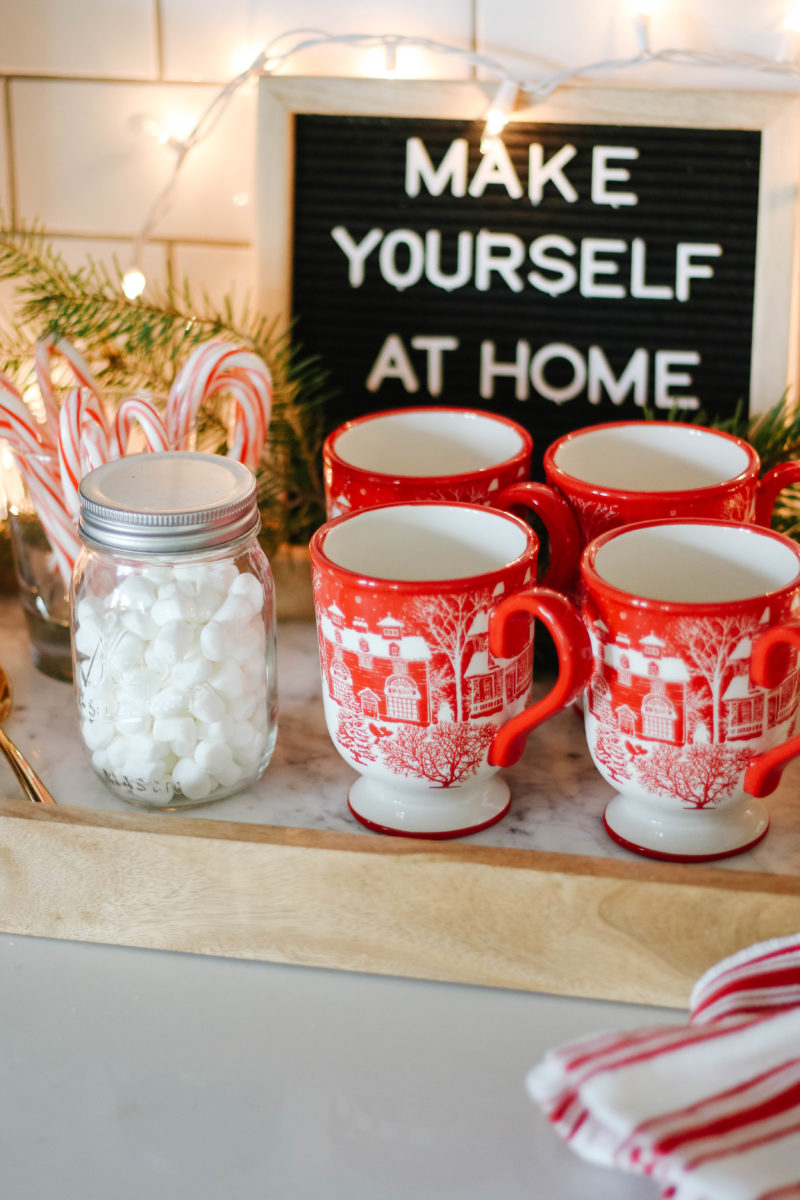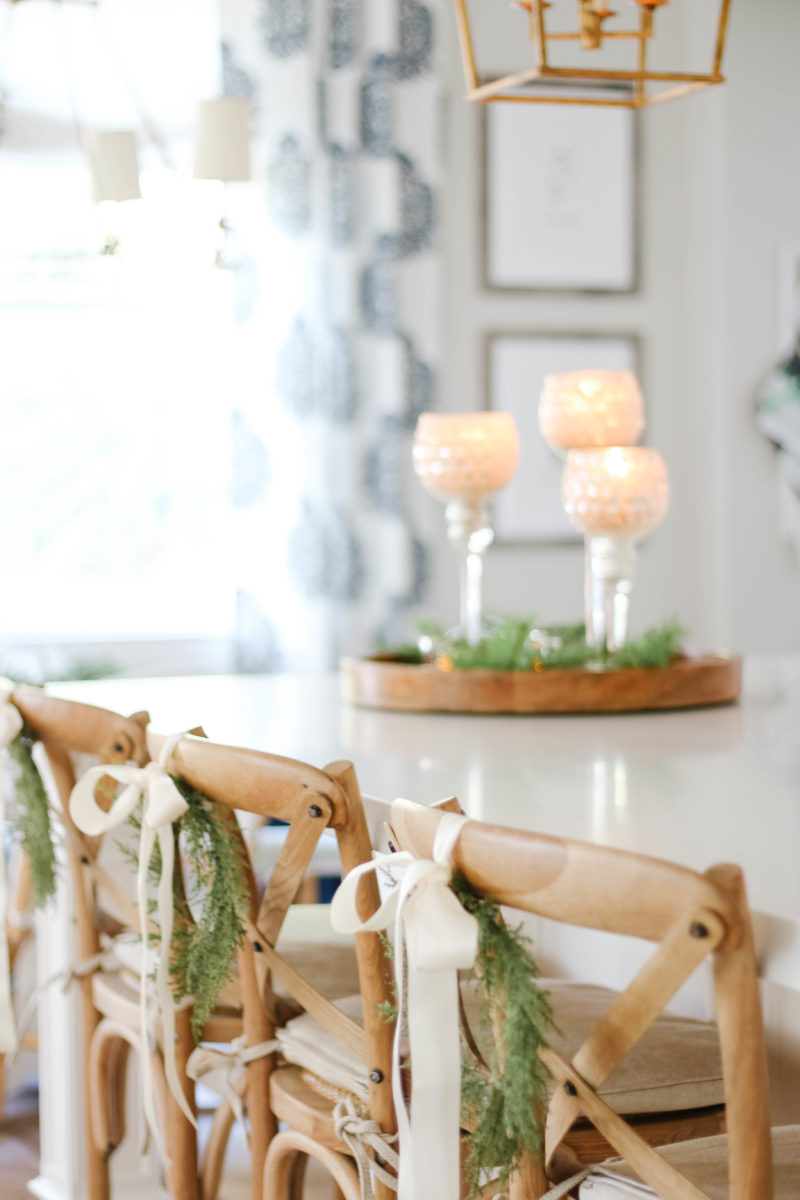 I'm all about repurposing. The wood tray is actually the round mirror we once had in our guest room. It's really pretty with candles and greens this time of year.
DINING ROOM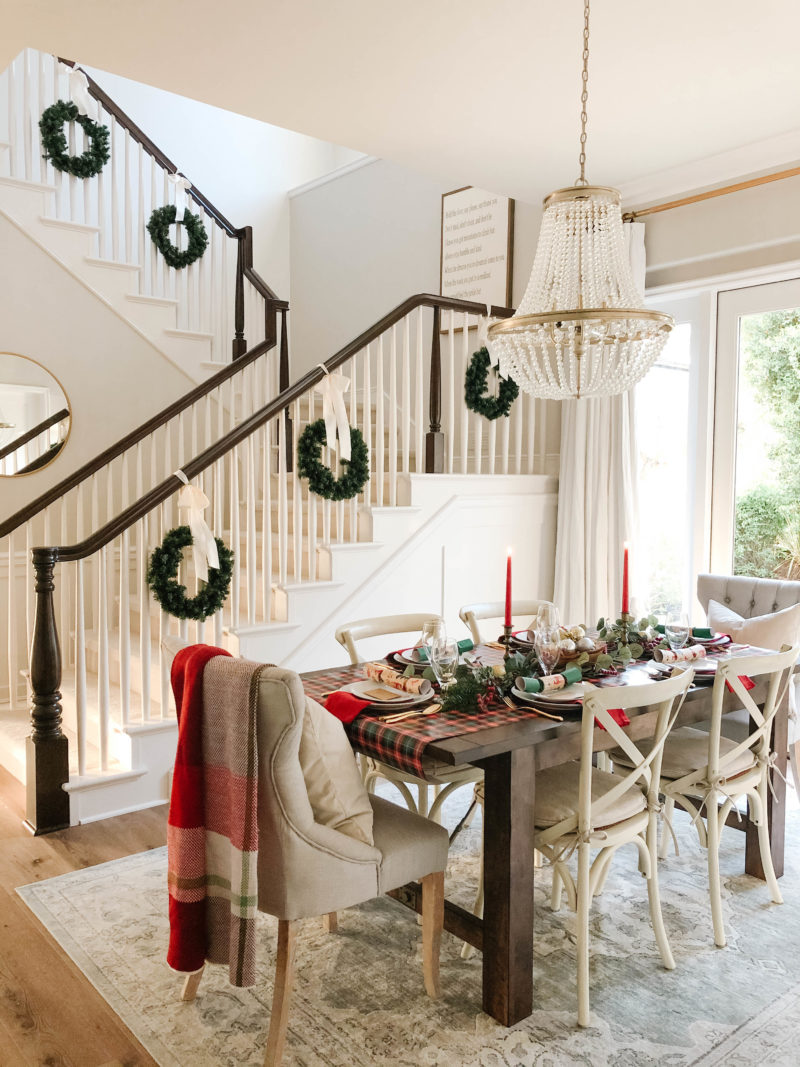 chairs | tufted chairs | similar chandelier
The wreaths on the stairs are one of my favorite ways to decorate. You can see how they were tied in this video. So easy to store and put up each year. I'm all about keeping things easy.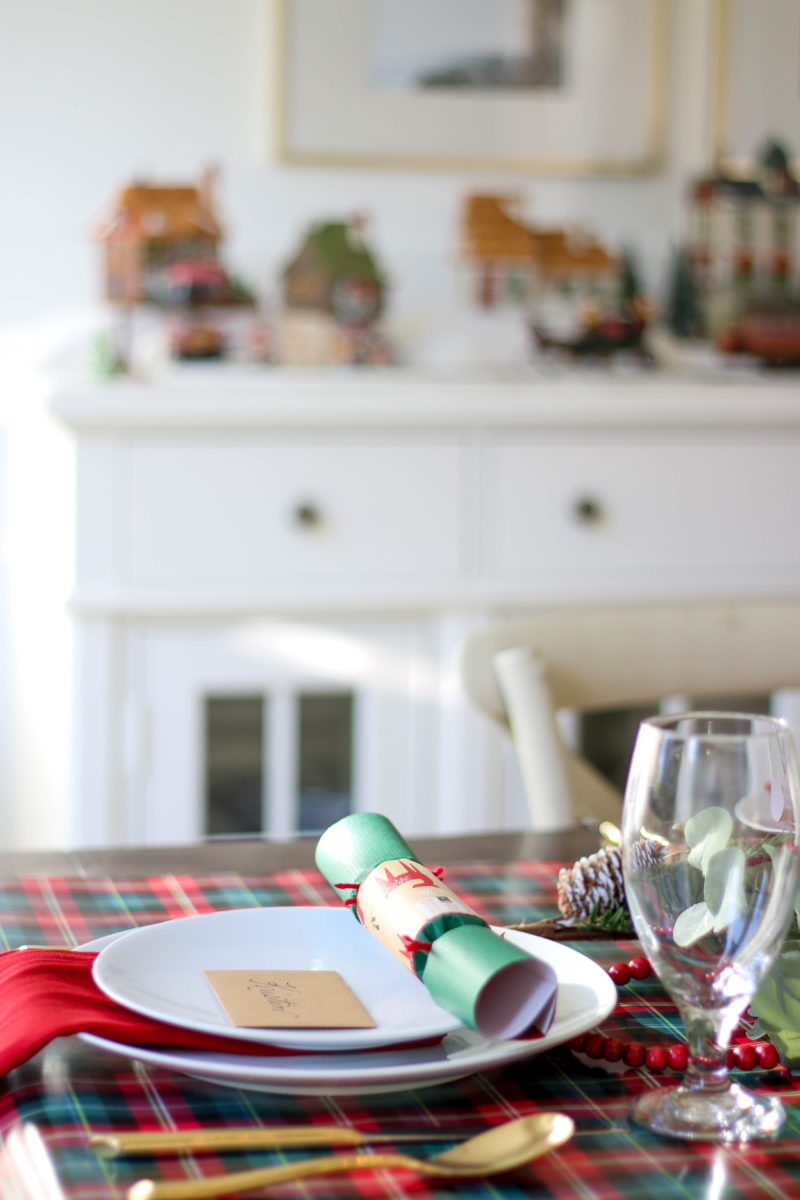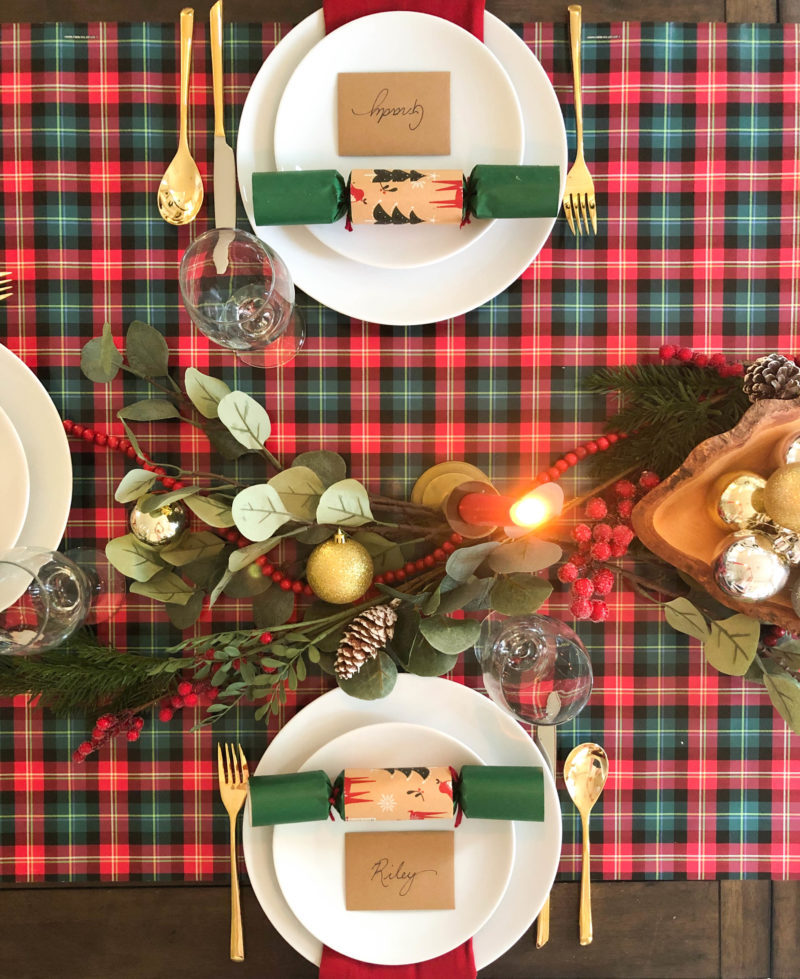 See more of our traditional table setting here.
THE LIBRARY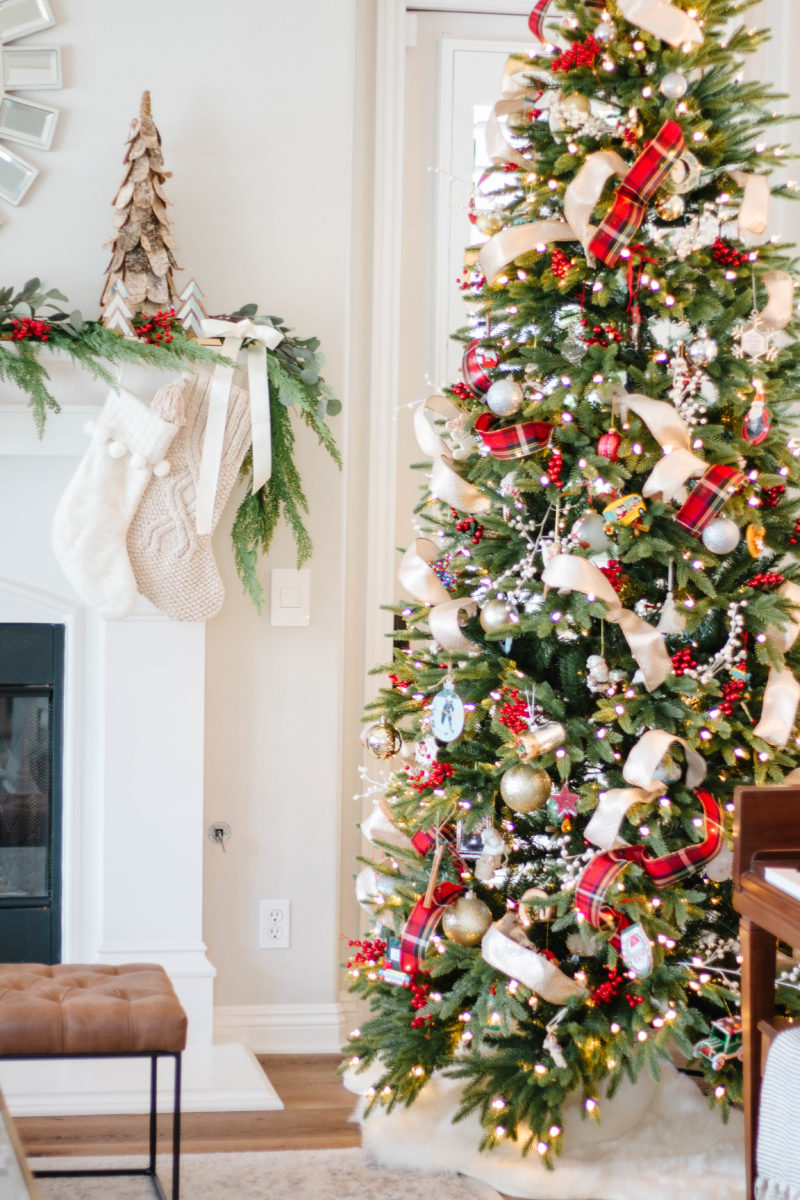 We've always called our living room "the library" because it has built in bookcases on the opposite wall and it's the room we often read in. Unlike many formal living rooms, this one is used every day. We like the cozy feel and that is why we choose to put our family tree in here. It's filled with all of the meaningful ornaments we have collected throughout the years. This year we went with the Balsam Hill tree and we absolutely love it. We plugged it into an outlet that is operated by a light switch near the front door so it's easy to turn it on and off.
rug | sofa | mirror | birch trees | beads | stools
I picked up these faux leather stools this month and they are great. Not only are they comfortable but the extra seating is wonderful. So easy to move throughout the house when we entertain and need and extra seat or two.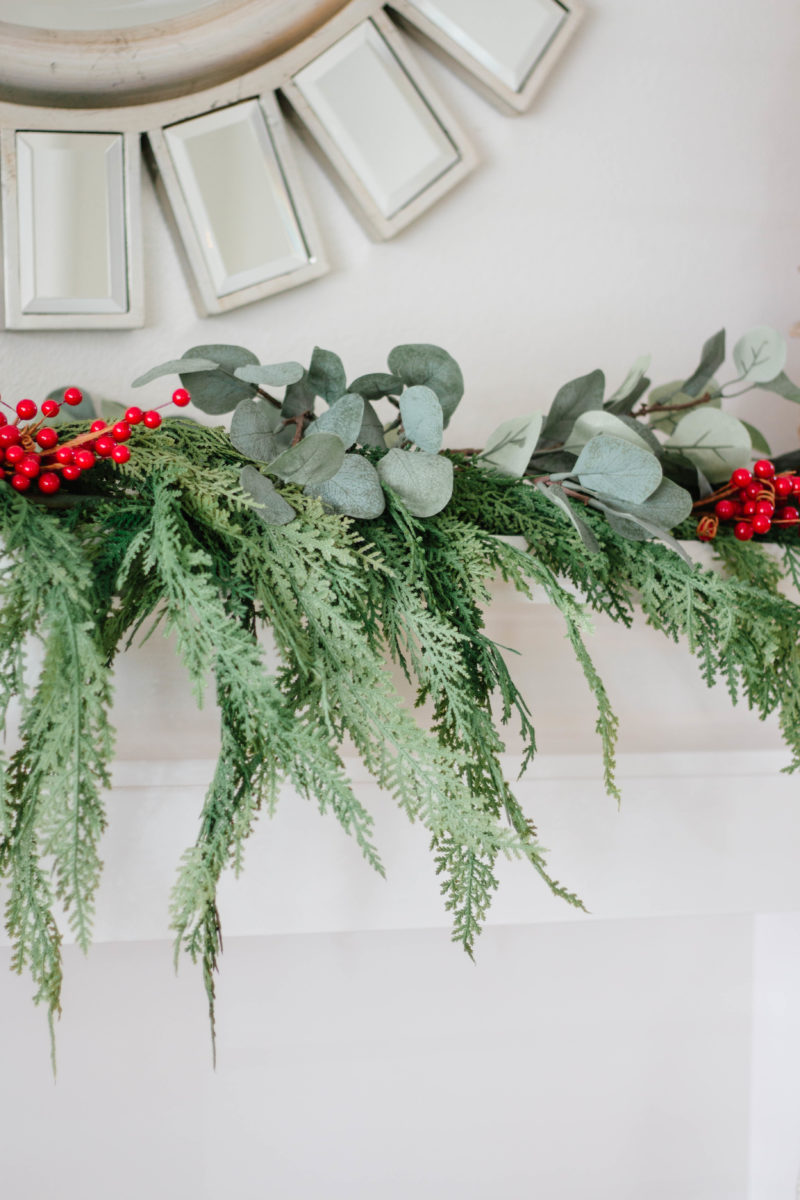 To achieve this look I layered faux garlands with these eucalyptus stems. I also had some extra berries on hand from our tree and used those to tie in the red that is going on throughout the room.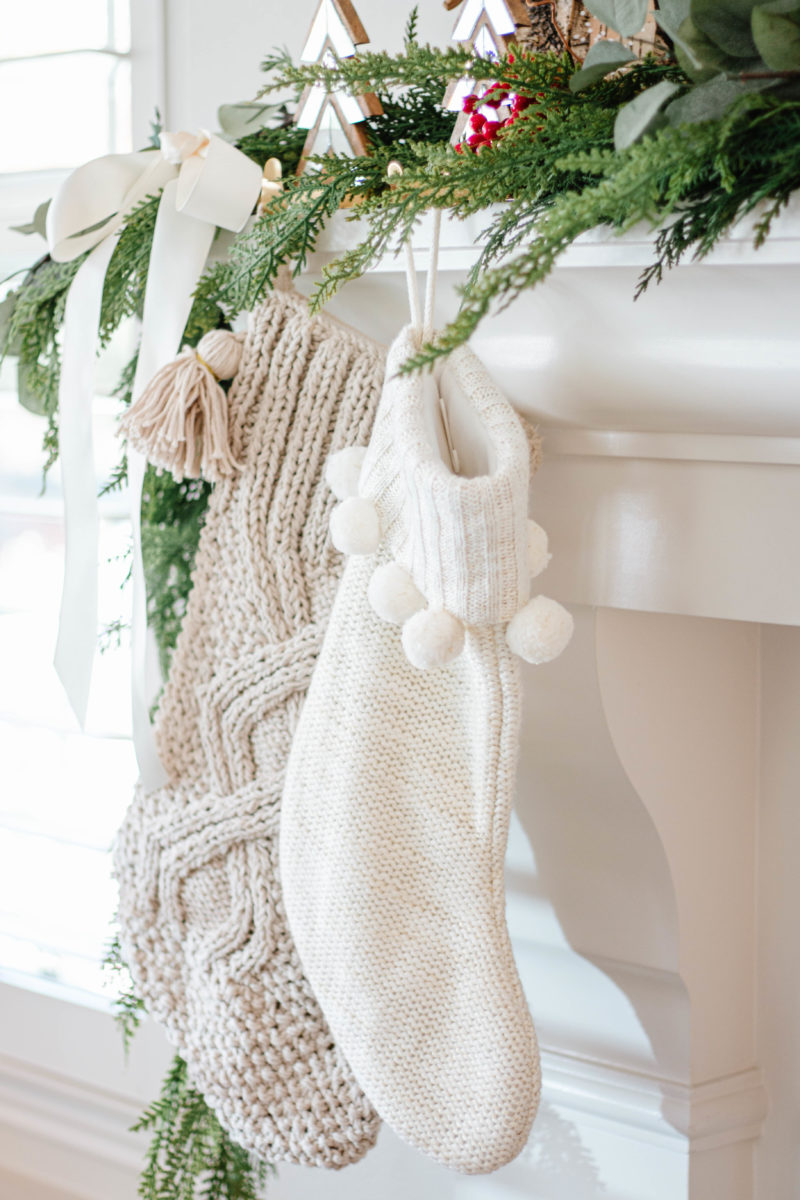 cable knit stocking | pom stocking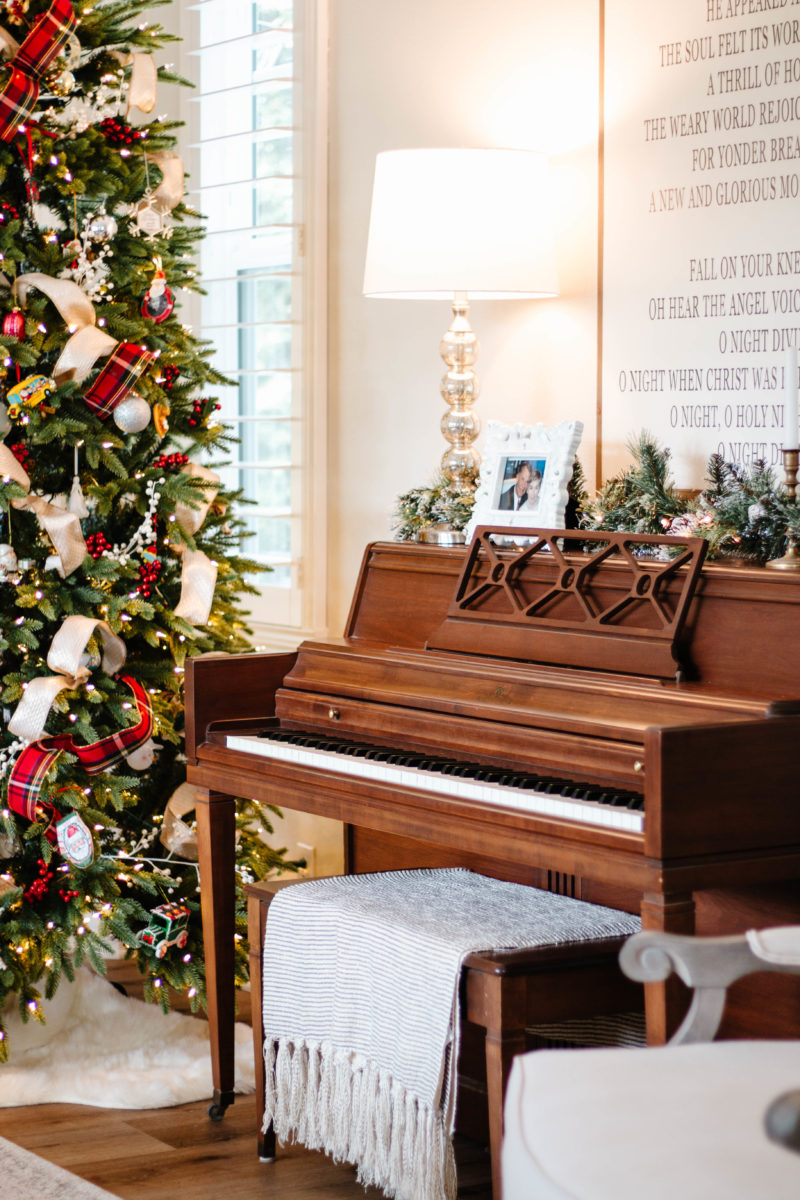 During this season, we swap out artwork for the Oh Holy Night sign. So special to pull out each year.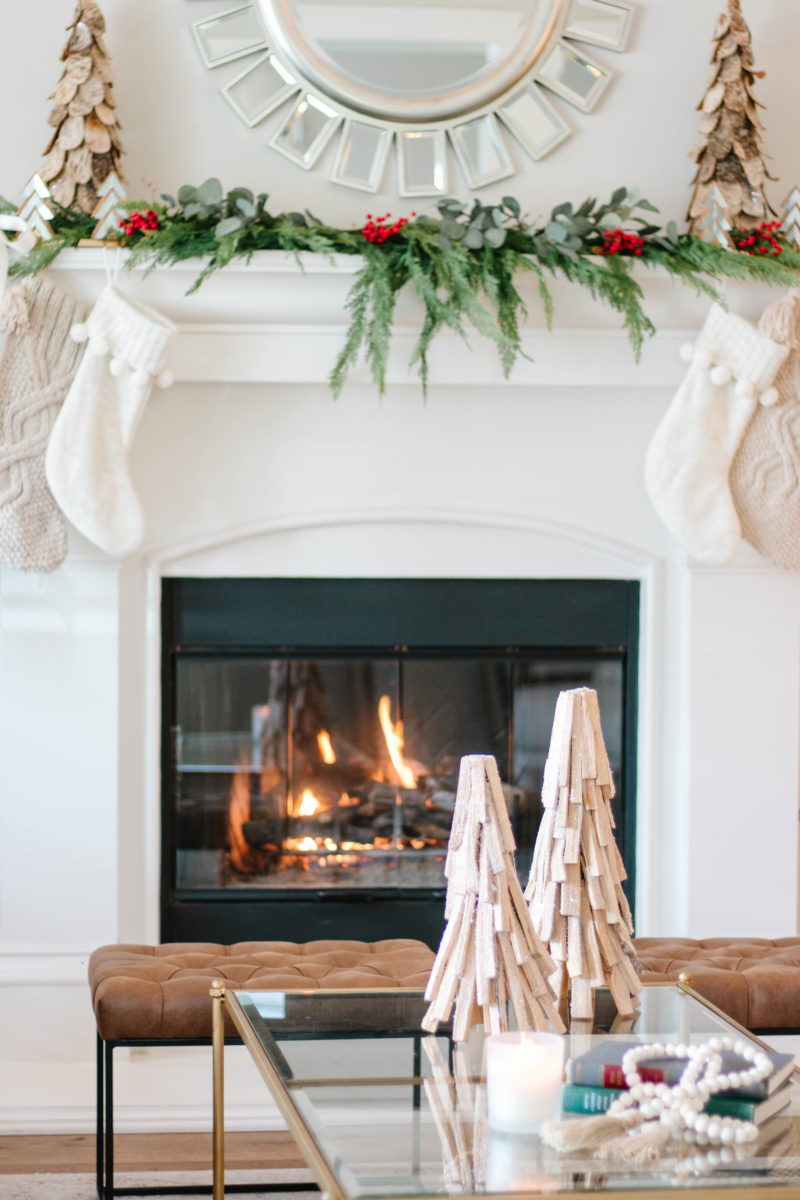 KID SPACE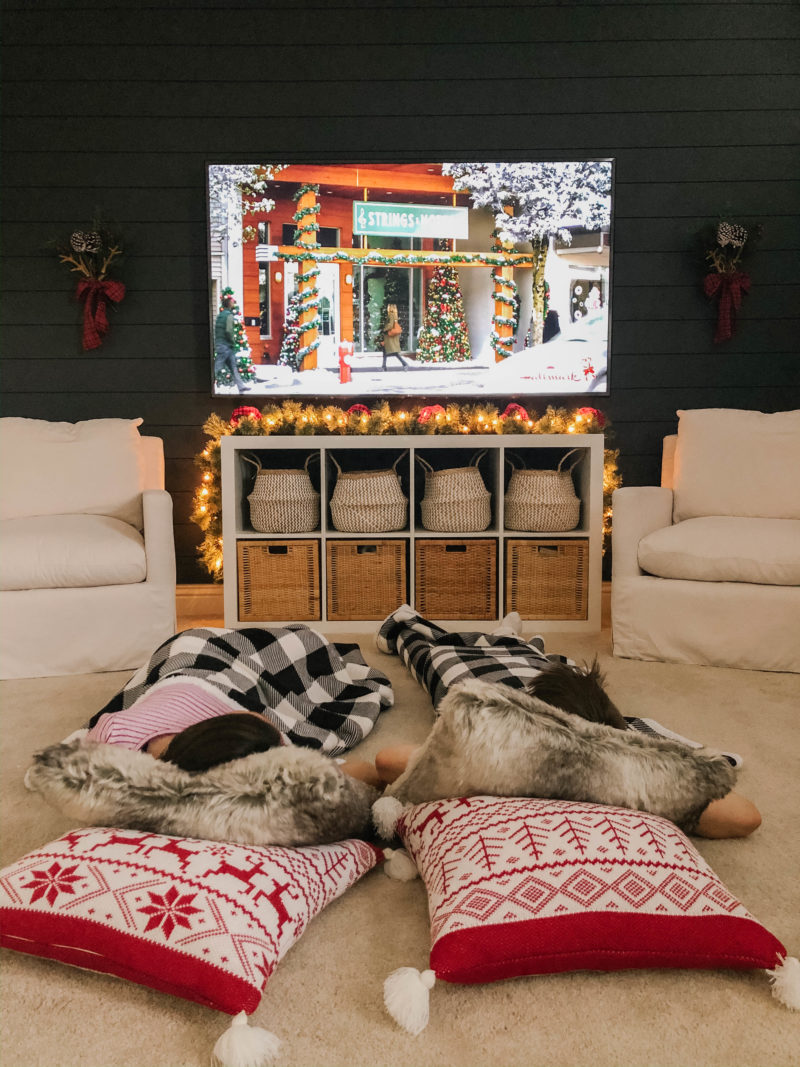 chairs | garland | red pillows | throws
The new kid space got some holiday charm with lit garland and holiday pillows. The throws were one of our favorite purchases this year. So incredibly soft.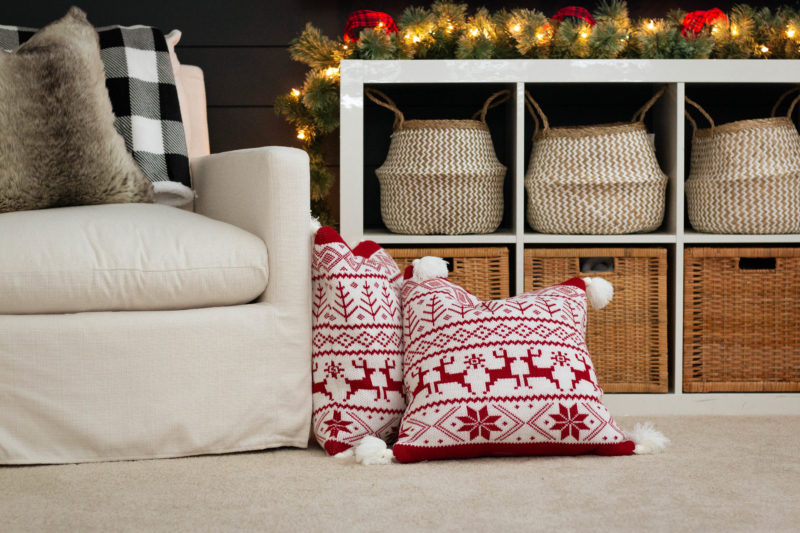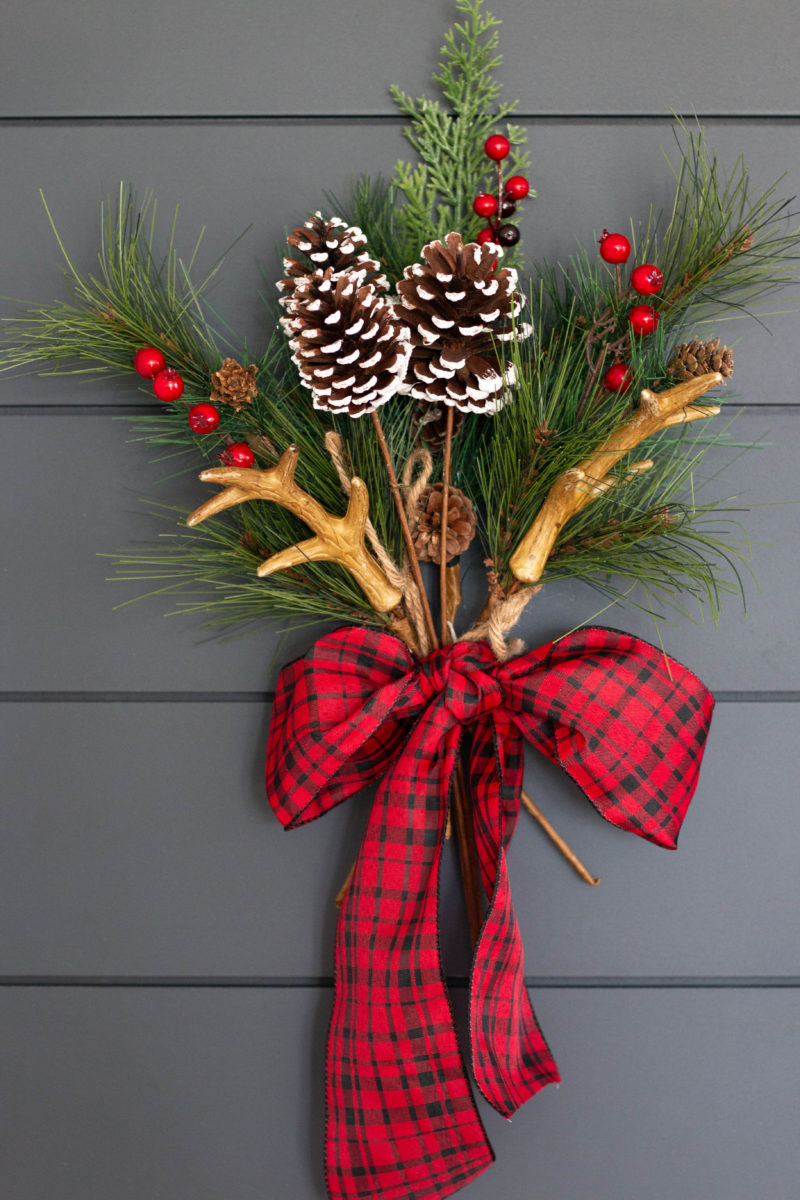 This room feels like a holiday cabin inspired some that we have stayed in up in Big Bear. Wishing it could be like this all year long.
To avoid photo overload, I'll share our holiday touches in the bedrooms in a separate post. Thank you so much for taking the time to wander through our holiday home. Wishing you all a beautiful season with the people you love.