I want to hug each one of you that left a comment on the blog post yesterday. It was so nice to read that so many of you really just savored the slower pace with family and have given yourself a moment to really get back into the swing of things. Looks like we are all in this together.
It's been a while since I have done an "It's a Date" post because frankly life was nuts for a while. If we did go out, I forgot to snap photos or we couldn't find a sitter and stayed in. More on that at the bottom of the post. Over the break we did sneak in a double date with dear friends of ours. They suggested a new local restaurant and it was out of this world. I styled my new warm and cozy vest with faux leather leggings but also dressed it down for another look to share with you.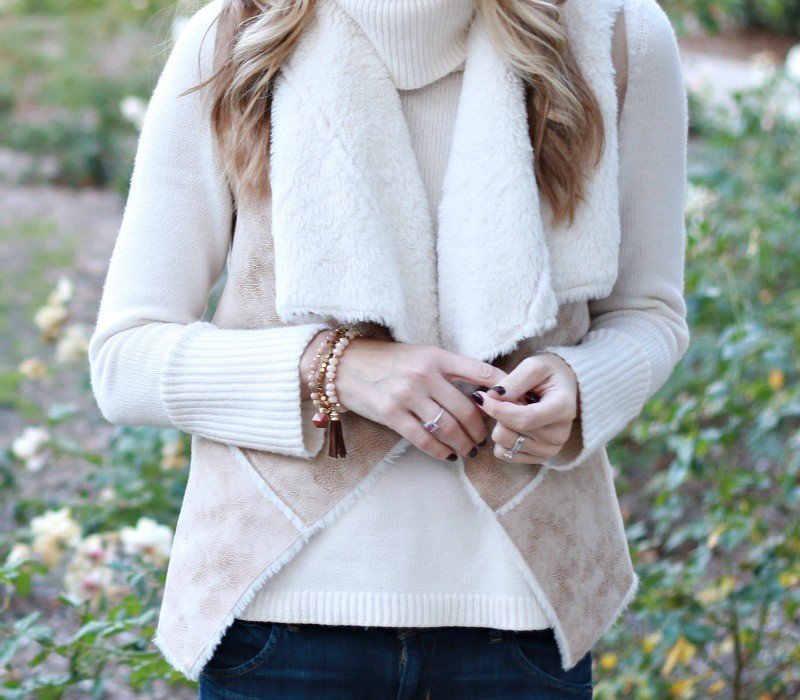 vest | sweater | tassel bracelet
Wanted to share this up close look at the vest so you can see just how cute and cozy it is. Every part of it is super soft. I am wearing a small. The beautiful bracelet was a gift from a dear friend and I adore it.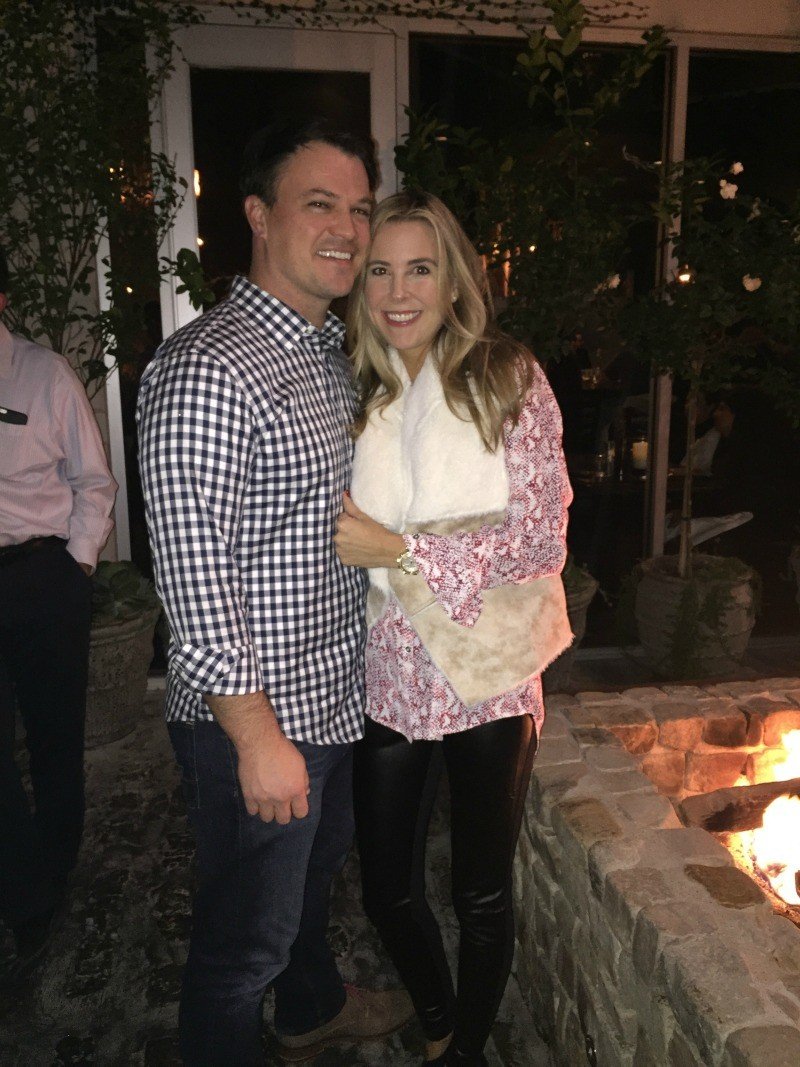 leggings | vest | booties | his shirt (50% off) | his jeans  (50% off) 
Date Night Style: Shop The Look

I dressed up a bit with the faux leather leggings, heels and blouse.  Happy I had the vest as it started to rain on us out on this patio.
Date Night Hot Spot:  Arc Food & Libations in Costa Mesa. Amazing. Any restaurant that quotes Shel Silverstein on their website is good in my book. Everything is cooked over an open fire. That's it. It's pretty much farm to table and the award winning chef,  Noah Blom, truly knows what he is doing. He began his career working with Hans Prager at the Ritz restaurant in Newport Beach.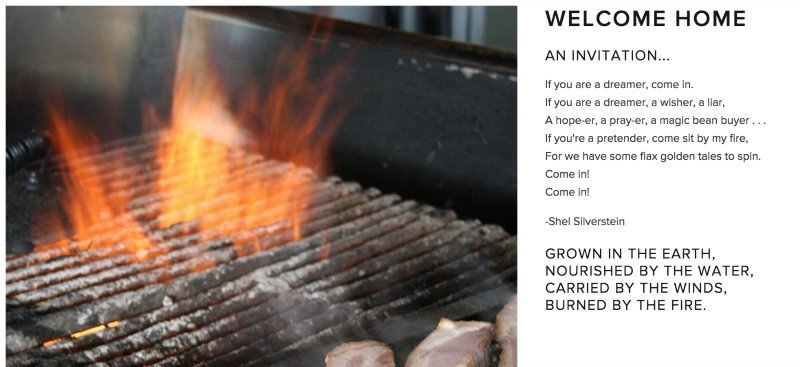 This is honestly the best meal I have had out in a very long time. The dishes are designed to be shared. And they are sooooooo delicious. I ordered the wedge salad but must say it was the largest salad I had ever seen in my life and is enough for six people. We all ordered things and shared. Highly recommend the Broccolini and the Corn Bread. My mouth is watering thinking about it right now.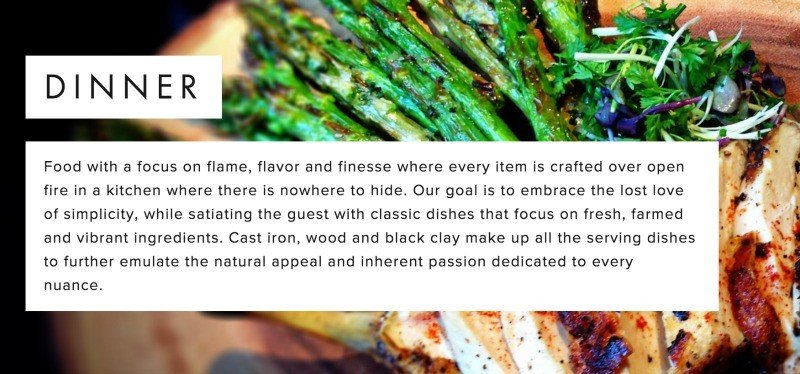 images via arc
I can't say enough amazing things about this restaurant. Really great atmosphere. Very dimly lit which lends itself to date night. There is bar seating as well as tables. But they do not take reservations (unless you have 7 or more) so you need to go early. Like really early. They fill up super fast and seating is limited. The outdoor area is small but a quaint place to wait with the fire pit. They also serve lunch and brunch (have not tried yet) which have earned rave reviews. I think this may be the spot I request from now on for my birthday dinner. It's not inexpensive but it is an experience and truly excellent food. Rumor has it they are opening a place directly next door that will serve amazing desserts (owned by the same chef).
Below I styled my vest in a more casual way as faux leather leggings aren't the first thing we all grab in our closet (must say I love mine, though).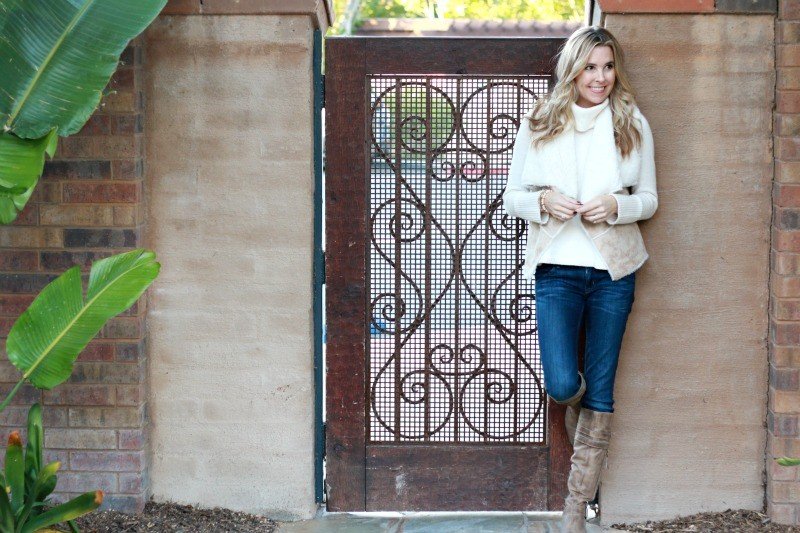 faux shearling vest | sweater | jeans | similar boots 
Boots on Sale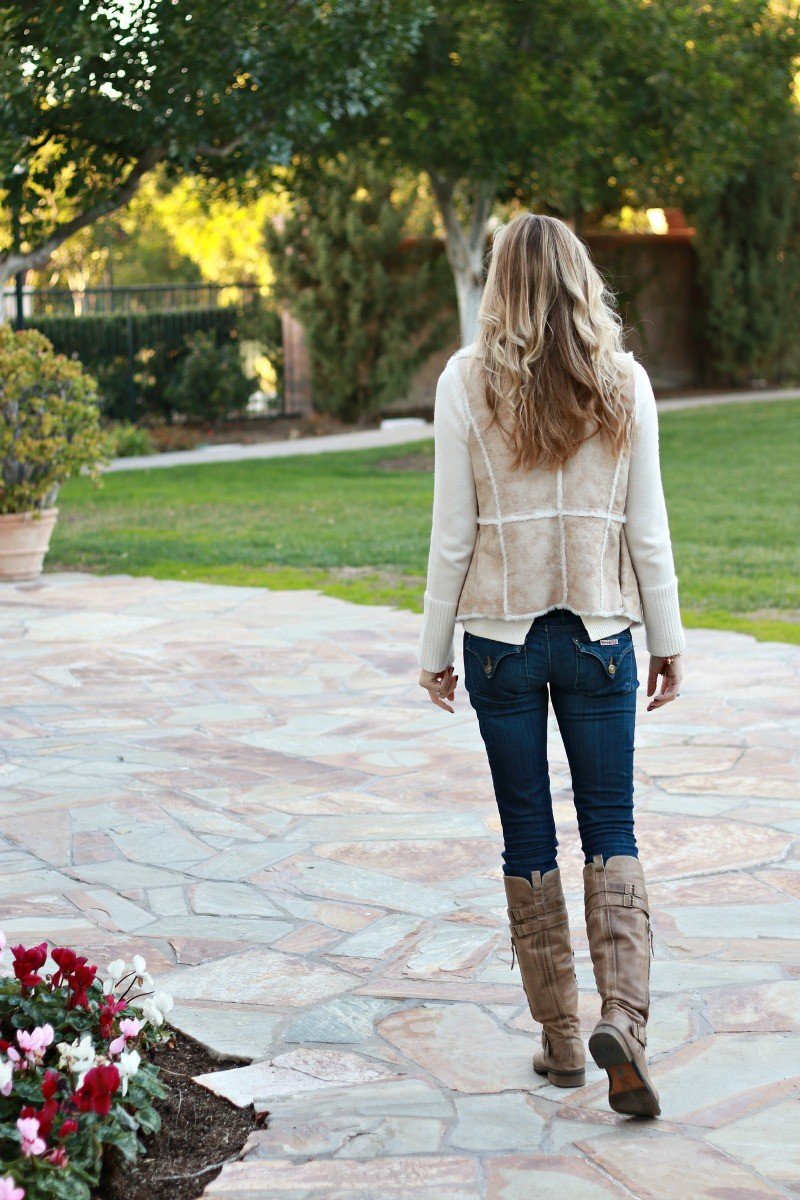 And here is a peek at that back because I think it is really cute. And these are the same jeans I have been wearing for probably five years (40% off). But these are similar (back pockets and all) for a killer price. My boots are also crazy old, but if you find a pair in this gray color go for it. They go with EVERYTHING.
And thank you to our friends, Camden and Tyler, for introducing us to this hot spot. Really is a fun place for a double date. Let me know if you are local and end up trying it. And we were so busy chatting it up that we skipped the date night question but it would have been fun to do something related to the new year.
Working on a fun date-night-in post with ideas for staying put but still taking time out to really put the relationship first. Previous "It's a Date" posts can be found here or they can always be found under the Fashion tab at the top of my blog.
And just FYI that Gigi of New York is hosting their 40% off sale and today is the last day. Such pretty bags and the owners of the company are some of the nicest people you'll meet.
Hoping you find yourself easing gracefully back into the swing of things and enjoying the first full week of 2016.
*affiliate links used
Shop the Post