Good morning. How's everyone doing this week? I'd be lying if I said cabin fever wasn't setting in. So to combat that, I am trying to be as productive as possible. Welcome to kitchen organization 101. A few weeks back I asked you if there were specific organizing posts you would like to see and the top two responses were our kitchen and my closet. Today I am opening up my kitchen drawers and cabinets to give you a better idea of how our kitchen functions.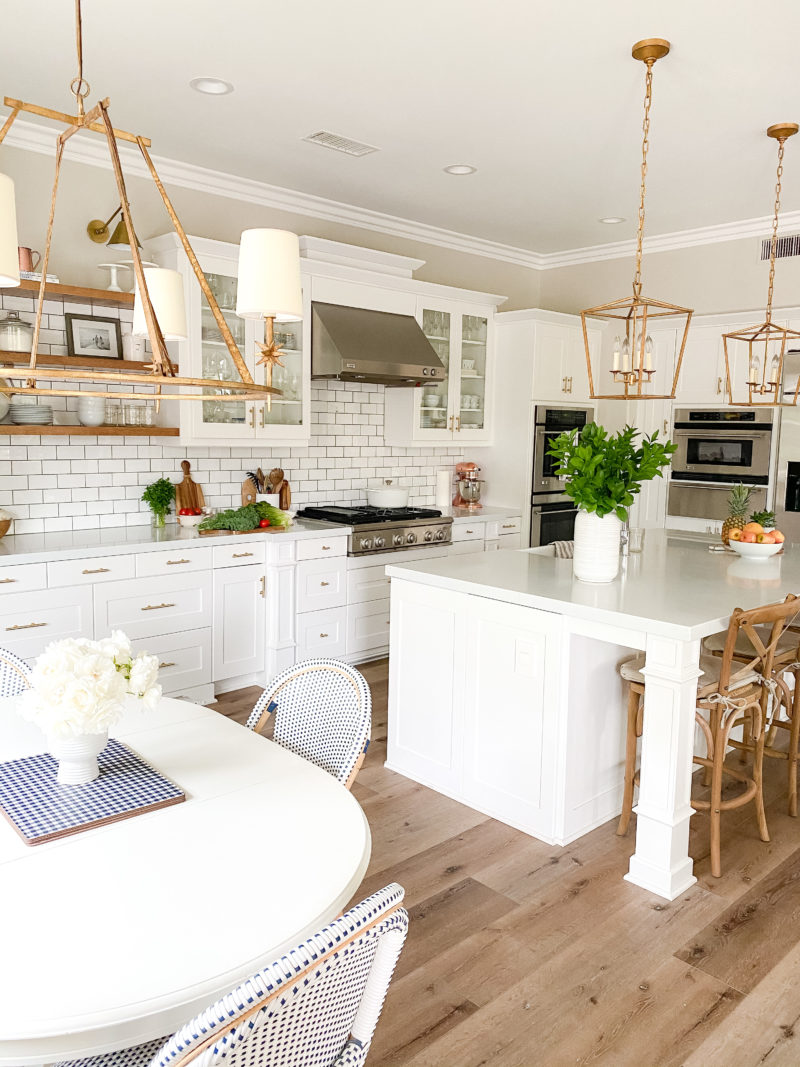 chandelier (20% off) | chairs | stools
First and foremost, it's important to note that our pantry holds our dry goods, first aide kit, party supplies, vases and coffee maker. That is why you won't see those items in today's post. When we moved into our home, almost four years ago, we really purged anything that wasn't a necessity. I was ready to streamline our kitchen and we have never looked back.
After putting in our open shelves and glass cabinets, I receive questions all the time about where we keep things and if we still like the choices we made. All great questions. In short, we love the open feel and would do it all over again in a heartbeat. The wood shelves hold our sugar, flour, everyday dishes and mason jars. Hoping this post gives you a better idea of how an open kitchen functions as well as sources for some of our favorite kitchen gadgets.
Getting Organized
Live in your space for a while and make a list of what is working and what isn't. What drawers or cabinets drive you crazy?
Take everything out. I mean EVERYTHING.
Keep only the items you love and that make you happy to use. Donate the rest. You won't regret this.
Think about daily tasks such as unloading the dishwasher. Where can you put the everyday items so they are easily accessible to all? How you move through your kitchen is how you should organize the space you have.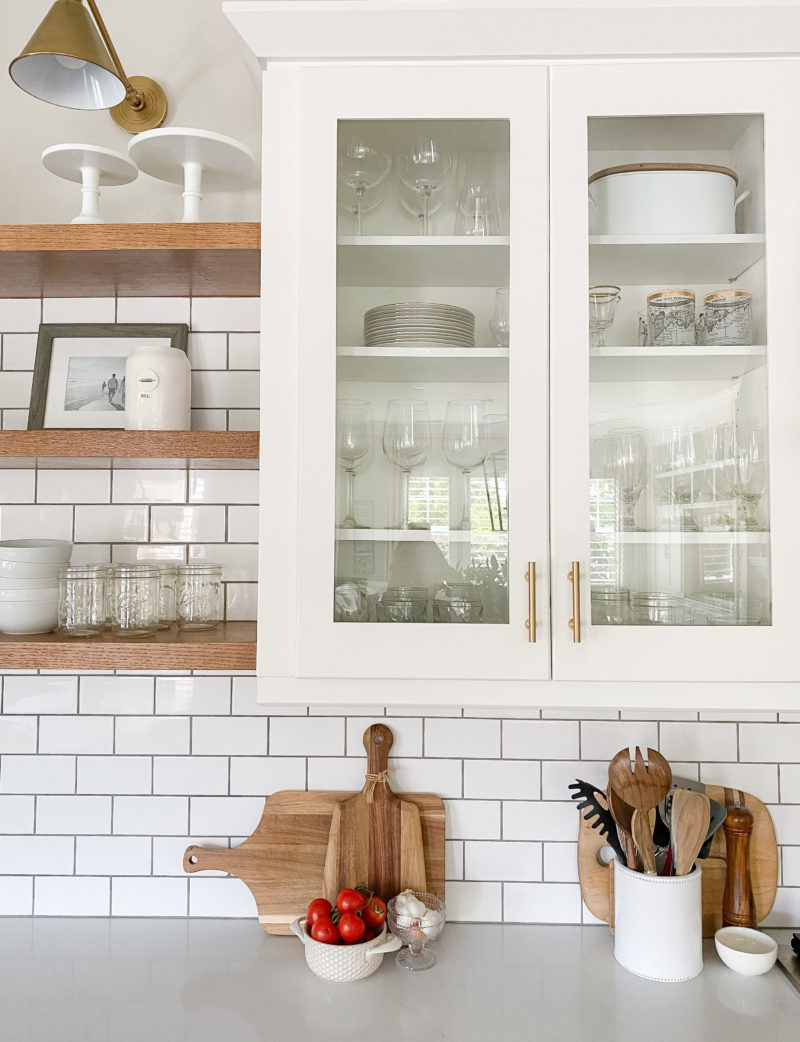 The question I get the most is, "Where are your everyday dishes and glasses?" They are on the open shelves and in these glass cabinets. What you see is what you get.
And before we jump in, while I didn't now move anything, I absolutely straightened up all of these items before snapping photos. Let's just say things are not always so neatly lined up. Especially with the kids unloading the dishwasher these days.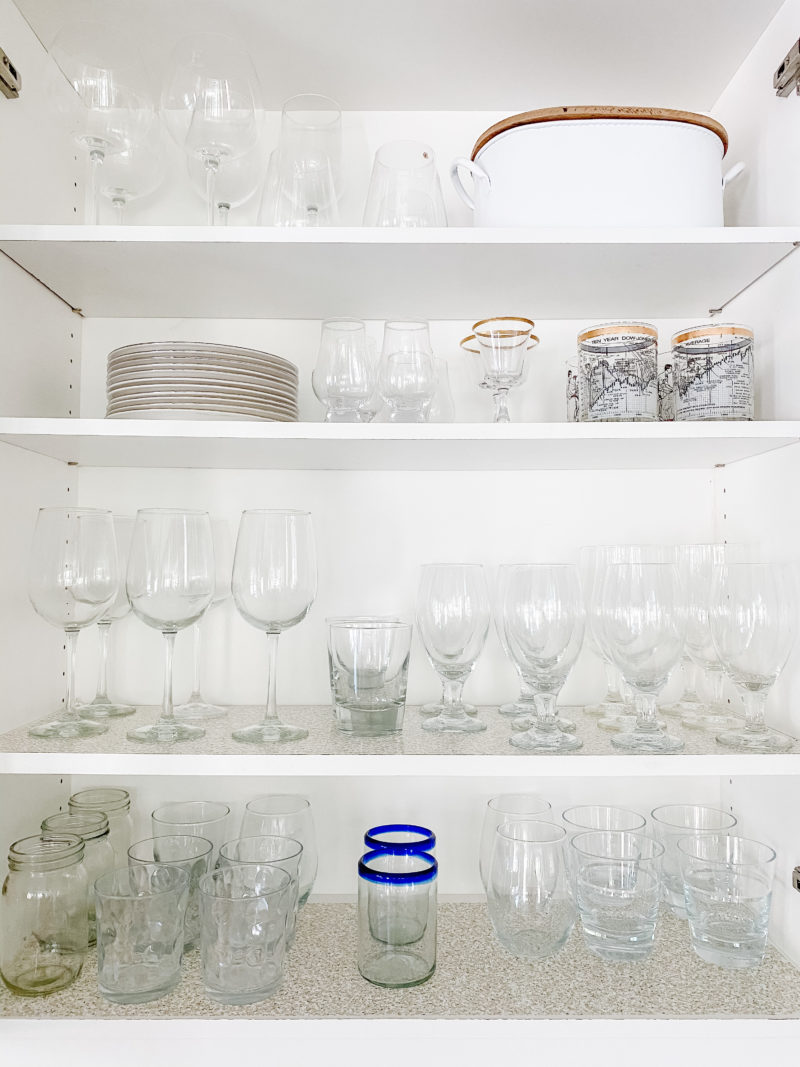 The top two shelves are super high so we store some of our china and special glasses up there. But the bottom shelves are the glasses we use on an everyday basis.
Kitchen Tip: One of the tricks that saves us from doing tons of dishes is that we each have our own type of glass to use during the day. For example I use the mason jars and my son uses the blue rimmed glass. That way when someone leaves a glass around we know who it belongs to and they can reuse it.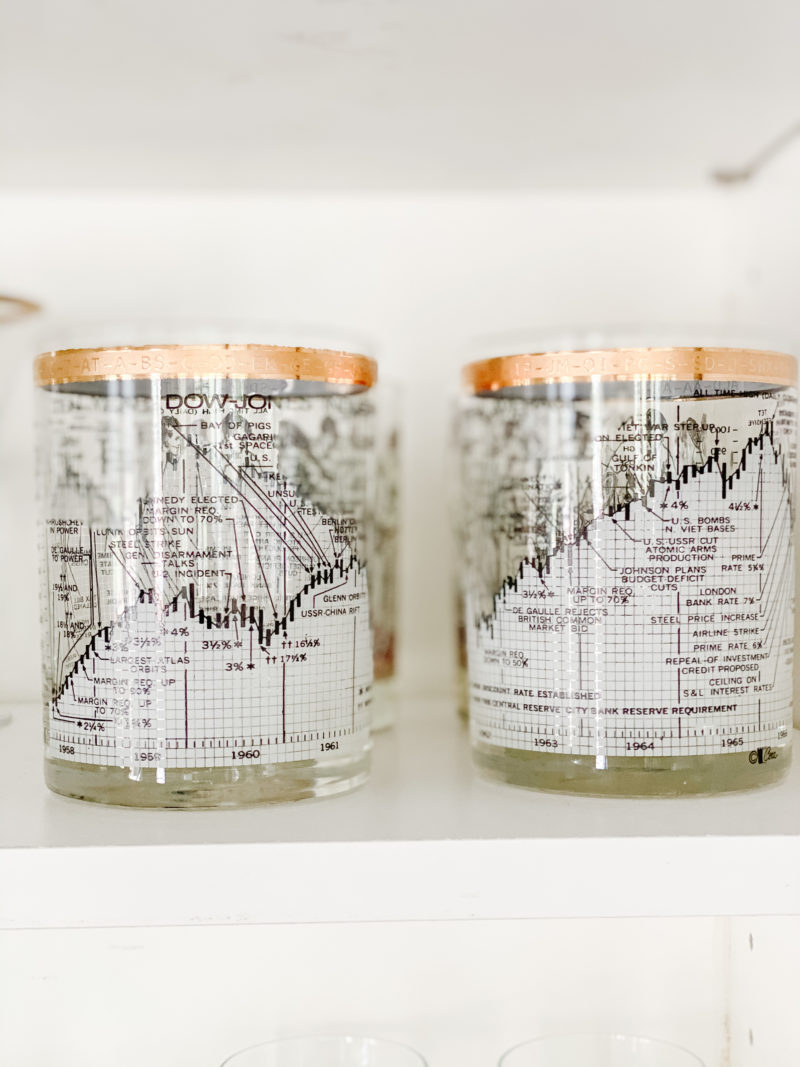 These stock market glasses belonged to my dad and I love that I see them everyday. When my husband makes a special cocktail he uses these and it makes us feel close to dad.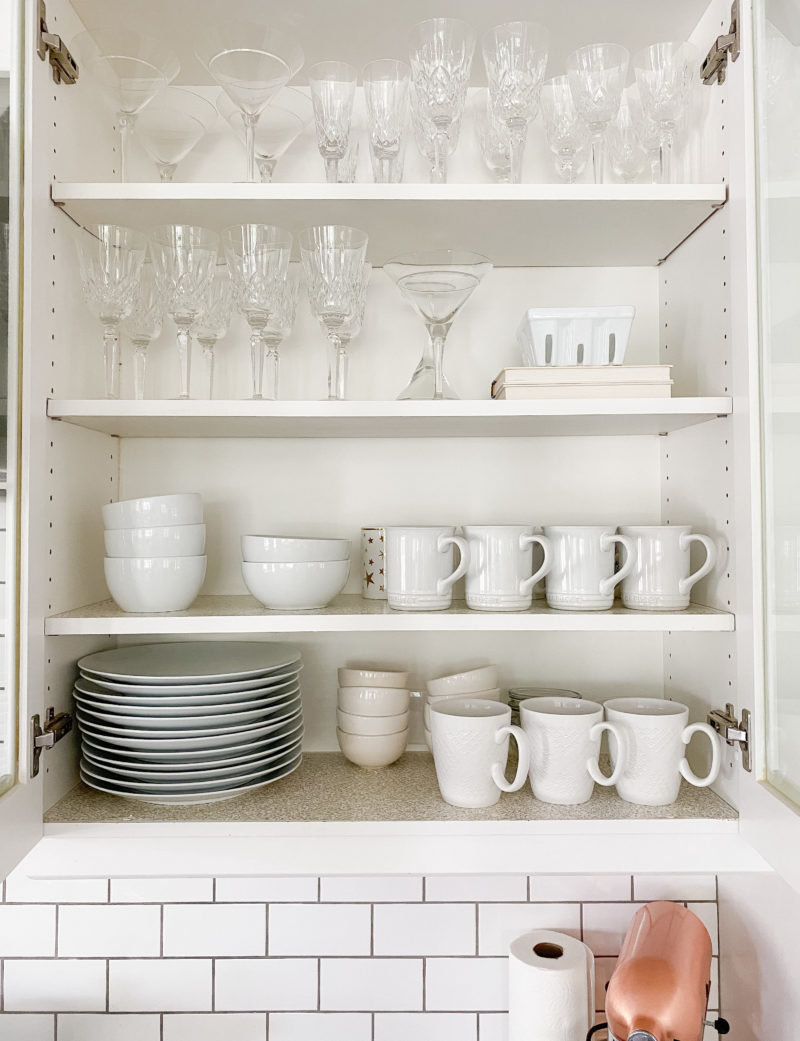 On the other side we have our "fancy" stemware. We used to have it tucked away and I found that we never used it. Now with it accessible, we can use it for any special event. The bottom shelves hold our coffee mugs and everyday dishes. While most of our soup bowls are on the open shelves, the extra ones are stored here. I also have my prep bowls here so I can easily grab them as I am cooking. This set of white snack bowls has been great for us, too. We store leftovers in them and use them on a daily basis.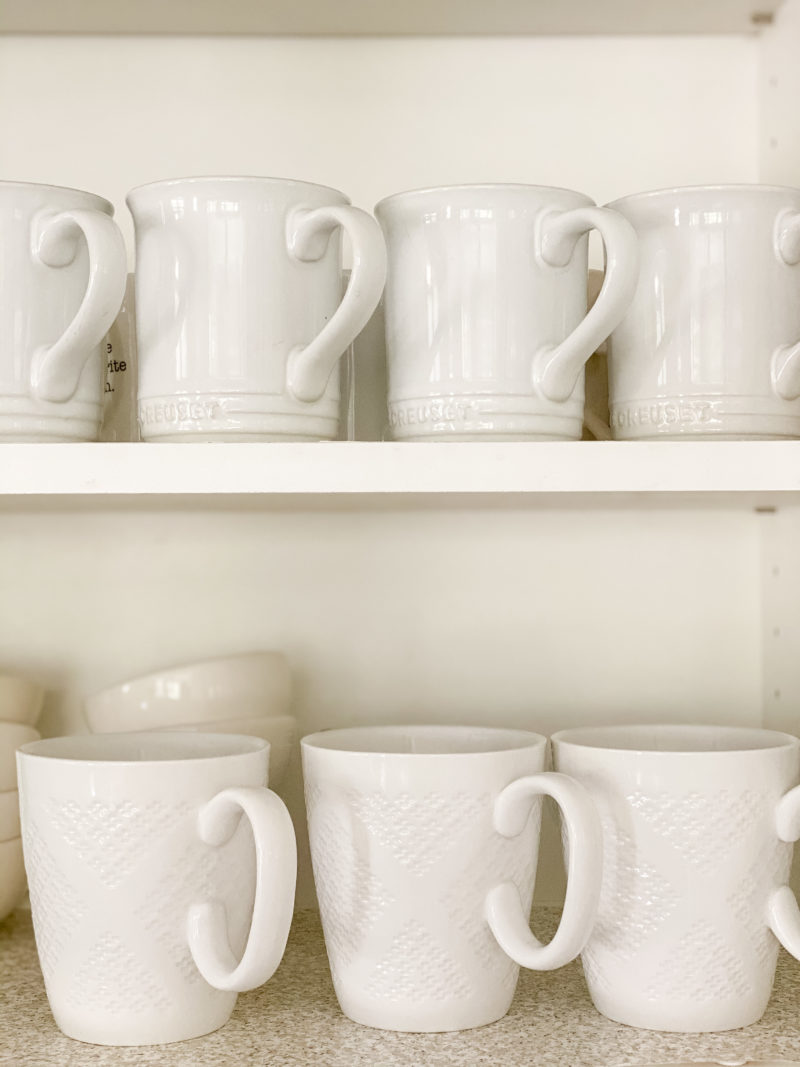 When it comes to coffee mugs, we both have our preferences. My husband uses the mugs on the bottom and I use these.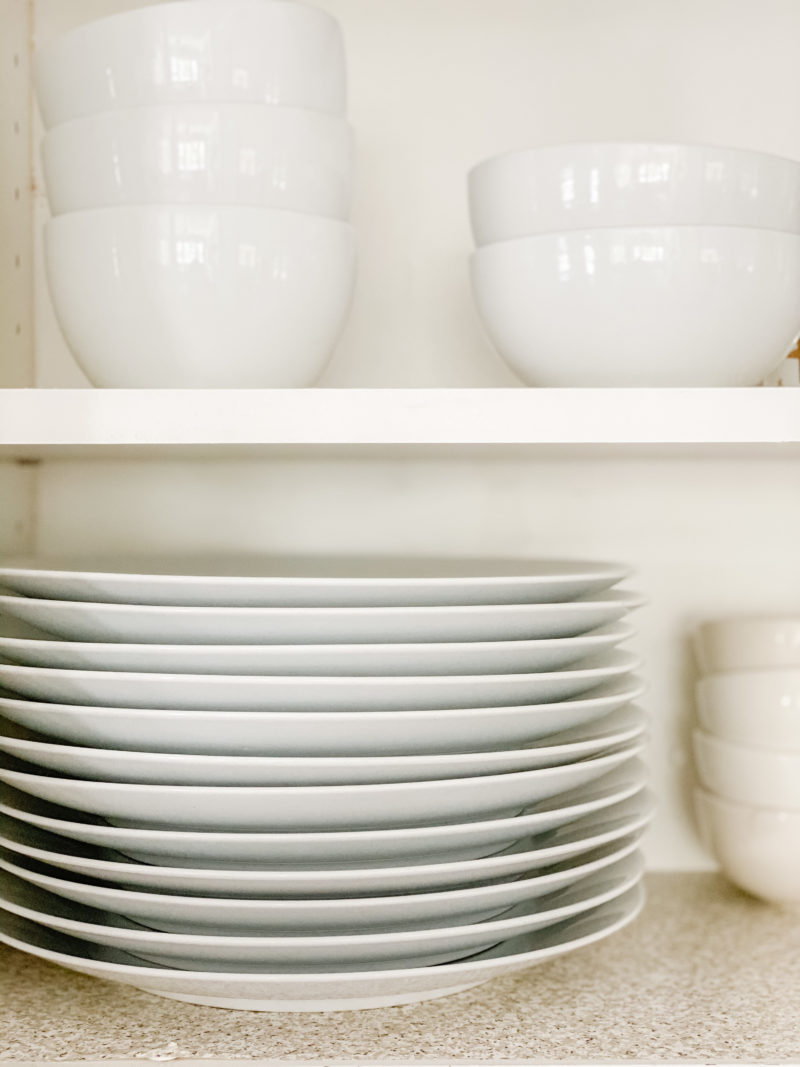 Our son is now in charge of unloading the dishwasher every day so it's nice to have everything easily accessible. The dishes we use on a daily basis are inexpensive and durable. We've had them for a few years now and really like them.
If you are looking or a complete set of white dishes, I recommend these. We have the cereal bowls and love them.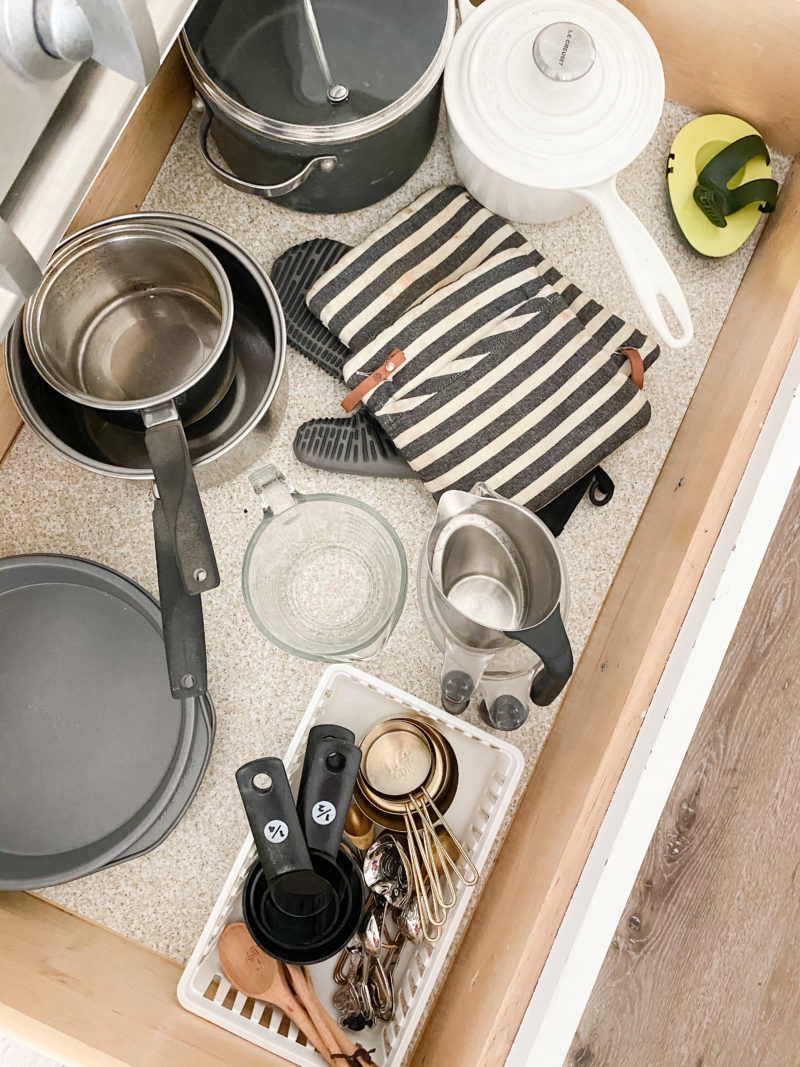 I am very thankful for the two large drawers under our cooktop. They hold all or our pots and pans. I have really streamlined all that we have in these drawers. We found there were so many things we didn't use so when we moved into this home, we donated those items. The stainless pots belonged to my mom and I love using them. We invested in two La Creuset pots (large 9 quart and small) and have never regretted it. We use them constantly.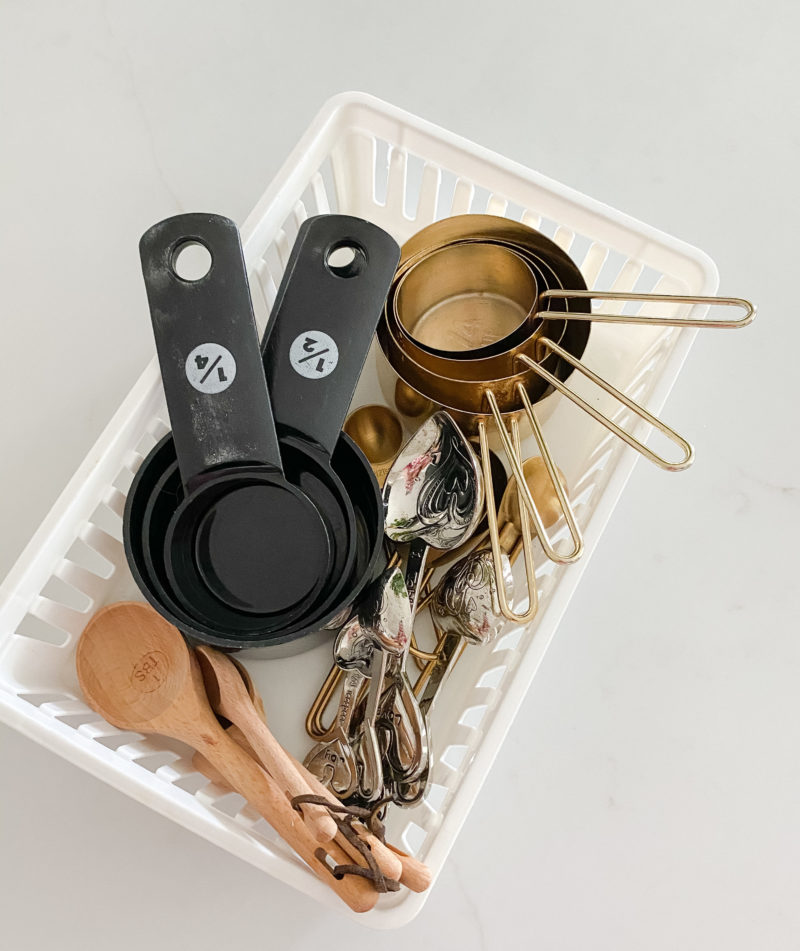 Kitchen Tip: A little tip for your measuring cups and spoons is to keep them all together. When my daughter bakes, she grabs this bin and sets it on the counter so she has everything she needs nearby. I think I picked this basket up from The Dollar Store years ago.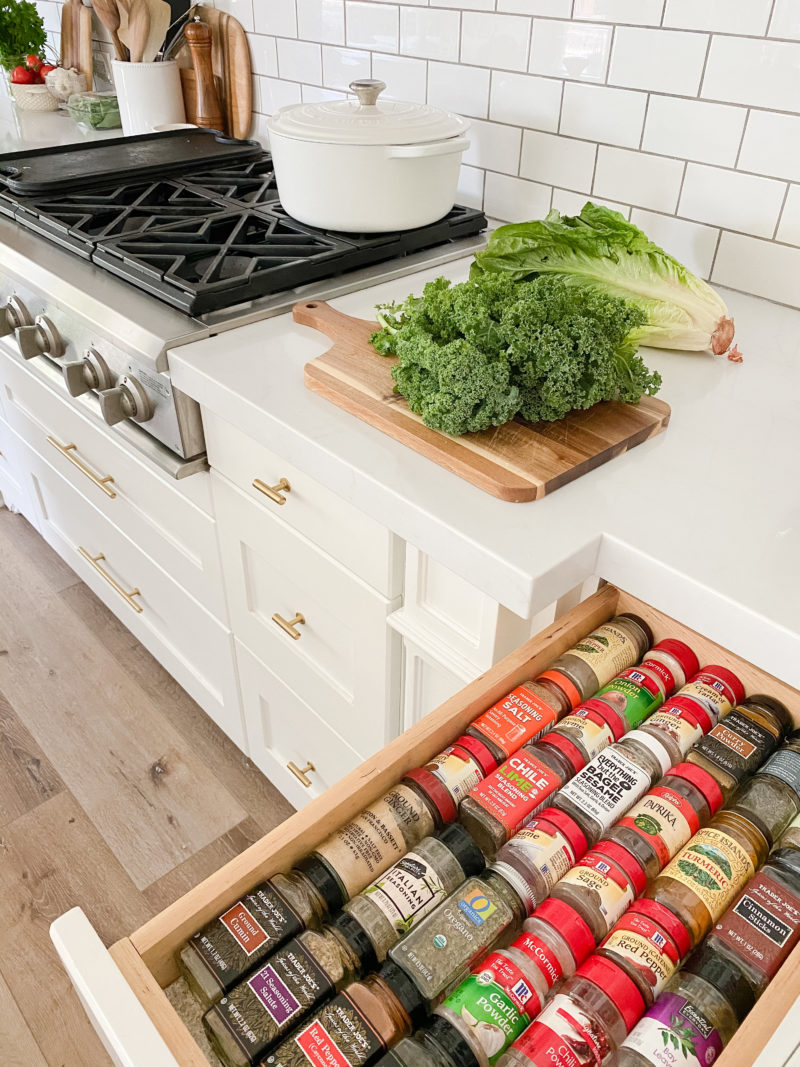 We keep our spices in the drawer next to our stovetop. I wish I could say they are organized in some way but alas that are just throw in there.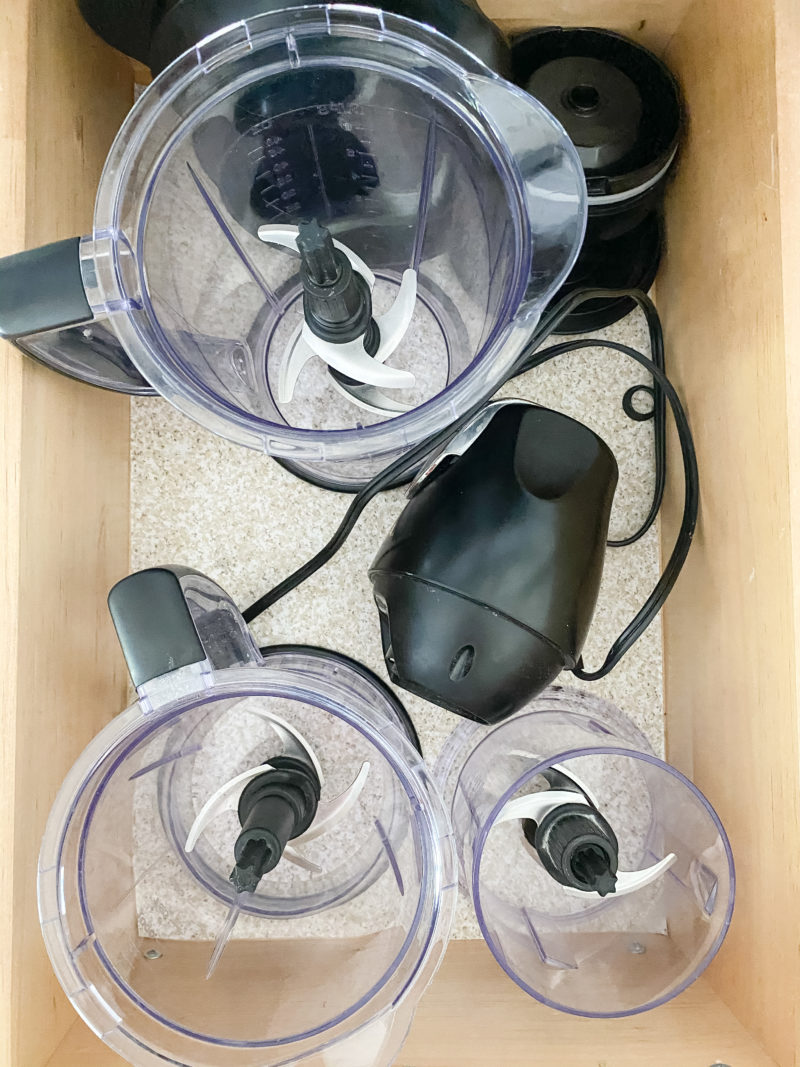 This may seem random, but our Ninja blender takes up an entire drawer and I use it every single day. I blend my morning protein shake each morning but we also use this to chop, make smoothies, and blend marinades. We have had this for over seven years and highly recommend.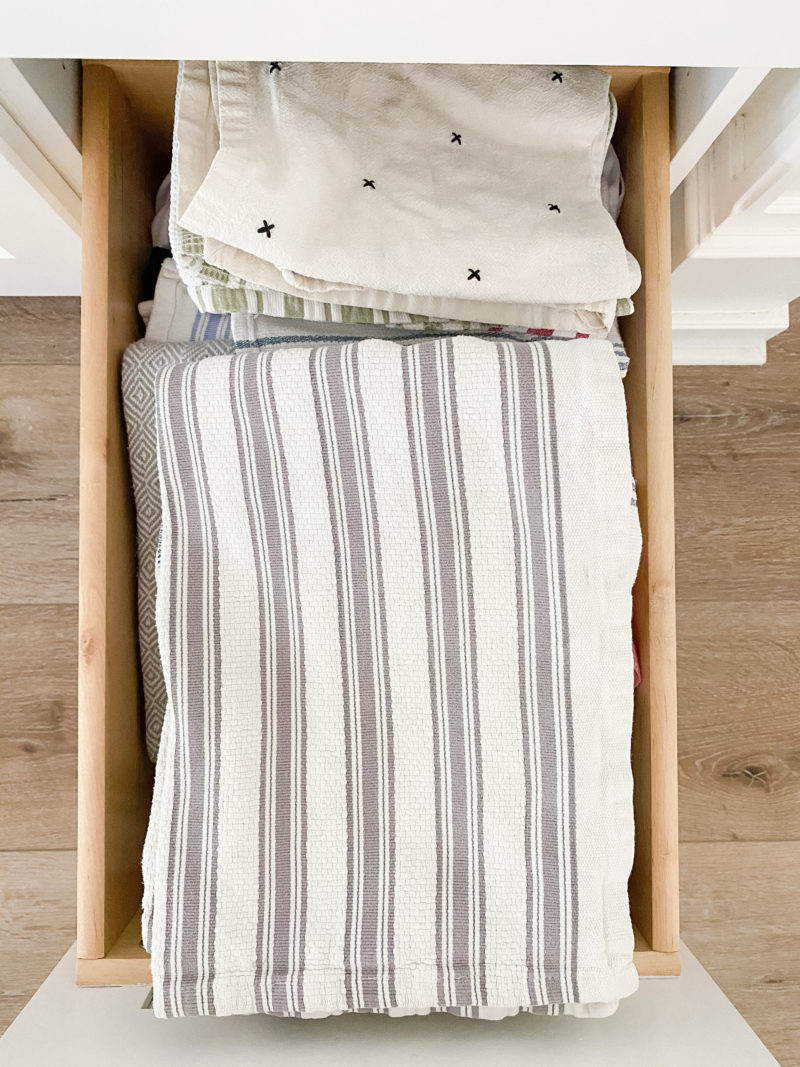 The bottom drawer holds all of our kitchen towels. You can also find a few aprons under that pile but I never wear them. These remain my all time favorite kitchen towels. They last forever. I even have a few that belonged to my parents because they hold up so well.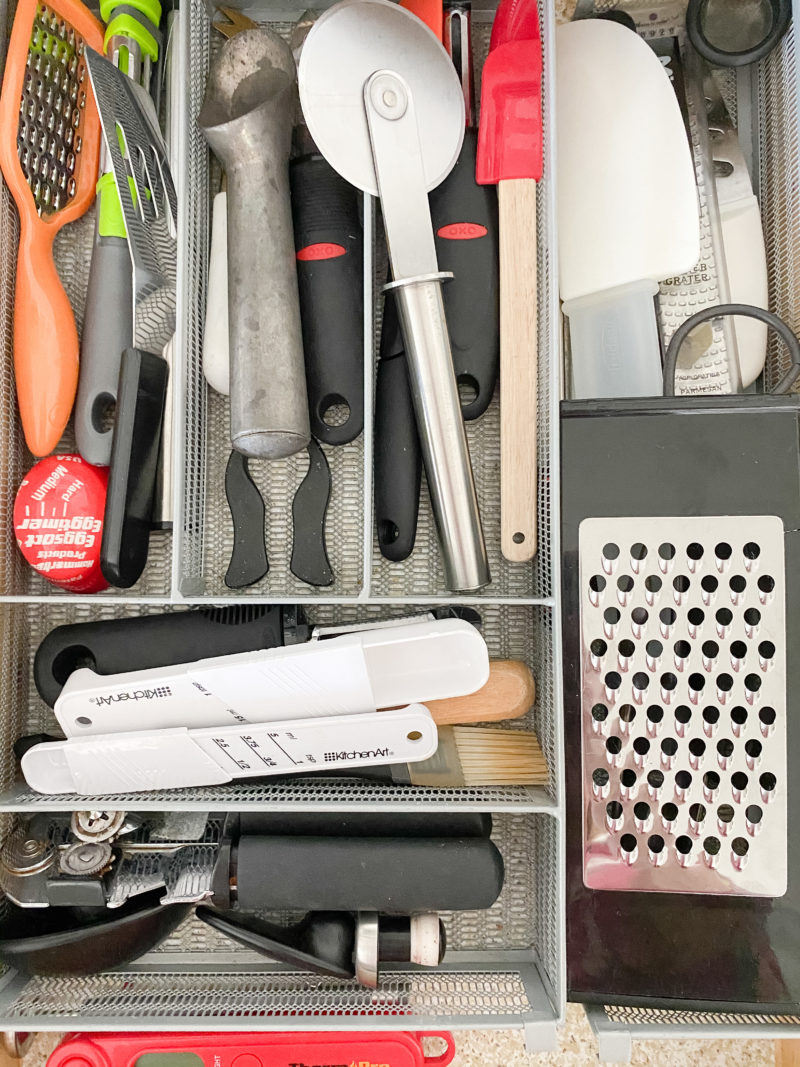 We used this mesh organizer to corral all of our kitchen gadgets. We have had these adjustable white measuring spoons for years. I LOVE them. They are especially great for quickly measuring spices.
The things we use constantly are in a container on the counter. As are our cutting boards.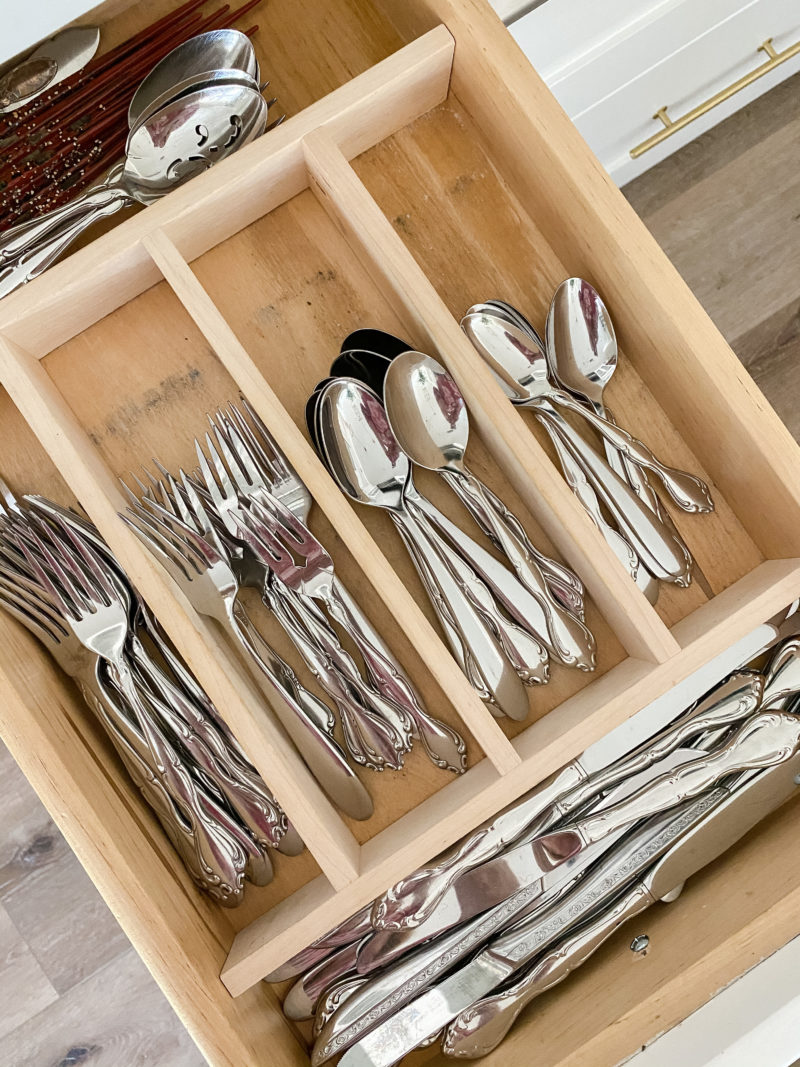 Our silverware drawer has these dividers built in. But this one is almost identical and on sale.
This area holds our glass bowls and random serving pieces. I also store my protein powder in here because I use it every morning.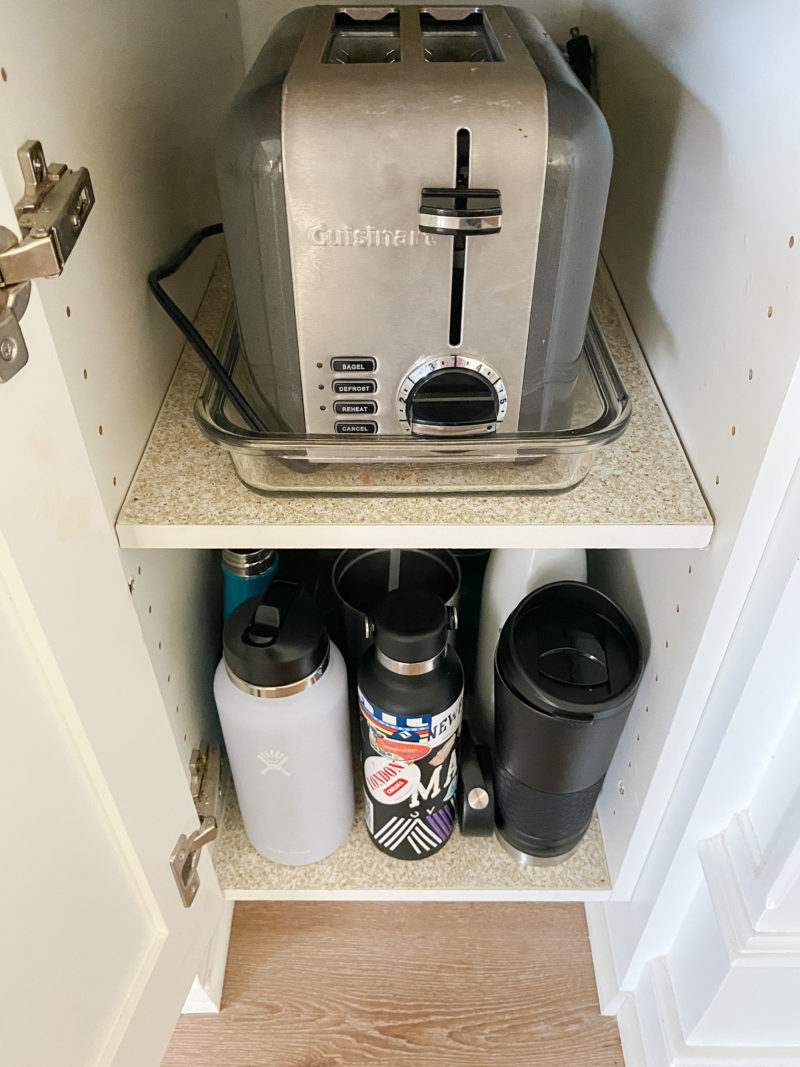 Do water bottles drive any of you crazy? We keep them all on one shelf but not sure it's the best location. They definitely topple over. A sweet reader suggest I buy this holder. Done and done. The toaster is directly under the spot we use it so we store it away here. It rests in a glass dish to catch all the crumbs.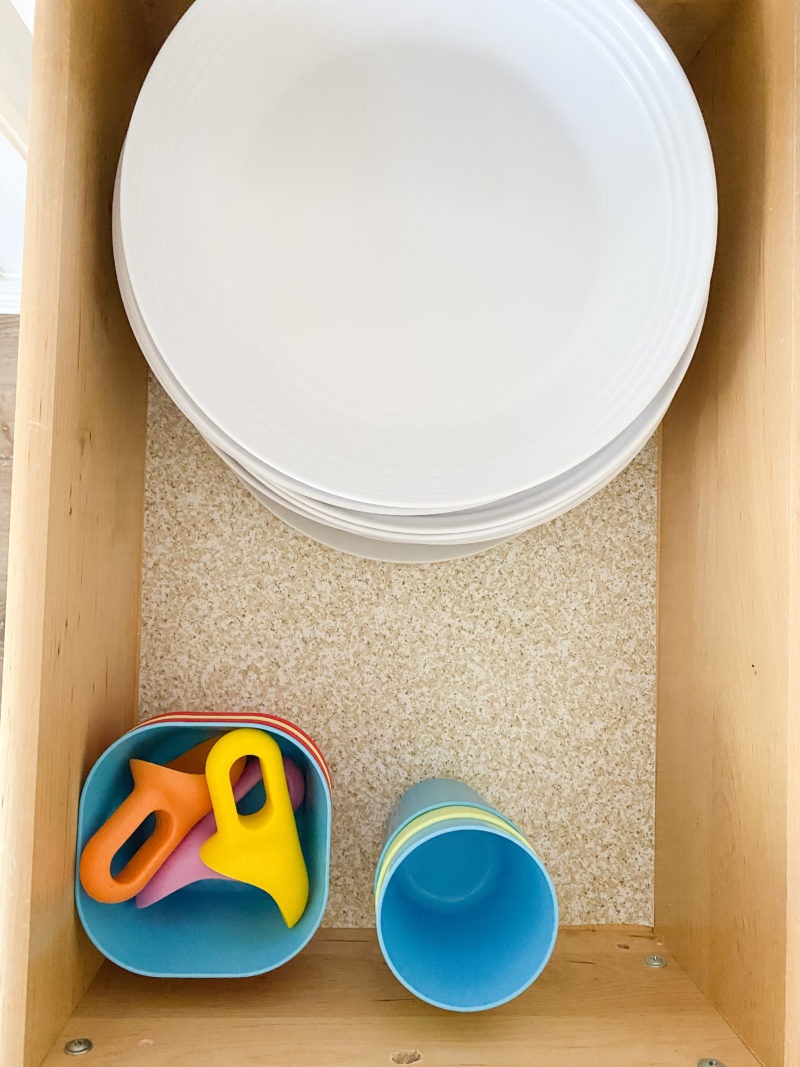 We held on to some of the dishes the children used when they were young. I love the melamine plates from Ikea and these cups and bowls. It's so nice to have when friends that have little ones come over.
Kitchen Tip: The ice cream scoopers, given to us by my mother-in-law, are genius. The kids STILL use them. They are perfect for just a single scoop of ice cream. Skip the spoon and bowl and just toss these in the dish washer. I recently found this set (darling).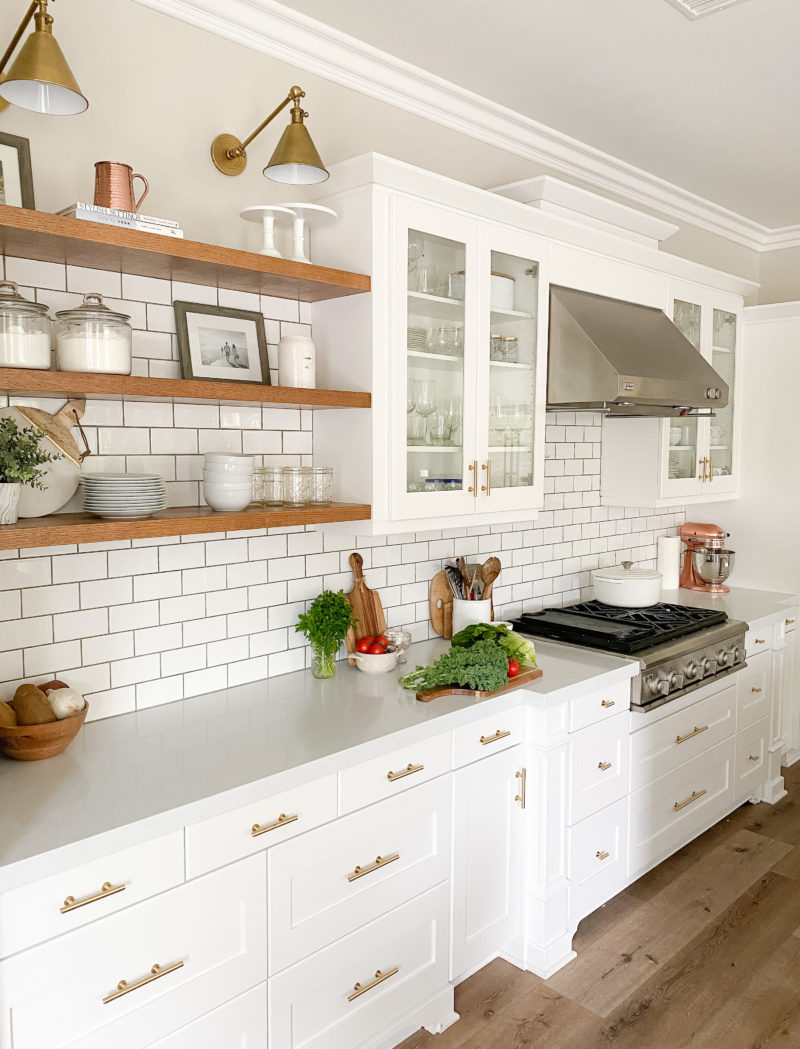 We we renovated our kitchen, we designed the cabinet space underneath the open shelves (everything else stayed the same). Because we had lived in our home for over three years, we had a good idea of what we needed and wanted. As a reminder, our pantry space was moved to around the corner so that freed up this real estate for different things.
When I was snapping these photos I was trying to figure out why we have an empty drawer but it occurred to me that we are just out of napkins. That's where we store those. The tech drawer is where we keep all of those random things you need but don't know where to put. My Tens Unit is always nearby!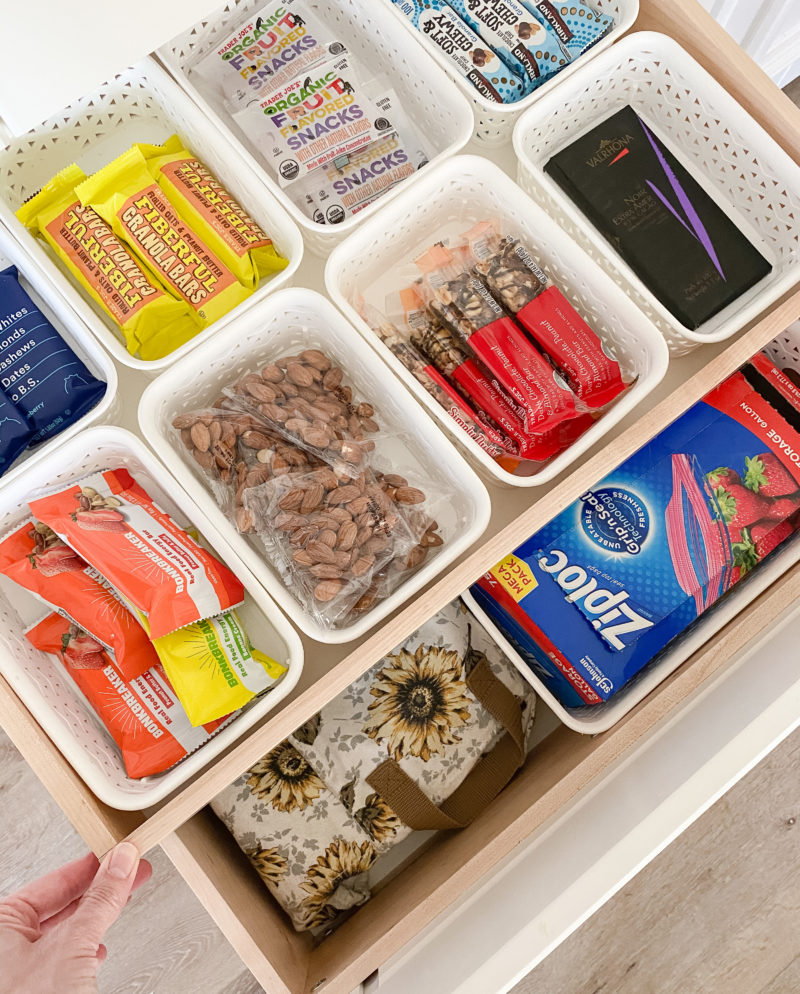 When we designed these large drawers, we had two of them built with shallow sliding drawers on top. It has been life-changing for us. During quarantine we haven't been stocking these with individually packaged snacks but I wanted to show you what it looks like during the school year. We let the kids request a couple of snacks they like to have in their lunches and it makes it easy to pack them in the mornings. They do most of it during the school year.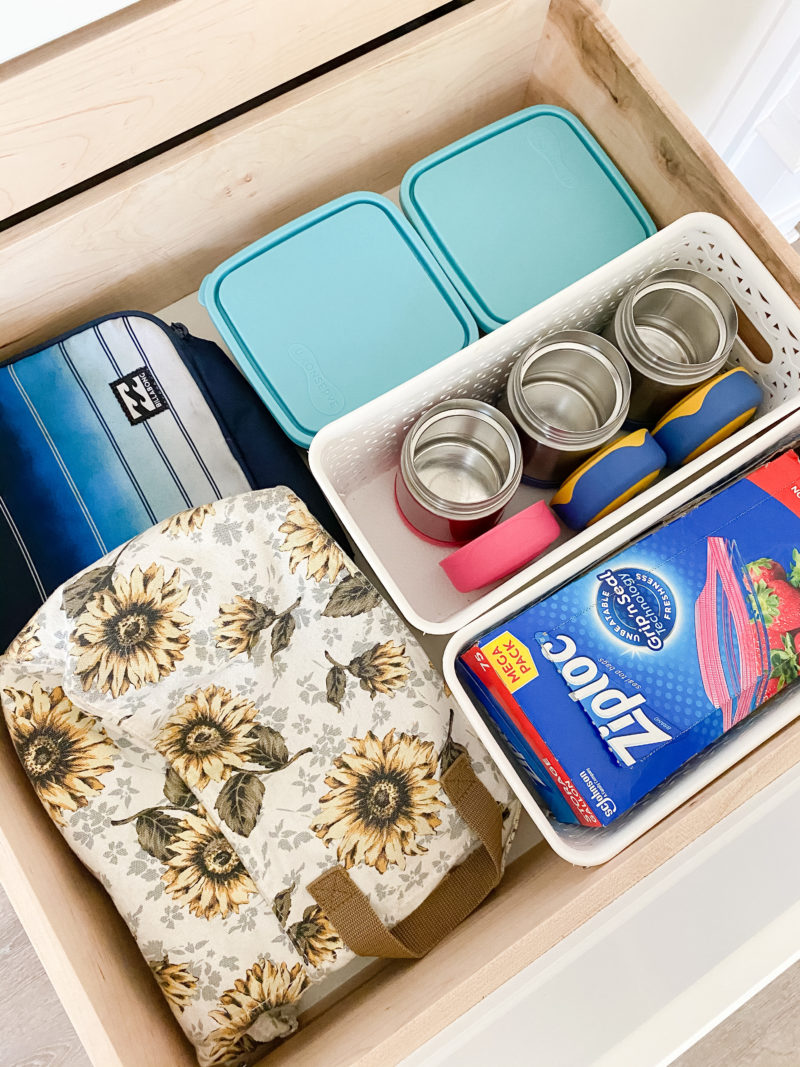 The bottom portion holds their lunch boxes and storage containers. When they come home from school, their job is to unpack their lunchbox, put the containers in the sink and place their bags back in here.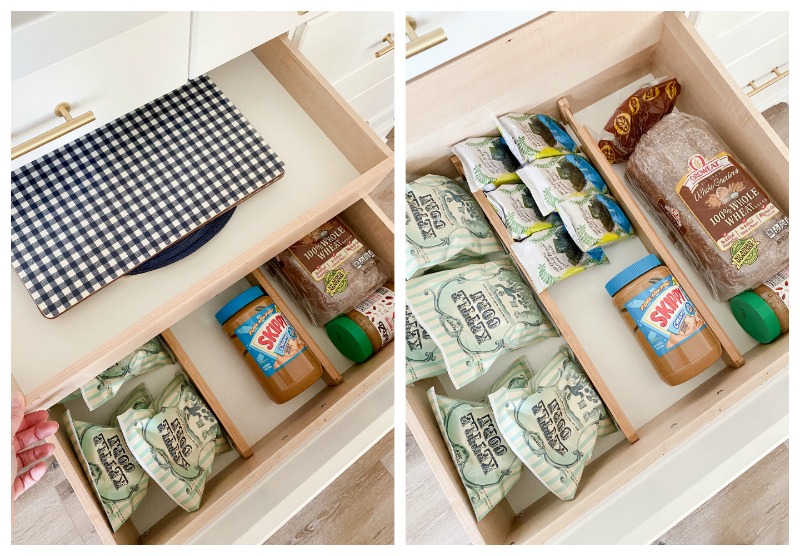 This set of drawers holds our placemats and more lunch making items.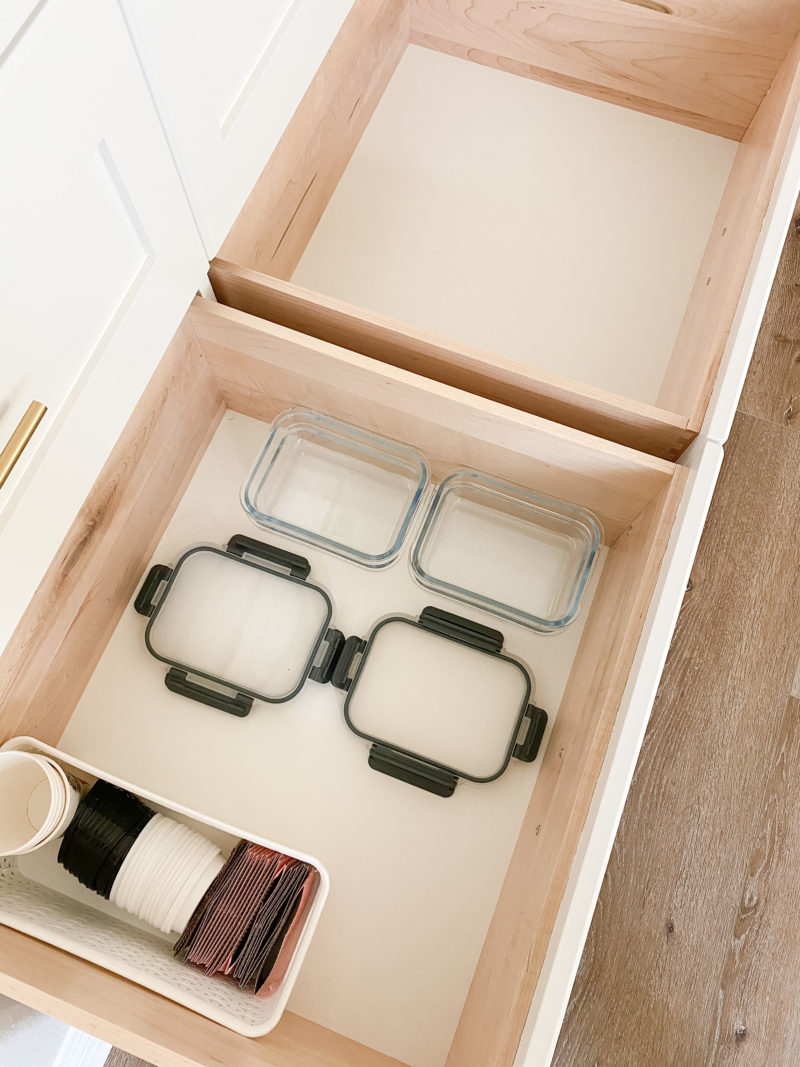 The bottom drawer has disposable coffee cups leftover from an event I hosted and the glass containers I use for meal prep. The empty drawer is one that we use when we are prepping for a party or event. If there is a birthday coming up or a holiday, as I buy things I put them in there. It works out well and the kids know that the snacks or food in that drawer are off limits until party time.
If you ever have the option to choose your kitchen cabinets and drawers, we have loved having the melamine bottoms in ours. They wipe clean so easily. I also use our vacuum every now and again to get rid of the crumbs that always seem to accumulate.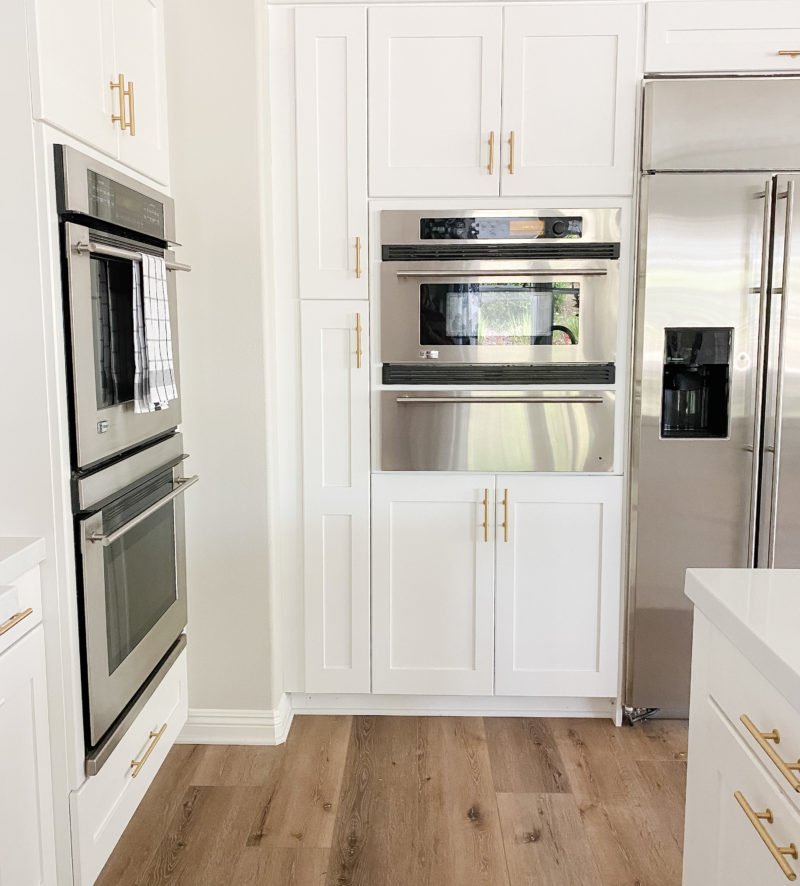 This wall of the kitchen has less storage but still works well for us. The hard to reach cabinets have the once a year roasting pan, candles, and random items we rarely use but want to keep.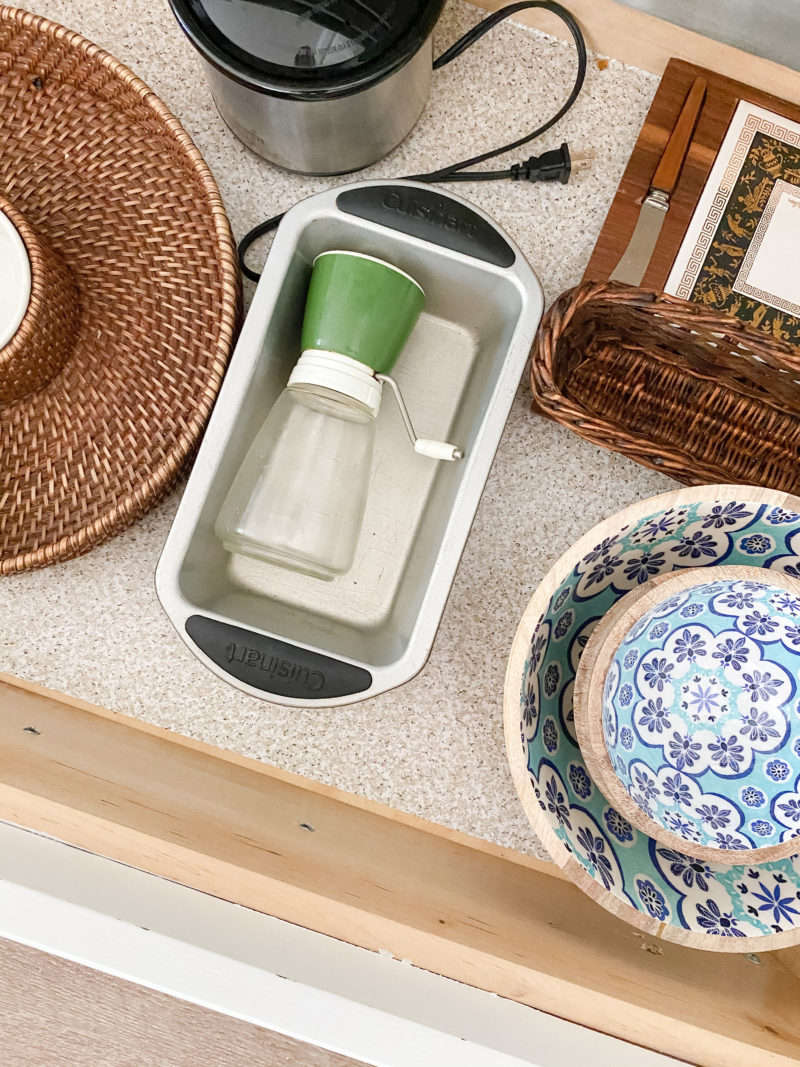 The drawer under our stove has a few serving pieces plus items that belonged to my parents and I love having close by. The cheese board with the knife and basket showed up at every single get together my parents ever hosted. I can almost hear my dad asking us what we would like to drink. Sweet memories.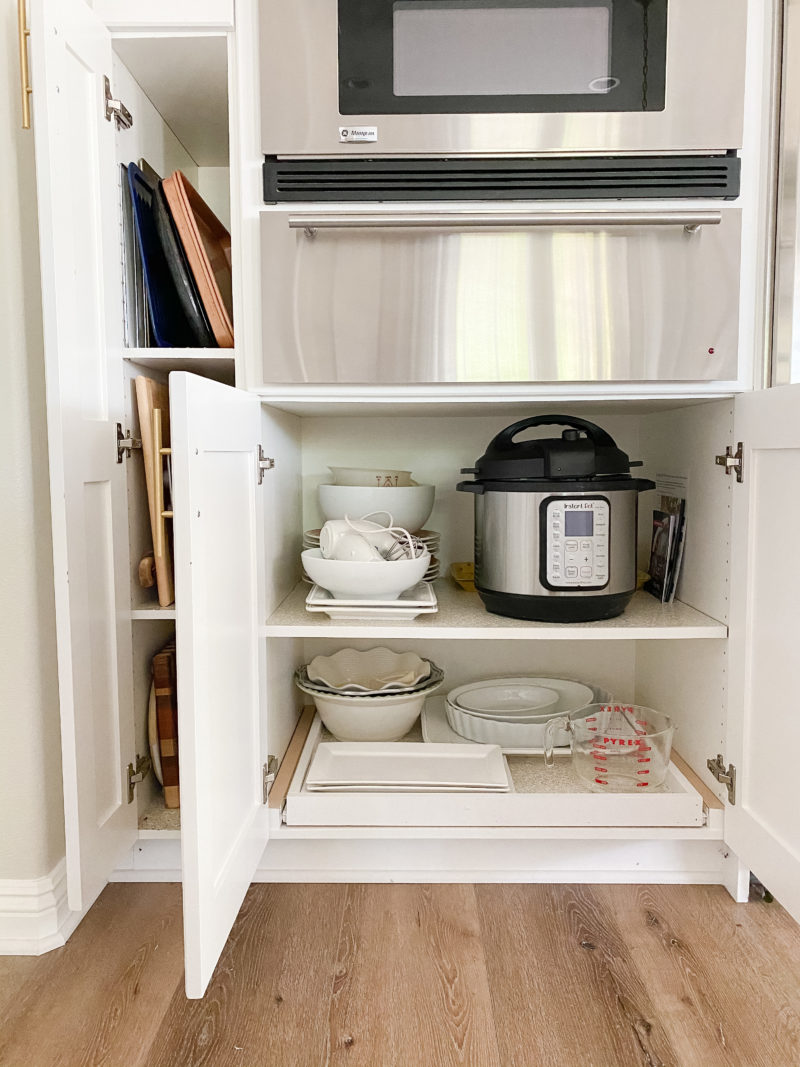 This is where we keep the majority of our serving pieces, hand-mixer, pans and Instant Pot.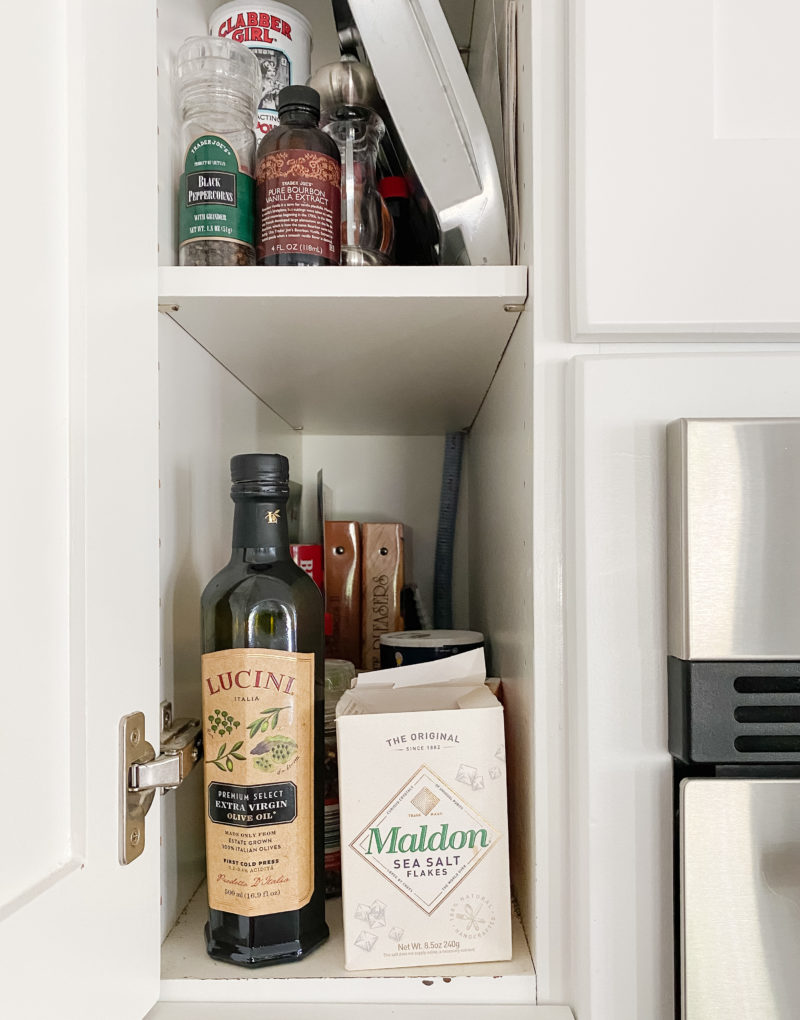 I use my olive oil and sea salt every time I cook. While I have salt in a bowl on the counter, it's best to keep olive oil in a dark and cool place so I have it here.
FEW FAVORITES ON SALE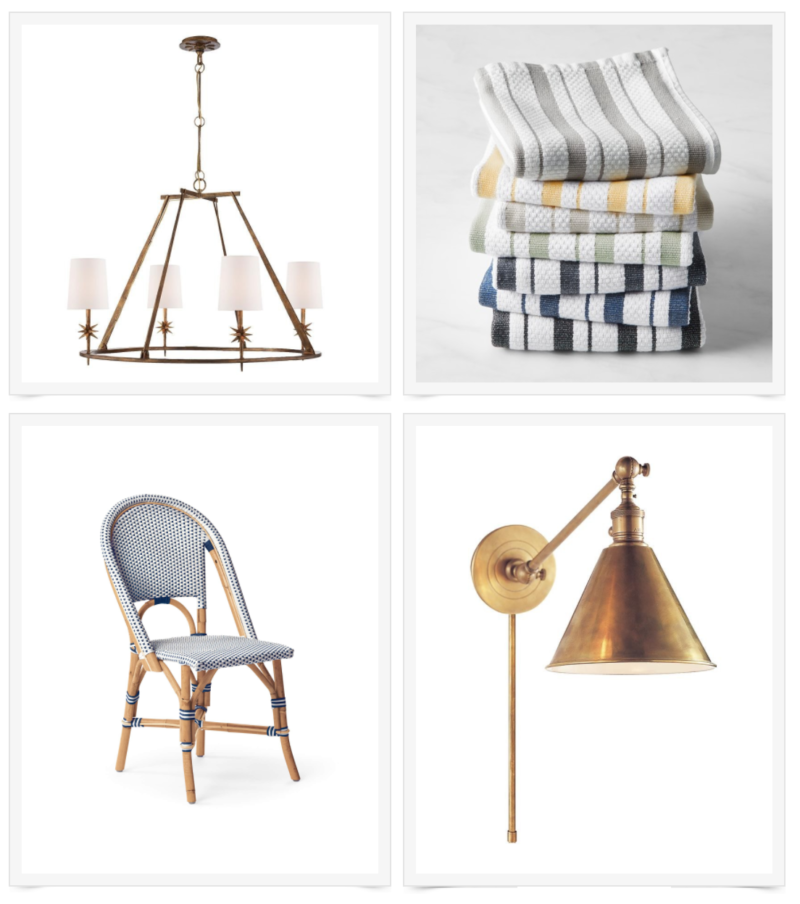 chandelier | towels | chairs | sconces
There are so many sales going on right now and a few of our favorite pieces are marked down.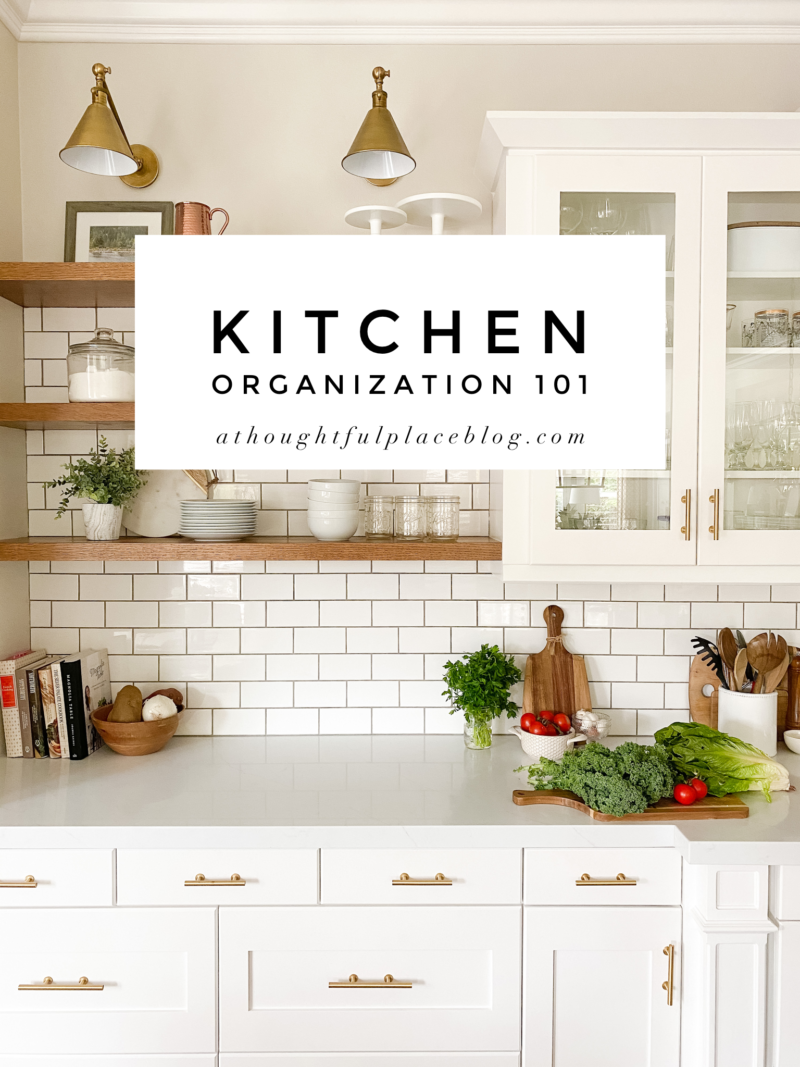 And that's a wrap on how we organized our kitchen. I'm impressed if you made it until the end. I hope it gives you a few ideas if your kitchen organization needs a little bit of love. The best thing we ever did was to really streamline what we use. It makes cooking and prepping for meals so much more enjoyable.

You can see our kitchen before the renovation in this post. Have a wonderful day, everyone.