Pop the champagne and cue the confetti drop. Our kitchen is finally complete and I couldn't be more excited to share it all with you. In reality I'd actually be inviting you over for coffee and avocado toast which is more my speed lately. More than anything I hope that sharing our space serves as inspiration to really look at how you can make your own space work for you. With just a few changes we have a new white and bright kitchen that fits us perfectly.
OUR NEW KITCHEN
Welcome. Like most families, this is the hub of our home. This is where we cook, dance, sing, bicker, debate, gather and love. When we are home, the majority of our time is spent here and I wouldn't have it any other way.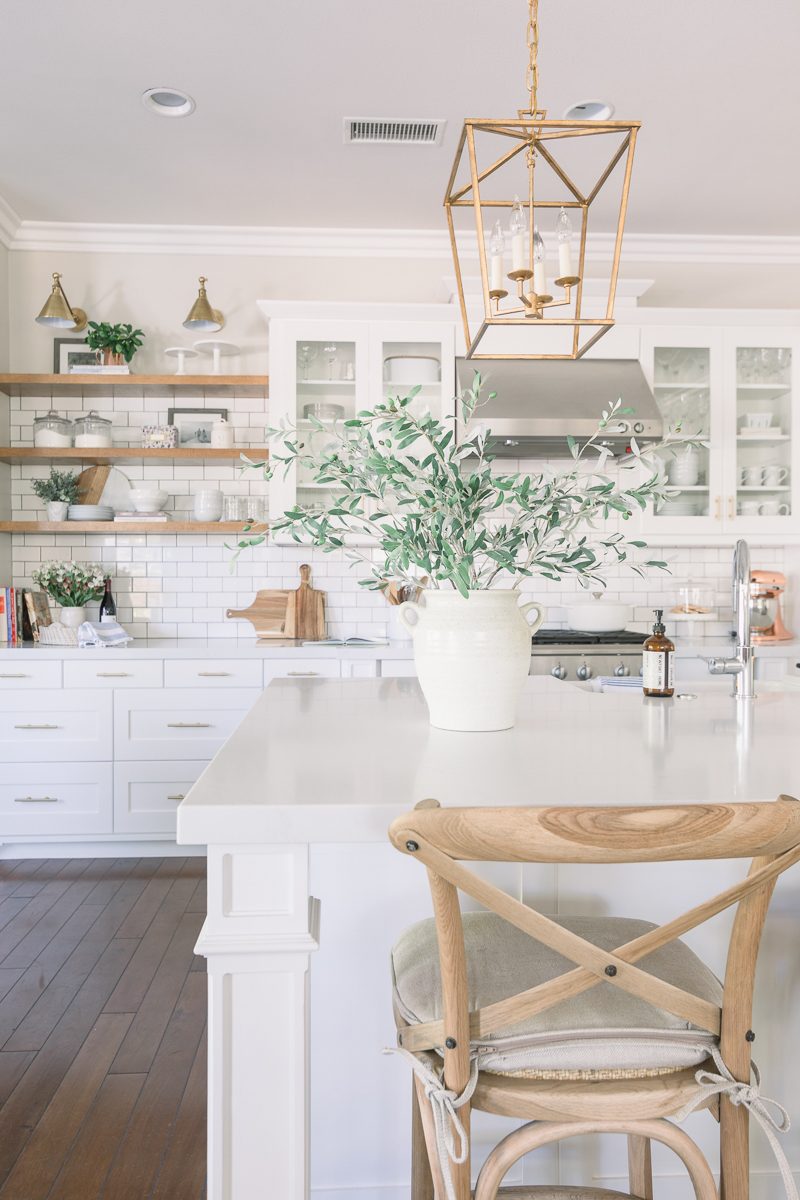 From the onset of this makeover (you can see our plans here) we wanted to keep the kitchen light and bright and infuse warmth with lighting and accessories. Using natural elements such as the greens and the wood tones helps to do just that. It also maintains a neutral color palette which we are drawn to for a kitchen. The breakfast area and family room both have bold color so the calm kitchen works well with those adjoining spaces.
RETHINKING THE SPACE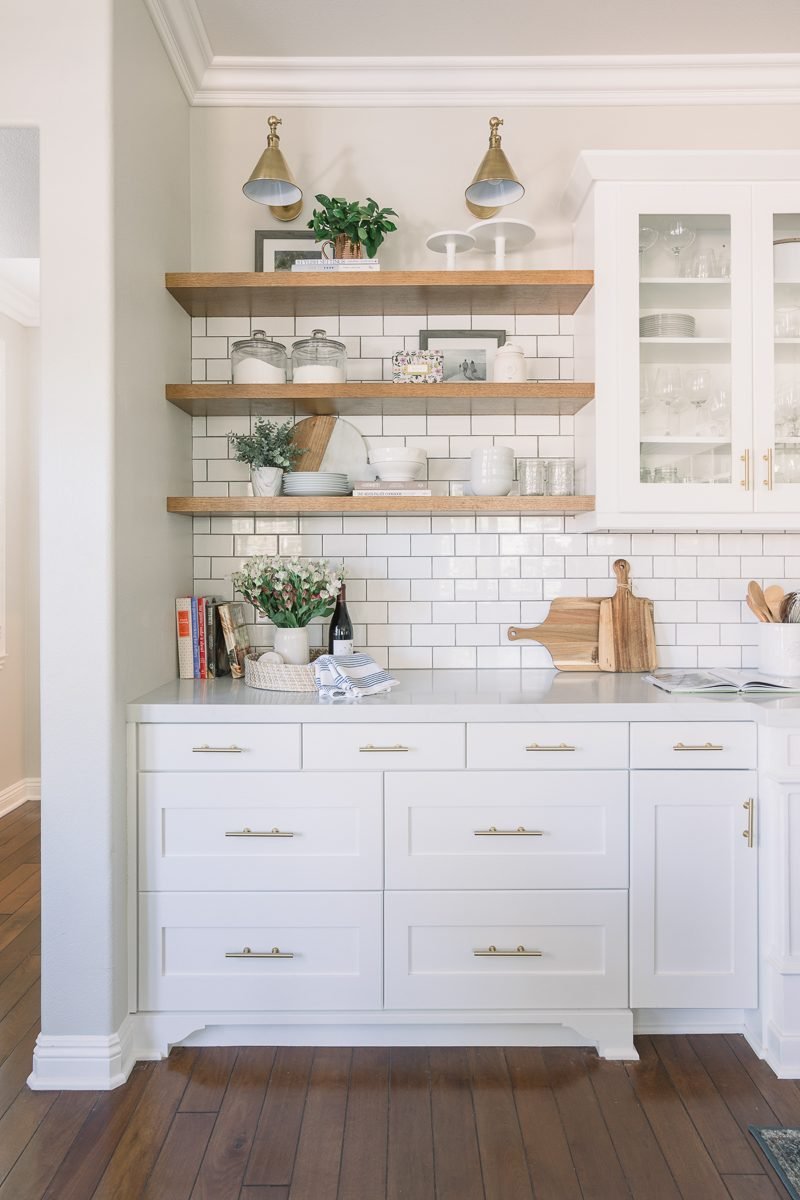 Prior to the makeover, this entire space was one large pantry cabinet. Functionally it did not work well for our family and we ended up borrowing space from our garage to build out a butler's pantry directly behind this spot. In doing that, we gained counter space and seven large drawers. Plus the open shelving up top. We love the warmth and casual vibe they add and I can't wait to style them during the holidays.
LUNCH PREP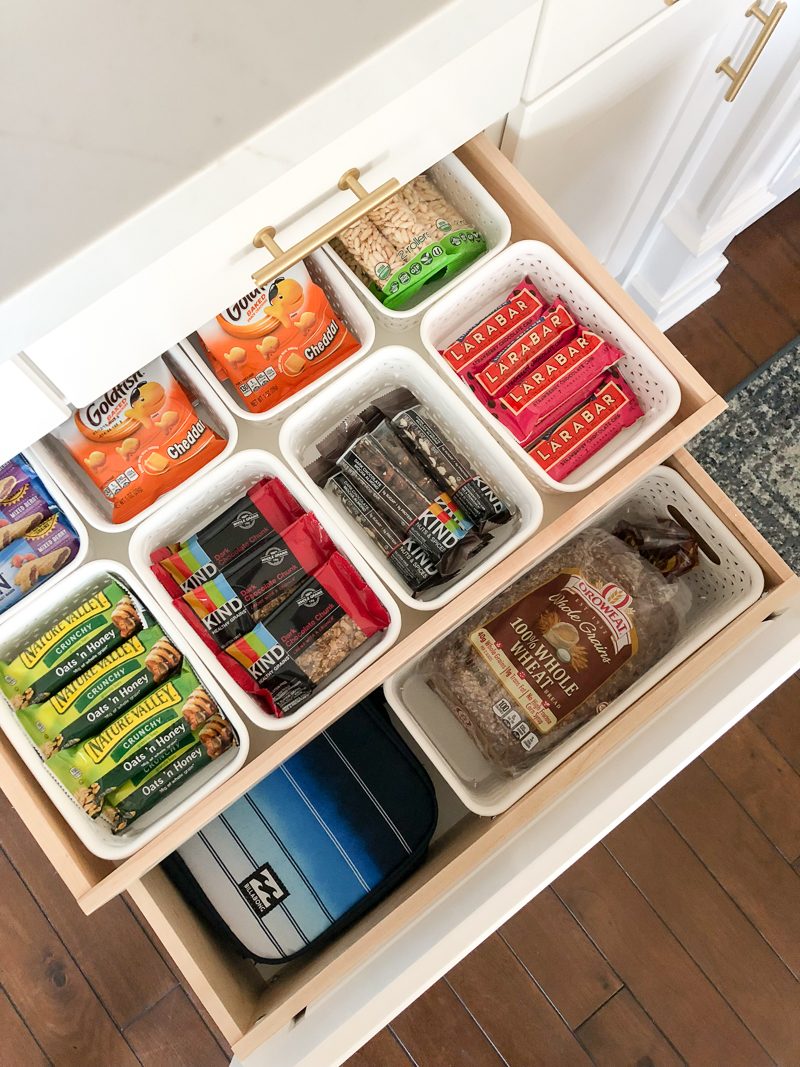 We gave a lot of thought to the drawers that were custom-built for this space. For instance, two of them are double-decker. This particular drawer is used for a lunch packing station. This might be one of my very favorite parts of our kitchen. It has been life changing for our mornings.
THE DETAILS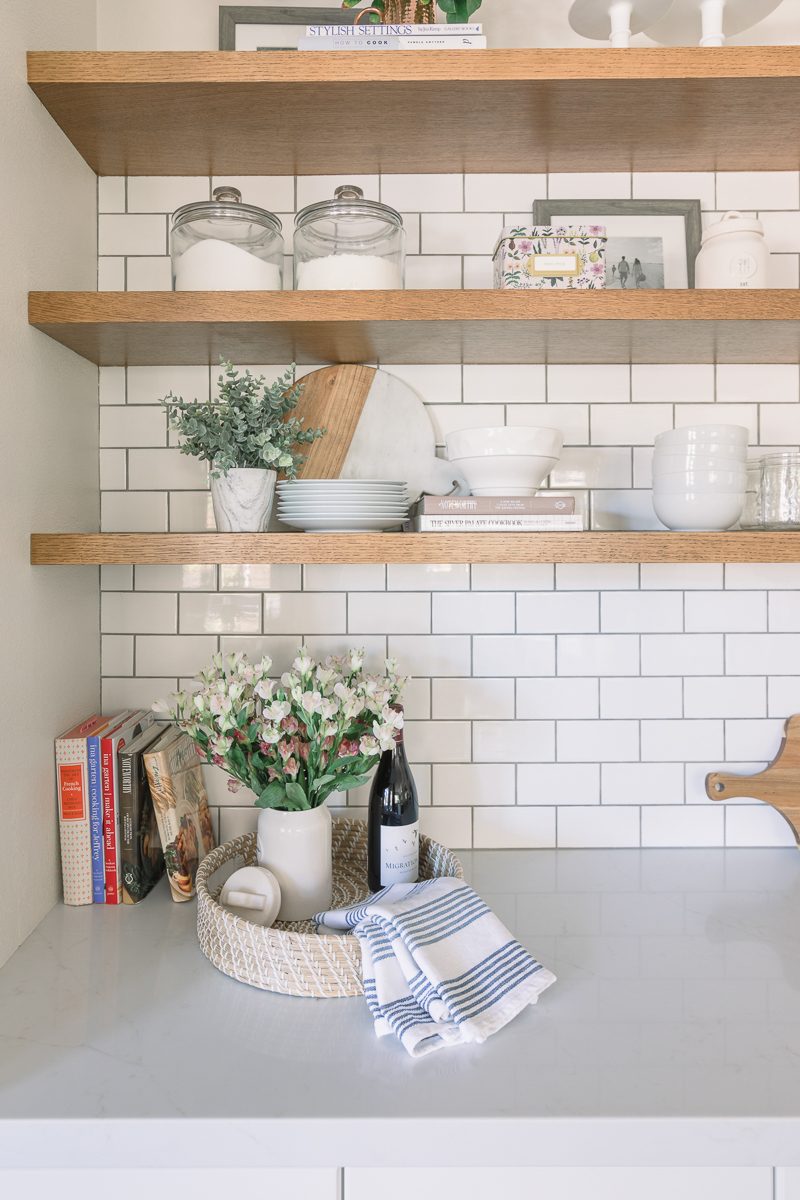 I have always loved subway tile. I love the classic and comfortable feel it has. The medium gray grout gives it more of a subtle pattern without going nuts. We use the dishes, bowls, salad bowl,  and mason jars on the first shelf every day. The recipe box, sugar, and flour also get used on the regular. The top shelf is too high to be grabbing things daily, but it holds some of my favorite cake stands and a photo from a recent trip we took to Coeur d'Alene, Idaho. A couple of the cookbooks on the counter belonged to my mom. I love knowing that she would open those up and make something delicious for our family. Her hand written notes and bookmarks are still in them.
WARM GLOW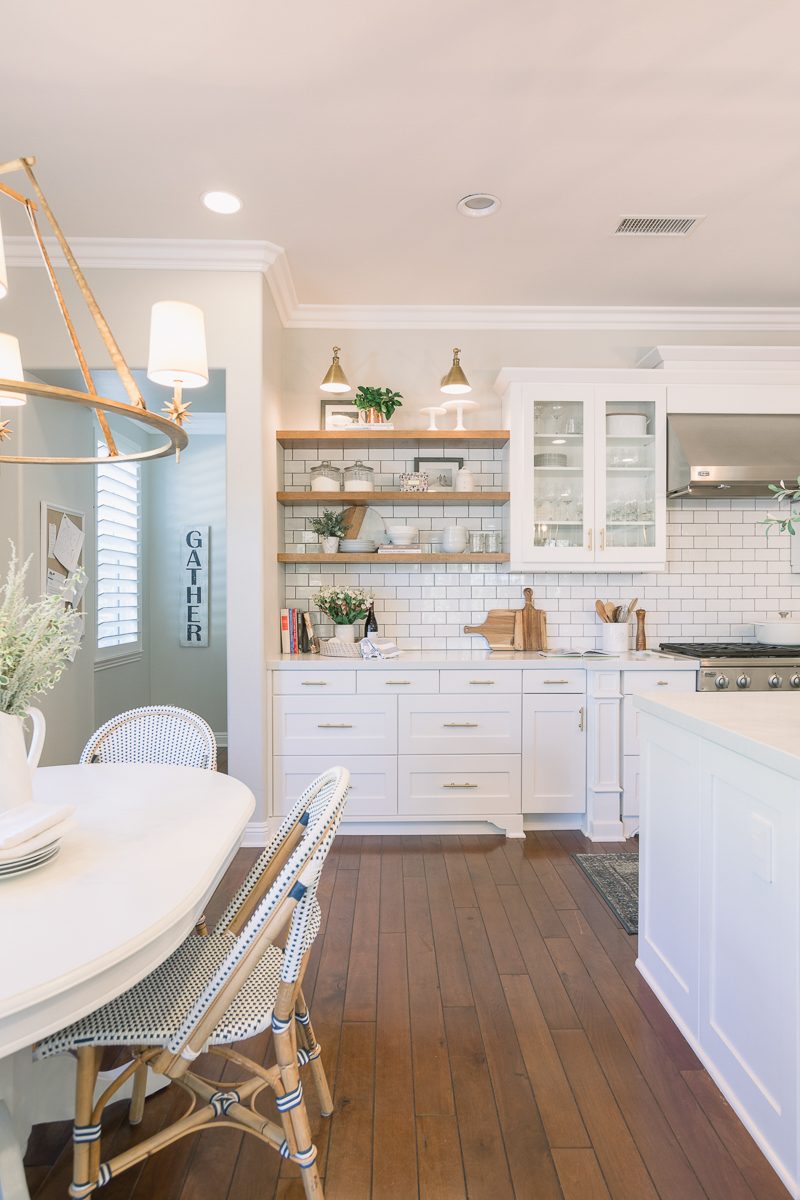 We ended up going with brass sconces over the shelves and I am so happy we did. (lighting dilemma here) They tie in nicely with our other lighting choices and add such a warm glow. I wish you all could come in and see this space in the evening.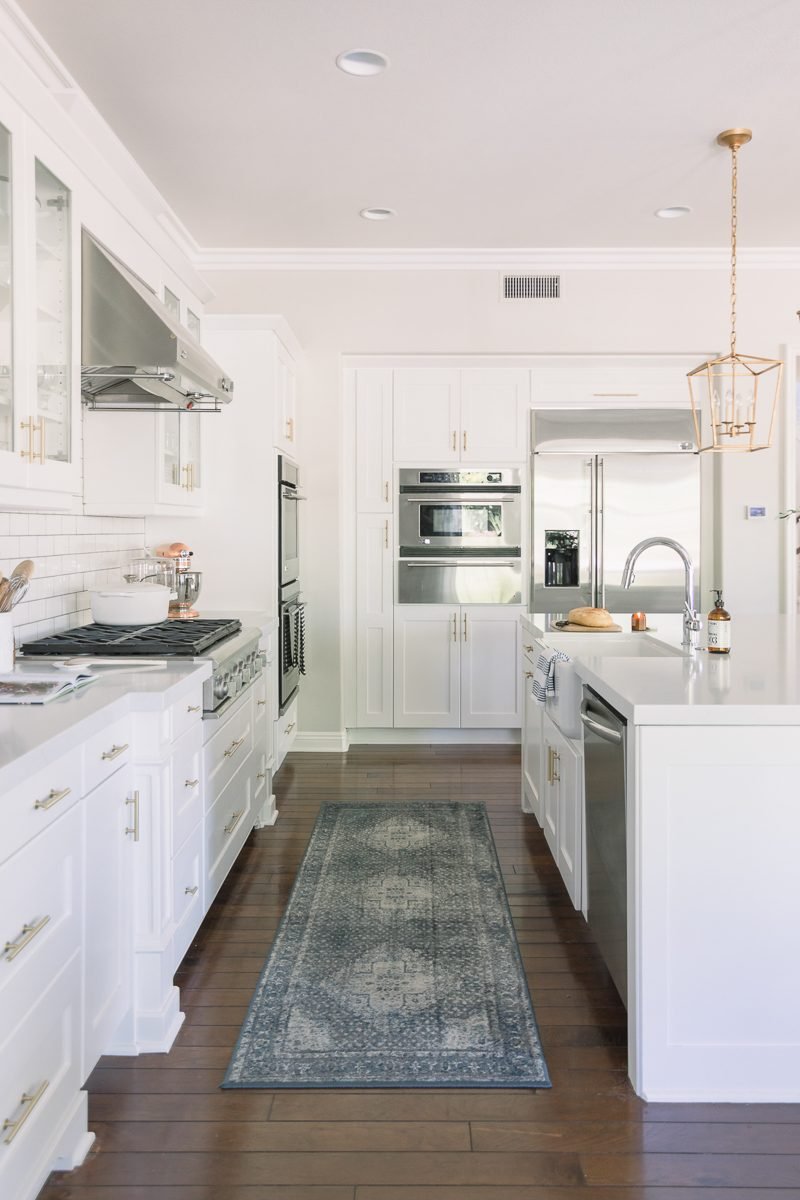 COUNTER TOPS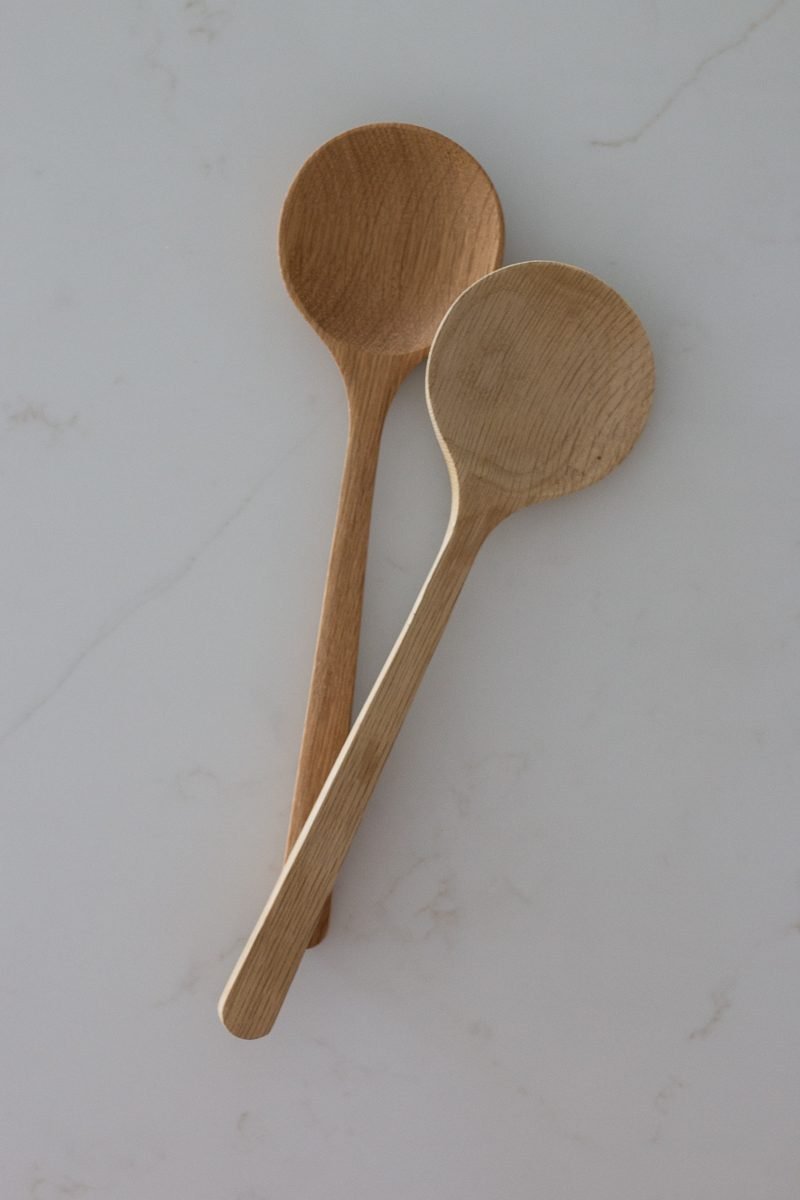 These counter tops are impossible to photograph but we are absolutely in love with them. To be honest, I had been looking for replacement counters for over two years. Yep. No joke. While marble is beautiful, it's not for us and our lifestyle. We love letting the children do not only their homework but any kind of project that can dream up on the island. It gets messy on a daily basis and I knew quartz was the right choice for us. When I found the Aurea Stone I was sold. There is a beautiful layering effect which allows the veining to appear deeper in the stone. We went with Epitome because of its subtle warm veins. They tie in beautifully with the other warm elements in the room. I don't think the photos do it justice so if you are searching you may want to check out a sample. I never wanted the small slab to leave my house which is how I knew it was the one for us.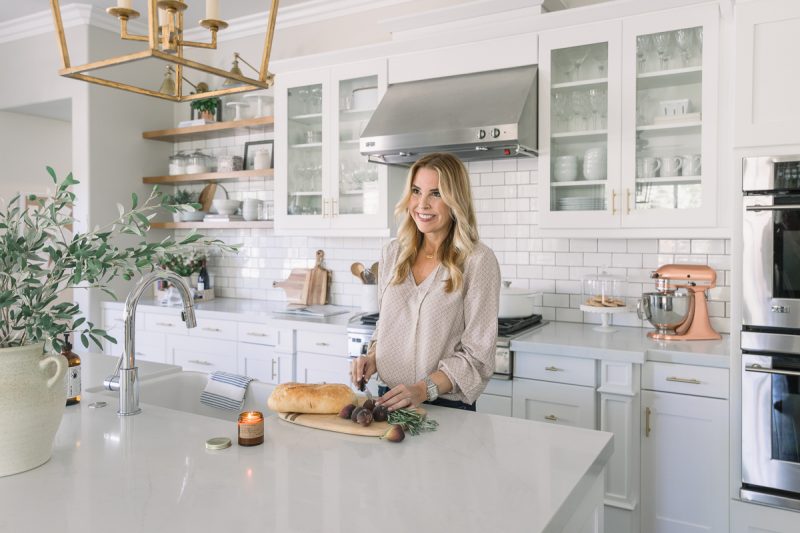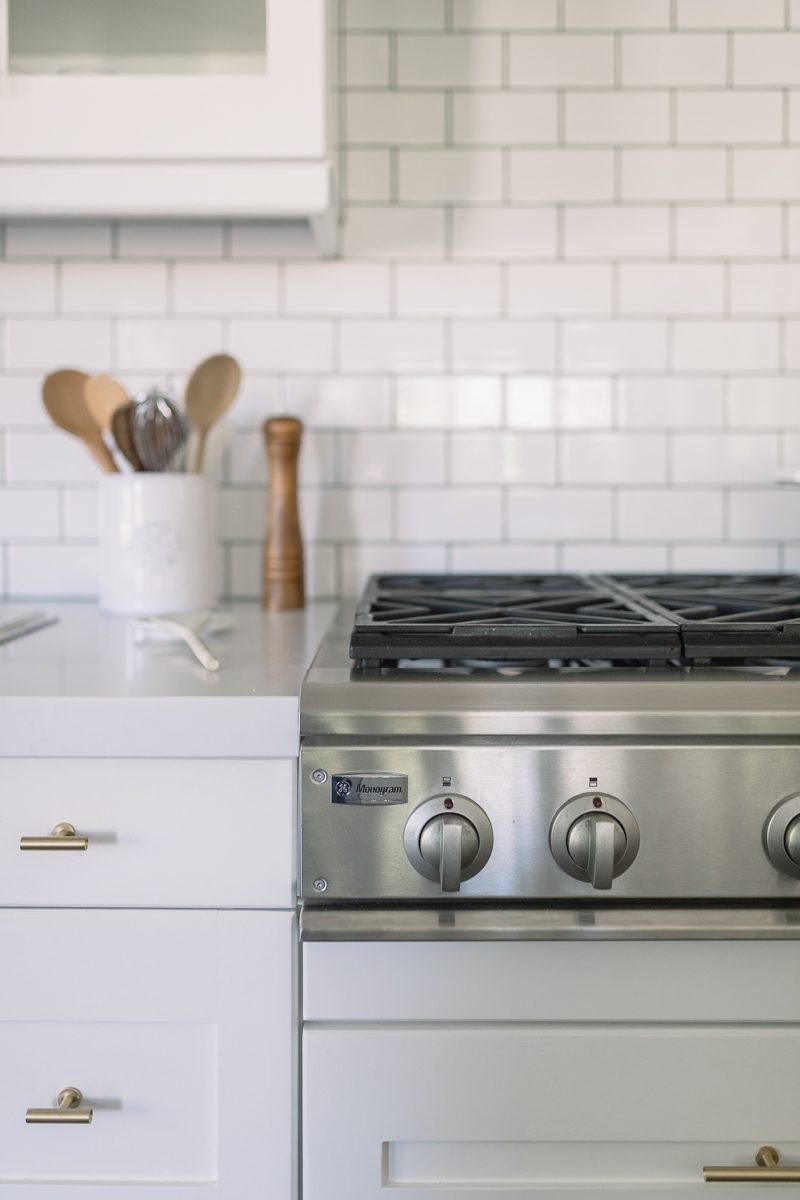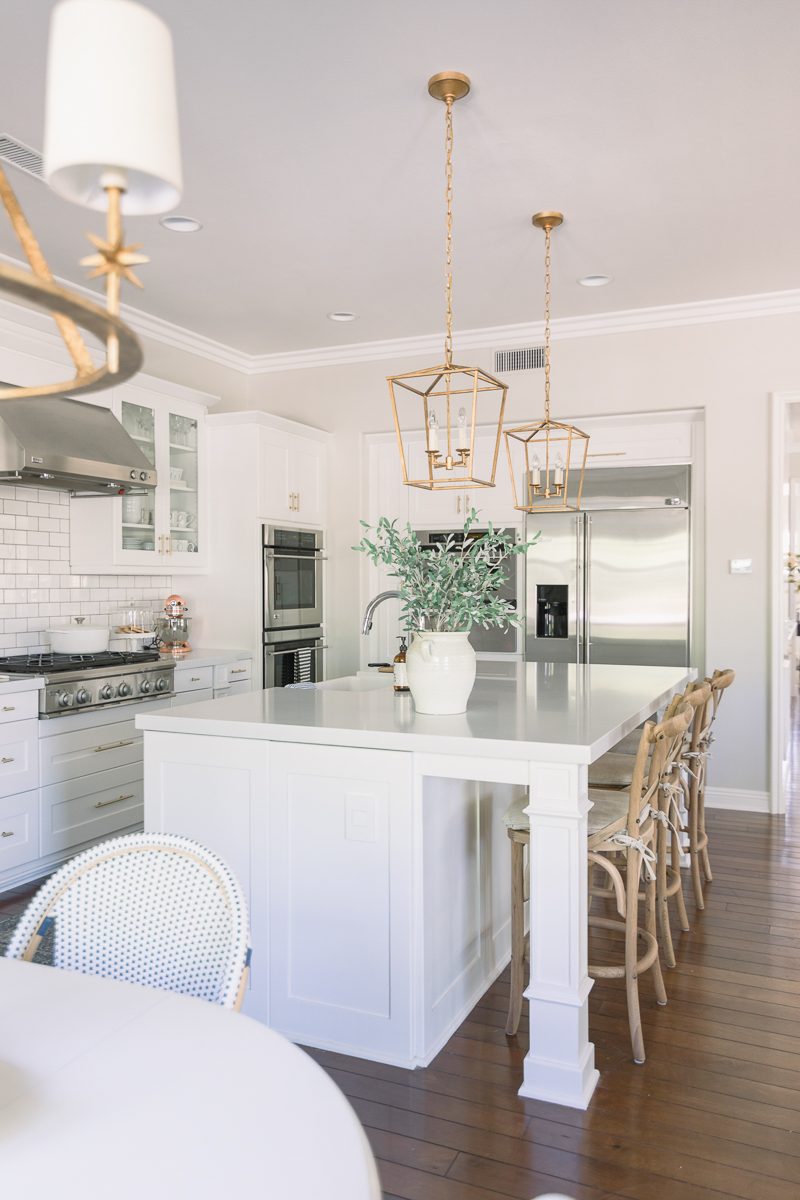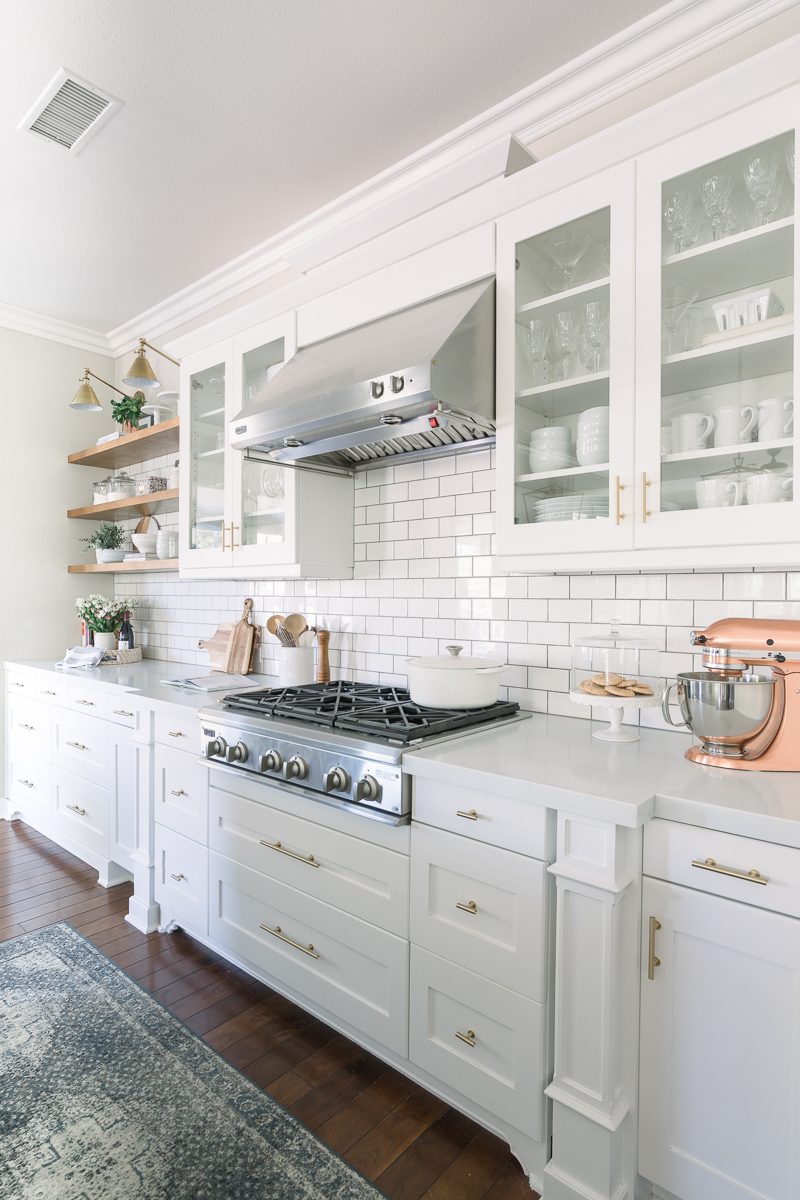 Having the extra counter space is remarkable. It really did make a huge difference in not only the appearance but in function, too.
FARMHOUSE SINK
I've always wanted a farmhouse sink and I think it works so well with the design of this kitchen. We moved our garbage disposal button to the top of our counter (it had previously been under the sink) and kept the faucet sleek and simple. It has a magnetic feature that we love. It also cleans up so nicely which is fantastic.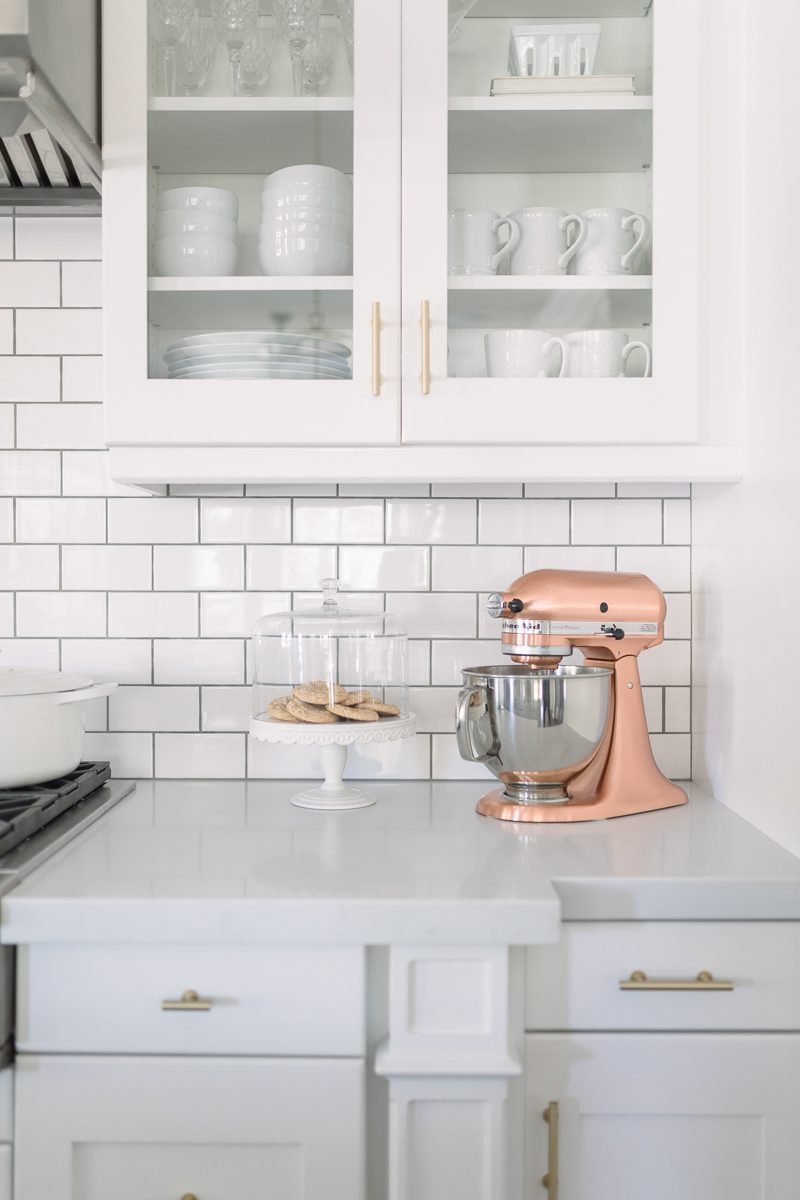 We installed the glass doors when we first moved in and like how they contribute to the open and airy feeling. The first two shelves in each cabinet house our every day glasses, dishes, mugs and bowls. We are minimalist when it comes to what we choose to have in our kitchen so glass front cabinets and open shelving work really well for us. In fact we still have four empty drawers beneath the shelves. Rather than fill them with "stuff" we are waiting for those ah-ha moments when you realize it would be convenient to have something there.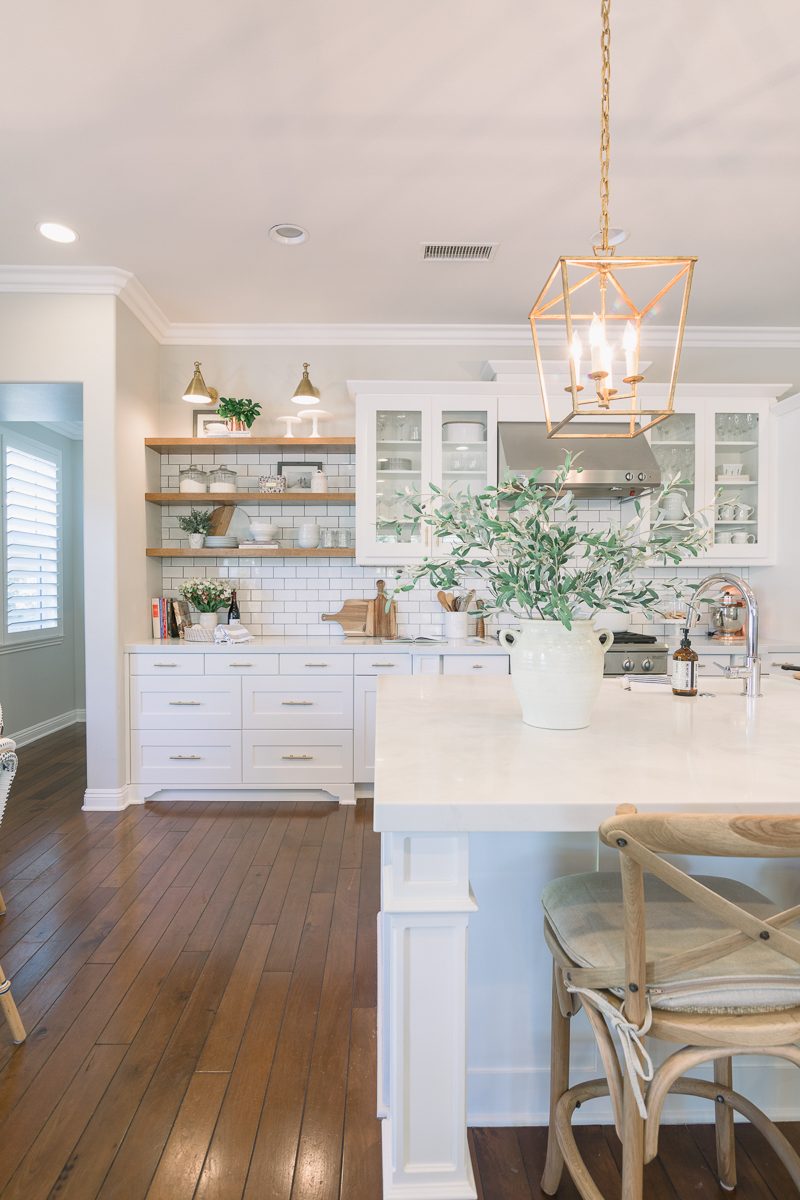 HOW IT FUNCTIONS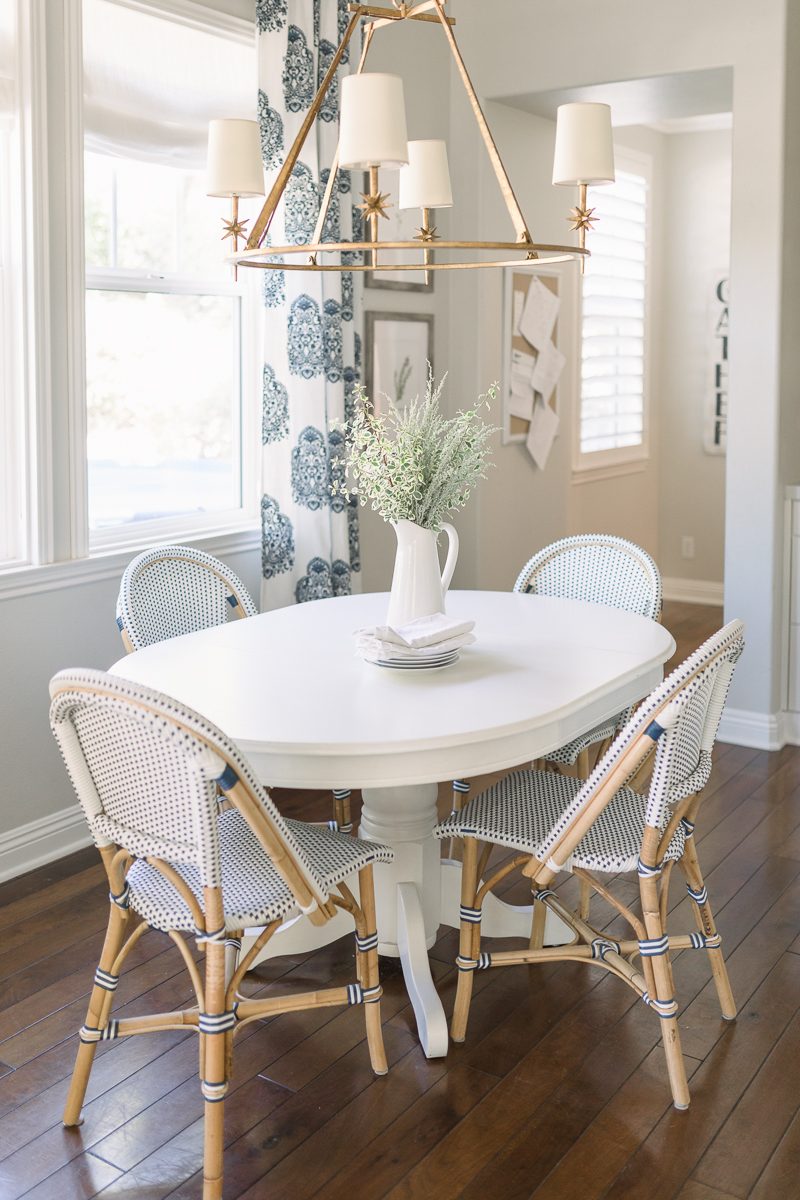 The bulletin board you can see is our go-to spot for hanging important school papers or the map for the current fifth grade state test. Whatever we need to be able to keep safe and handy for the week gets pinned right up there. The wall across from that bulletin board has our family calendar.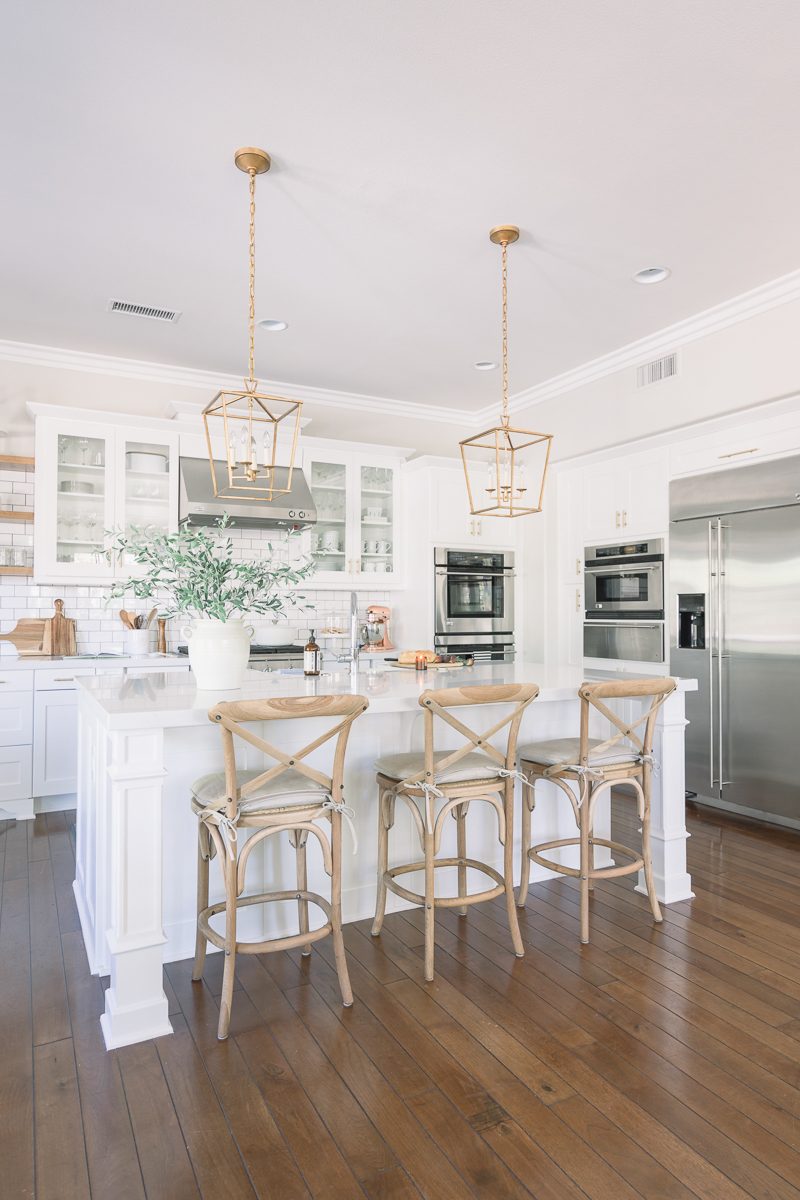 THE BEFORE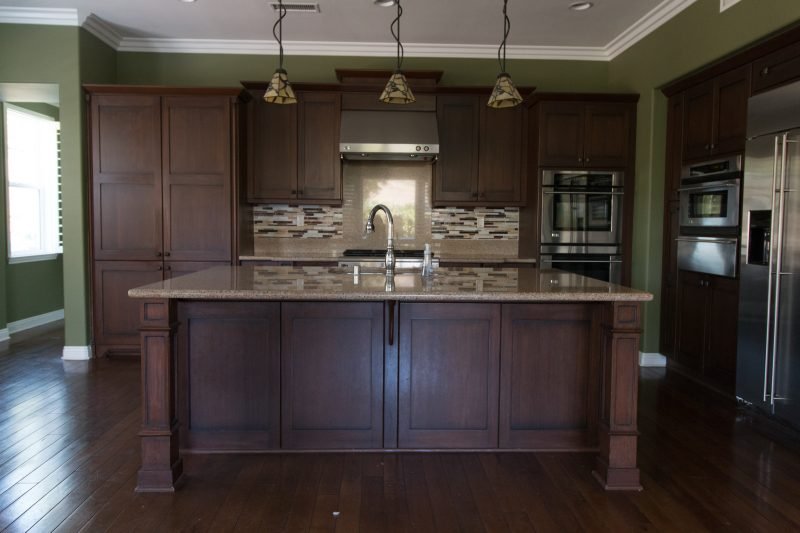 Everyone loves a good before and after shot, right? The very sweet owners of our home embraced the darker colors that are often tied to the craftsman style. While warm and cozy, we craved something lighter and brighter. This allows you to see the large pantry that once stood where the new open shelves are. Hats off to our woodworker. Not an easy task to remove an existing portion of a kitchen and create a seamless new addition. We are very grateful.
THE AFTER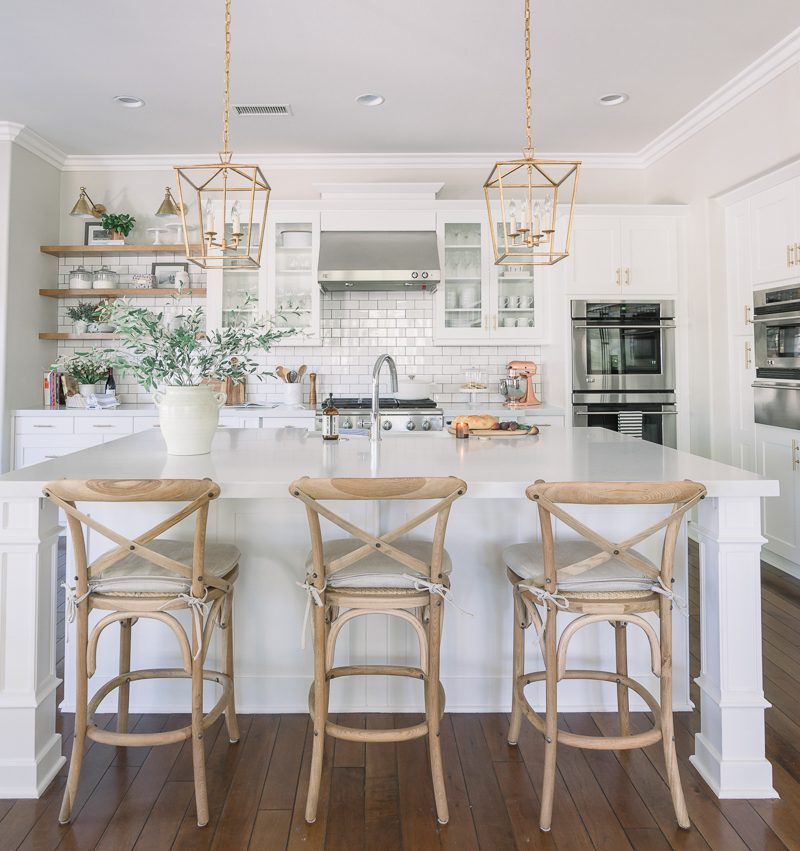 When I would pour over magazines and Instagram images it was always the white and welcoming kitchens that drew me in. I feel really fortunate to have this space and we do not take it for granted. I'm already picturing small Christmas wreaths on the backs of those chairs.
THE NEW PANTRY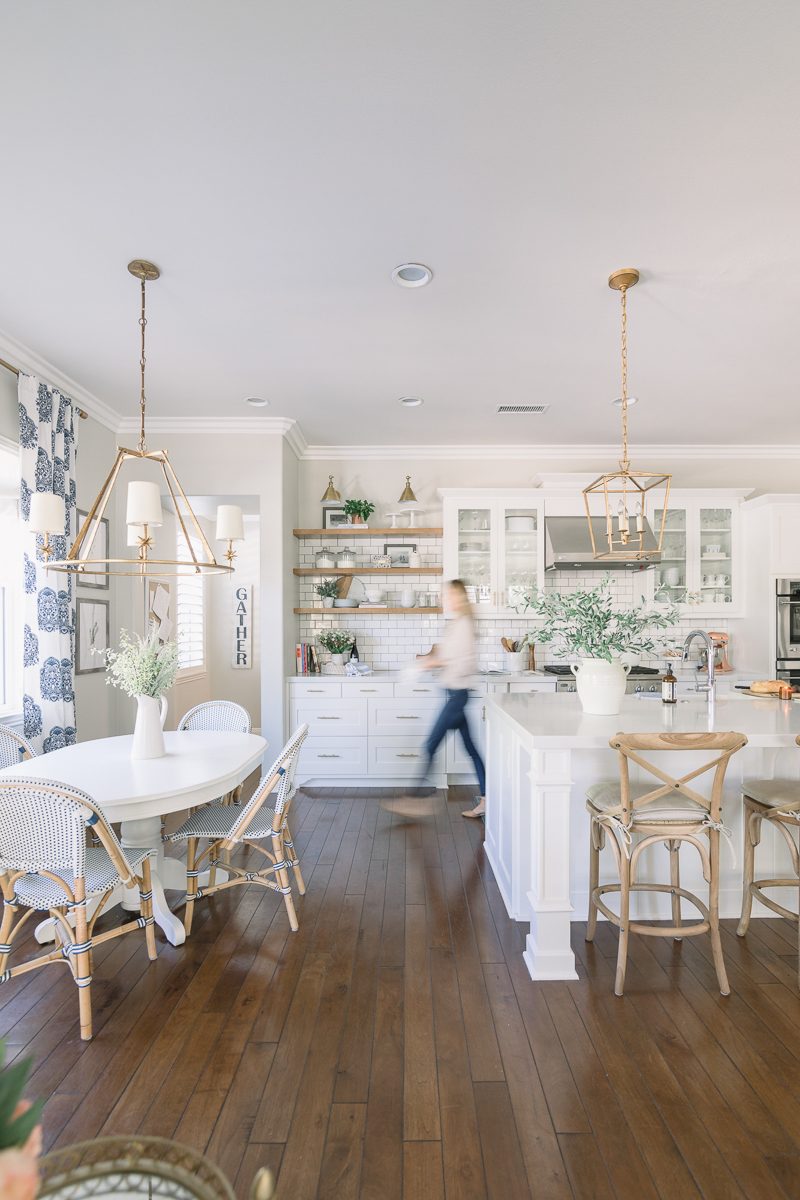 This shot lets you see how the space works together. If I were to keep walking and turn the corner I would find our new pantry.
Because this room is on its own we could have fun with finishes and patterns. But the warm counter tops tie in with our new open shelving in the kitchen. The subway tile backsplash compliments this floor tile.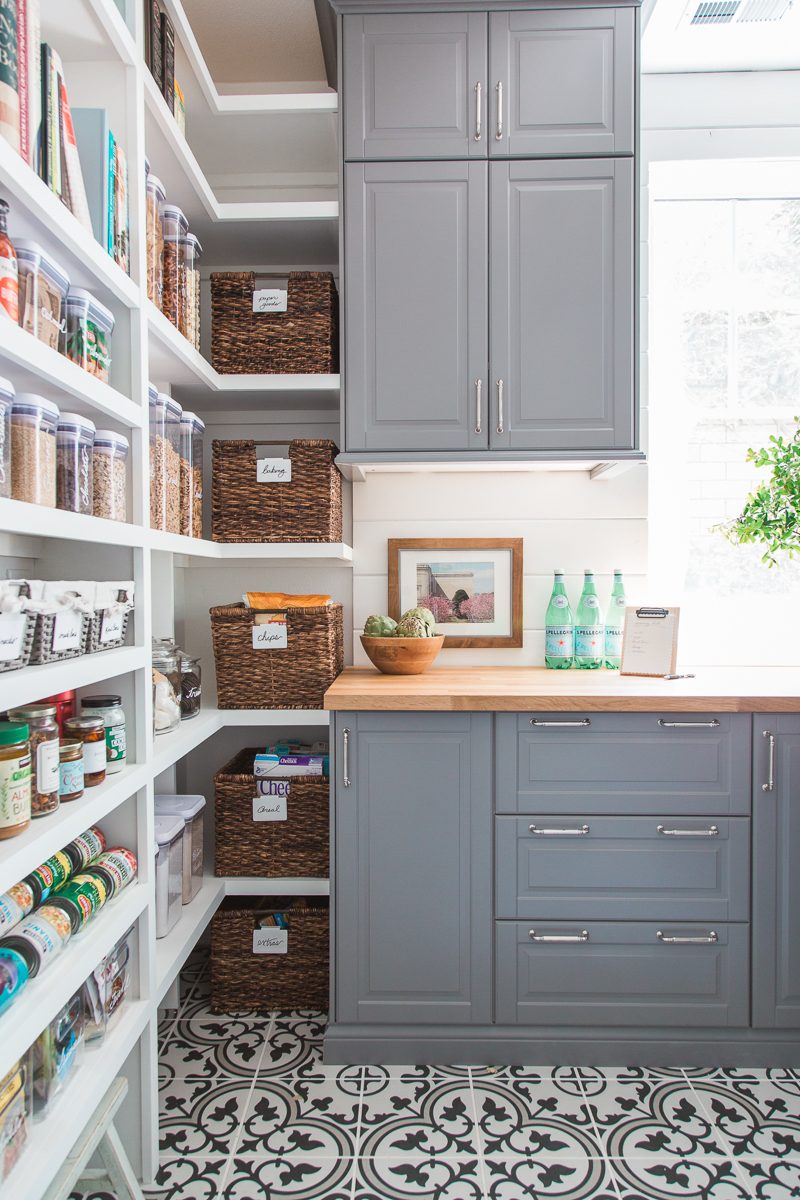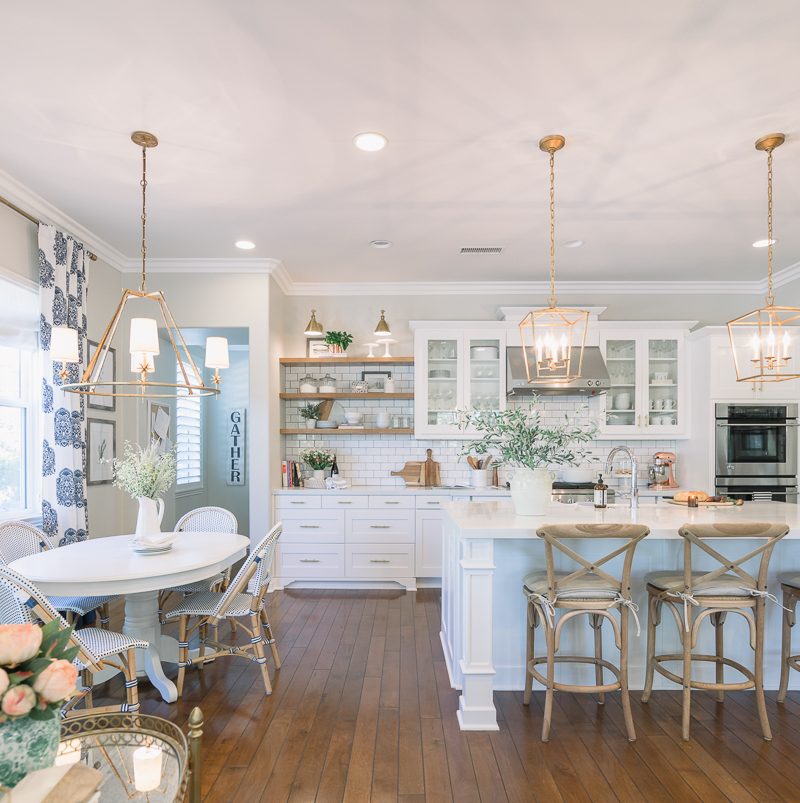 Whew. That was a long tour. Thank you for coming along on this journey with us. It's been really exiting to put our own stamp on this home and create a kitchen we love. I will list sources below.
Paint Color: Pale Oak by Benjamin Moore
Cabinet Color: White Laquer no tint
White Table: Antique | similar 
Bistro Chairs: Serena and Lily
Bar Stools: Ballard Designs | similar
Stool Cushions: Restoration Hardware
Sconces: McGee & Co.
Chandelier: McGee & Co.
Pendants: Restoration Hardware 12″ | similar 
Mixer: Williams-Sonoma
Counter Tops: Aurea Stone – Epitome
Photos by Vanessa Lentine
Shop These Spaces