Good morning. I'm so excited to share more about our kitchen and renovation plans. There is no doubt the kitchen is the heart of the home and a great investment when it comes to home improvements. Today I am sharing before photos and the design direction for our space. Really excited to have you along for this process.
OUR KITCHEN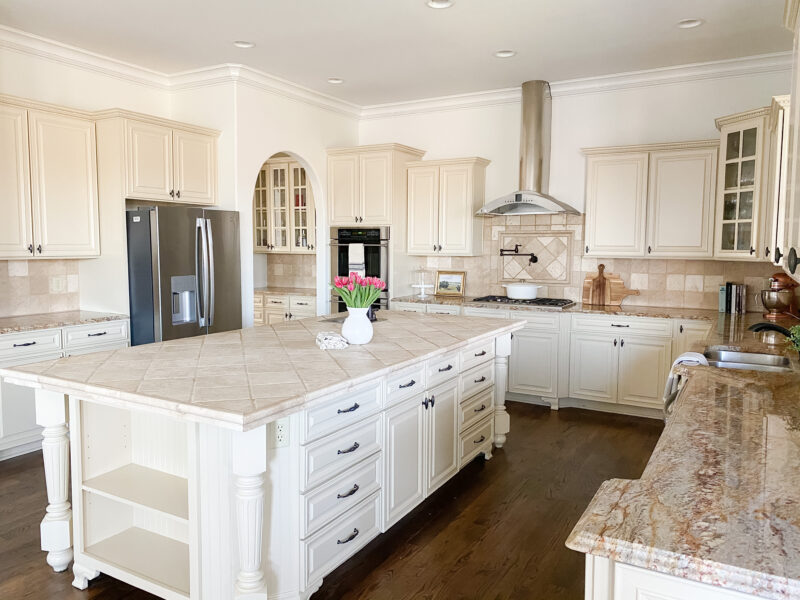 Welcome to our kitchen. First and foremost, I want to acknowledge that this is a beautiful kitchen and we are very grateful. When we looked at the house, we all fell in love with the layout and the size of this space. We couldn't ask for anything more. We all felt comfortable in this space the minute we moved in. It's fantastic for entertaining and I love the large island. In fact we've already created so many memories around this island.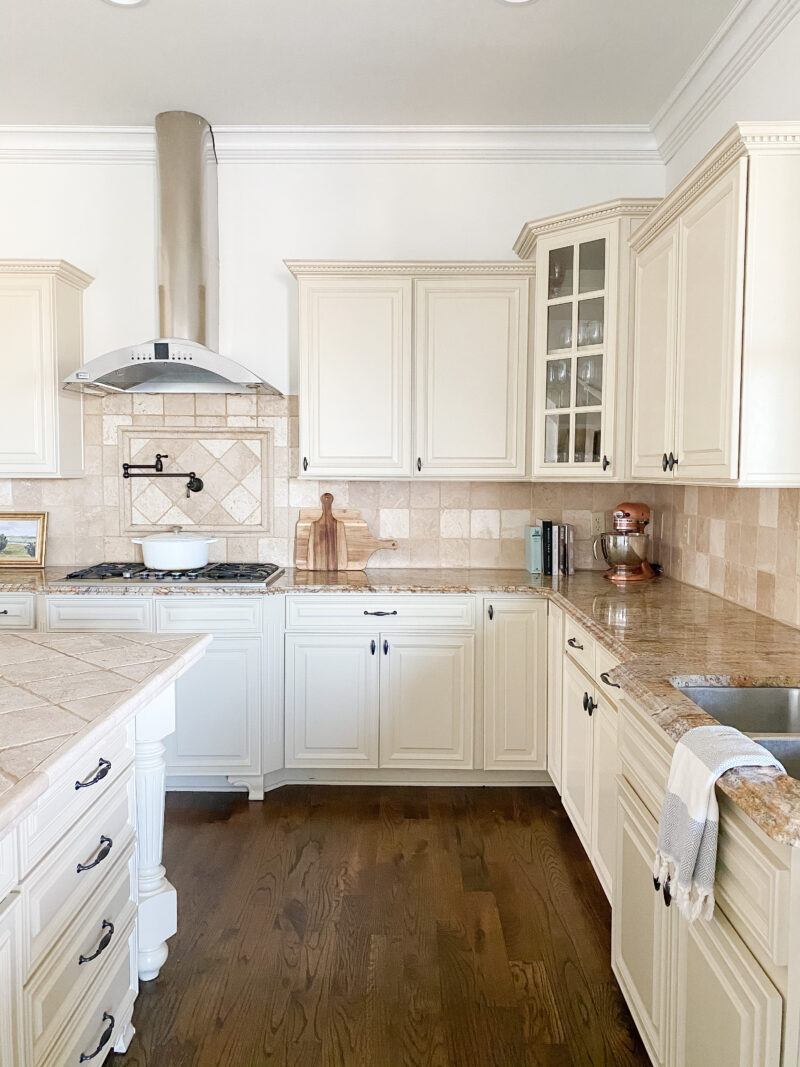 Aesthetically, it's not our style. And I really struggle with the porous tiled island. The grout lines are quite large and I am constantly cleaning. We actually began this process thinking we would just paint and do cosmetic changes (much like our last home). But the more we went down that path, the more costly it became. Trying to build cabinets to the ceiling with the existing lines, adding seating to the island, creating space for a larger range top. . . all of these things started to become more complicated than you would think. I am all for cosmetic changes and keeping what you can if it makes sense design wise and financially. At the end of the day, starting from scratch was the best choice for us. Albeit a bit overwhelming. When my sister came to visit, we had so much fun pouring over ideas and thoughts for this kitchen. I can't wait for it to unfold. We've taken our time with the design and feel really good about the next steps.
MY FAVORITE VIEW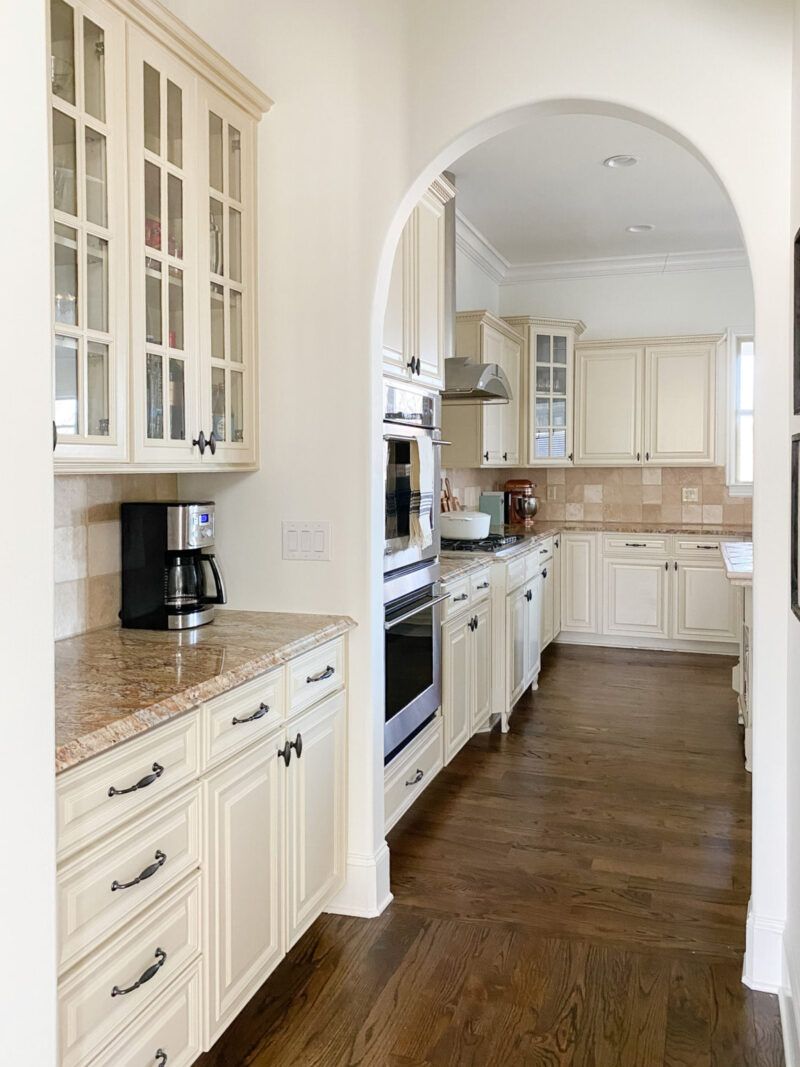 This little view is one of my favorites. When we moved in the arch was pointed at the top and we had it rounded out. The coffee bar will get a new look as well. A mix of warm whites, grays and natural wood elements is what we will be using to create our dream kitchen.
THE DESIGN DIRECTION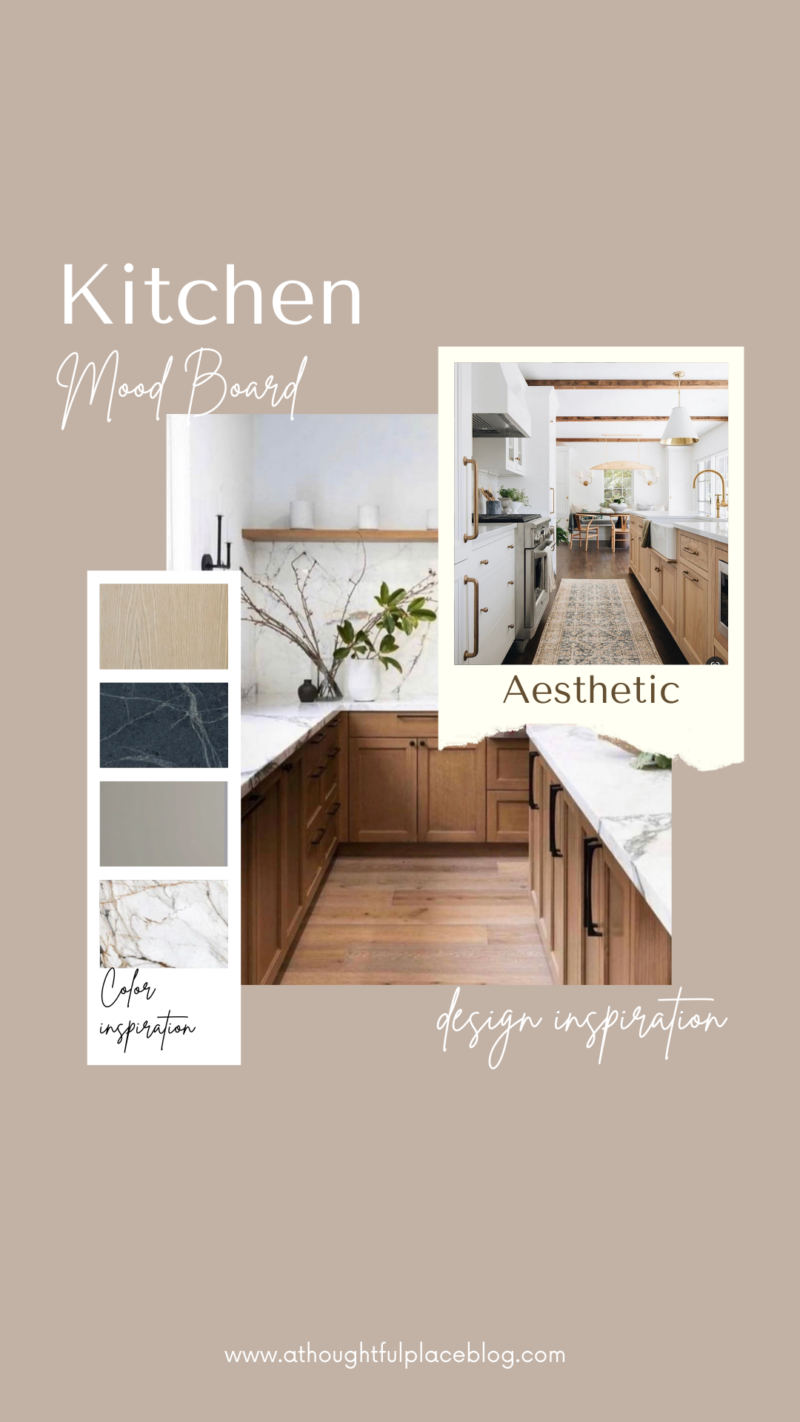 inspo: @burkhartinteriors and @jeanstofferdesign
Here is a peek at the design direction we are headed. We will be using white cabinets with a mix of white oak and gray. I also plan to use one countertop for the perimeter and a different selection for the island. I will be mixing metals and finishes and praying it all comes together like the vision in my head. We are really excited but with that comes a few nerves. This will be the largest project we tackle in this home and I want to get it right. If you have undergone a kitchen renovation, I am sure you can relate.
With lead times being so crazy, we are making sure everything is here before we jump in. Things should be officially kicking off in April. And because time flies, that will be here before we know it.
LIGHTING
Lighting will play a key role in the new kitchen. The current lighting is far too yellow and dark. We will use a combination of can lights, under cabinet lighting (on dimmers) and pretty fixtures to create a brighter and more inviting feel.
INSPIRATION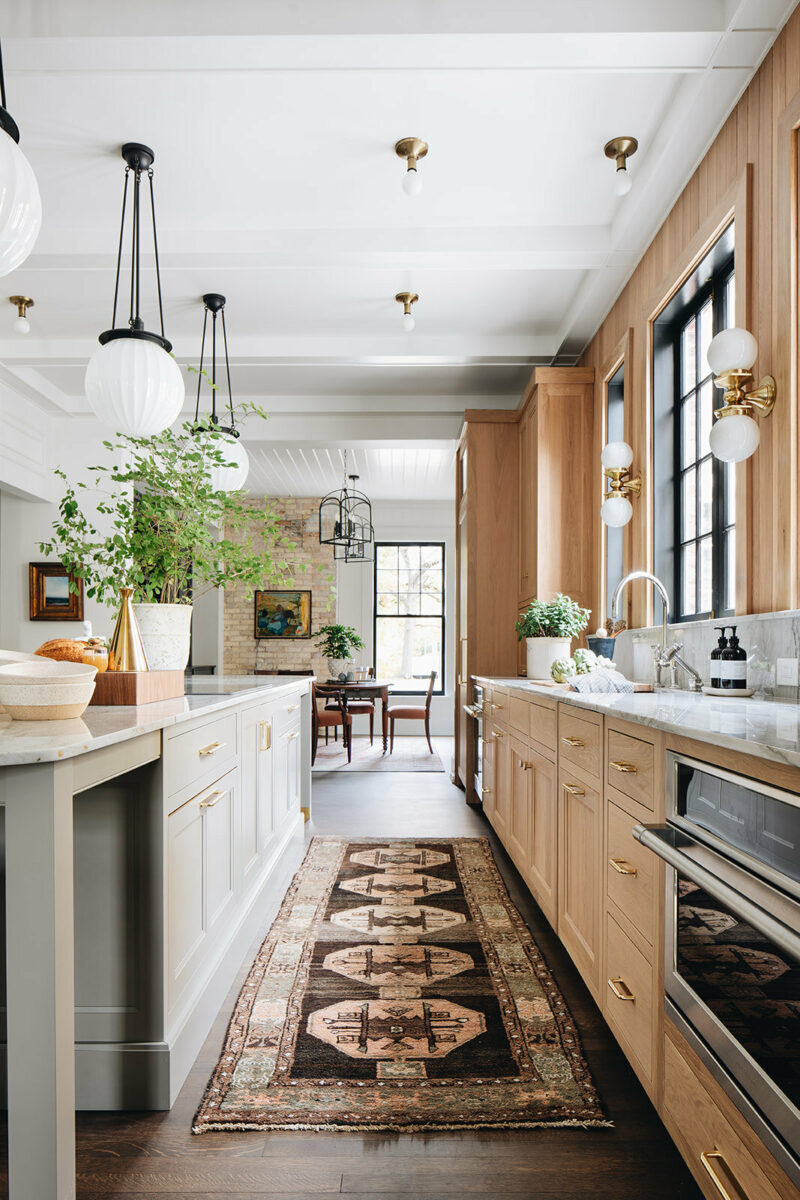 Jean Stoffer is one of my favorite designers. I love how her spaces feel lived in and warm. They are so layered and beautiful. We are hoping to accomplish a similar feel. I want people to feel welcome and comfortable in our space.
OUR CALIFORNIA KITCHEN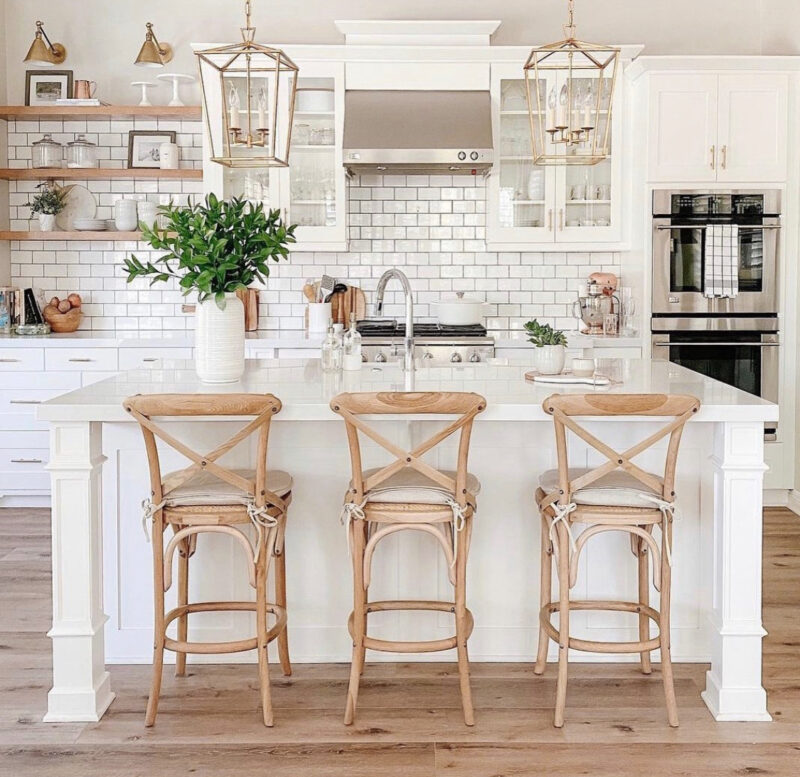 Do you remember the before and after from our previous home. It was quite the transformation. Having said that, we kept the existing cabinets and let paint really work it's magic.
THE BEFORE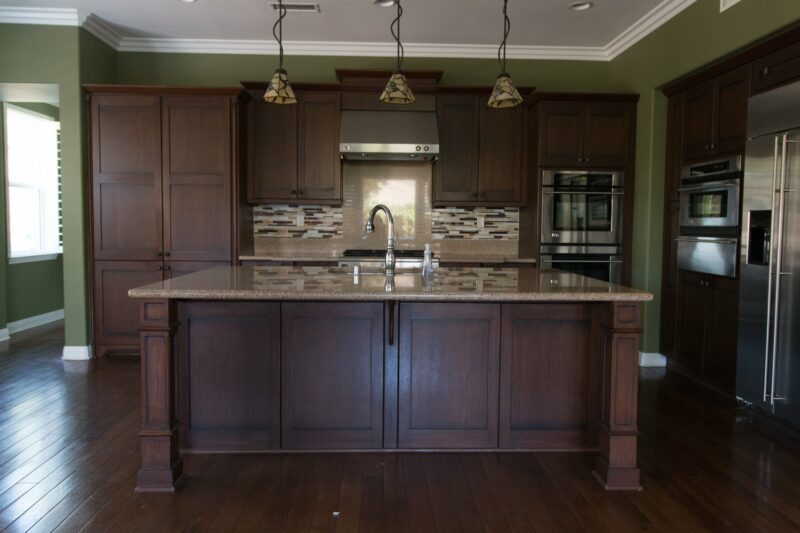 We kept so many of the existing bones. Taking out the large pantry cabinet and replacing it with drawers and open shelving made a huge difference in this space.
This was a fun project to work on and we loved how it turned out. We will be using some elements from this kitchen but going for something a little bit warmer. And I will definitely be incorporating open shelves again. We miss them so much. Can't wait to take you along for the process.
Happy Friday! Enjoy the long weekend. See you back here on Monday.