Good morning. My family and I are completely blown away by the encouraging message you all left us. It really is big news and I wish I could hug each one of you. We will absolutely keep you posted and look forward to sharing our adventures. In other news, I think I am a bit late to the game but I finally jumped on the air fryer wagon. So many of you encouraged us to do so. And discovering the beautiful white and gold version had some serious swaying power, too. Today I've teamed up with Walmart to share a pretty new line of kitchen appliances.
PRETTY LITTLE NUMBER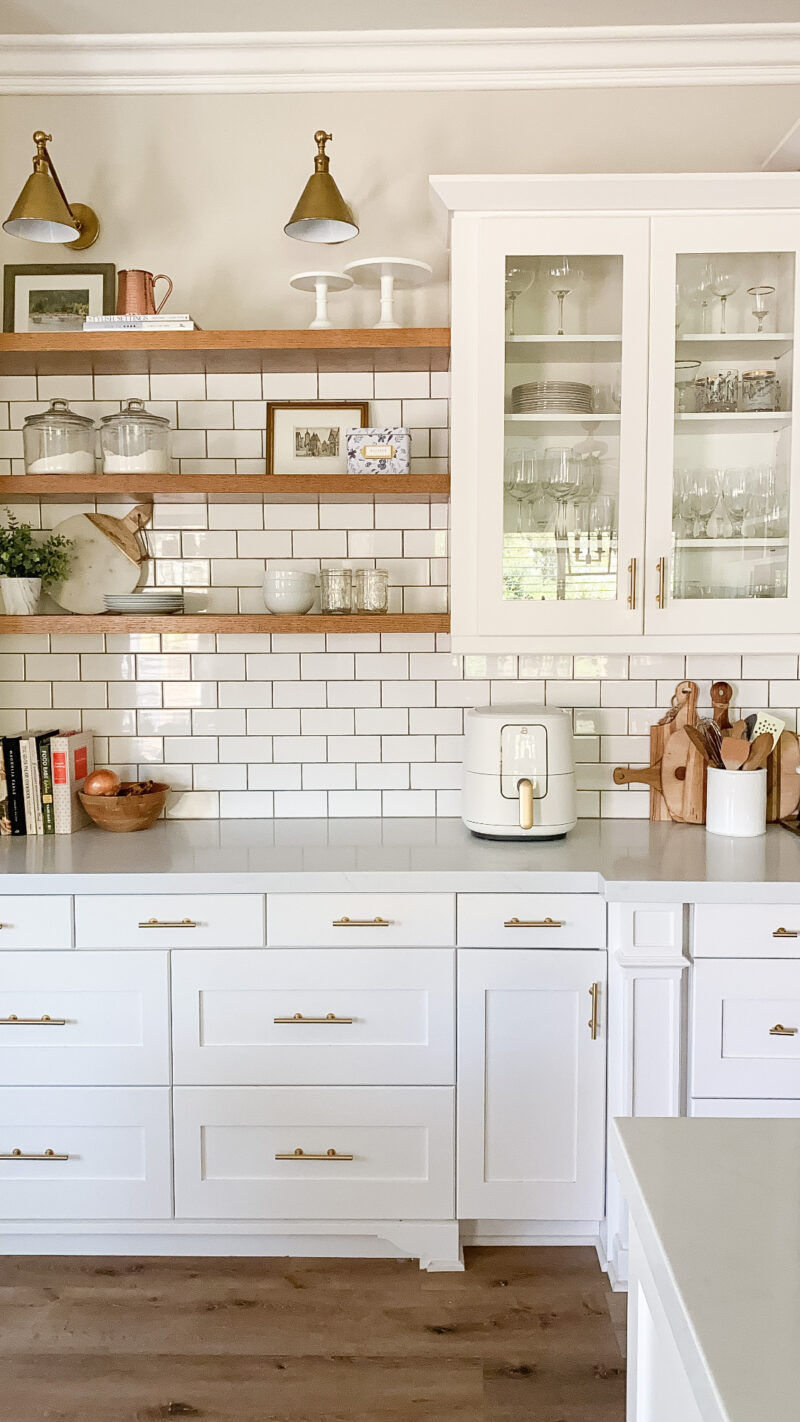 Do you spot my pretty new air fryer? "She's a beaut, Clark!" She really is beautiful. I love the white and gold but it if that's not for you, it comes in three other lovely colors. Drew Barrymore launched a chic new line at Walmart aptly named, Beautiful. Each piece is so chic and minimal. Mine arrived in just two days.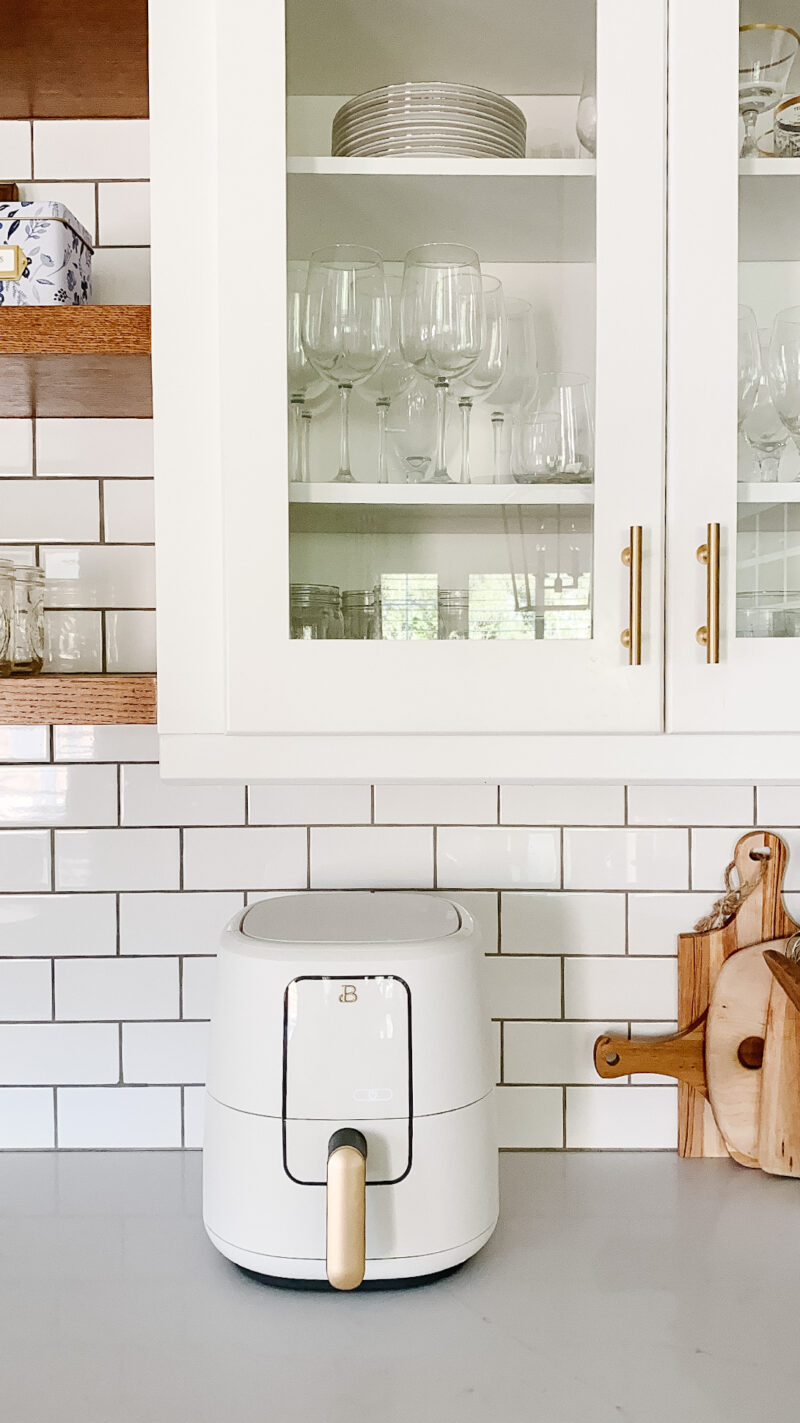 It's like she was made for the kitchen. What took me so long? But let's get down to business about the air fryer trend. I think the name is a bit misleading. I'm not a huge fan of fried food which is why I never even thought to buy one. But essentially this is a small, high-powered convection over. And you only use a light spray of oil (we like Avocado oil).
When I asked on Instagram what your thoughts were, the majority of you loved yours but a few weren't really that impressed. I think that made me even more eager to give it a try. I have to say, I do LOVE this thing. A few of my friends have gotten texts from me proclaiming my love for it. It's not only crazy fast but there is virtually no clean up and the kids can easily use it, too. I'm still getting to know it and how we can best use it but I will say that so far we use the air fryer at least once a day.
Without question it's the BEST option for any frozen snack. The microwave makes things mushy and the oven takes forever (including preheat time). We have never had a toaster over so I can't compare it with that. My son loves the organic burritos from Costco and they are done in minutes in the air fryer – and taste amazing. As we are busy packing and going a bit nuts over here with the move, cooking elaborate meals is not high on my list so I am all about something that will make life easier.
QUICK & YUMMY TAQUITOS
Just the other day, I made these taquitos for myself. Ready in 6 minutes!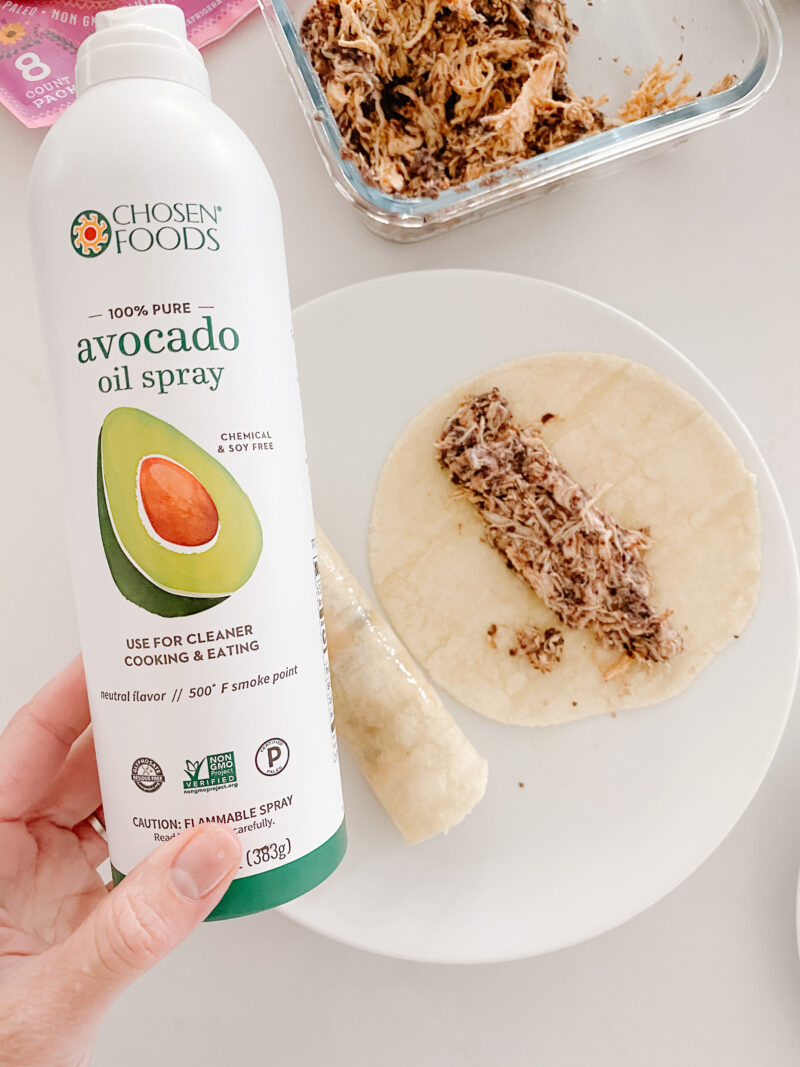 I think I've shared before that I make chicken breasts in my Instant Pot each Monday (just with some salsa) and shred it. Then I use it during the week for enchiladas, tacos, or in salads. I often mix it with refried black beans (but you could use cheese). Just spray your tortillas with a little bit of avocado oil, fill, and roll.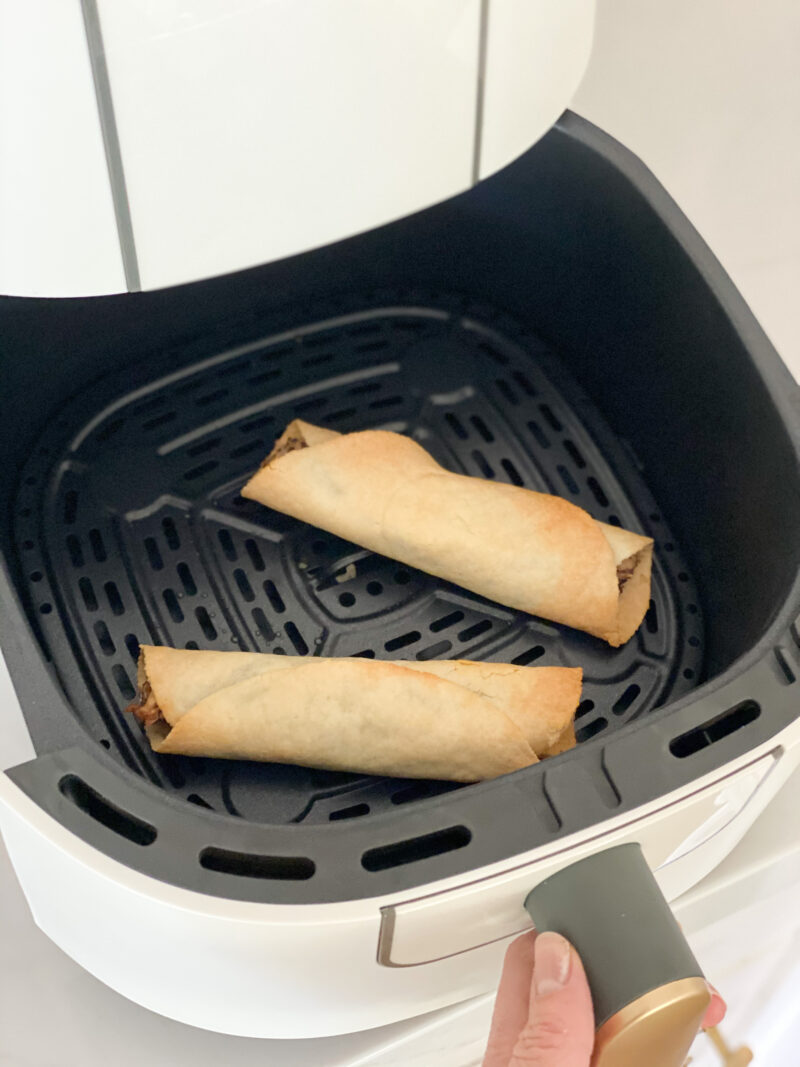 Place them seam side down. Cook these in the air fryer for a total of 6 minutes (375°). Just push pause at the half way mark (after 3 minutes) to flip. Once you push the drawer back in it will automatically continue cooking. So crispy and delicious. Plus it's a healthy lunch and so easy.
BRUSSELS SPROUTS
I am a huge veggie girl but don't always like waiting to roast them in the oven. Especially during the summer when I don't want to heat the house up. To make these I combined the following:
2 Tbsp olive oil
1 Tbsp maple syrup
1 Tbsp balsamic vinegar
salt and pepper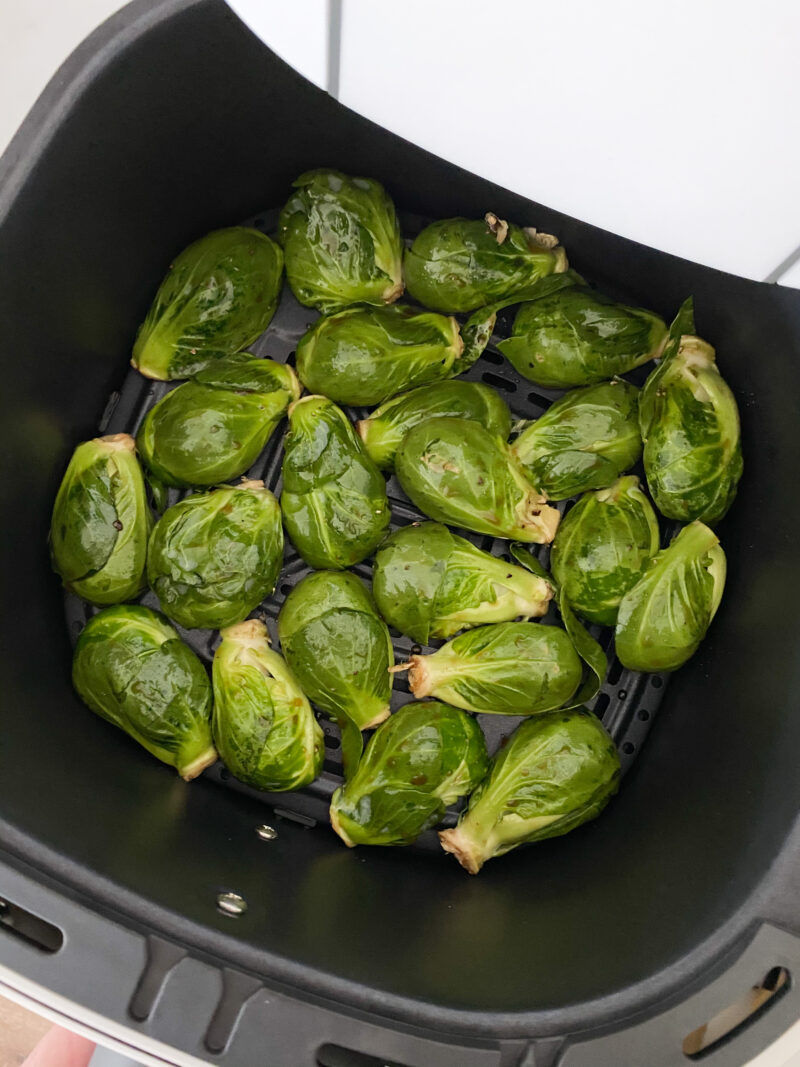 Whisk together and add the sliced Brussels sprouts to fully coat them. Place face down in the air fryer. I used the roast function for these at 380° for a total of 14 minutes. I flipped them after 7. When there was one minute remaining, I opened the drawer and added one chopped garlic clove. Cooked for one more minute.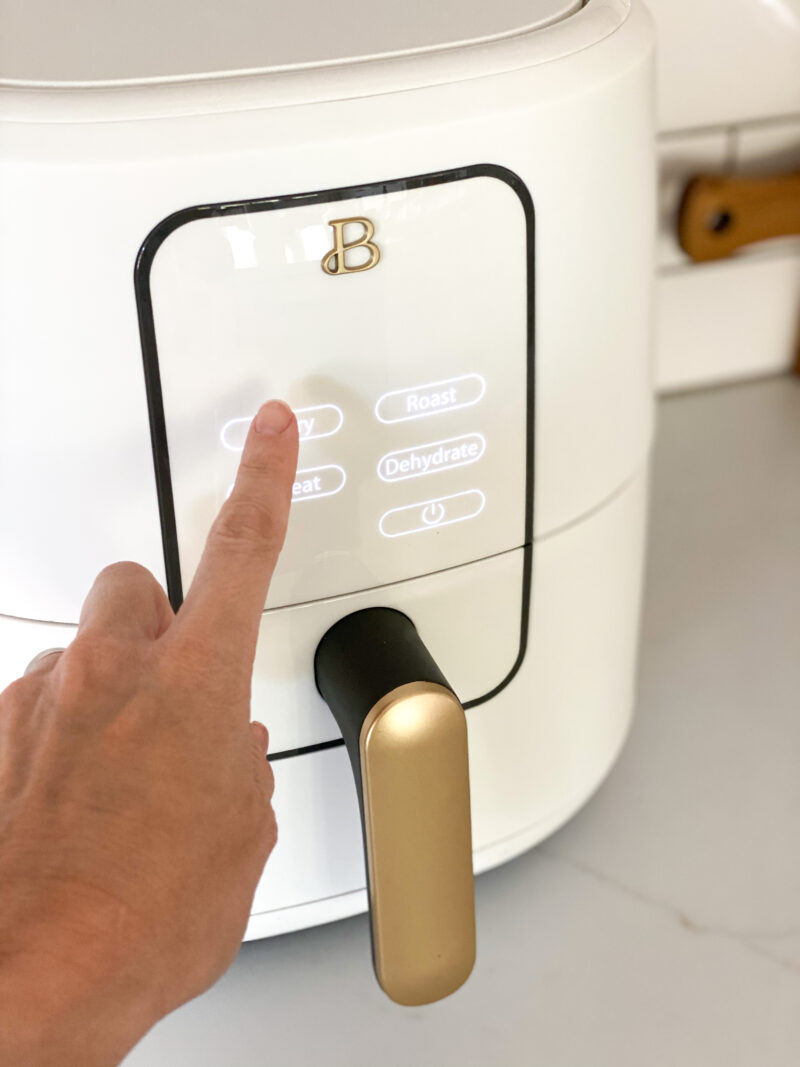 As soon as you turn the power on, you'll see the display screen light up. Such a pretty design.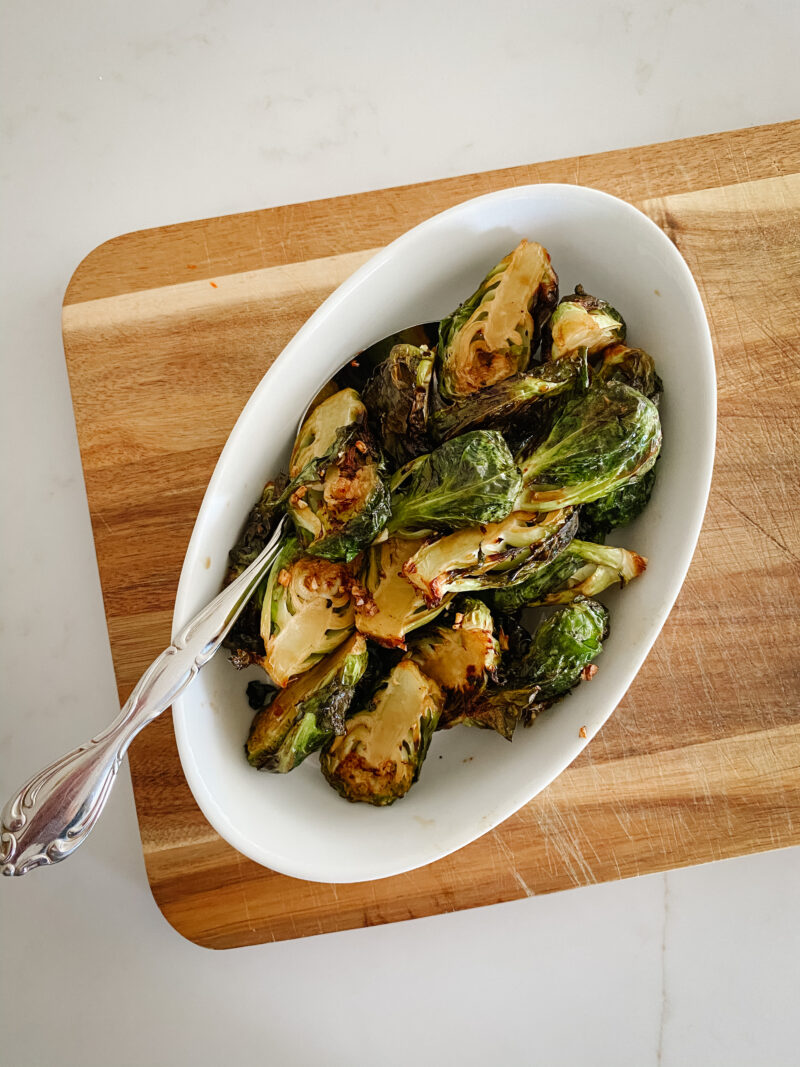 They turned out really well. I will continue to play with recipes but I love how I don't need to wait for the oven to preheat (huge time saver). This is especially handy when I am not cooking for the entire family. Smaller batches cook so quickly. The other night I made chicken wings for just my husband and son before they headed out to hockey and they were done in a total of 20 minutes.
BEAUTIFUL KITCHEN ADDITIONS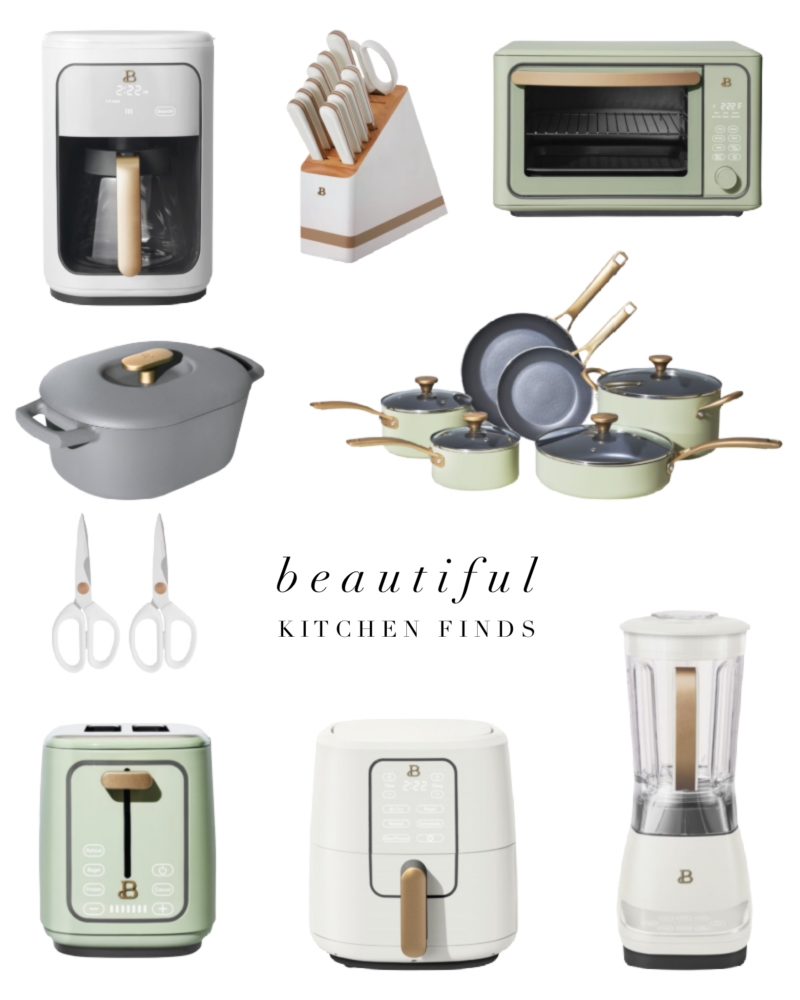 Aren't these pieces cute? I think they would make amazing gifts for anyone just starting out or going off to college. The sage green color is pretty hard to resist. Walmart Home is bringing their A game lately, that's for sure.
If you need me, I'll be over here finding more things to put in the air fryer. If you already have one, I would love for you to share your favorite recipes or dishes in the comments below.