Good morning. I hope you had a beautiful Easter. While it was of course different, we enjoyed the family time and kept up with many of our family traditions. The kids appreciated not arriving at church so darn early just to get a good seat. I told them they could roll into the family room at 8:30 am and still get the best seat in the house. We were grateful to still be able to experience an online Easter morning service with our community. Here is a quick look back at our holiday weekend.
GETTING CREATIVE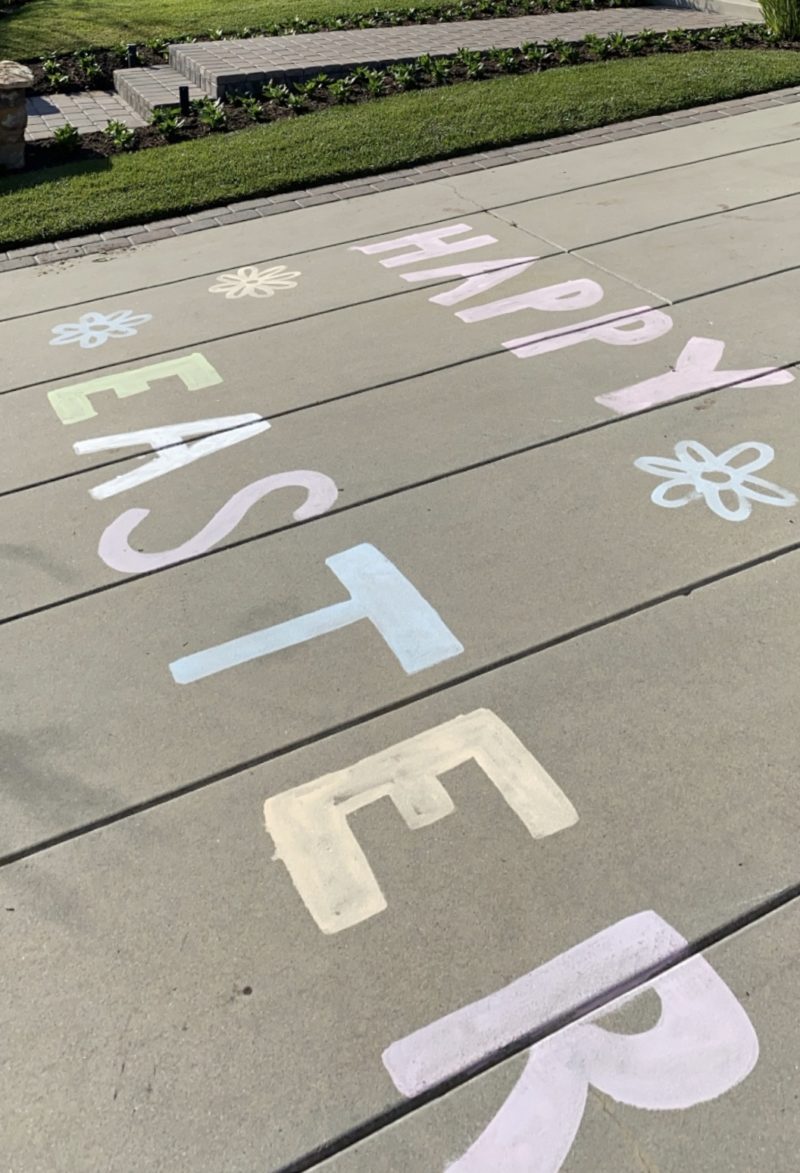 My daughter enjoyed painting the driveway the day before Easter. That's when our sun was out. There is something so fun about using the chalk paint recipe. I think it takes me back to childhood. The rain washed it away so something tells me she and I will be out there again soon.
OUR EASTER TABLE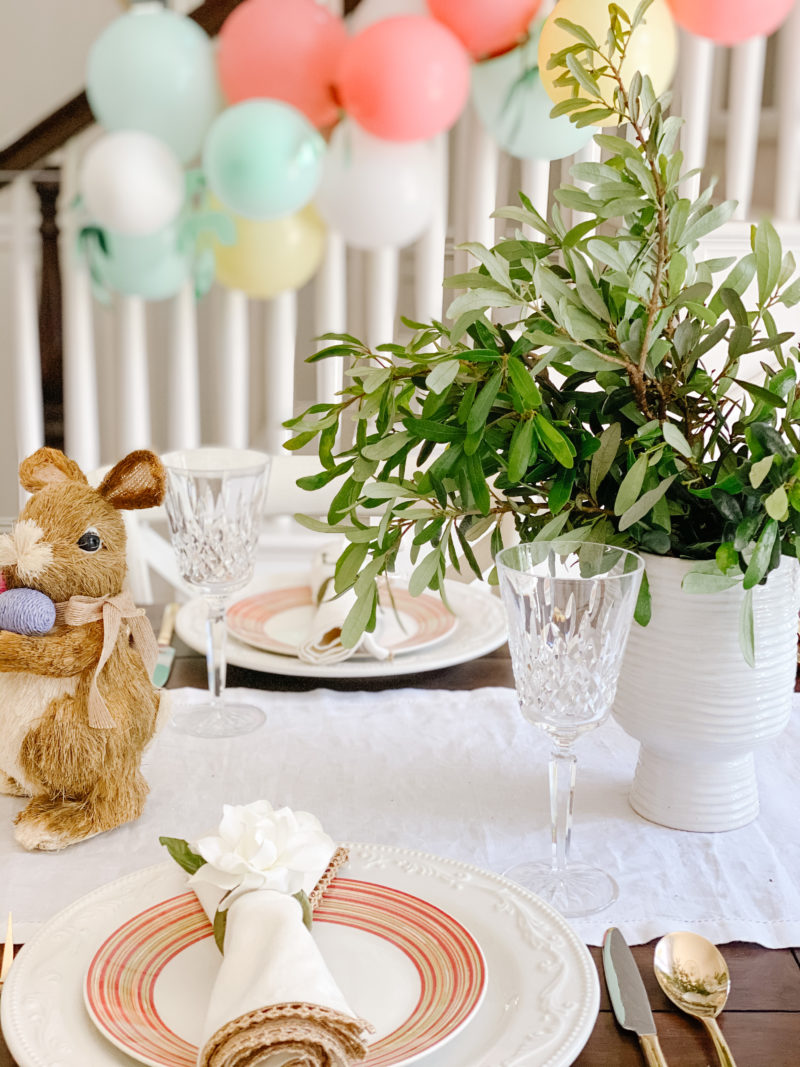 Our Easter table was very simple. Dishes we registered for back when we got married, napkin rings that belonged to my mom, and branches from the yard. We also hung the $6 balloon garland I had picked up from Target back in the day.
Setting the table and keeping our traditions alive makes me feel close to my parents who we miss very much. They did this for all of us each year and it makes things feel like home. I also like maintaining these traditions for our own children.
Living in Southern California allows us to have the doors open quite a bit. We get the occasional fly, but overall we don't have many bugs so it's nice to let the fresh air in as much as possible.
NEW KIND OF EGG HUNT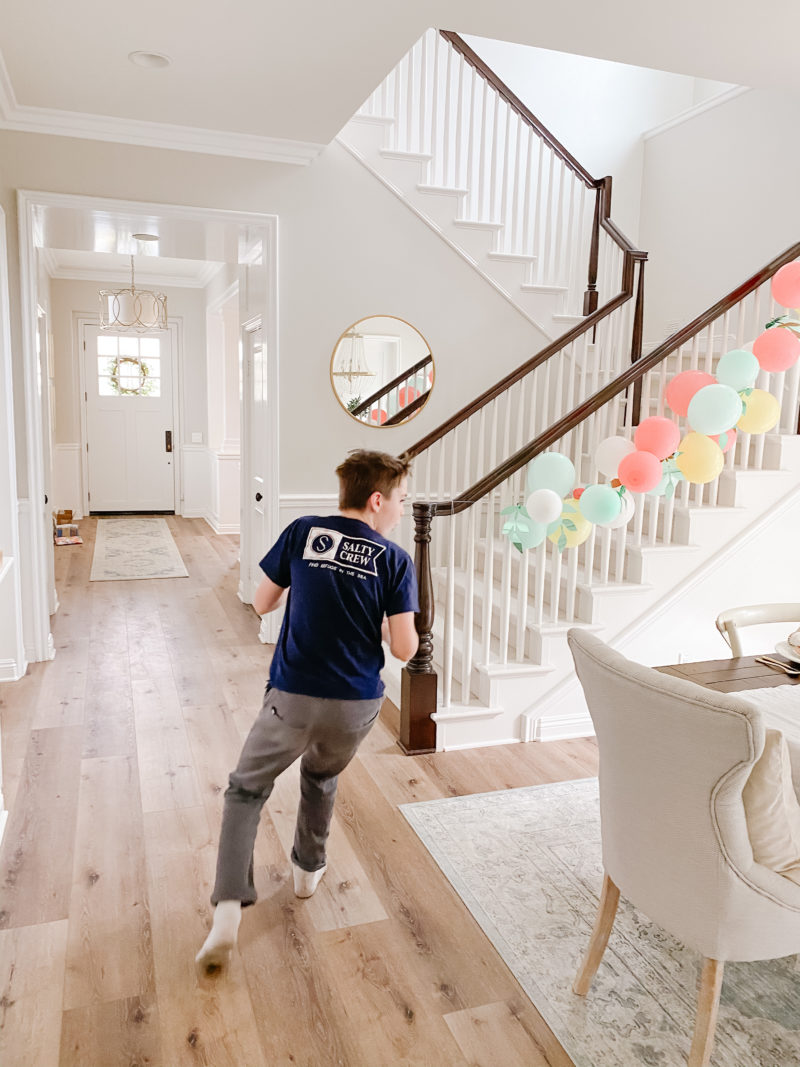 We had a rainy Easter morning so we moved the egg hunt inside. You're never too old to hunt for eggs and my two get very competitive. We shook it up by planting clues inside eggs. Each one leading to a new spot and a final surprise egg at the end.
TWO PEAS IN A POD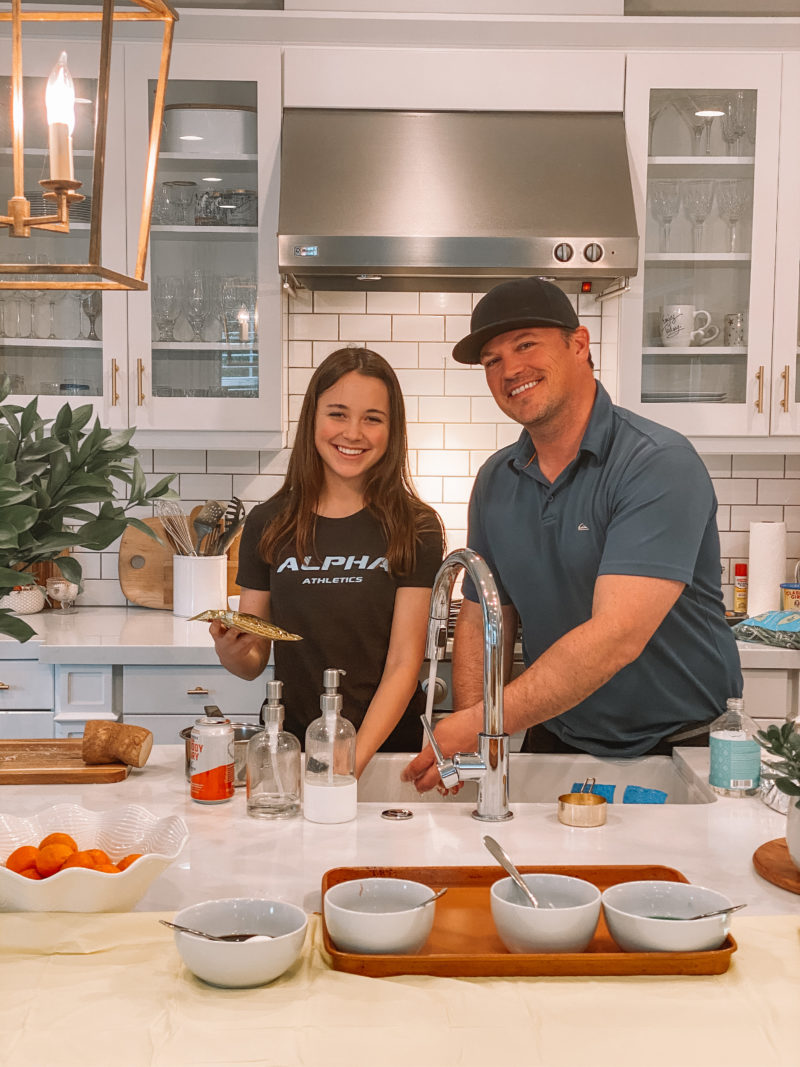 One fo the things I enjoyed the most over this holiday weekend was watching these two in the kitchen. Our daughter loves to bake and cook and she is always pitching in. We managed to dye a couple of eggs. But it was not without a pretty funny story. My daughter set it up for us. We couldn't figure out why the color wasn't sticking to the eggs. Come to find out she used oil instead of vinegar. Live and learn, live and learn.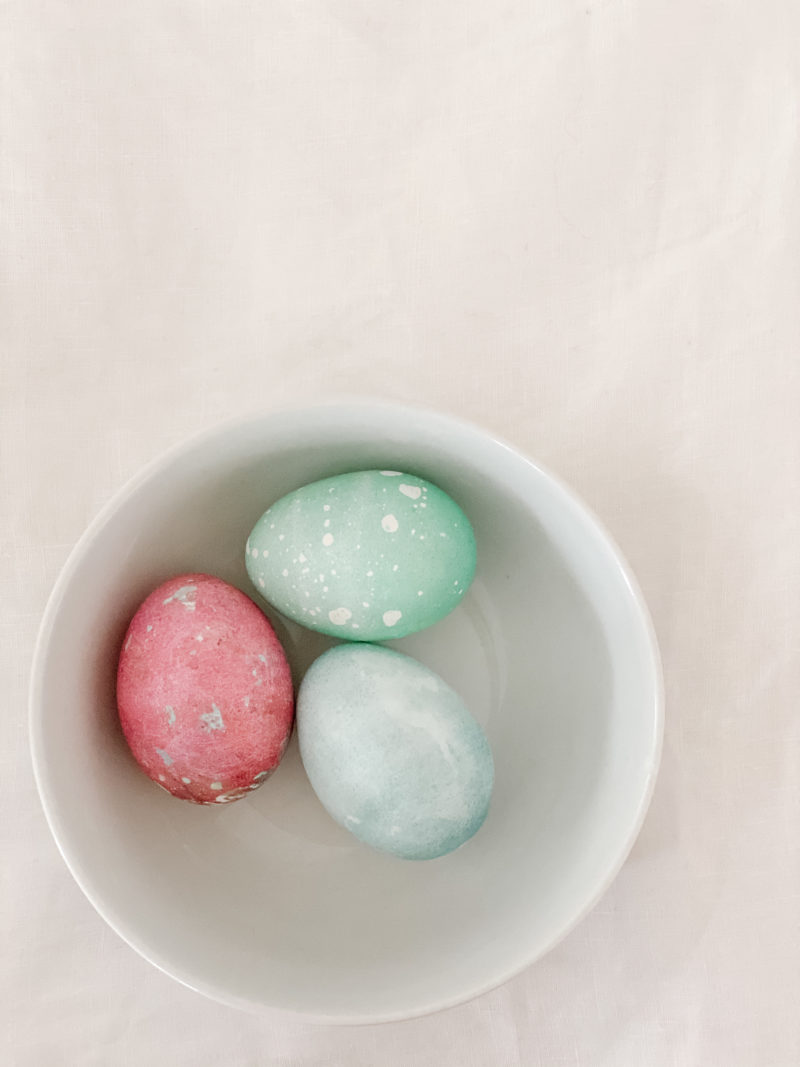 But I think they turned out beautifully. Maybe oil is they way to go.
GALLERY WALL UPDATE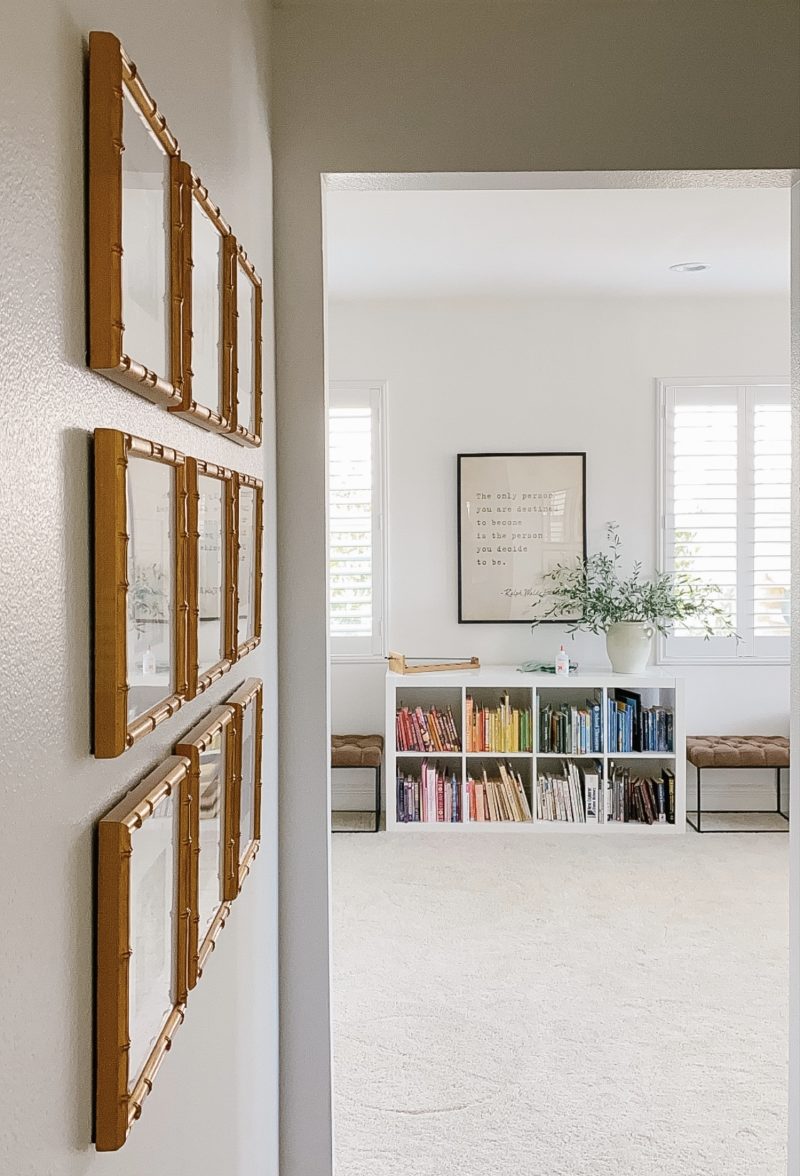 Last week I took the gallery wall that was in our powder room and moved it to the upstairs hallway. I plan to do a quick post soon on how I quickly hang these walls. Over the years, I've picked up a few tips and tricks. The frames are from here. It's a great company that will frame any images but these were all taken straight from my Instagram feed. It makes it so easy. Many of you asked me what size the frames are and these are 11.25″ x 11.25″.
AMAZING SCENT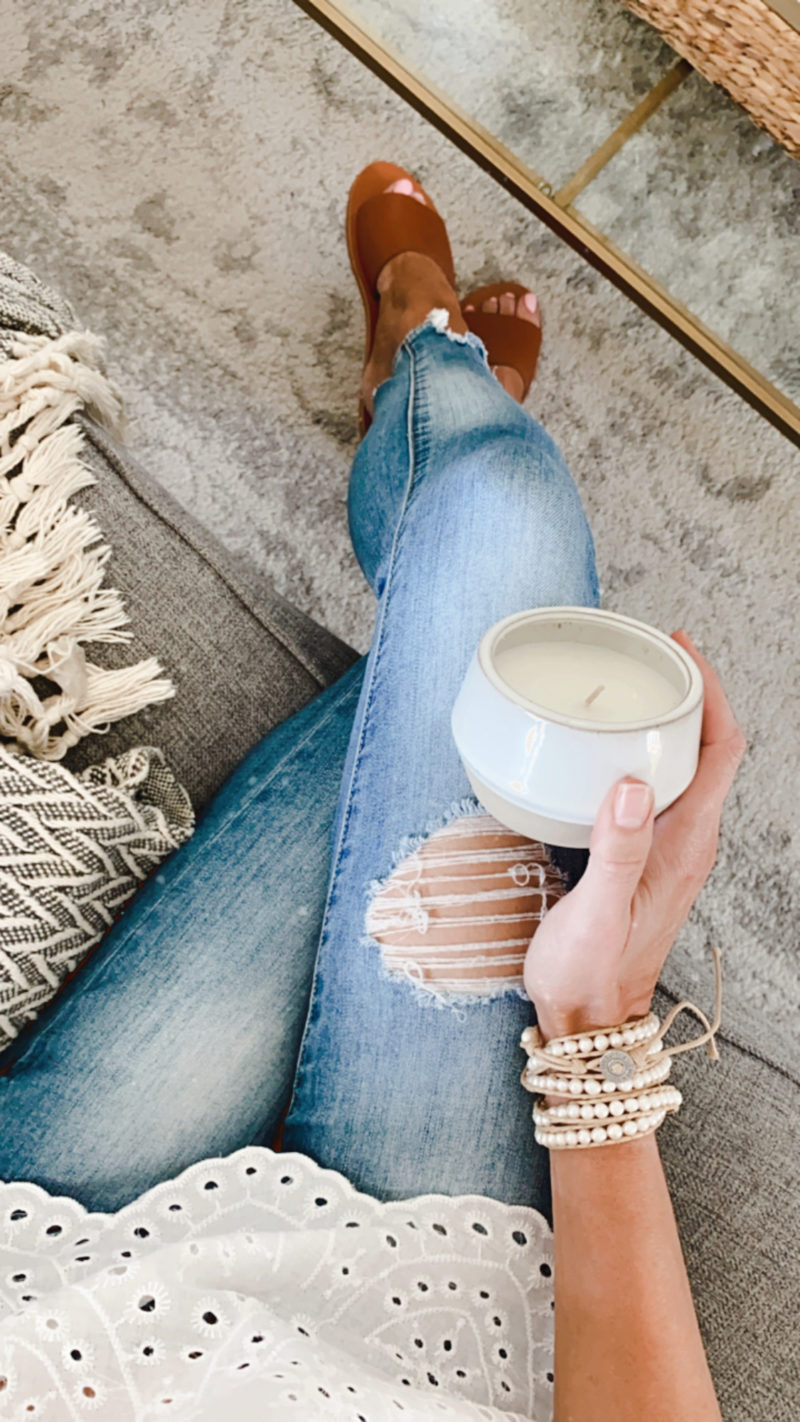 lace top | bracelet | candle | sandals | similar jeans
This candle arrived and you it smells incredible. It's under $10 and such a great gift idea if you have a friend or mama who needs a pick me up. In fact I may order a couple to have on hand. I am not a fan of a sweet smelling candle which is why I LOVE this one. It comes in larger sizes, too. Just an FYI if you need a new idea for friends or family. I will say that a clean kitchen (which rarely happens) and a good smelling candle help brighten my mood these days.
In current event, we were so saddened to wake up to the news about Tennessee and Louisiana. Amidst all that is happening in our world, to lose a home and be in a shelter right now is overwhelming. Please stay safe, everyone.
HAVE A GOOD WEEK
Wishing you all a smooth week. I know it's a lot with so many of you working from home and balancing young children and their school work. I keep reminding myself that maintaining a happy household is much more important than checking everything off the list. After all, it's a marathon not a sprint.