Good morning. Raise your hand if you danced your way through the Super Bowl halftime show. I'll admit I did. Loved every second of hearing that music and all of the memories that came flooding back. Also ate far too much but it was a great evening. And Happy Valentine's Day on this lovely Monday morning. Do you all celebrate? For us it's definitely more about the kids.
OUR VALENTINE TABLE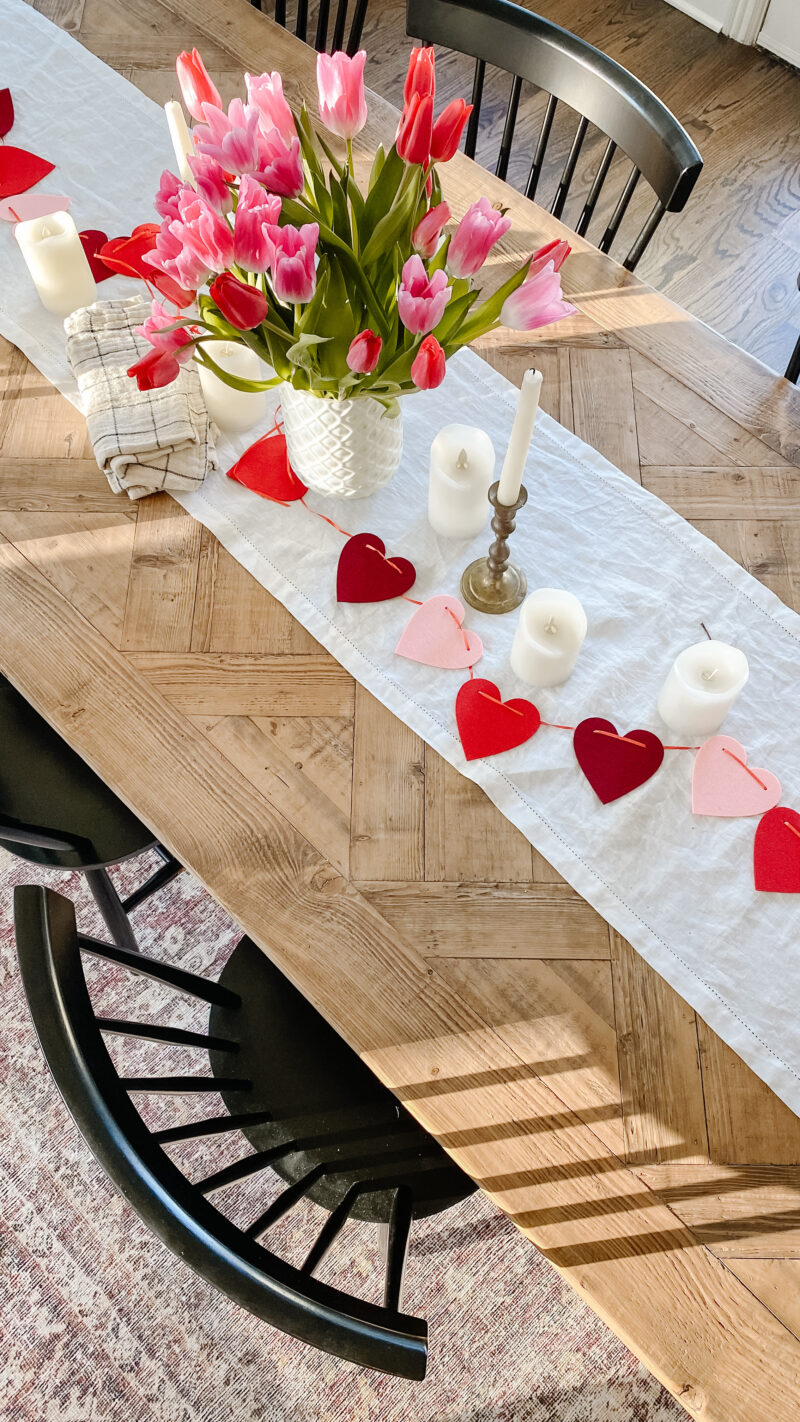 chairs | rug | heart banner | flameless candles
My mom always decorated our table for every holiday and I am trying to carry on that tradition. She was the queen of all things holiday. My husband surprised me with these beautiful tulips and I used the heart banner I ordered from Amazon last year. We also write out encouraging messages to the kids on hearts and scatter them on the table so they see them in the morning. Do you have any special traditions on this day?
*The flameless candles we love are currently on sale.
TARGET STROLL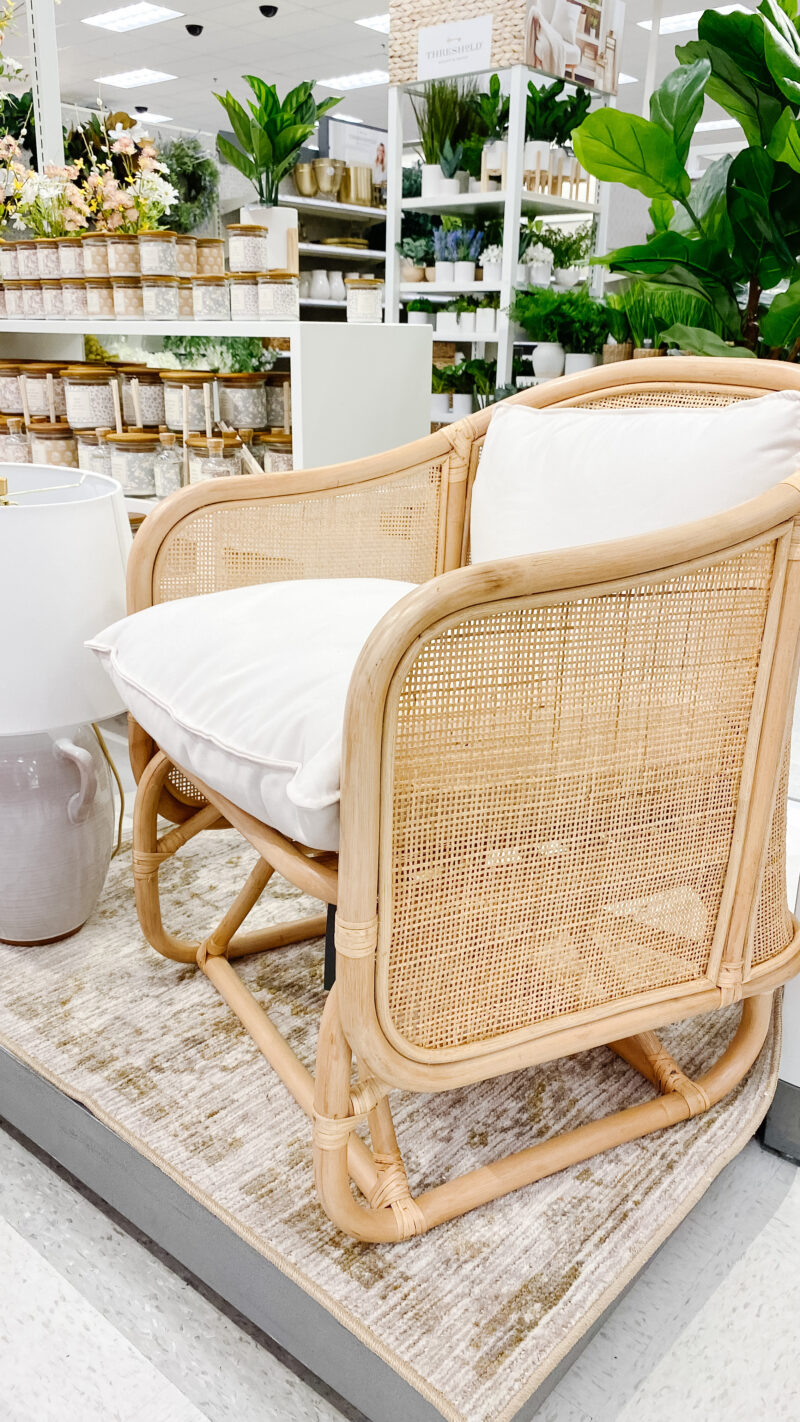 Calling all moms. If you still have young children, please enjoy the fact that Target is your one stop shop. I actually went to pick something little up for the kids and came away with nothing. Teens are a whole new ballgame. I miss the days of strolling the $1 section and easily finding something they would like. But it was fun looking at all of the decor. I thought these chairs were really pretty. When you are looking at furniture with Target, just know that the scale tends to be slightly smaller which is perfect for cozy spaces or bedrooms. I always recommend looking carefully at the measurements.
PASTEL PILLOWS
This section of pillows was so beautiful. Nothing like a few pastel colors to usher in Spring. And so many great patterns to mix and match.
PRETTY LITTLE LAMP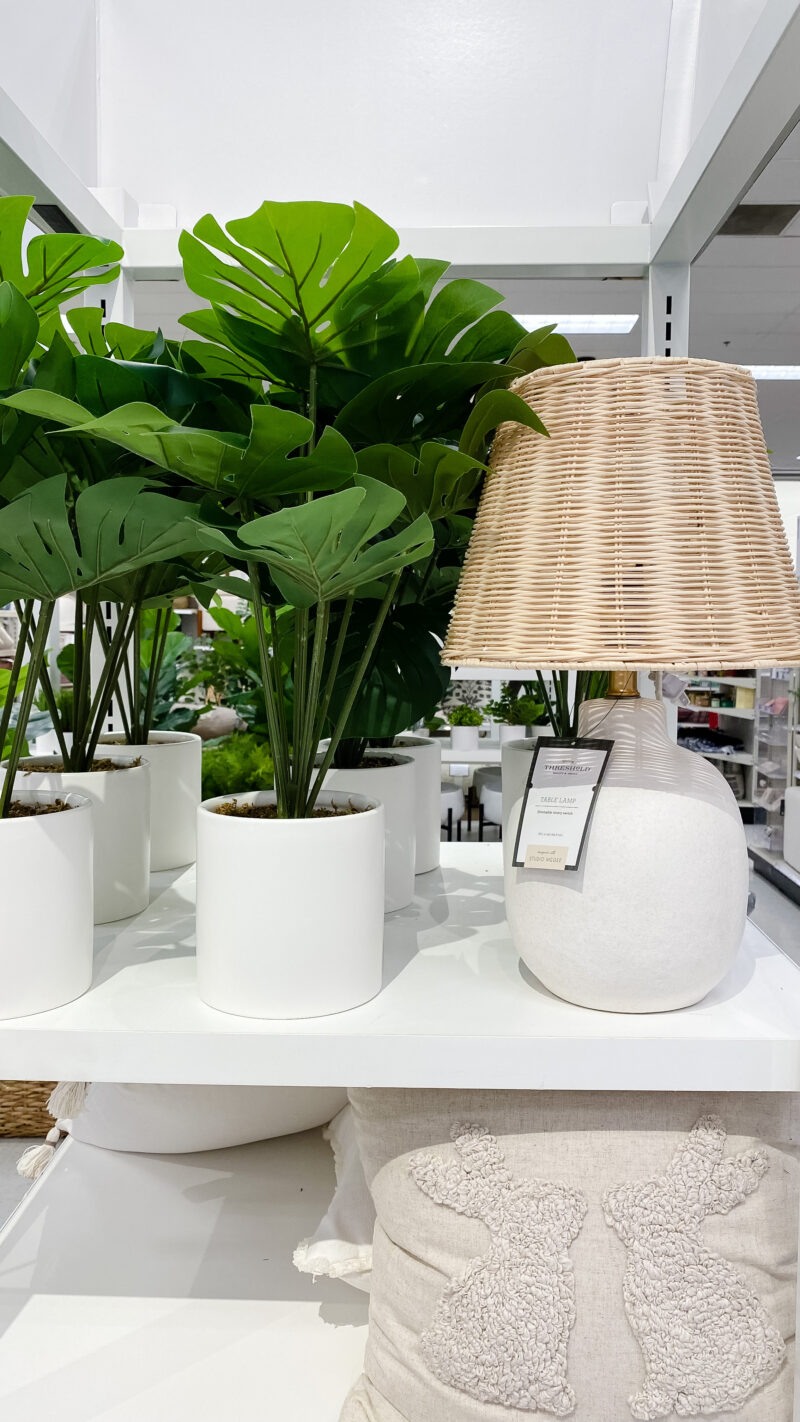 Lastly, this lamp is a keeper. It adds texture to a space and is really pretty. If you have room on a counter, this type of lamp always looks lovely.
DATE EVENING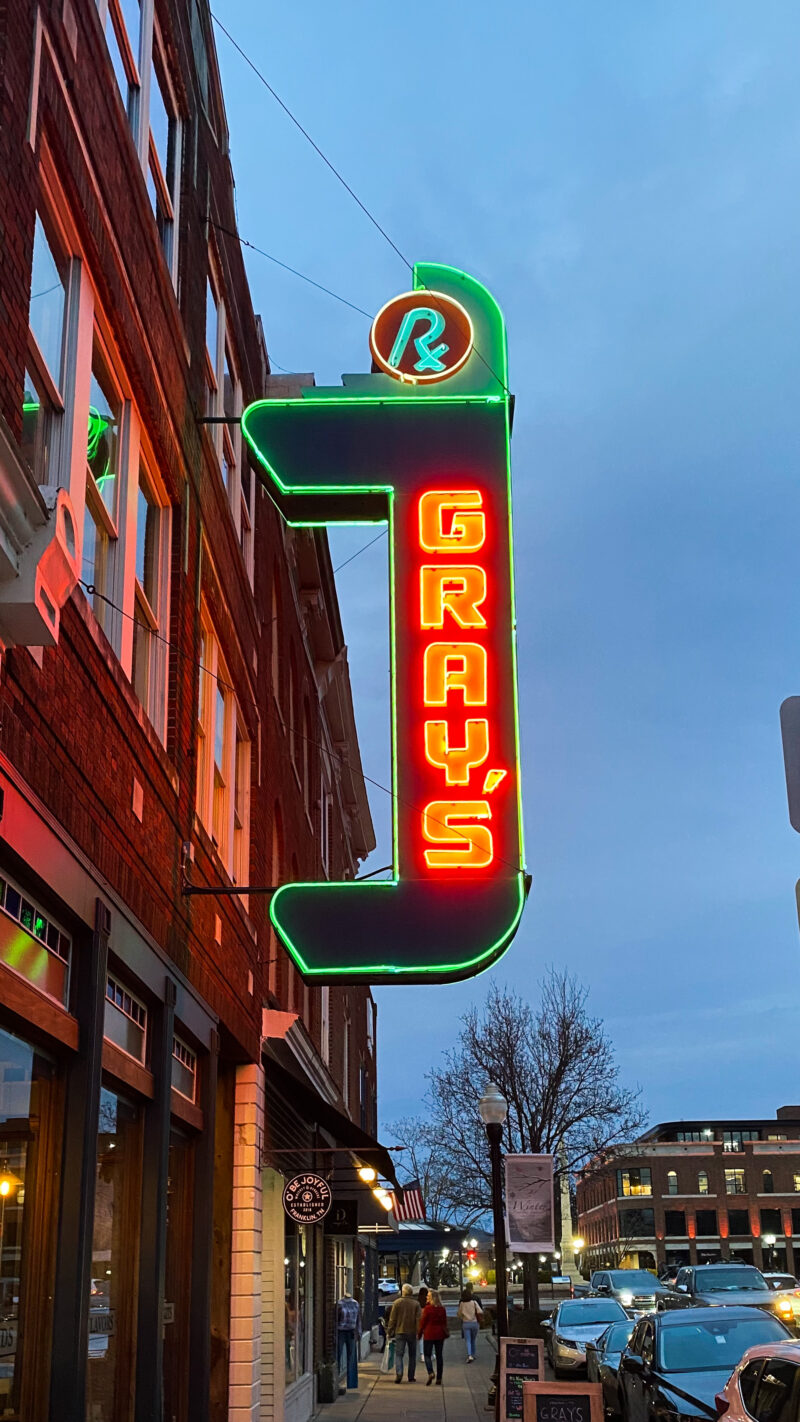 By now you know we prioritize our date nights but lately they are more like date-days or date-evenings. It just works better with sports and all the things. Downtown Franklin is always one of our favorite spots. Grays is great for live music but it doesn't start until 9:00 PM. That's late for this girl.
CORK & COW
Cork & Cow is one of our favorites. We love to grab a drink and appetizers in the bar area. I ducked into the dining room to snap this before it opened. So much character an I love that green wall.
I am often asked about places to go when visiting so I will be putting together a post shortly. I hope it's helpful. If you have anything you want me to include, feel free to ask in the comments below.
SECRET WEAPON FOR VEGGIES
We've been using our air fryer non-stop for veggies. I was never a cauliflower fan until recently. Now I can't get enough. Here is a very simple recipe and when I make it, it disappears instantly.
Spray the cauliflower with avocado oil and give it a very generous shake of the Primal Palate Barbecue Rub (this is AMAZING on veggies). Pop it in the air fryer (around 380 degrees) for 8-9 minutes. I like to check it occasionally and shake the basket. It may need a couple more minutes. So yummy!
DISCOUNT CODE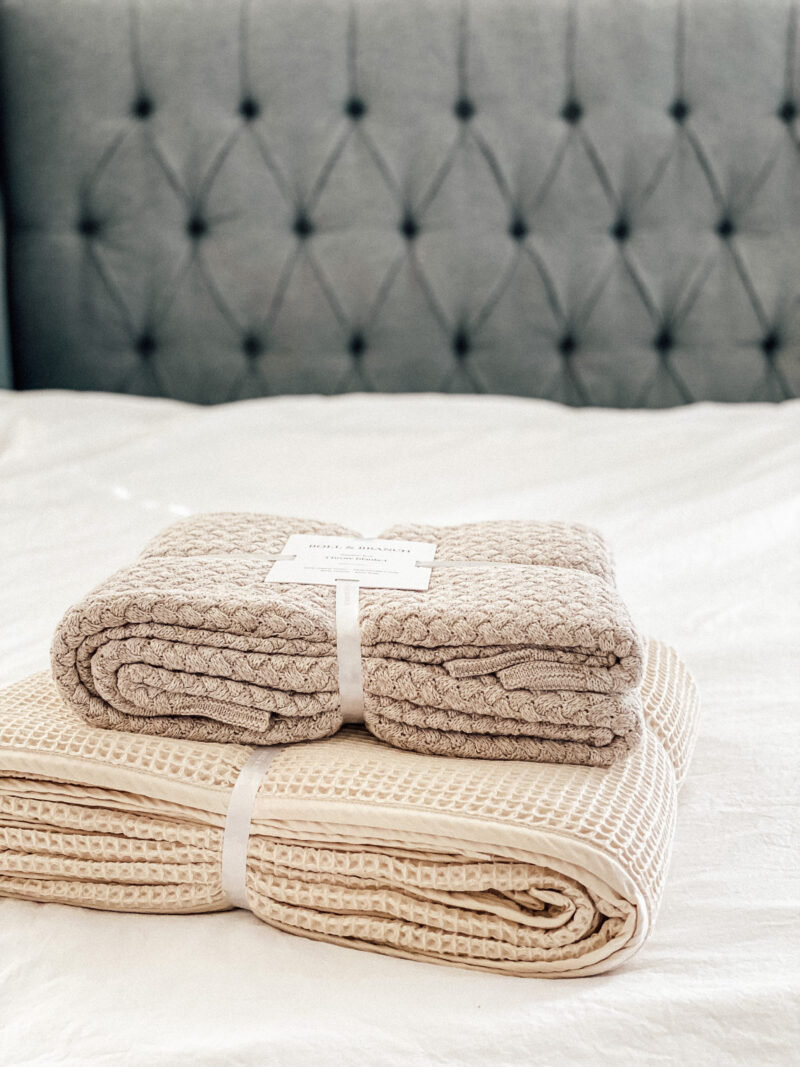 We just upgraded our bedding and I am in love with both of these blankets. Investing in quality bedding is something I feel good about. These are 100% organic and toxin free. I love the idea of adding to the collection over time. Plus these are meant to last and get softer with every wash. The waffle blanket (natural) is what we have on our bed and even my husband loves it. The sweater knit throw is really soft and cozy. If you are looking at adding Boll & Branch sheets or blankets to your bed, the code: THOUGHTFUL15 will give you 15% off your order for the rest of the month.
What is most shocking to me is that we are half way through February. How is that even possible? Wishing you a great start to your week. And in case you missed it, you can find this week's Saturday Shopping post here.