Good morning. How was your weekend? Ours was really good but a bit of a blur. Our moving truck arrived on Friday which was such a pleasant surprise. There had been talk of it coming later in the month so we were beyond thankful to see it roll up. I think the humidity level was off the charts for the poor guys who carried everything off of that trailer that day. It's safe to say the next 48 hours involved unpacking and more unpacking. We did sprinkle in a few fun breaks, but overall it's been nice settling in, and having a sofa to sit on has been a complete game changer.
THE MOVING TRUCK ARRIVED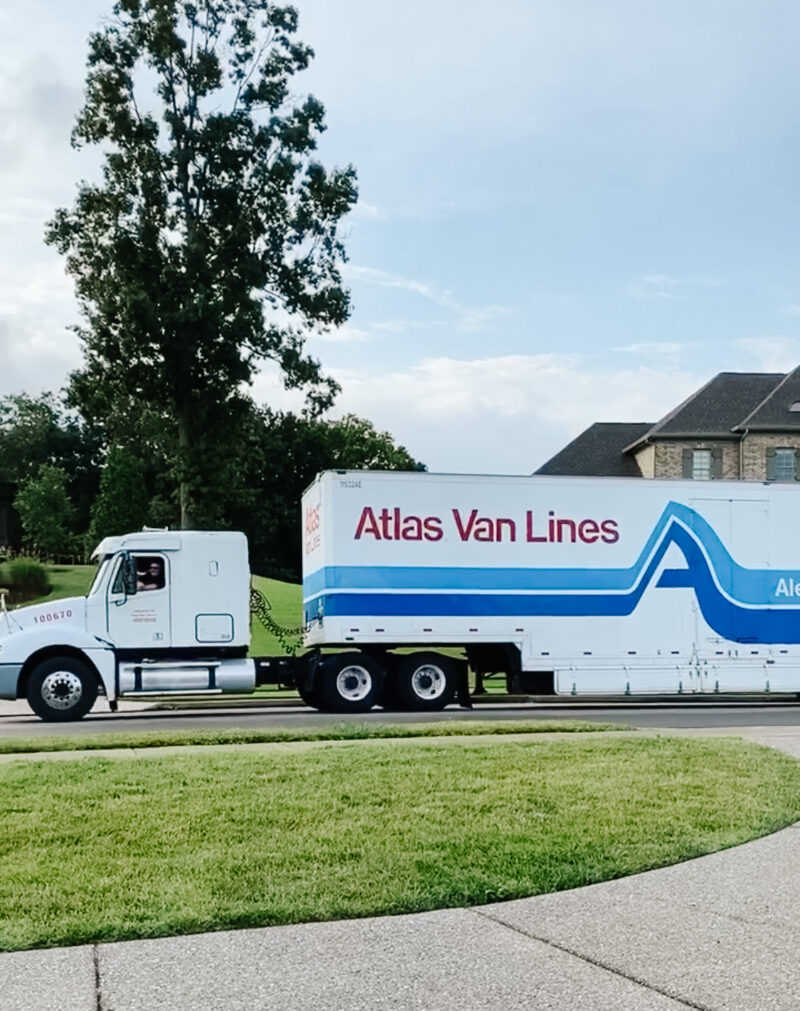 This guy must have thought I was nuts because I was videoing him driving down our street and waving. He actually had a huge smile and waved right back. I think he must feel like a celebrity because most people are so happy to see him drive up to their homes. While we created really great memories camping out in our house, I wanted the kids to feel settled with our things and this was a big step in the cross country move. And don't worry, that truck wasn't entirely ours. It was two shipments in one truck. We kept handing the crew frozen waters because the humidity was intense. It had been gorgeous all week so that was quite a bummer. They worked so hard and we were so very grateful. Now it's our turn to unpack. Let the fun begin!
OUR CURRENT HIDEOUT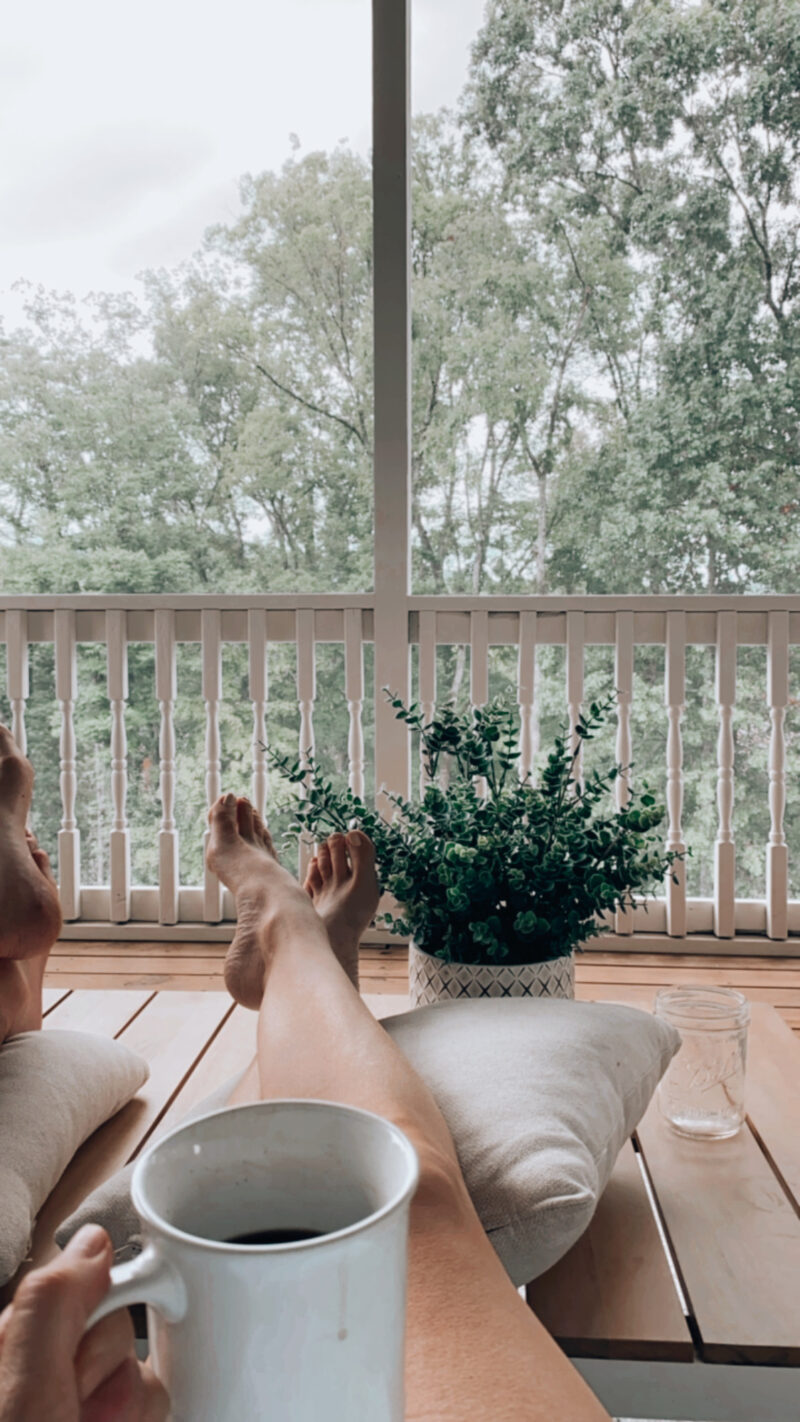 One of the first spots to be setup is this screened in porch. It reminds us so much of the porch we loved in our previous home. This is definitely giving us so much peace amidst the chaos. You'll find me here every morning listening to the birds and avoiding the mess.
THE REALITY OF THINGS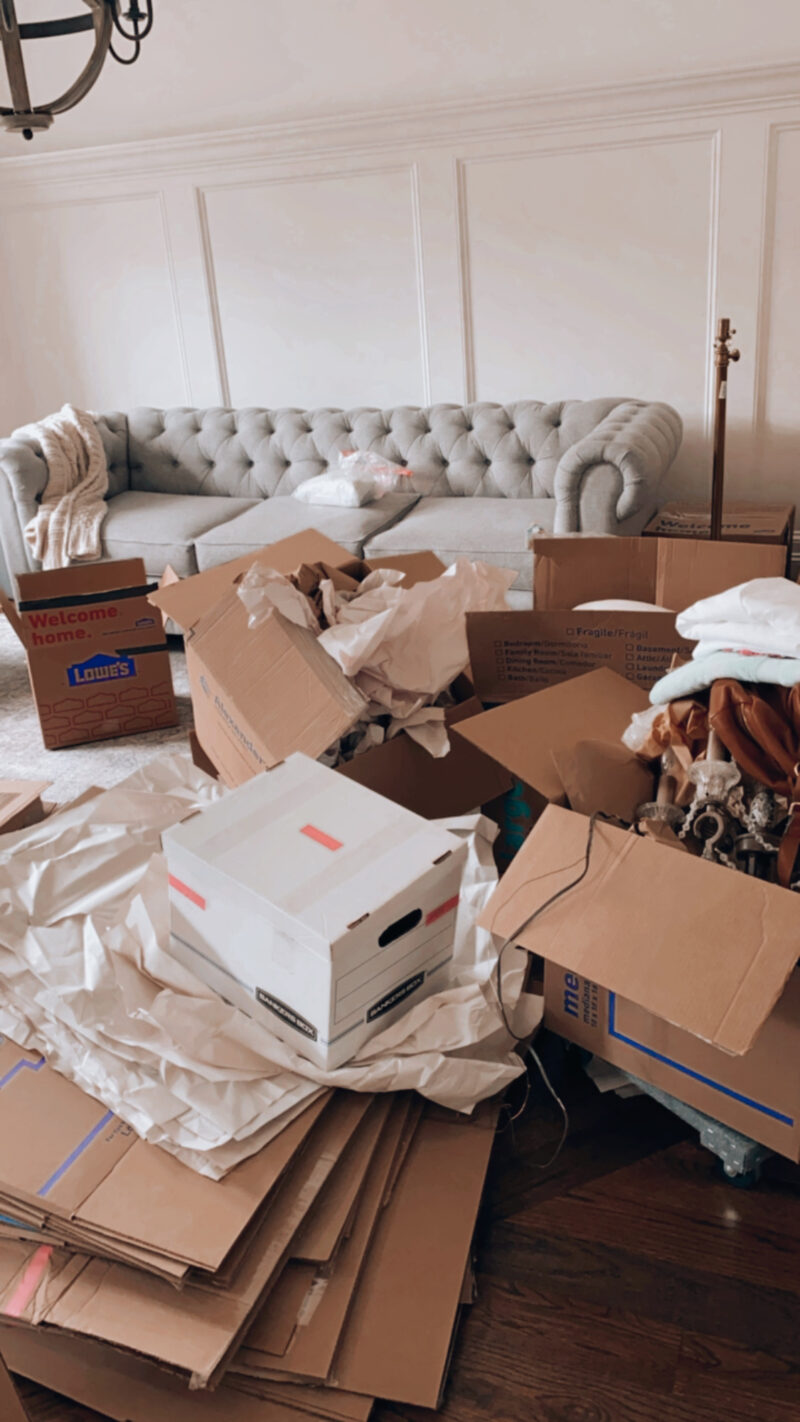 Here is the mess I speak of. Most of the house looks like this right now. It's so funny because even if you unpack, the flattened boxes and paper still create such a mess. My daughter and I worked the entire day the crew was here to unpack the kitchen. As they brought in a box, we unpacked a box. While tiring, it was great to have a kitchen setup by the end of the night. Most of it was just out on the counters until I figured out where it should all go, but it was much better than a wall of boxes piled high. Oh, and for anyone moving, the colored tape system was a dream. The crew would unload and stack boxes according to color and then bring them to the correct spot. So efficient.
SARA SELLS IN COLLEGE GROVE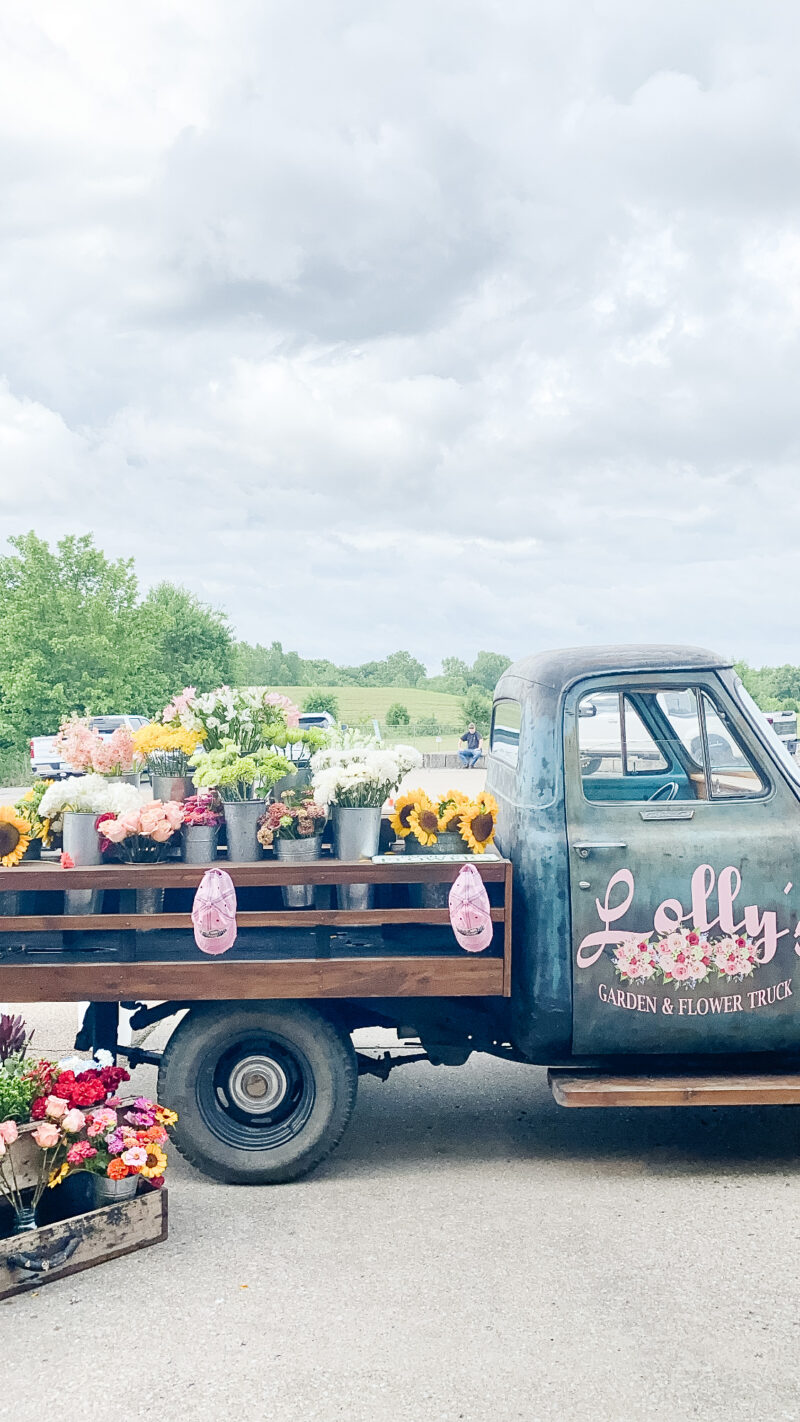 If you live in this area, you may have heard of Sara Sells. It's essentially a warehouse that opens once a month with really great quality home furnishings. The prices are great and the selection is actually really good. The perk is that you can actually pick up your piece immediately rather than wait months and months. People get up at 5:30 am to get in line. Considering we were EXHAUSTED from the move in day we decided to go around 8:00 (when it opens) and just check it out so we would know for next time. If you need a dining table, sofa, sectional, chairs or decorative pieces I highly recommend it. We didn't come home with anything as I had very specific things in mind but it's worth checking out. Lolly's was right outside selling beautiful fresh flowers. The day was gorgeous, too with a nice breeze and cooler temps.
LOKALES JUICE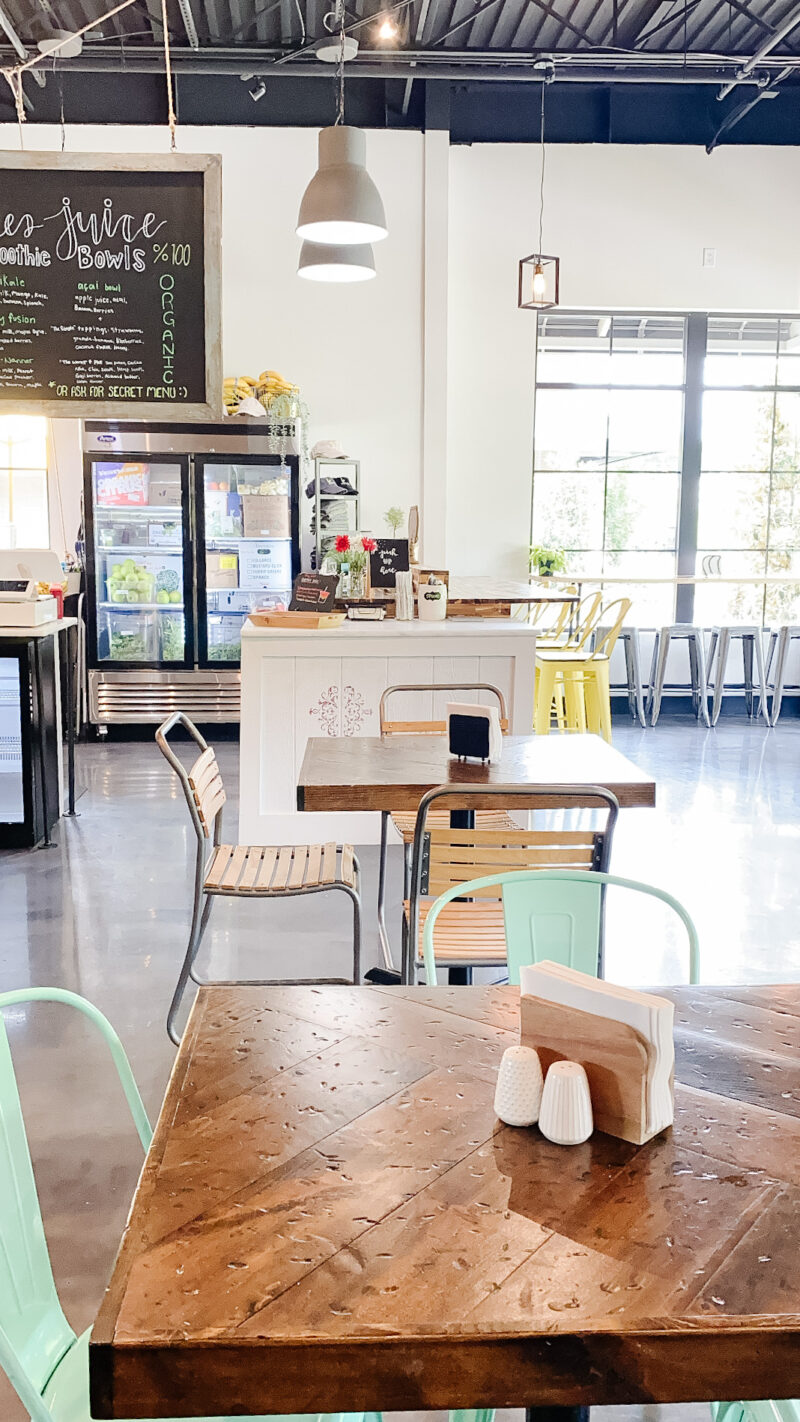 After that my husband and I hit up a spot in Nolensville for coffee and breakfast. It's a darling spot with a general store and a juice bar as well. The kids were more than happy to see us walk in the door with açai bowls for them.
CORNELL BROTHERS COFFEE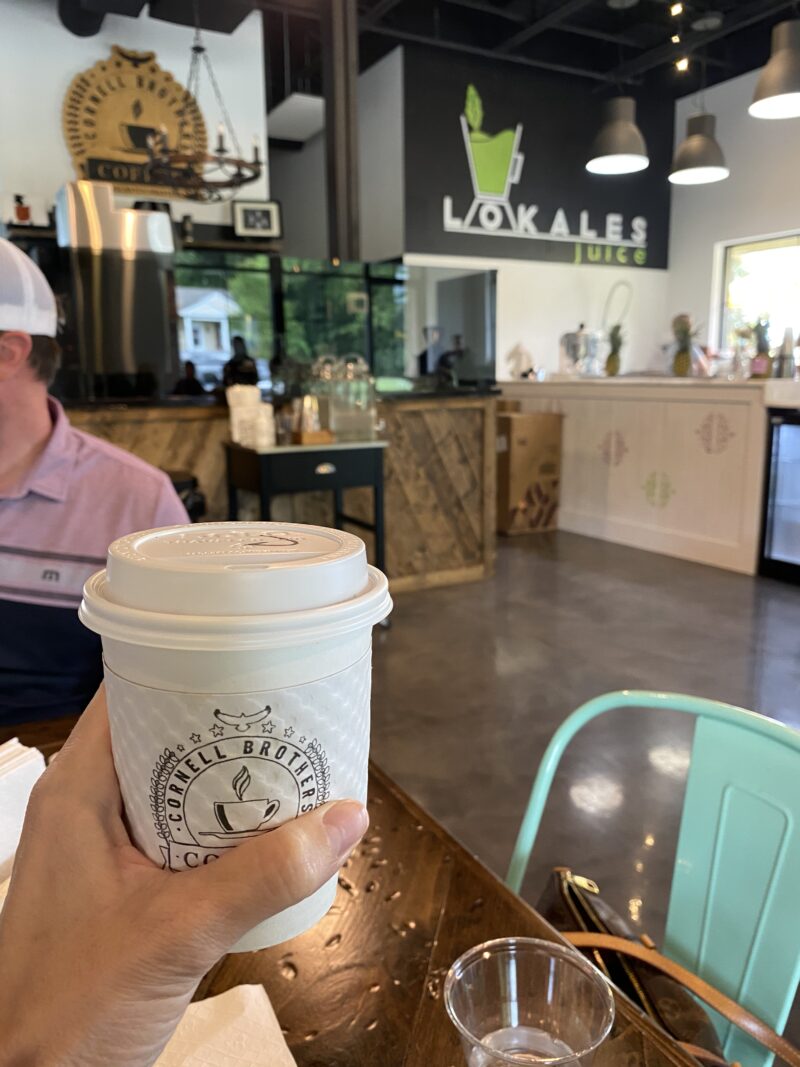 Coffee and avocado toast was just what I needed. It was a nice morning and we were ready to jump back into unpacking.
RH CAFE AND FRIENDSHIP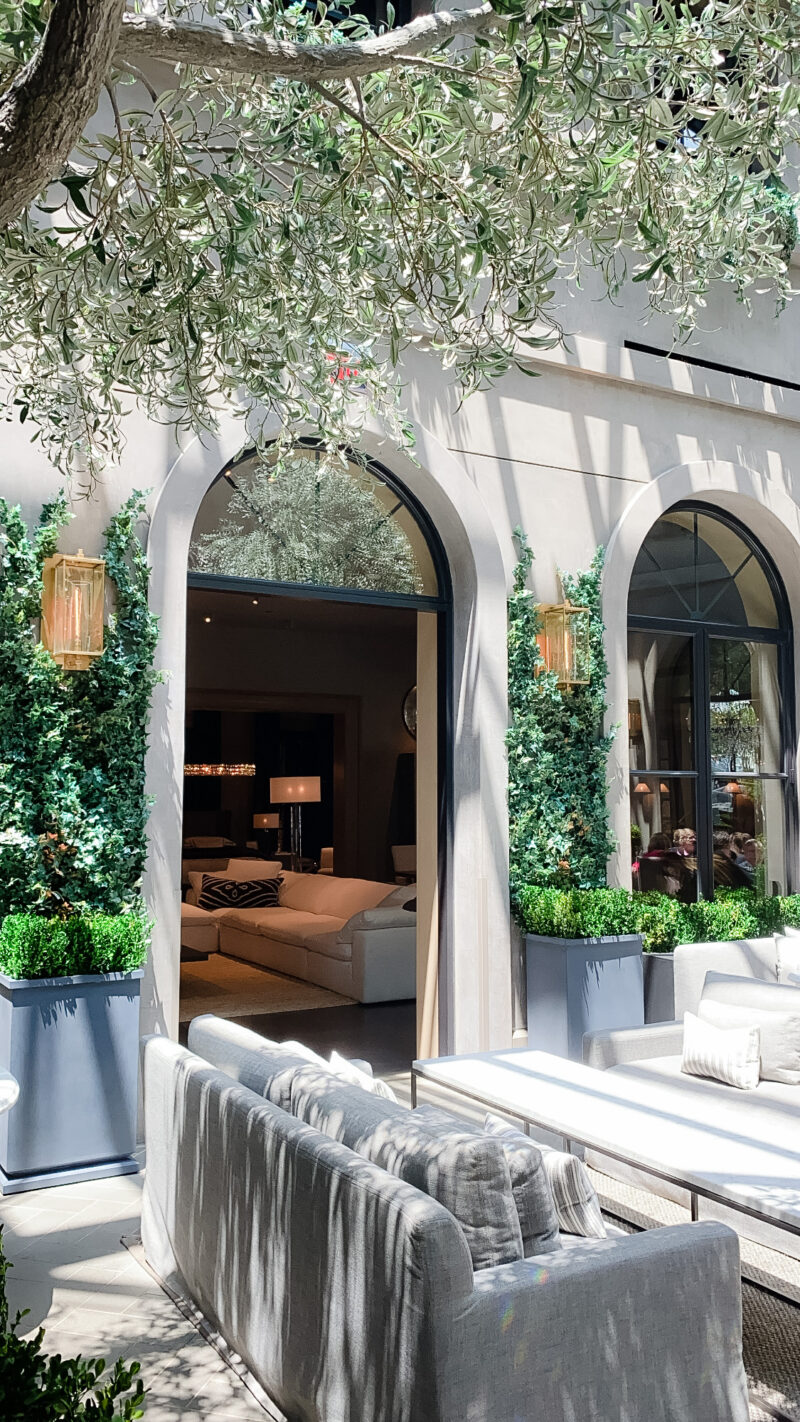 I had never been to a Restoration Hardware Cafe before. Wow! Truly beautiful. Not only is the food fantastic, but the ambiance is gorgeous. Definitely make a reservation but they also have a walk up wine bar. I met up with two friends who also live in the area and we talked all things design and home. So much fun.
As it turns out I popped in a second time to meet someone really special. Jill and I met through the blog years ago and she was so supportive throughout the Alzheimer's journey with my mom. She had experienced her own type of loss and from that our friendship grew. It was really wonderful to meet in person. She was visiting her sister, who lives in Nashville, so I was inundating her with questions about all the things. Turns out we even know the same people through the hockey world. Such great girls and I feel fortunate to know them both.
GREAT AMAZON BUY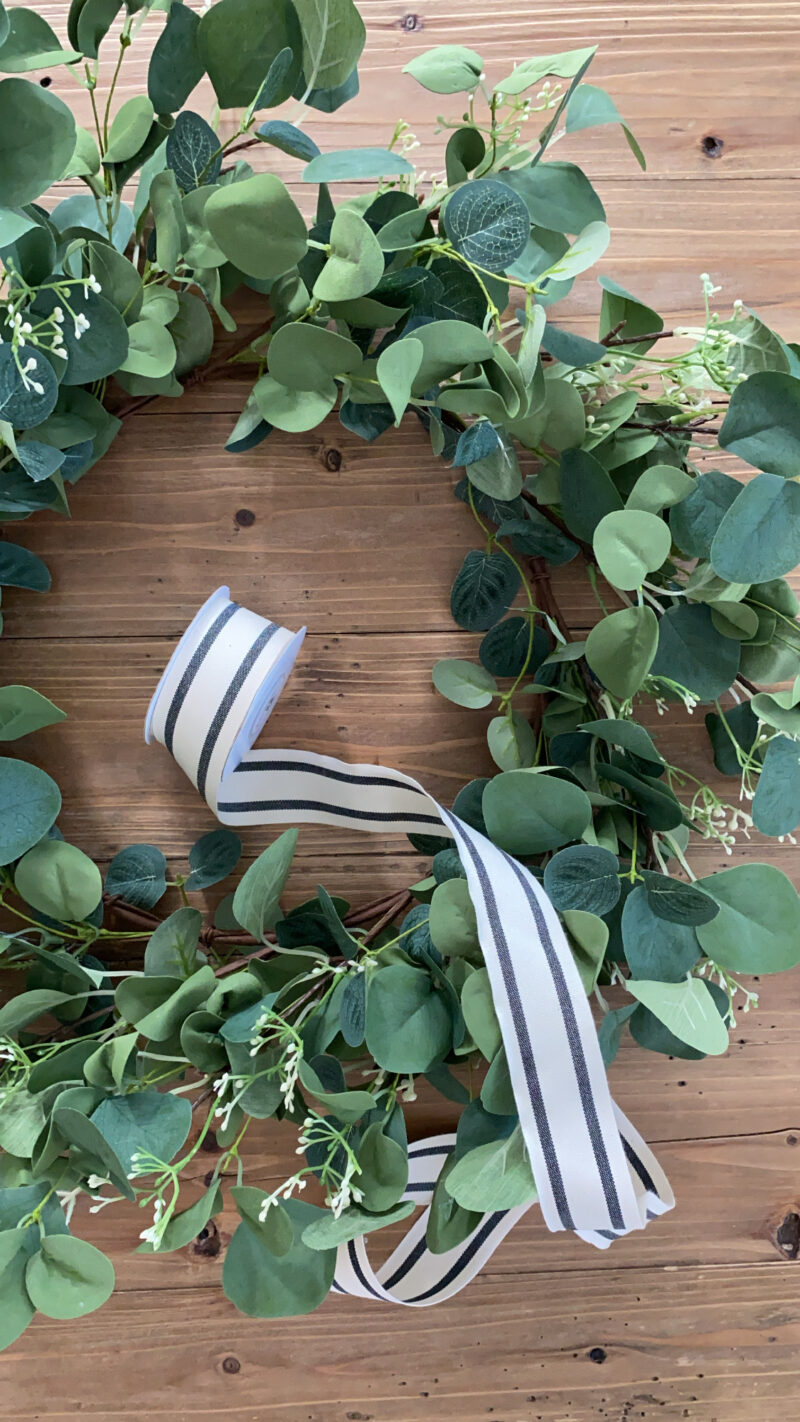 These are the wreaths I ordered for our front door. Still haven't hung them but that is on today's list. I love them and the ribbon is beautiful. Just a heads up that when they arrive, the box is quite small. Don't let that panic you. At first I thought they had sent me the wrong wreath. But you just need to give it a good fluff and all is well. Such a good price and that ribbon is my favorite. I ordered the widest version.
FAMILY MOVIE NIGHT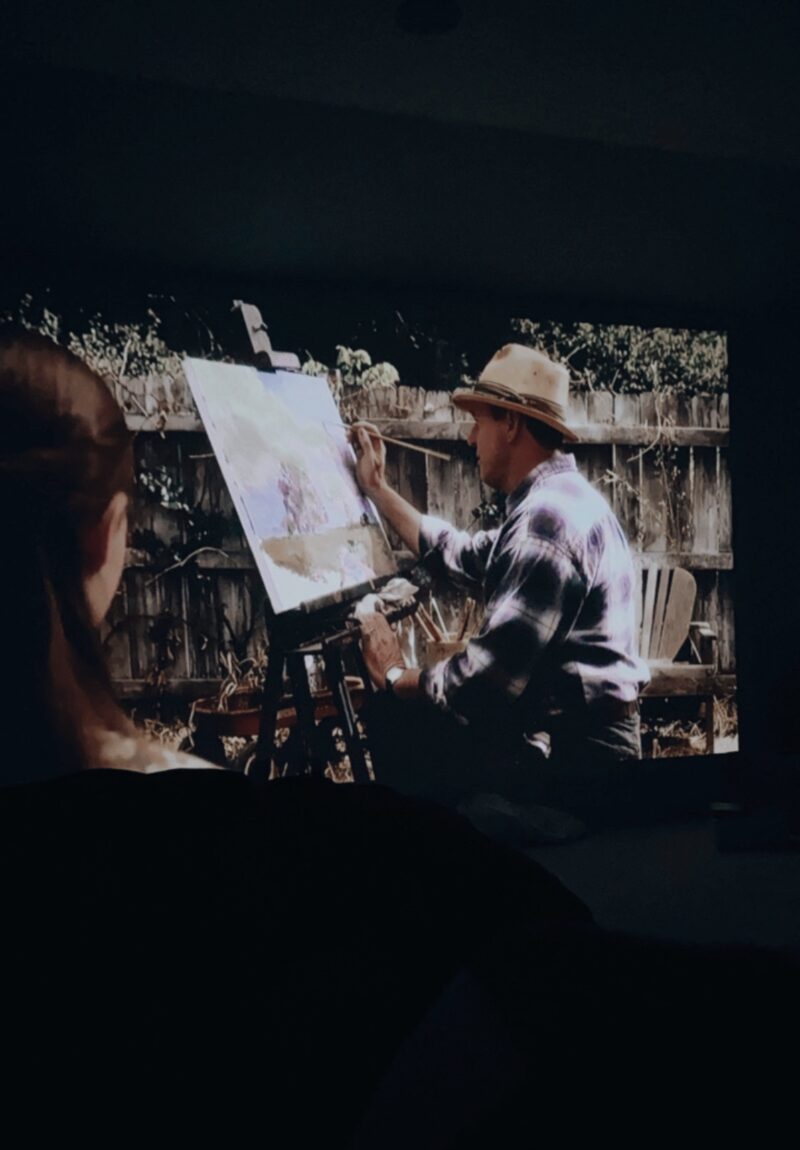 We capped the weekend with homemade soup and family movie night. Unpacking can be boring, to say the least, so coming back together as a family each night to relax and exhale has been paramount for us. Last night we started a movie called Flipped and it's adorable. We will finish it tonight. Still using the projector we brought the very first night we slept here.
NORDSTROM SALE
In other news, I am sure you heard the Nordstrom sale kicks off today. This has been a fun part of my blogging life for years and I loved getting up super early to hit the store and try things on to share. I still plan to head over to Nordstrom, but going amidst the boxes and when my family needed me the most didn't quite fit the picture this year. I will say that I alway snag a few pieces that remain my favorites and I keep long term. Most of us can't shop until later, but here are a couple that always go quickly and would be good to favorite.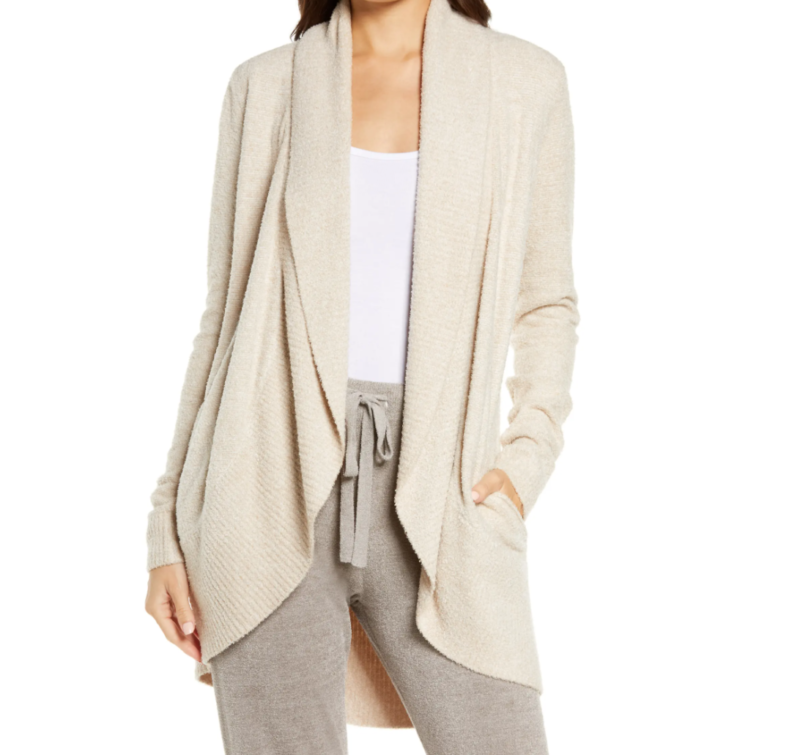 I wear this cardigan all the time. It washes well and is worth the money. During the sale it is $70 instead of $116.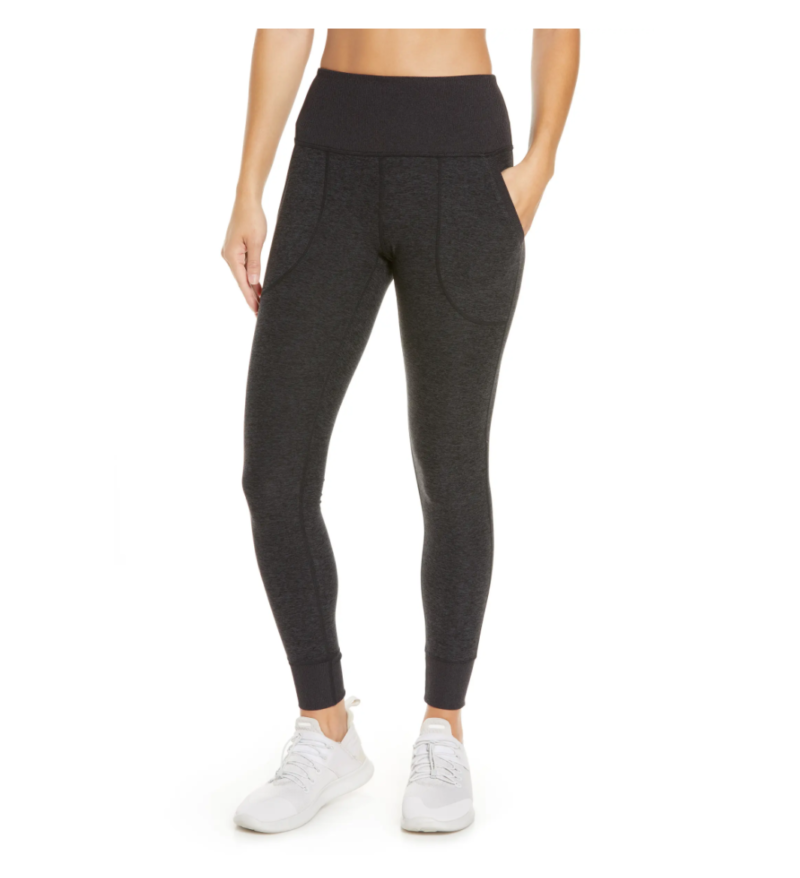 I have these leggings and love them. They are $40 instead of $60 during the sale. Super soft and cute.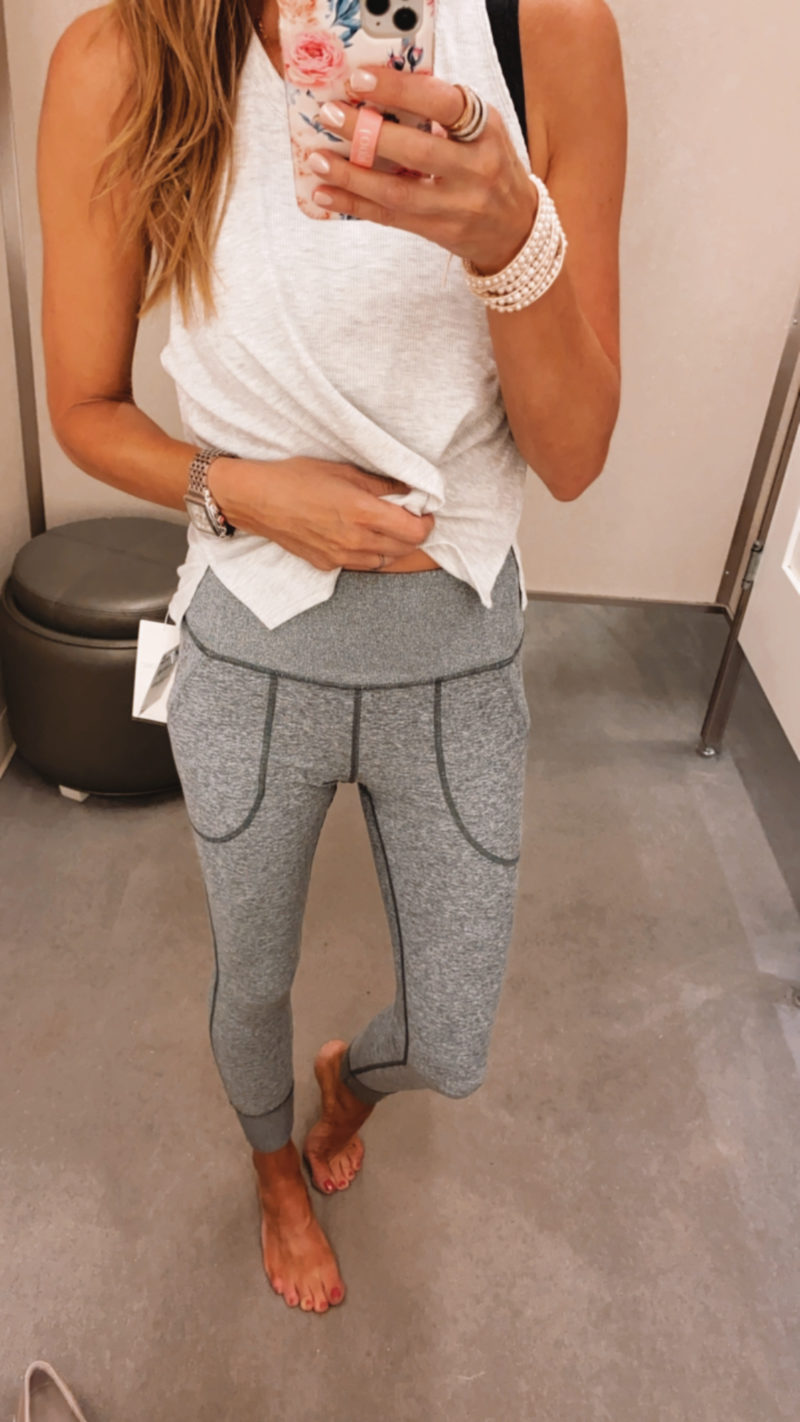 Here they are in grey.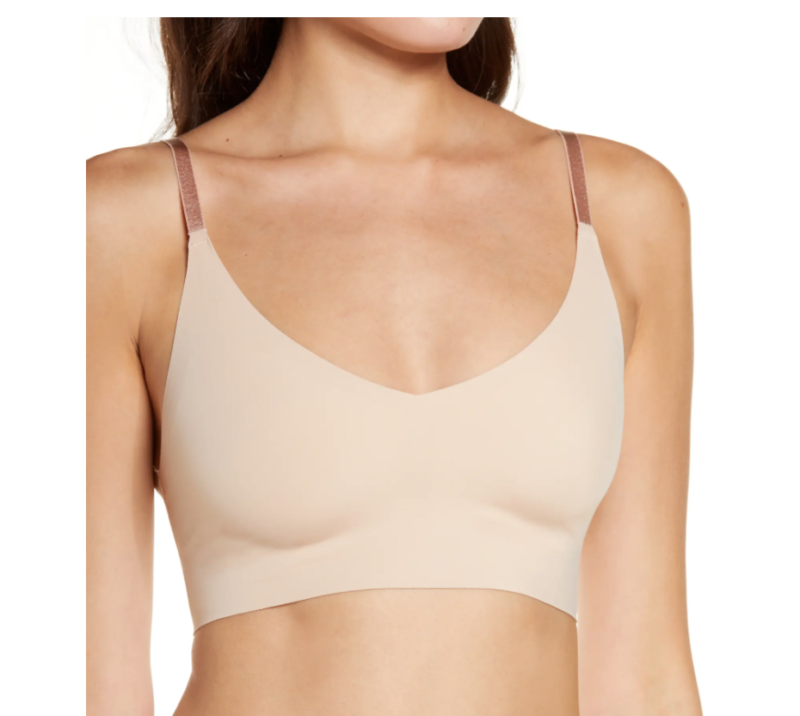 Grab this. I can't recommend this enough. It's the only bra wear now and the price is awesome during the sale. You don't even feel like you are wearing anything. This is an AWESOME strapless bra and it's part of the sale.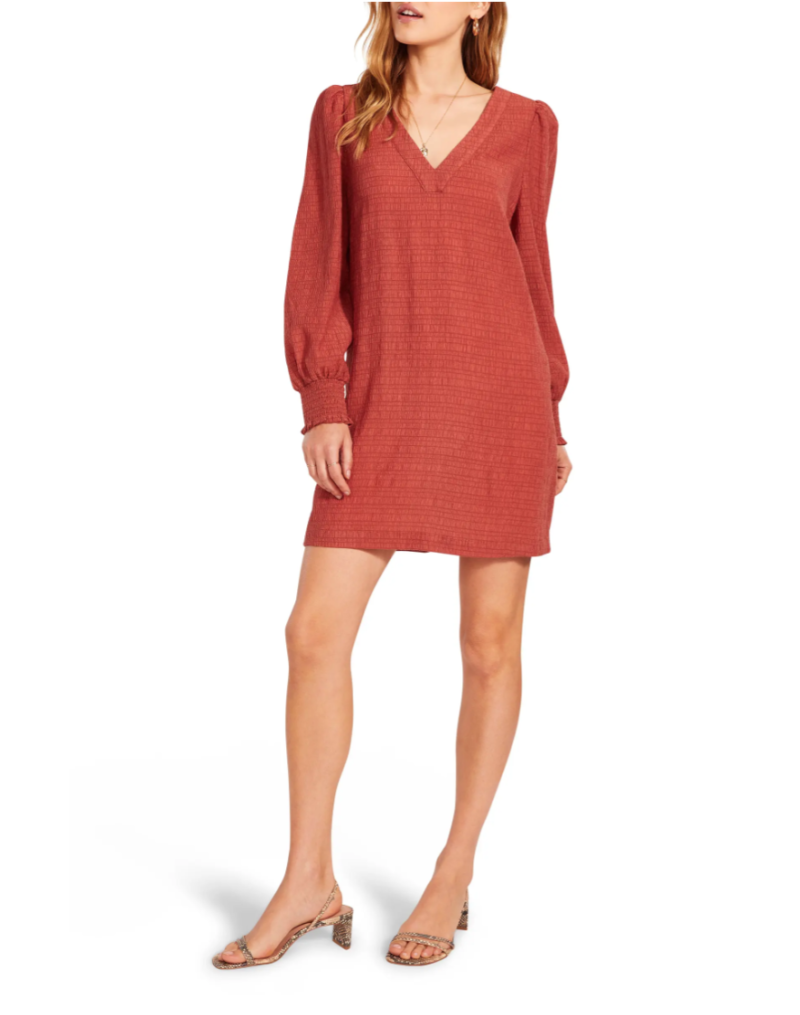 I do always appreciate finding a cute dress at the sale that works well with booties or heels. The cut of this is darling. This one has great potential, too. For booties, I think these are great.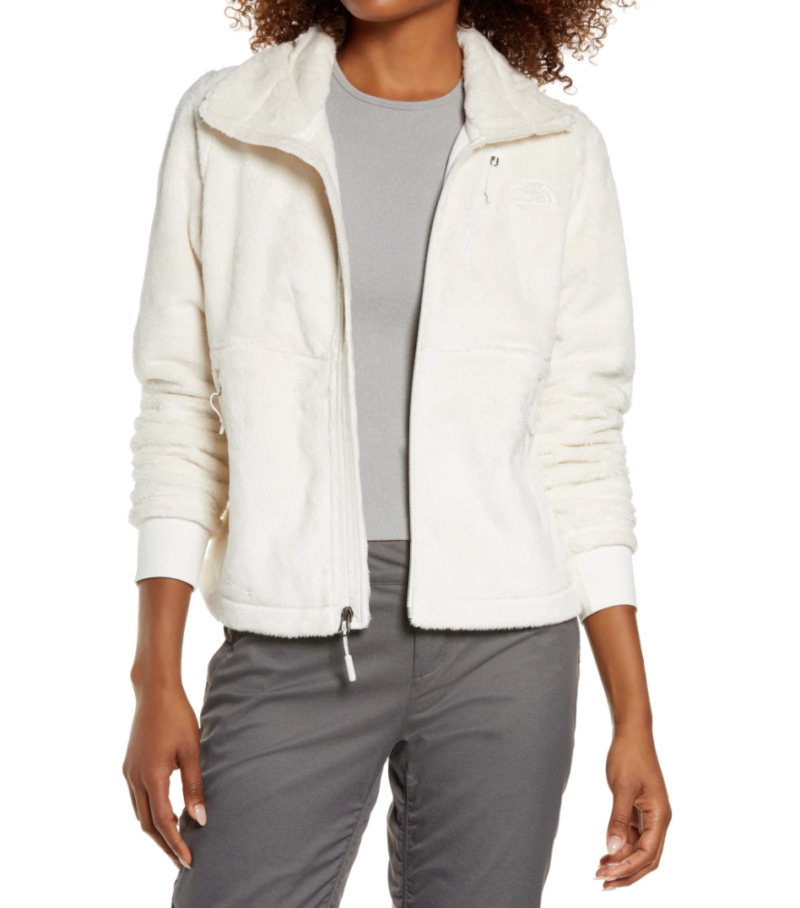 This North Face jacket also caught my eye. I like how flattering the cut in the back is and as a hockey mom I am always checking out the jackets. This one is also really cute.
After years of hitting up the sale, I know these pieces below are what I would try on first.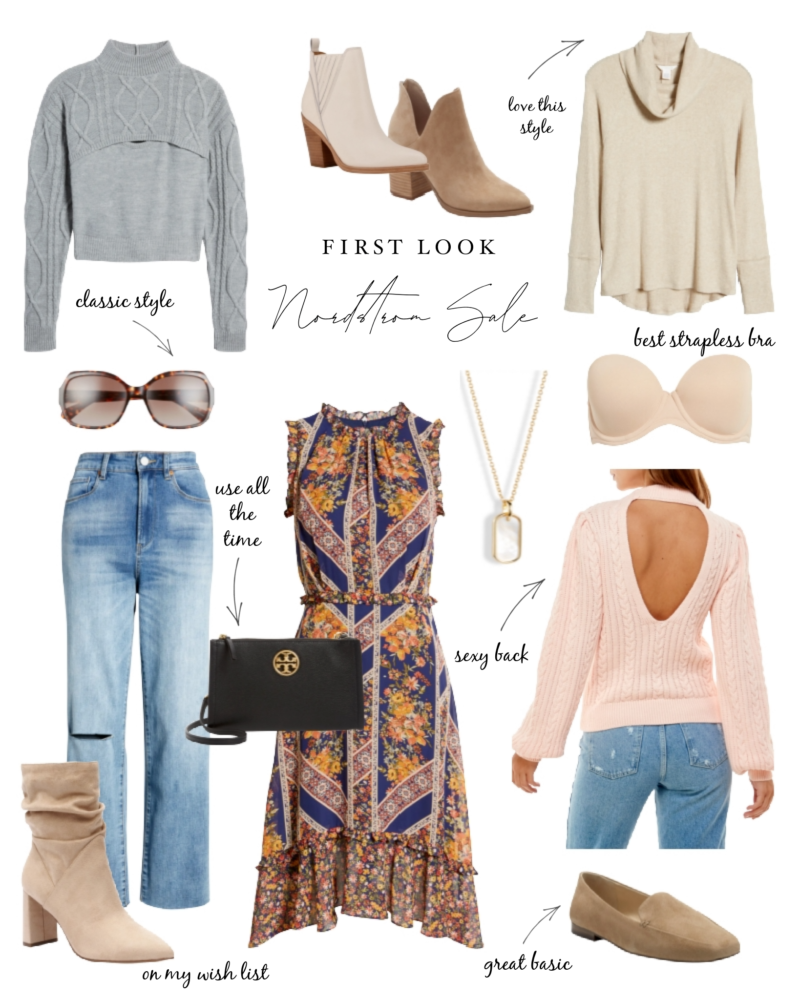 SHOP THESE FINDS

Do you plan to shop the sale this year? Let me know below if you would like me to put together more posts for it. I hope you have a wonderful start to your week. I am hoping to make more progress in the sea of cardboard.