Who is desperate to mix it up in the kitchen lately? Coming up with new and exciting recipes can feel like a full time job. I don't know about you, but I am getting cooking fatigue and crave simple and flavorful meals I can easily prepare for my family this summer. This Simple and Delicious Salsa Verde Chicken Soup will make you one popular chef.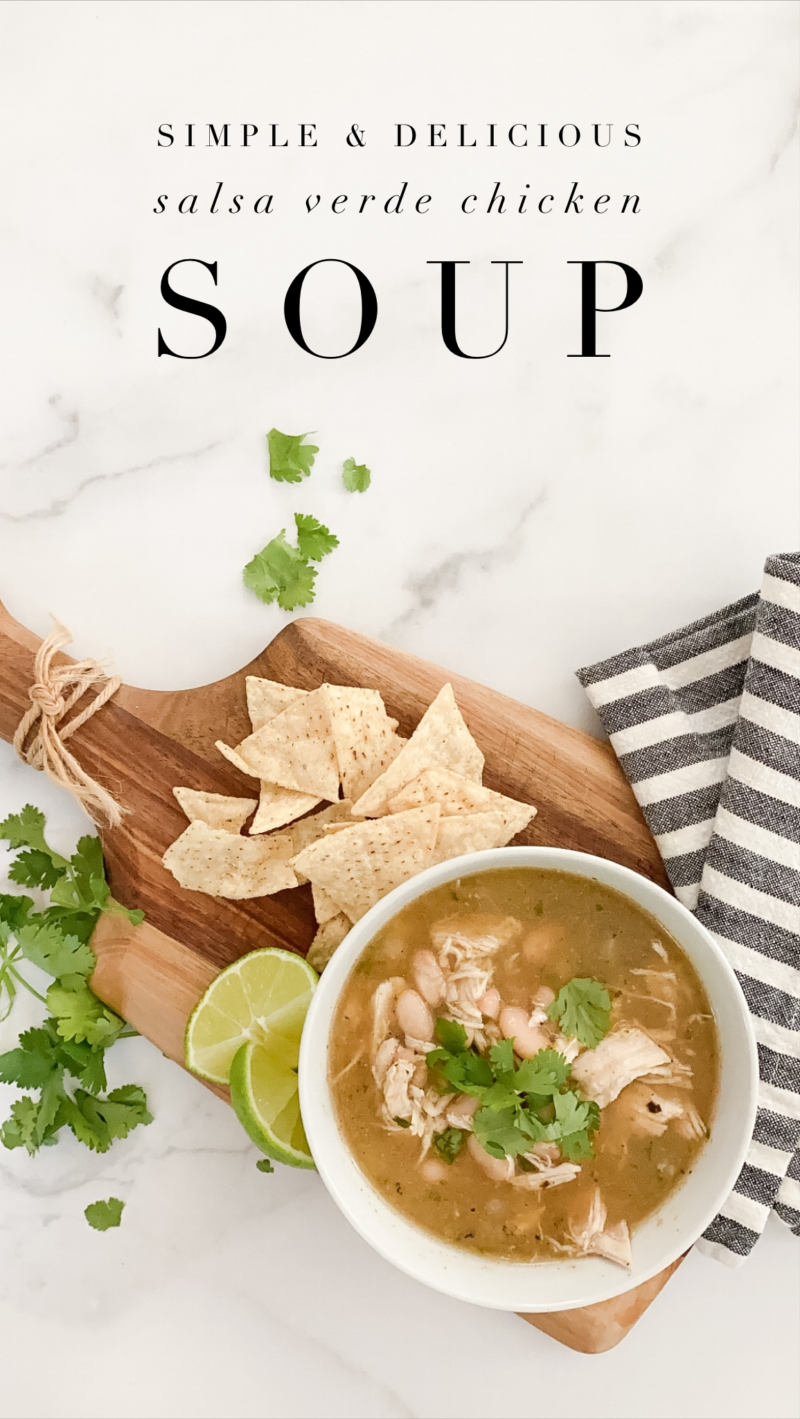 We make another salsa verde soup that the entire family loves but it calls for a lot more ingredients. I threw this together one night using ingredients I had on hand, and it ended up being one of my family's favorite meals. It comes together so quickly. I buy everything I need for it at Trader Joe's but you can find all of things at any grocery store.
You'll need two cans of the beans, two bone broths and two salsa verdes. We use the Tomatillo Salsa you see above. I have gotten in the habit of always picking those things up on my weekly shopping trip. The garlic and spices you most likely have on hand. Grab two chicken breasts and you'll be ready to roll. The nice thing is that this recipe is easy to remember so you can quickly grab everything you need from the grocery store, even in a pinch. I love those recipes that I can commit to memory. They are few and far between.
INSTANT POT CHICKEN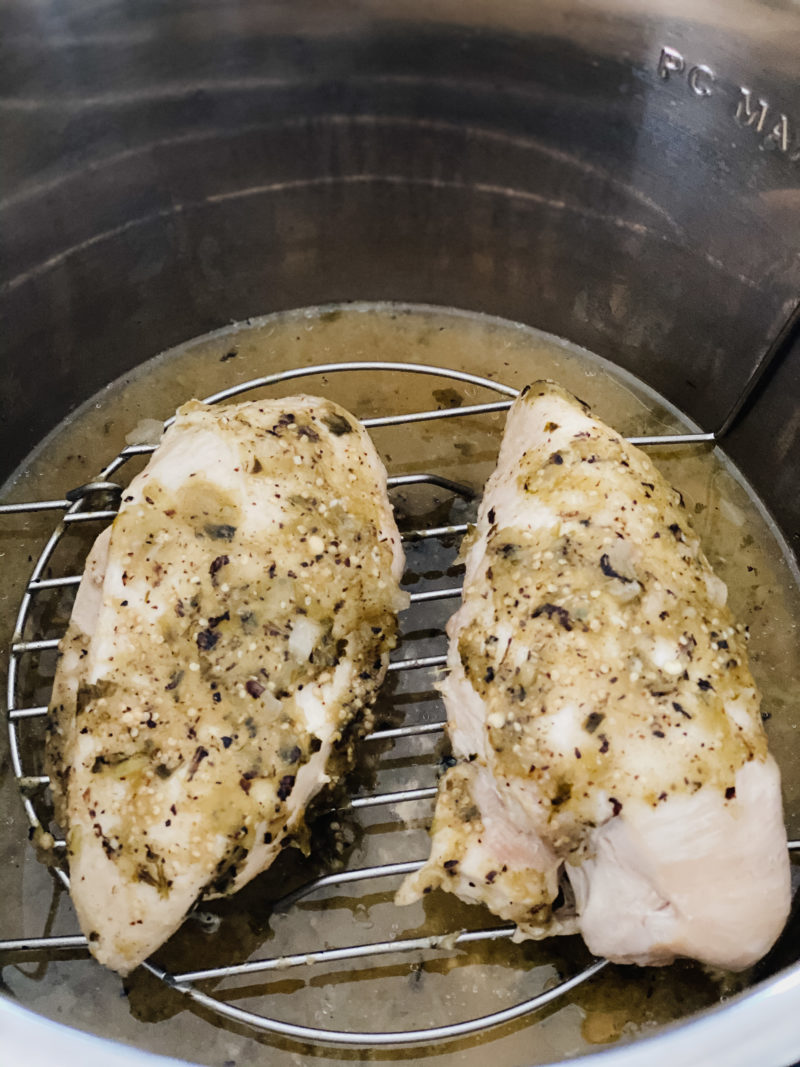 One way to go is with rotisserie chicken. That makes this even easier. You can cook the chicken whichever way you like. I prefer to use my Instant Pot and usually do this in the morning. That way my chicken is ready to toss in the soup come dinner time.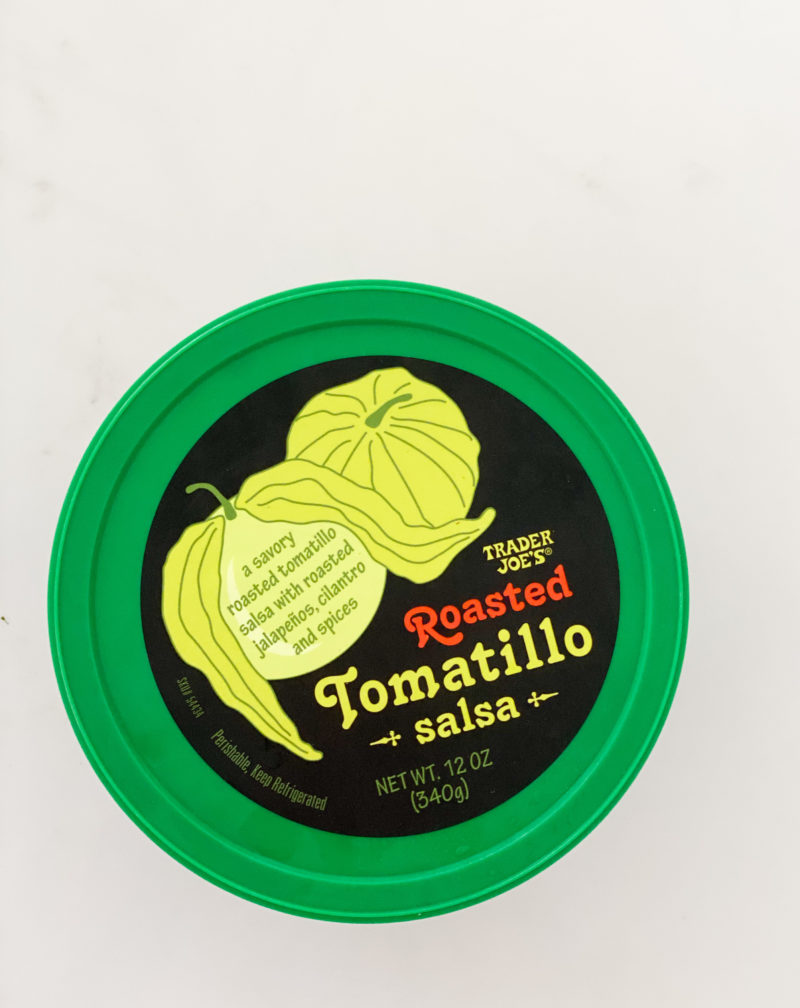 We LOVE this salsa. It's incredible and makes the best chicken tacos, too. If you don't have this, just grab 24 oz of your favorite salsa verde.
I set my metal trivet in the Instant Pot, pour 6 oz of the Roasted Tomatillo Salsa (half of one container) over the top of the chicken and set the Pressure Cook to 10 minutes. Once the 10 minutes is up, I let it rest for 6 minutes. Then I manually release the pressure and remove the lid.
*Lately I have been using the organic 6 pack of chicken thighs from Trader Joe's. So juicy and good.
SHREDDED CHICKEN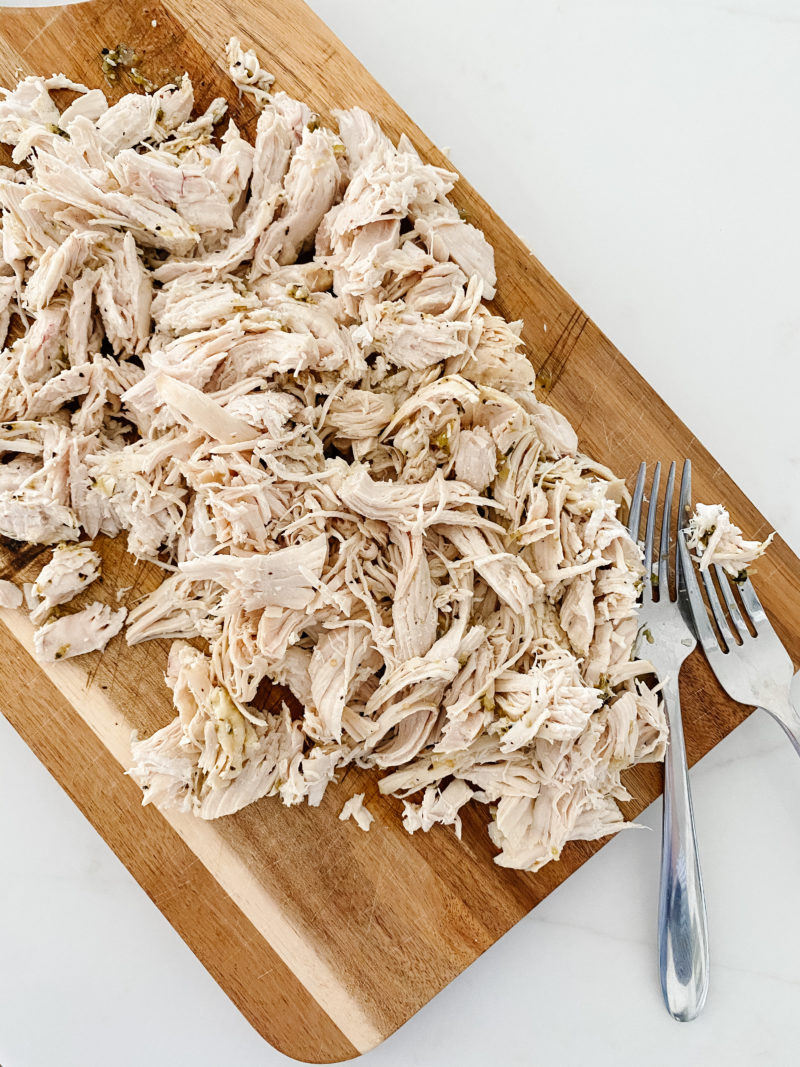 I transfer the chicken to a cutting board and shred with two forks. Sometimes I use my electric mixer ( it shreds chicken in 30 seconds). If you do this ahead of time, place the shredded chicken in the refrigerator until you are ready to make the soup.
Pro Tip: If you are shredding chicken to make tacos, pour an entire container of the salsa verde in your Instant Pot. Place chicken directly in the salsa (no trivet necessary) and repeat the same cooking instructions. Once shredded, place back in the pot and stir. It makes the BEST salsa verde taco night. So flavorful and easy.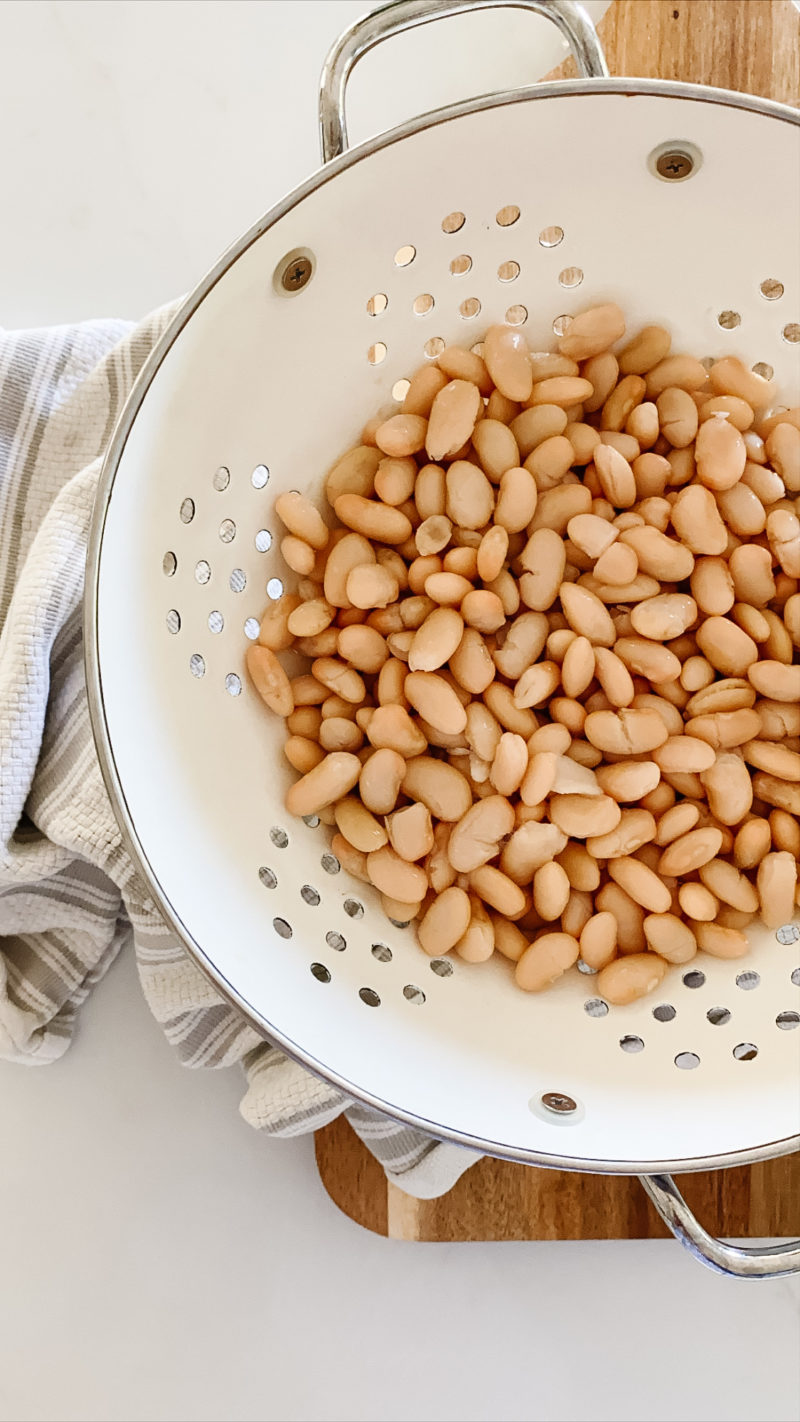 Be sure to rinse and drain your beans prior to adding them to the Dutch oven.
THROW IT ALL TOGETHER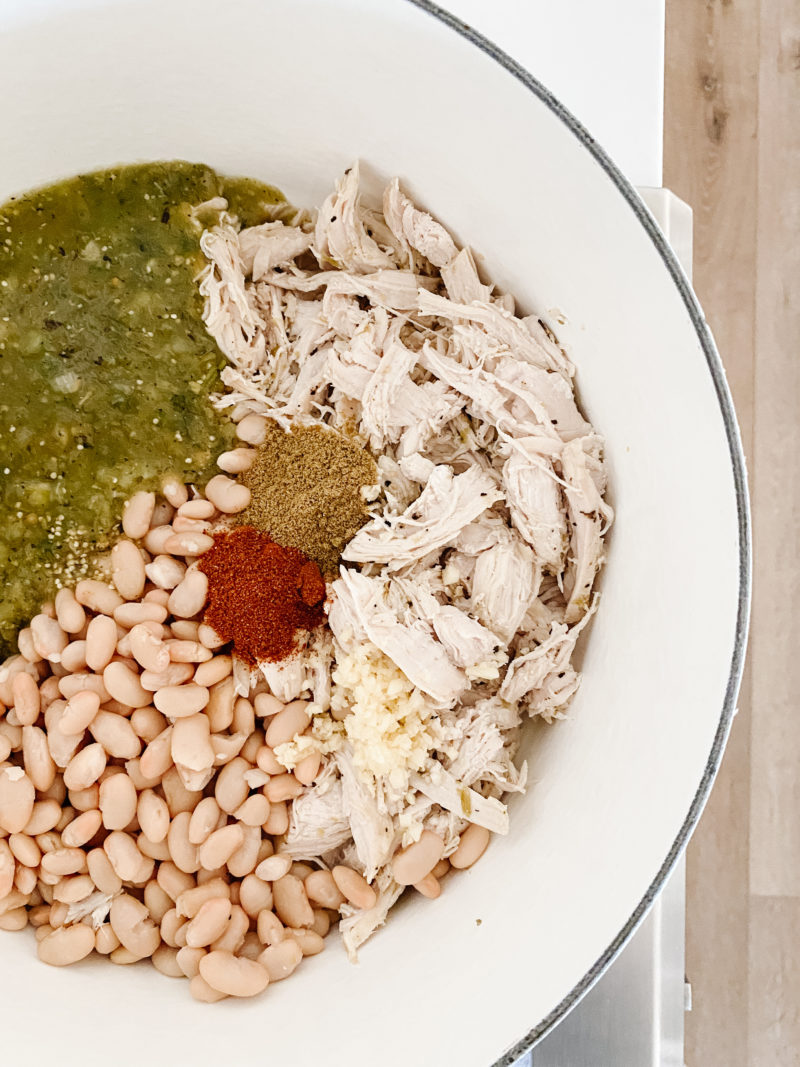 When you are ready to make the soup, it takes no time at all. Mince your garlic and toss everything into the pot. I use our Dutch oven almost daily. Pour in the bone broth (nutrient rich) and stir. Done and done. Heat on medium for about 10 minutes (with lid on), reduce to a simmer and cook for 10-15 more minutes. That's it. It's scrumptious and so easy to make. It has just enough spice and always disappears quickly around here. You can get creative with the toppings. We like to put a cutting board in the middle of our table, family style, and let everyone choose their own toppings from it.
Have you ever tried the Buffalo Ranch Chopped Salad from Trader Joe's? It's really yummy paired with this soup. But be careful as the salad dressing is spicy.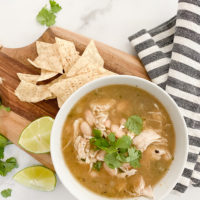 Simple & Delicious Salsa Verde Chicken Soup
Ingredients
2

large

chicken breasts

4

cloves

garlic, minced

30

oz

chicken bone broth

or chicken broth

2

cans

Great Northern Beans, rinsed

24

oz

salsa verde, divided (18 oz, 6 oz)

1

tsp

cumin

1

tbsp

chili powder seasoning blend
Optional Soup Toppings
cilantro

sour cream

tortilla chips

lime wedges

avocado slices
Instructions
Cook and shred chicken. This can be done a day ahead. Or you can use rotisserie chicken. I like to use the Instant Pot.

If using the Instant Pot to cook chicken, add the metal trivet to the bottom of the pot. Place chicken breasts on top. Pour 6 oz of salsa verde on top. Using the pressure cook setting, set time to 10 minutes. Once it is done, manually release the pressure after 6 minutes of resting time. Carefully take off the lid and move chicken to a cutting board to shred.

In a large Dutch oven, add chicken, rinsed beans, garlic, cumin, chili seasoning, remaining 18 oz of salsa verde and 30 oz of bone broth.

Stir ingredients together. Place lid on top. Heat on a medium for about 10 minutes. After ten minutes, stir and simmer for 10-15 minutes. Serve immediately with toppings of your choice.
SERVE IT UP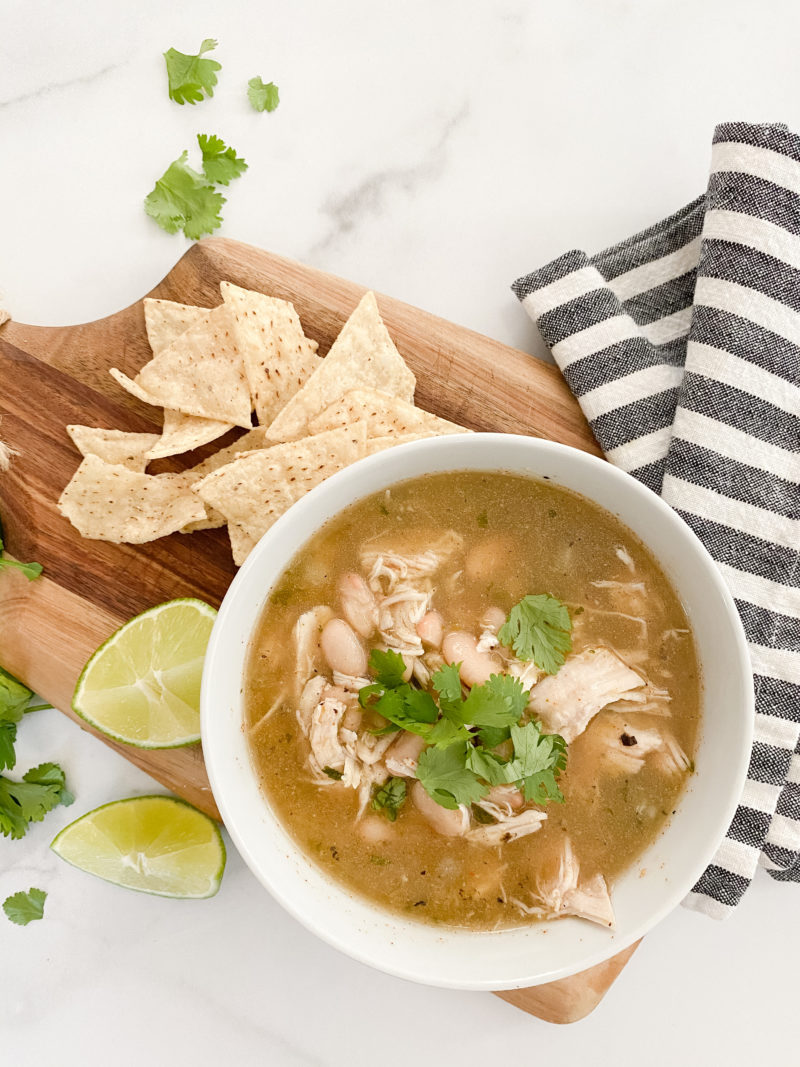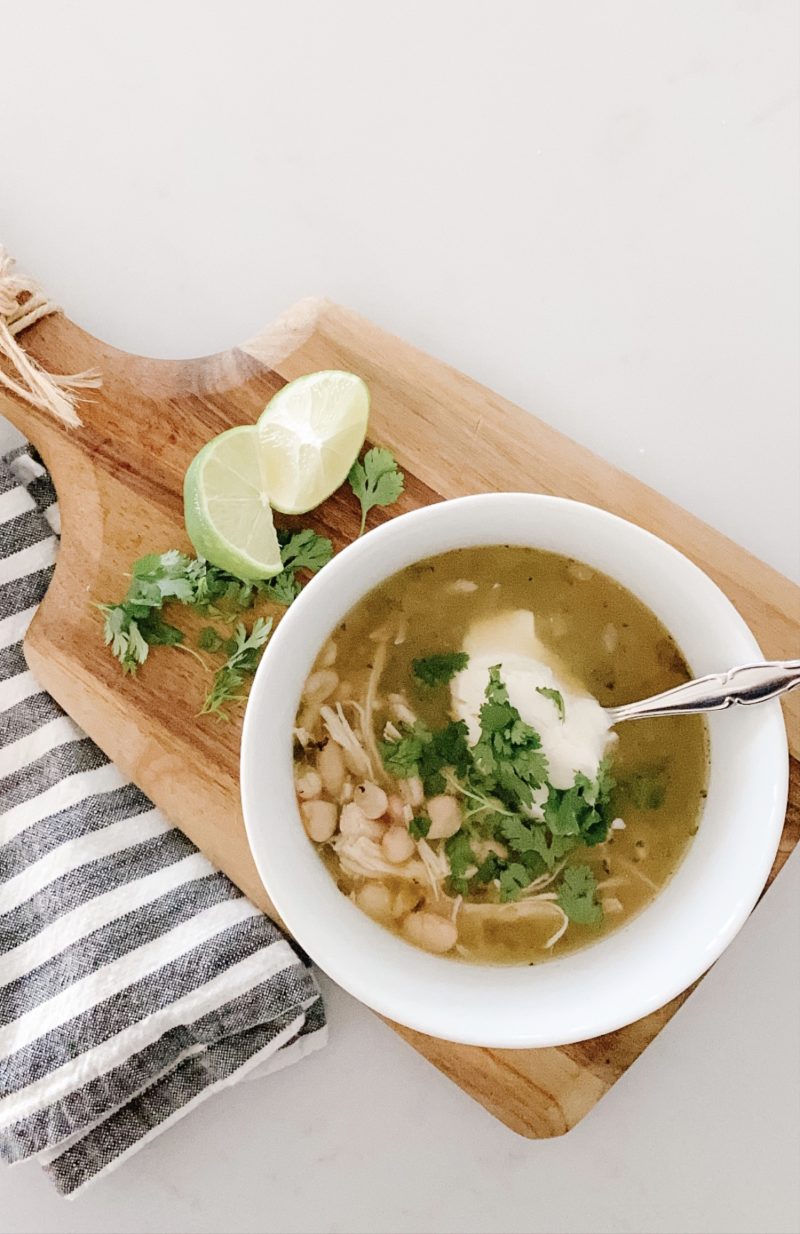 Eat as is or serve with any of your family's favorite toppings. We like cilantro, lime, sour cream and tortilla strips. It's also fantastic with avocado on top.
*It's also yummy with black beans instead of the Northern beans.
Hope you enjoy!
More From Our Kitchen