Good morning, my friends! Happy Friday. I am working on an organizing project over here and will share with you next week. That's an area I have been slacking on and I'm trying to get back into it. Did you all find some great things from the Nordstrom Anniversary Sale? Today's post is a bit of a continuation as it would have been too much for yesterday. Sharing my dressing room finds and thoughts on each piece. I hope it is helpful. Think of it as us virtually shopping together!
*BIG NEWS: Nordstrom is giving 10 points per dollar until midnight tonight due to issues on the site yesterday! I believe it's for all purchases between the 12th and tonight at midnight. That's huge so take advantage of shopping online!
WHAT I LOVED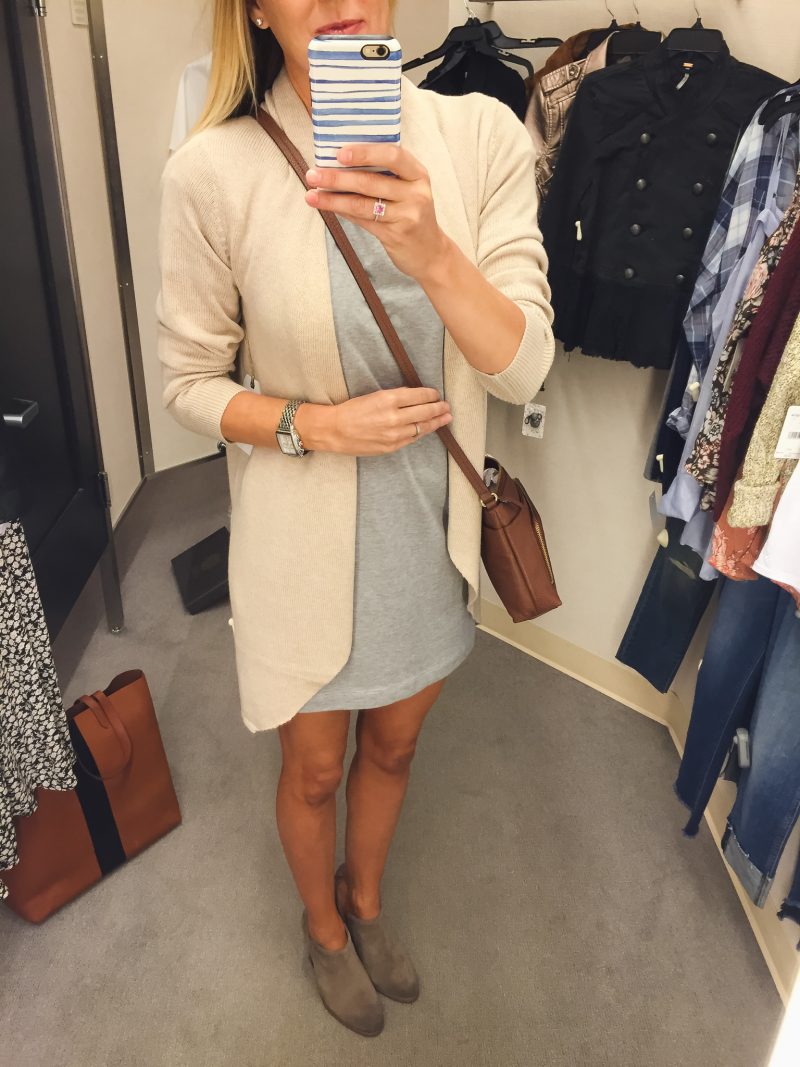 dress | cardigan | booties | handbag 
This is one of the outfits I showed you yesterday. The cardigan is so so soft and I would love to own it in more colors. I am wearing an XS in both pieces and the booties are true to size. I wore them out last night and truly love them. This dress would also look cute with the $35 Converse.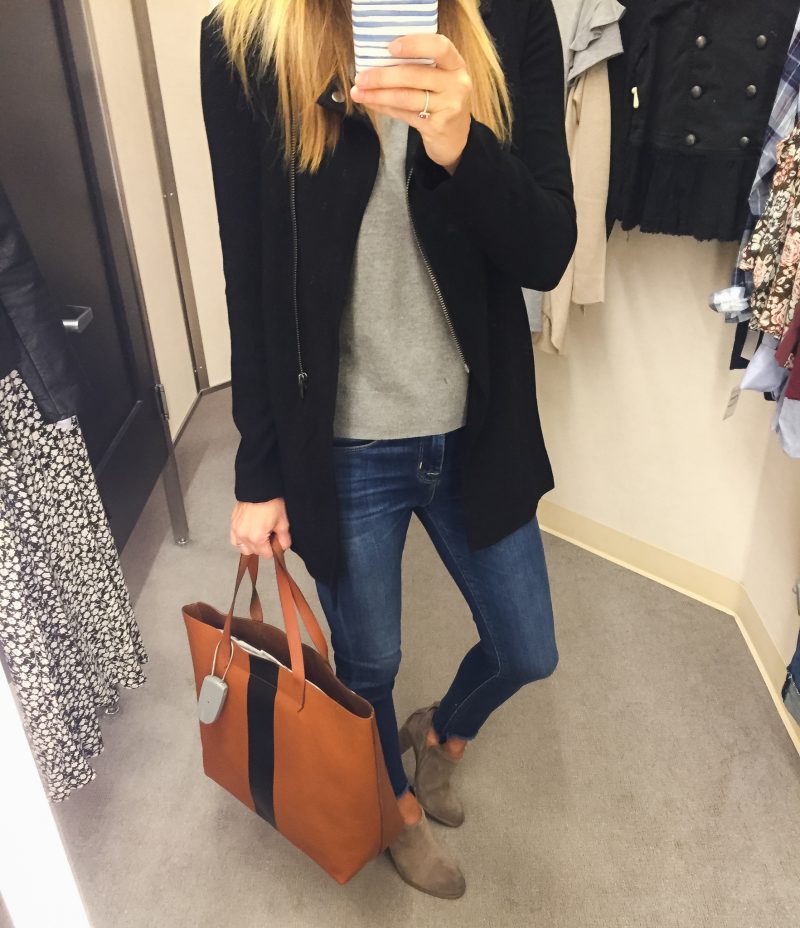 jeans | jacket | booties | tote | sweater jacket
This jacket is absolutely darling in person. Much cuter than on the website. It's not heavy so it hangs really nicely and has a slim profile. It can be worn zipped up or open and covers the booty which I like. I am wearing it over this bell sleeved sweater. This tote is really nice in person, too. I love the two-toned so that you can wear it with anything. Gone are the days of just wearing black or just wearing brown. It all works so well together. These Hudson jeans are deeply discounted and extremely soft. I am wearing a size 26 in them.
PRETTY FLORAL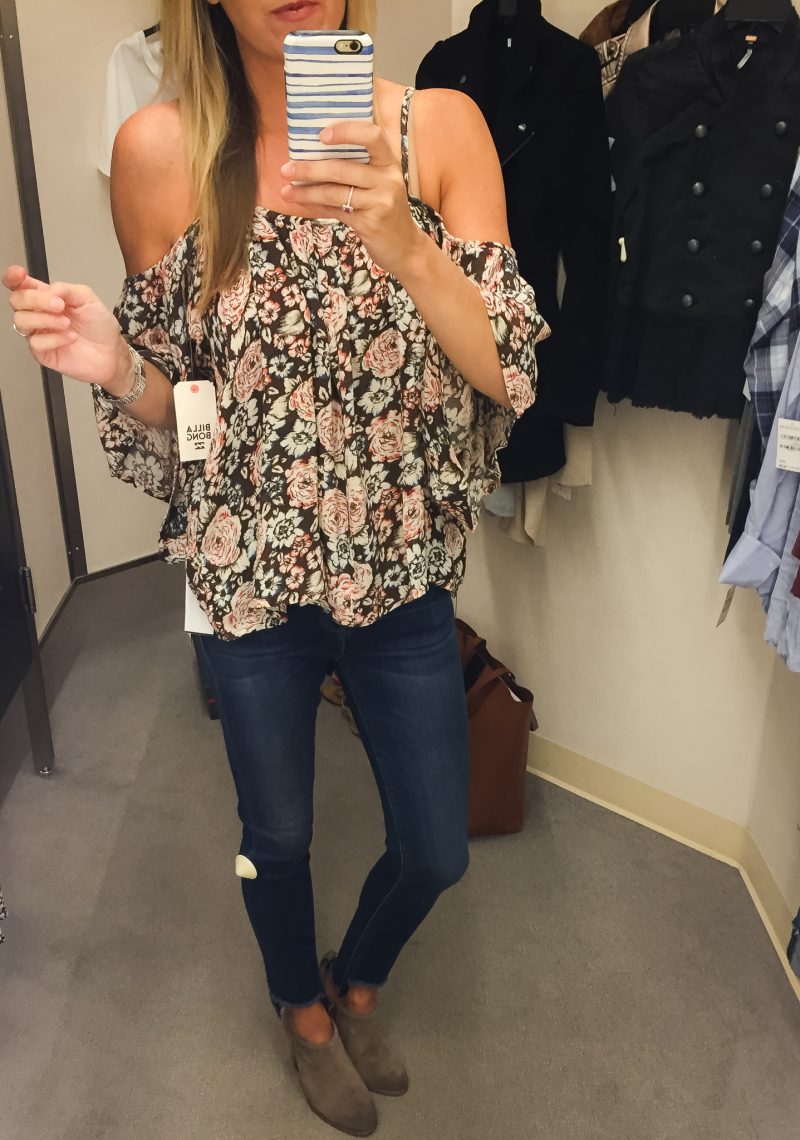 This top surprised me. Actually really really cute and a pretty print. Nice top to wear now in the heat of summer. Would look great with denim cut-offs. It does show your armpit area so be warned! LOL.
UM???? No.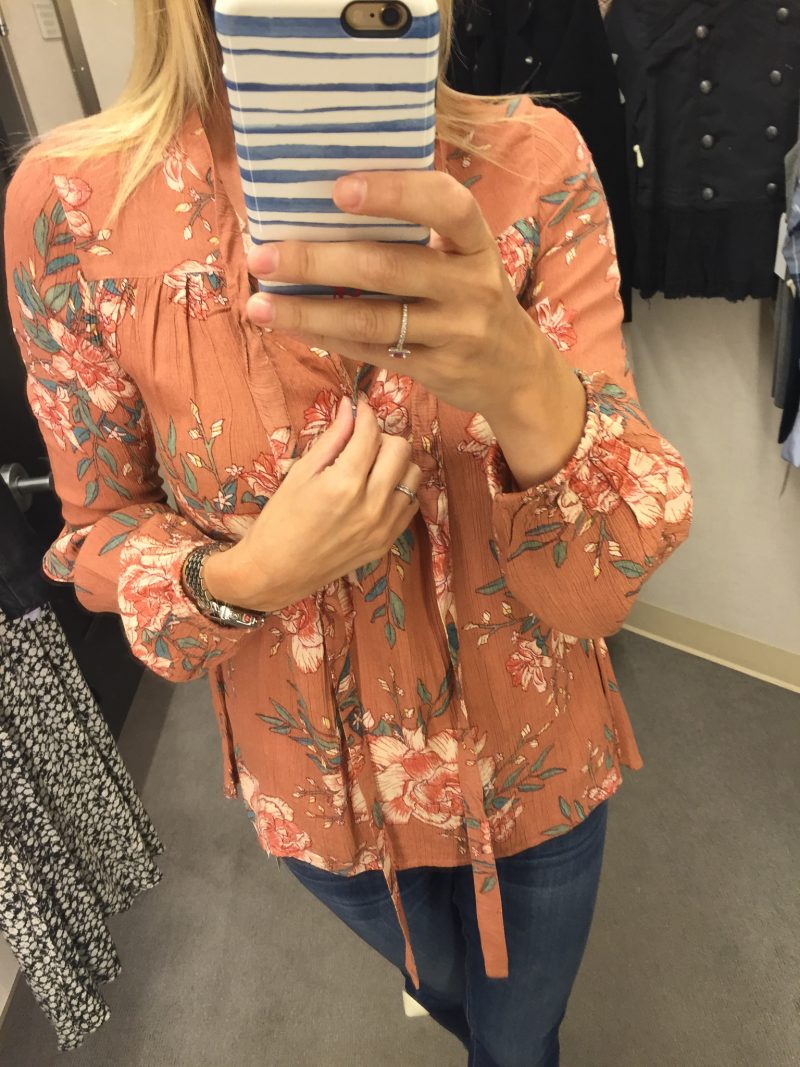 Ok, this was a fail in my book. Thought it would be feminine and pretty but it's cut so low in front that I couldn't even show you. It has a tie at the neck but chest is open. I guess you could wear a little tank but in my book this is a no-go.
MAD FOR PLAID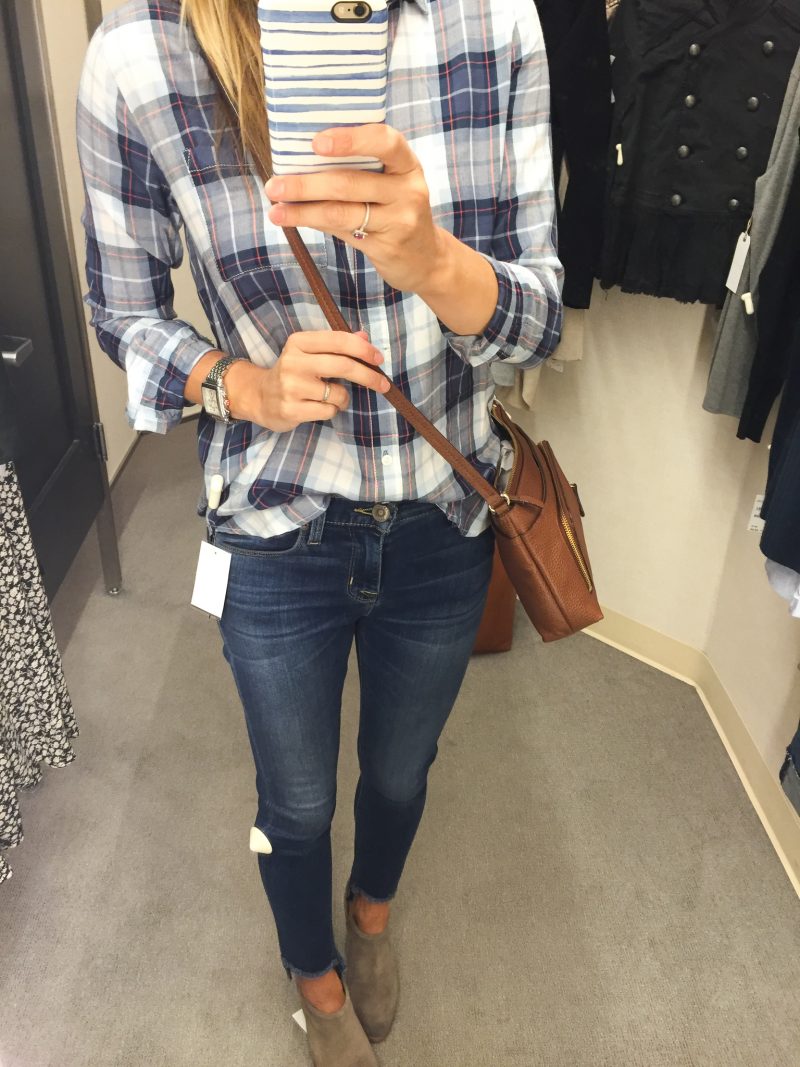 jeans | booties | plaid top | handbag
Yes to this plaid button down. Every girl needs a little bit of plaid for Fall and this is such a pretty top. Goes great with jeans and this crossbody bag.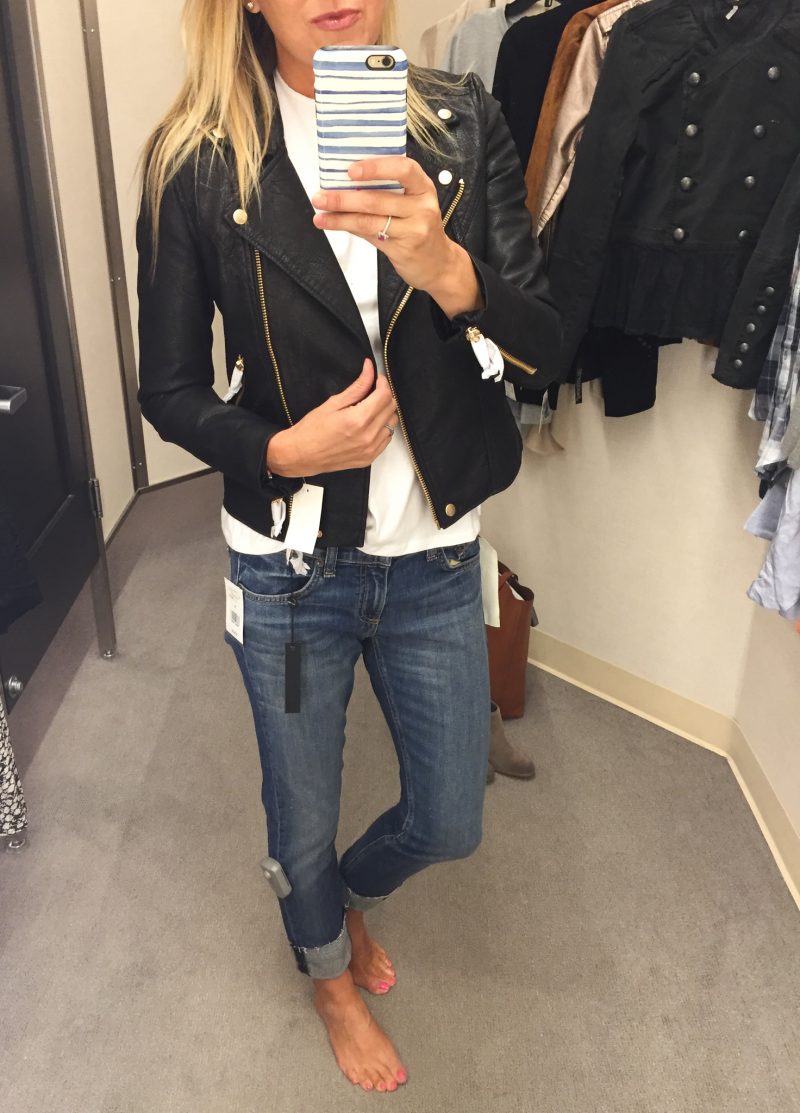 faux leather jacket $64 | jeans
Hello, moto! Fun way to get a bit of edge without spending a ton of money. And these jeans also surprised me. So darling. I tried on an XS which was way too small so a small would have been better for me.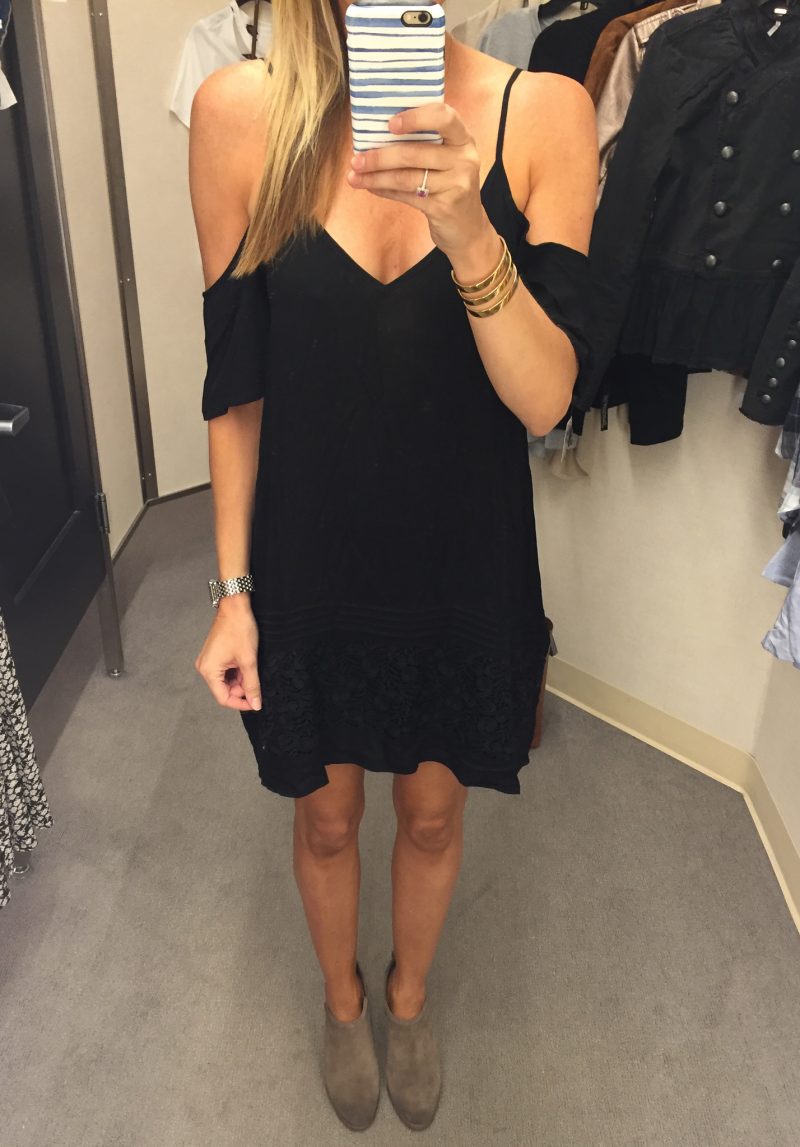 If you need a casual black dress, this one has really pretty detail on it and is a cute cut. It's sort of a gauze material and great for summer at only $39.
SO COZY
Oh I didn't want to take this cardigan off. It's incredibly cozy and soft and has a fun bold pattern in the back. I love it with this gray t-shirt and these jeans. This is selling out quickly. I am wearing a size 4.
BASIC TOPS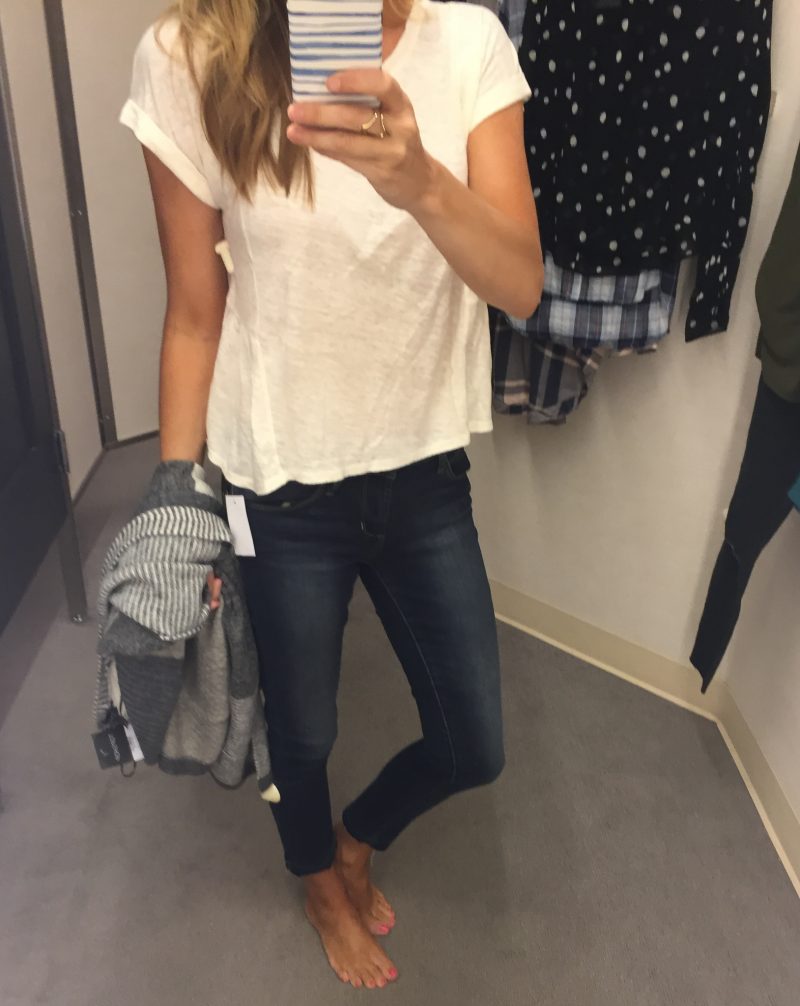 This top came home with me. The back is really sweet and it just has a unique and vibe to it for a t-shirt. It falls right at the waist and looks really cute paired with any jacket or cardigan. Also a nice piece you can wear now or later. It comes in three colors.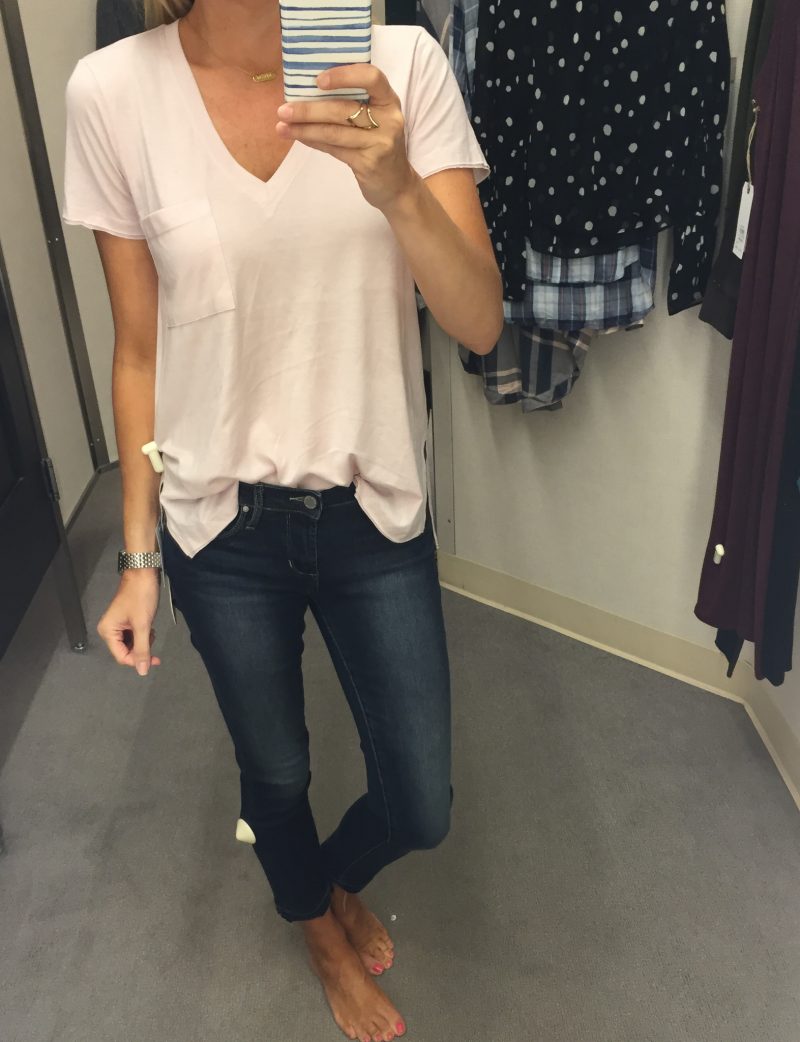 All things blush! This t-shirt is on sale for $15  and comes in six colors. It's incredible soft and a perfect layering piece. You know I live in these t-shirts. It's a good time to take advantage of the lower price. I also saw that my favorite Caslon t-shirt is part of the sale. I own two white ones and wear them non stop.
UNIQUE CUT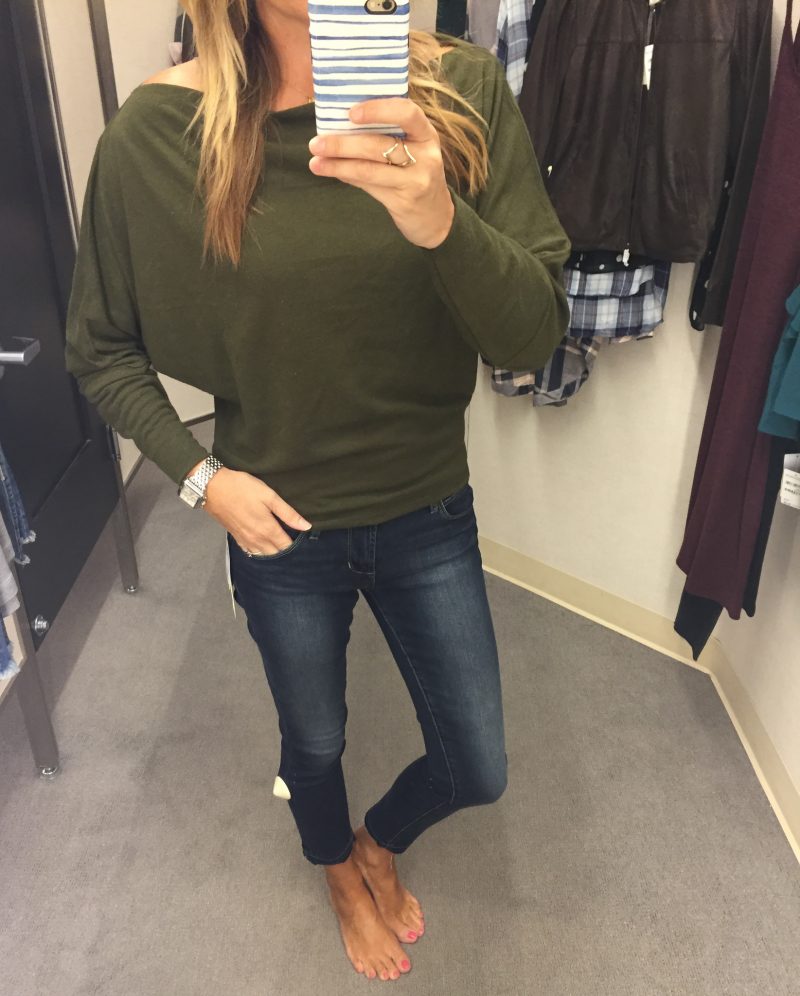 I wish you could see this in person. On the hanger it seemed like a fail but it's darling. It has a wider neck but it's not going to fall of your shoulders. It's so so cute. It comes in four colors and is one of my favorite new tops. I will style and who you soon. This army green is quite dark in person.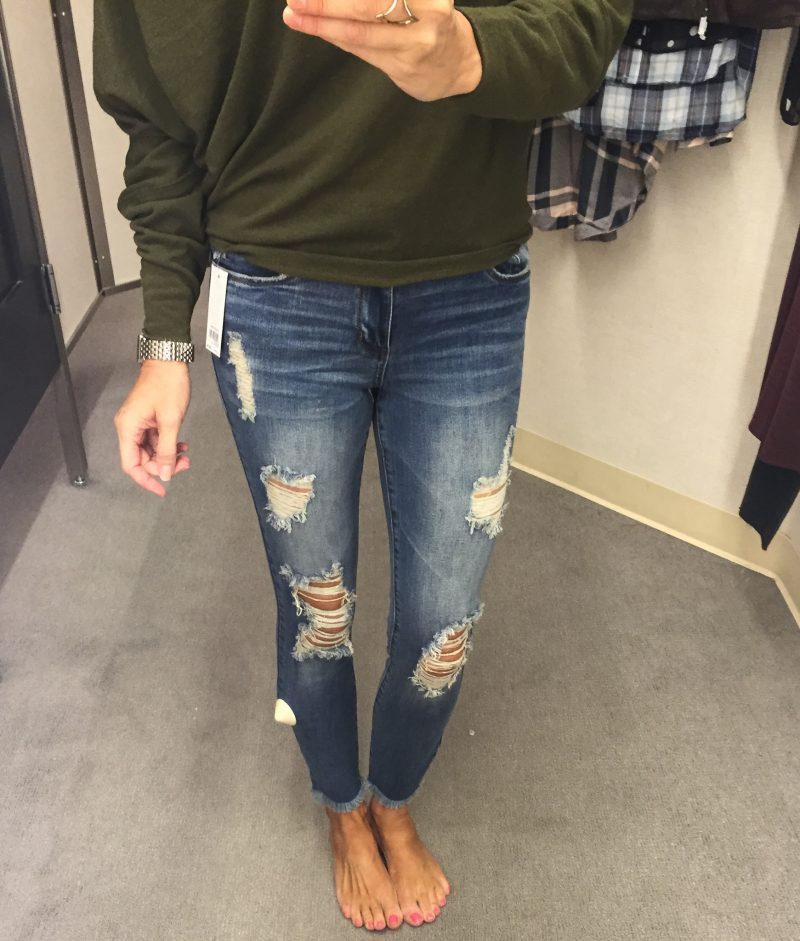 If you like a high-waisted jean you will love these. They do not sit low and they are very soft. I love all of the distressing on these and they are on sale for $43.
FEMININE FIND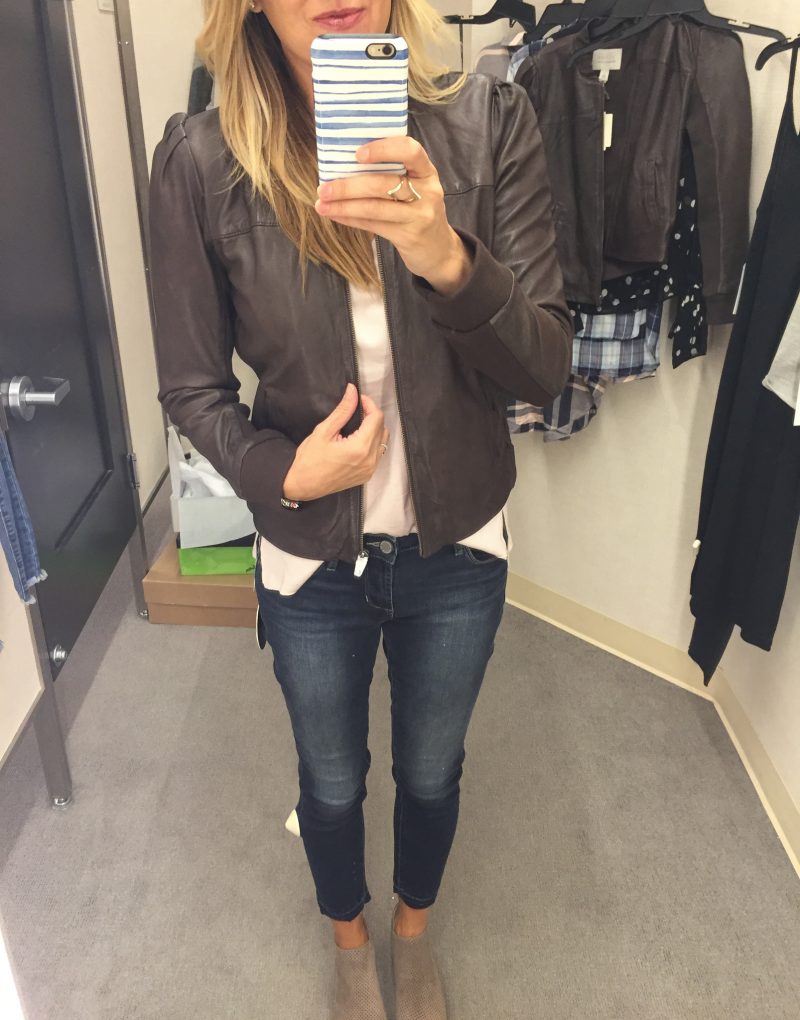 So I didn't walk away with this jacket but I really wanted to. It's on sale for $199. It has those feminine shoulders I LOVE. In fact I have a black leather jacket that is ancient but it has the same shoulders and I have always loved it. The only thing is that this runs very small. I am wearing a medium in the photo. I couldn't even put on the XS and the S was way too snug. So be sure to go up a size. Very pretty in person. Highly recommend. It also comes in a gorgeous beige color! You can't go wrong with a pair of jeans for $39!!!! Hello! These are a size 25.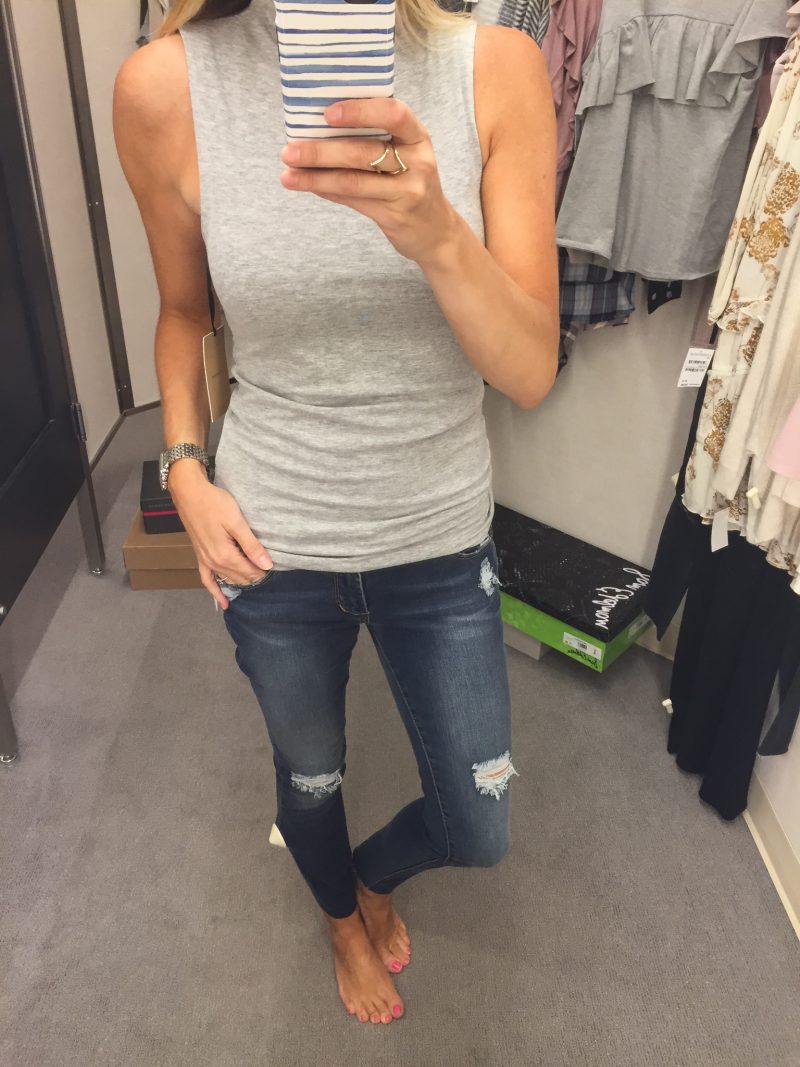 A while back I showed a top from Anthro and this reminds me so much of it. It is only $20 and comes in 7 other colors. So soft. Great basic. This is a size small and its very fitted. If you don't want it super tight I would go up one size. Mad love for these jeans. I bought them in a size 25.
READY FOR FALL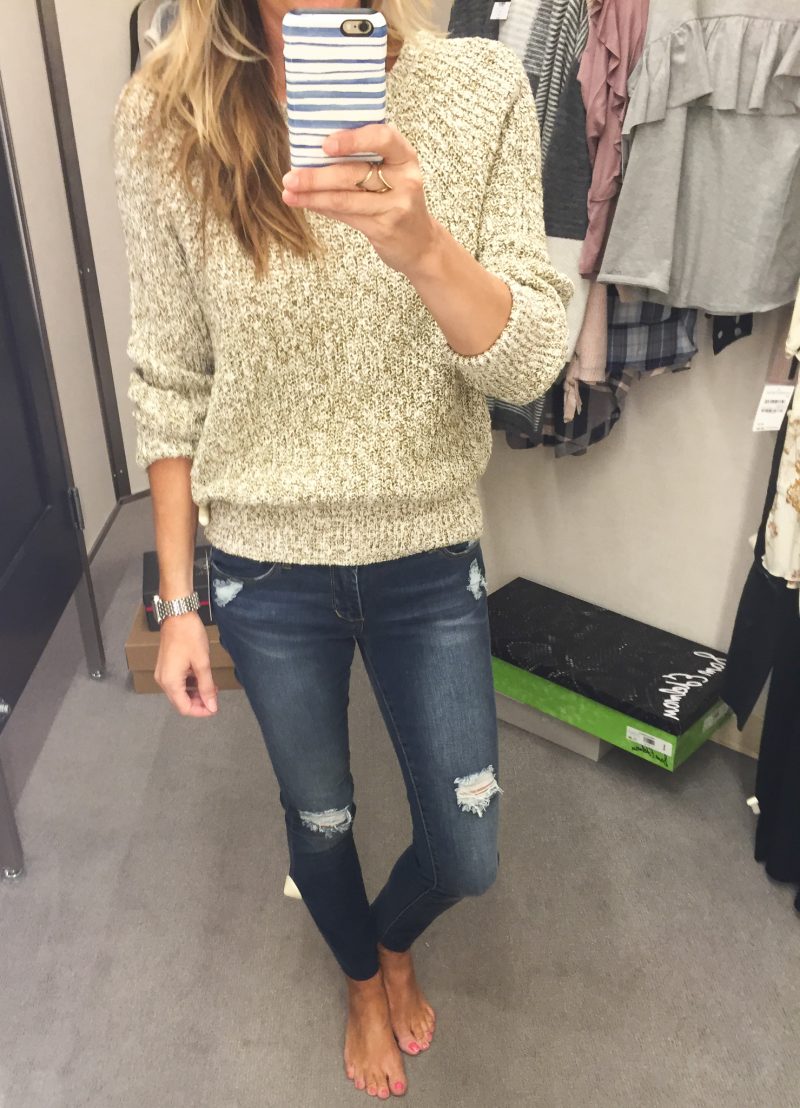 You saw this outfit yesterday, too. From the second I put the sweater on I had to have it. It comes in a few colors and I love the way it sits at the waist without looking to frumpy. This is a size small.  I can't believe these jeans are only $41. Yes, to these girls.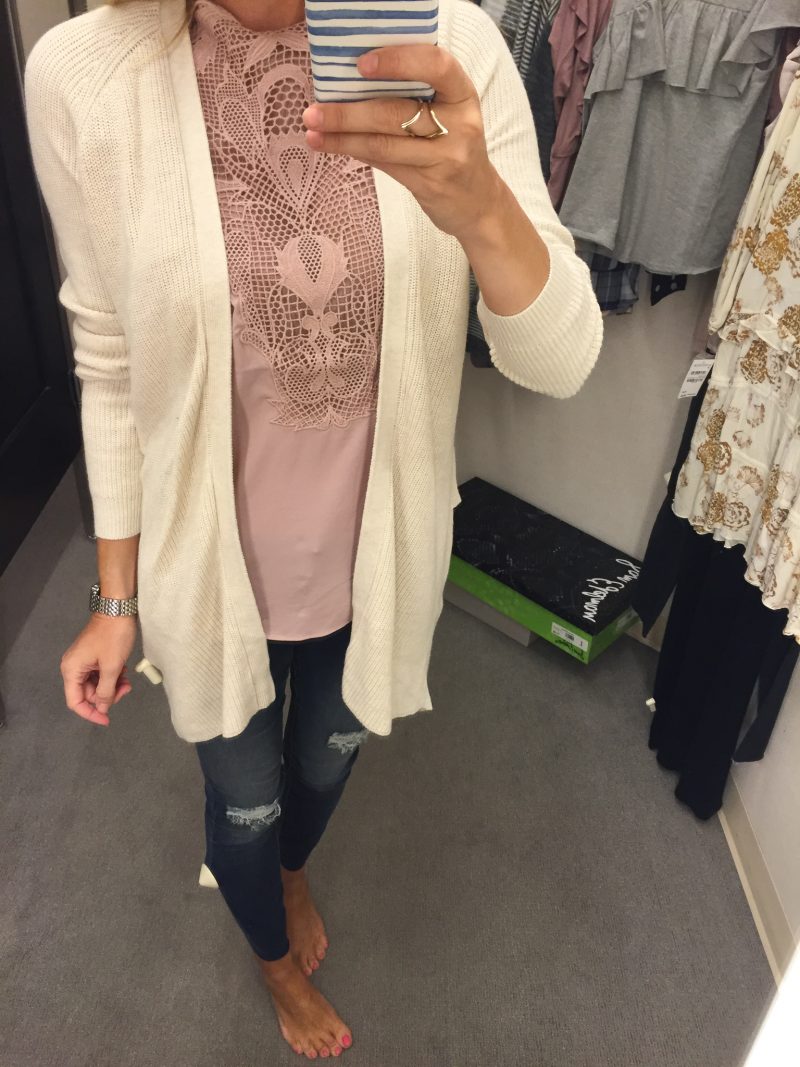 Cutest cardigan!!! I couldn't resist the ruffles on the back so it also came home with me. It looks so great paired with this dress and I love the feminine fit it has. It is $59 but will go back up to $89 after the sale ends.  I also really liked this lace top. It comes in three colors and has a nice forgiving fit.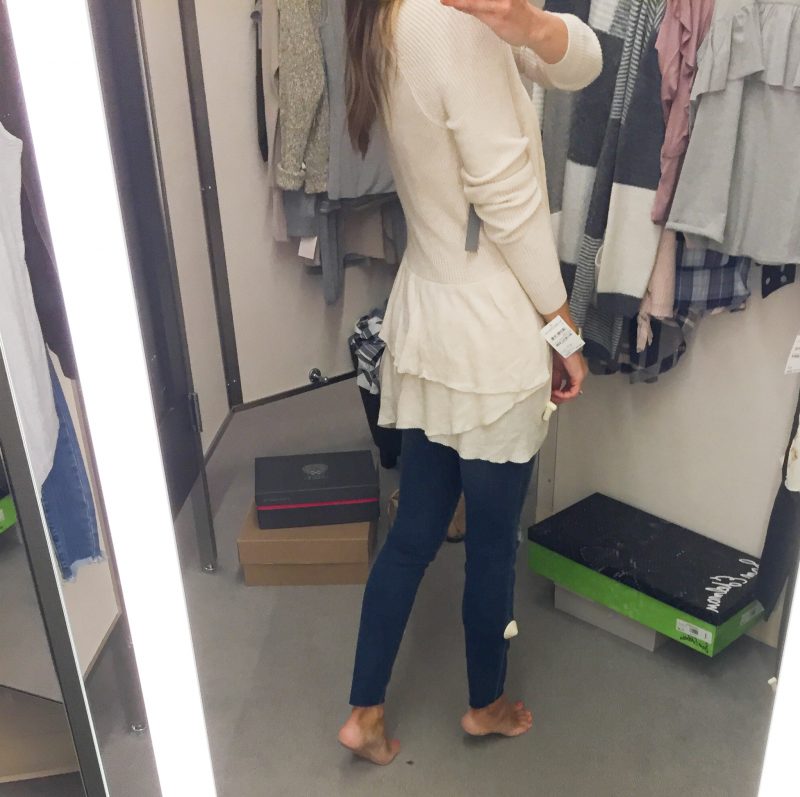 Isn't that back just so cute?! I LOVE it. It's a size small.
NOT SO MUCH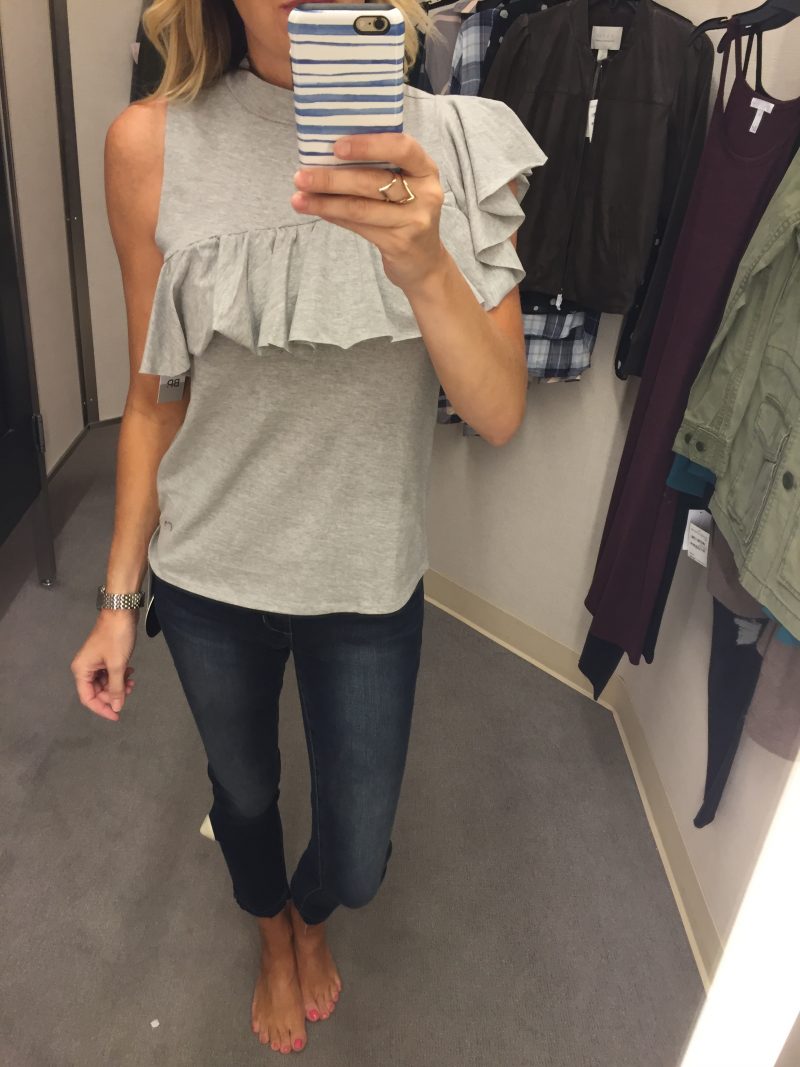 This top is cute but I sort of felt like a little girl in it so it was a major no for me. Soft, though.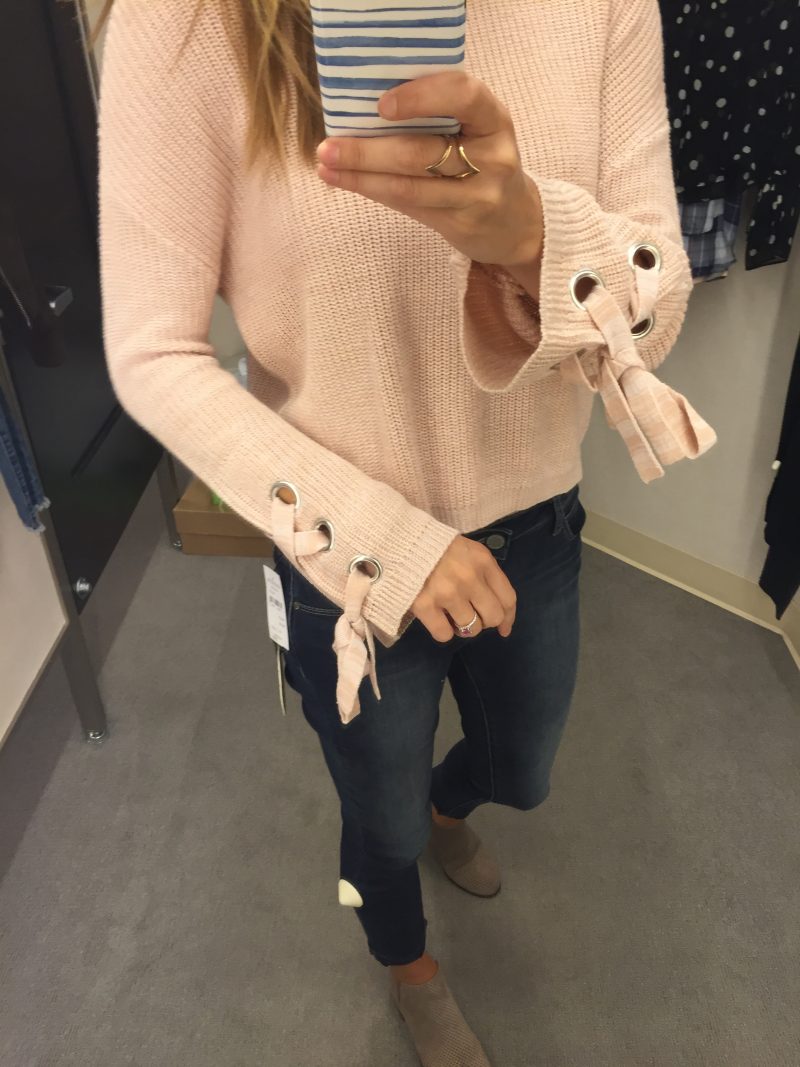 Talk about a statement sleeve. The cut plus the color make this a darling sweater.  It's far cuter in person than on the website. I am wearing a small.
STRIPE LOVE
jeans | booties | cardigan | t-shirt
This t-shirt is great. It comes highly recommended and I have it in the black and white, too. It's thin and a great layering piece for Fall. It also looks cute with jeans or cut-offs during summer. It comes in many colors and is a great wardrobe staple. It's only $18. I'm wearing an XS.
This is the sweater I shared on Instastories. It is so soft it feels like a baby blanket. No joke. It's only $35 and such a pretty neutral color.
FAVORITE DRESS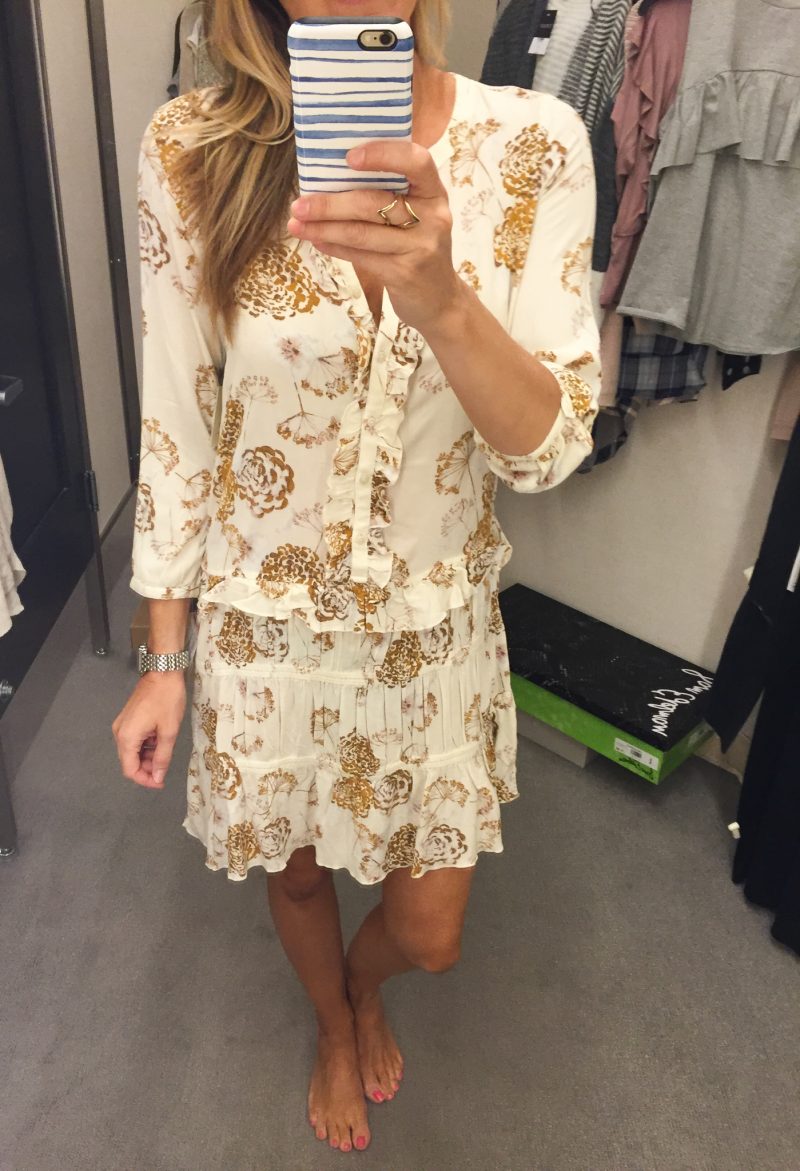 Here is the dress I raved about yesterday. It's so cute on, my friends. It is a bit see through so I recommend a slip like this. But so worth it because it just so darn cute.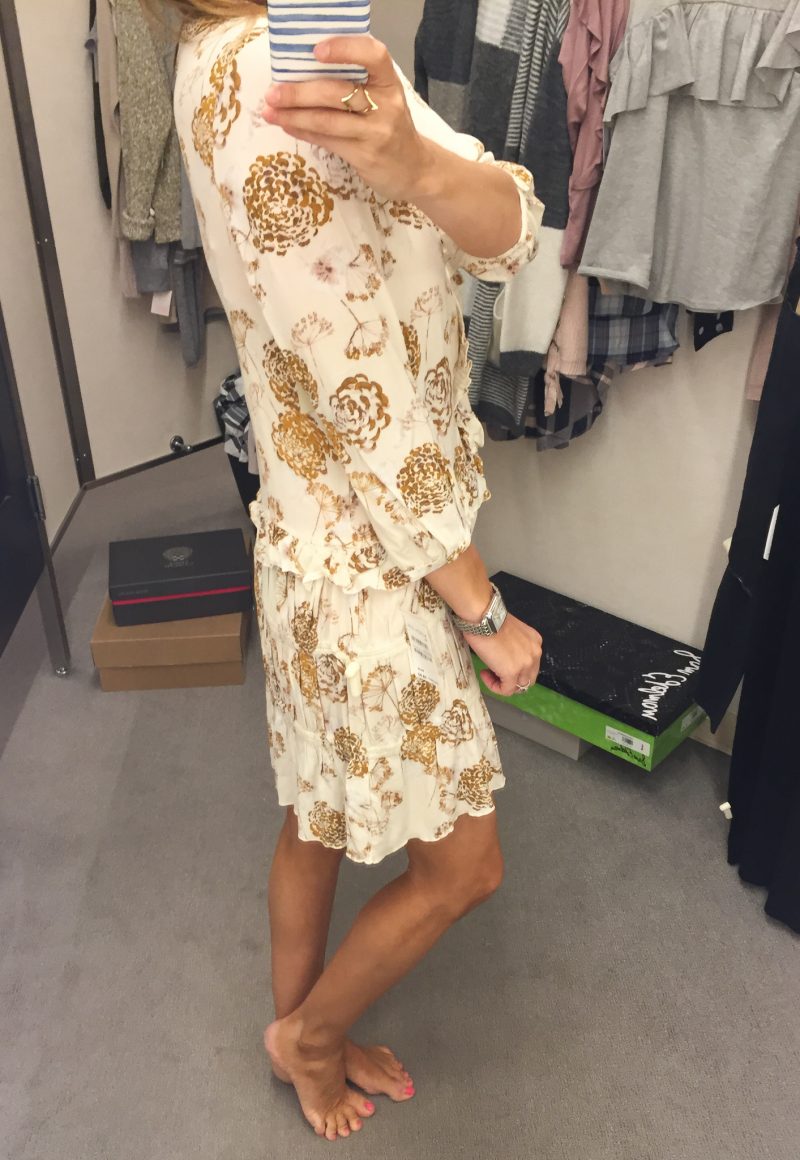 It has a nice slim cut to it and the ruffles are darling.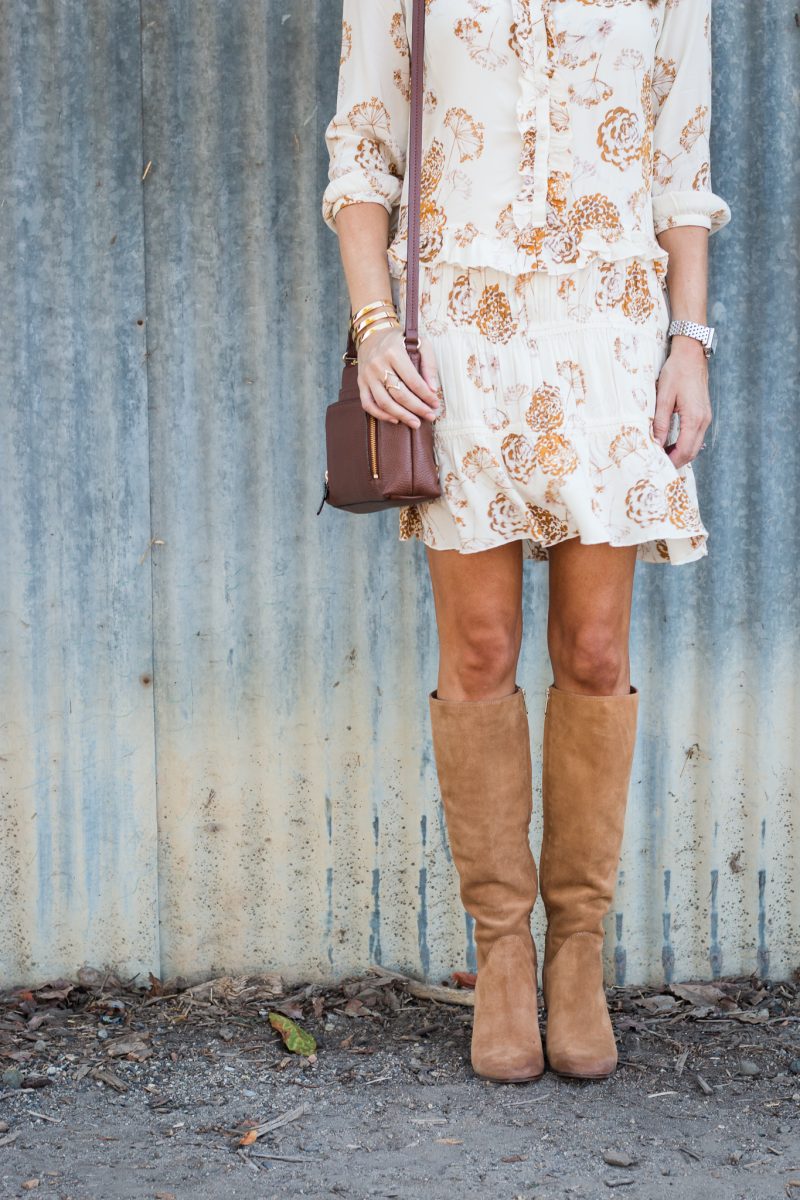 Here is a sneak peek of some photos we took. This dress is really fun paired with my favorite boot pick (order one 1/2 size down) as well as with these booties. With sandals it's a dress you can wear now, but with boots it will take you well in Fall and Winter.
Did you miss my picks from yesterday? If so you can get caught up here. I also updated my sidebar button that has my favorites for the Nordstrom sale and it's organized by categories so check it out. I will keep that updated throughout the sale.
Here are a few more things you may want to check out: blush booties | basic tee | crossbody scarf
Now off to finish my pantry project and then pick up the kiddos from VBS. They have had an amazing week and I am so grateful to everyone in charge. What a gift to bring that much joy to so many kids. Well done, VBS, well done.
PS . . For sizing reference I am 5'7″.
*affiliate links used