It's here!!! If you're a Nordstrom card holder, early access to the Nordstrom Anniversary Sale 2017 has officially begun. This is my all time favorite shopping event of the year and I am thrilled to be giving you a look into what's hot and all of the great deals. I scoured the catalog, the store, and tried on countless pieces to bring you what I think are the best finds. Over the course of the next couple of weeks I will be sharing sale finds for everyone in the family as well as gift ideas. You will be able to shop it all from the Nordstrom Anniversary tab at the top of my blog and on my sidebar. Here we go!
WEAR NOW
I know a lot of you can't bear to think of Fall. I get it. Right there with you because it's 90 degrees here right now. I spotted some great looks that will take you through the warmer months and others that will transition well into Fall.
I am head over heels for the colors in this dress. So vibrant and pretty. Just while snapping photos I had there girls ask me where it was from. It's really flowy and falls so nicely. It's also not too short. I am 5'7″ for reference. Because it has two layers of fabric in the front, you can go without a bra or wear a comfy bandeau. Did I mention it's only $62?! I thought it was really fun paired with these drop earrings. While I don't normally stray from my studs, but these are so light and pretty. Love the neutral color and they are on sale for $30.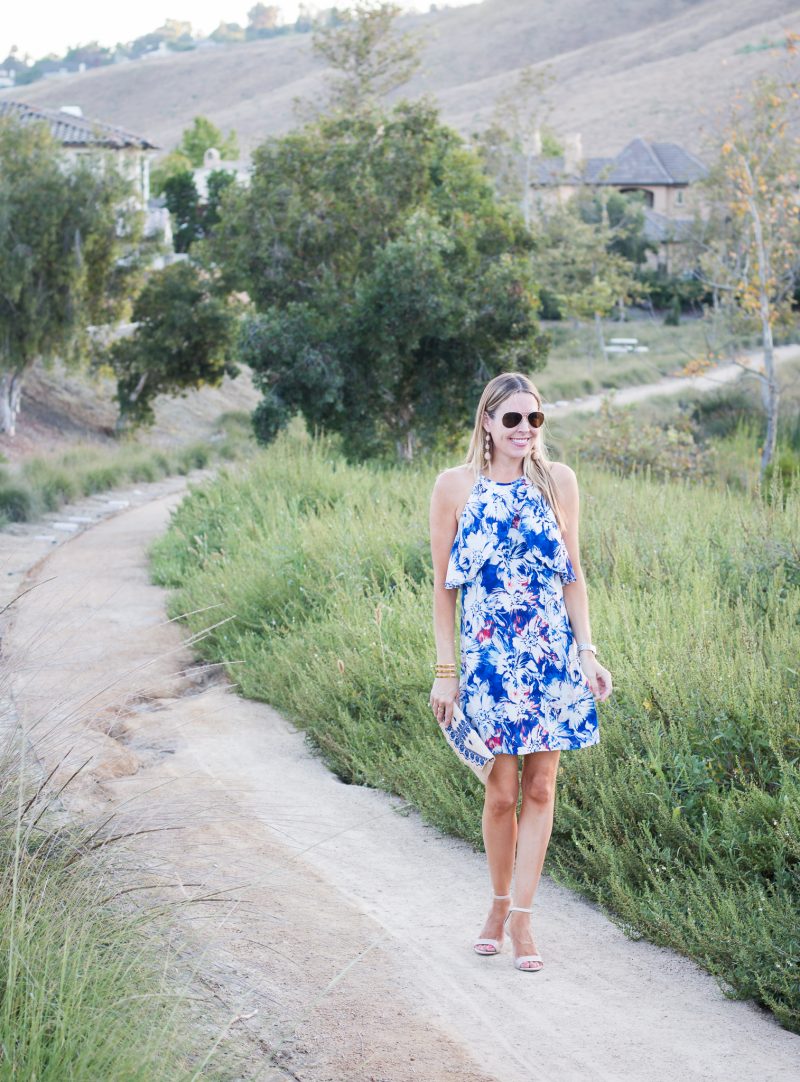 dress | heels | sunglasses | handbag
If you're looking for a fun date night dress or if you need a dress for a special occasion, this one is really pretty. I like it paired with my Aldo heels to keep it simple. The dress is a size small. I also spotted this top which is darling to wear now. Only $22!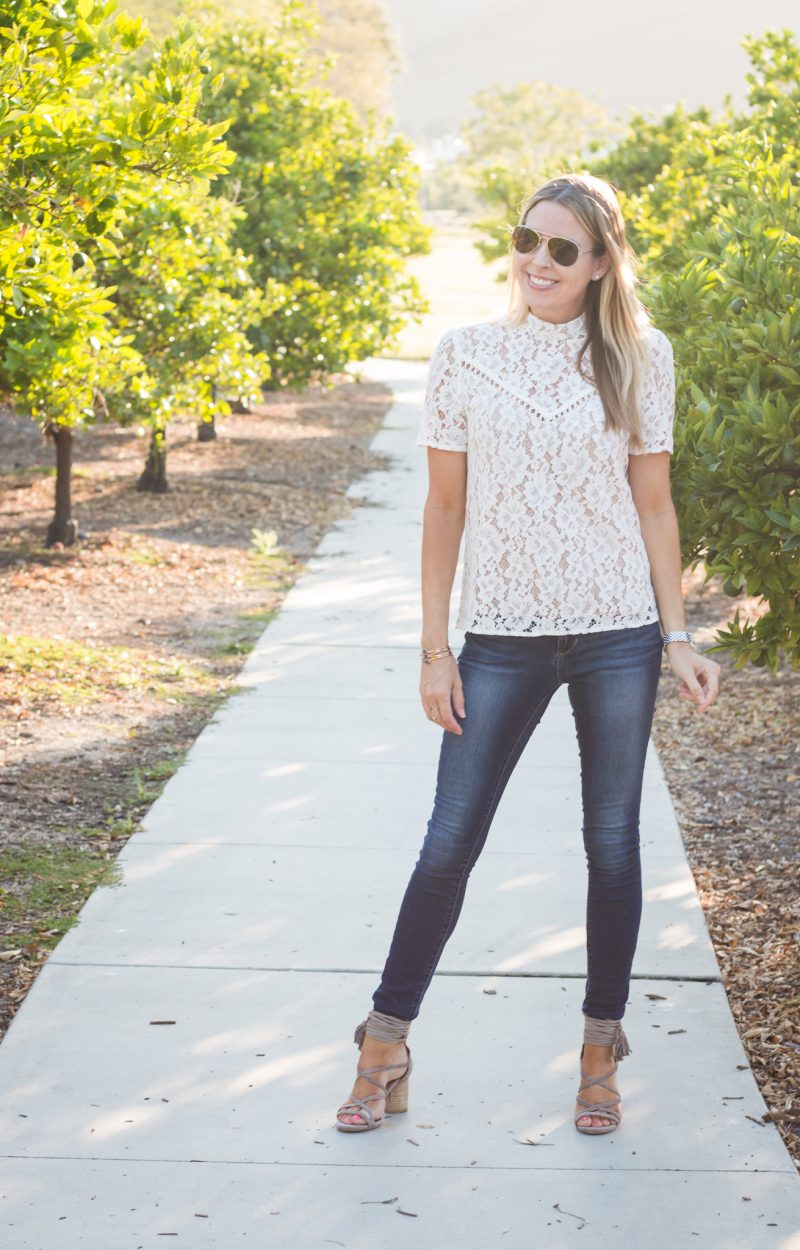 Fairly certain this will be my favorite top of the sale. It comes in two different colors but I am such a sucker for ivory. I love everything about this lace number. Even my husband is a huge fan. I am wearing a size small.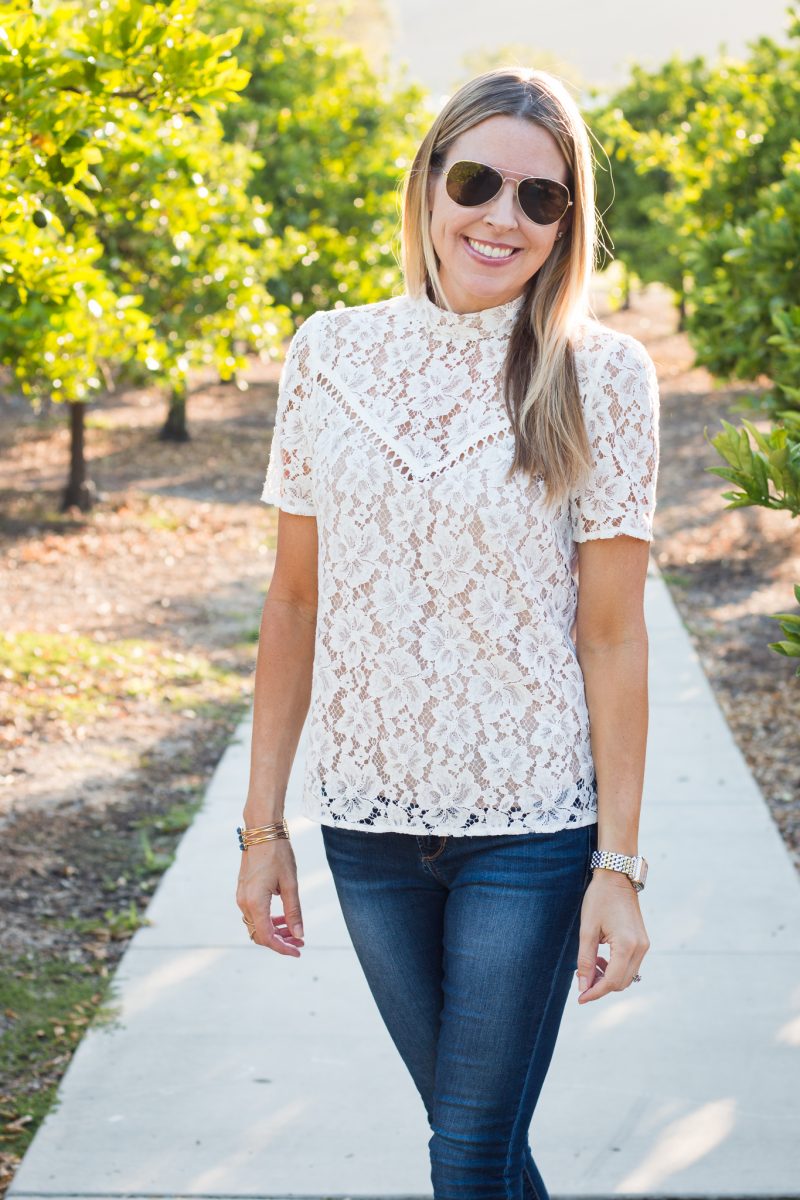 I always wear Articles of Society and can't believe these jeans are only $39 during the sale. What?!  I am wearing a size 25. They do stretch a bit after wearing them a few times but they tighten right back up with washing. I live in these.
WEAR NOW & LATER
The thing about this Anniversary sale is that the Fall deals are too good to pass up. So while you may still be in shorts and a tank, you'll be happy you thought ahead when you see some of these prices.
dress | cardigan | booties | handbag | sunglasses
I shared a sneak peek of this outfit on Instastories. From the second I tried it on, I didn't want to take it off. The entire outfit feels like you are wearing pajamas. Did I mention it has pockets! Even the booties are crazy comfortable. I LOVE them. I think all of these pieces will go quickly as they are well priced, neutral and you can wear them now and later. Did I mention this dress is only $30? Yep, that's right! It comes in three colors and is much cuter in person.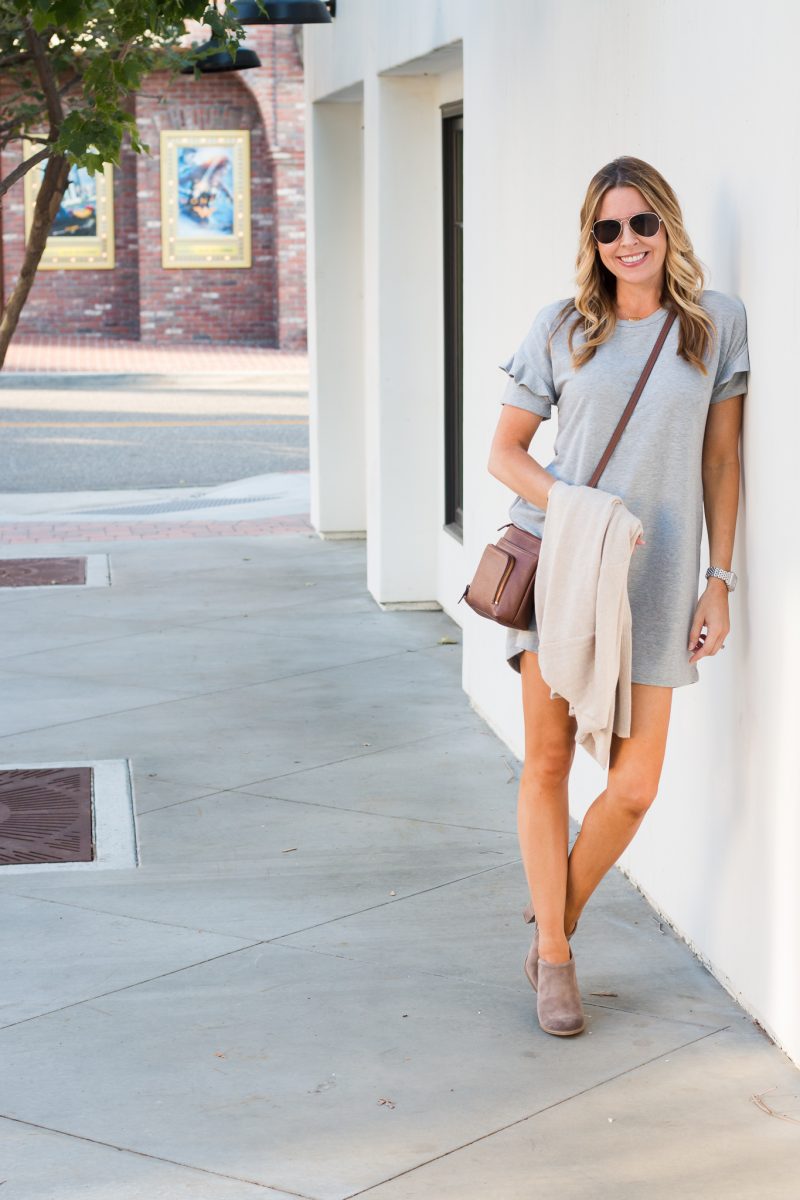 The dress has darling ruffles on the shoulders and can be worn with sandals, Converse ($35) or low-heeled booties. It's incredibly soft and has pockets, too. I am wearing an XS.  The cardigan is also extremely soft and a great wardrobe staple. So many times I go to grab a cardigan like this just in the house. But it's a darling one to take you into Fall with jeans or dresses. It will also look great with denim cut-offs this summer. I think I may scoop it up in the blush color. I am wearing an XS. The Barefoot Dreams cardigan is finally part of the sale, too!!!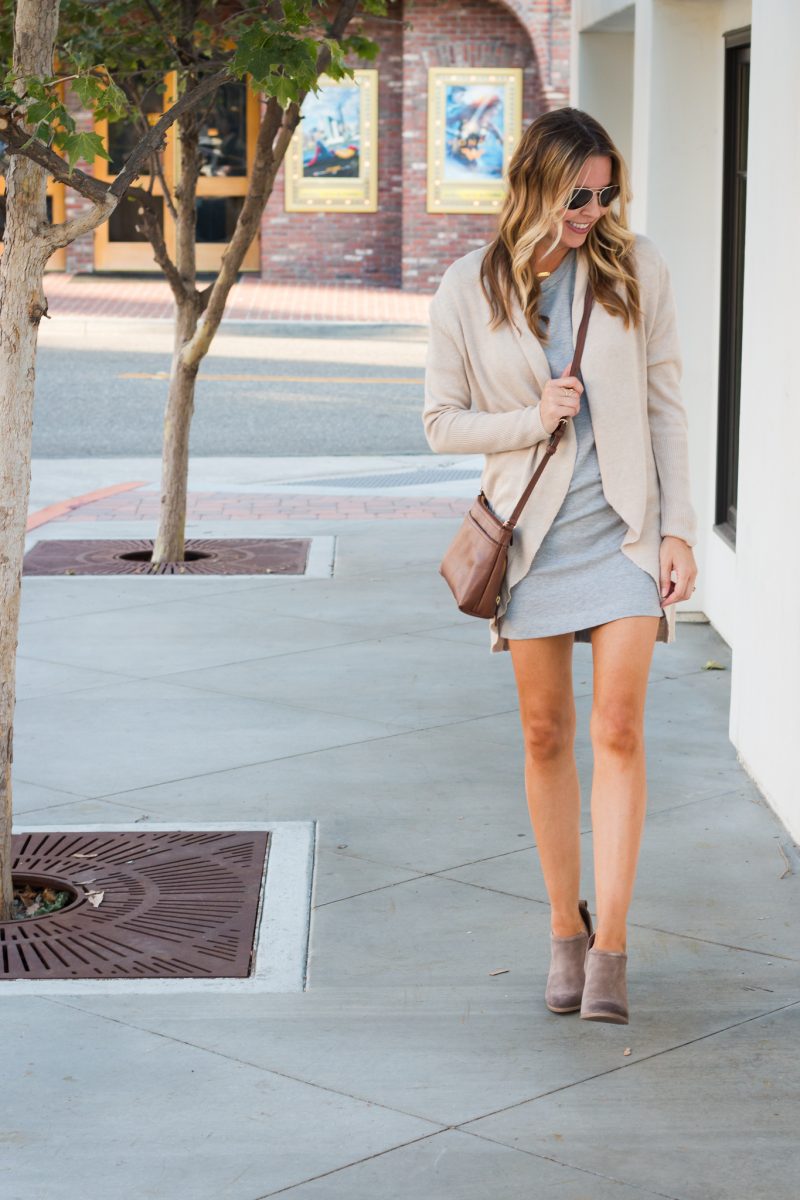 These booties. Two thumbs up and I give them a ten. No joke. The cut, the color, and the comfort. Yes, please to these. I found them to be true to size. You'll be seeing a lot of this crossbody bag. It is very well made and has slots on the inside for your ID and cards. I love that. It also boasts an outside pocket for your phone. In fact it has three outside pockets that are easy to access. This little bag packs a big punch. It feels very expensive and looks so great with all of these Fall looks. These booties are also darling with a bit more detail.
Casual & Comfortable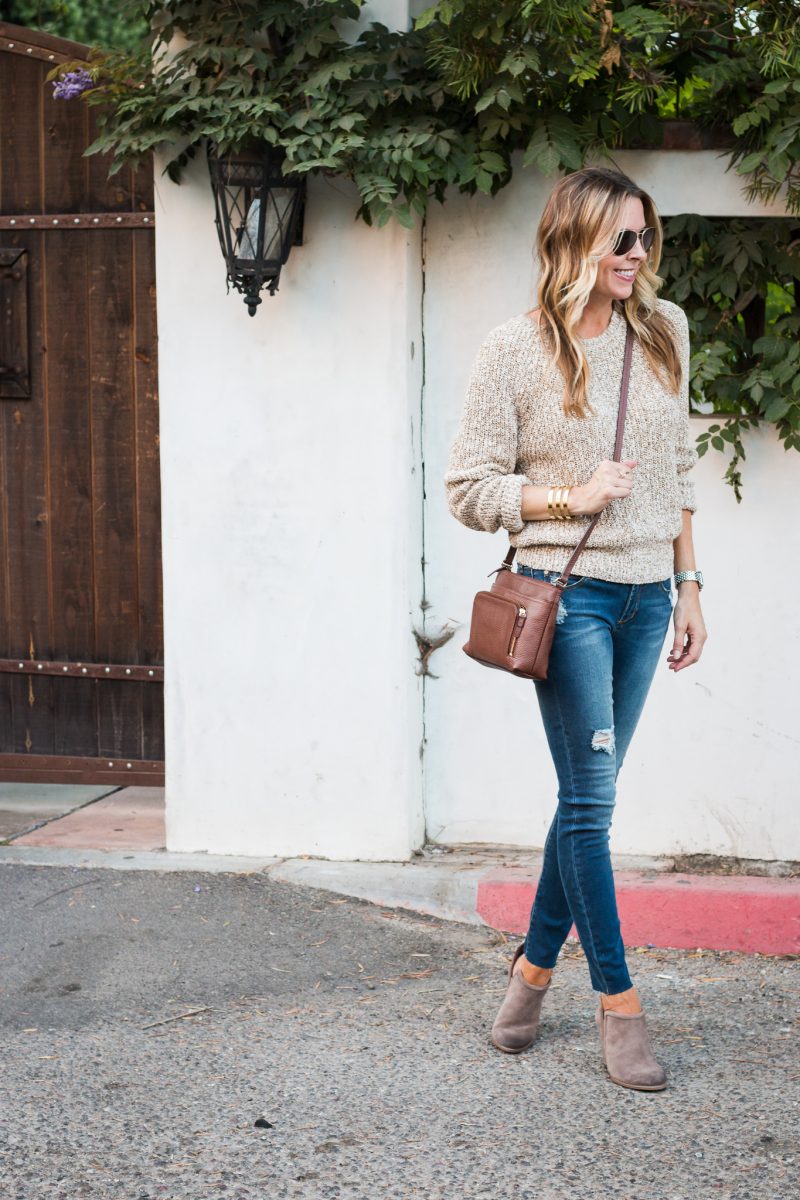 jeans | sweater | booties | handbag | sunglasses
I wasn't completely on board with the hem of these jeans until I tried them on. They are so soft they feel like stretch pants. Definitely fitted and the distressed detail  gives you that edge without going crazy which I know many of you are not comfortable with. Highly recommend these. These are a size 25 and now only $41.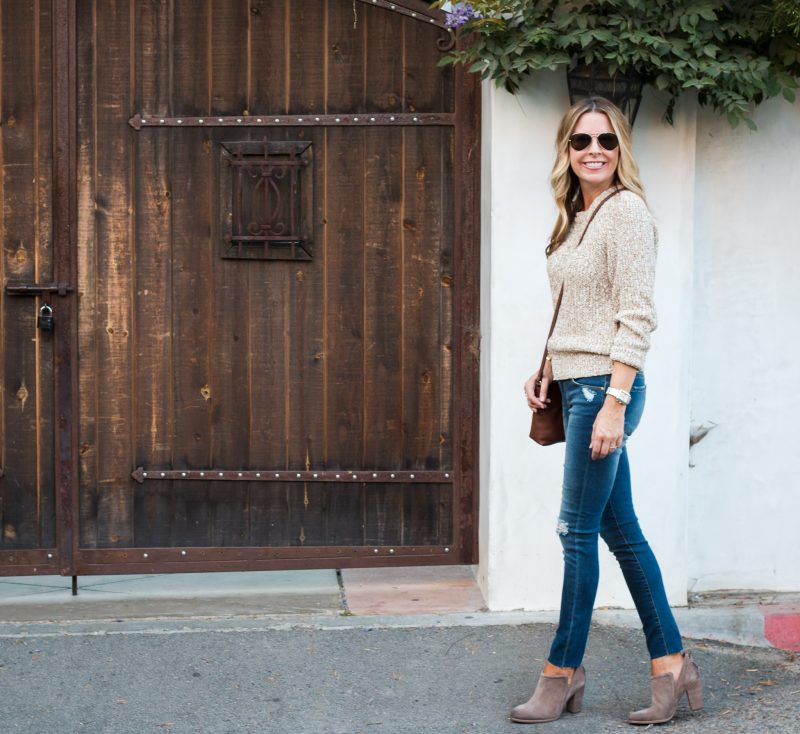 The Free People sweater is such a nice weight and just feels great on. I love the way it fits. This is a size small. I will also be wearing it with my denim cut-offs for our chilly evenings. This denim/sweater combo is such a classic look for Fall.
Tomorrow I will be sharing this darling dress with you. I love it so much. It might just be one of my very favorite picks from the sale. It's such a great "wear now and later" dress because you can pair it with a cardigan and boots or simply wear it as is with sandals or booties. This dress is a 10 in my book. Can't wait to show you how I styled it.
HANDBAGS
Obviously I fell hard for the crossbody I am wearing above. There is just something about it that I love. But now is a great time to grab a handbag that would normally be too much of a splurge. I rounded up my favorites below.

SHOES
BOOTIES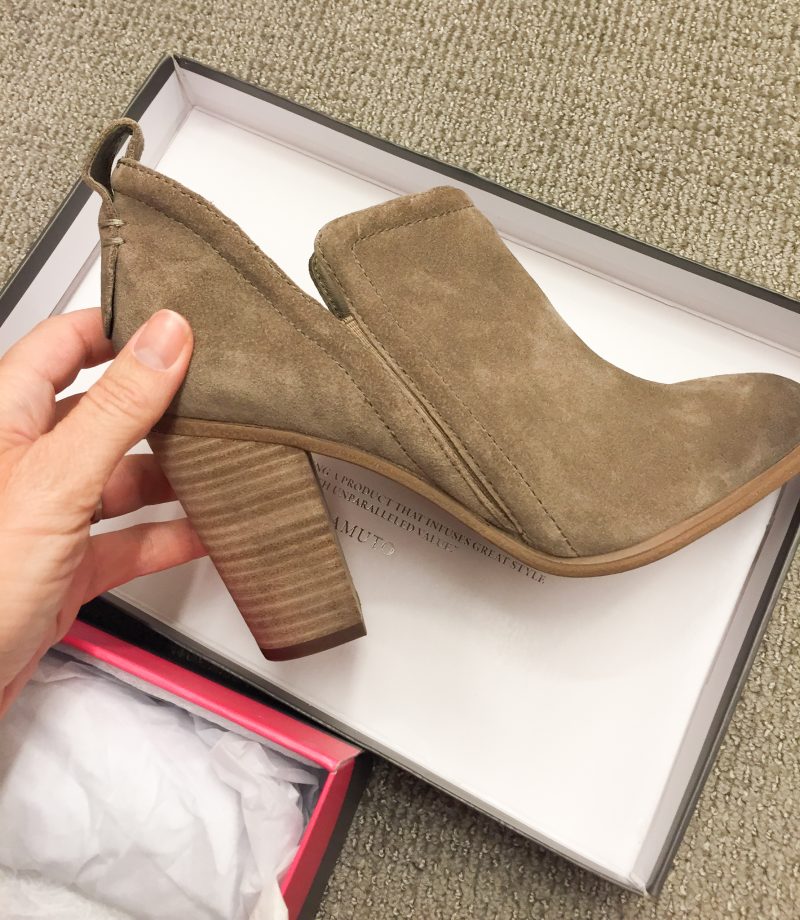 These Vince Camutos are my number one bootie pick. I love them so much. They are the ones I am wearing above with the gray dress and sweater outfit. They are slightly darker on the toe and heel to give them more dimension and character. Love that detail. Very comfortable and look great on. They are true to size and I highly recommend these cuties.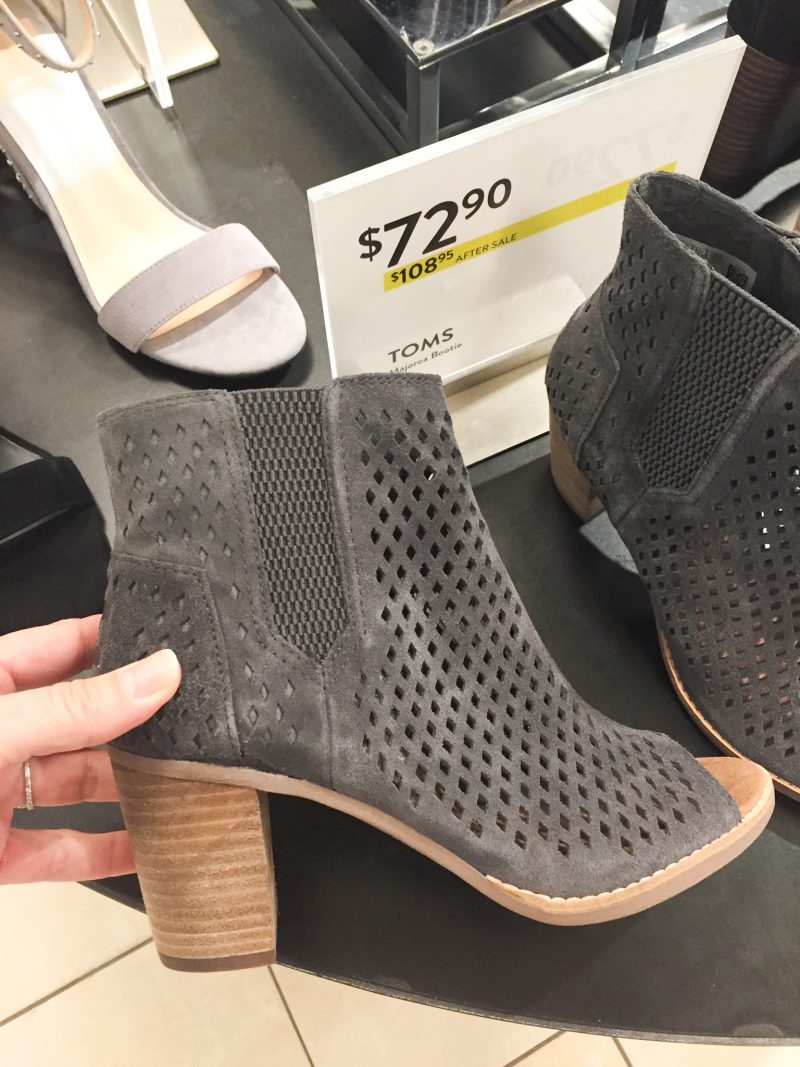 I am also a huge fan of TOMS. They are always extremely comfortable and this color is great. I wear my open toe TOMS booties all the time. Can't go wrong with these and the price. They also come in a beautiful toffee color.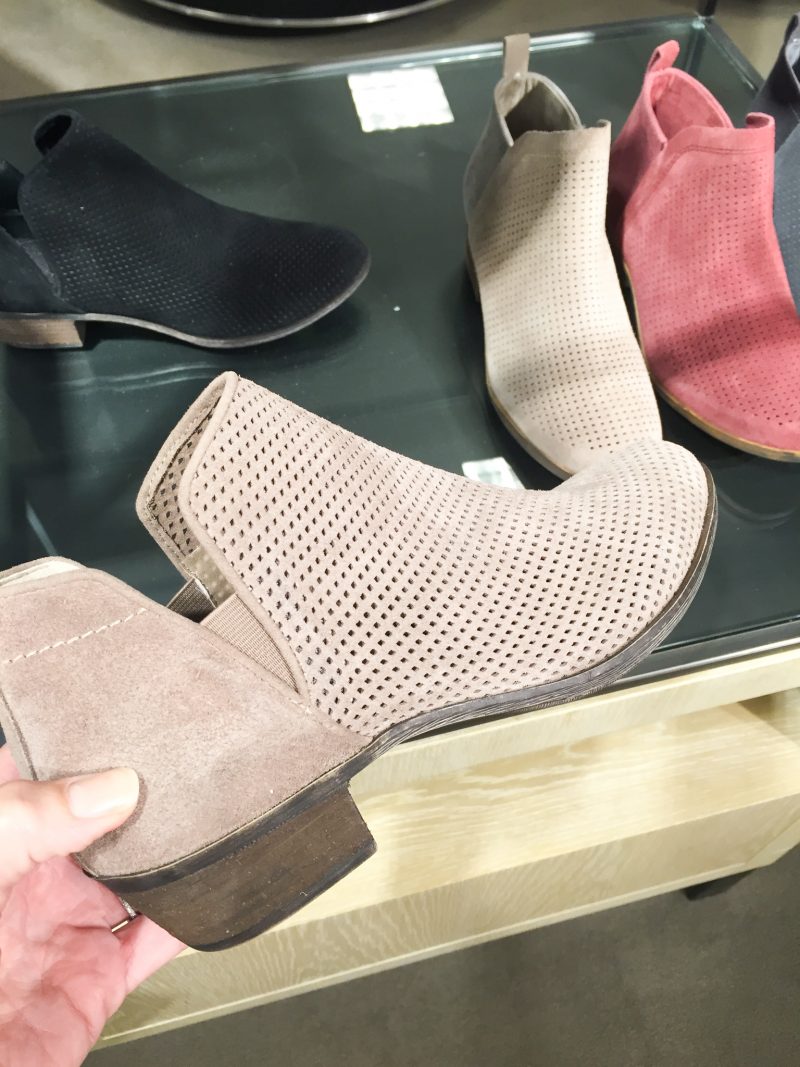 These are my pick for a flat bootie. I bought these myself and love the way they feel. These caught my eye and I tried them on but all of the detail made them very uncomfortable. They also kept slipping off of my heel so I eliminated them quickly. But these are darling, come in a few colors and are only $99.95 $69. These also have a low heel and I am LOVING the blush color.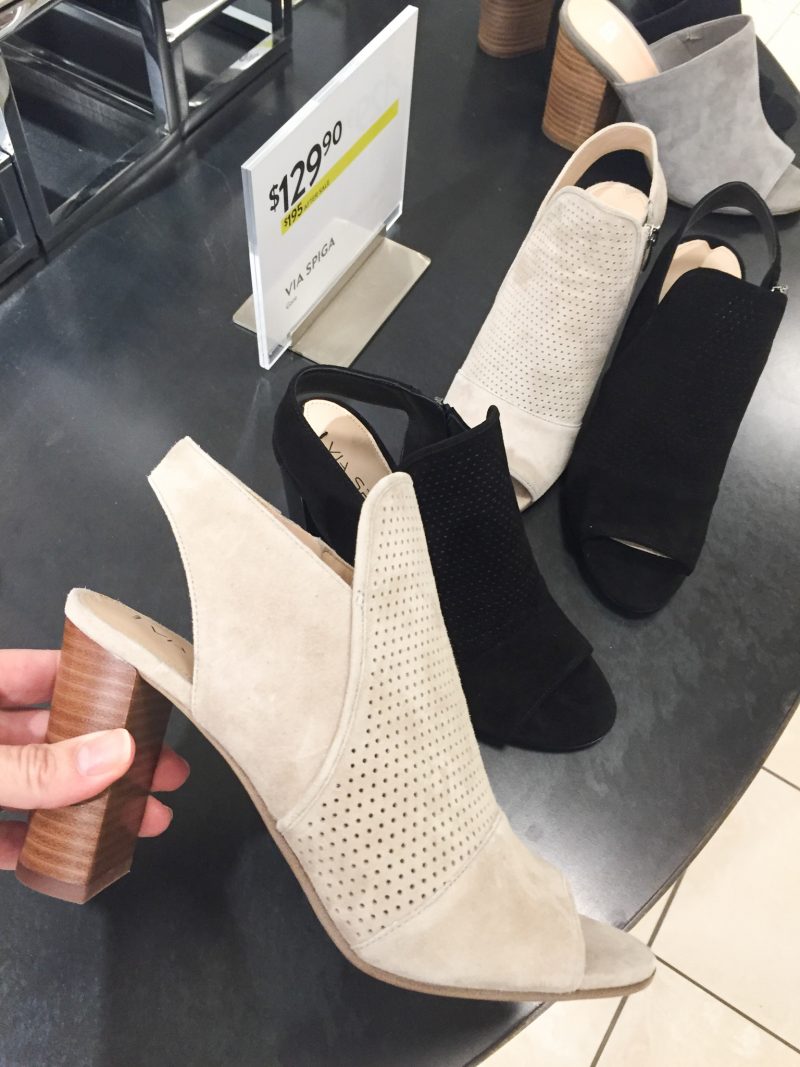 If you are looking for a bit of a dressier bootie, this is my choice. Beautiful cut and very flattering on. They will be almost $200 after the sale but are now $199 $129.
Booties On Sale

BOOTS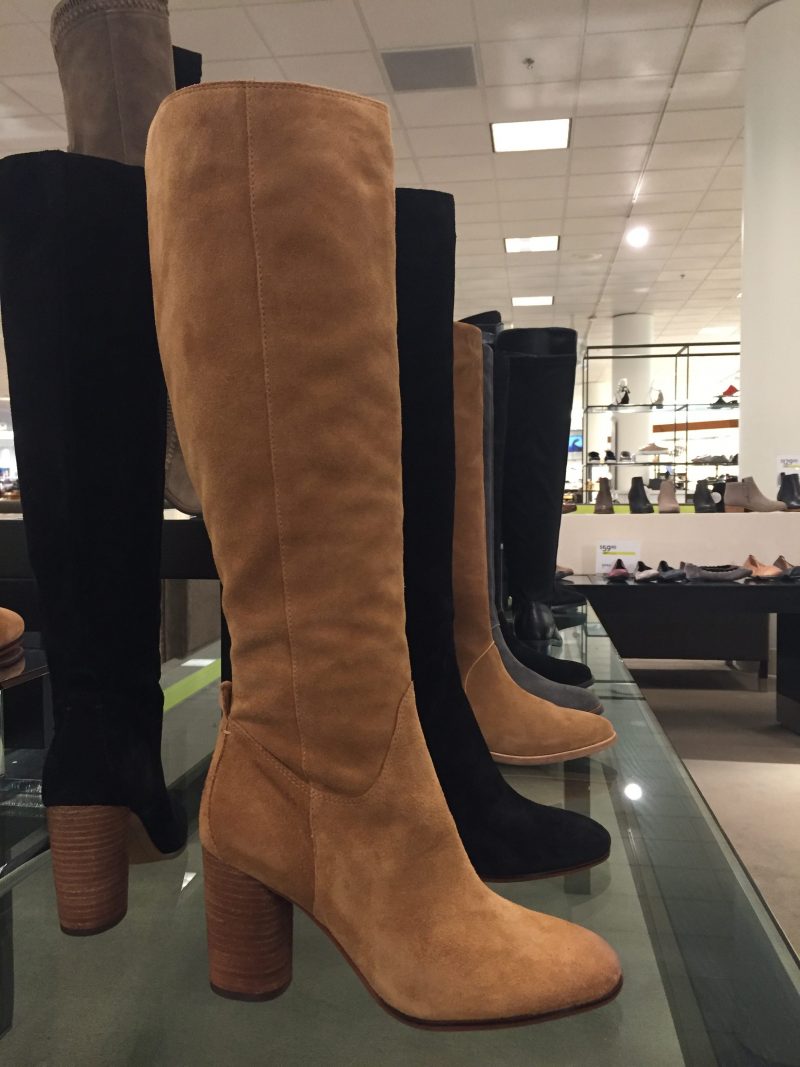 I can't wait to show you these Sam Edelman boots! I bought them and I LOVE them. Big time. I went a 1/2 size down and they fit perfectly. So pretty and classic. They are very comfortable and the heel isn't too high. I think these will go quickly because they are so classic. If you are looking for an over-the-knee boot I thought these were beautiful.
FLATS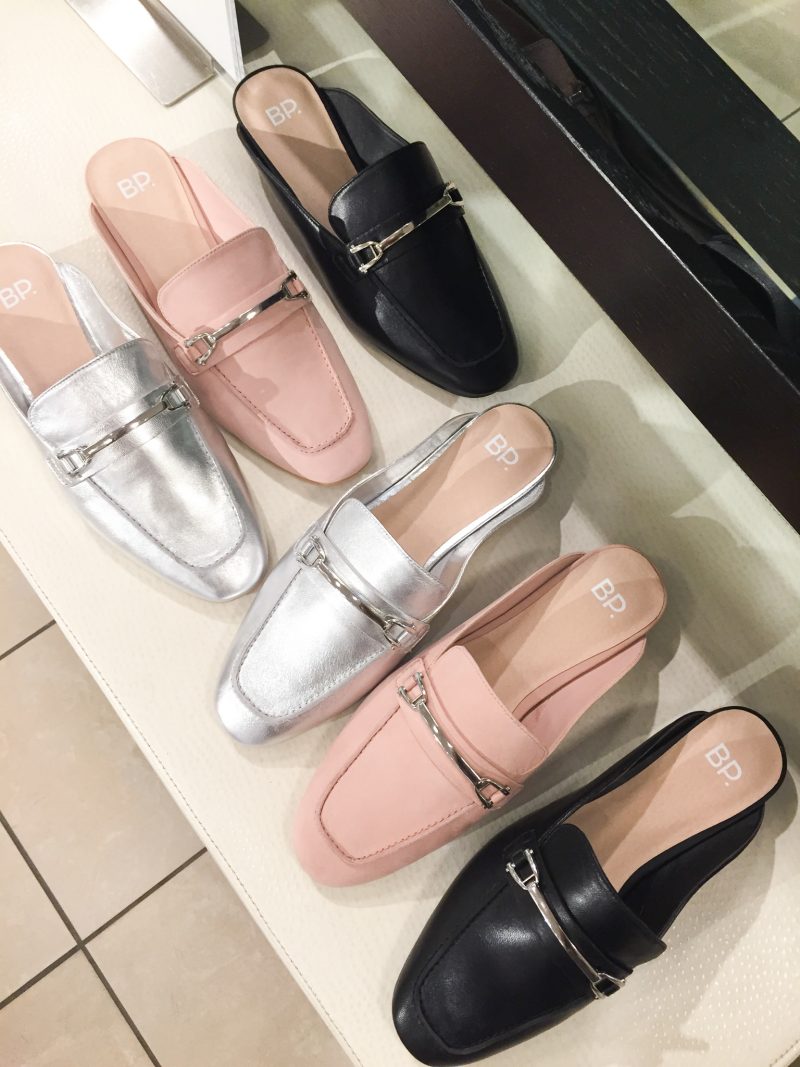 I don't wear flats as much as I probably should, but I do love a great mule. These are really pretty in person and have a classic preppy vibe while still being trendy. Love that blush color. They are only $52 during the sale. 
SPORTY SHOES
These are sooooooo cute! I love them so much. They are marked down to $89. I happen to have these in white and they are extremely comfortable.
Oh, hey cutest Converse ever!? How you doin'? Girls! These are darling. They are $35. Order them quickly as they will sell out. I am getting this lighter color but they come in two other colors, too. I can't wait to wear them.
DENIM
There's no question it's a great time to stock up on denim. I rounded up my favorite styles and they are all great prices right now. If you're looking for an updated pair of Hudson's I tried these on and loved them. Extremely comfy and I was surprised at how much I liked the ankle cut when they were on.

MORE TO SEE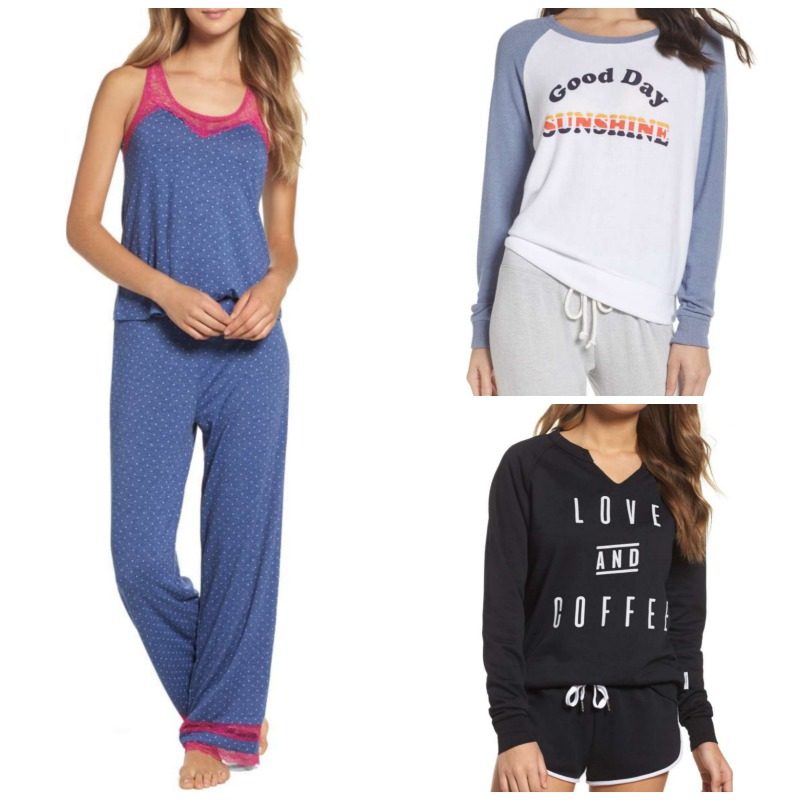 pajamas  |  sunshine top  |  love and coffee
I like to lounge and there are so many great deals to be had. My favorite Make + Model soft pants are part of the sale! And I'm fairly certain that the love and coffee top was made for me. Yes to both!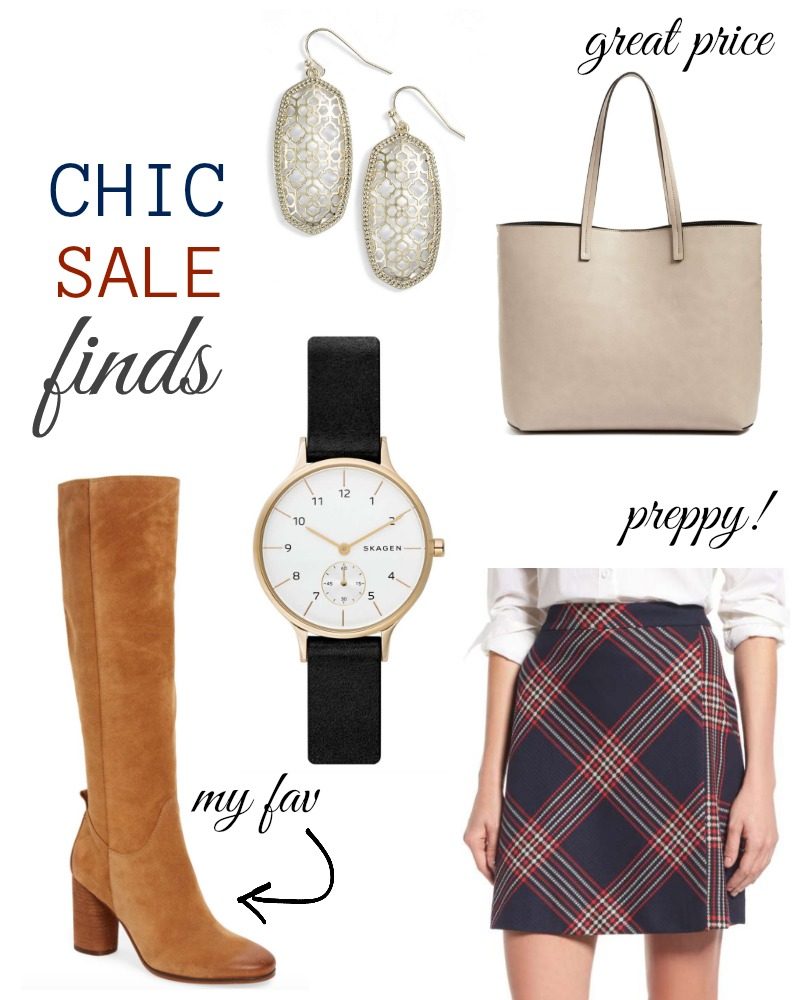 boots | watch | earrings | skirt | tote 
There are also a number of swimsuits on sale! You can check them out here.  I am planning to take my kids back to school shopping and my daughter has already picked out this top  and these boots.  In workout news, these leggings are only $31. You can see all of the activewear on sale here.
If you are new to the sale or have not read my tips on shopping it, you may want to check this out.   Shop tab at the top of my blog!You can also stay up to date on my posts and finds from the
I have so much more to show you so I will pop back in tomorrow with more looks from the dressing room. I hope this gives you a good head start. With so much on sale it can be overwhelming so I hope this narrows it down for you. Let me know if this has been helpful and what pieces caught your eye!
*Affiliate links used | Hair cut and color H Studio Salon