Good morning, my friends! How was everyone's week? Sadly I do not have an update on our kitchen. Many of you have been asking and we are still waiting for our sink to arrive before we can do anything else. But I am almost done with a local restaurant report where I will share all of our favorites. Did you catch my Nordstrom sale finds under $100? Yesterday was bananas if you are a Nordstrom card holder. Thank you to everyone who put up with some serious tech issues on their site. The good news is they gave everyone 10 points per net dollar. Today I am sharing part two of the Nordstrom Anniversary Early Access Sale. Instead of throwing more new outfits your way, I am showing you how to mix and match my favorites. Also sharing some items you may forget about but are fantastic deals. Let's get to it.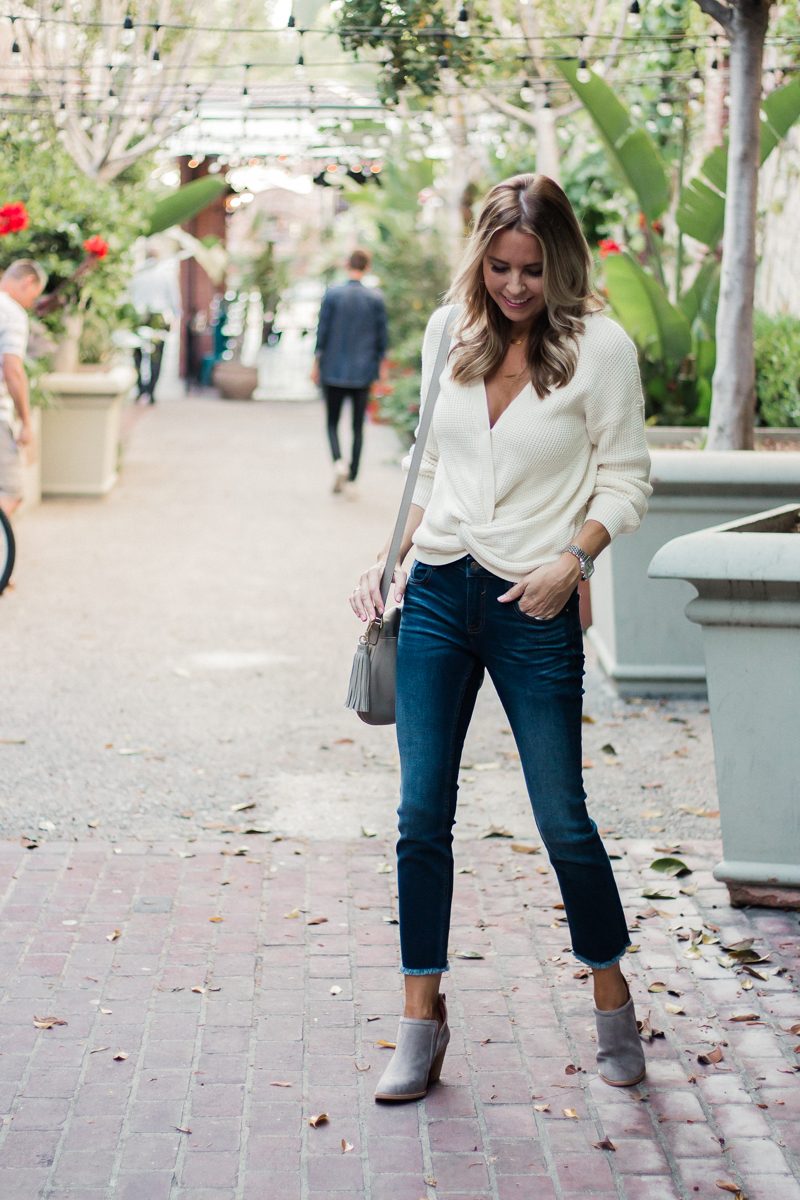 sweater $31.90 $49.00 | jeans $44.90 $68.00  | booties
*FYI: Many items are sold out but if history repeats itself, they will be restocked so keep checking back. Just know that if you see something, grab it.
*Fit: I am wearing a small in everything unless noted. I am 5'7″.
This sweater is a major favorite and still available in the pretty coral color. It would look so pretty with dark or light jeans. I am wearing a small. It is cropped but if you wear it with high-waisted jeans like these, your midriff won't show. It's just a really great sweater.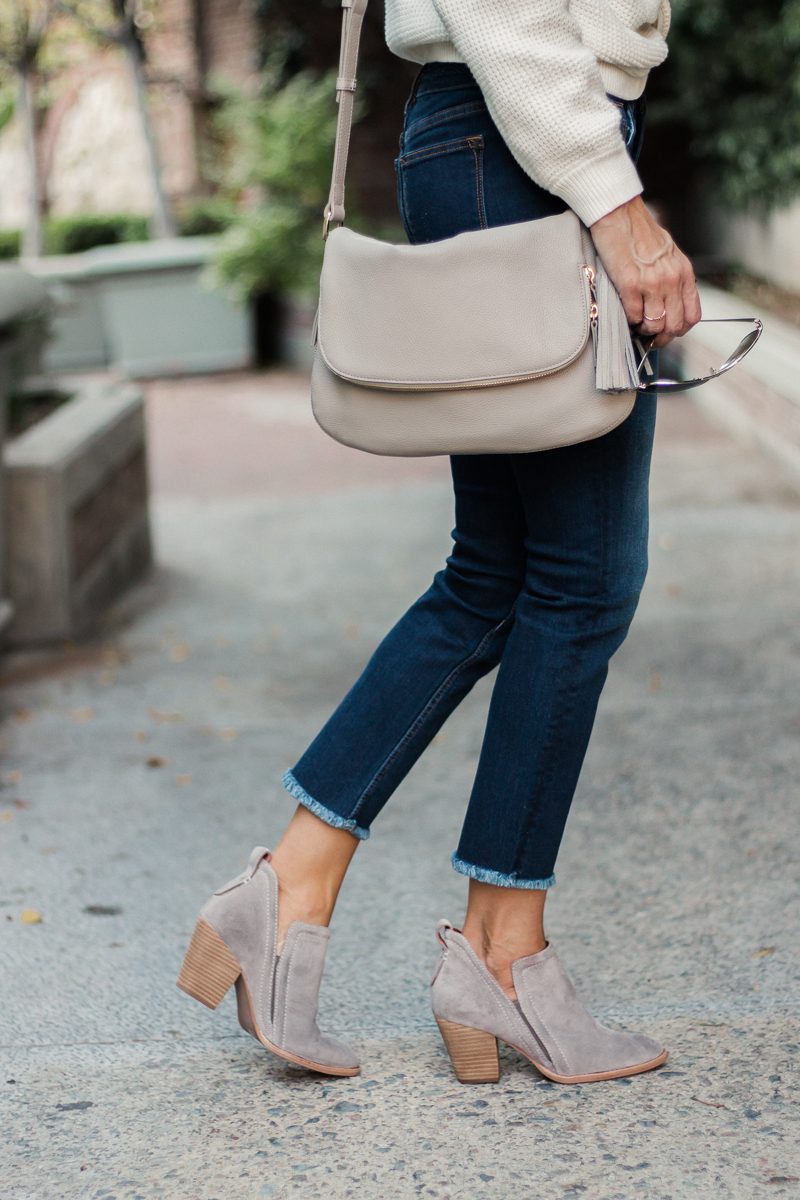 sweater $31.90 $49.00 | jeans $44.90 $68.00  | booties  | crossbody bag
You can also see how the sweater sits on your waist in the back. So flattering. These booties are very comfortable. They are true to size but a bit roomy in the toes which is actually really nice. I sprinkle mine with baby powder or use no-show nude socks. There was some confusion yesterday so I called Nordstrom. These are the Vanhook in taupe suede and they have white stitching. But the stock photo online is incorrect and does nots how that. The heel is low enough to make it easy to wear. These cropped jeans are such a steal and look great with booties. Wearing a size 25. I wore my crossbody for date night last night and loved it. There is an outside pocket for your phone which is key. Great handbag. Have you seen this smaller one, too. Also very cute.
LIGHT WASH DENIM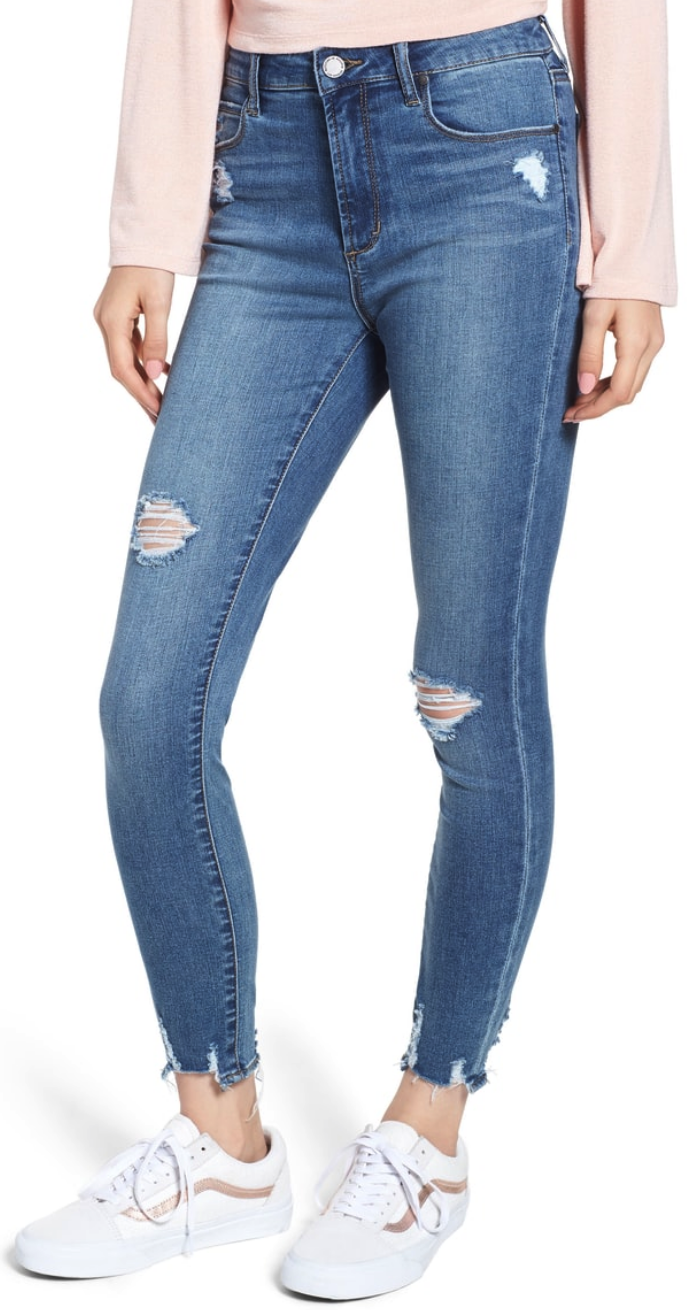 jeans $44.90 $68.00 | old skool shoes $42.90 $64.95
If you are looking for a lighter wash, this is my pick. One of my favorite brands because they are stretchy and comfy.
CUTE HIGH BOOTS
Yesterday I focused on booties, but if you are in the market for a great pair of high boots I rounded up my favorites and ones that are worth it.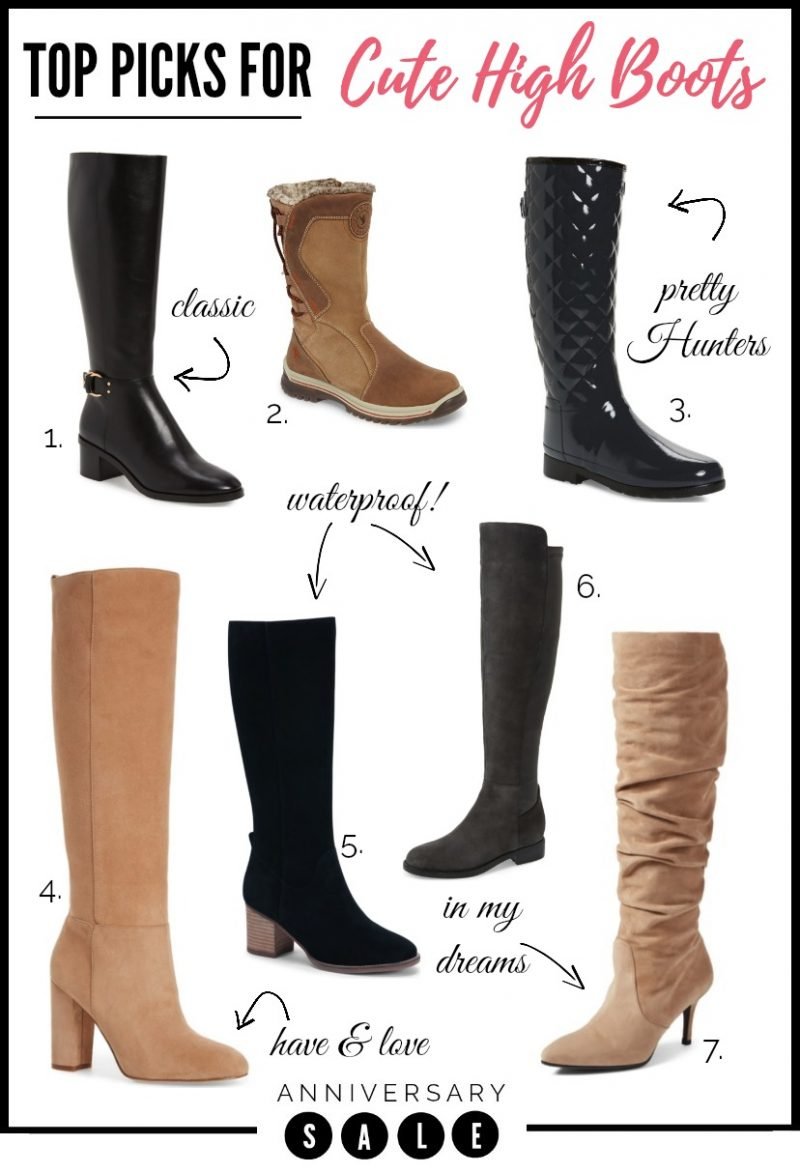 1 | Tory Burch Marsden Boot absolutely classic and timeless. A really pretty boot.
2 | Santana Winter Boot  In the snow a lot? This is a beautiful waterproof hardworking boot.
3 | Quilted Hunter Boots regular black hunter bootsLove the quilted detail. The are also on sale!!!
4 | Sam Edelman Boots I bought these last year and adore. The heel is slightly different but a gorgeous high boot.
5 | Blondo Boot  Guess what? These are waterproof. They demonstrated pouring Gatorade on them! Not a spot!!!!!
6 | Over the Knee Boot  I've realized I like a flat OTK boot. Just more my style. These are waterproof, too!! Genius.
7 | Stuart Weitzman  So these are $300 off. Safe to say they won't be in my closet but I tried them on and they are lovely. My calves are too small for them so I guess I can't buy them (joking. . . .too pricey for this girl).
I know the navy floral top is selling out but this one is darling, too. So cute. It is longer so you can wear it out and it covers your bum or you can tuck it in a bit for a different look.
KEEP IT CASUAL
Time to mix and match some of my favorite pieces. You really can create so many different looks with just a few sale finds.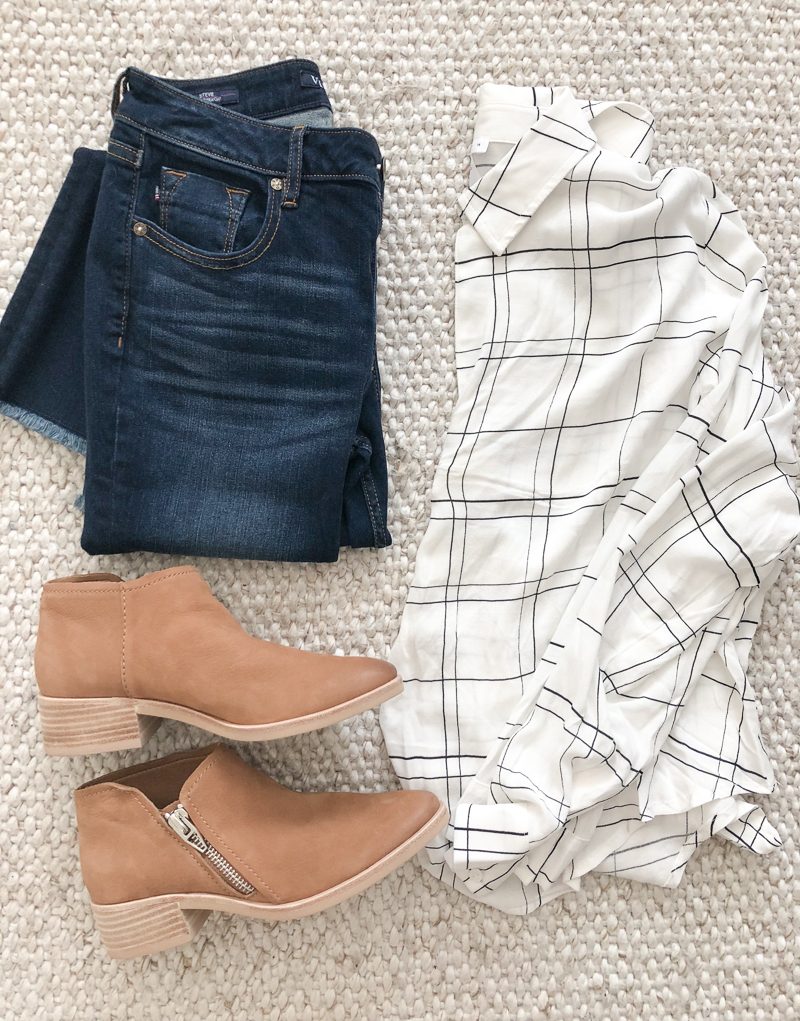 jeans $44.90 $68.00 | plaid top $45.90 $65.00 | booties 
Adore this blouse. Very pretty and flattering. By the way these booties created quite a stir yesterday. I have to apologize as they are not part of the Nordstrom Anniversary Sale but they caught your eye. I adore them. They are a perfect low bootie for everyday. Great color and I adore the light-colored heel. They run TTS. If you would prefer one from the sale, I think this is a very close substitute.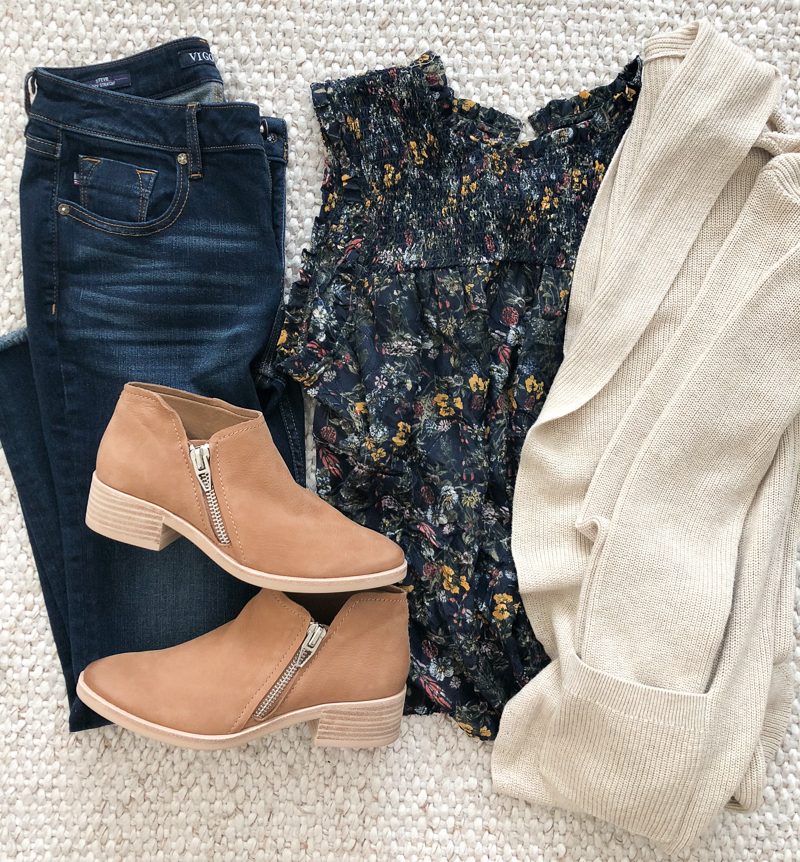 cardigan | jeans $44.90 $68.00 | booties | floral top $42.90 $65.00
Do not wait on this cardi if you like it. It's so good!!! I went down a size on this and bought an XS. It comes in so many colors and because it's lightweight you can throw it over dresses or tops and it looks great.
GIRLS NIGHT OUT
Adding a higher bootie or a couple of accessories makes you ready for a night out with friends.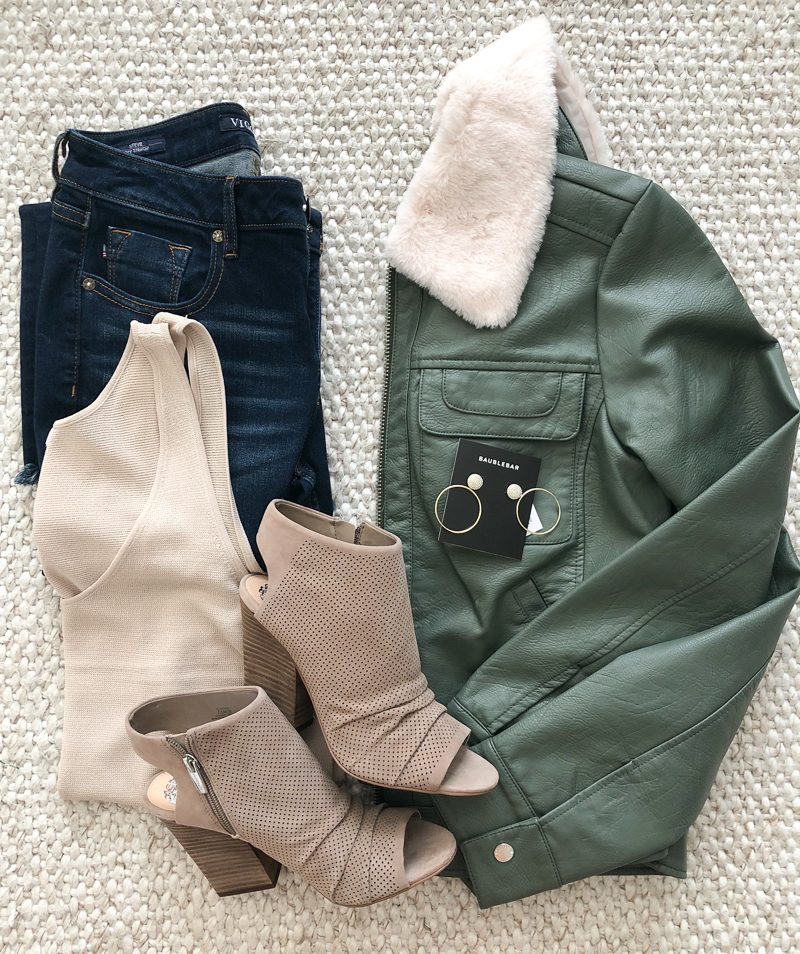 earrings $33.90  $52.00 | jeans $44.90 $68.00 | bootie | sweater tank | jacket $64.90 $98.00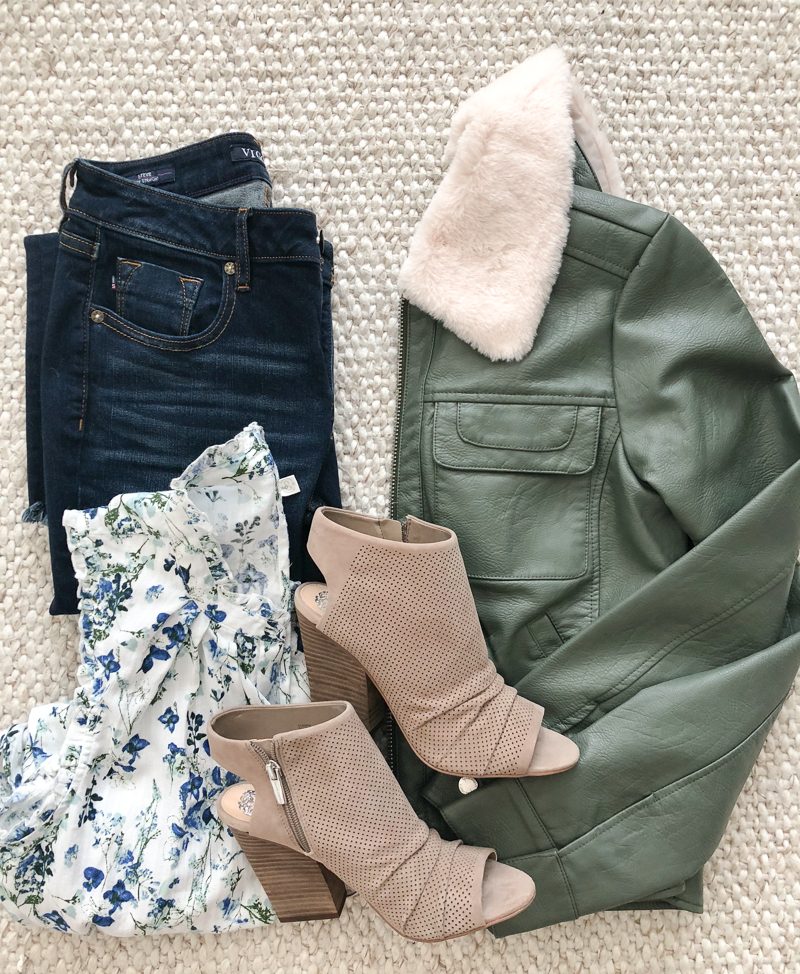 jeans $44.90 $68.00 | bootie | floral top | jacket $64.90 $98.00
This green had me at hello but it also comes in black and white. The collar is removable as well. I bought a small.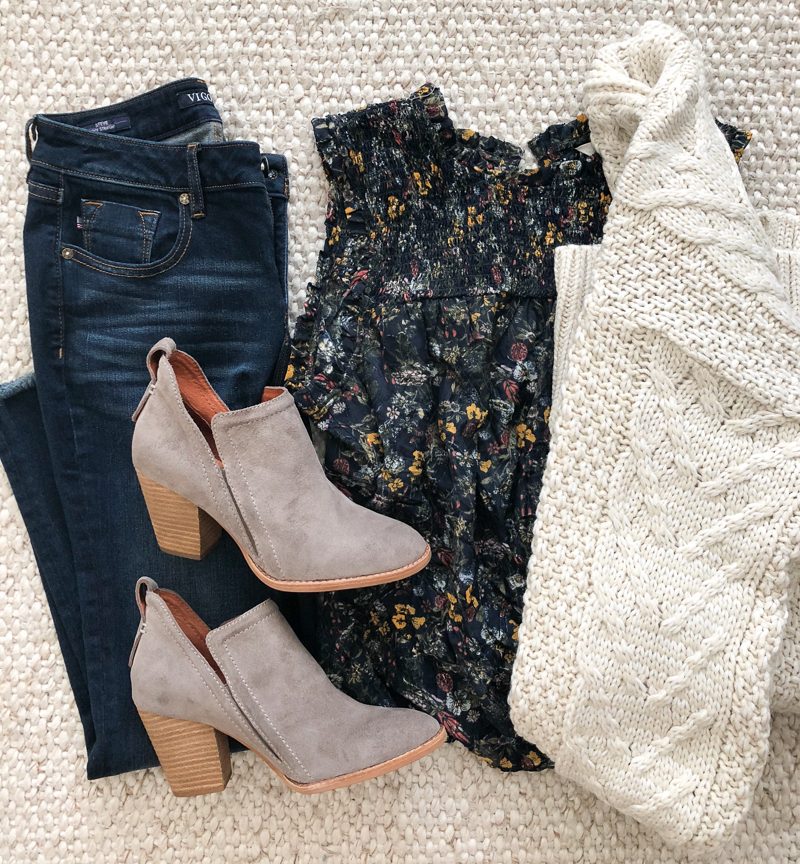 jeans $44.90 $68.00 | floral top $42.90 $65.00  | cable knit cardigan $49.90 $75.00 | Bootie
This cable knit sweater is so good for Fall and Winter. I love the texture and how it looks paired with a feminine blouse.
DATE NIGHT
Time to step up your game even more for a night out with your love.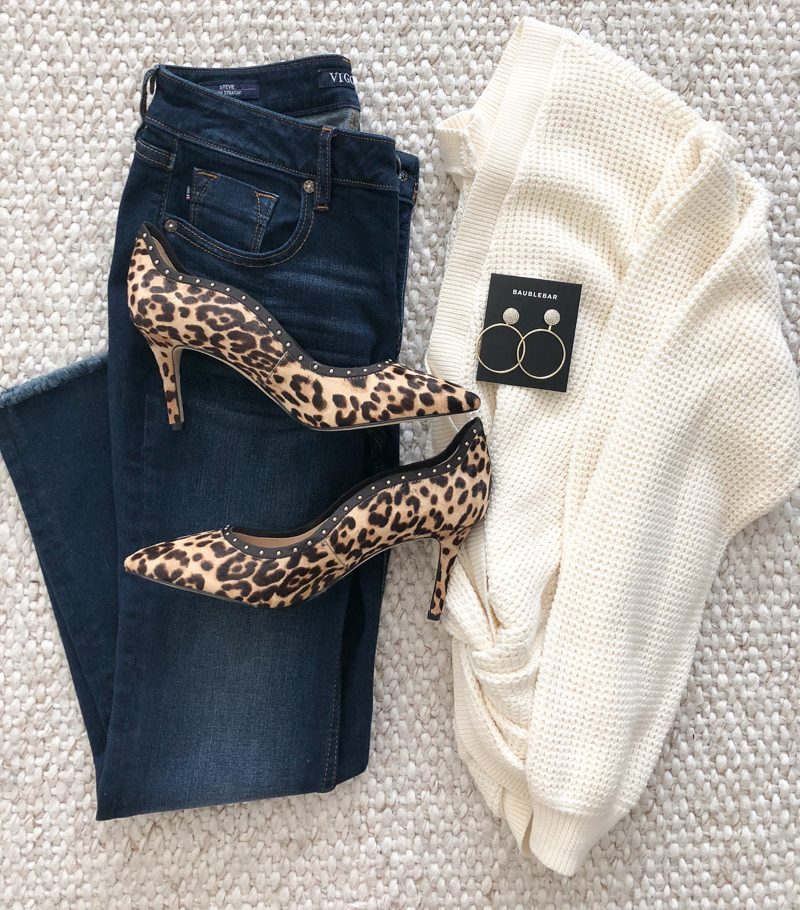 earrings $33.90  $52.00 | jeans $44.90 $68.00 | sweater $31.90 $49.00 | heel $89.90  $139.95
I bought these sexy heels. But let's talk about fit. There are some things you need to know! First of all they look incredible on the foot. BUT they run really big. I am usually a 7.5 and went with a 7. But they still tend to slip off my heel a tad so I am putting a small insert in the toe. To me it's totally worth it because I really love them and they are very comfy on the foot. Just be aware they ran big for me.
A sweet reader asked what the heels look like on so I tried to snap a really quick photo after my workout. Comedy sitting in workout shorts and heels. This is the best I could do! They are very pretty despite my poor photo!

earrings $33.90  $52.00 | jeans $44.90 $68.00 | bootie | trés chic tee
These earrings!!!! You need them. Let me tell you why! I wore them last night for date night and loved. There are two that come in the set but guess what? There are really four pairs because the studs come away from the hoops. Genius!!!! So can wear the little studs alone or with the hoops. Why didn't I think of this?

earrings $33.90  $52.00 | moto leggings $72.90 $110.00 | sweater $31.90 $49.00 | heel $89.90  $139.95
Time to add a little sexy with the Spanx moto leggings. I am head over heels for them. I apparently have been missing out. Really good, girls. And super sexy with the twisted sweater.

earrings $33.90  $52.00 | jeans $44.90 $68.00 | ruffle tank $38.90 $58.00 | heel $89.90   $139.95
The famous strappy tank by Wayf is part of the sale! I am so excited. These tanks are so pretty. Great alone or with a blazer or cardi. Also really cute with the faux leather jacket.

earrings $33.90  $52.00 | moto leggings $72.90 $110.00  | plaid top $45.90 $65.00 | bootie
Another great look is a button down with the moto leggings. Comfortable but pretty and pulled together. Highly recommend these booties. I wore them last night and received so many compliments. Great bootie.
IN STORE GOODIES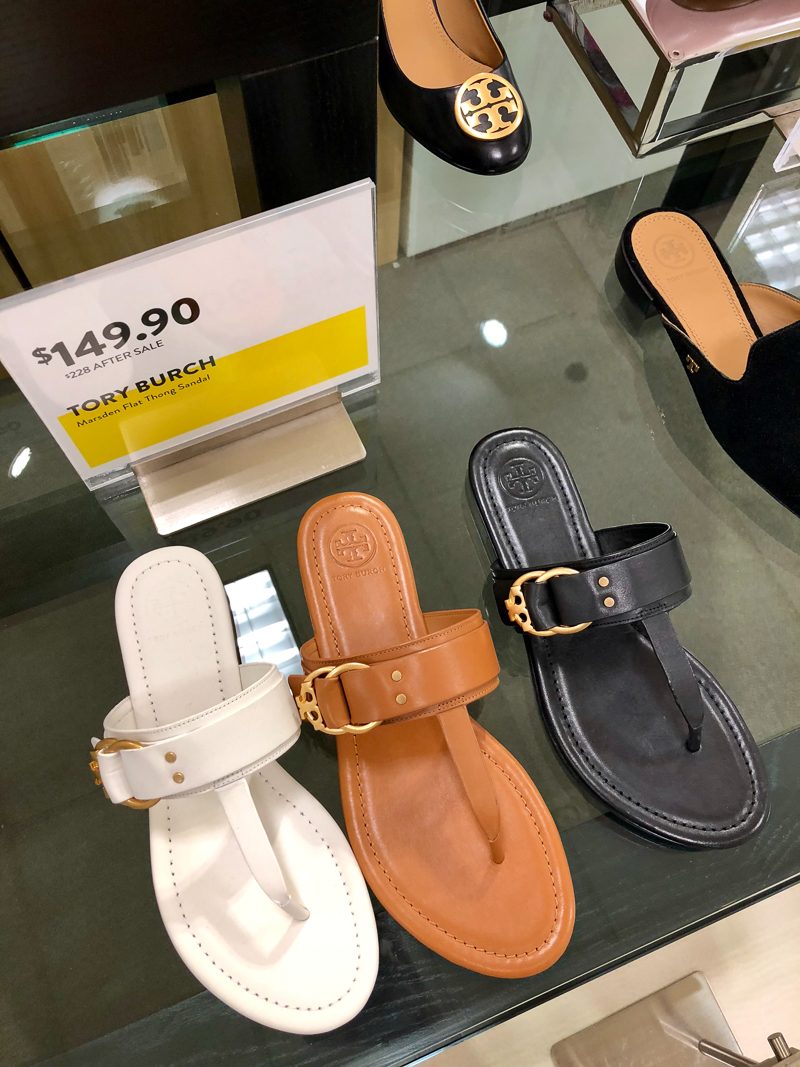 tory burch sandal $149.90 $228.00  | tory burch flat $164.90 $248.00
I wish I could wear these. Sadly I have a very high arch so they do not work on me. But I love these as an alternative to the logo sandal. The flat in the background is on sale, too.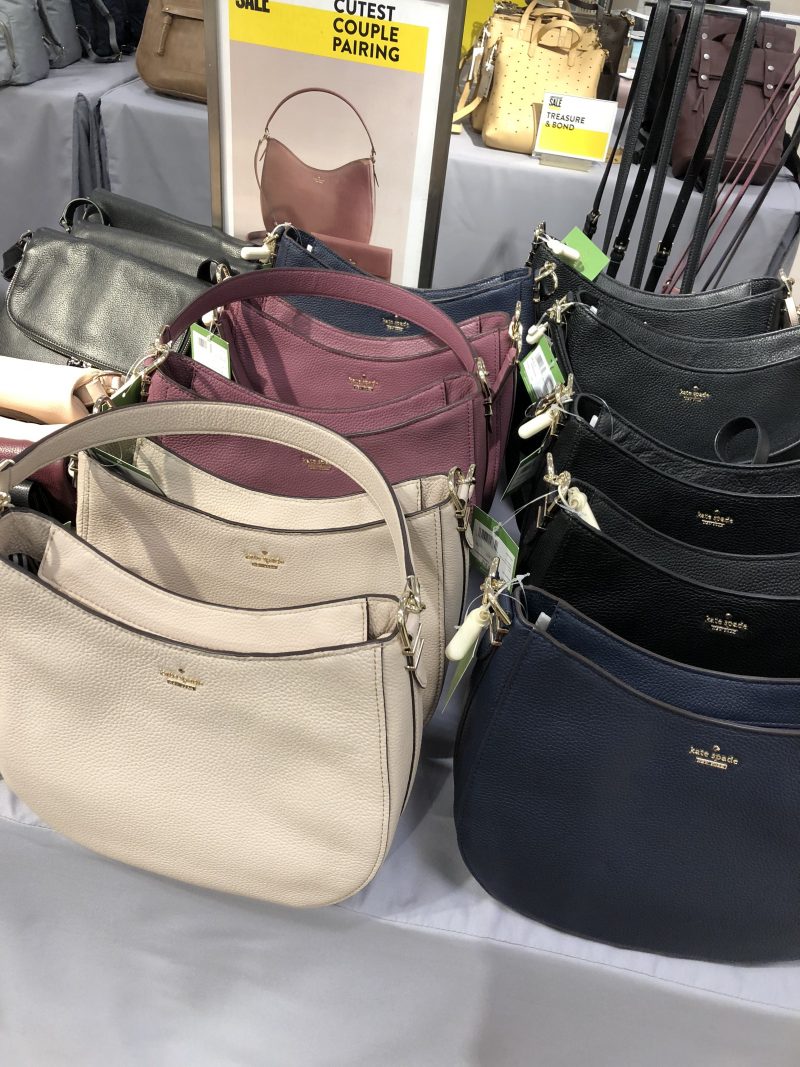 coach handbag $218.90 $328.00
If you are looking for a Kate Spade, this is my pick. A really pretty handbag in person.
adidas $104.90 | $140.00
Most comfortable shoe! These feel like you are on clouds. The Adidas tend to fly off the shelves so don't wait if you have your eye on these.
JUST IN CASE
Lastly, there are some amazing deals on products you may not think of. I think I am finally buying the curling iron.
1 | Luggage Set Upgrading my luggage a few months ago was something I don't regret. So lightweight and functional
2 | Dry Shampoo My favorite by far. Actually like spraying it at night and sleeping in it.
3 | Sunnies A great pair by Kate Spade. Classic and pretty.
4 | Eye Brushes These are the ones I use the most for my brows and eyelids.
5 | Natori Bra  Little unknown fact: I hate spending money on bras. I will only buy on sale & this is my favorite.
6 | T3 Grey Curling Iron  I've been hearing about this iron forever. I am finally buying one for myself.
7 | Pretty Earrings  These are beautiful and a best seller from last year. Wonderful gift idea.
8 | T3  Hair Dryer I have this and love it. Worth the money. More gentle on my hair and it dries so quickly.
9 | Lash Enhancer  I have lash extensions so don't use this but three of my best friends do and LOVE. It really works. In fact I am toying with using it instead.
dress $52.90 $79.00 | bootie $99.90 $149.95
Lastly, I wore this $52 dress last night and received so many compliments. Highly recommend this dress, girls. Easy to wear and so comfy.
I hope this was helpful, friends. If you missed my post yesterday you can get caught up below. Enjoy your day!!! We are wrapping up a week of VBS and then planning on some serious family time this weekend. What do you have on the agenda?