At long last, you don't need a card to shop the Nordstrom Anniversary Sale. I am sharing the pieces that have caught my eye or I personally bought. The finds I first showed remain my favorites so you will so those mixed in with some basics that are great for adding to your wardrobe while they are on sale. I will also be sharing my top ten purchases from the sale. Let's jump right in and hope that all of the restocks have happened, shall we?
HIDDEN GEM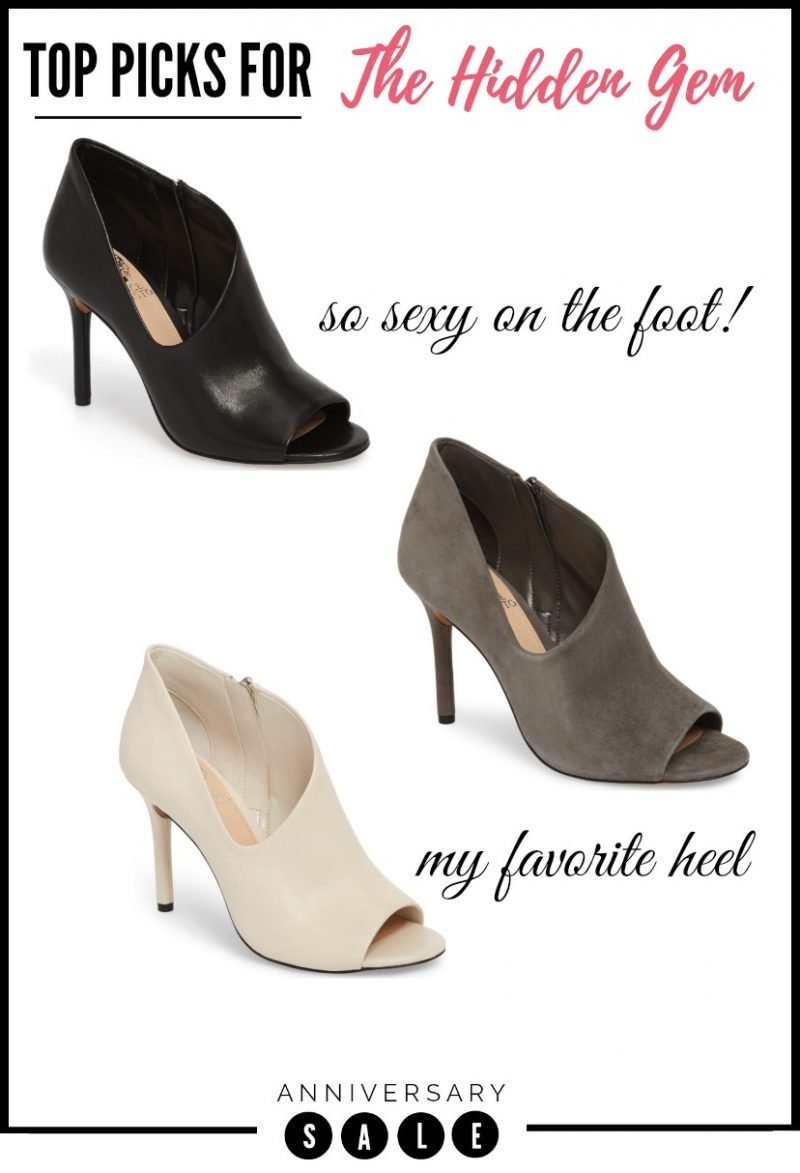 assymetrical pump $89.90 $139.00
Before I jump into anything else, I have to rave about these heels. I had a heel a while back and it remains my favorite heel ever. I get asked about it all the time. Such an amazing look on the foot. Trust me. Super sexy and really good with any outfit. I am calling these the hidden gems because very few stores actually got them in so few people saw them. Mine arrived yesterday and I am in love. They are true to size. I bought the black but I am also buying the greystone suede. Girls, I promise! This one is gooooood!
TIME FOR BED
p.j. salvage jammies $58.90  $88.00
I wanted to try these on before I ordered them. Absolutely love. They are incredibly soft and so comfortable. I can see myself getting into these way too early in the evening. They come in a few different patterns. A nice gift idea, too. You can never go wrong with cute pajamas.
TOPS TO LOVE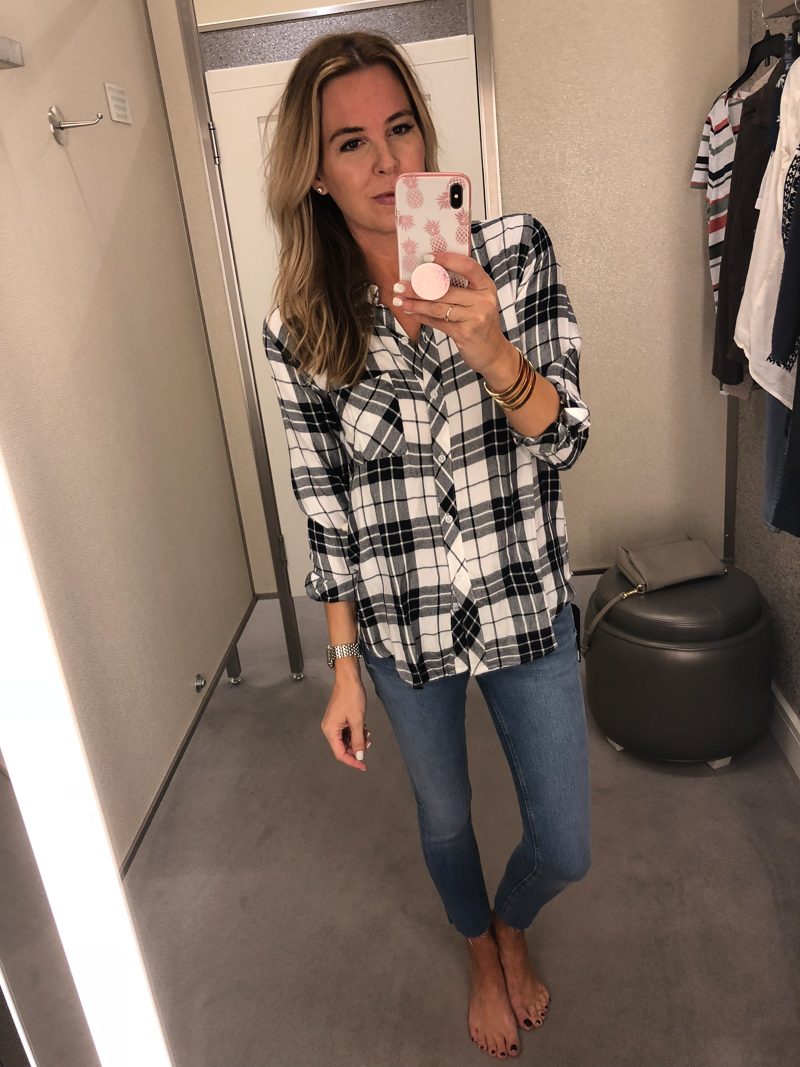 A dear friend just asked me about these Rails button downs. I am so torn. While they are incredibly soft and flattering, they are expensive for a button down. I do think they are very pretty shirts. I would never pay full price though. So if you are going to add one to your wardrobe it needs to be during a sale.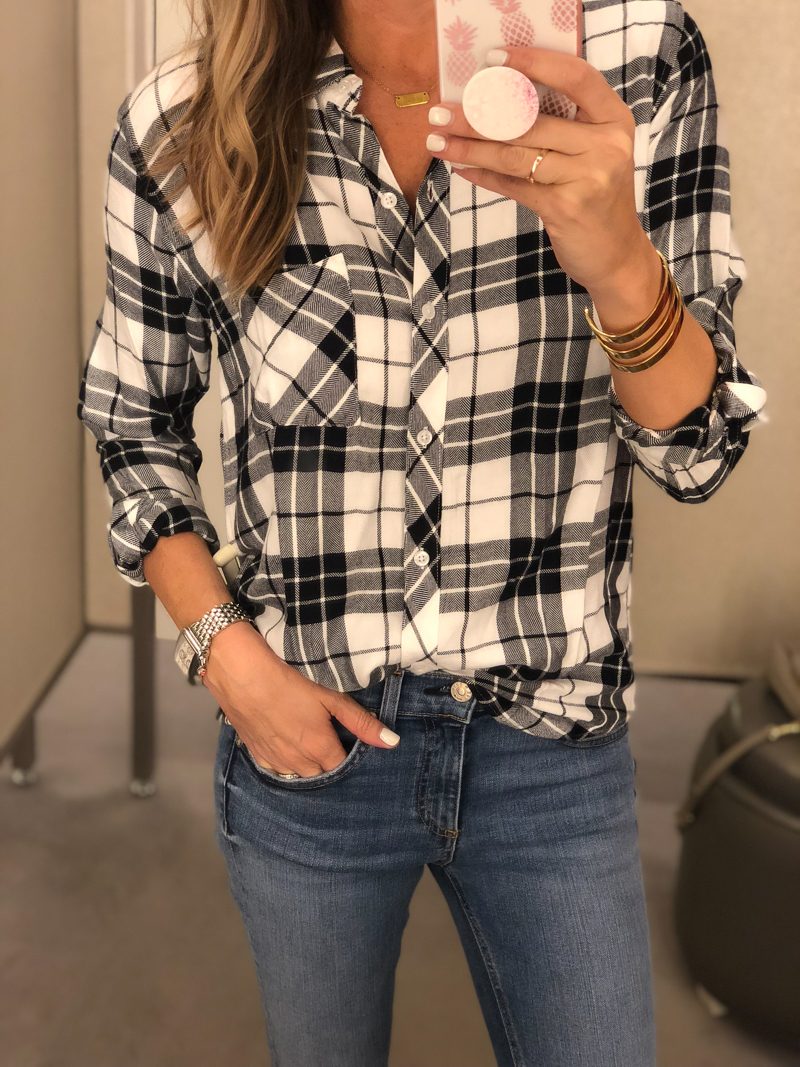 Rails button down $104.90 $158.00
I like that they look great tucked in and out. There is just something lovely about the way they fall.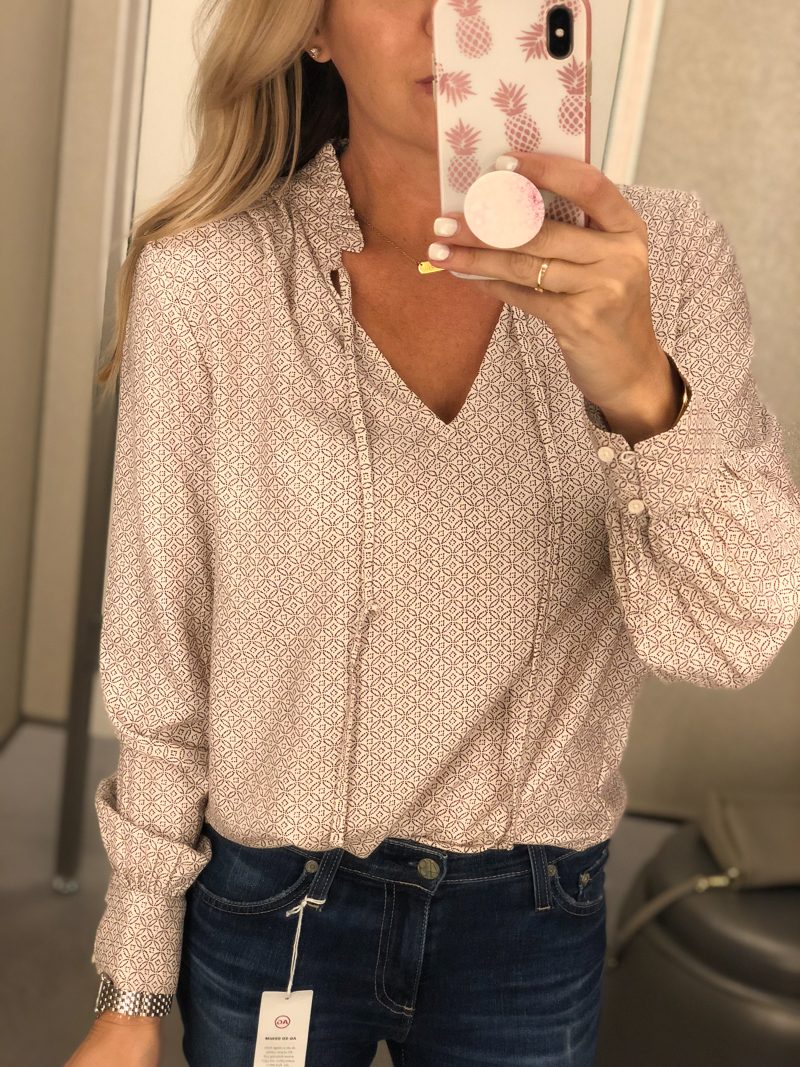 ruffle shirt $45.90 $69.00
I am not sure how I missed this top during Early Access. I definitely would have bought it. It's beautiful. It is true to size and I am wearing a small. There is something so pretty about the print and the neckline. It does come in a few other colors, too. This is one of those tops that you can throw on with jeans and a pair of booties and you feel dressed up and ready to go.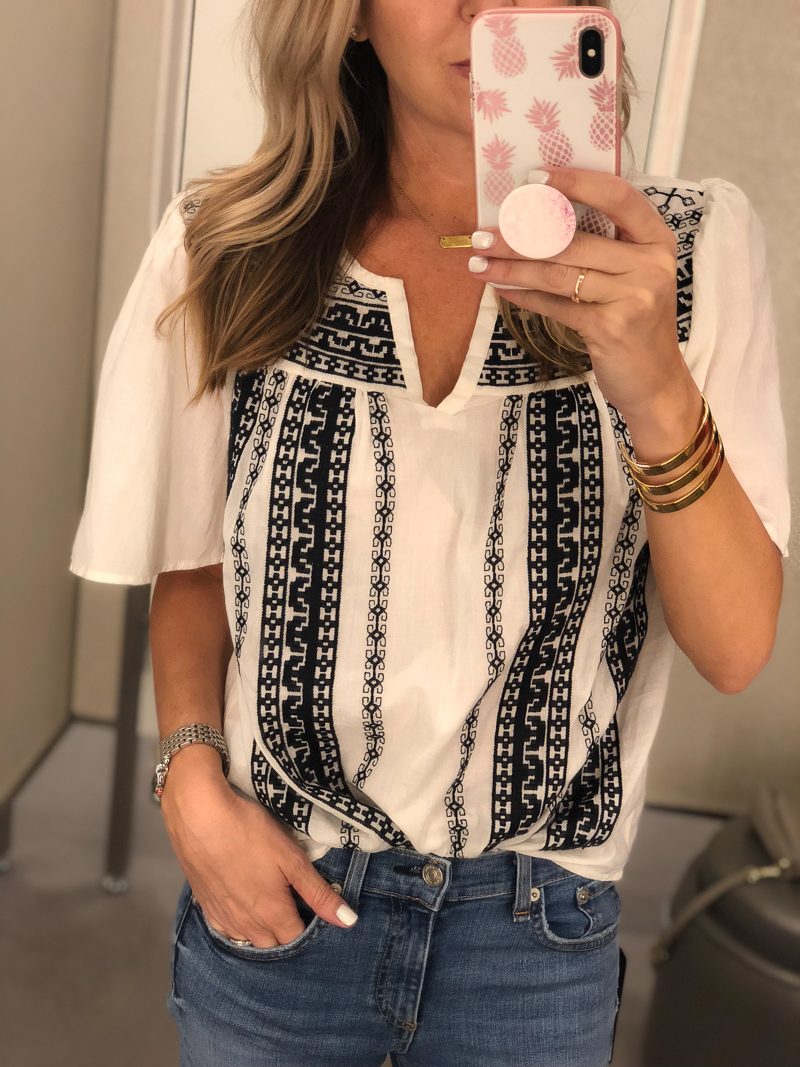 embroidered top $45.90 $69.00
Another fun top. I prefer it tucked in a bit than hanging loose. The sleeves are quite wide so you need to be ok with a more boho look. Great embroidery detail which makes it different.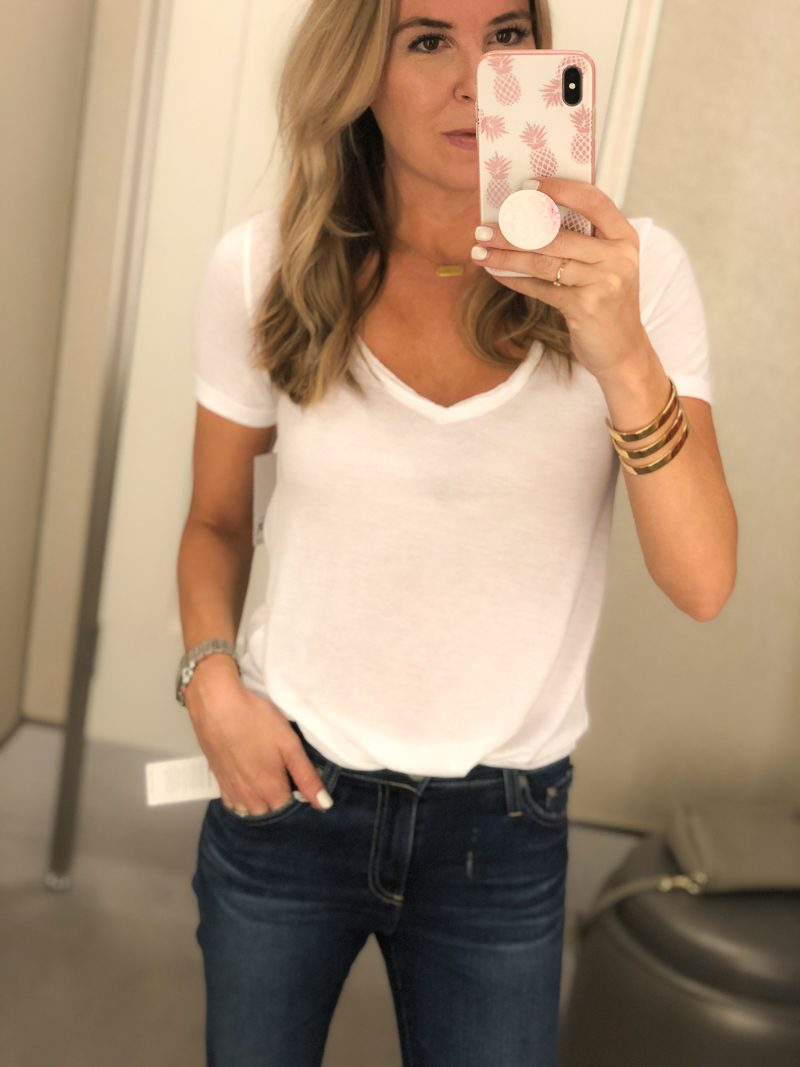 v-neck tee $11.90 $17.00
Long live the plain white t-shirt. This is the type of thing I like to take advantage of during this sale. I wear them all the time. This is the B.P. shirt but the Caslon is also on sale right now. In the one I am wearing I suggest sizing down one if you want it less baggy. I am wearing an XS.
LAYER UP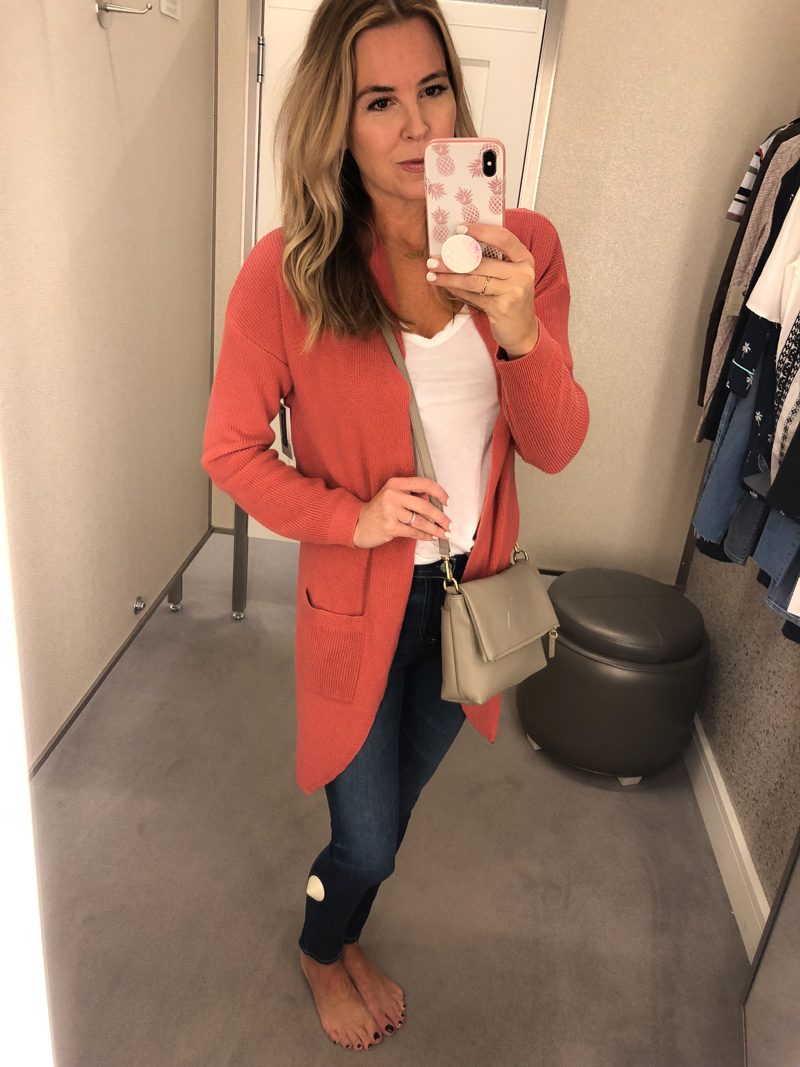 cardigan $31.90 $49.00 | crossbody bag $85.90   $129.00
This is a sale favorite for sure. This cardigan comes in so many colors and is the perfect weight and length. The way it is cut, you still see your outfit and it doesn't make you feel frumpy. Let's be honest, some cardigans do that! The price is awesome on this. You will probably tire of me talking about this crossbody but it is ADORABLE. It's so soft and feels really expensive. I have carried it everyday since I bought it. Homerun purchase for sure. This larger one is also a homerun. Yes, I have both sizes. Hoping my husband hasn't noticed yet.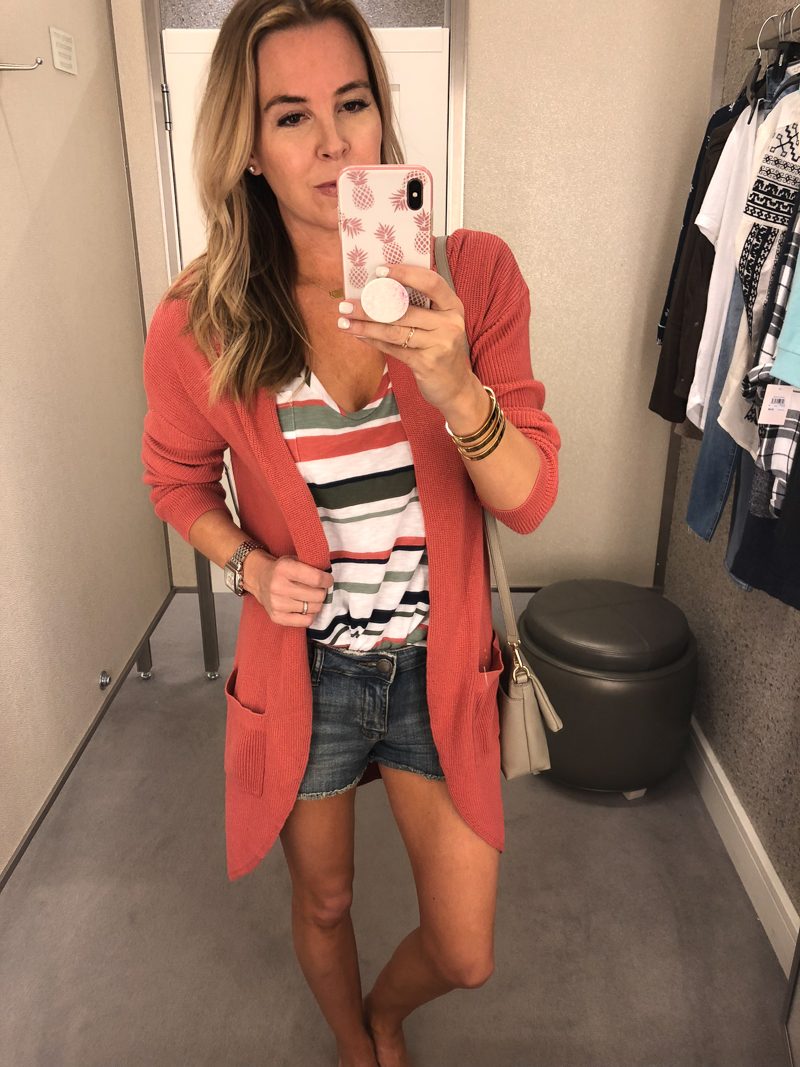 cardigan $31.90 $49.00 | striped top $17.90 $25.00 |  denim shorts | crossbody bag $85.90  $129.00
Also loving this cardi over a pair of cut-off shorts and simple striped tee. Comfortable but still pulled together. This striped top comes in a million different colors, too.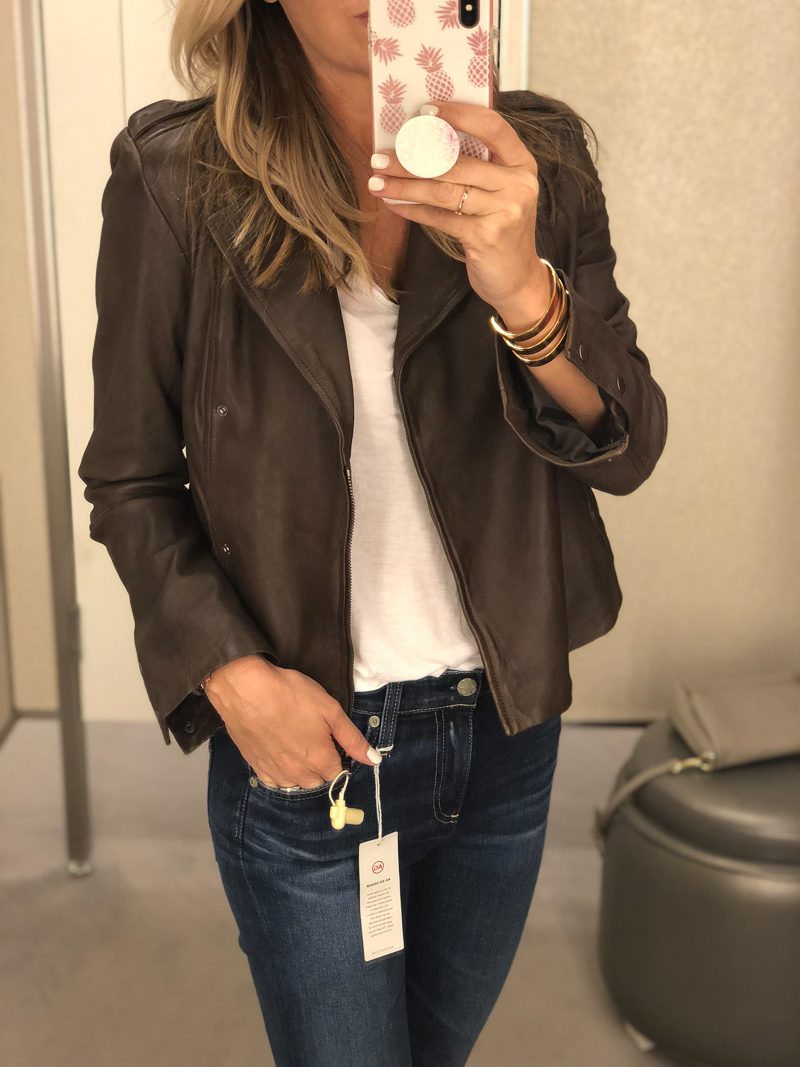 leather jacket $199.90 $299.00
If you are going to splurge, this is a beautiful jacket. It also comes in black. I am wearing a size small. True to size and incredibly soft. I didn't want to take it off. I already have this olive-green jacket and this faux leather moto jacket so I had to pass on this one. But boy is it good if you are on the hunt for a quality jacket. The price will go up $100 after the sale.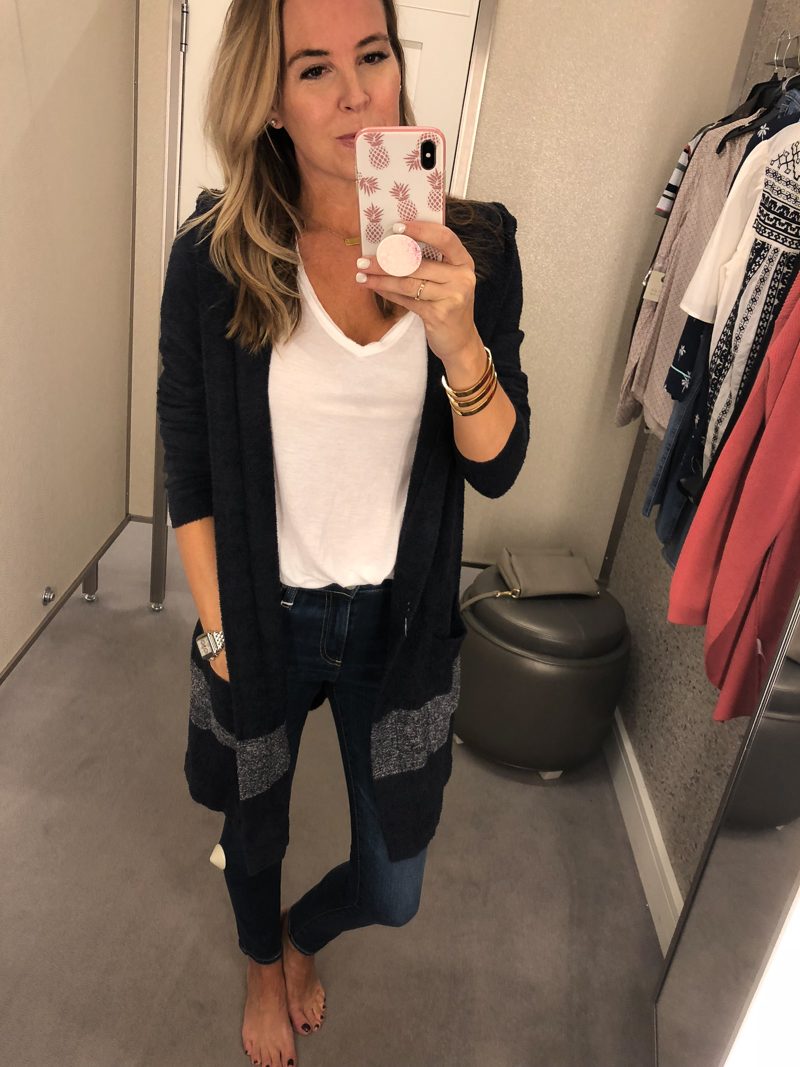 barefoot dreams cardigan $75.90 $114.00
I am a Barefoot Dreams girl through and through. Can't get enough.  I love the stripe on this softer than soft cardi. Honestly, you can't really describe how soft these sweaters are. I have this one and live it during Fall and Winter. My family can attest to that. But this stripe is so darling with jeans and a tee. Great price right now on this sweater. Worth every dime.
FAVORITE JEANS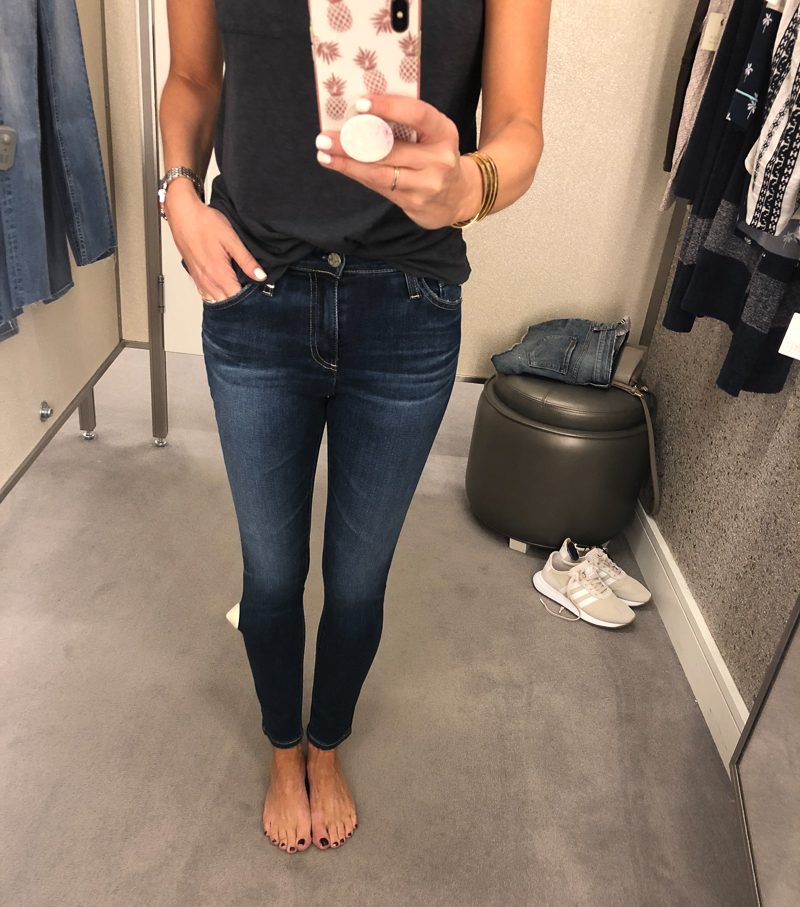 ag skinny jeans $149.90 $225.00
If you are going to spend some money on a pair of jeans, this would be my pick. They are true to size and fit so well. I am in a 25. I love the way they feel.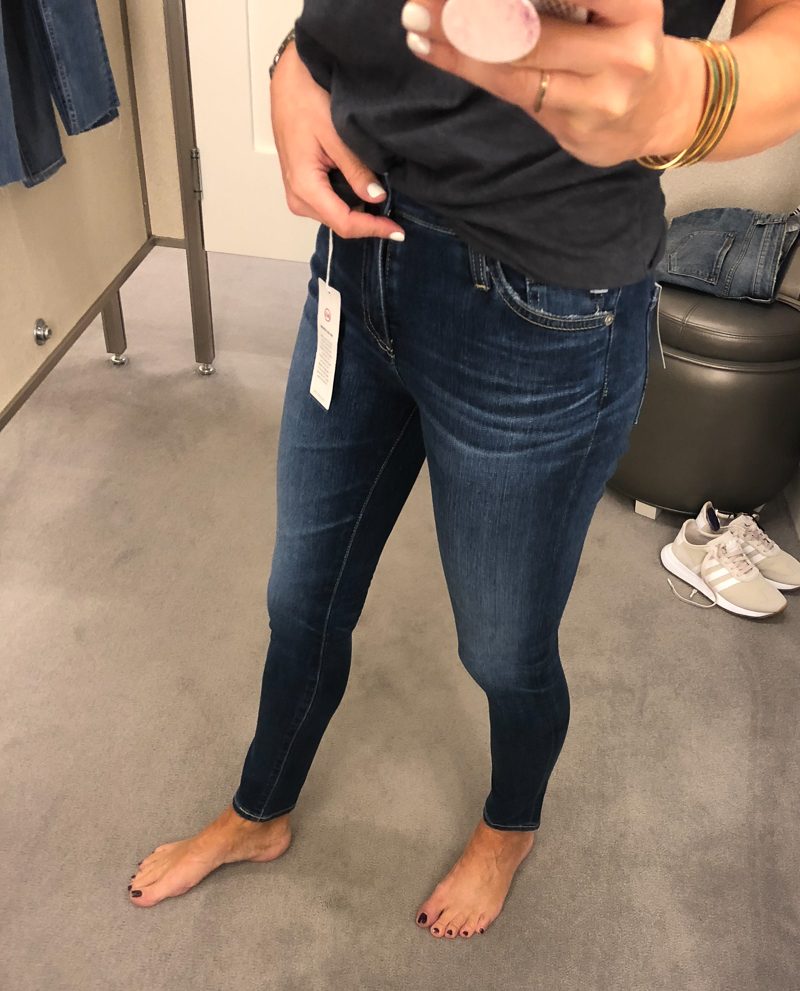 Here is a closer look so you can see the wash and fit.
BUDGET FRIENDLY
kut from the cloth $59.90 $89.50 | vigoss $44.90 $68.00
I did an entire post with my finds that are all under $100 so if you missed it, that's a great place to start. I showed these jeans. Highly recommend. They are inexpensive but don't look like it. They fit really well and are true to size.
BEST OF THE BOOTIES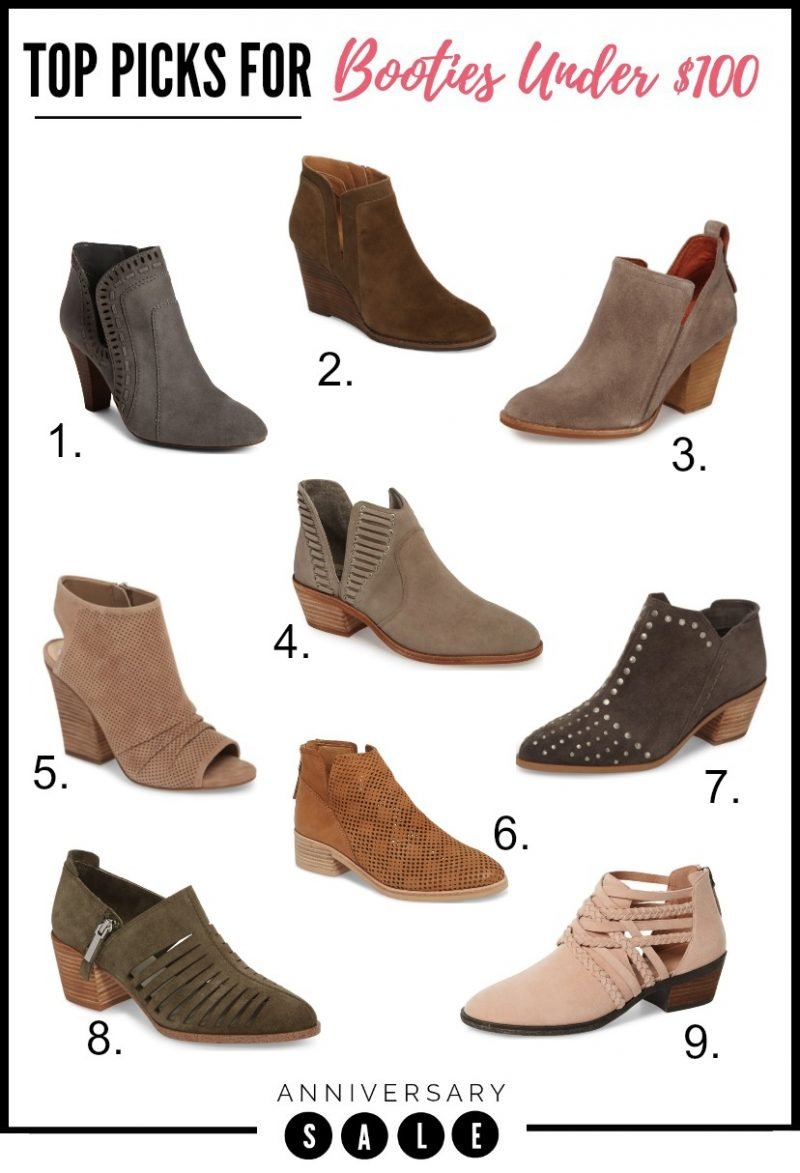 1 | Vince Camuto Reeista Bootie 
4 | Vince Camuto Pevista Bootie
5 | Vince Camuto Open Toe Bootie
8 | Slate Arnet Bootie 
DATE NIGHT READY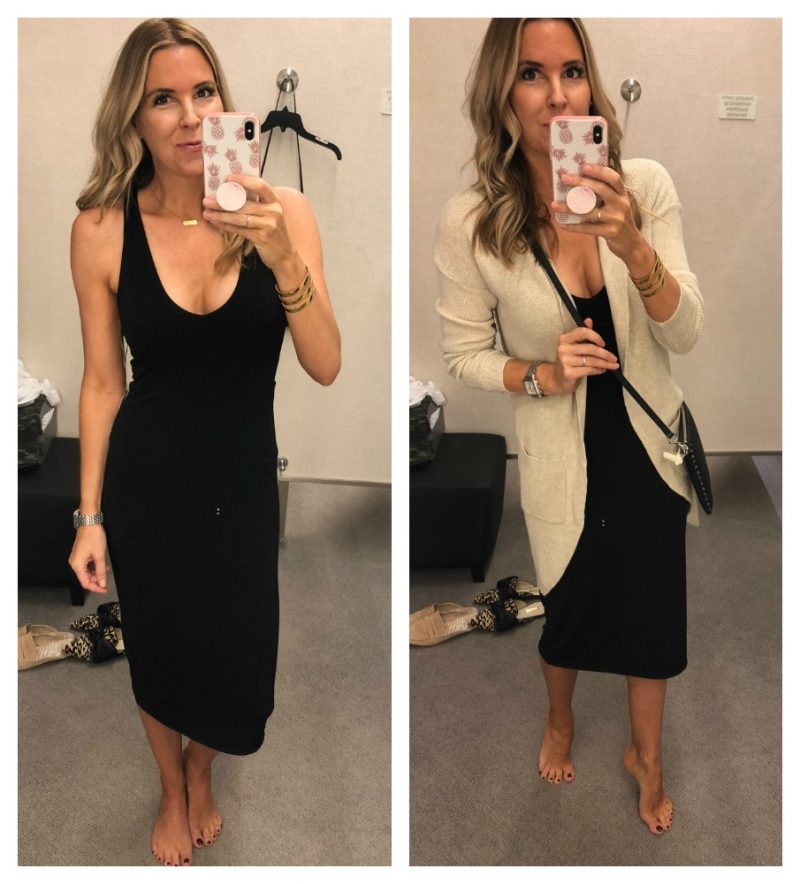 dress $42.90 $55.00 | crossbody | cardigan
Really crossing my fingers this dress comes back in stock. It's such a great dress, girls. Ideal for date night. It's double lined so it has a nice weight to it but super sexy. I am wearing a size small.
WORKOUT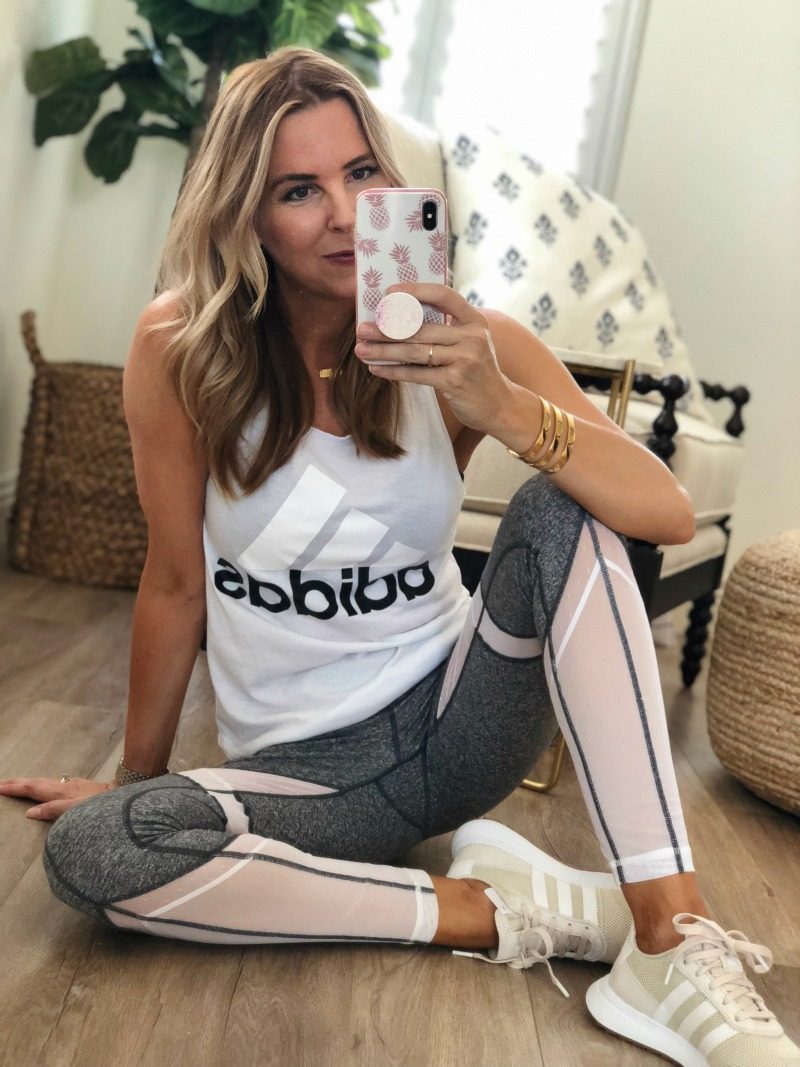 leggings | top | shoes | sports bra
These leggings are so cute. I found them to be true to size and love the detailing on them. I've had this top for some time but the one that is on sale is restocked!
OUTFITS I LOVE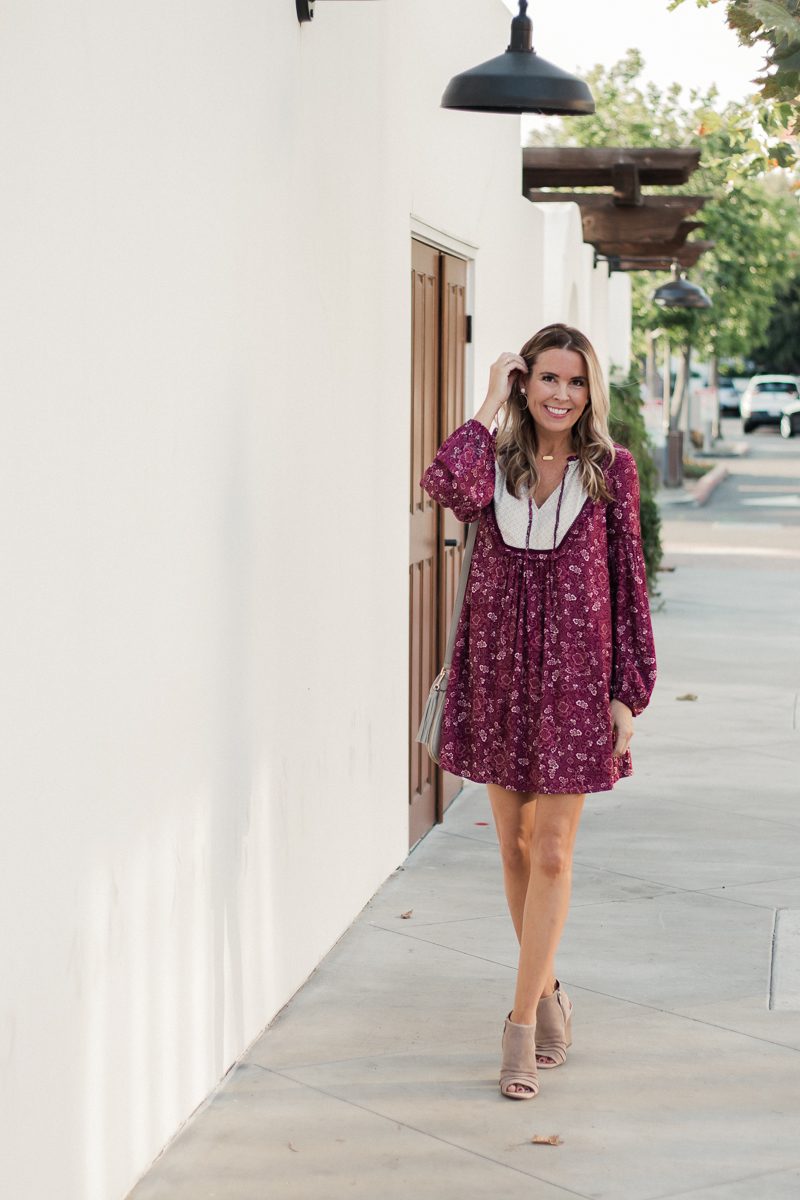 dress $52.90 $79.00 |  booties | Crossbody Bag
If you follow me on Instagram, you know I've already worn this multiple times. I adore this dress. That is all! It is true to size and comes in two colors. For reference I am 5'7″. Such a great dress!!!!! The earrings are also genius. The hoops come off and you have studs should you want that look. The open toe booties are a fantastic purchase. I wear them all the time. Mine are the french taupe suede and they are true to size. The color is much lighter and more neutral than it shows in the online photo.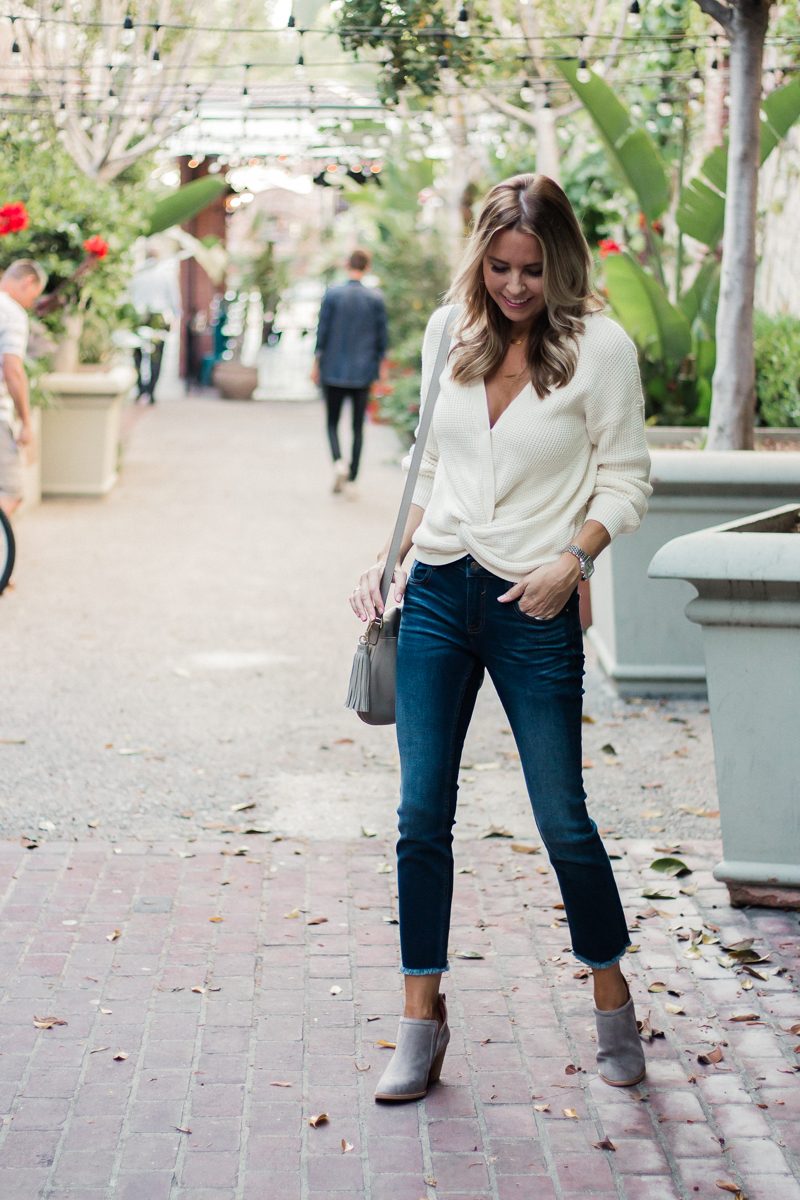 sweater $31.90 $49.00 | jeans $44.90 $68.00  | booties | Crossbody Bag
Fingers are also crossed this sweater gets re-stocked. It is slightly cropped so if you wear low rise jeans, your belly button may show. But if you wear it with higher waisted denim it's no problem. It's really sexy and a great design. I've worn it out three nights already. Also darling with jeans shorts during these warmer months.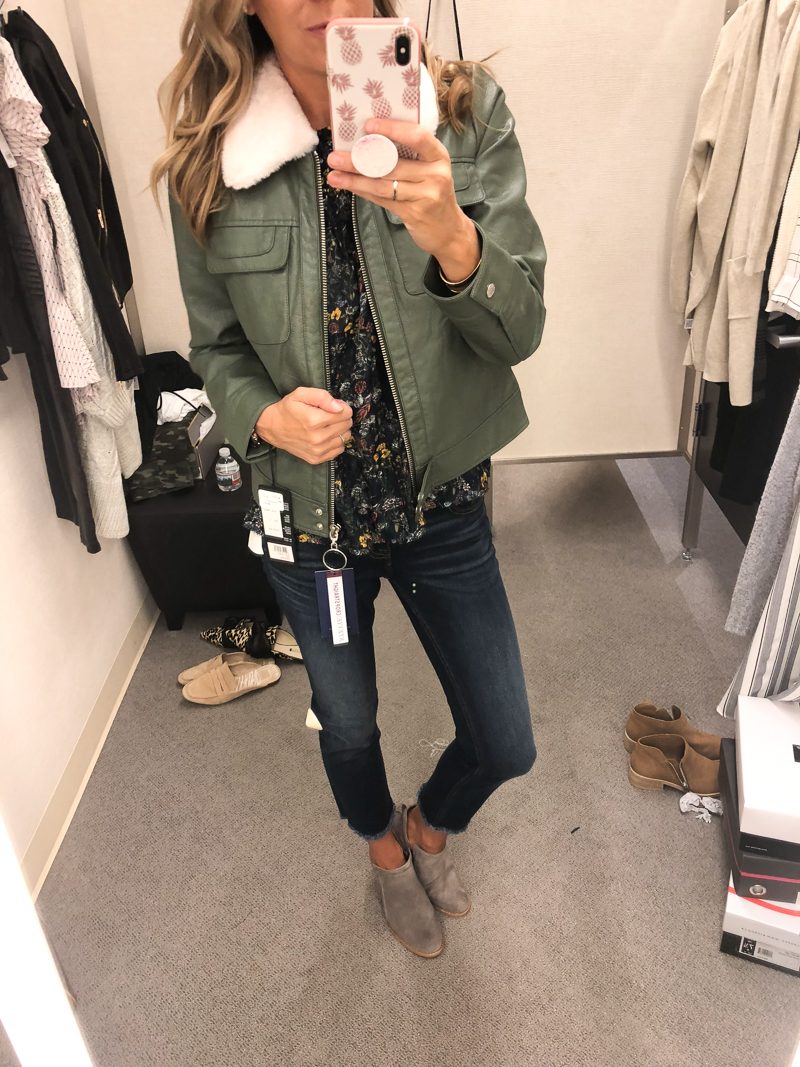 faux leather sage green jacket | floral top | vigoss jeans $44.90 $68.00 | booties
I'm itching for it to be fall. This jacket is so darn cute. I love the olive color and the collar is removable. It's so cute and what I love is that it's different. Not a jacket you see every day.
trés chic tee | crossbody bag $85.90  $129.00 |denim shorts | sandals
 Can't go wrong with a simple, lightweight graphic tee. It has a flattering cut and is cute with denim shorts or jeans. Also great under a leather jacket. I am in a small and like the way it fits. But I did hear others say you should size up one. Depends on if you want it fitted or loose.
MY GO-TO LIST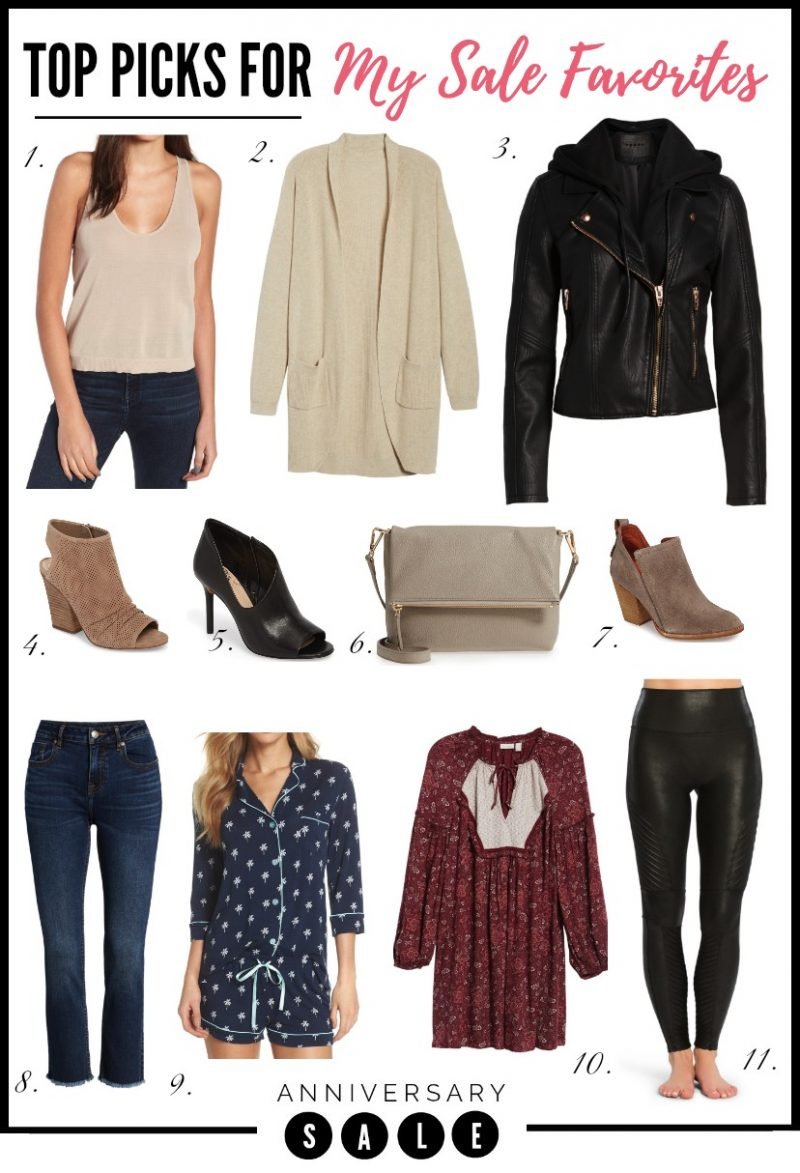 I have a really dear friend who does not have the Nordstrom card ( I am working on her!) and she asked me for my must have ten things. I sent her this list. Ok, it's 11 but I tried!!!
1 | Sweater Tank: Flattering and pretty. Great alone or as a layering piece. TTS.
2 | Cardigan: At only $32 you can not beat it. Adore this over everything. So many colors.
3 | Faux Leather Moto: Collar comes off. This jacket rocks. so cute with a dress for an edgy vibe. TTS.
4 | Open Toe Bootie: Comfy and TTS. I wear these all the time. I have the french taupe suede color.
5 | Asymmetrical Pump: Just too good. Love this heel more than I can say. True to size
6 | Small Crossbody: Total home run. Space for everything. Outside pocket for phone. LOVE!!!!!!
7 | Bootie: This is my jam. I love this bootie and wear it all the time. End of story.
8 | Frayed Hem Jeans: These are so affordable and a great jean. Look way more expensive. TTS.
9 | Jammies: Crazy soft. I didn't believe it until I tried them on. I bought a small. Lovely gift idea.
10 | Babydoll Dress: Favorite dress of the sale. TTS. I've already worn this a ton of times.
11 | Spanx Leggings: These are sexy and suck everything in. Umm. . hello. Genius. Love these so much. TTS.
If you have missed my other posts because you were not a card holder, please take a look. So many other details on what I found and how I mixed all the pieces together. I hope you find it helpful.
Thank you for all of the lovely well wishes on our Anniversary. I can't wait to show you the progress on our kitchen. Now if only someone could magically take care of our yard. The heat killed all of our flowers. If you need me, I will be the girl digging in the dirt this weekend. We need some color around here! Wish me luck.