Hello from the dressing room. I don't know about you, but I think the shopping dates for the Nordstrom Anniversary sale are more confusing than ever. Basically if you are a cardmember, there are different start dates depending on points. I've heard from many of you that you will be shopping tomorrow. The nice thing is that if you see something you like you can add it to your wishlist for later. In any event, this year the clothes are going to be held for 24 hours before going back on the floor so I was really careful with how much I tried on. My strategy is to always go with things that have staying power and that I know will add to my wardrobe. So many of these pieces are right in there with Amazon prices. Let's get to it, shall we? Come shopping with me.
*Note on sizing – everything is a size small unless noted.
FAVORTIE OUTFIT
This is my favorite outfit of the sale. I always seem to gravitate towards one that just feels really good. Girls, if you love a feminine top like I do, this is the top to buy. It comes in six colors but I am partial to the ivory. And at $25 it won't break the bank. LOVE!!! Also digging these neutral flats. They are true to size.
TOPS TO CHECK OUT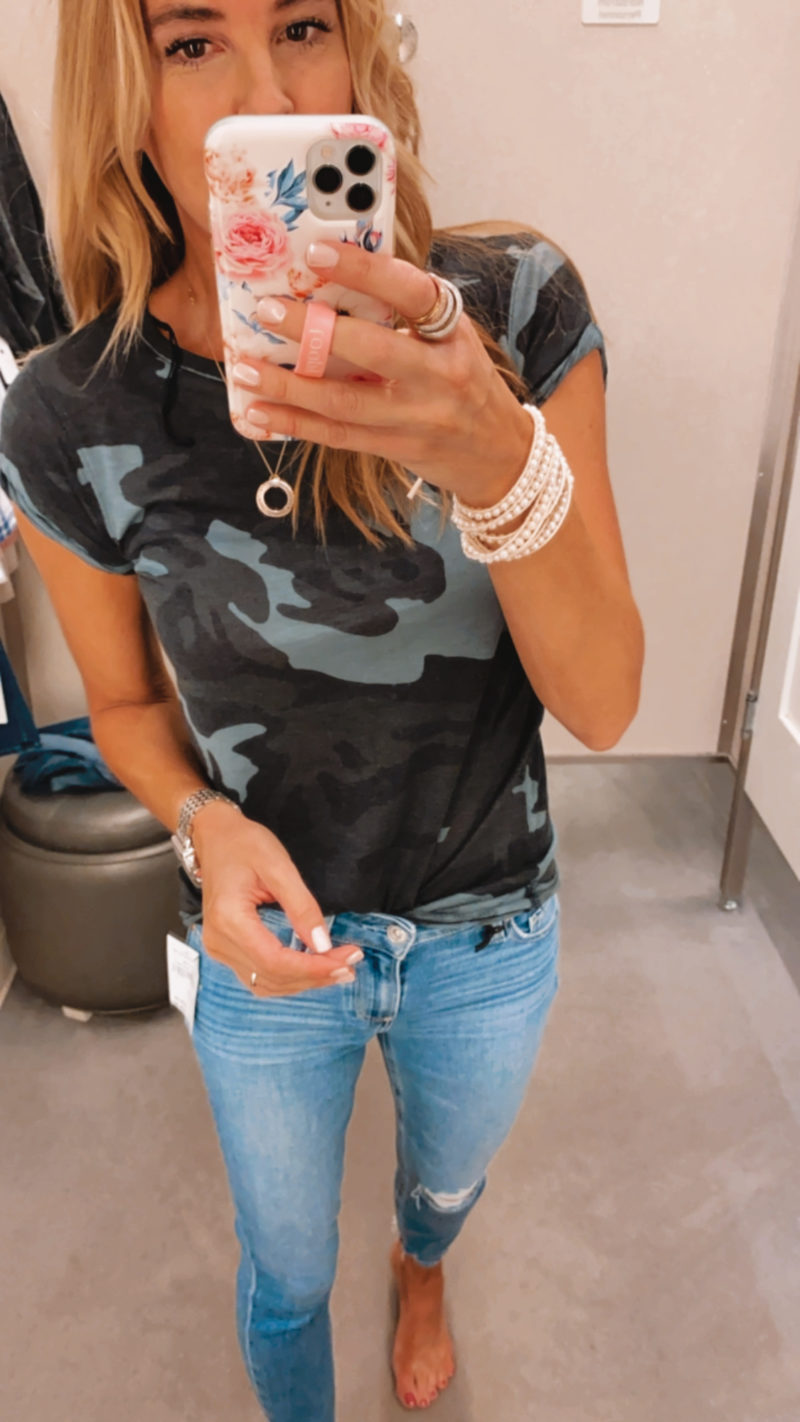 This was a welcome surprise. On the hanger I didn't know but this camo top is so cute on. True to size and I am wearing a small.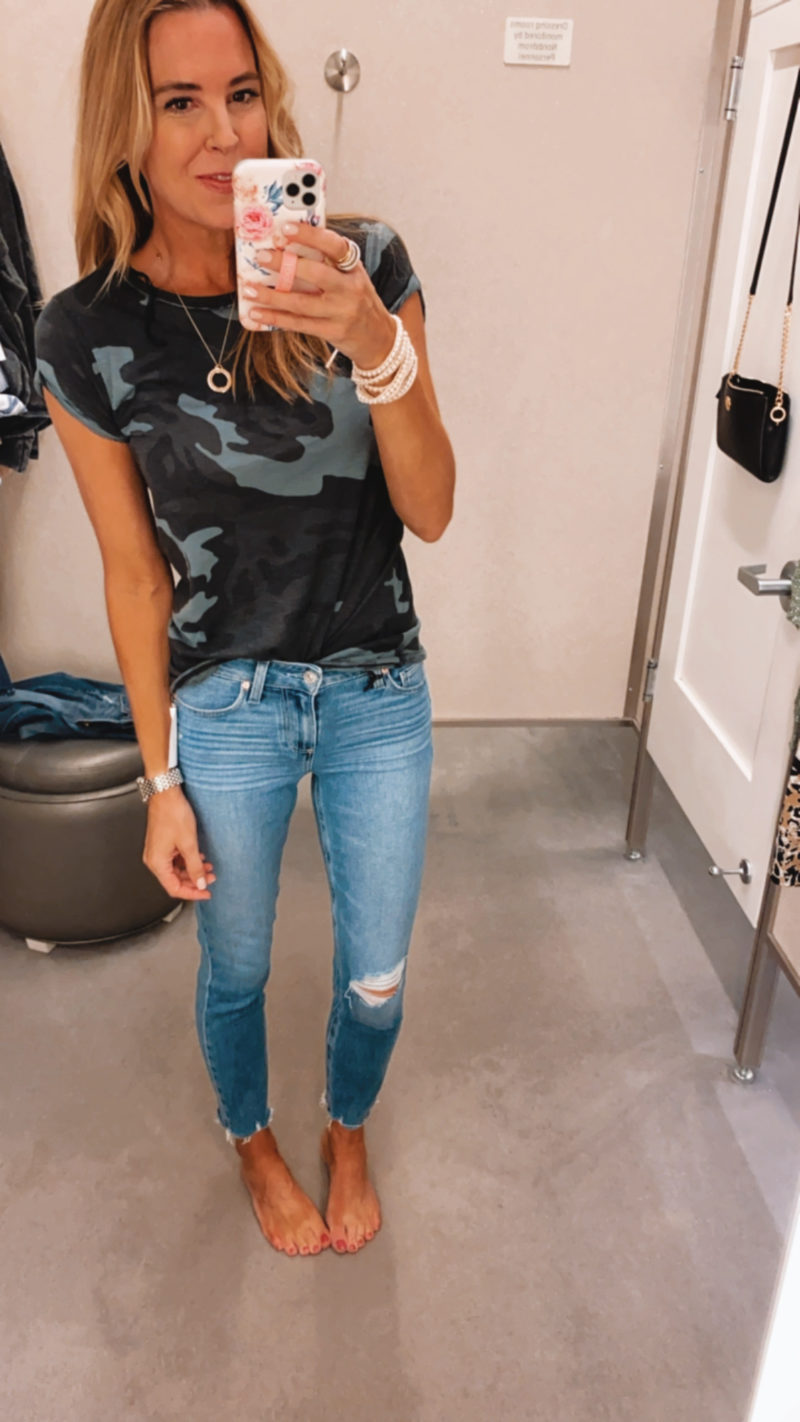 THE BASICS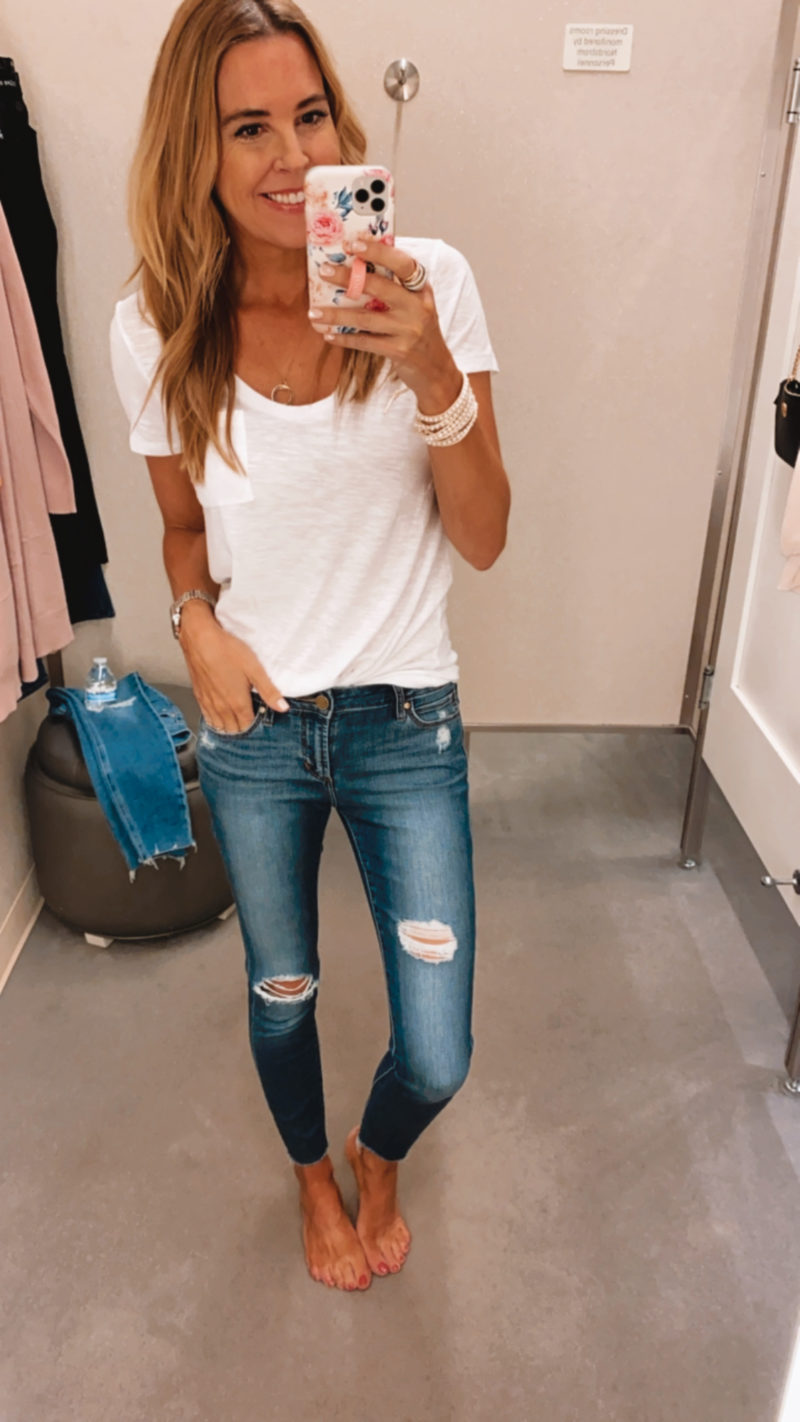 It's all about the staples, my friends. These are tried and true and ones that are worth scooping up during the anniversary sale. I wear a small in this t-shirt. I actually wore my own jeans to try things on with them because I knew they brought them back this year.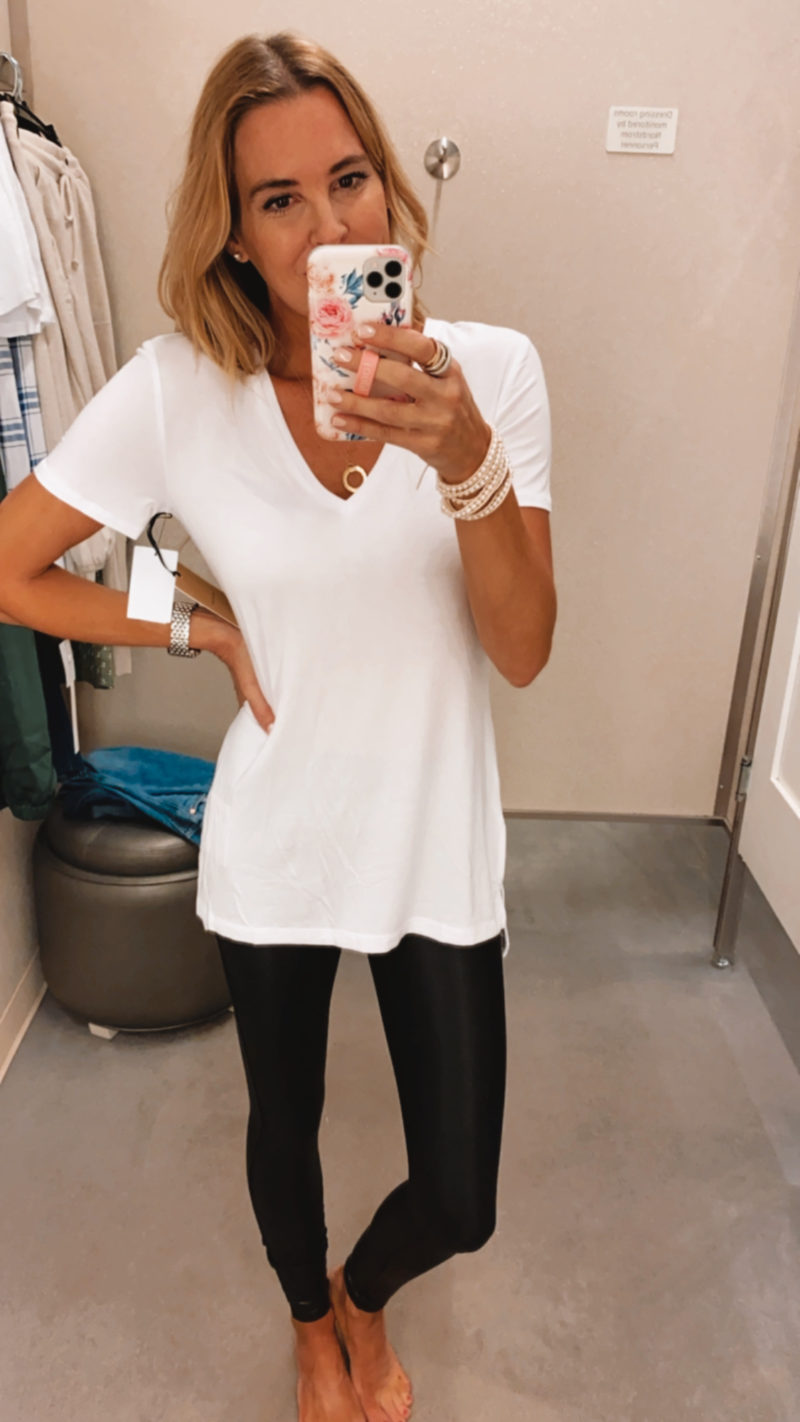 A top that actually covers everything. It's such a good one, ladies. And it's super soft. You can snag this basic tee for $16. Wearing an XS in this.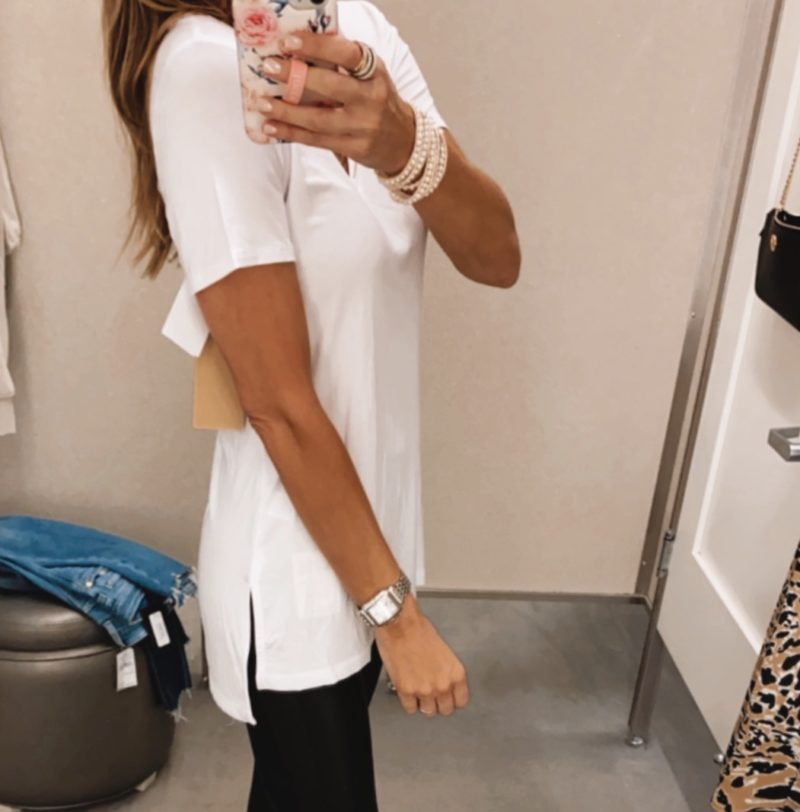 $16 $29
PLEASANT SUPRISE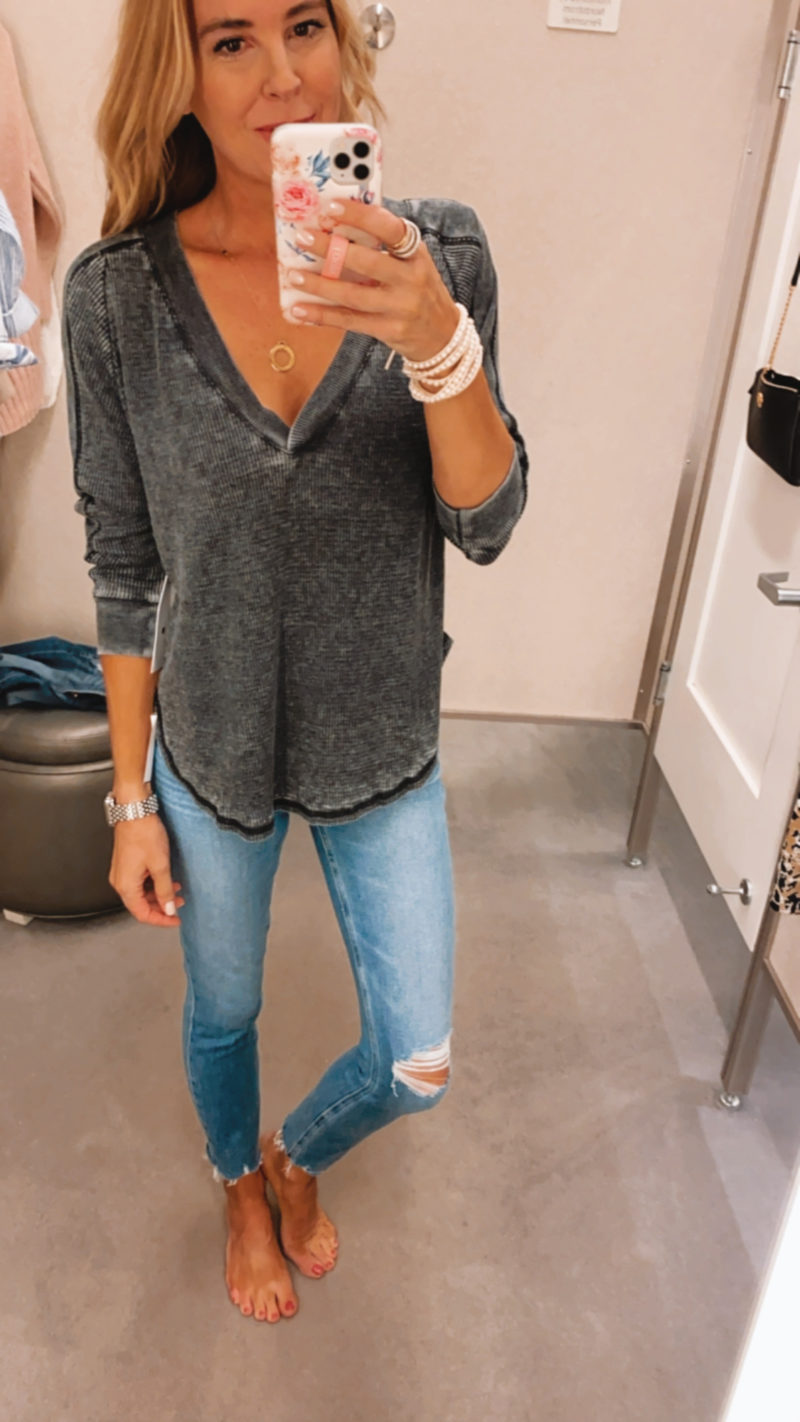 This top was a big surprise and one that I ended up buying. I was shocked because online it is nothing to write home about. It is definitely a low cut top but darn it's cute!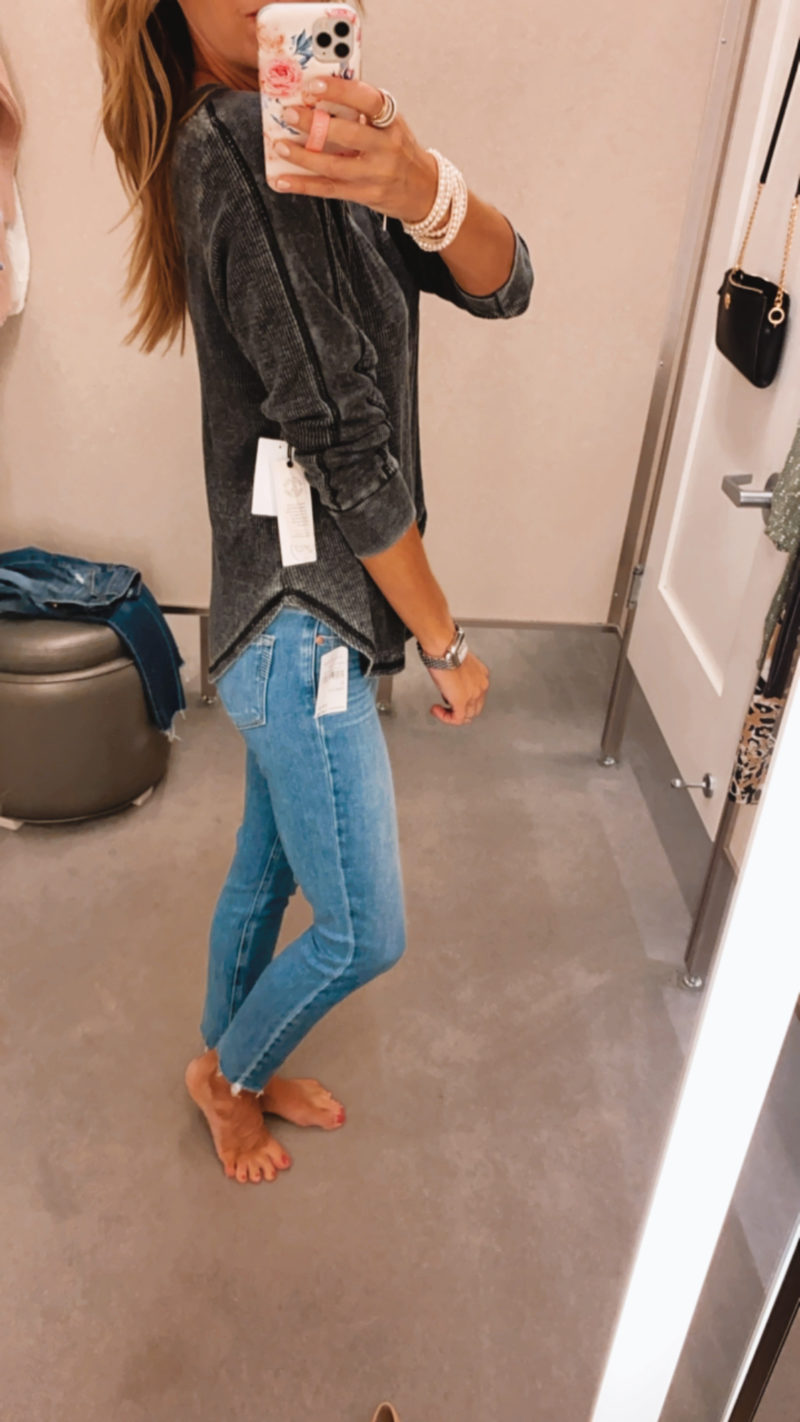 Wanted you to see the side view. Great cut on this top.
HIGH LOW VERSIONS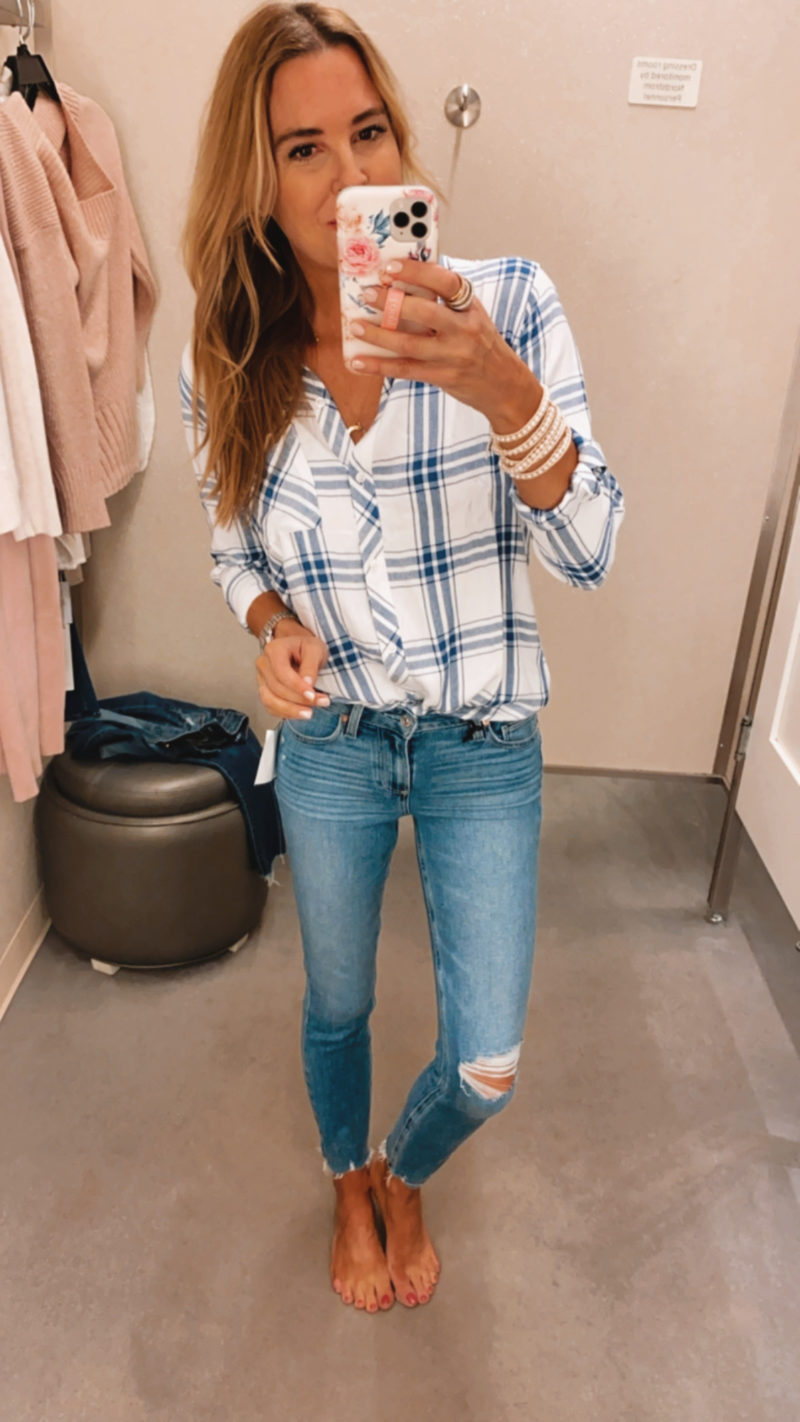 Rails always discounts their plaid shirts during the anniversary sale. They are very expensive but extremely soft and flattering. But you can also snag this one for far less.
BACK AGAIN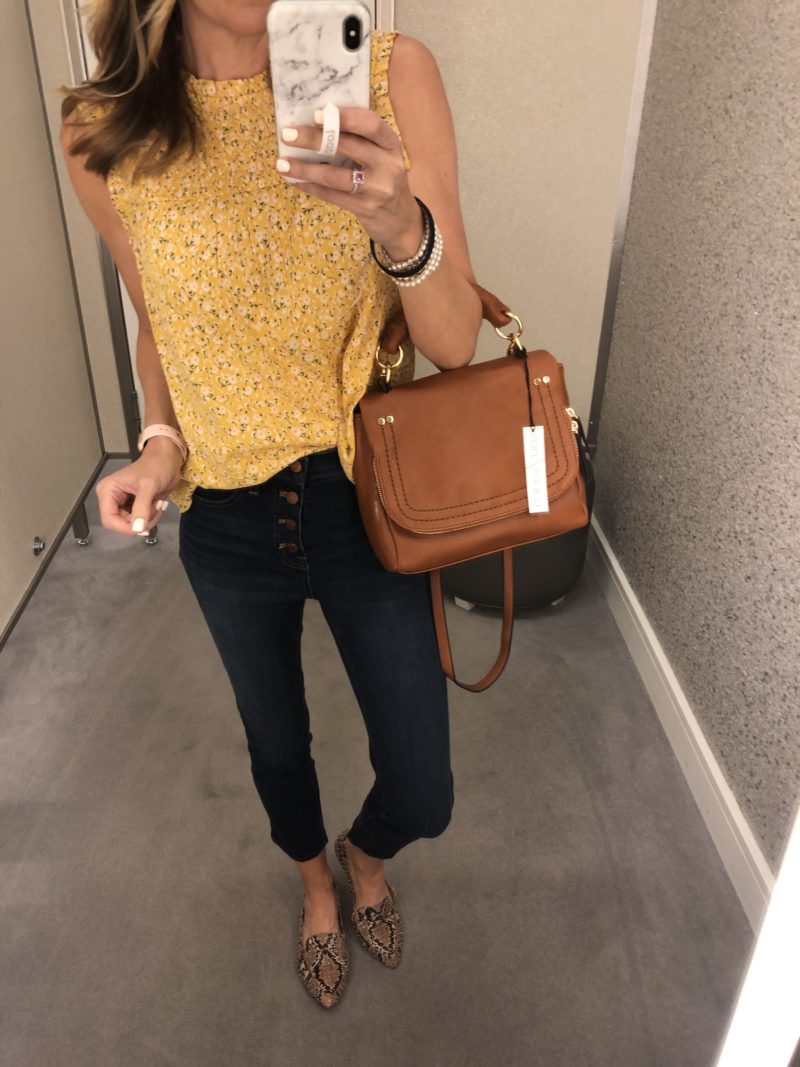 (photo from last year)
Do you all remember this top? I wore the heck out of it last summer and have done the same thing this summer. It is back but in four more different colors. I adore this top. That was last year's bag but this is similar.
THE BEST CARDIGANS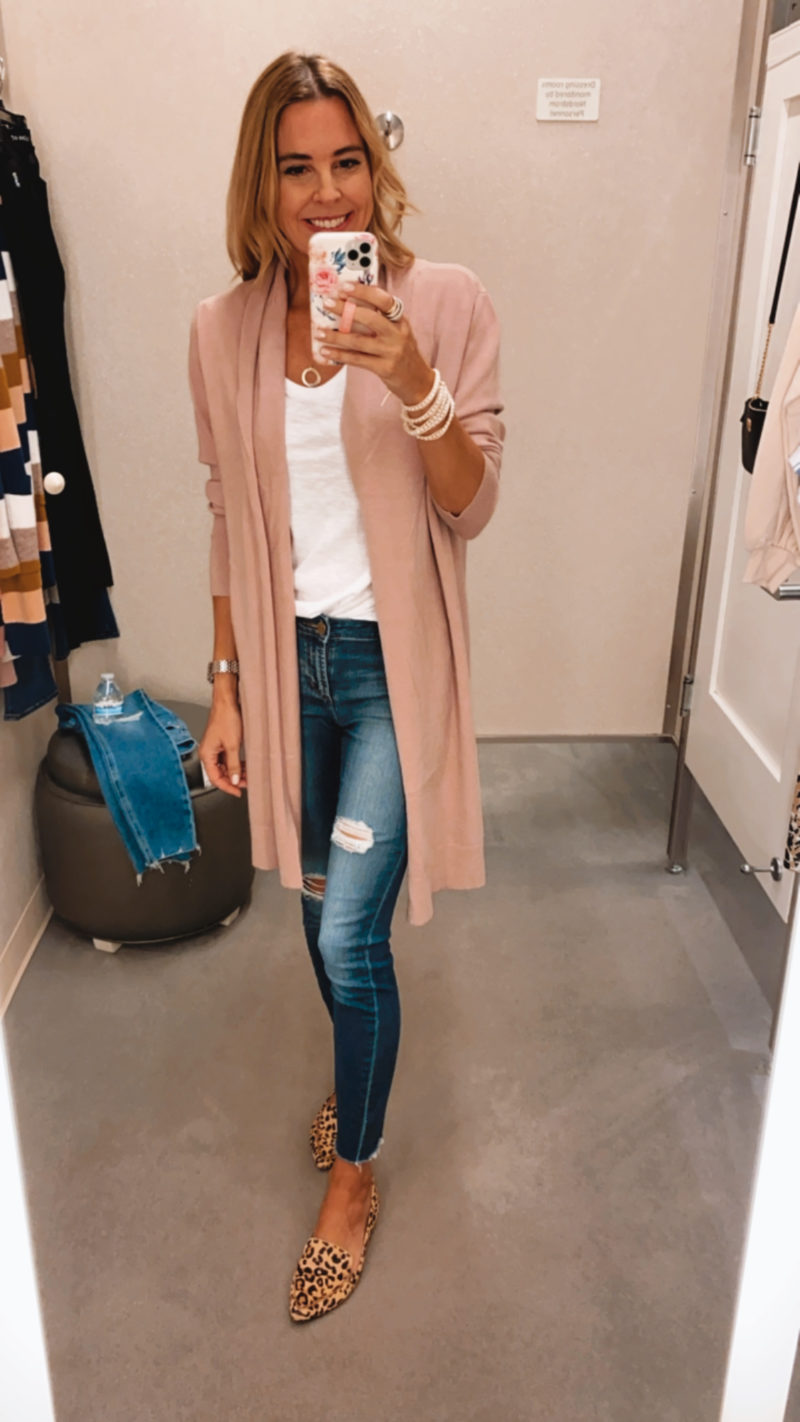 This is the long cardigan ($39) I loved the most. Really feminine and pretty. A nice weight and so cute with these jeans. Wearing an XS in the cardigan.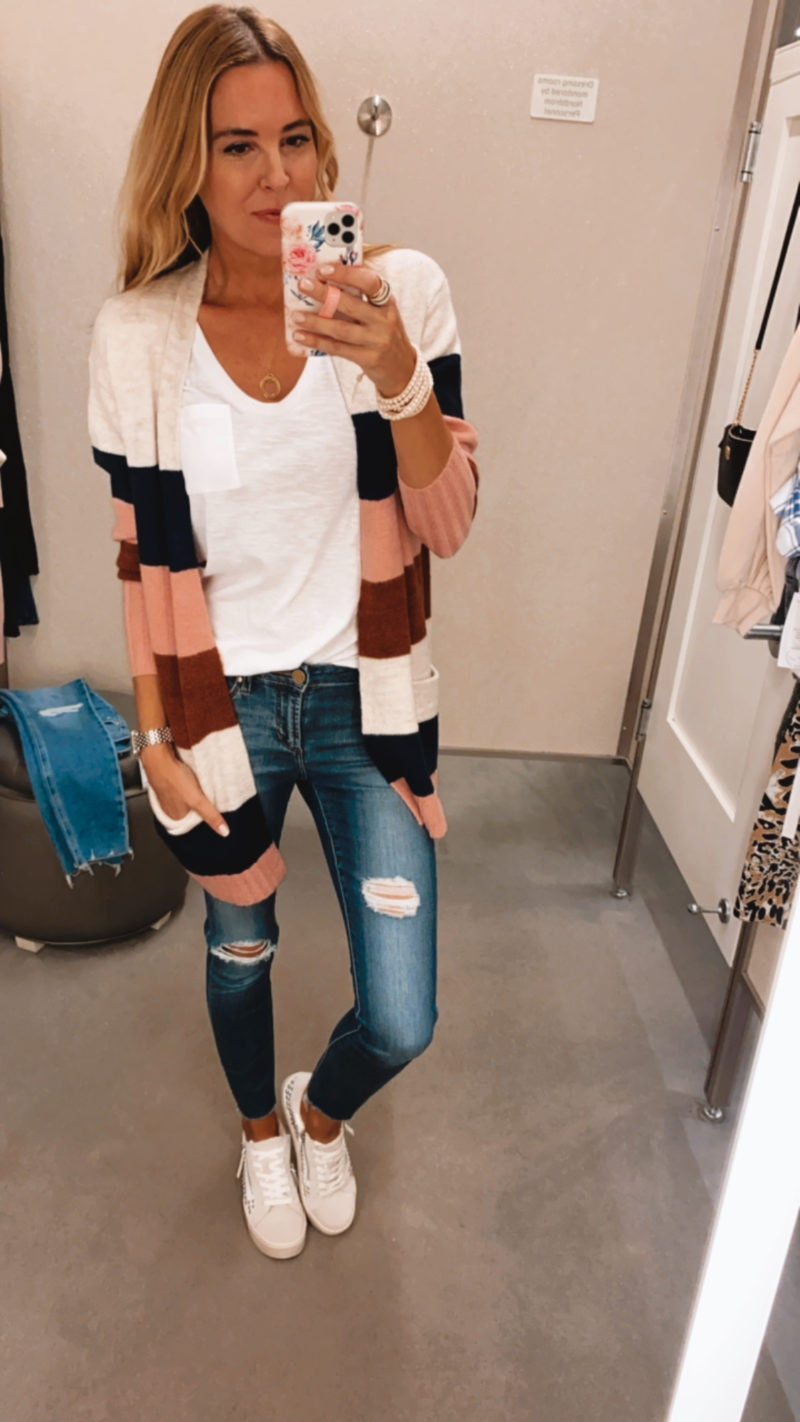 Love this cardigan. I can't walk away from stripes and these colors are so good. Will be great for Fall. During the sale it's $39 and I prefer it over the more expensive Madewell version. I went with an XS in this.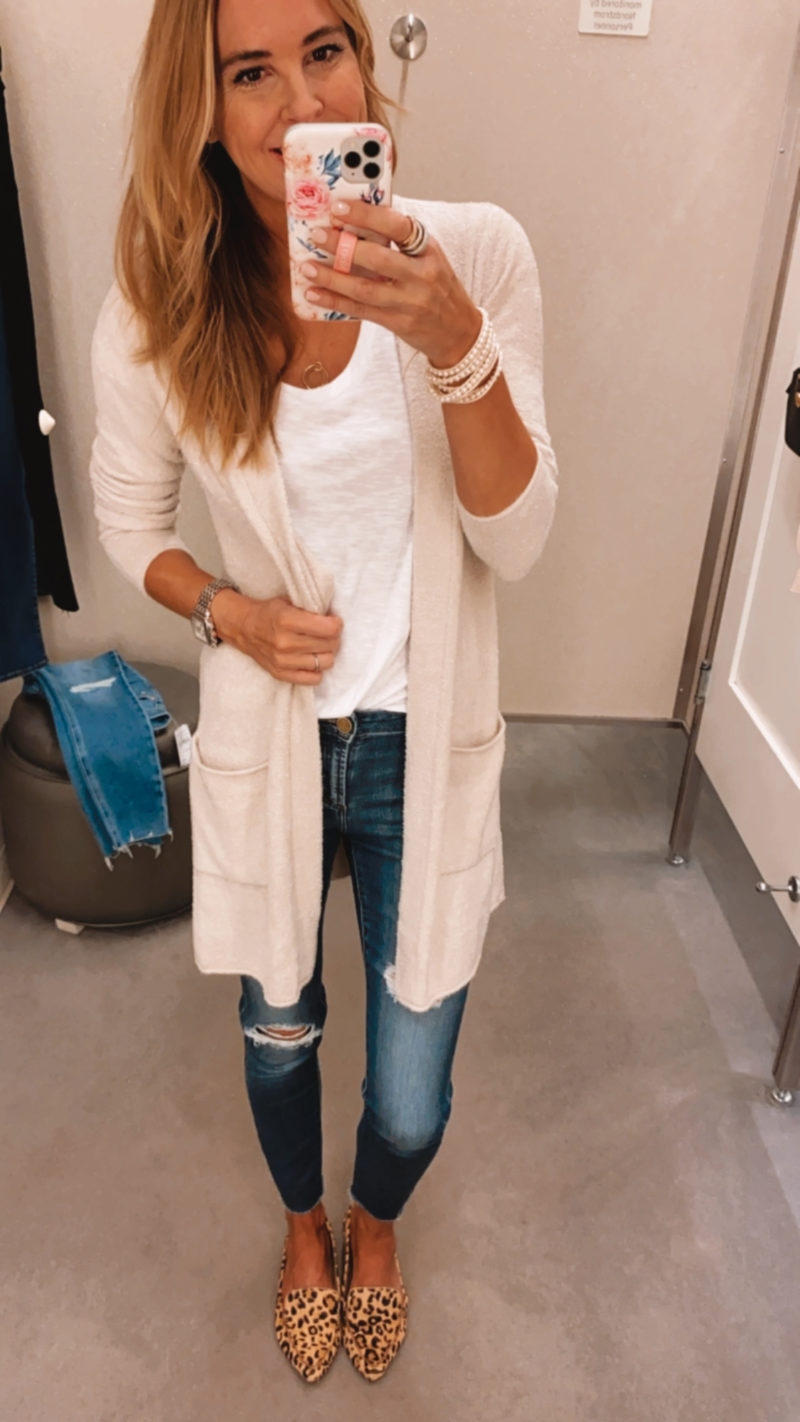 cardigan | jeans | flats | t-shirt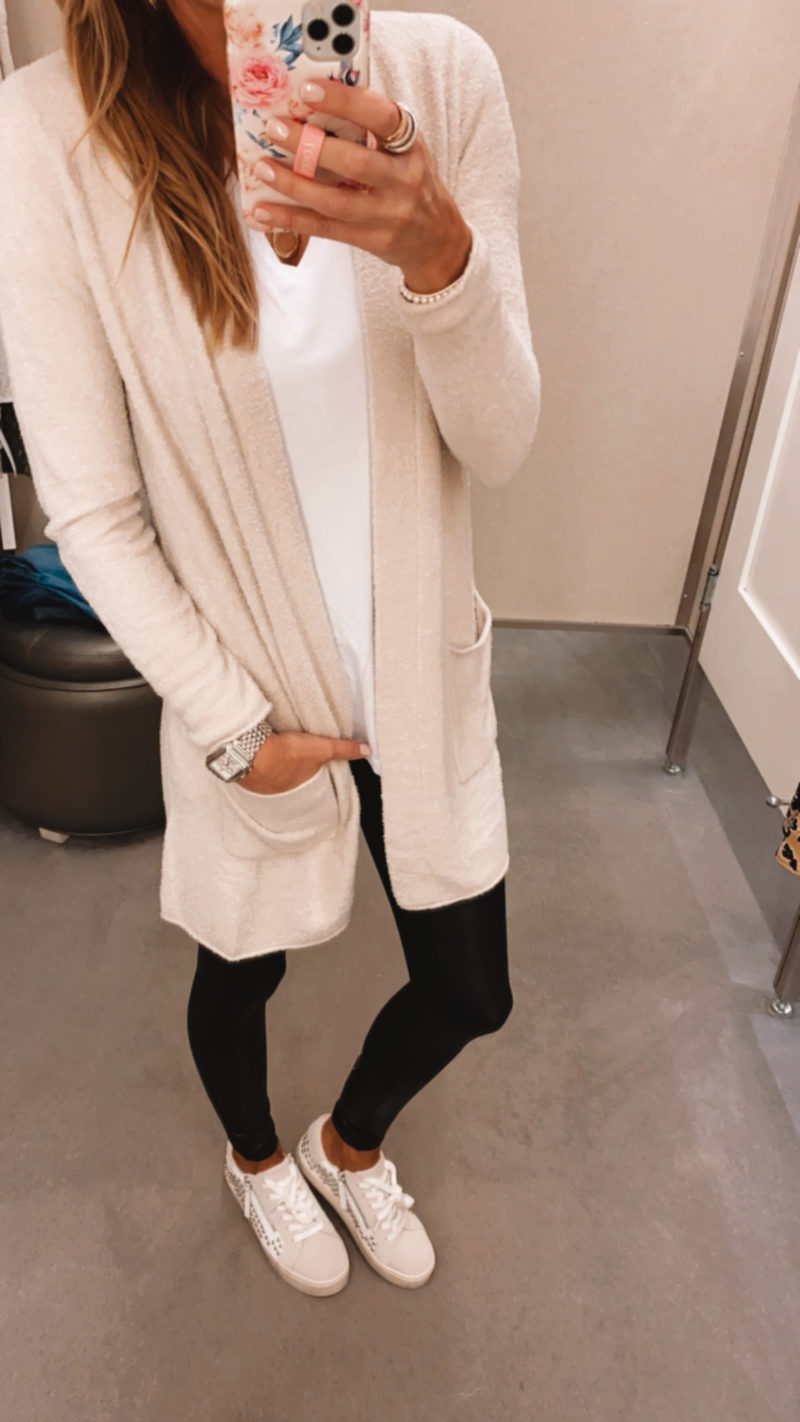 Barefoot Dreams. Need I say more. I think we all wait for this sale to splurge on one of these. I have had one for years and years and it still looks and feels so good. This is the longer version and I am wearing an XS. Great for our new homeschool role, moms! And perfect with these $29 leggings.
SWEATERS NOT TO MISS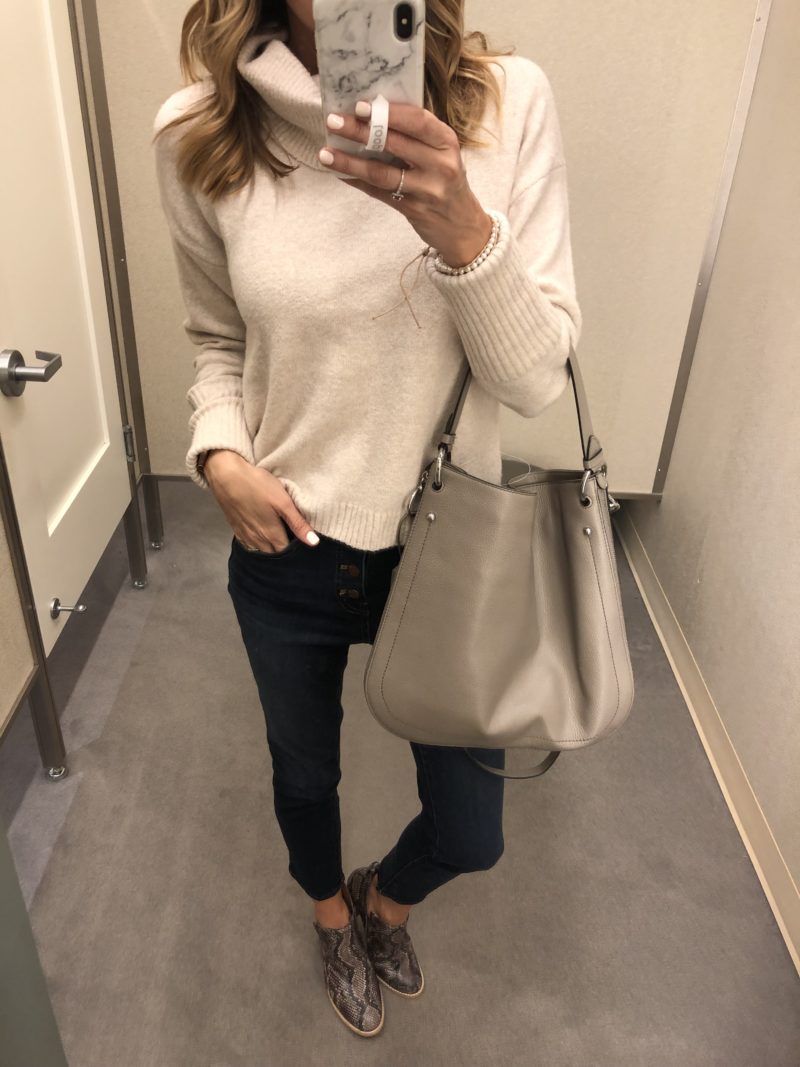 sweater | dark jeans | similar booties
This was one of my very favorite buys from last year. This sweater is beautiful. I wear it with skirts, jeans and pencil pants. GREAT sweater.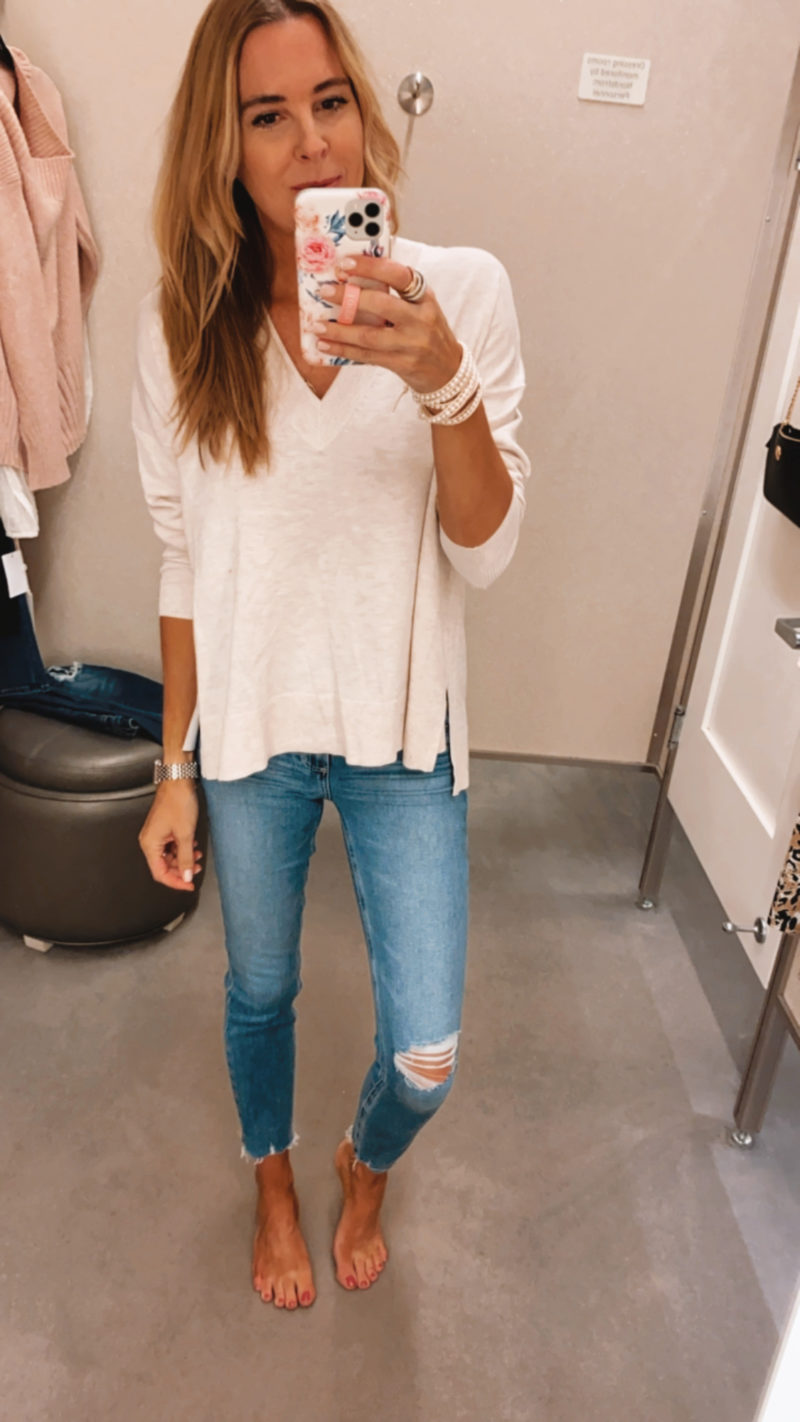 I really liked this sweater. It has a v-neck which isn't too low and is very lightweight and pretty.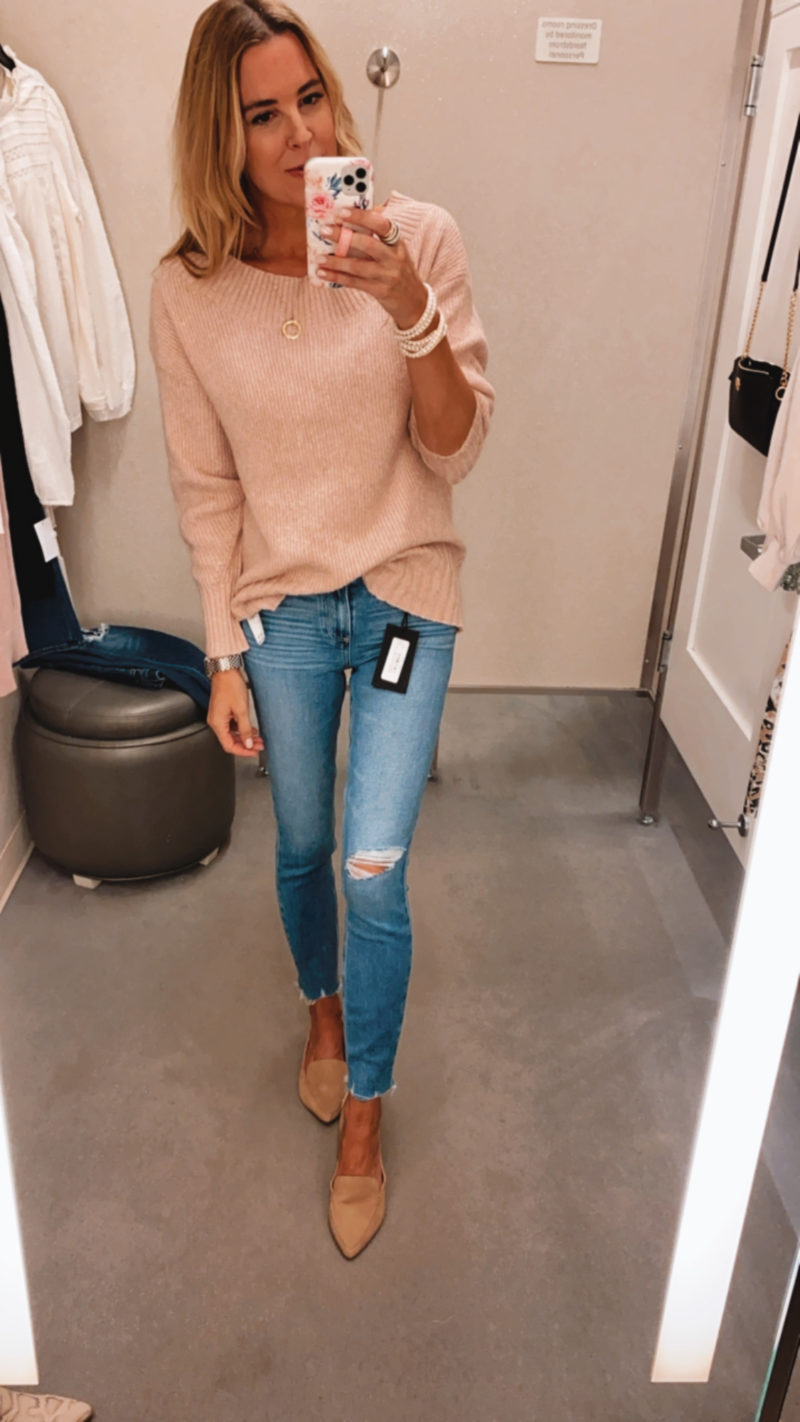 I really liked this outfit. The sweater is such a pretty rose color and the jeans are fantastic. Usually I stick to the under $50 section with denim but I did buy these this year. In fact they are the only pair I bought because I snagged these last year. They are not super high waisted which I prefer.
You can wear this soft sweater on the shoulders or off. It would look pretty with a lace bralette, too. The nude flats are a great buy, my friends. Just $39 and very very comfortable.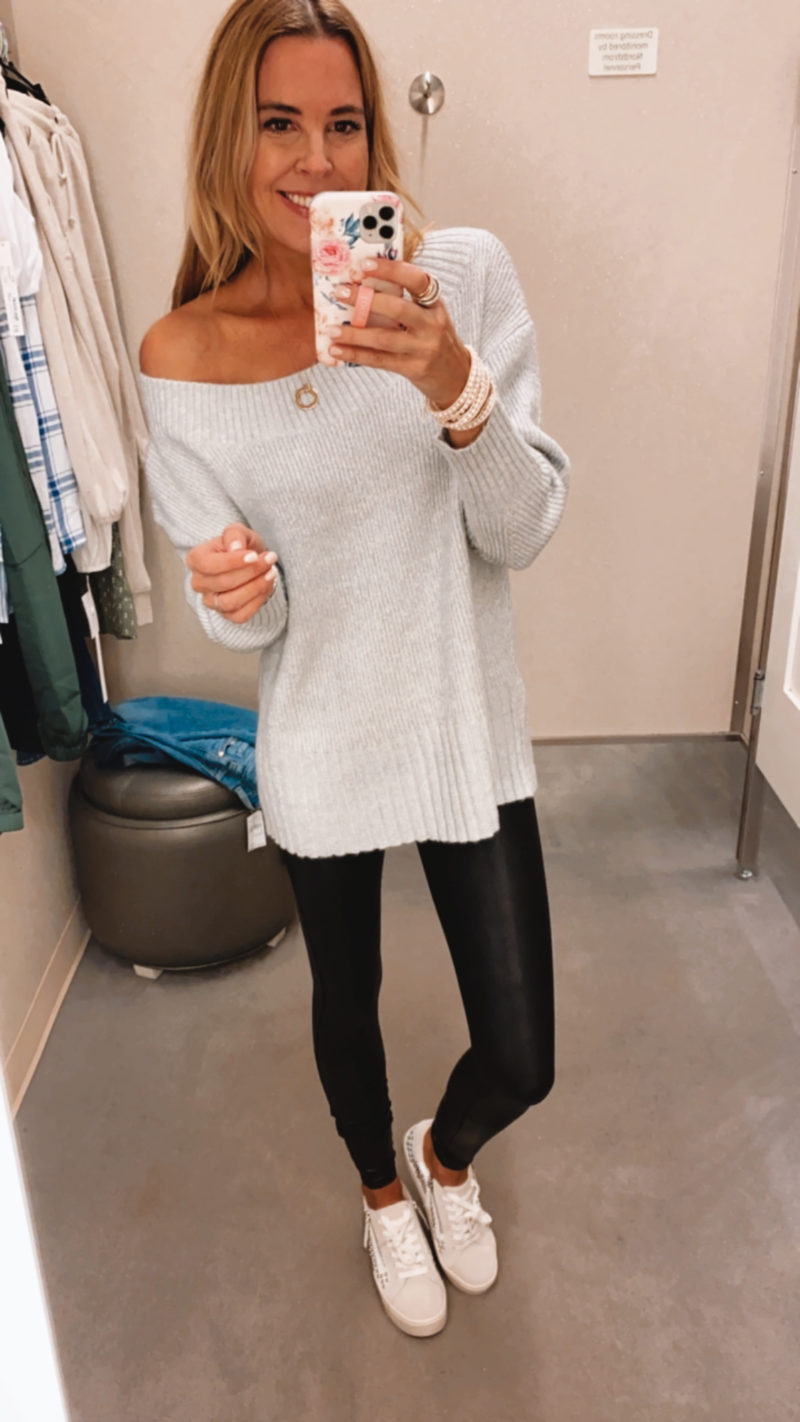 Love a pair of faux leather leggings. These are the Spanx version (xs) but you can also snag these for only $29. The gray sweater is fun with these.
CUTEST DRESS
Hands down the best dress of the sale if you ask me. I wasn't really impressed with the dress selection but this one is darling. It looks great with a little pump or with sneakers. It comes in three colors and is a sure thing in my book. Plus it's $31.
LOUNGEWEAR
This was my favorite lounge outfit. It got two thumbs up from the hubby, too. Incredibly soft and you don't feel frumpy in it. So so cute. You can see the top and bottom here. (both an XS)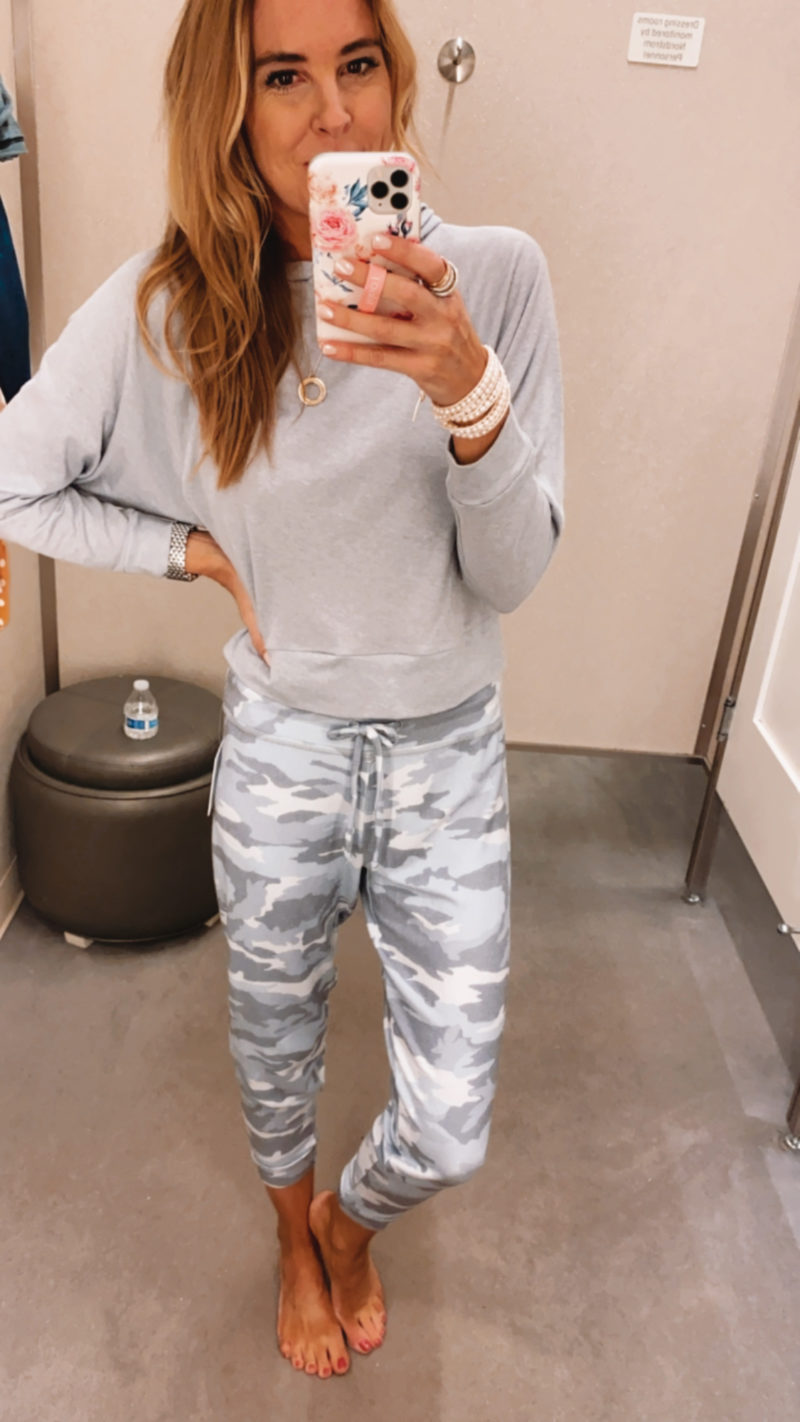 Both the top and the bottoms are quite thin but very soft and comfy. I have on a small in both but should have tried on an XS in the bottoms.
ACTIVEWEAR
These leggings (XS) came home with me and even my hubby loves. The pockets and stitching make them unique and fun. The fit is incredible and they are beyond soft. I will be living in these. I also LOVE the tank. In fact I really would love another color. I went with a small. Wearing this sports bra underneath.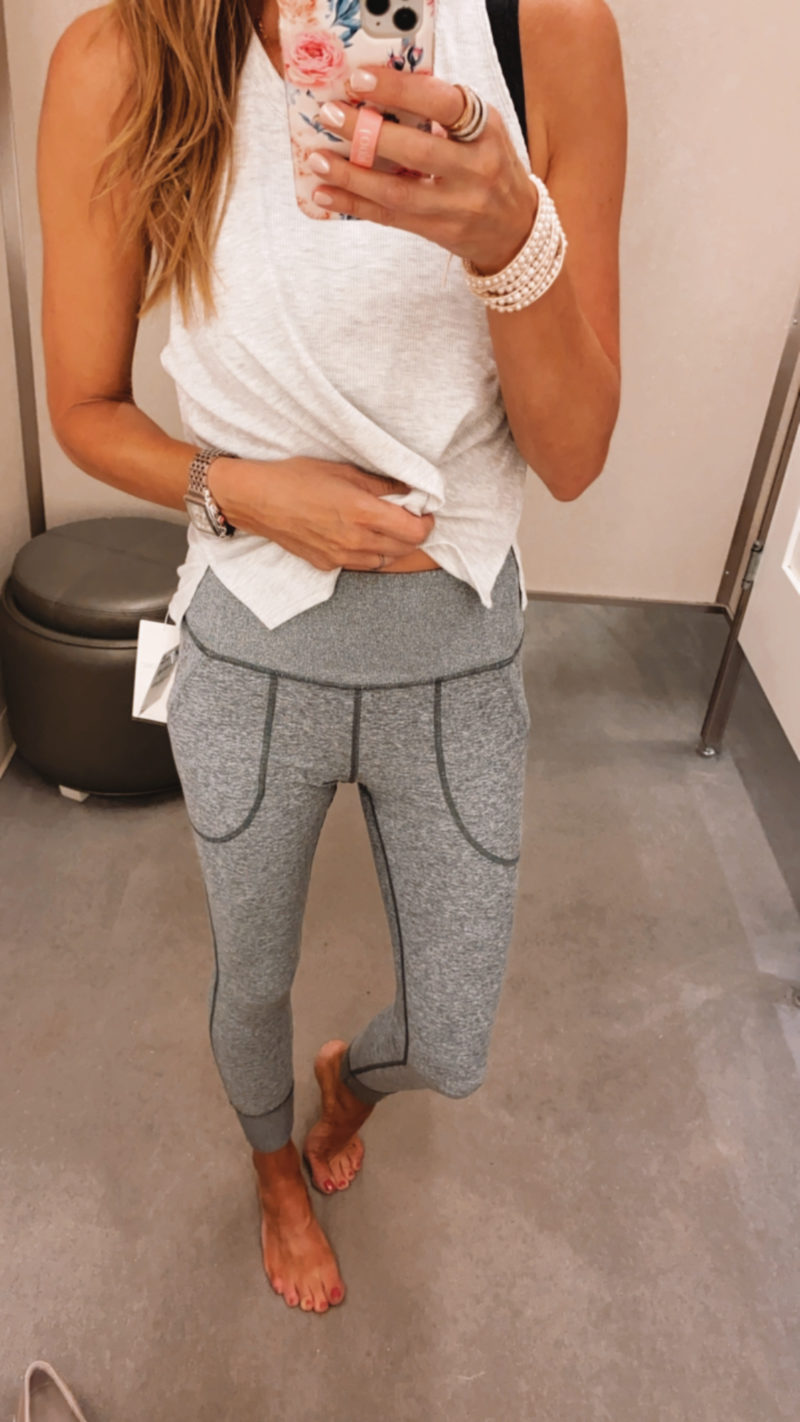 Wanted you to see the high waist on these. Such a great fit.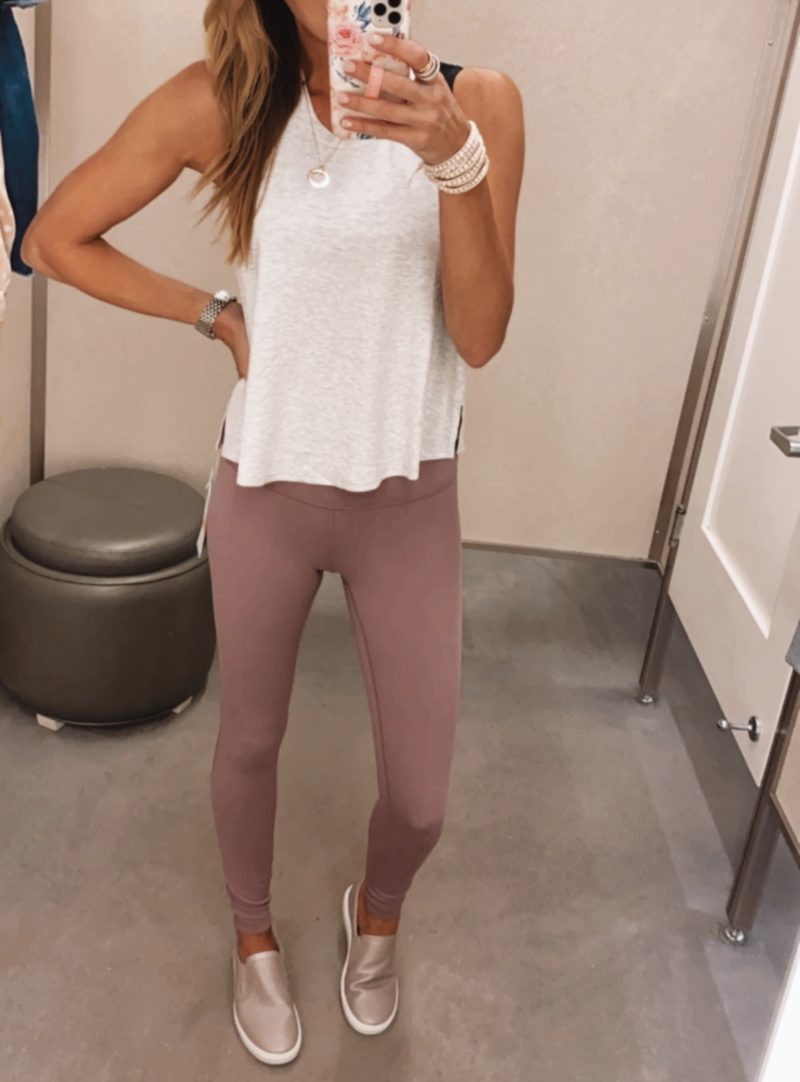 Yes to these leggings. Loved how they fit. And the color is really pretty. They are currently $39 which is awesome.
Five stars for this sports bra. LOVE IT!!!! I went with a small and it was so comfortable. Plus no unflattering underarm pinching going on. So good. Highly recommend. The back is adorable. This Zella jacket is another great piece. So cozy and soft. It can be worn open or fold across the front of you. During the sale it's $59.
ALL THE SHOES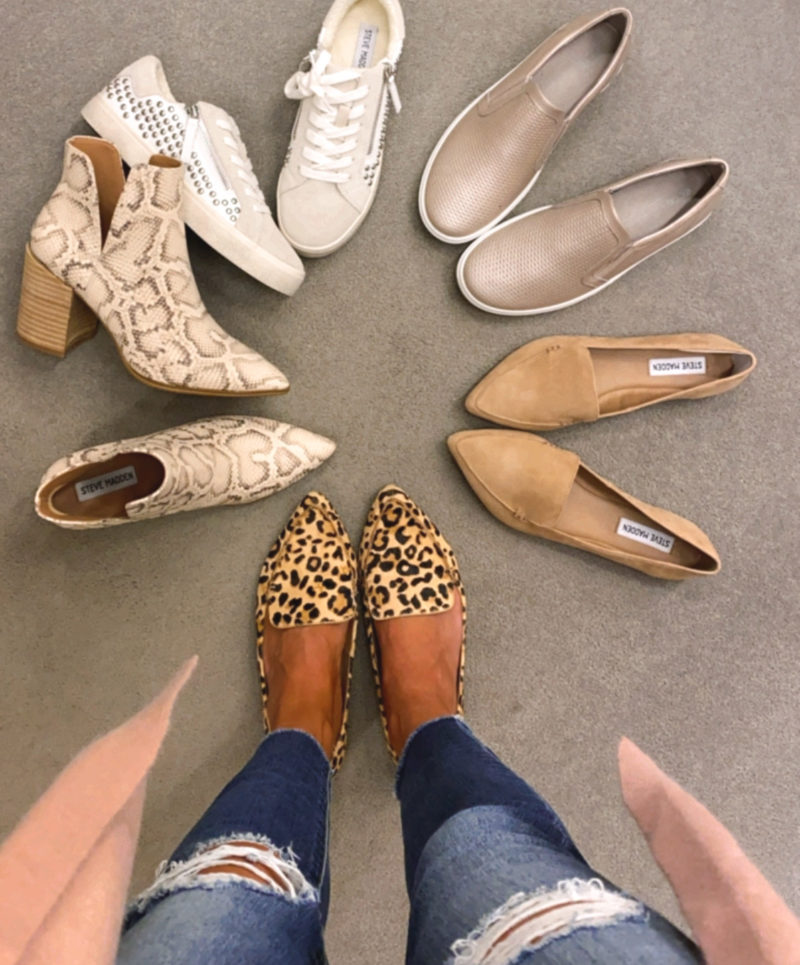 Can you tell I am a neutral loving girl. The only disappoint me in the bunch were these booties. They are beautiful but I have such a high instep that I literally could not even get them on my foot. Steer clear if you are my high arch girl. More details on all of these shoes below.
SO DARN CUTE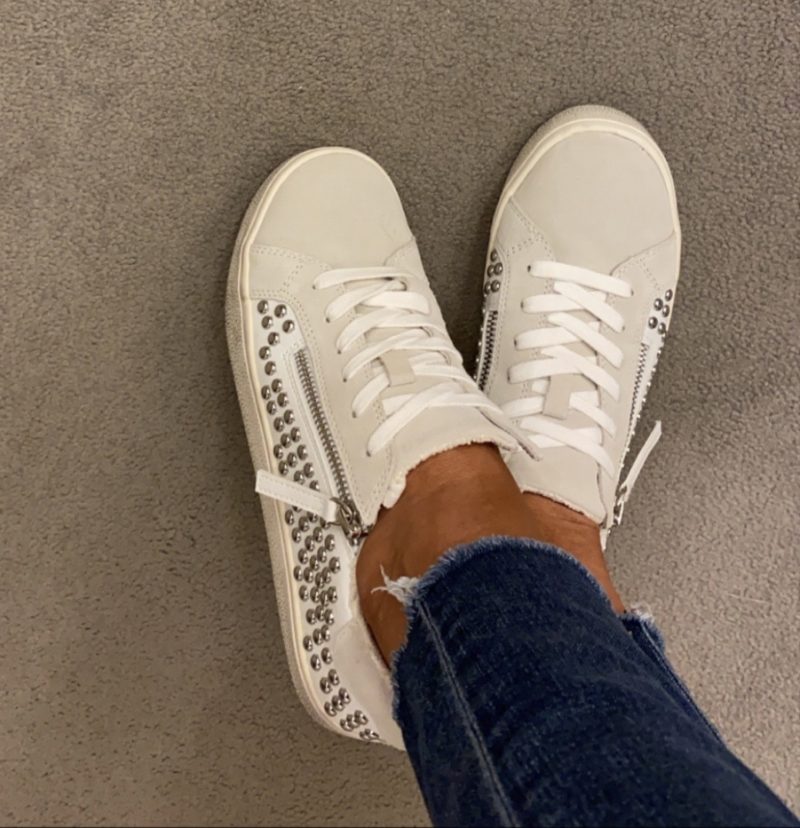 These are the sneakers I didn't know I needed. Ha. I LOVE them. They are so dang cute. Probably good to order 1/2 size up. Ignore the mishap with too much self tanner. You win some, you lose some. I also love these (order a 1/2 size down). They are really comfy and will go with everything.
BEST IN BOOTIES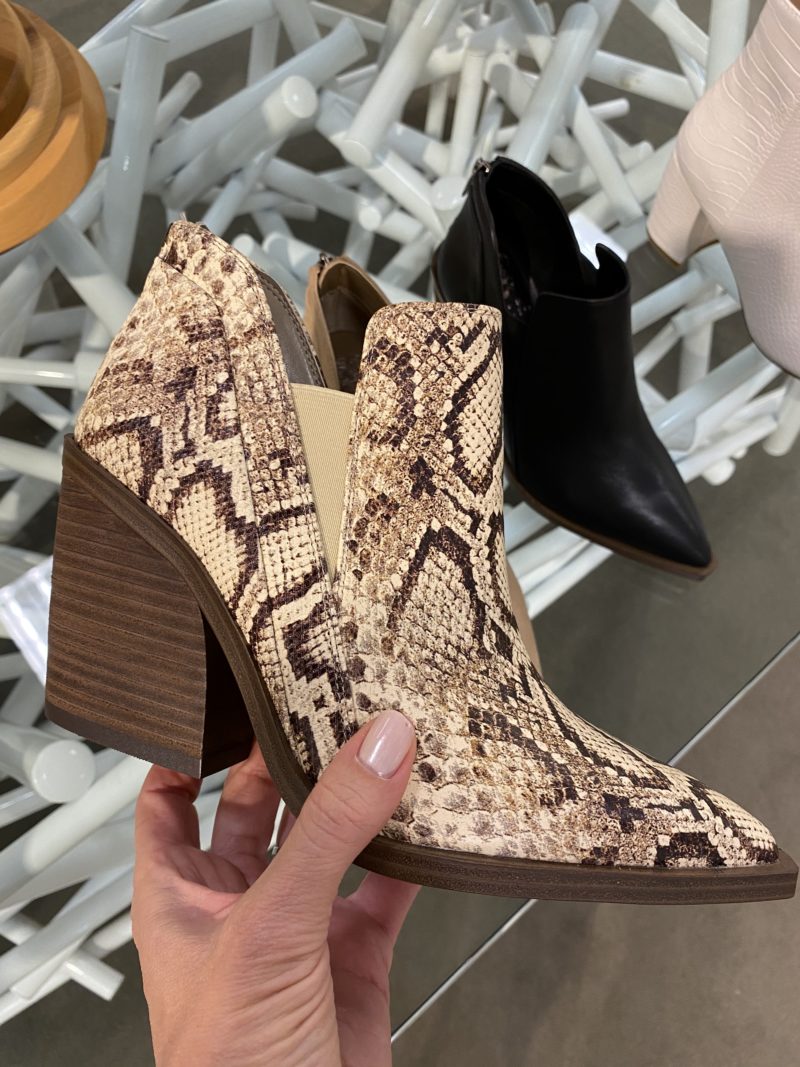 Vince Camuto makes the best booties and these are no exception. Love the print. If you are in the market for tall boots, I think these are gorgeous.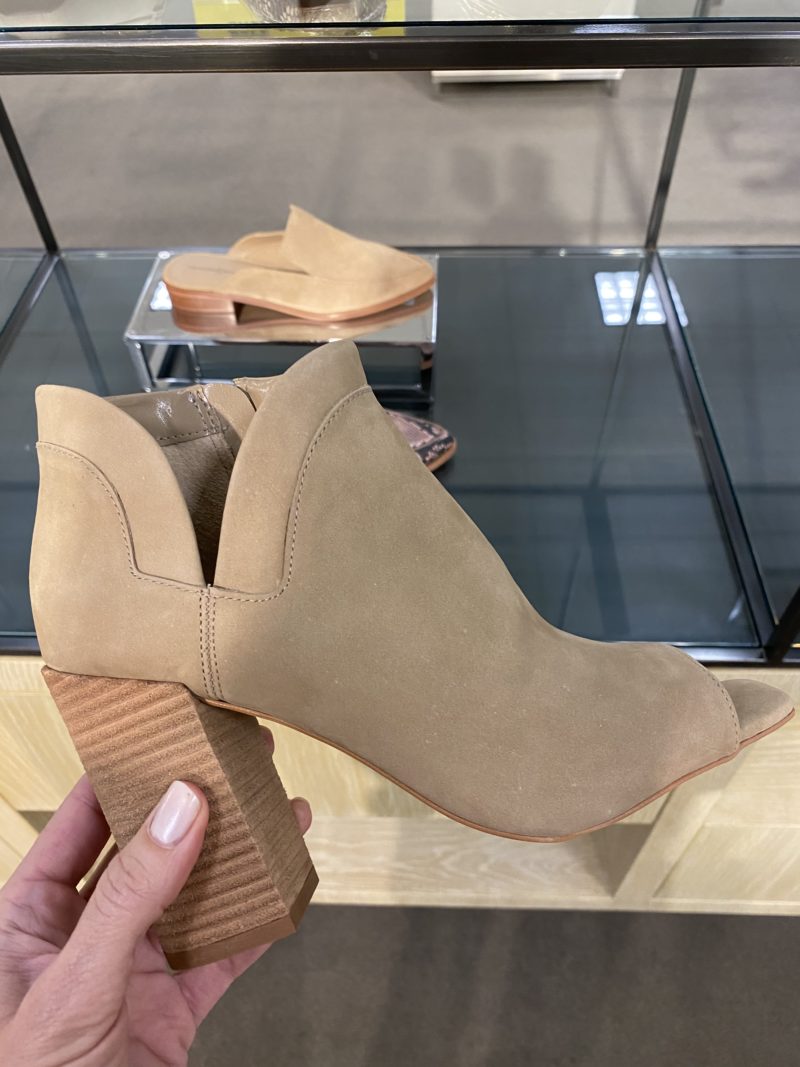 Absolutely love these open-toe booties. I have very similar ones and have gotten so much use out of them over the years. These also come in a neutral snakeskin print.
FLATS FOR LESS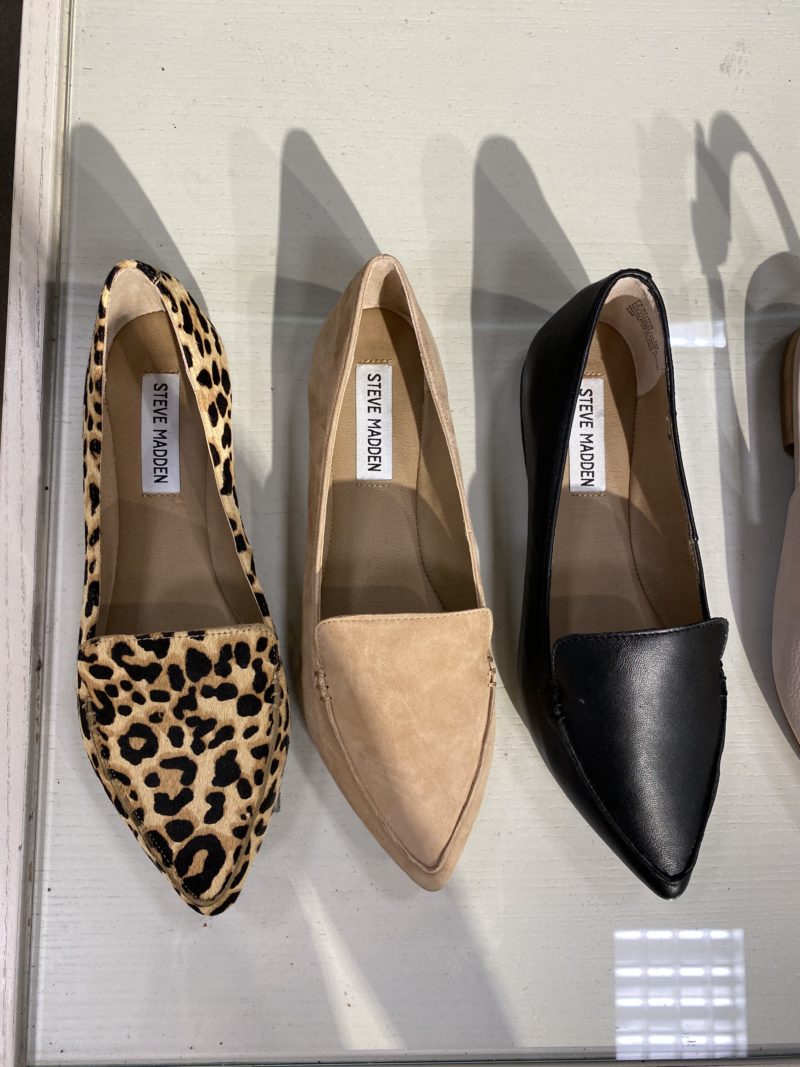 Did you buy these last year? By far one of my very favorite purchases. They are the only flats I wear. Such a steal for $40. I find them to be true to size and I bought the tan ones this year. (nude ones here)
SNEAKERS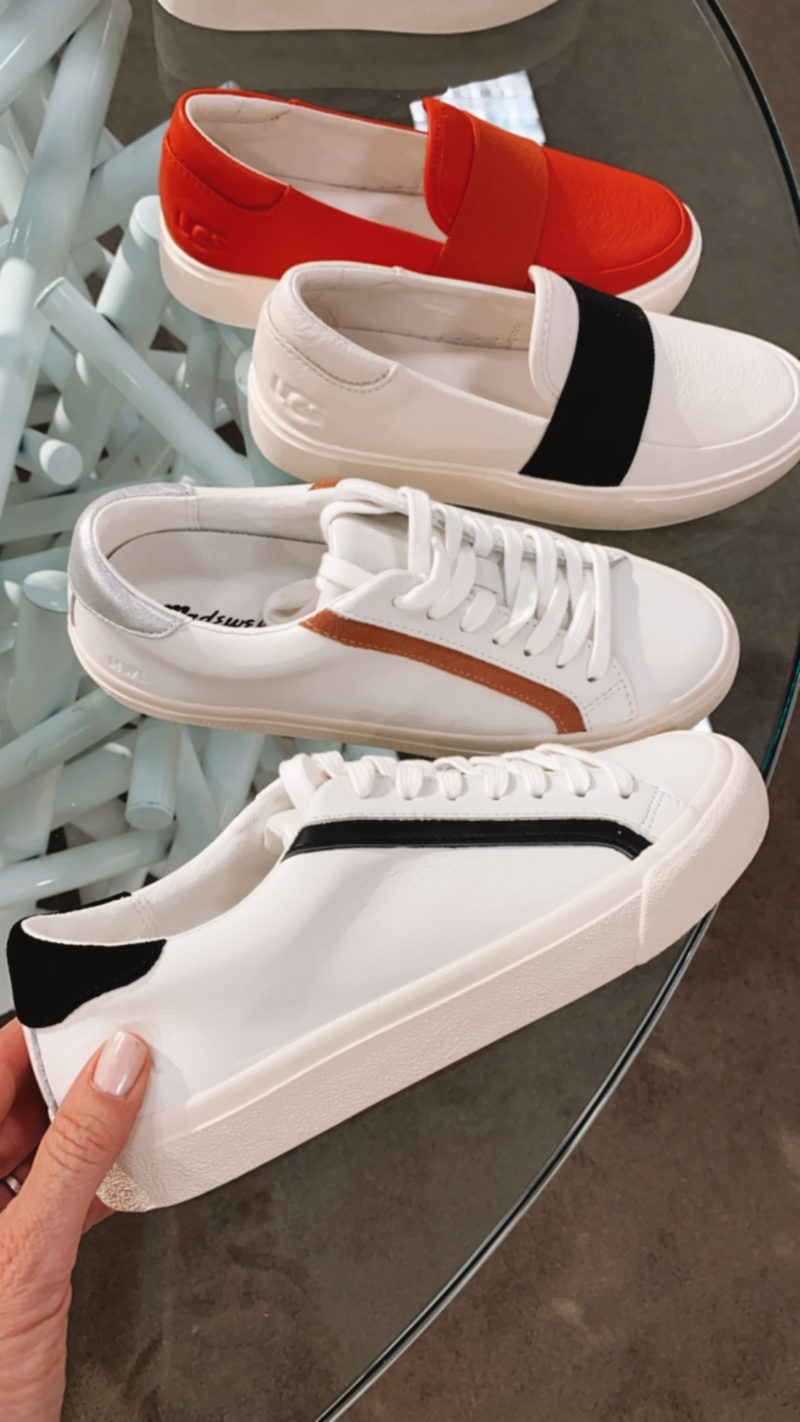 These sneakers come in both rose and black and are darling. A fun basic sneaker that you can wear with jeans, yoga pants or little dresses.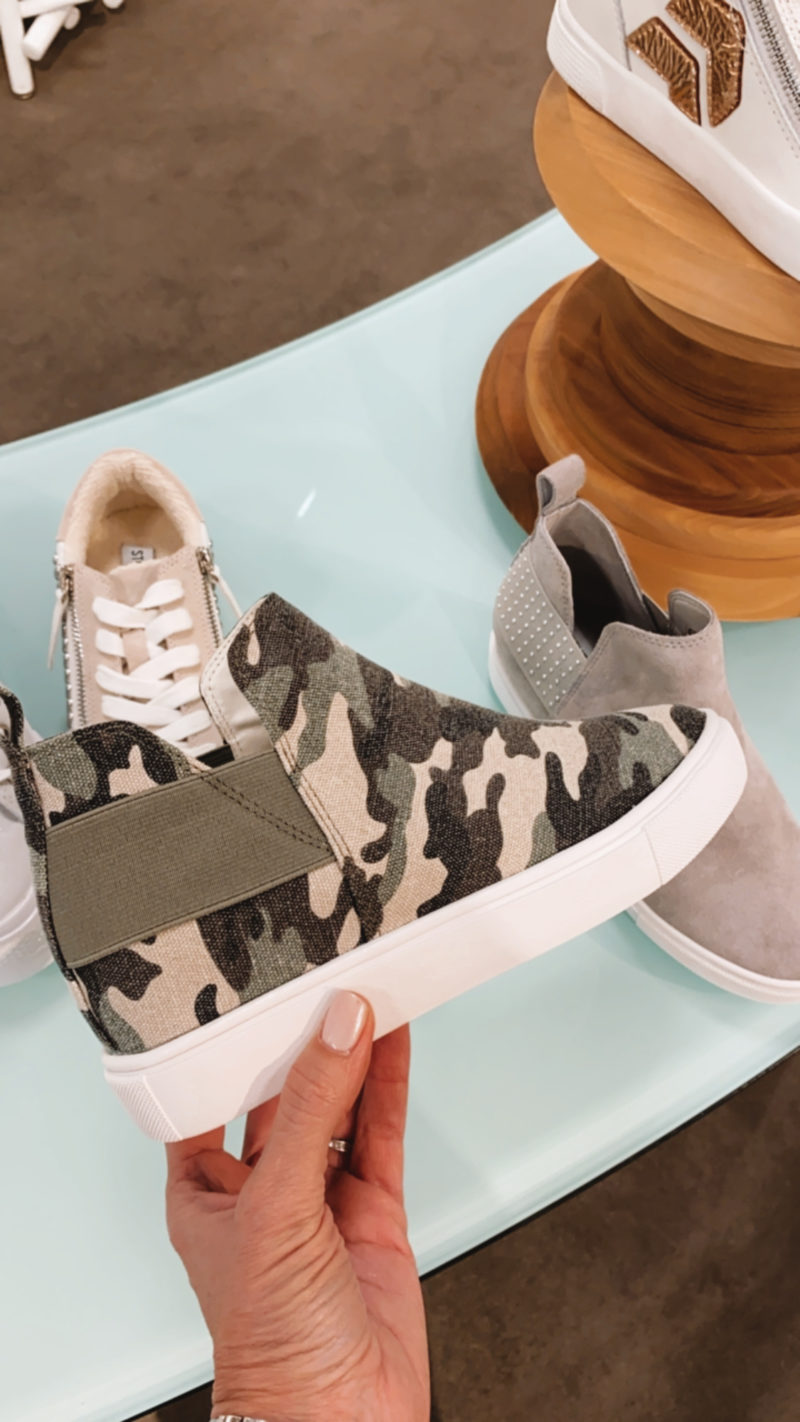 I am actually regretting not picking these up and may go back. There is just something about these cute sneakers that I love.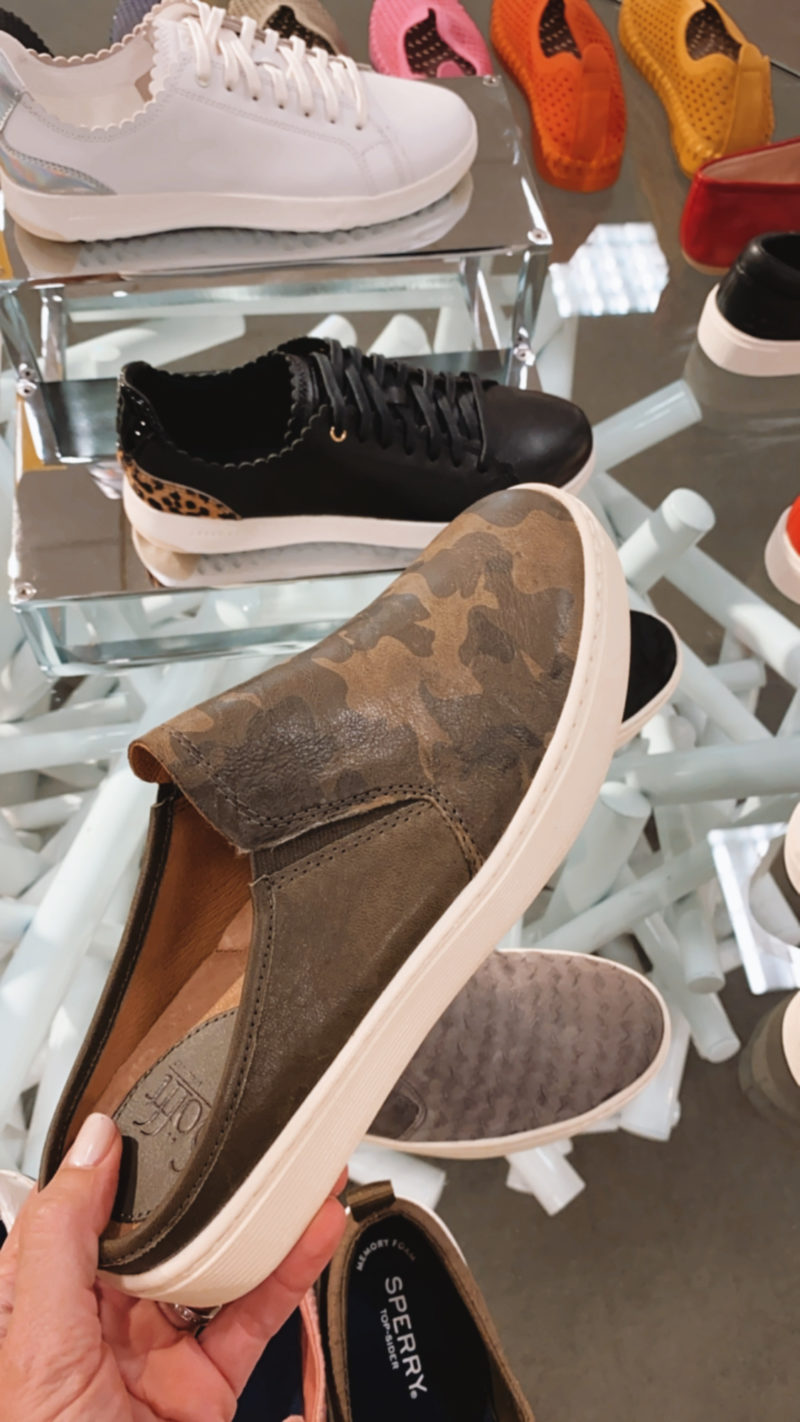 Loved the look of these slides. They come in a few different colors, too.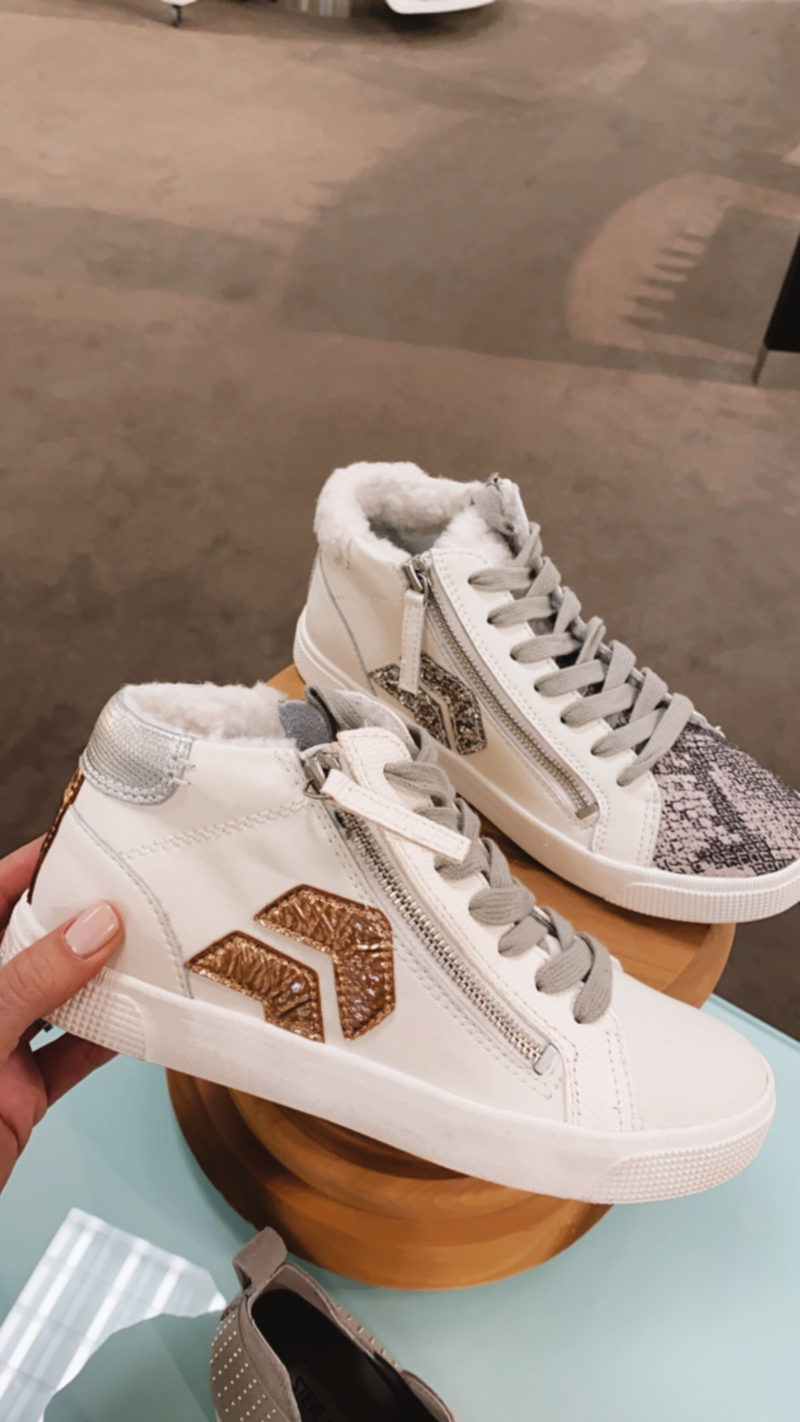 Really wishing I was cool enough to wear these. I think they are darling.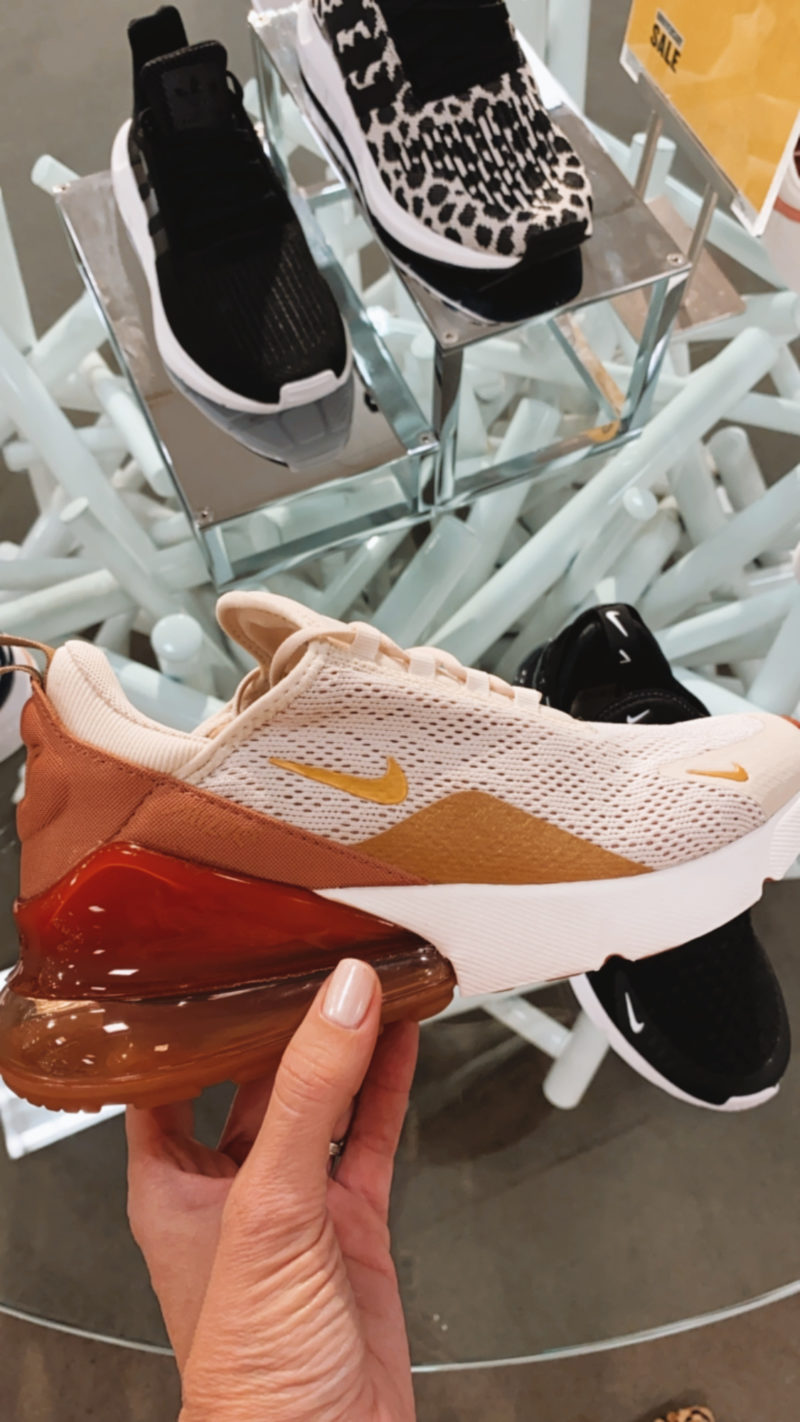 The cream on these running shoes is really beautiful. Just thought they were unique and different than what you normally see. Everyone is falling in love with these. They are definitely comfy as I have them in three colors because they are so easy to slip on and wear with anything.
HANDBAG DEPARTMENT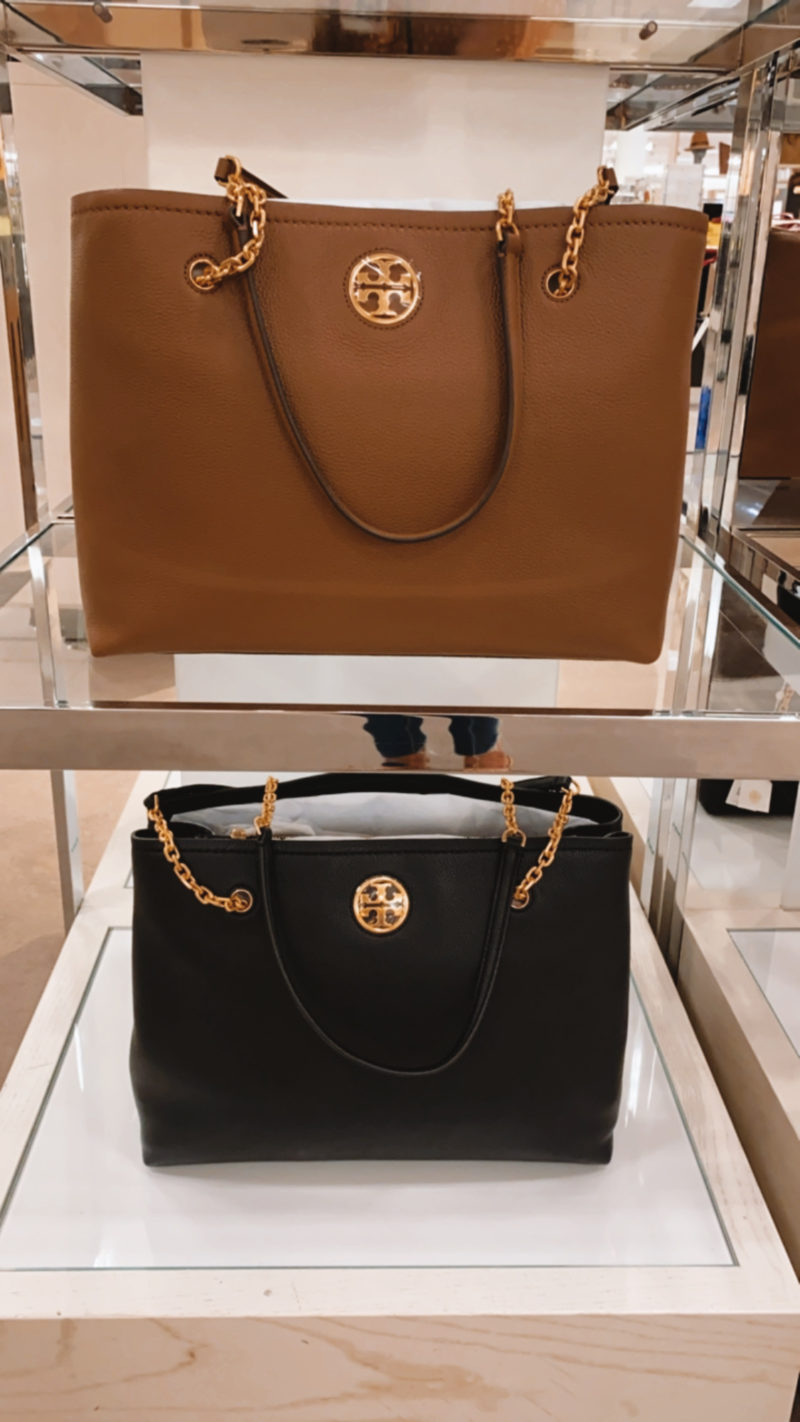 $299 $528
Thought this bag was beautiful. If it's something you have had your eye on, then it's the time to buy it. This small crossbody is also really striking in person. I bought this one last year and have carried in constantly. In fact it's the purse I carry the most right now.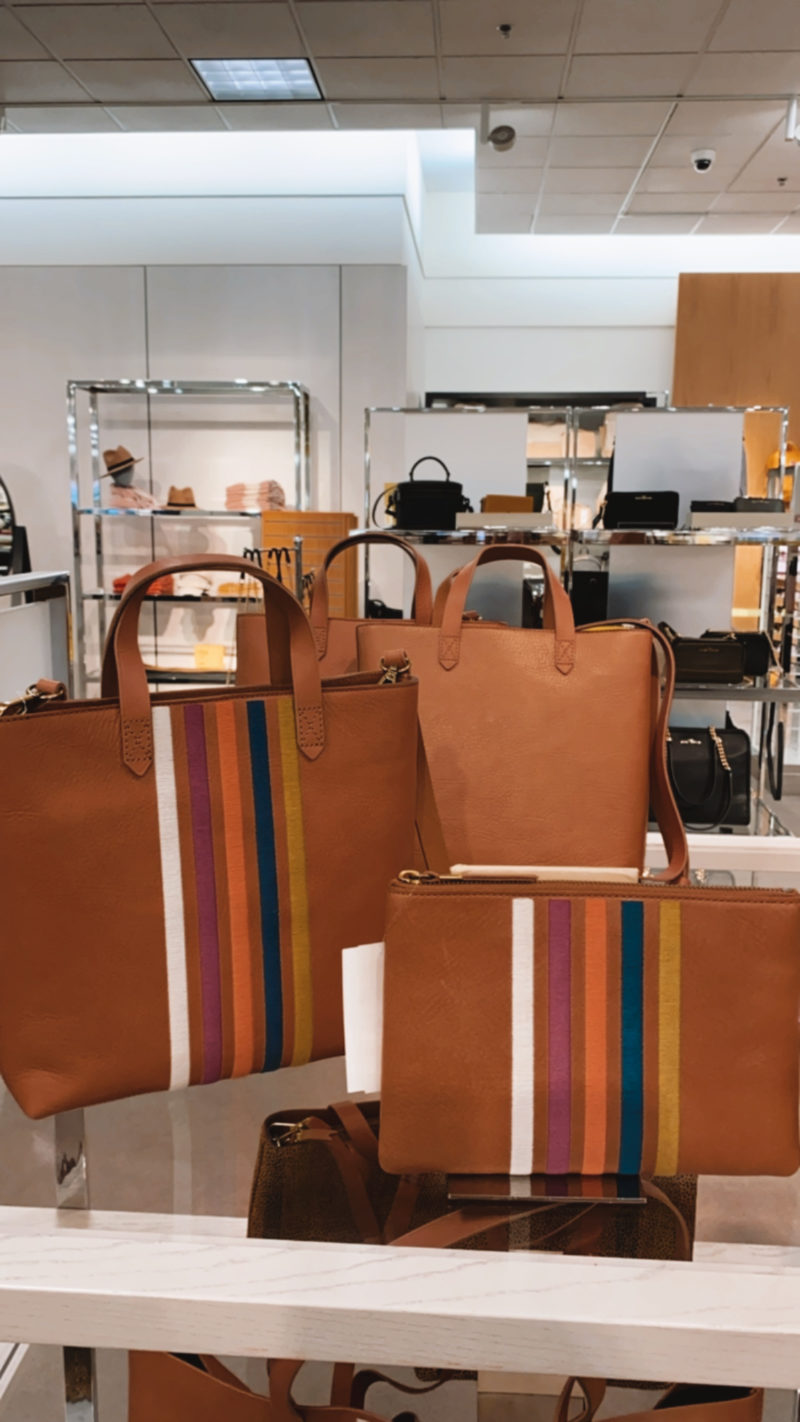 The Madewell Transport tote is very pretty in person. The smaller embroidered bag is darling and only $40 right now.
I thought this was cute. But not quite sure it's worth the money. I feel like you could find something similar for less.
GREAT HAT COLLECTION
There are 11 different hats on sale this year and I actually think they are all pretty darn cute. You can find those here.
INTIMATES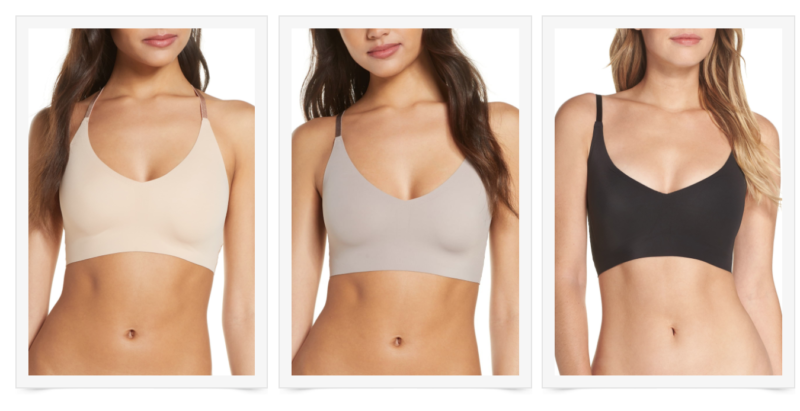 BE SURE TO CHECK OUT
Here are a few more items you may want to check out while they are on sale.
If you are shopping the Anniversary Sale this year, I hope this gave you a few places to start. I know it can be overwhelming. Happy shopping, girls. Let me know if you find something you love.
*If you missed my first post, you can see more jammies, leggings, accessories and home finds here.