Yep! The biggest sale of the year is here. And it's a really really good one.  I am so excited about the styles selected this year and the amazing prices for the Nordstrom Anniversary Sale.  Even my hubby knows I am busy the day it begins! It comes but once a year. I am kicking today off with not only one of my very favorite pieces but a preview of some really great items to add to your wardrobe. Oh, and a sneak peek of a darling dress. As the days go on, I will continue to keep you in the loop with my favorite picks for everyone in the family. And if you don't have a Nordstrom card, it's not too late to gain early access to the sale. Just visit this page and you'll be on your way. You'll get to shop 8 days early! Are you ready?! Let's do this, my friends!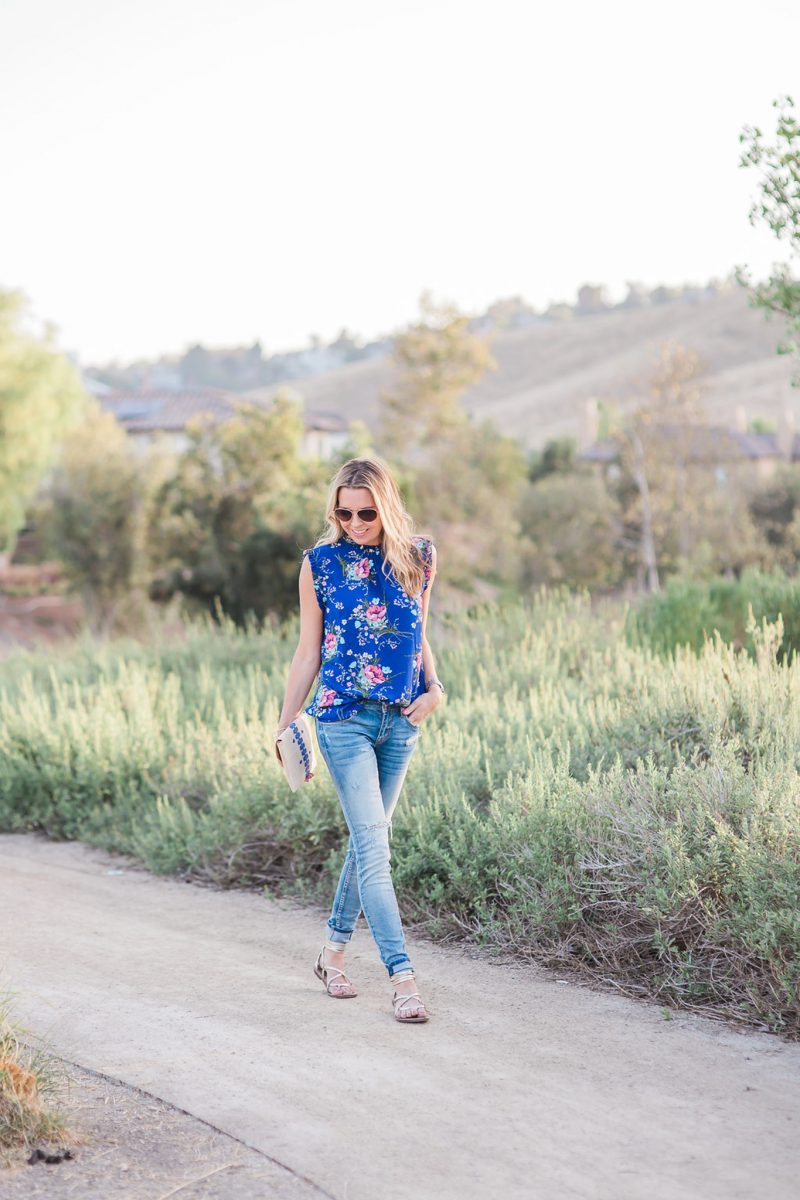 I'm obsessed with not only the print of this feminine blouse (size small), but the ruffle detail and the cut. It sits wider on the shoulders which is so flattering. It hides the not so lovely armpit area. Just keeping it real, my friends. It also ties at the neck in the back and I absolutely love the colors. I paired it with distressed denim here, but it looks so great with dark denim (50% off) as well as white. I also like this with jean cut off shorts. I think what I love most is that my son told me I look really pretty in this. Sold. That's all I need. And speaking of dark denim, my all time favorite Articles of Society jeans are $39.90 during the sale. What?! Super soft and I love them.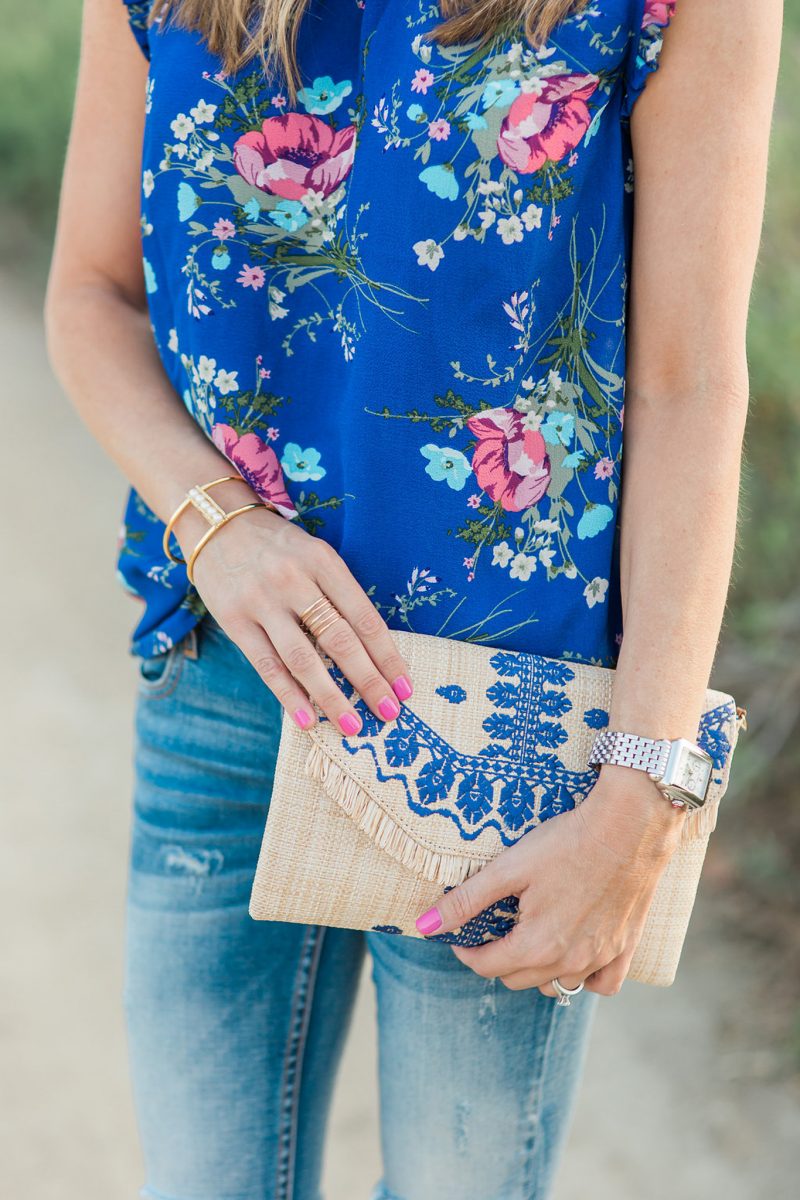 This pretty blouse happens to go perfectly with my Stella & Dot clutch. It can be worn with a strap or without. The embroidery detail is beautiful and I love the inside lining, too.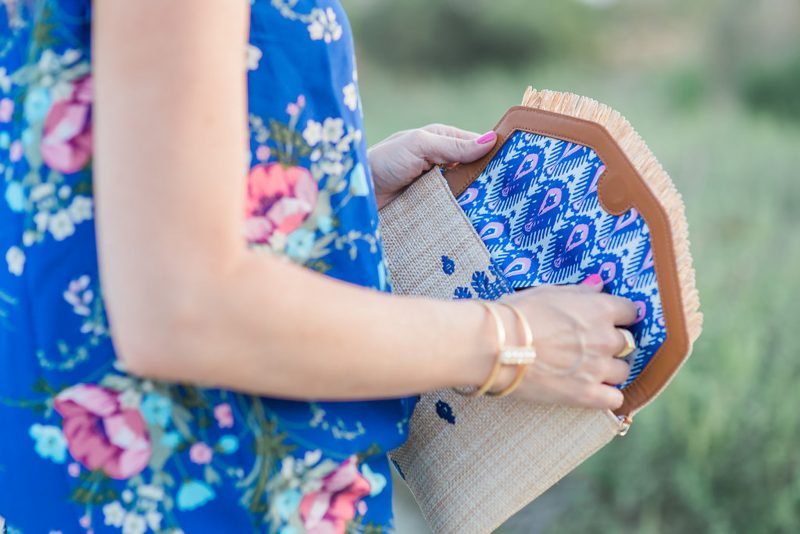 floral blouse //  clutch  //  similar cuff  // denim // sandals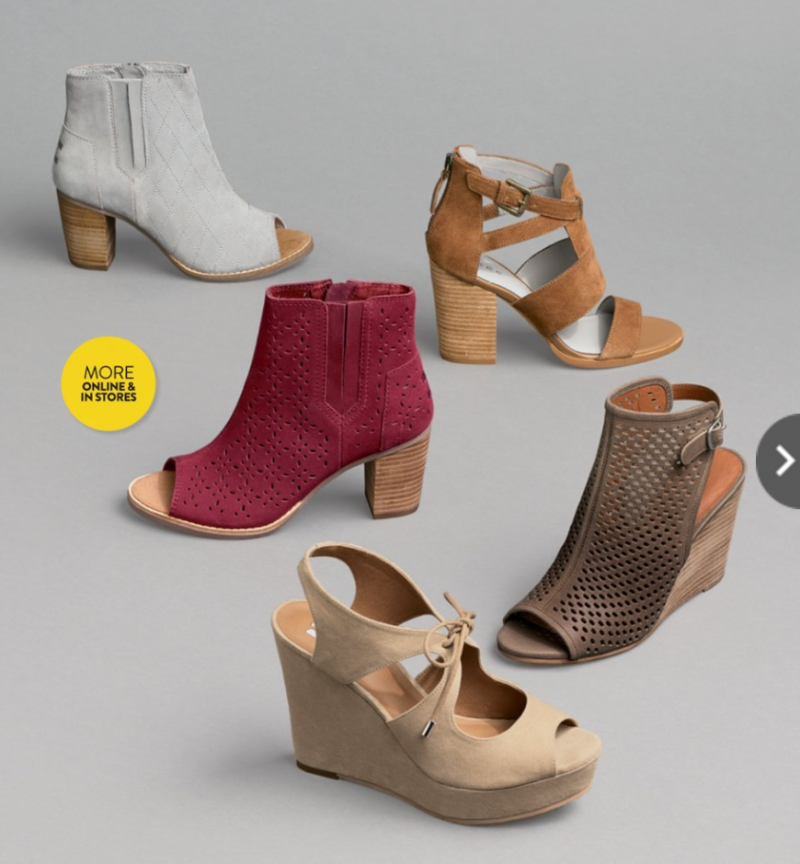 Shoes on Sale
I am so excited about the shoe selection! And do you remember my booties with the fringe? I know many of you missed out on those so I was thrilled to see they brought back another fringed bootie! Really cute. They are by Sam Edelman and called the Rudie Bootie. How can you pass that up? They are $99.90 and will be $169.95 after the sale. For me the key is the putty color. I have received so many compliments on them and they go with everything. Franco Sarto, one of my favorite brands, has these during the sale and they are super versatile. And you can also scoop up a pair of Hunter rain boots ( I have had mine for years and love them).
Shop These Booties Early

Above, I really like the open toe booties and plan to buy a pair. The grey quilted bootie and the perforated bootie are only $78.90 but will jump back up to $118.95. I like that they are Toms and a pair of shoes will be donated to someone in need.
Chic Style Under $100
Show me the deals! So many great pieces under $100. And things you can mix and match and be comfortable in, too. Here are some things that caught my eye.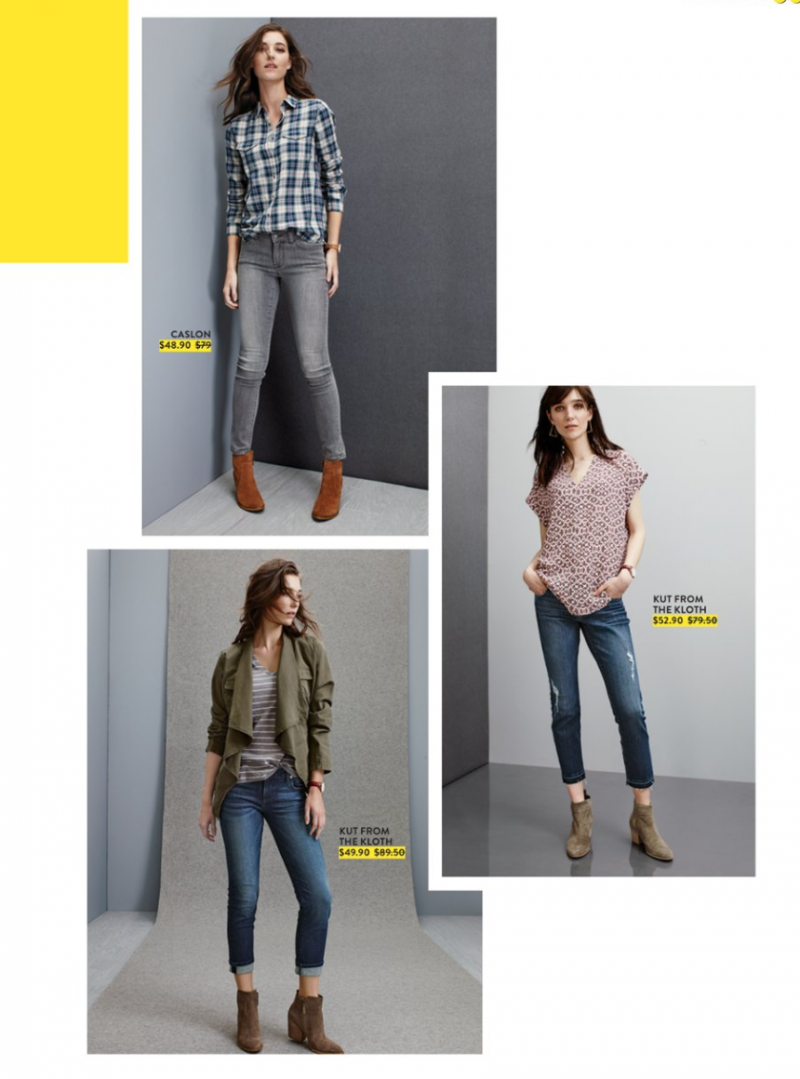 The plaid shirt, denim and bootie trend is still going strong. This top $37.90 has great pockets and a really cute cut. I think I am adding gray jeans to the mix, too. Do you have a pair yet? The price is $48.90 $79  and it comes in other color ways, too. And a huge thank you to the designer of the draped army jacket $44.90. So much more feminine and so good for Fall. And don't want to pay $70 for it after the sale. And not sure if you've heard but I have a thing for stripes. A comfy striped tee is always good in my book. Kendra Scott is always a good way to go and this is one of my favorite necklaces.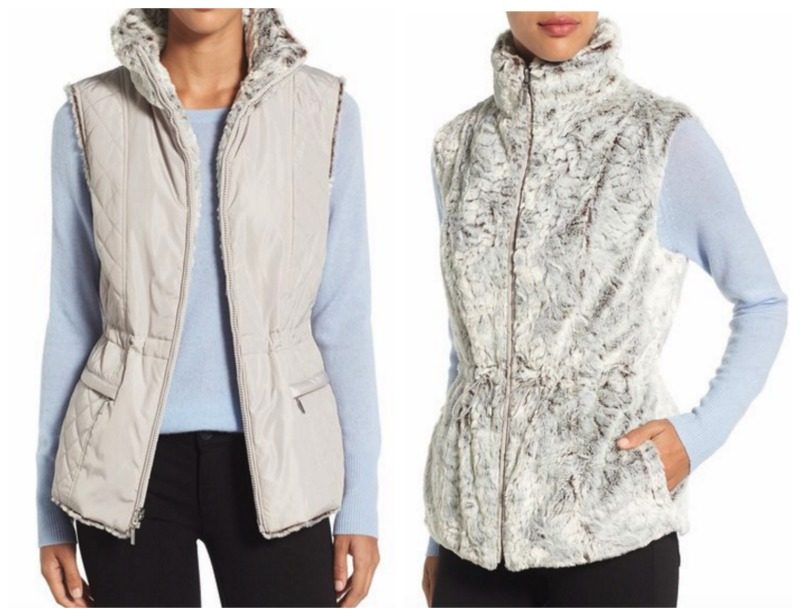 Also spotted this reversible vest. I have had a very similar one for years and people always want to know where it's from. I love that they have one during the sale this year!
DRESSES UNDER $100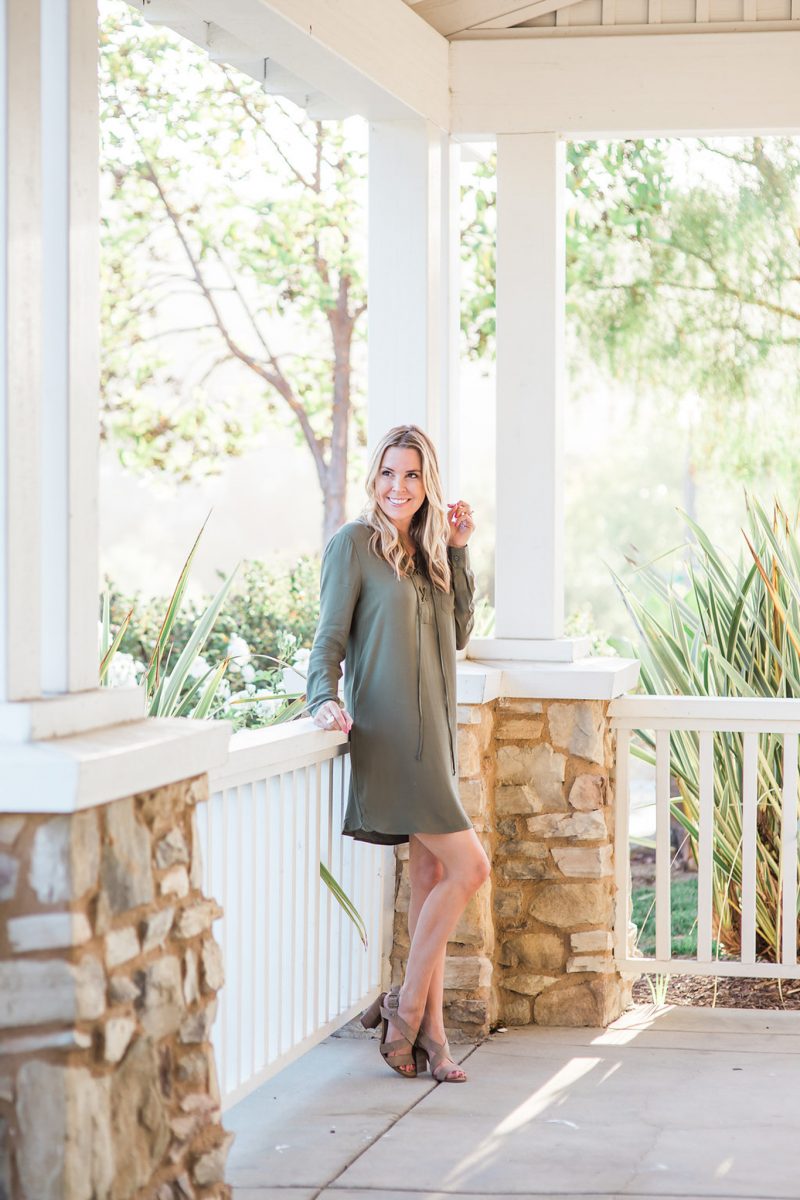 And here is a preview of a great shirt dress. This dress can be layered with tights or leggings as the weather gets colder and paired with a denim jacket or a cute vest. It also comes in STRIPES! Right now it is perfect kept simple with a pair of block heels $66.90 $99.95 or open toe booties. This dress is a Nordstrom Anniversary Sale favorite for sure. The hubby loves it as well which is always really nice. For sizing reference I am wearing a size small and am 5'7″.
I can't wait to try on this collared lace dress $75.90 $129.  How cute is that? So classic and great paired with a leather jacket. I also have my eye on that lace sweater $49.90 $78 above. I would love to pair that with my white jeans for cool summer evenings.
Dresses Under $100

This dress is only $36 and I think everyone should have one. LOL. I will be sharing it on the blog tomorrow. I bought it in gray and black and think it may be the softest and most comfortable dress of the sale. Size up one. I bought it in a medium.
Handbags on Sale
And this sale is always a really great time to find a handbag for Fall. I am still carrying the one I bought last year. Here are some that caught my eye. They do tend to go quickly and they make awesome gifts, too.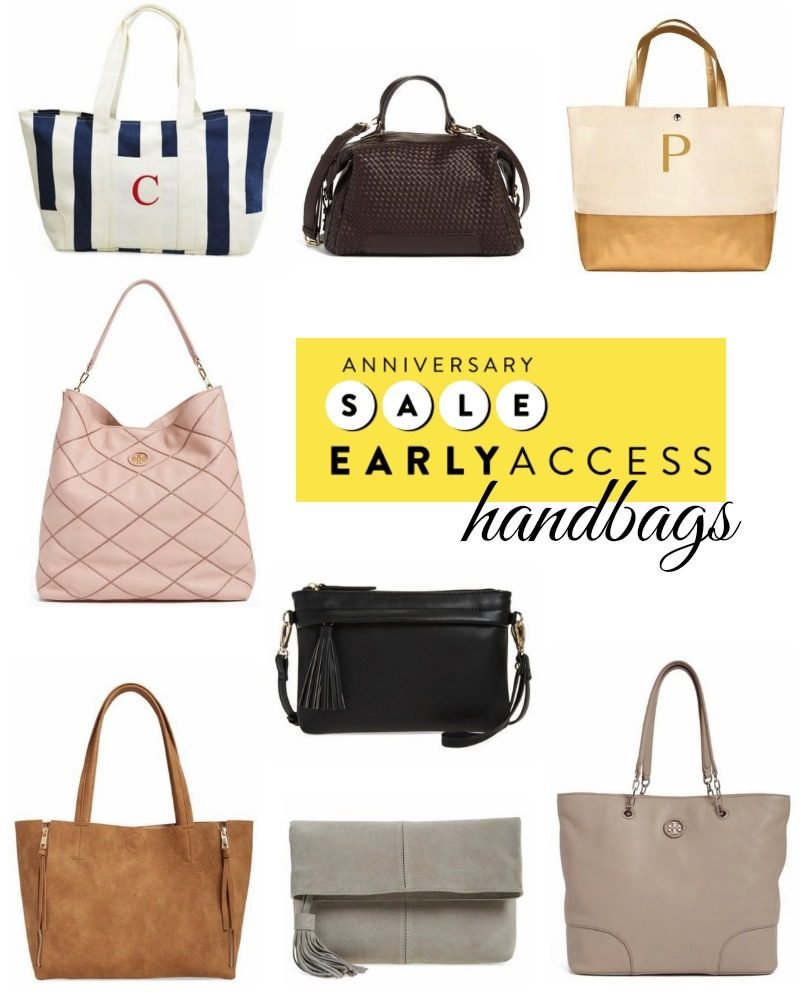 Shop These Handbags

I really like this little tassel bag and it's such a great price ($23). This is also a great buy at only $32. The Cognac color goes with everything.
If you are looking to splurge it really is the one time of year that the designer handbags are marked way down. I don't have a Tory Burch bag, but I do know that these are almost $200 less during the sale. The prices go back up August 8th. So pretty and classic. If you are going to spend a lot of money on a designer bag, I really think it should be a timeless design like these. Not the time for trendy when you are splurging. Feel the same way about home decor but that's a whole other post! I digress.
And lastly, I love these pajamas. I have the shorts already and they are super soft.
Hopefully that is enough to get you started! Fun things for sure. I'll be back soon with some more fun looks. And you can always get caught up on the sale picks by clicking on the button below on my sidebar. Hope that makes things easier.
Also want to thank everyone for the amazing comments and emails about our new home tour. I honestly love my readers so very much and feel so connected to you all. Thank you for being so sincerely generous with your time and comments.
Enjoy the day.
*photos by gabi wells. affiliate links used