Things are moving and grooving over here as we close in on four weeks left in the One Room Challenge hosted by Linda. Luckily you can not see the look on my face. It's a combination of, "Holy crud. I have a crumb load to do," and "What did I just do?" We took a major plunge this past weekend and ripped apart the room. Do you remember where we started? It's a room we all love but my sweet client is ready to grow up with his room. Today I am going to share the progress we have made as well as a detailed plan of where we are headed. Assuming all goes well.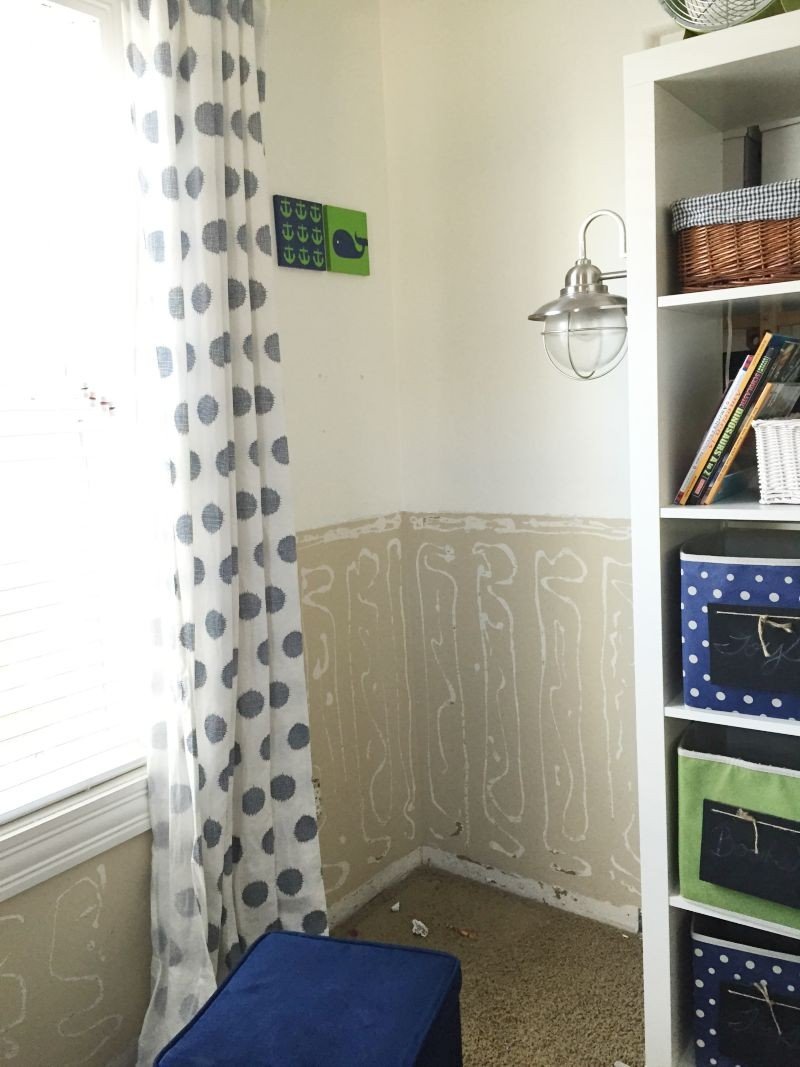 In light of our grand plan for this room and the feel we are going for we decided that the wainscoting needed to go. I know many people will be shocked we took it down but with our "trustic" plan (traditional + rustic) the beadboard wasn't jiving. My husband installed it when we first moved in and we got a wonderful eight years out of it. Lucky for me he agreed it wasn't working with the new plan and was on board with demoing the room. Now if an angel would just swoop down and replace our carpet. A girl can dream, right?!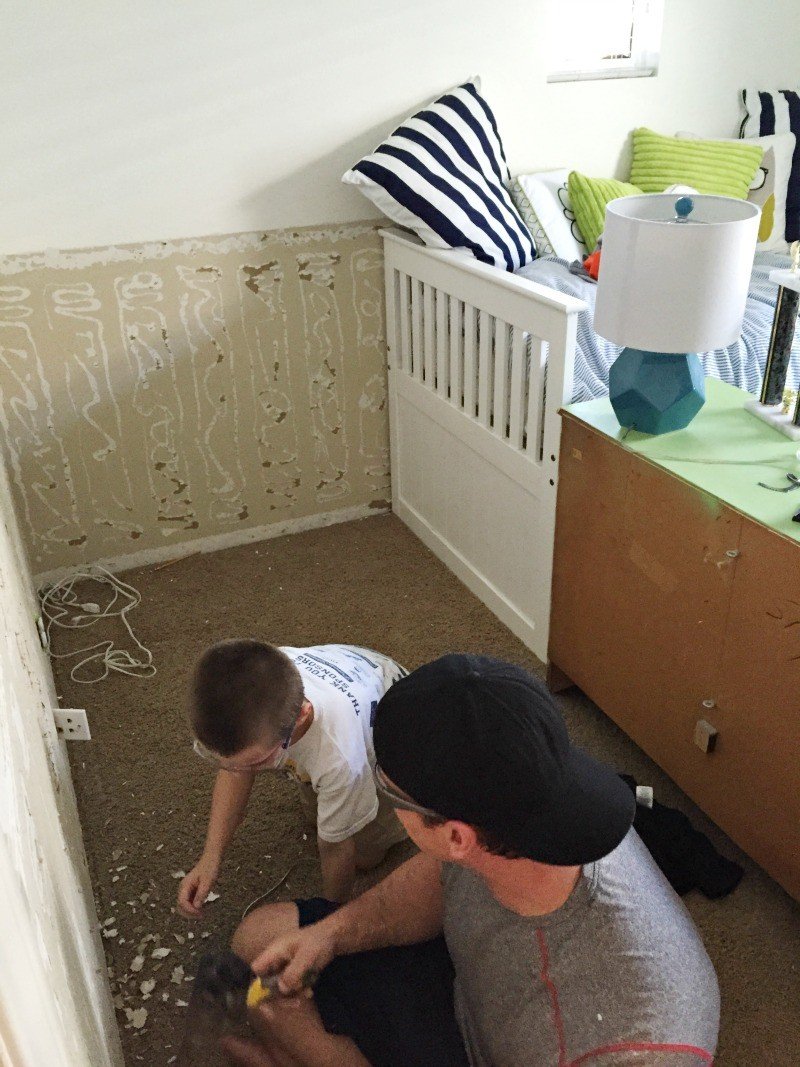 Once the beadboard was off of the walls, the boys got to work on smoothing out the walls so they could even them out and texture them.
I love this photo. I snuck in with my iPhone and caught him so serious about his task. I love that Ryan is so hands on with this room and teaching our son everything as they go. DIY runs deep on both sides of our family (my grandfather was a contractor and Ryan's grandfather built everything) so it's important to us that our kiddos can learn to do these things, too.
Once they chipped away the loose paper, Ryan used this on the walls to smooth them over. Ignore the much-needed manicure. We are getting our hands dirty in this room, that's for sure! My daughter was right in the interview video. The room is going to be a mess. Keeping it real around here and until the finish line, things aren't going to look very pretty.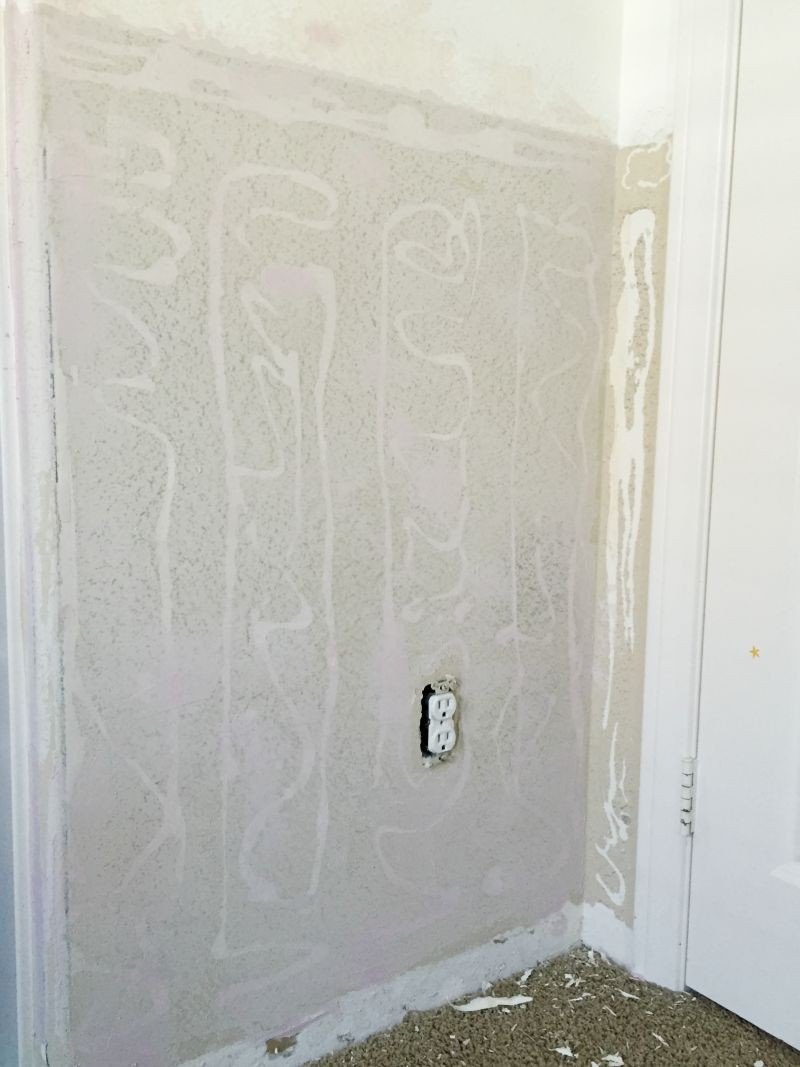 Once smooth, he retextured the walls with a spay. WARNING:  This step is not easy. If you are totally new with this, you may want to hire someone or ask for help. Texturing a wall definitely requires some practice.
We are trying to keep our son's room as livable as possible so after this HUGE mess, we moved things back and cleaned up so his room is at least peaceful for sleeping. It's totally in transition but we are trying to keep it as normal as possible for him.
But let's get to the fun part. I am super excited to share our "Trustic" plan with you for his room. I am dreaming of a reclaimed wood wall and slightly jealous that it's going in my son's room. He keep saying, "This is gonna be so cool!" I hope we can pull it off.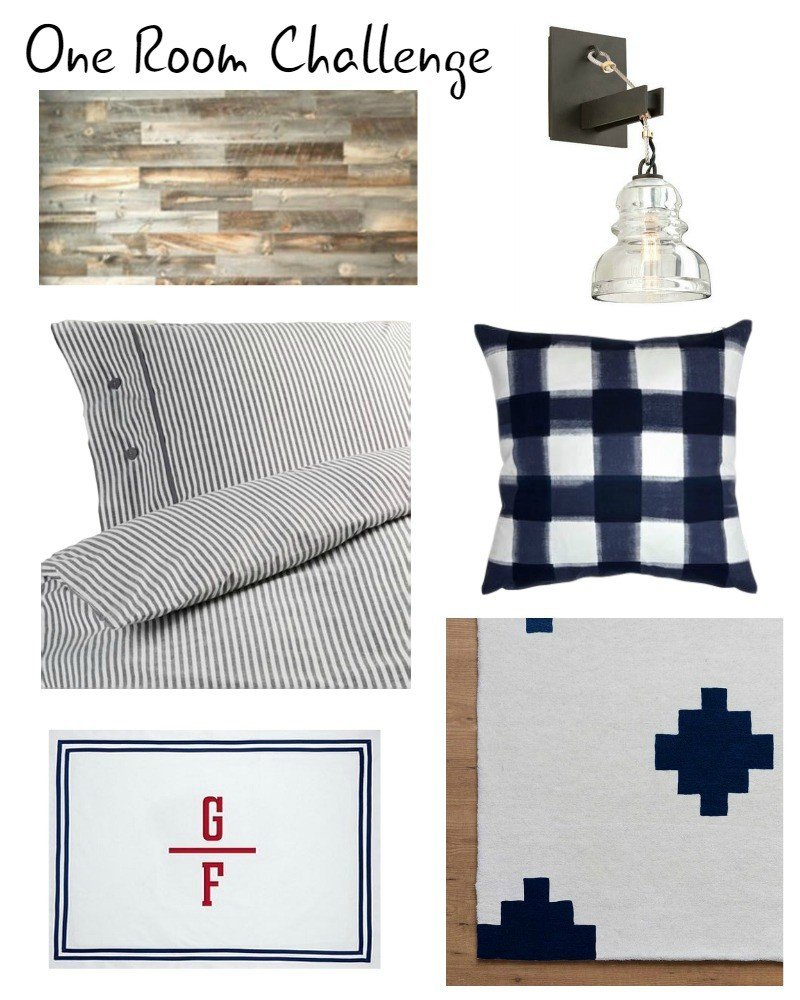 What do you think? Hoping to blend a the rustic charm (reclaimed wood wall) with some classic, timeless pieces. I think the rug adds a really fun child like quality to the room but still remains chic and interesting. I have been wanting to use one of Caitlin Wilson's rugs in my home so this is the perfect opportunity. We are keeping Grady's bed and the duvet is simply getting a color change. We love the Ikea duvet so much and will swap it out for the same style but in gray/cream. And it's $25! What? The monogrammed sham adds a preppy touch to the room which I am really drawn to. And my son requested red. Don't worry, more red will be showing up on the scene. Now when I think about adding anything else into the room, I make sure it blends with this board. A great tip is to print out something like this and carry it with you when you are shopping. Then you don't get to off track with things that just seem adorable. I've been there! It all needs to blend.
I am really really excited to see all of this come together. You know when you are picturing something in your head and just hoping it translates. But then I walk into his disaster of a room and my head starts to hurt. All in good time.
What We Need To Accomplish
remove bead board
paint
replace baseboards
turn his closet back into a closet
make a desk
add more lighting
add a focal wall
find a new dresser
create a reading corner
have fun doing it all (said with a hopeful heart)
The fact that there is only one thing crossed off the list is a bit scary. But we can knock out a few of those to-do items this week. Stay tuned for more progress.
Source List: Duvet (Ikea) // Light (Bellacor) // Pillow & Rug (Caitlin Wilson) // Sham (Mark and Graham) // Wood Wall (West Elm)
Catch Up On Past Weeks Here
Week One: Before Photos and Interview Video
Follow Along With These Talented Ladies